Who: Caitlin and Andy
Where: Cuidad de Mexico
When: Thursday Evening thru Sunday Morning 1/16/2014 thru 1/19/2014
What: After an amazing adventure in the Mexican State of Chiapas we decided to lay-over in Mexico City since we had to fly through there on the way home. We were very glad that we decided to spend a few days exploring the art, museums, tacos, mezcal, and local culture in this vibrant city.
Check-Out our Other Trip Report featuring the waterfalls, caves, and culture of the Chiapas
Regardless of our travel experience we are always a little cautious (and potentially nervous) when traveling to a large city as they tend to have reputations that smaller cities don't just due to the physical size and news coverage. Horror stories tend to run-rampant and every person we talked to back home generally seems concerned that we surely will be abducted by cartels with our heads ending up on a spike near the border…
So stepping off the plane and preparing for our first taxi ride into the city was a bit scary, mostly due to the zealous stories of bad-traverlers. Luckily for us we found ourselves ten minutes off the plane with taxi tickets and sitting comfortably in a new Chevy Suburban hauling us to our hotel; another crisis diverted!
Mexico City blew away all of our expectations. This is a vibrant city that is like any other big-city but with it's own Mexican flair. Full of art, history, food, neighborhoods, and activity on every corner and street in the city.
Trip Details:
Hotel Room Mate Valentine – great location, next to a bunch of loud gay bars in the Zona Rosa neighborhood
Chapultepec Castle – Old Presidential palace now National History Museum
Zoo – Free entry!
Cathedral
Museo del Templo Mayor (Aztec Temple that Spanish built their cathedral over)
Anthropology Museum
Mezcal and Tacos in Condesa Neighborhood
This trip report will be a little different, above are the main attractions that we visited and below will just be a highlight of the interesting things we saw in this really cool city.
Our hotel, Room Mate Valentine, was located in the heart of Zona Rosa which we quickly found out is the center of Mexican gay culture. This was very obvious pulling into our hotel on a thursday night with the LGBT clubs blasting their music and great people watching everywhere. Regardless the area is perfectly located and Zona Rosa is relatively nice with plenty of art and pedestrian areas.
The Art of Mexico City:
Our first full day which happened to be a Friday started with a walk to Parque Chapultepec stopping first at the old presidential palace, Museo de Nacional, which has now been coveted into a museum of Mexican history. This large building was covered in murals depicting different struggles since the arrival of Spanish conquistadors. The commanding location of the building provided a great vantage point to see this section of the city.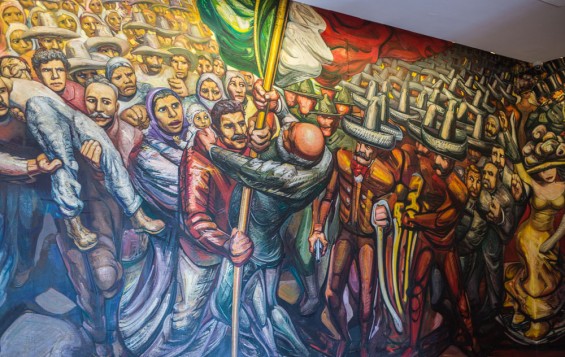 The Chapultepec Castle overlooking the city: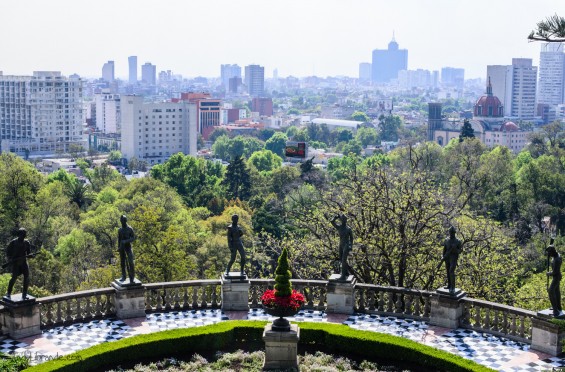 As we headed back into the park as the street vendors began assembling, we made our way to the zoo. The zoo was fantastic with a large variety of animals including several panda bears. The best part is that the zoo was free making it more worthwhile. As the day grew late we attempted to enter the Anthropology museum which for reasons unknown was closed for the day. Instead we caught a taxi to near the Zocolo to view paintings by Diego Riveria. Another free museum (the Education Building) this place blew us away with floor to ceiling paintings depicting daily life, communist ideals, and class struggle. Two large courtyards three stories in height represented hundreds of murals that Diego painted over several years.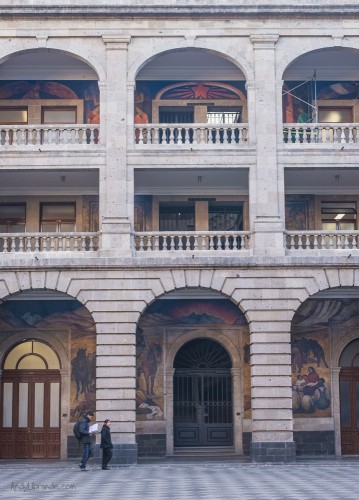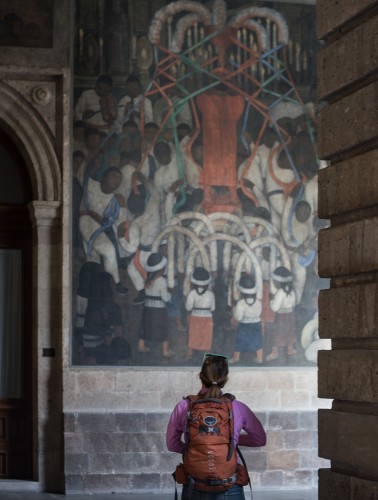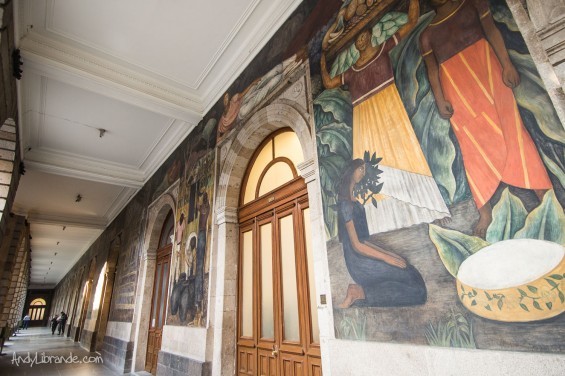 We wandered over to the central cathedral in mexico which is just as beautiful as anything caitlin or I have seen in Europe or other places. There happened to be an Mexico City Architecture museum that we wondered into for free which showcased the history of building in the city, always an interesting thing to learn about.
As the sunset started to happen we managed to stumble upon one of the tallest towers in the area Torre Latino and headed to the top to observe this geographically massive city.  After drinking some Mezcal and enjoying one of the rooftop bars we headed back to the crazy streets of the city.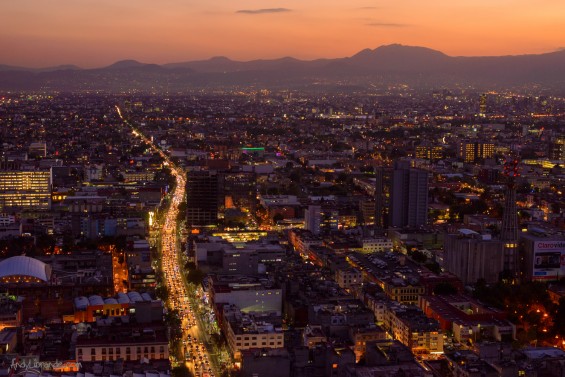 A dinner at a chinese spot (maybe not the best of decisions, but we had ate sooo many tacos at this point in the trip). Delicious churros at El Moro. Walked from the Zocolo to Zona Rosa which was a decent but doable walk. We ended our night relatively early since we walked some 12+ miles that day.
The Aztec and Meso-American History:
Another morning start we took the subway/metro which was right near our hotel to the Zocolo. Much to our delight we found the subway to be incredibly easy to navigate and considering a one way ride to anywhere is the equivalent of ~35 cents.
We started this beautiful morning at the ruins of Temple Mayor. Located within a stones throw of the cathedral this massive complex was only recently discovered in the late 70s as it was previously believed to have been demolished by the Spaniards. This was one of the more interesting ruin sites we visited as it was the central location of the Aztec empire. The temple has been mostly evacuated with layers of construction removed to expose earlier and smaller temples. the largest temple would have been very impressive standing at the height of the nearby catholic cathedral. After wandering through the ruins you enter a museum dedicates to the artifacts collected onsite and the history of the area.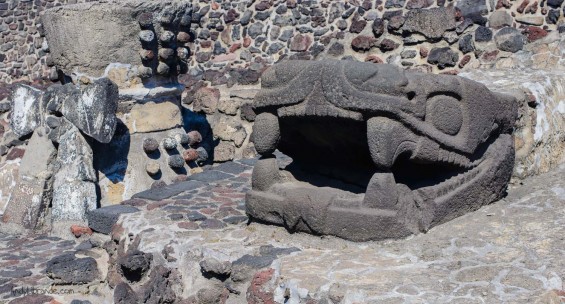 Once done with Temple Mayor the weather was near perfect and as a result we headed down to Coyocan square where we saw another beautiful church, san juan bautista and spent some time shopping in a pleasant marketplace.
Being tight on time we finally headed over to the Anthropology museum where we were blown away by the amazing displays, history, and culture of meso-american people. We had only 4 hrs in the museum which was barely enough time to quickly move through the extensive displays. The layout of the building was such that you spend quite a bit of time I open air or outside exhibits.
The Aztec Calendar/Sun Stone is an impressive 24 Ton chunk of rock. Commonly believed to be the calendar tracking tool it has not been confirmed as such; amazingly it was buried and lost until 1790 when repairs on the Cathedral revealed it once more: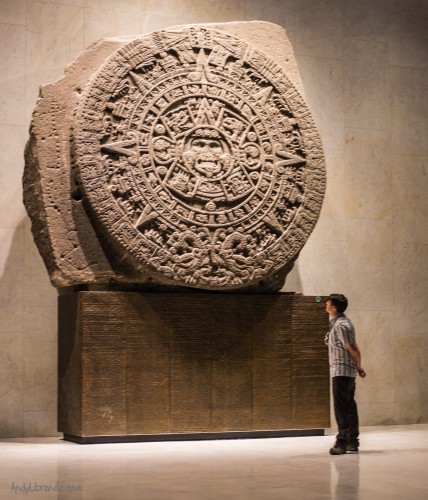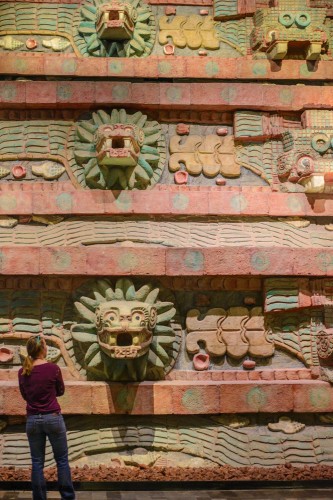 We finished our night in the nice neighborhood of Condesa where we had our only real nice sitdown dinner of the trip, a delicious Argentinian steakhouse called Patagonia. We followed that up by drinking Mezcal served with fried crickets and apple slices. Mezcal is a new found passion thanks to this trip.
An early morning walk and we headed to the airport and were given hard evidence of the crazy traffic of the city as the ride to our hotel on a thursday night at 7pm took 1 hr and 15 mins…the ride from the hotel to the airport on a sleepy sunday took 14 mins.