When: Depart Denver on a plane at 9am Friday April 17th, Arrive 1am to the Beach in Cabo (direct flights kick ass!), 3 nights in CABO
What: Andy's 30th BDAY (I once heard it is best to celebrate a 30th out of the country…I couldn't agree more!)
Who: Andy+Caitlin
A quick weekend trip to the less explored East Cape of the Baja was a perfect adventure for my birthday weekend. While Cabo San Lucas is know for tourism, and cruise-ships, it is beautiful but usually crowded (we have visited Cabo before!). The other city, San Jose Del Cabo is known for Art and traditional plazas. We were about 25 mins outside of town staying on the road that turns into the East Cape. A place that is usually reserved for Surfers and Divers heading into Cabo Pulmo National Park and the remote lands. Our trip was focused on seeking deserted beaches and delicious seafood!!
This was our 2nd trip to the Baja area and you can read about the 1st trip here with additional photos here.
Food was devoured (in order of consumption): As always food in Mexico is the best!
Lunch: Buzzards Bar and Grill;  Fish Tacos
Dinner: Meson del Angel; Tuna Steak + Crazy traditional stuffed pepper + blueberry mojoitos + Ice-Cream "sushi" roll + Marachi singing Happy B-Day (we ate here before!)
Breakfast: Mango Margaritas + Mexican Pastries + Sunrise
Lunch: Flora Farms; Seafood Pesto Pizza + Pork-link sandwich (all food grown on the farm locally)
Dinner: Tequila's restaurant; Fresh Fish + Shrimp + Octopus appetizer + more Marachi singers
Breakfast: Pastries + Sunrise
Lunch: on the beach in the middle of nowhere: Chips+black beans+cured meats+margaritas+plums+avocado+cerveza
Dinner: La Palapa in Cabo Pulmo;  Aguachili Scallops (huge plate of scallops with lime+chili), Two Lobster Tails, Seafood Tacos, and another order of Scallops for dessert (because they were that good!). This seaside open air restaurant is right in the middle of Cabo Pulmo and delivered the best seafood of the trip!
Breakfast: remaining tequila+fruit+pastry+ Final Sunrise
Lunch: Jumbo plate of ceviche, Red Snapper fried whole+Jumbo Shrimp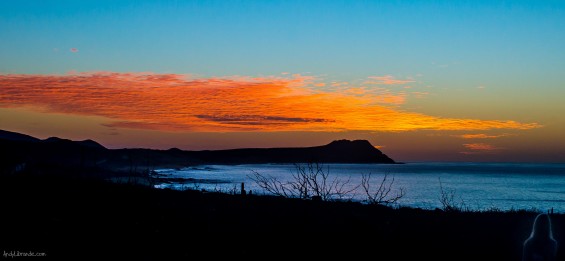 Sunrise was epic every day as it rose over PUNTA GORDA!!: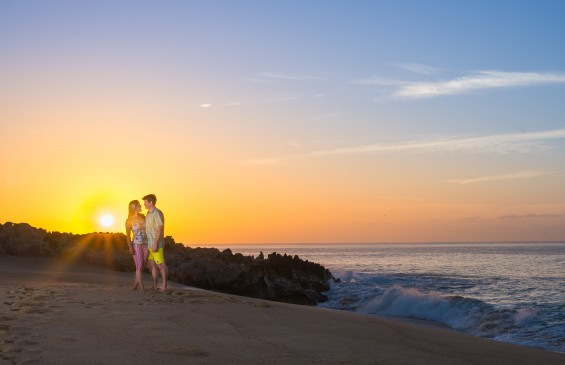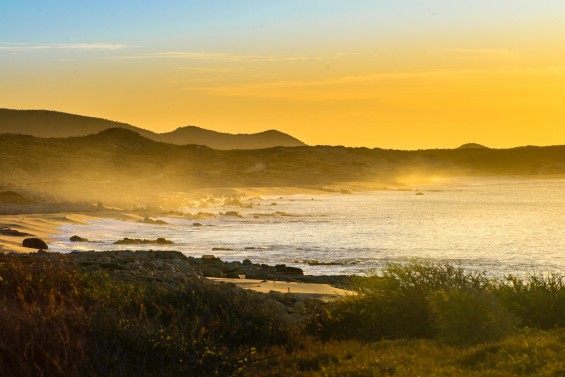 Exploring the East Cape of Cabo:
Cabo Pulmo Marine Park, Los Frailes Snorkeling, Dirt Roads, and Deserted Beaches. That pretty much sums up our amazing experience.
We took the coast road which was no problem in our little rental car. The road was full of beautiful overlooks and interesting sights along the way. While worried a little about this road it actually was in top-notch conditions and was easy to travel on for what it is.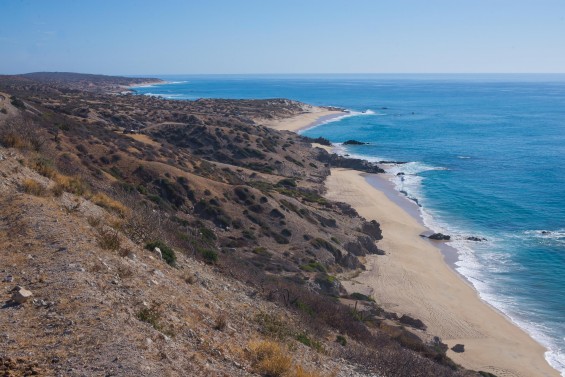 Los Frailes (link to MAP) was the beach we stopped at in Cabo Pulmo Marine Park. Snorkeling Saw some cool fish; Parrotfish, Scorpionfish, Cornet Fish, and schools of lots of colorful fishes.
It was a Sunday and the beach was 100% deserted. A couple sailboats were moored offshore, and fisherman were 1 mile+ away. It was very enjoyable!! There was amazing covered shade PALAPAS on the beach for use making it really practical.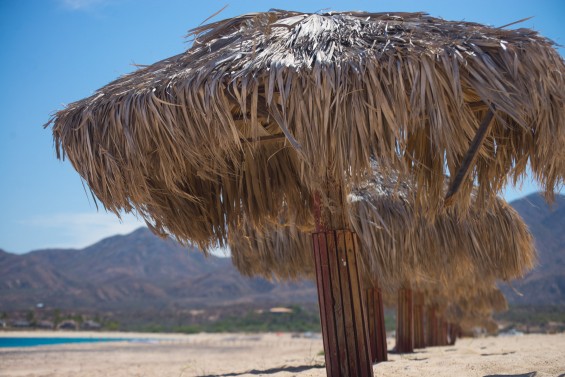 Looking back on the Beach from where we went snorkeling: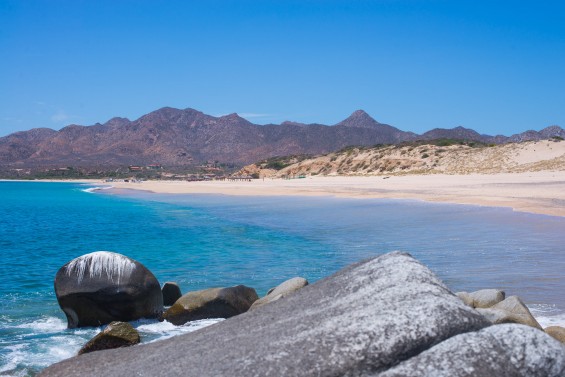 We spent all day at the beach enjoying the sun, snorkeling, and quite time. Lunch was snacks we brought along. For Dinner we decided to drive a little further up the coast to the city of CABO PULMO (maybe 15 buildings big) where we ate at the  La Palapa and had amazing scallops, lobster, and shrimp!
We arrived home in the dark after the drive home, enjoying a few stops for the sunset:

San Jose Del Cabo: 
We spent a lot of time eating at the many unique restaurants in the area.  Flora Farms stuck out as being such an unique spot with incredible food.
We had one run-in with the law which ended with no problems. Apparently bumping down the pot-hole strewn road as fast as you can is not generally looked highly upon. After some exchanges in our poor spanish discussing why we were here, that we were from Colorado, that they acknowledged there are a lot of Mexicans in Colorado, that we had a rental car, and that we were going to a local farm for lunch (less then 1/4 mile away at that point), was enough to let us away with a caution to drive slower.
YUM Fried Snapper: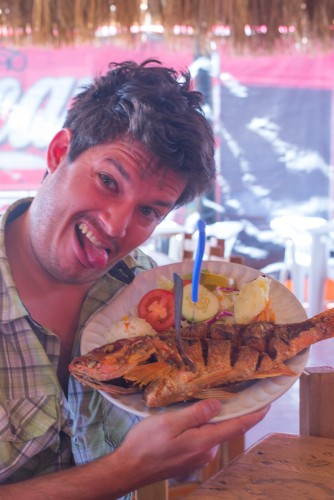 TIPS for Cabo San Lucas or San Jose Del Cabo or East Cape: 
MEGA Supermarket: As you come from the airport and hit HWY 1 the MEGA store is awesome. Bottles of top notch tequila for ~$13USD, pasteries, food, dried meats, beach stuff, fruit, booze mixers, etc. Load up here once and be happy!
Accommodations: 
We found a beautiful casita to rent from Kim on VRBO. Amazing views. Such a great deal in a very private neighborhood with 24/7 security:
https://www.vrbo.com/642197
One of the most beautiful places to watch sunrises as we enjoyed them from the house and also on the beach. The guard looked at us funny each morning as we strolled past him down to the beach before sunrise, enjoying the calm only a deserted beach can deliver.
Sea Shell Hunting: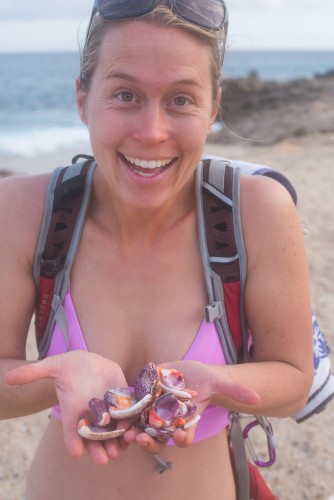 Until Next Time MEXICO!!!