On a whim I joined the Detroit Rock Climbing Company hold of the month club at the Silver level. They were doing a limited amount of a special deal where if you do a monthly review of their holds you get bonus holds.
I have always been a fan of the DRCC as they use the most amazing colors on their holds and I love the dual-tex holds (I own 2x sets of slots, a Big Pinch and the 5.12 hangboard).
My first set from the DRCC was the Sandstone Jugs with three nice jugs. Pictured below is the three jugs in my set + the pack of bonus extra holds: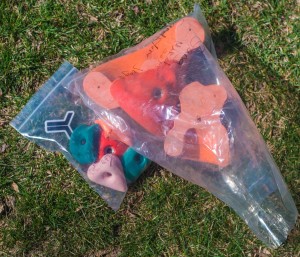 The three holds next to each other. These holds feature a new texture DRCC is doing which is called "True Color Dual Texture" which is simply a smooth(er) surface on the face of the hold so that it doesn't collect chalk/dirt/hand-grease as easily. I like the look but not sure how effective the texture is at stopping grime.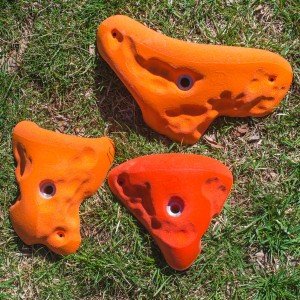 What I liked about these holds is that they work great as roof jugs. The largest hold can be used as a two hand jug if needed and has several nice spots to grab. The smallest hold is my least favorite as it is the size of a jug but I can only squeeze in three of my fingers making it really uncomfortable for a large jug feature.
Here is the largest hold on the roof (where I set a problem that matches on the two-hand jug hold after moving up from the lower wall):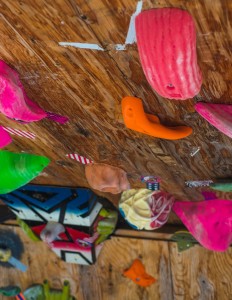 The bonus hold pack was mostly small footholds with two really nice dual-tex pinches (smallest one pictured here), nothing too exciting but a few nice extra holds.
Here are a few more pics: