Location: Bryce Canyon National Park, Utah
Who: Andy Librande + Caitlin Shay
Ambiance: Sunrise (7:00am), random Monday morning in November, 10 degrees, bluebird sky, unsuspecting Caitlin
Story: A mere 7 hours previously we had pulled into a parking lot within the National Park and camped in the back of the truck under the extremely cold and dark night. The previous 6 nights had been spent on a road-trip climbing through Bishop, California. On that roadtrip we climbed some very larger boulders, watched shooting stars while sitting in a hotspring, and generally dirtbagged it. Bryce Canyon was our last stop on our way back home.  Andy had sneakily convinced Caitlin it would be a good place to spend the night as a "half-way" point between California and Colorado.
Waking to an intense orange glow on the horizon which was partially obstructed by our frosty windows, we watched the glow rise over the rim as we sat in our sleeping bags. Quickly we piled on all available clothing and ventured over to the overlook. After a few minutes of snapshots on a beautiful morning, Andy sets up his camera on a tripod to take a self-timed photo of both of them, something we have done hundreds of times before. However this time there was a surprise!
A few more hours were spent enjoying each other on a beautiful morning walk through a unique and special place on planet earth!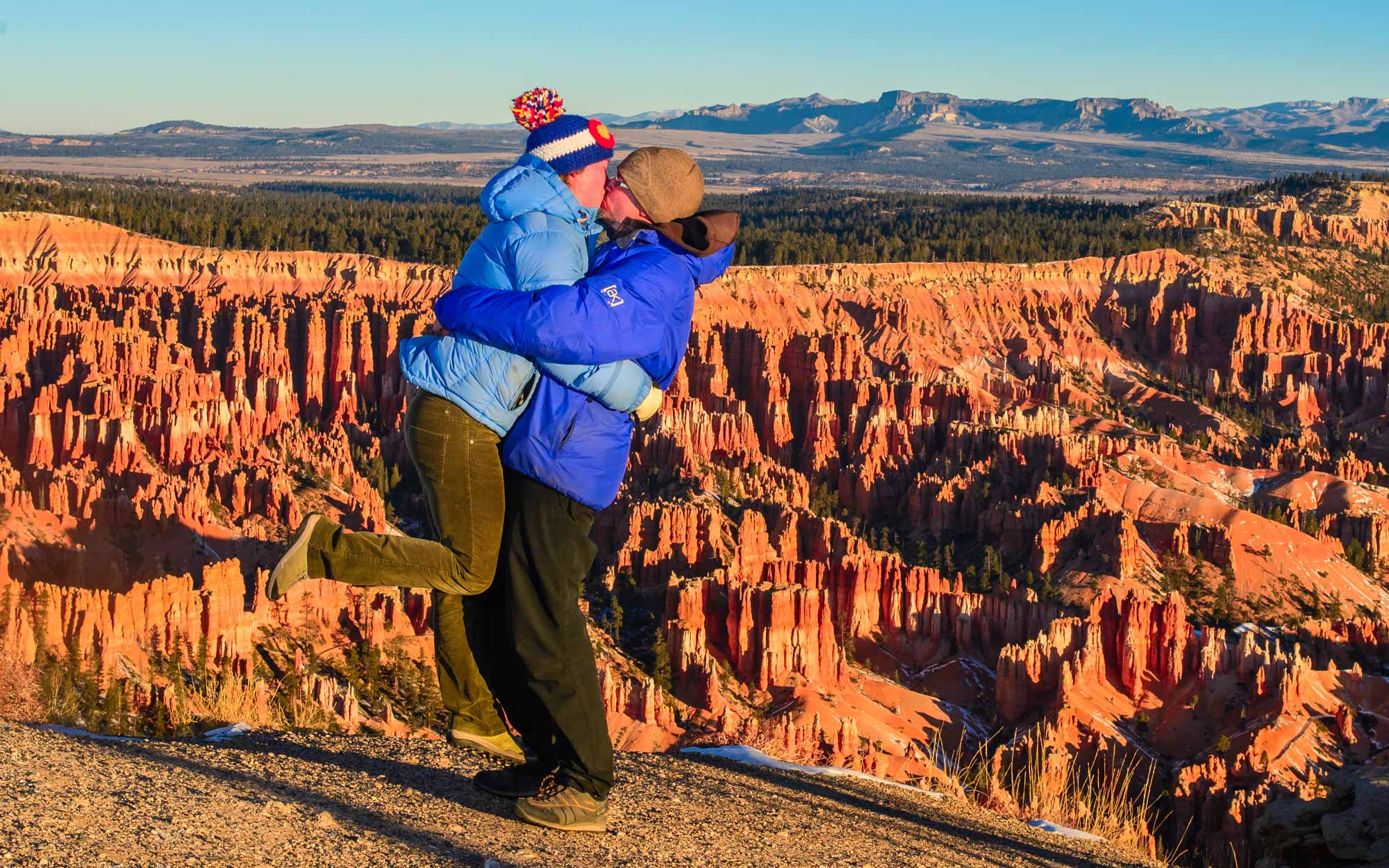 Caitlin – "Andy set-up his camera and I stood there waiting for him to join me for the photo (even giving a thumbs-up for the test shot). He joined me and begun to breath really heavy while kissing me longer then usual for the pictures…I was beginning to worry when suddenly he pulled a little box from his pocket and I immediately shouted "YES!!" before he could mutter any words!"
Andy – "Caitlin was unsuspecting due to my several month process of joking about proposing at nearly every scenic overlook we were at, so when she said "YES!" before I could say a word I knew I had her! She then told me that I had to ask her and I joked for a few more brief moments before saying 'Do you want to spend the rest of our lives together!?!', which prompted her to say "YES!!" again through her watery eyes."
Actual Footage of Popping the Question, followed by photos around Bryce after the proposal: