Central Kalahari Game Reserve Mobile Camping Safari
---
Navigation to Detailed Trip Reports and Photo Galleries: 
---
CENTRAL KALAHARI GAME RESERVE (CKGR) (Botswana):
5 Nights with Unlimited Safaris in Tented Camp in Deception Valley
Guide = Master Baisteng (Camp staff = Moses+Alec)
Game Drives:
20th: Maun pickup at airport at 1pm drive to Deception Valley (~7 hrs)
21st: Morning to Deception Pan, hot in middle of day hung-out at shady campsite. Evening ride south Deception Valley (truck alternator dies in middle of nowhere)
22nd: LEO our new Landcruiser Defender = full day drive (14 hours ~150 miles) (lions, honeybadger), Nighttime rain
23rd: Morning drive to Letiahu, cheetah sighting.  Evening Drive headed north to Leopard pan, huge rains in truck turned south, dung beetles, night downpour at campsite
24th: Leopard Pan and Sunday Pan morning. Evening drive to Letihau waterhole, late arrival (Moses+Alec worried and drove out to find us)
25th: Pack-up, quick loop around area, drive lots of hours to Camp Kalahari/Jacks Camp (prior rains made the road out of CKGR much slower travel)
Key Sightings: 
Leopard at top of Deception Valley
Giraffe with herds up to 25
Tau Pau Lion Pride (Kalahari lions = 1 male, 2 females)
2 Male Kalahari Lions near Phokoje Pan
Not seen but heard: Deception Valley Lion pride roaring in the distance heard from our campground!
2 Cheetah Brothers south of Deception Valley
Oryx (huge herds everywhere)
Springbok (huge herds)
Hartebeest
Wildebeest / Kudu
Honeybadger
25 Ostrich Group (+many more ostrich)
Mating Bullfrogs
10+ Leopard Tortoises from 6 inches to 2-3 ft across.
Dung Beetles
Bat Eared Foxes (many different families)
 Jackal
50 Steenbok in a day
Wild Cat during daytime
Mongoose (Slender and Yellow) / ground squirrels
Weaver Birds / Kori Bustards / goshawks /Korhaan / Secretary bird/ Shaft-Tailed Whydah
Brandy Bush
Fresh dung/prints from Elephants
Fresh tracks in sand from Wild Dogs
Fresh tracks from Brown Hyena near camp!
After reading many reviews on the camping in National Parks and using reputable guide companies such as Unlimited Safaris, Caitlin and I decided to camp in the remote desert and learn tips and tricks for future African adventures.  Our guide MASTER BAISTENG was awesome and since it was pretty much just him and us for 5 days we learned a lot about each other. The remote Kalahari desert had some surprises up her sleeve that even our seasoned guide flipped out over. Giant Leopard patrolling the rim of Deception Valley. Huge herds of Giraffes, Ostriches, Oryk, Sprinkbok. The time of year was perfect and was inspiring to see such abundant life in one of the most inhospitable places on planet earth.
A great resource that lead to us booking Unlimited Safaris is the forum: http://safaritalk.net/ which had numerous photographer trip reports on Botswana using them as guides. We contacted them directly.

---
Scale of Central Kalahari Game Reserve is incredible. It would cover ~20% the landmass of Colorado if overlaid on the state and larger the 9 US states (it is 2x the size of Massachusetts). The inner blue circle is the approx area that we traveled in during 5 nights of mobile safari.
---
Always Be Prepared for the Unexpected: 
---
Five hours of bumpy dirt roads, sweltering in 90 degree F (40C) heat, with only a few solitary antelope spotted. All senses had been beaten, sweated out, and covered in dirt, when nature surprised us with a supernatural appearance; a massive Leopard waltzing right across the road.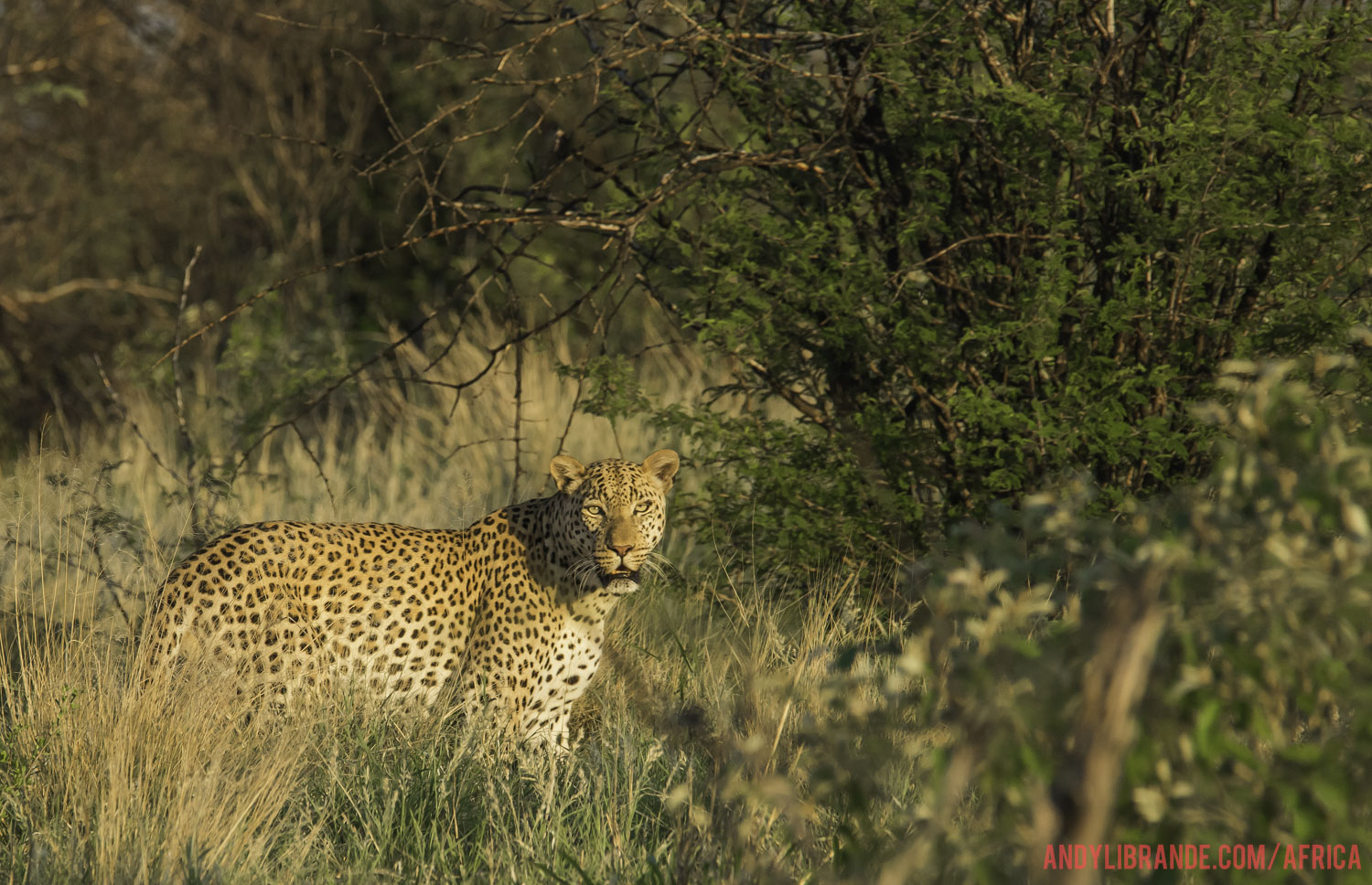 We departed the city of Maun and spent a short time traveling down nice, paved (aka TAR) roads until we turned onto a sand highway. For three hours we drove in a perfect straight line following a Game Fence all the way to the Matswere Entrance Gate. Those three hours occurred in the sweltering afternoon heat with repetitive views of sand road. After passing through the entrance gate our excitement shot up quickly when 20 mins down the road we crossed fresh lion tracks of several individuals; however the next nearly two hours of driving were uneventful.
The sun's rays were growing long and we were racing to make our campsite before darkness. At this point Caitlin and I have been up since 5am when we finished our last game drive at Kwando, left on a plane from camp at noon and had been traveling in car ever since. Our seventh hour of straight travel was about to finally get exciting.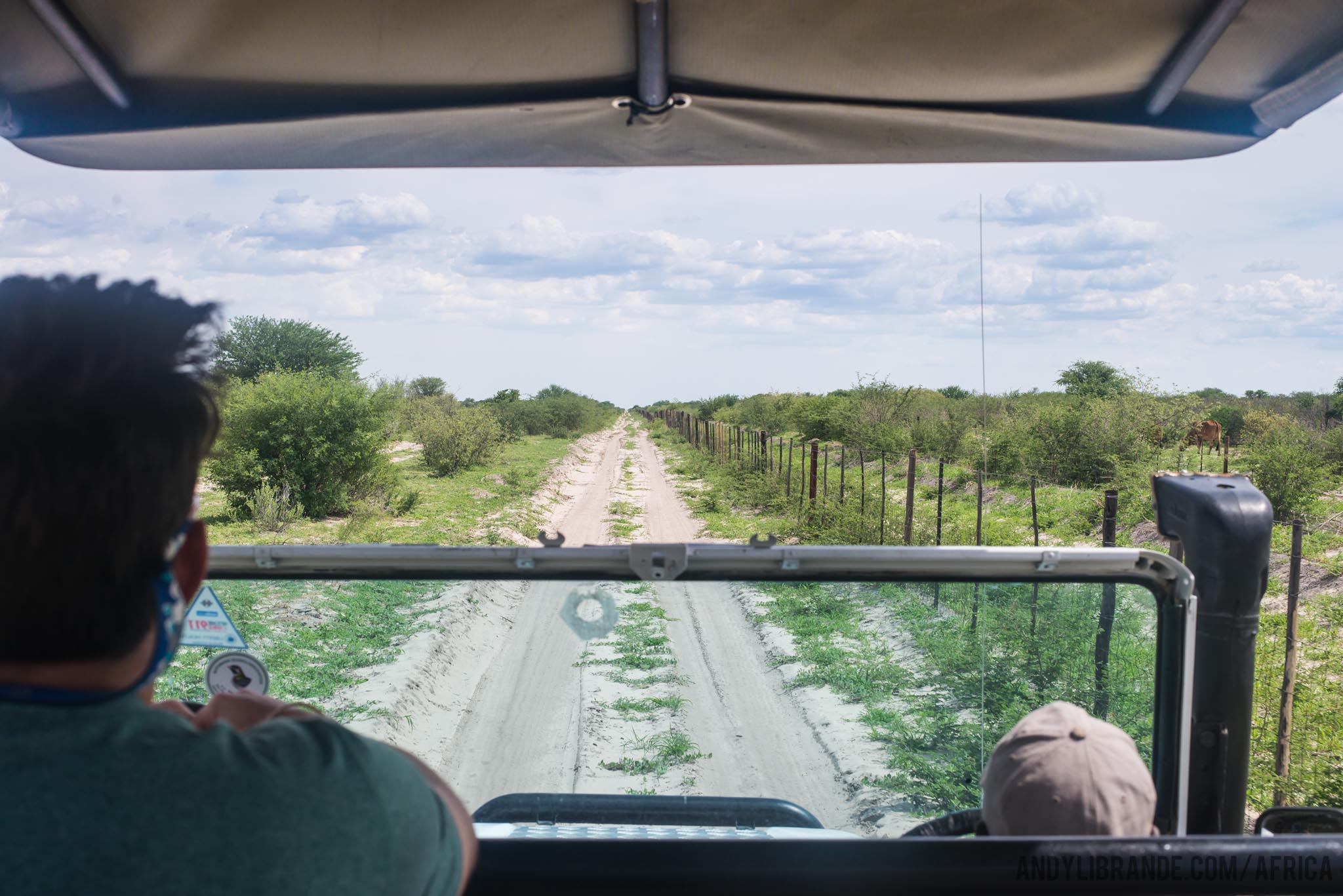 Our jaws dropped when the silhouette crossed the road right in front of us. Fumbled for the camera, the incredible silhouette image only burned into our memory. The giant beast moves through the undergrowth providing terrible buttshots when it suddenly decided to show off for us and provided us with a sighting as if the leopard had plan for this all along. 90 seconds of encounter with the king of the kalahari is all you need to change your life a little bit.
Our guide immediately claimed it as one of the largest, if not the largest leopard he has seen. 20 minutes later we are passing the entrance signs to the infamous Deception Valley and the arrived at our campsite (and sleep on tents on the ground!) just a few short miles from that leopard.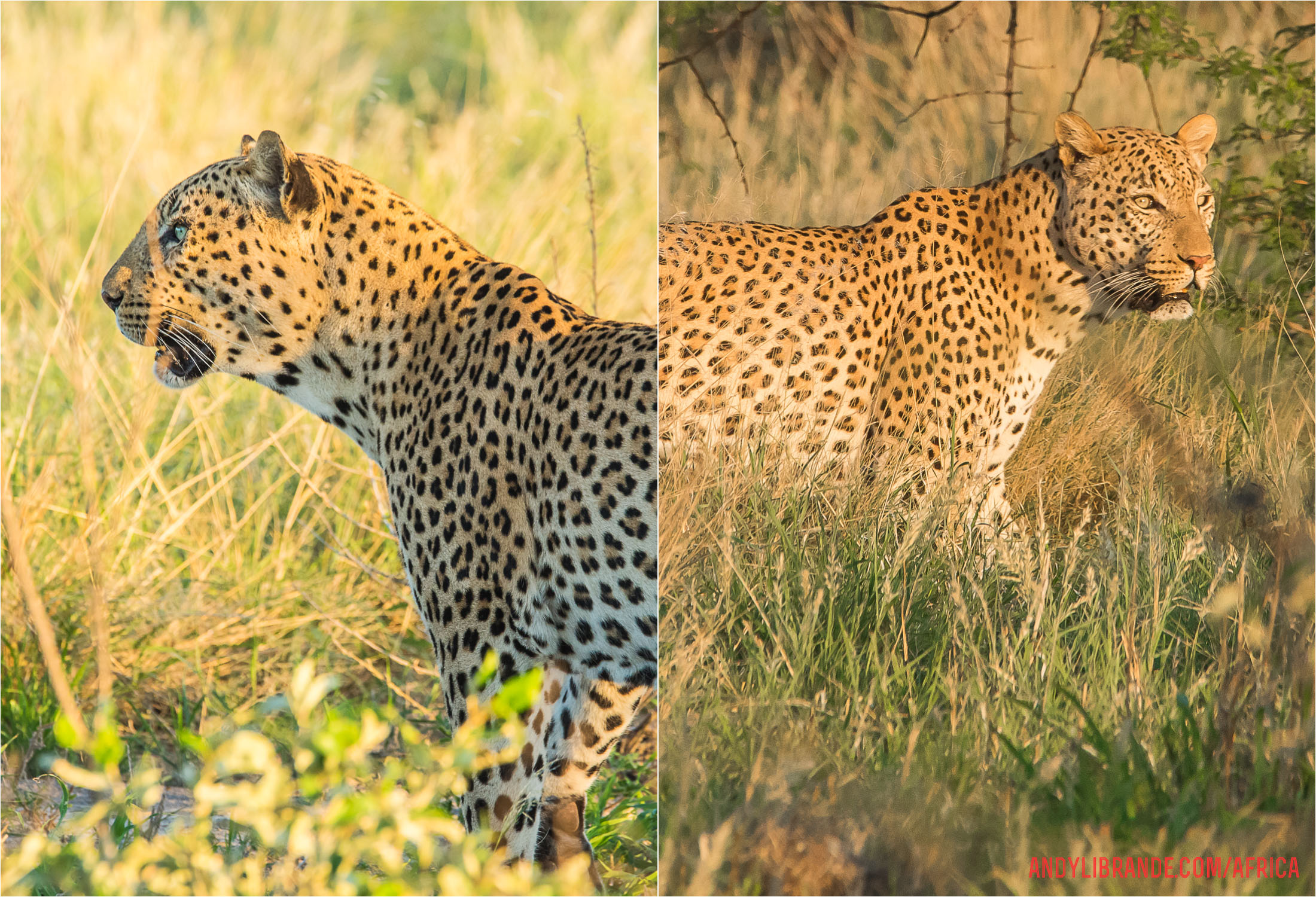 ---
Welcome to Paradise: One of the World's Largest Wilderness Parks, Very Remote, and plenty of space void of Humans:

---
Entering this isolated and extreme landscape (no rivers, no lakes, only water comes once a year in rainy season), your senses are on full alert. This is the real wilderness and while we were in the most popular spot we saw only a handful of people over 5 days.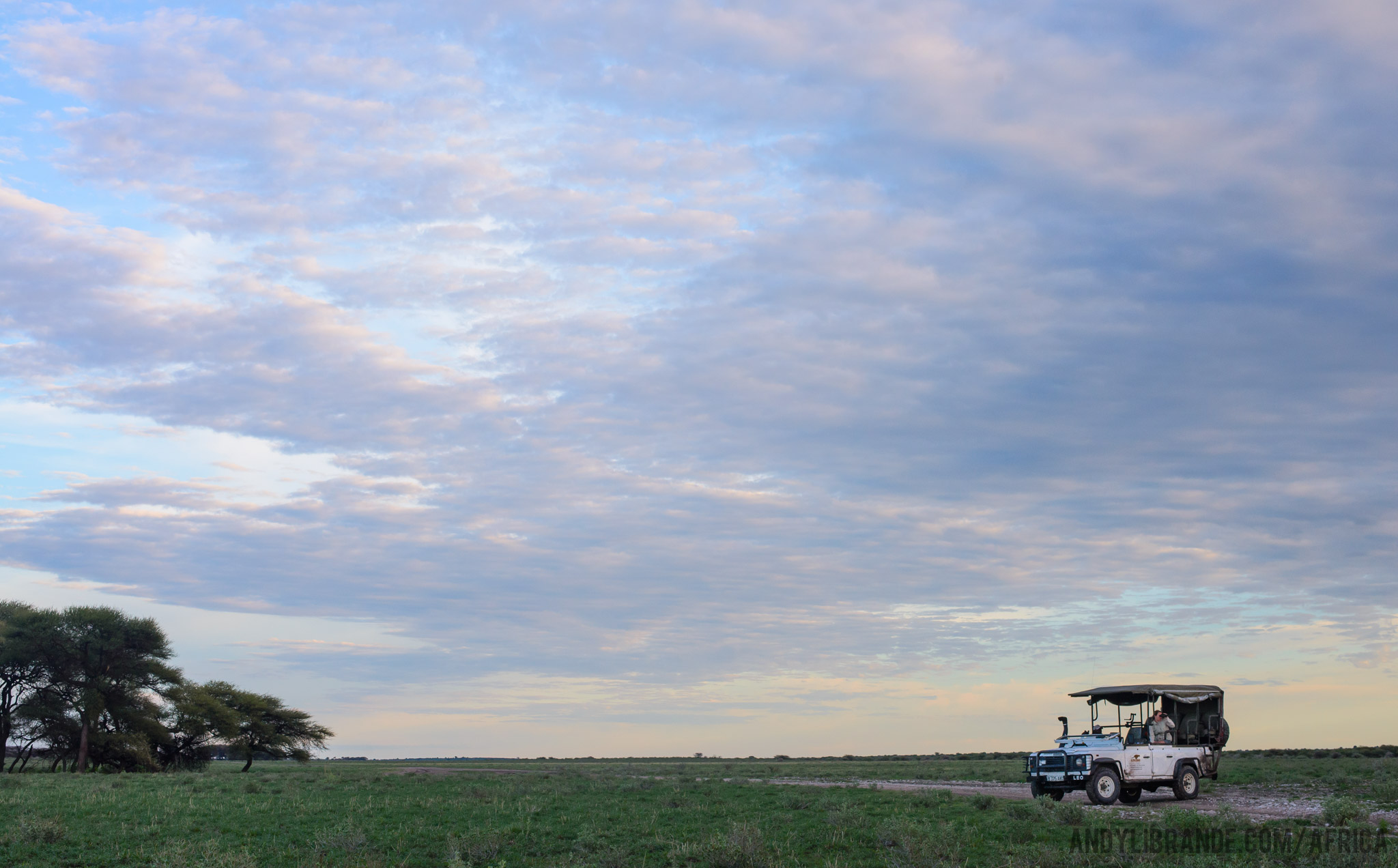 The Kalahari plays tricks on your mind. The rolling valleys of sandy hills covered with vegetation give the illusion of major elevation changes. While perfectly flat 'pans' convince you that you can see the edge of earth.
Kalahari life explodes out at you! Unbelievably vast, dead, deserted pans radically change into havens of Oryx, Springbox, Bat-Eared foxes, Jackals, Ostriches, and Giraffe's.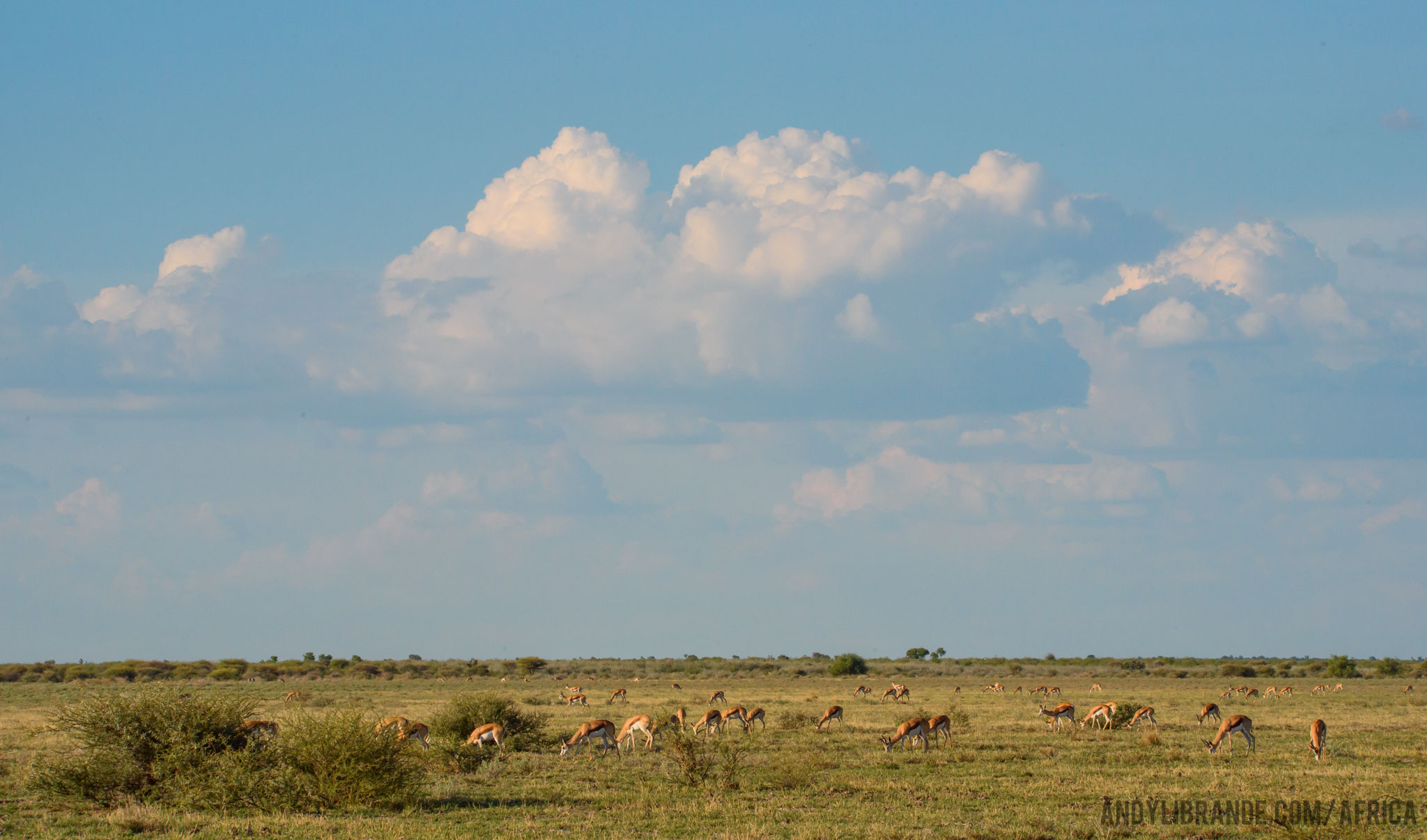 We experienced all the seasons in the five days we were there:
Epic heat
Epic Rainfall
Borderline hypothermia conditions
Super lush valleys and completely dead vegetation valleys
All of these unique experiences really made the Kalahari stand out as a special part of planet earth. True raw wilderness.
---
Epic Day of Touring in the Central Kalahari Game Reserve: Dawn to Dusk Non-Stop Safari:
---
14 Hours of Driving covering 150 miles of pristine Kalahari landscape. During this time I took 500 photos and videos starting at 5:50am and ending at 7:45pm when the rains finally forced us to our tent! This is just a sample of one of the most varied landscapes I have ever seen. The contrast between completely dead and thick lush green was extreme.
Please check out the google map to see our route and photos along the way.
This massive amount of travel took us first North to Sunday Pan where we saw an honeybadger cruising around for breakfast.  Than we set-off on the Cutline Road, a East West straight cut right through the heart of the kalahari. During this section we saw 20+ steenbok independently along the road, as a joke we started keeping track in our journal not realizing by the end of day we would have seen over 50 steenboks! It started out as a rainy day that eventually faded as we traveled on:

We pulled into Tau Pan and across this massive landscape I was convinced we had spotted some old logs. But as we got closer we encountered these beautiful Kalahari Lions. Tau Pan is beautiful and full of ostrich, spring bok, and plenty of other creatures. We ate a delicious lunch on the hood of our car watching these lions sleep from a distance.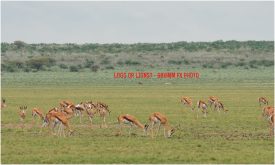 We departed Tau Pan and the lions at 1:30pm and headed on the loop. We drove over fresh Wild Dog tracks and through some desolate landscape. 2 hours of continuous driving after seeing the Tau Pan lions I suggested that we stop to take a bathroom break and stretch our legs. We stopped next to a large bush with plenty of clearing around us, we had not seen an animal for a while now that the temps had risen and the harsher landscape we were currently driving through. The three of us hop out of the truck and Caitlin goes behind the bush; we reconvene back at the truck and Master our guide asks us with a goofy smile on his face:
"Did you see the lions?"
Ha, funny joke Master! we laugh and I scan our surroundings, ohh SHIT!
Immediately jump into the truck. Of all the spots we could have stopped we picked the place where two giant black-maned Kalahari Lions are sleeping. Just 40-50 ft from the road and way too close to our pee spots; these guys were luckily being extremely lazy. As we had stopped a group of Francolins were walking along the edge of thick bush and open grass when they started making their alarm call, that's when the big guy on the left poked his head up in the air to check us out. Master spotted it right away and luckily we all walked calmly back to the truck. Scarface on the right never even lifted his head.

Massive landscapes always changing. The most barren of them shown on the left. As we approached home the distance clouds were getting dark and ready to unleash major rain that night.

Numerous large gatherings of ostrich, giraffe, oryx, springbok were all seen that day along with some lucky sights of a Wild Cat in the daytime.
After a long and intense day we slept great while the rains poured down around us.
---
Photo's of Andy+Caitlin in the CKGR: 
---
TOP-LEFT: Caitlin watching ostriches on Deception Pan — TOP-RIGHT: Riding in the Safari Truck looking for animals
Middle-LEFT: Posing next to a small Leopard Tortoise — MIDDLE-RIGHT: Lunch on the front of the Land Rover as we watch a pride of lions in the distance at Tau Pau
Bottom-LEFT: Chance encounter with people we had meet at Little Kwara camp 8 days earlier who was with Kwando Safaris at Tau Pan — BOTTOM RIGHT: Sunset picture of Andy+Caitlin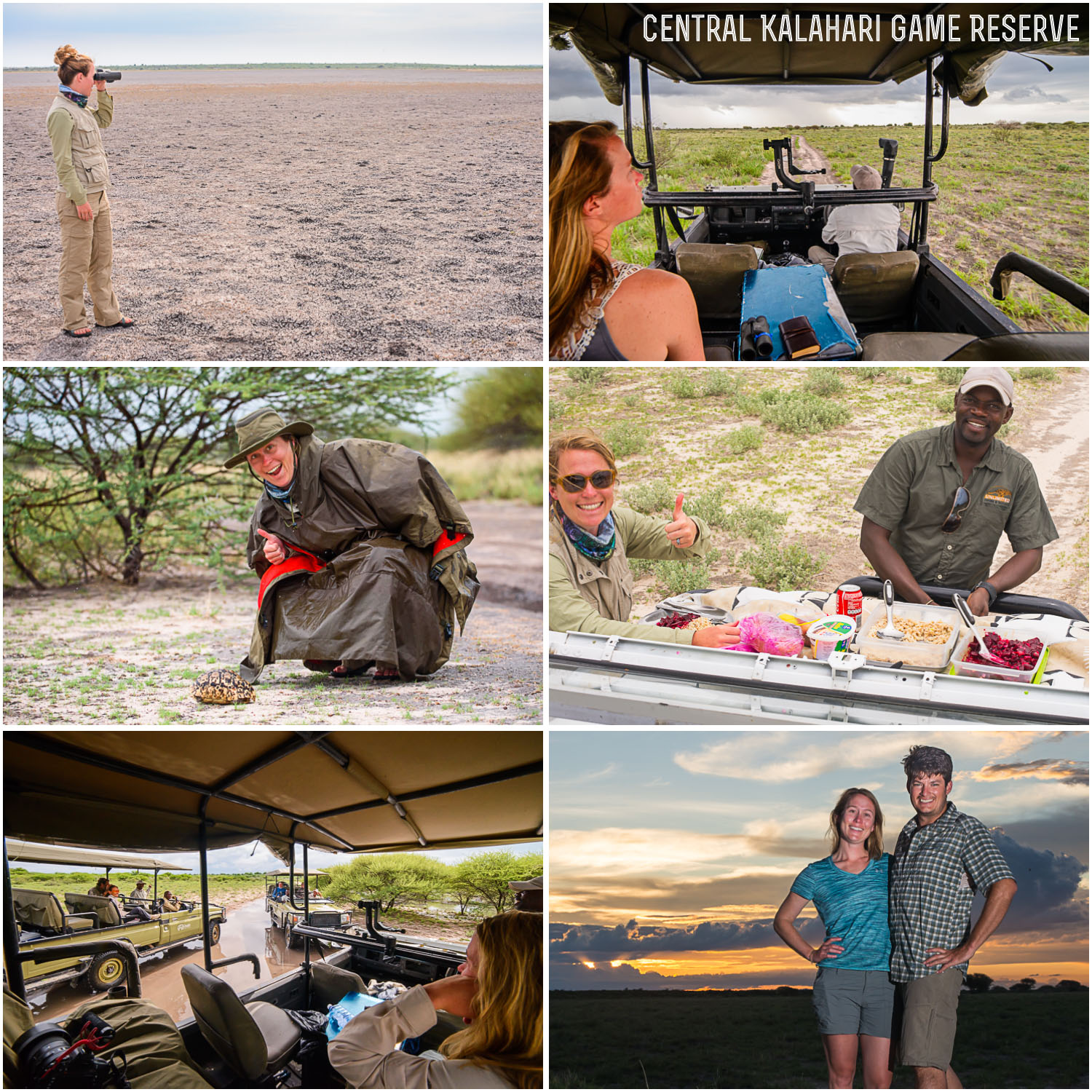 ---
Camping in Deception Valley with Unlimited Safari's: 
---
A few photos from the 5 nights we were camping. We were in the same campsite the whole time, with great home-style food cooked up by our camp hosts Moses and Alec, hot water in basins for morning face washing, and hot showers right outside your tent door! Similar to the car camping we do a lot of in the USA, but with dedicated camp hosts for us!!
You are surrounded by open wilderness in these campgrounds which makes you keep your senses up. Lion calls in the distance, fresh brown hyena tracks nearby, and the occasional Steenbok wandering into camp keeps reminding you of this magical land we are in. Luckily for us we only had a couple really hot siestas, followed by intense rains, colorful sunrises, and rare moonbows.
Moses was our cook and was a wonderful and joyful guy. Pictured in the bottom row middle filling up Caitlin's breakfast tea. All cooking was done over the campfire using numerous different methods. Alongside the campfire we were fed lots of delicious and local vegetables such as beet salads. As someone who prides himself on campfire cooking (I have been doing it for over 20 years) I was impressed with Moses meals!
---
Battle of the Bullfrog's: 
---
Intense rain had saturated the land leading to an explosion of life. On one of our tours we drove by a flooded waterhole near Sunday Pan and noticed commotion in the water. A rare mating event was happening with the Bullfrogs which had just emerged from the dry dirt.
A battle was raging and we watched for a long period of time as males knocked other males off of females looking for any chance to mate. Our guide had never seen this behavior in the wild before and was just as fascinated as we were! Each Bull Frog is easily 3-5 lbs in size and ~12 inch bodies, and specialized in loud croaks followed by violent attacks.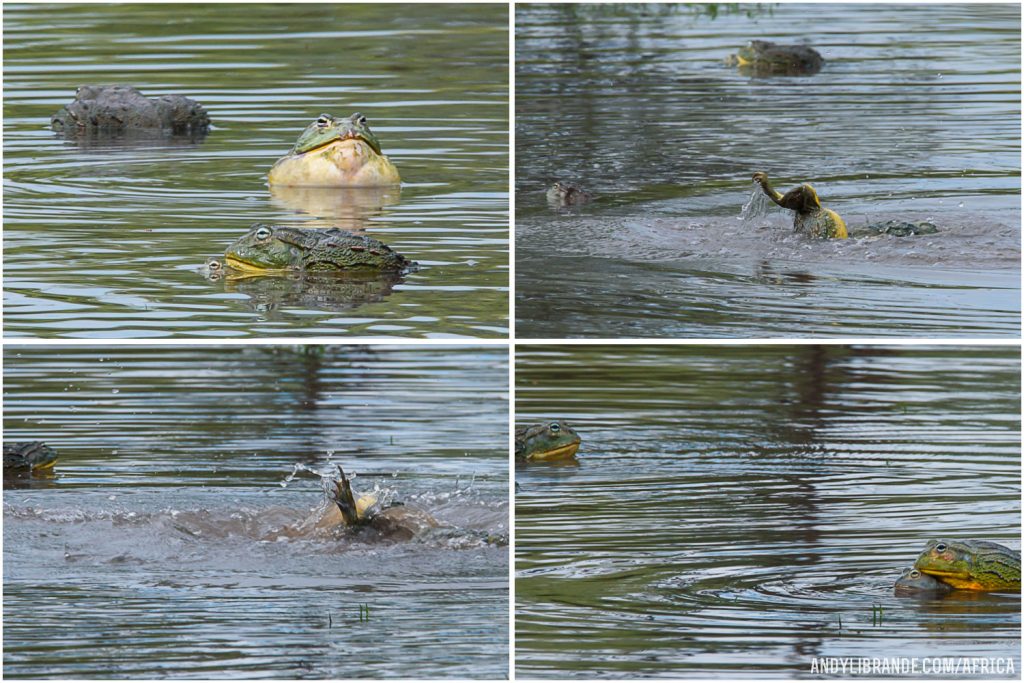 ---
Ostrich: 
---
Just a group of XX Ostrich hanging out!! (See if you can count all of them there!) — ANSWER AT THE BOTTOM OF PAGE
REALLY!?!?!
Near the Letihau Waterhole in the Central Kalahari Game Reserve – Botswana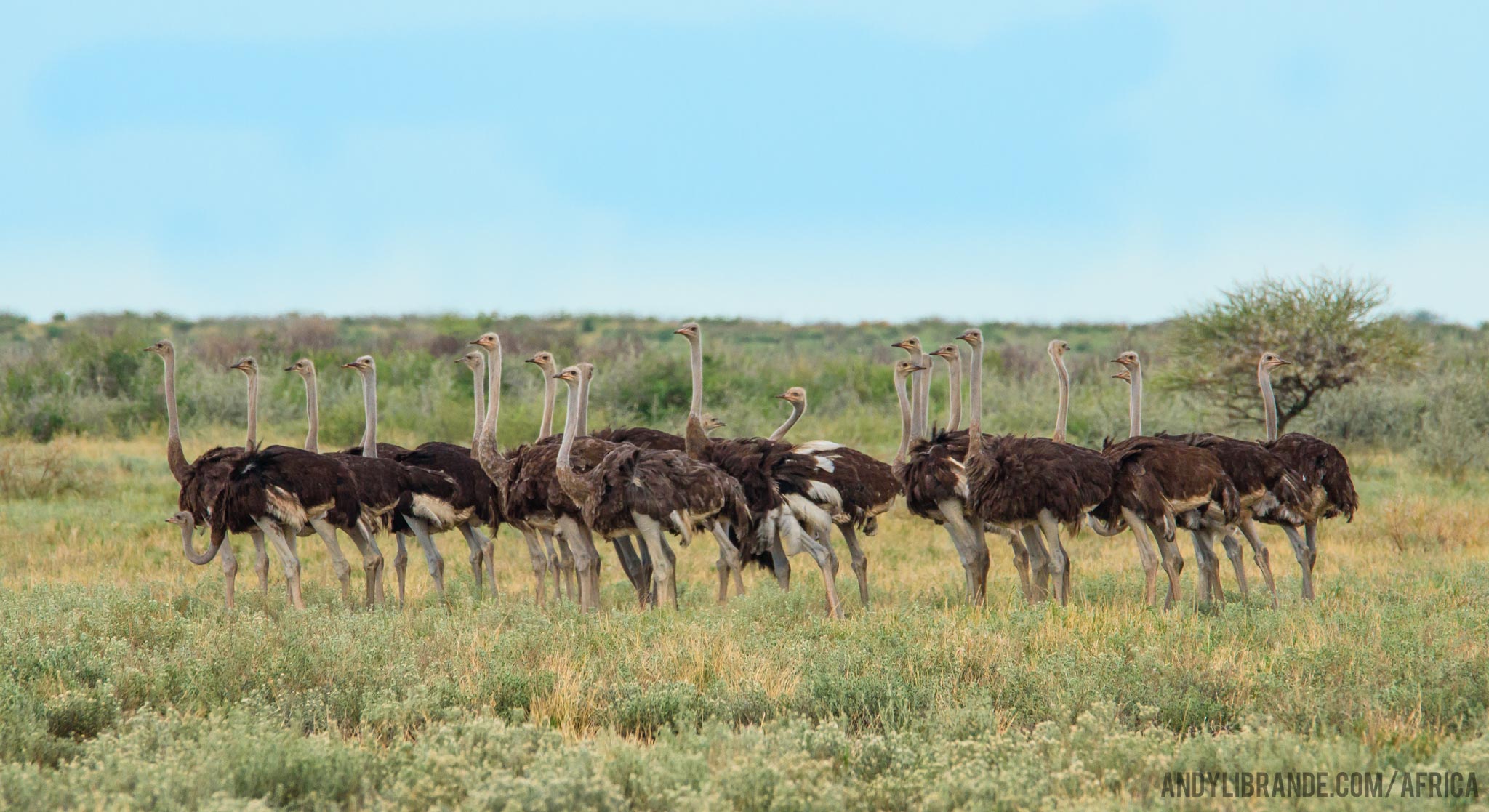 ---
The Little Details in Africa:
---
A quick break to stretch our legs in one for the most famous spots in the Kalahari, the original campsite of zoologists Mark and Delia Owens who wrote "CRY of the KALAHARI" and are the first people to document this area which was only in 1970!!!!! Prior to that this area was not known by humans.
Now full of "No Camping" signs and shade, Caitlin and myself were wandering around the trees when we spotted some old elephant dung under a tree. Elephants are rare in the CKGR, so this was interesting to see and as we investigated we noticed something next to the dung…fur in the ground.
As we investigated this small amount of fur it appeared to be Springbok, our Guide noticed our attentiveness and walked over to see for himself.
This is where the fun begins. The little details began to catch our eyes: the outline of where the body was, darker colored dirt from where the blood had stained it, the drag marks of a dead body 40ft+  through the dirt into the shade of the tree, and Cheetah paw prints.
We quickly realized that this happened days (or a day) ago and not months ago. The drag tracks were relatively fresh through the road and rains hadn't washed away the evidence.
Master, our guide, just kept repeating "what a great sighting that would have been."  Lucky indeed is a Cheetah kill next to the road in this vast isolated region.
An exciting puzzle that we solved!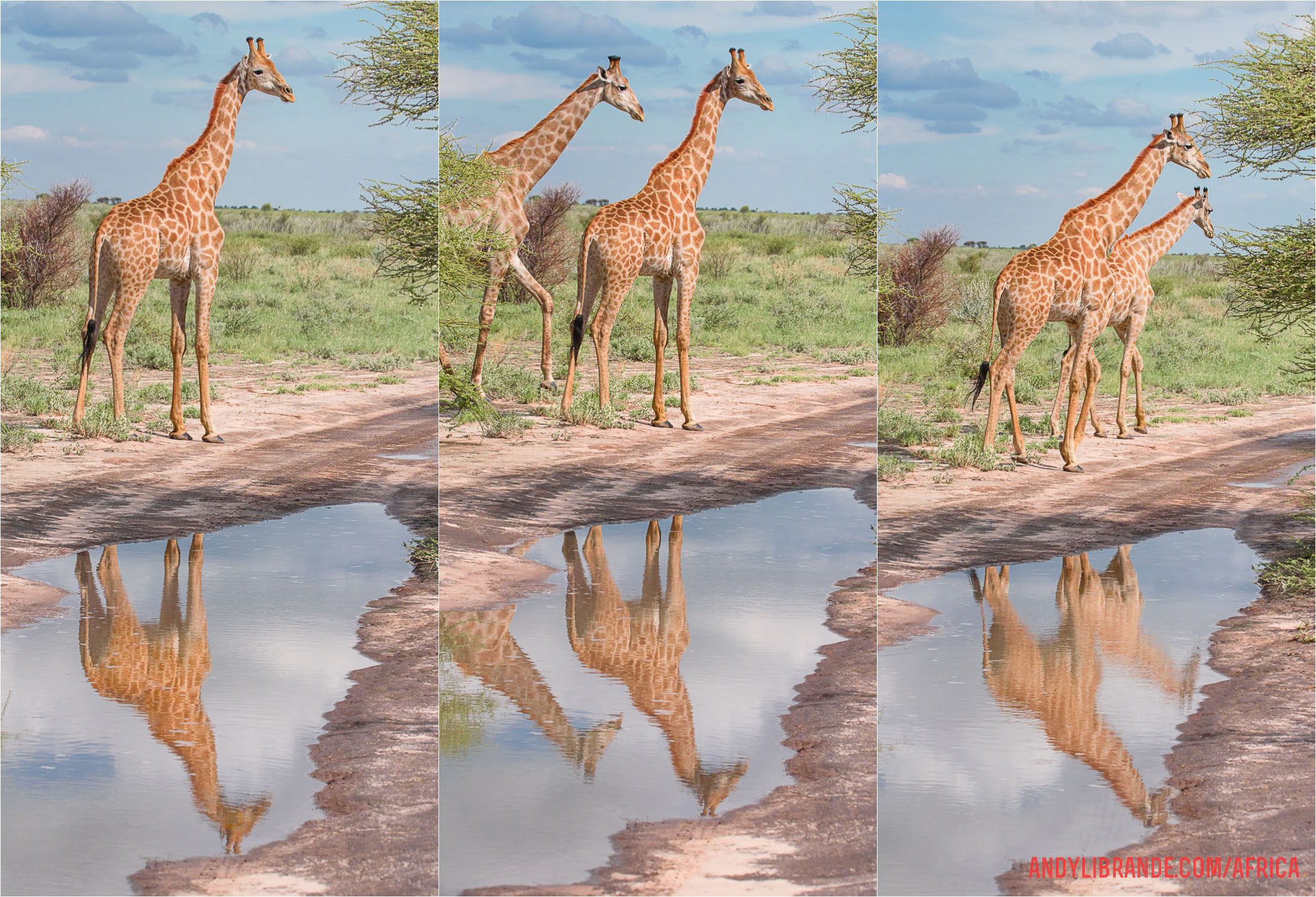 ---
REMOTE:
---
This is what drew me here to begin with. An opportunity to go to a place so few visitors visit that there are no real published figures anywhere on visitor counts, etc. Granted we are there in green season which is both the most popular but the most hazardous. Plenty of campers were around but there was ample more campsites available.
This story is when the remoteness really kicked in for us:
Sunset is at 7pm. At 5:15pm we stop for a quick bathroom break and find that the truck does not want to start. We troubleshoot and quickly realize the alternator is dead and the ancient battery gauge Master was watching was not working right.
Sunset is at 7pm, it is 5:15pm, we are 12-15 miles from camp. We are literally the only people for no less than 7-10 miles as the main deception valley campsites are that far away.
Ooh yea we heard lions roaring this direction this morning. And lets not forget that Leopard we saw exactly 24 hours previously; one of his buddies is probably not too far away.
Dead truck battery, no radio signal, Me, my Wife, and our guide Master.
Next step: jumpstart attempt
Miraculously myself and Master (who is a fair bit smaller than me) moved this giant, rock-solid Land Rover. We found our feet placement on the sand, with good side positions, and somehow began pushing onwards down the road. Caitlin drops the clutch but no dice. Again we push it against terrible 4×4 rutted sections and she drops the clutch again and no dice. Both speed and clutch drop were on-point (caitlin grew up on a stick albeit the vehicle was 15 years newer and a few thousand pounds less).
We reversed our tactics literally. Pushing the car in reverse (which was kinda uphill too). We got going and BOOM! clutch dropped and truck started!
We circled around as we headed back to the campsite. No one came that way that evening. We got lucky and had much more fun than we would have had sleeping in the vehicle 🙂
Unlimited Safaris was super professional about this and sent out mechanics from Maun right away to fix. They arrived late that night and provided us a new vehicle and drove the first vehicle back after working on the alternator. Next day we were out riding around with no problems!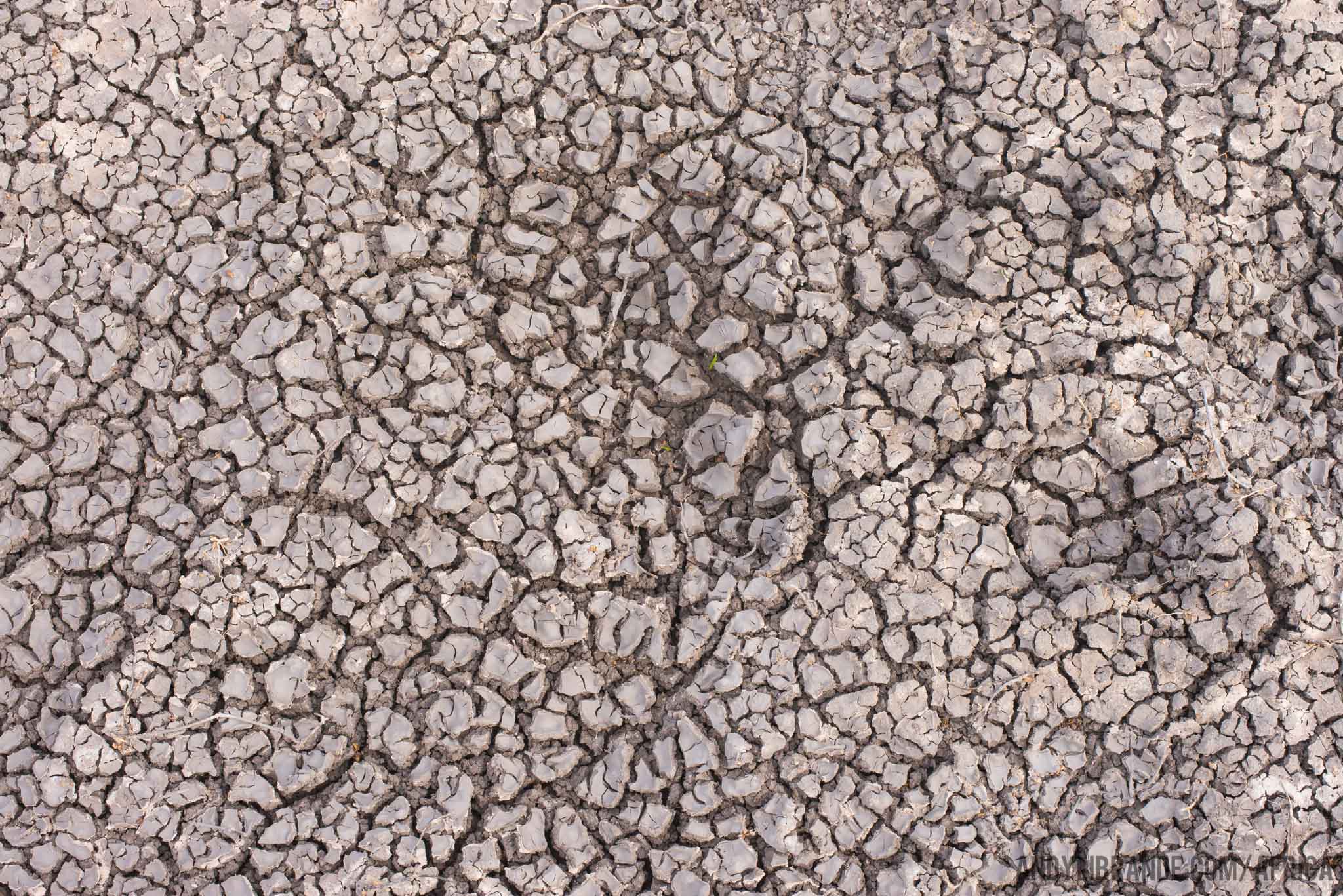 =
---
Small but Incredible Animals:
---
Some of the smaller wildlife that we spotted in the Central Kalahari Game Reserve. The amazing thing about Africa is that there are the big animals that everyone knows about but then everywhere around you is all of the smaller wildlife living their lives and being awesome.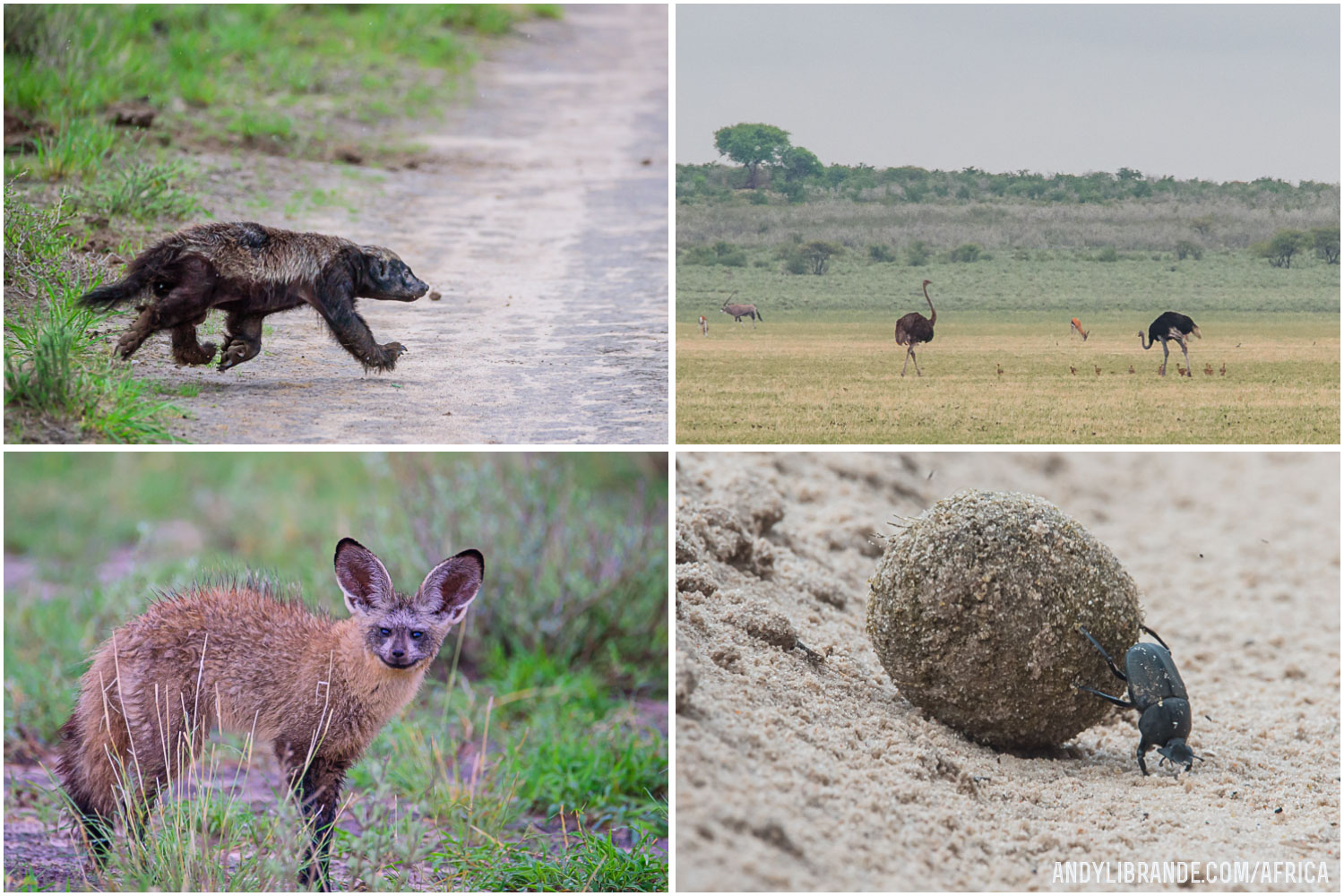 Upper Left is a HONEYBADGER!!! We saw two over the course of our time in Africa. Apparently they do give a shit as they don't like people and run away as fast as they can when they see something they don't like. This one we got lucky and watched it for a few mins as it was digging for bugs for breakfast.
Upper Right are a family of Ostriches in the Tau Pau pan. The Male (Black in color on the right) and the Female (brown in color on the left) have 10 chicks to watch out for. The large valleys/Pans provide excellent viewing abilities to watch for predators.
Bottom LEFT is a BAT EARED FOX taken early morning after a wet night full of rain. These guys were everywhere in the Deception Valley and other places in the Central Kalahari. There were 4-5 families of 3-6 individuals living just in the area where we were camping. They spend the day listening for bugs with their giant ears and then digging them up! Families live in burrows which were located in the middle of many of the open valleys.
Bottom RIGHT is a Dung Beetle with his fresh dung ball. By luck an elephant passed through this area (remarkable as we are in the middle of the desert), dropped a bunch of feces, and these dung beetles quickly found this fresh poo. We watched them create their balls, court a female, push the ball up the hill to a suitable spot, bury that ball, then they will lay their eggs in the ball so that the babies have food to eat when hatched!
---
The Kalahari Rains:
---
The first 1.5 days it was nearly 100 degrees out. Then the rains happened. Insane bucket dropping rain. The desert turned into a lake.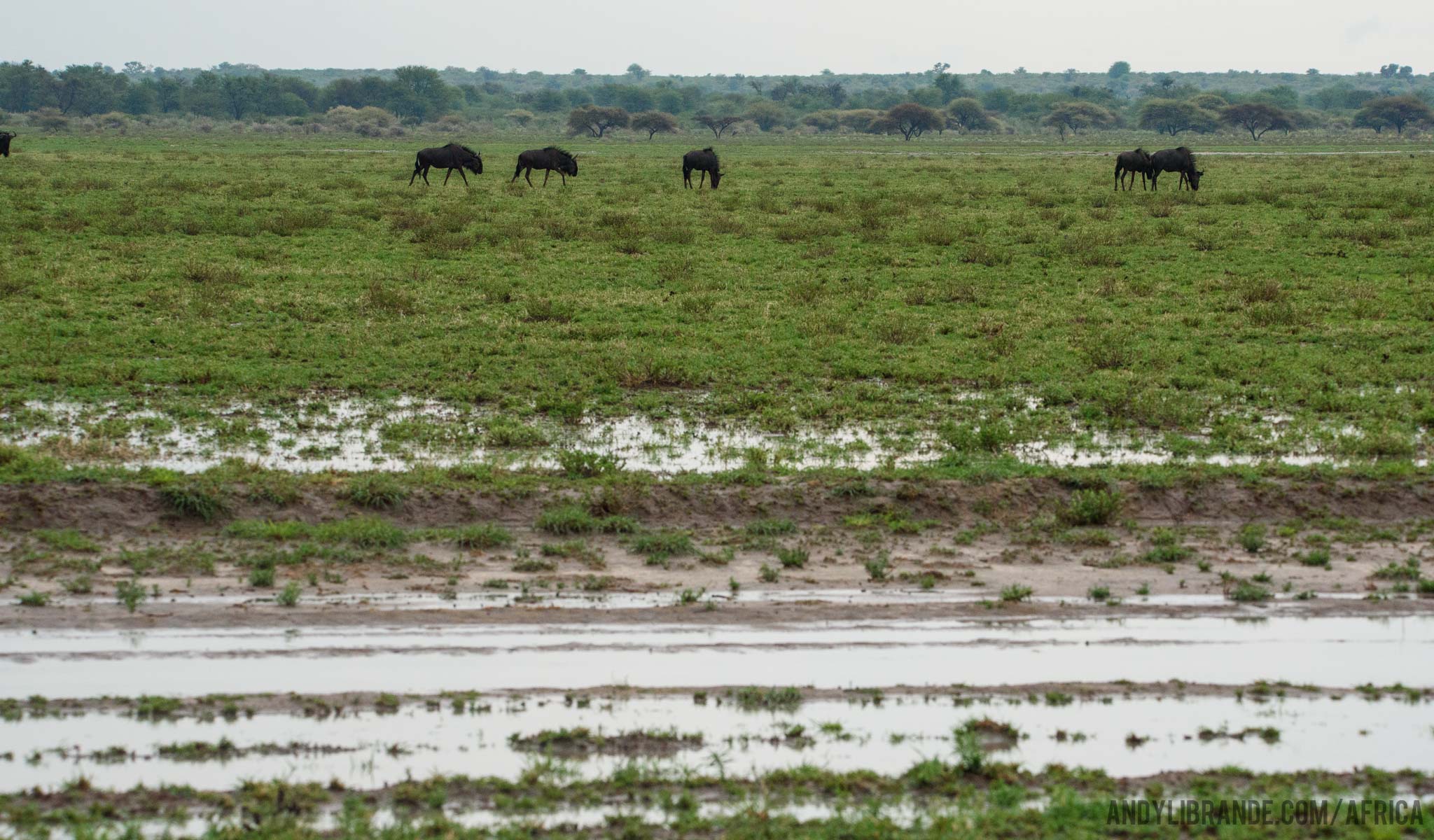 Slow driving when the road looks like this: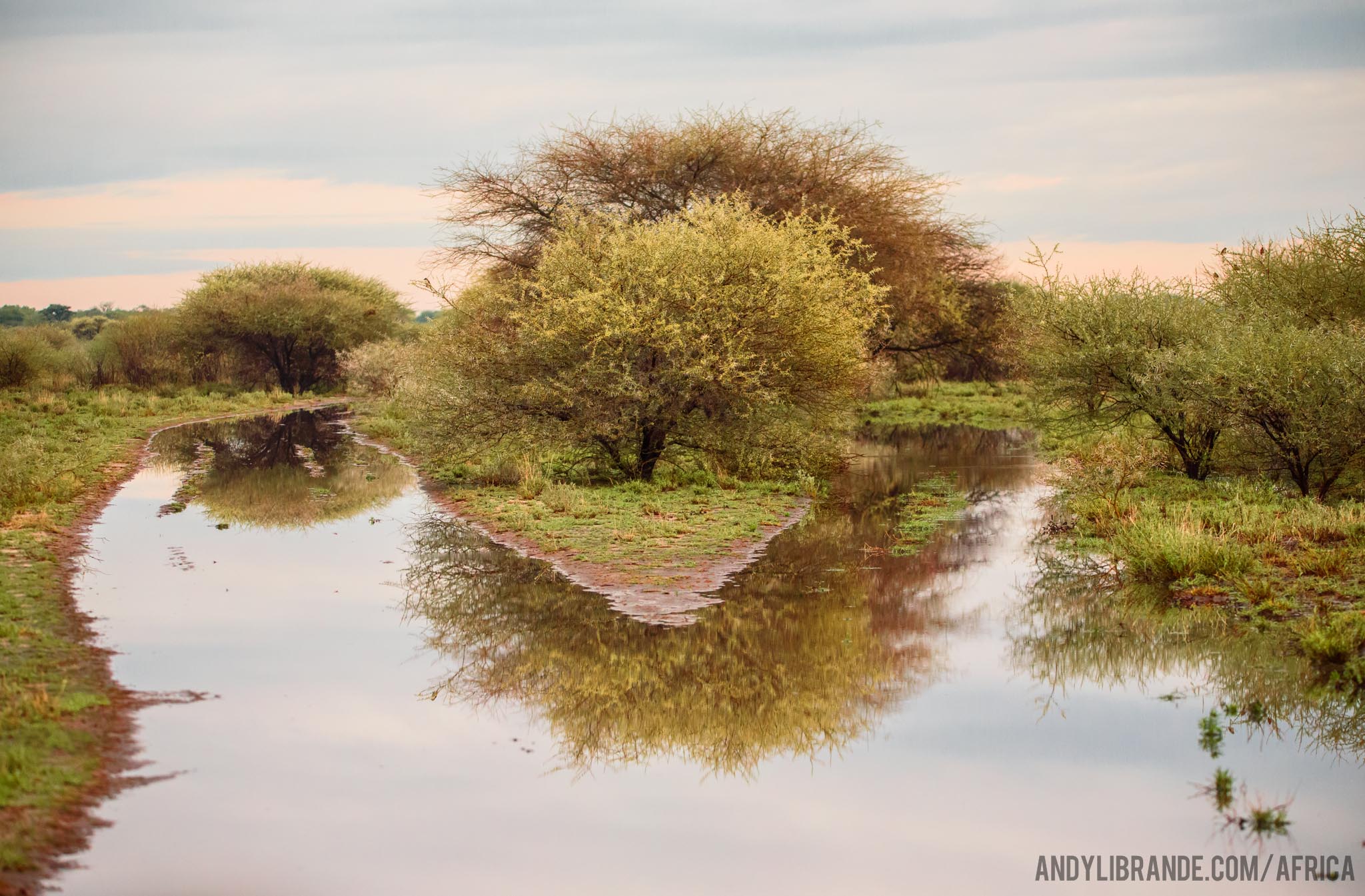 We got quite wet on one of the safaris due to the intense rain. We were just laughing cause it was coming down so hard.
---
When an Elephant Dumps in the Kalahari You Investigate It:
---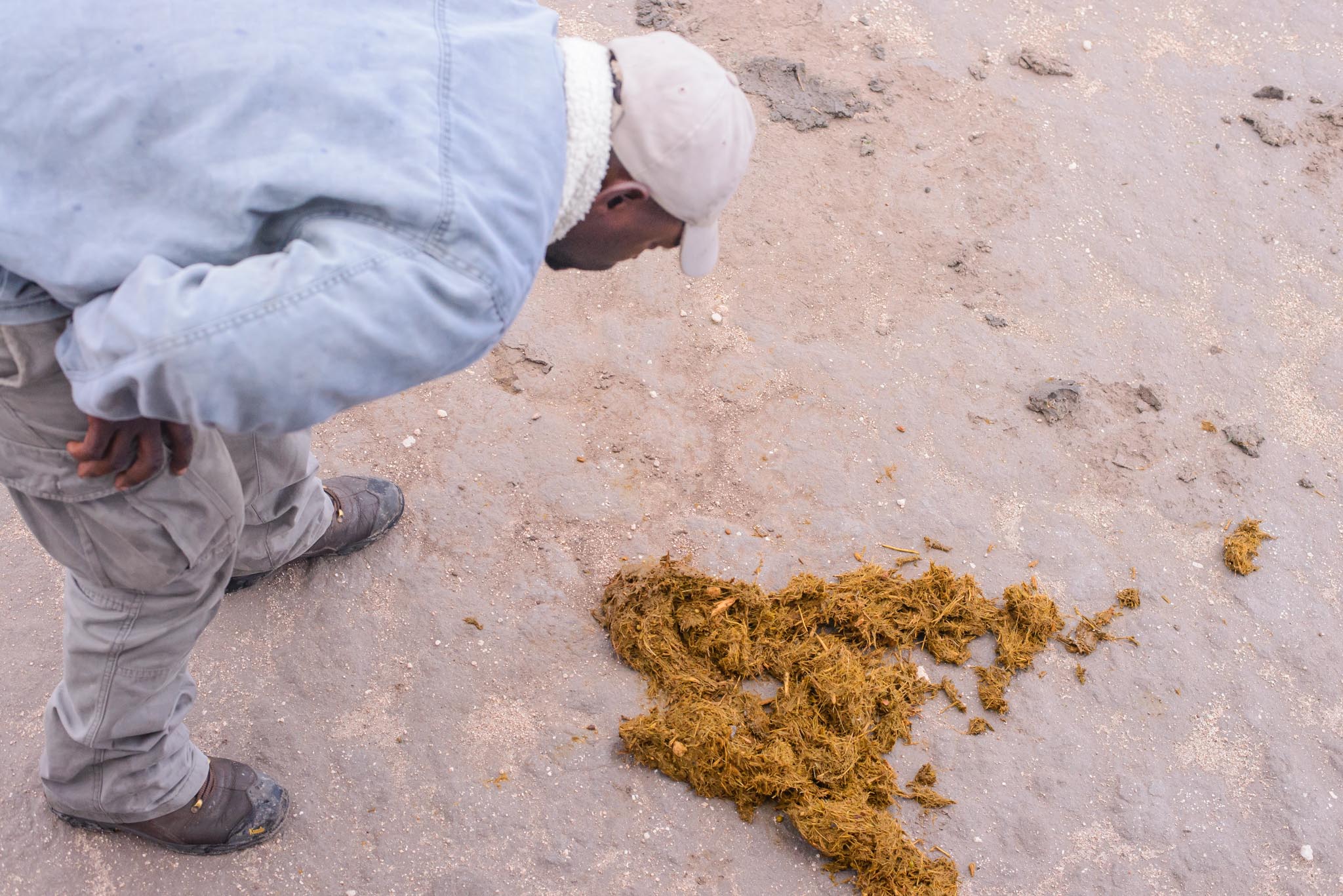 Here is the deal, Elephants need water and lots of it (30+ gallons a day). The Kalahari does not have any natural running water. Elephant here are rare (and hardy) as a result and based on how fresh this was we missed them by a mere hours at most.
---
Final Morning in Deception Valley as we Headed Out:
---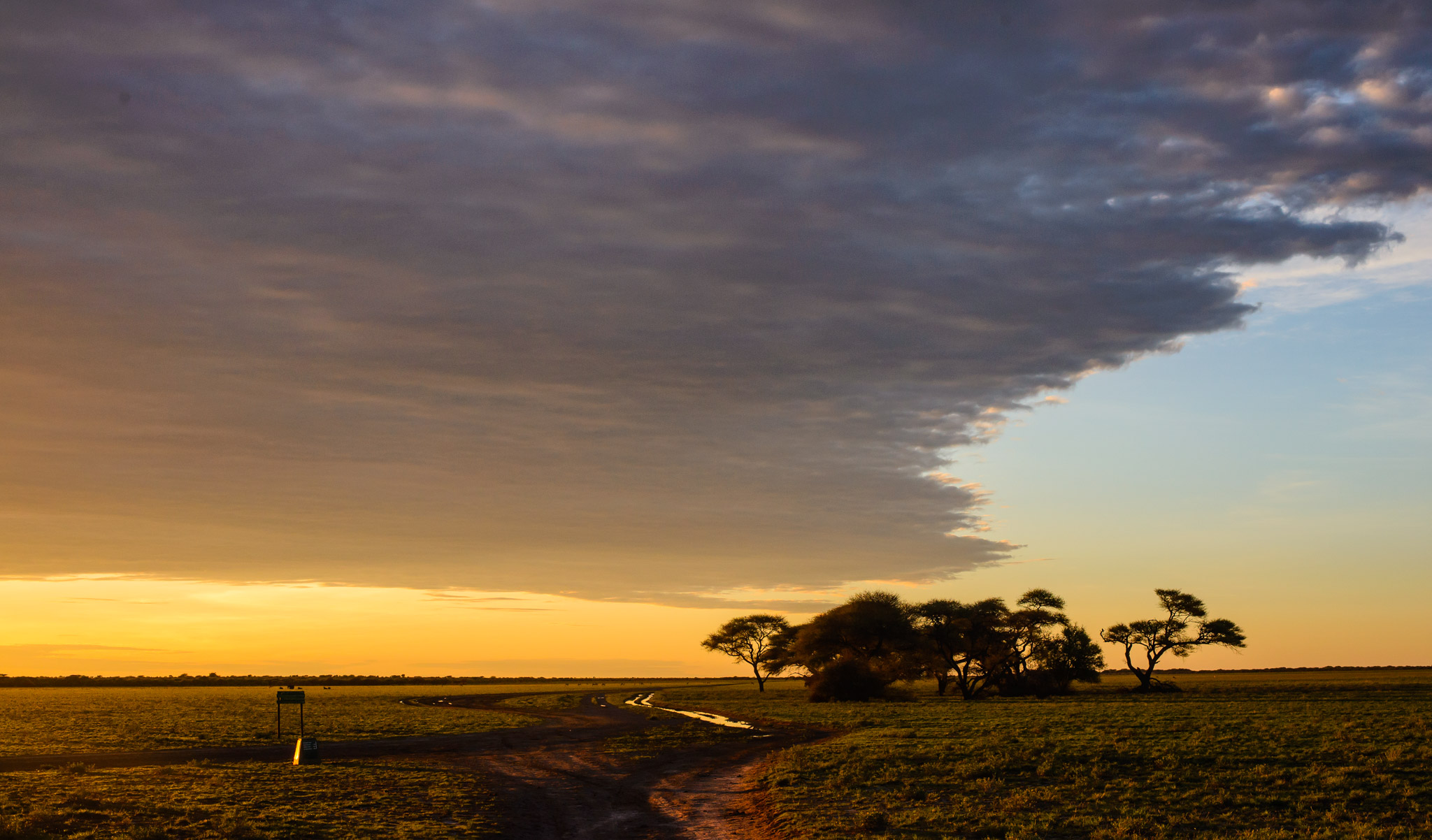 ---
OSTRICH: How Many Ostrich in that photo: 24 individuals!!!
Navigation to Detailed Trip Reports and Photo Galleries:
---
Copyright © Dandelion by Pexeto