Dates: Dec 28th, 2012 – Jan 5th, 2013 (4 days more then originally planned)
Who: Caitlin and Andy
Trip Overview: (CHECK OUT the interactive Google Map)
6 Days in and around Tokyo visiting Tsujiki Fish Market, gardens, temples, etc
3 Days traveling around Mt Fuji visiting Lake Yamanakako and the Hakone Region
New Years Eve at Meiji Shrine
Lots of delicious food, crazy sights, and incredible encounters in a very interesting and beautiful city
This will not be a normal blog posting where everything follows a sequence of events as we had a non-linear agenda and enjoyed some places multiple times.
TSUKIJI FISH MARKET
Forklifts whizzing by with hundreds of little carts weaving between semis, bikes, and tourists. Everything moving past us at the fastest and most efficient pace possible. Unusual smells, many unknown sea-creatures, and plenty of excitement. Visiting the Tsukiji Fish market is quite the experience. Octopus at one of the many interesting and sometimes weird stalls in the Inner-Market: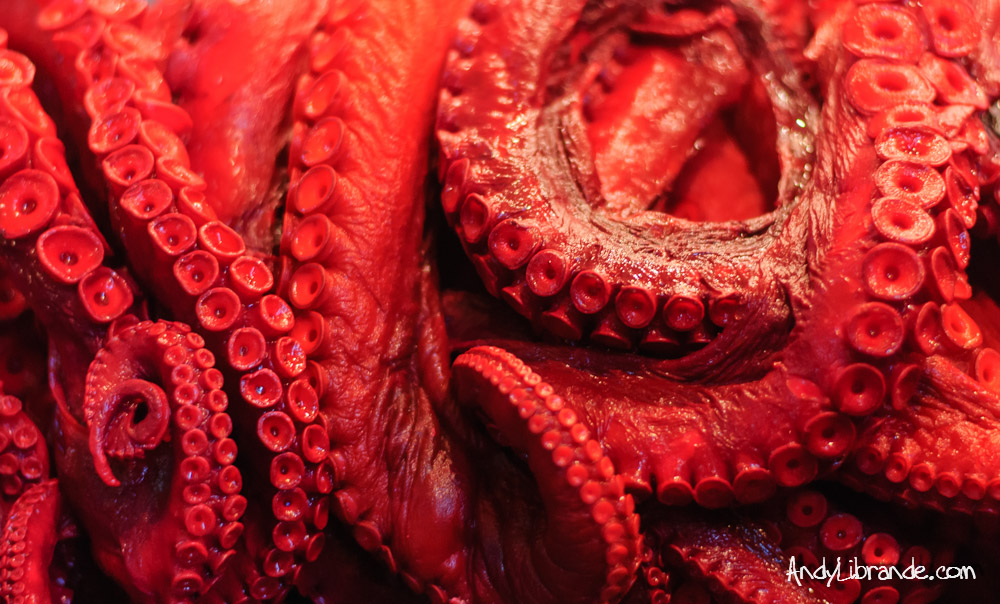 I am convinced that if this market was in any other country that was not full of people as courteous as they are in Japan, it would literally kill a handful of tourists a day. Especially considering our first visit was just days before the Japanese New Year which is Japan's largest holiday resulting in an influx of Japanese tourists and flooding the already cramped market. One of the Many Fish Market cart drivers weaving between cars, people, large trucks, and other carts all while sucking on a cigarette and balancing a huge load on the back: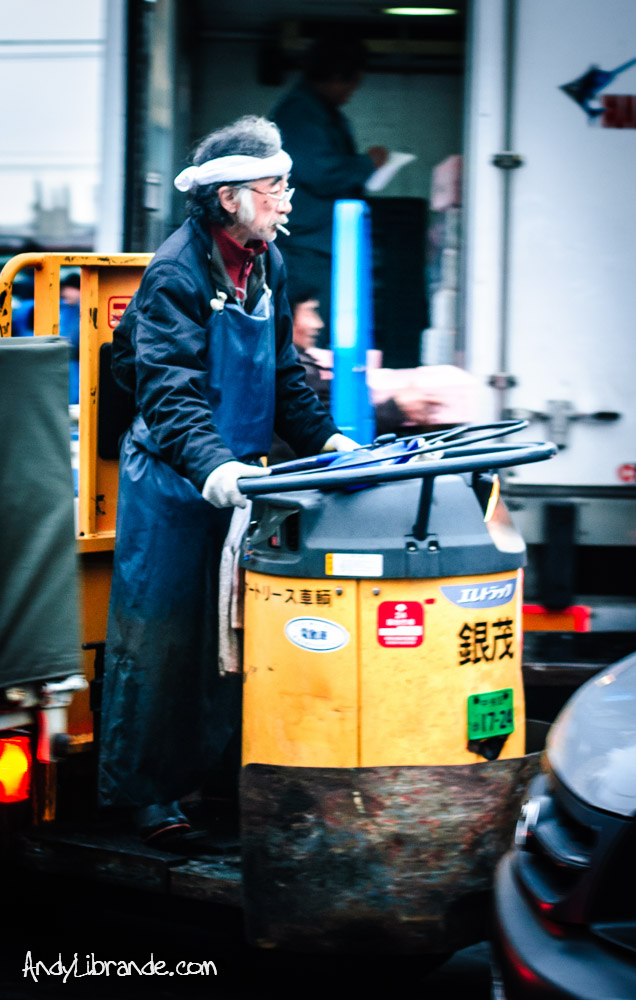 Being the world's largest Fish and Produce market with daily sales of ~$20 million, you can imagine how many people are required to keep this large market running. Around the Outer Market is a collection of sushi restaurants which serve some of the freshest fish you can get from all over the globe. Tiny, each one seats around 15 people with lines forming very early at every door. The wait is worth it and the bowls of rice covered with huge pieces of sashimi were incredible. The Inner-Market is where all the magic happens and is only open after 9am to Tourists (the early morning Tuna-auction was closed to the public when we were in Tokyo). Walking through the massive halls of thousands of little shops was the coolest market experience I have had yet. Below is a photo at one of the many stalls with a worker delicately preparing a Tuna steak: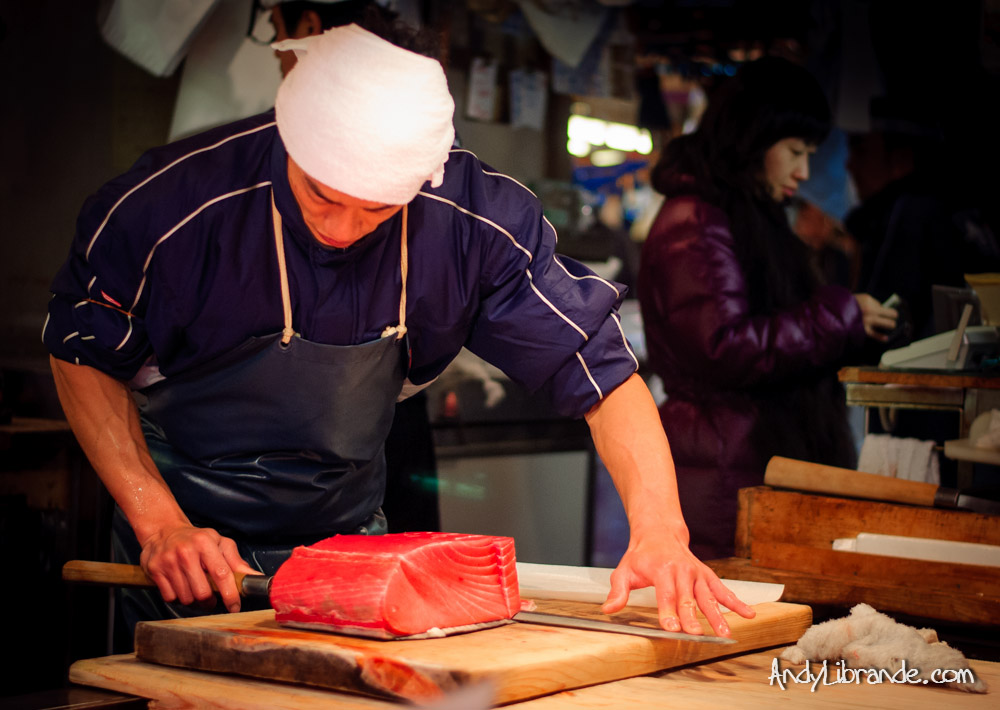 Hundreds of individual stands squeezed together and stretched over a quarter mile specialize in nearly every form of seafood available inside the Inner-Market in Tsukiji: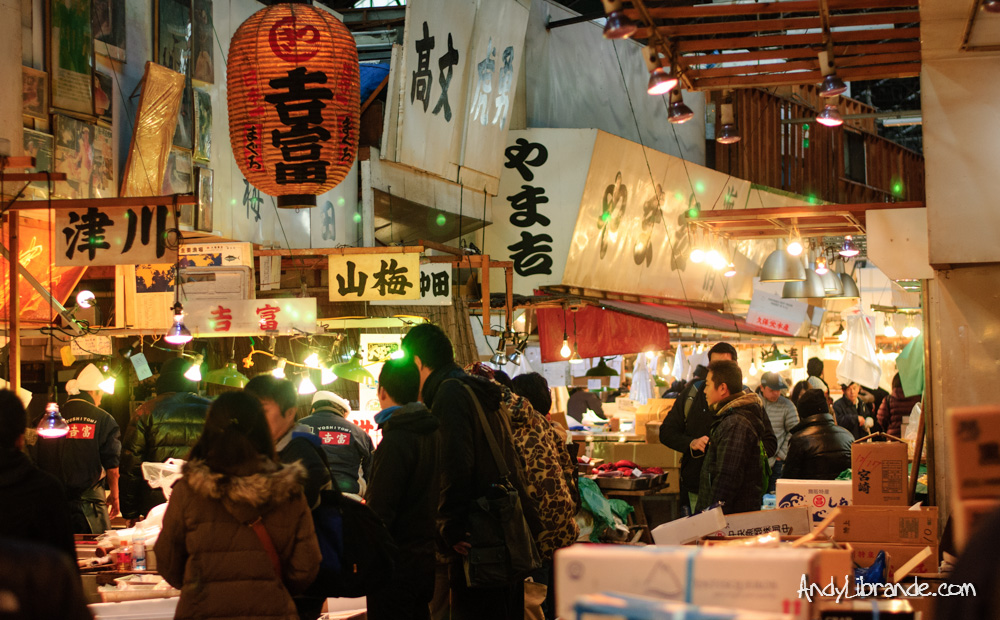 The Outer Market restaurants were so good we ate there three times for breakfast. Get here early and enjoy the experience. Waiting in line to eat some of the best sushi I have ever had, the old lady on the left directed the line of people (as many as 30-40) while the young man took everyone's order before they entered the tiny restaurant (picture menu on the right wall):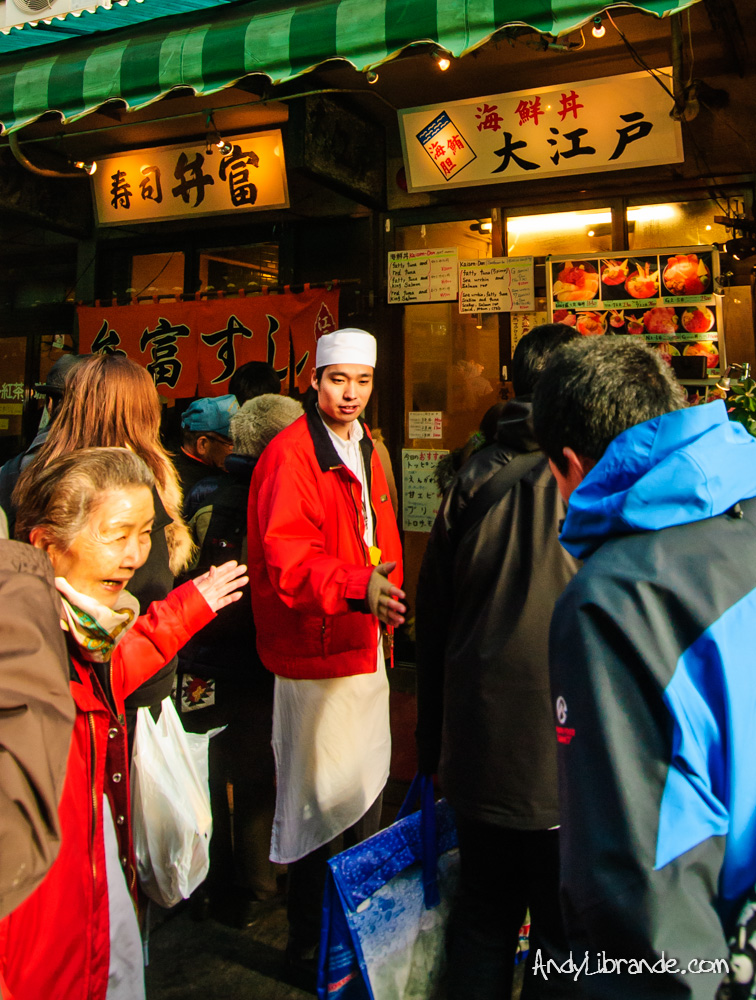 Temples: Meiji Shrine, Yasukuni Shrine, and Asakusa
The temples in Tokyo are interesting as they all have a lot of history, but the actual physical structures are generally very new. Considering Tokyo was founded in the 1600′s and subsequently burned down every couple of years, in retrospect it is not that surprising; this required a mind-shift from my time in China when paintings/structures/art can be in their form from 1,000-3,000 years ago.
One of the downsides to being in Tokyo during the New Year was that virtually any public place (park/museum) that required a ticket or entrance fee was closed for a number of days before and after the 1st. Luckily we could work around that fairly easy and there was still plenty to do.
Asakusa is a major destination with lots of shops and a great temple to visit. Luckily this was the only day it rained and moving through the massive crowds of umbrellas was an interesting challenge:

While at the Meiji Shrine some sort of Shinto Ceremony was going on. We watched for a while as they did their blessings and prepared for the new year: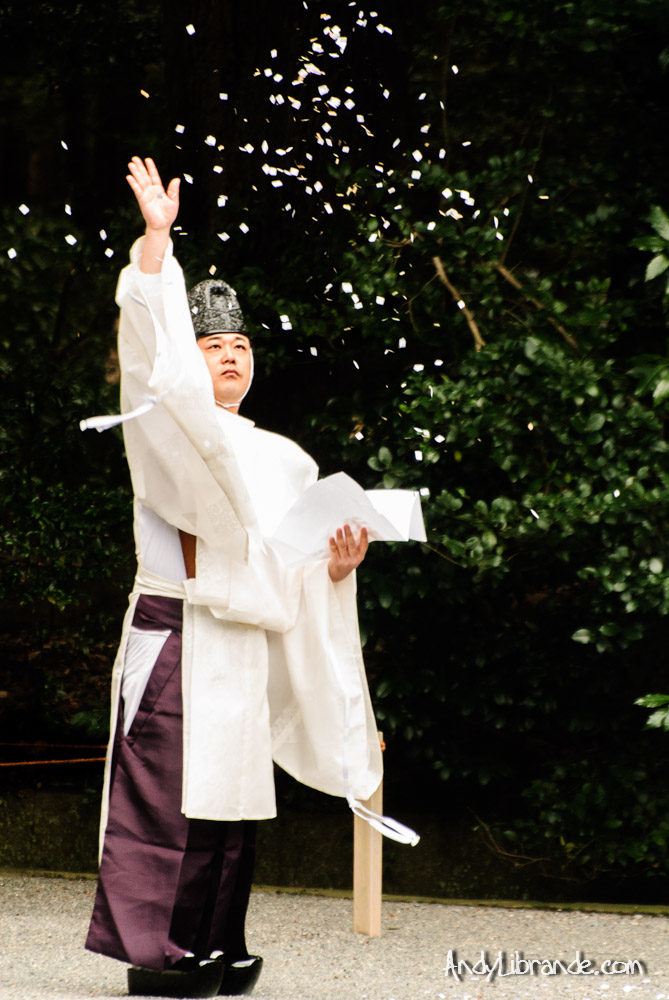 New Years in Japan is their largest holiday. Therefore we thought it would make sense to visit the largest shrine in Tokyo, the Meiji Shrine, on New Year's eve. After an enjoyable afternoon stroll through the park we returned just before midnight to a massive crowd of Japanese and a handful of foreign tourists. A countdown happened with some drumming, but little fanfare. This photo is from right at midnight and at this point a quarter mile and thousands of people stood between us and the inner-temple; we quickly called it a night after that: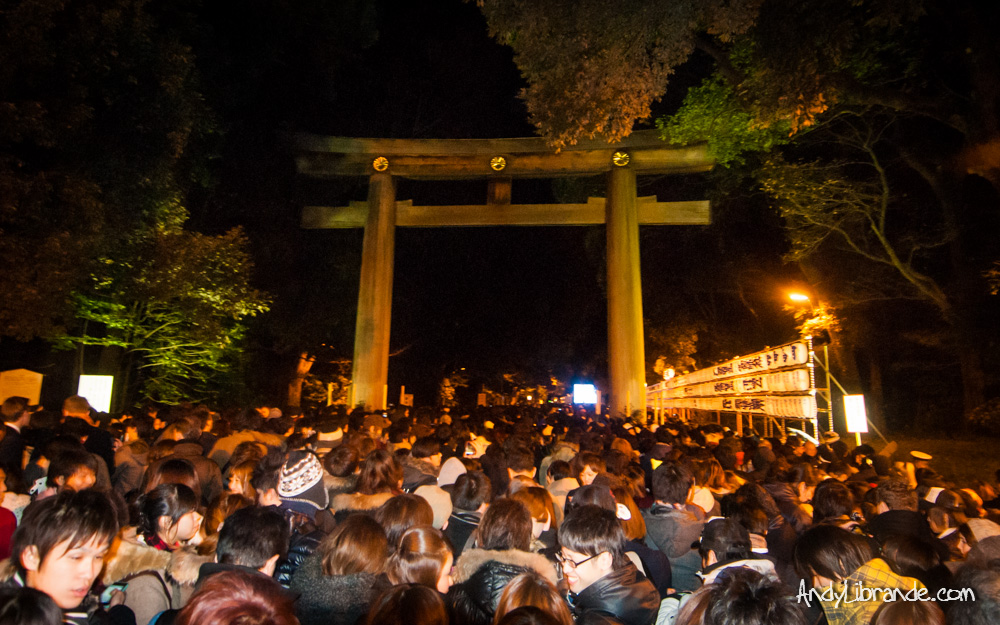 Imperial Gardens and Other Parks in Tokyo
Being the middle of winter most of the foliage was hibernating. Regardless, every park we visited was pristine and the meticulous landscaping was still an incredible sight to see.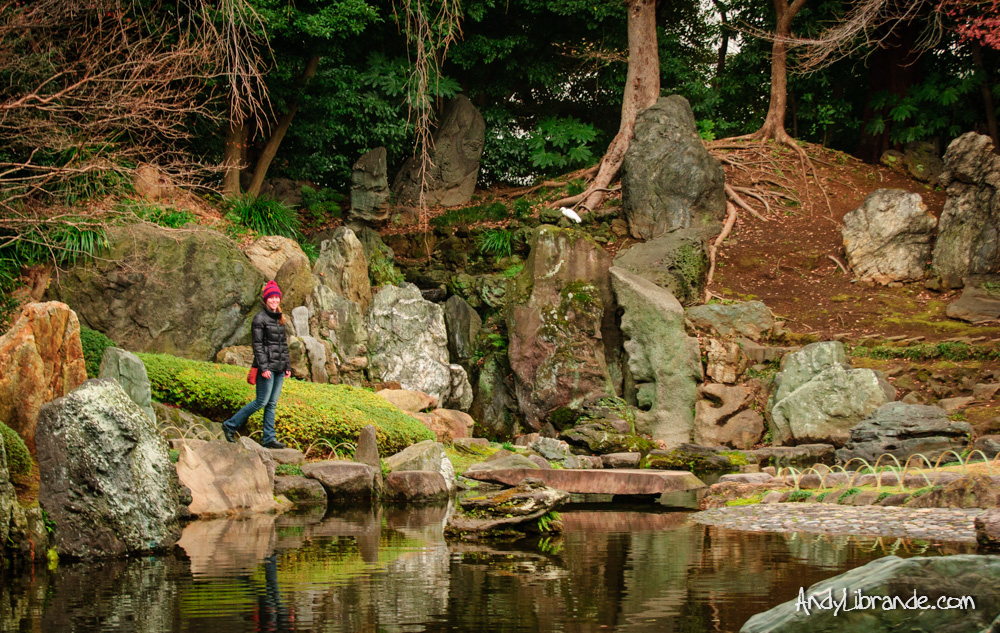 The Imperial Garden was finally visited on the last day of our trip (day #9) as it was closed the entire time prior to that. Amazing park to walk through and I can't imagine seeing this place with the Cherry blossoms in full bloom: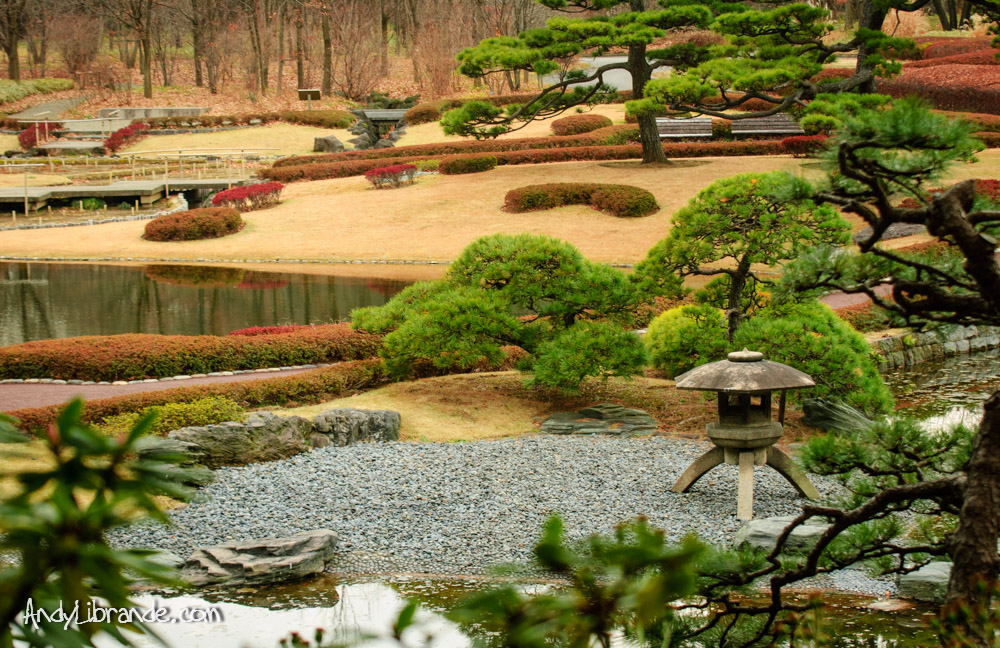 Our last day in Roppongi (day #5) we were greeted with clear skies which allowed for us to spend some time 60 floors up in the Mori Tower. Amazing to see this massive city from this height. Caitlin peering through the glass from the Mori Tower in Roppongi with Mt Fuji sticking up in the upper-left hand corner and Shinjuku city center in the Upper-right: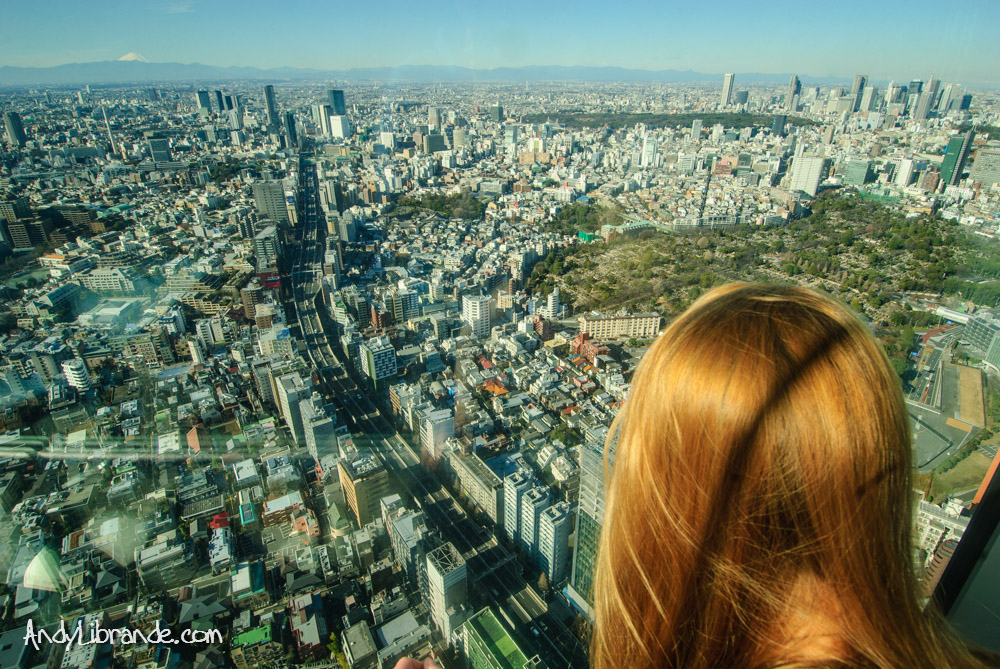 Mt. Fuji and Lake Yamanakako
Awaking to a beautiful day with Mt. Fuji towering over the surrounding countryside was well worth the effort of the unplanned travel. The previous 36 hours were full of uncertainty as we tried to figure out what to do in Tokyo for an additional 4 unplanned days once we realized that we could not fly standby to Bangkok . We were both pleased with our decision to visit the Mt. Fuji region and get some fresh countryside air. Mt Fuji our first morning in the area near our hotel: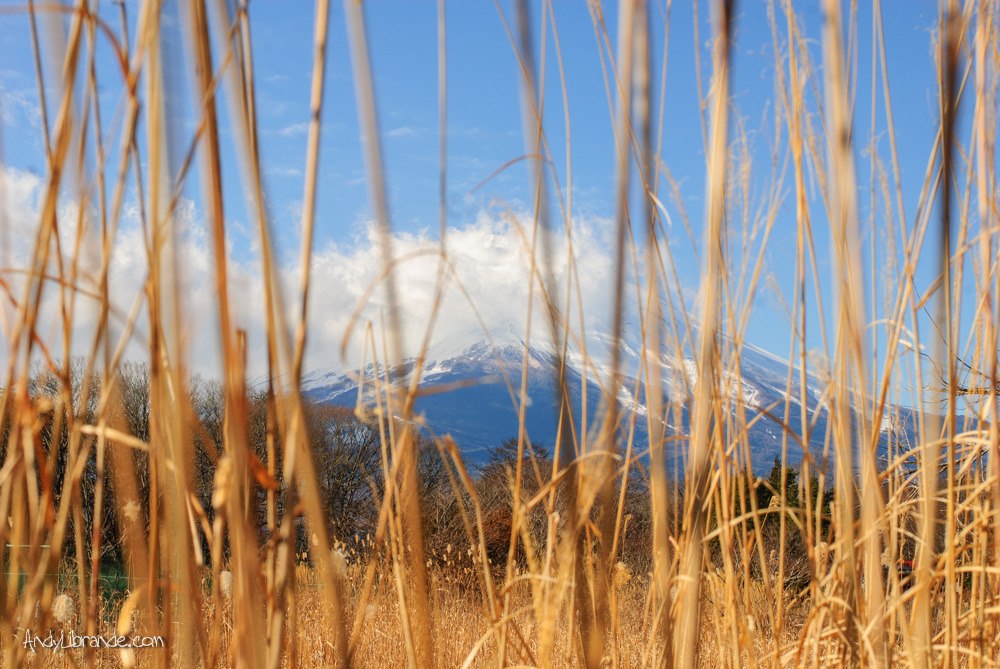 We ended up walking around Lake Yamanakako which was one of the highlights of the trip. It took longer then expected as the side of lake we walked along ended up being 5 miles long and took 3 hrs to get to the next small town section. After a late lunch we stumbled upon a small shrine that was in the area. By this time we had visited a number of shrines and knew that you needed to follow a specific set of steps to cleanse ourselves. Under the helpful guidance of one of the local priests we preformed our new years ceremony which was a treat to do it in such a local spot. Afterwards I had to take a photo of the fountain that you cleanse yourself in as this one was the most unique. Dragon fountain at Yamanakako Suwa Shrine: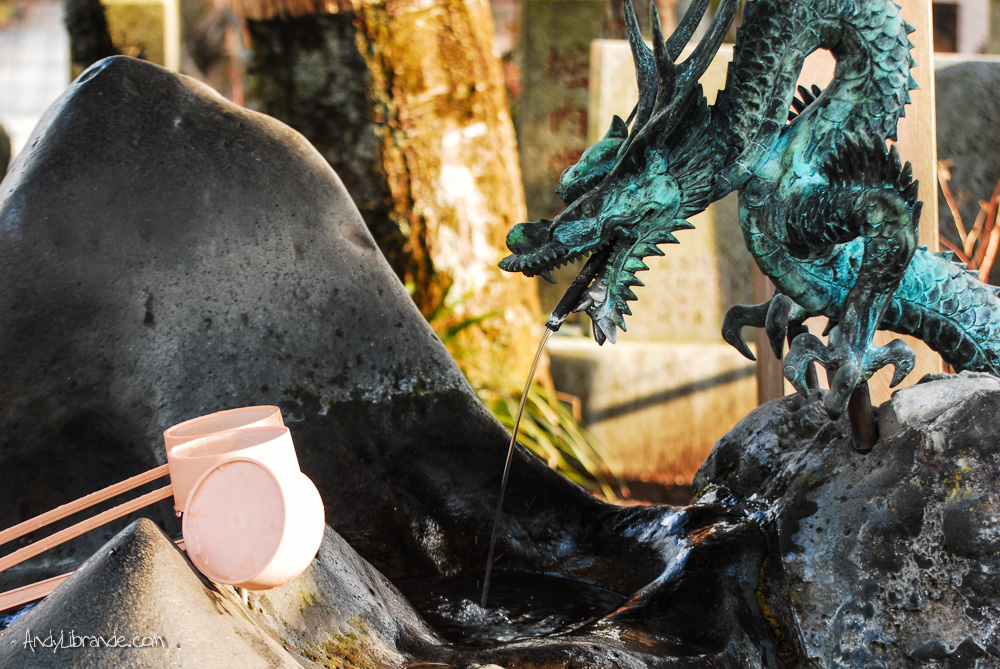 The hotel was a little dated but had quite a bit of character. It was a "traditional" hotel (ryoken) and had it's own Onsen (essential a public hot-tub). Pretty cool experience and I wish we had more time to explore other Onsens. The winter is generally off-season so sleeping at night was more like camping than a hotel. However, it had paper walls which we had fun with: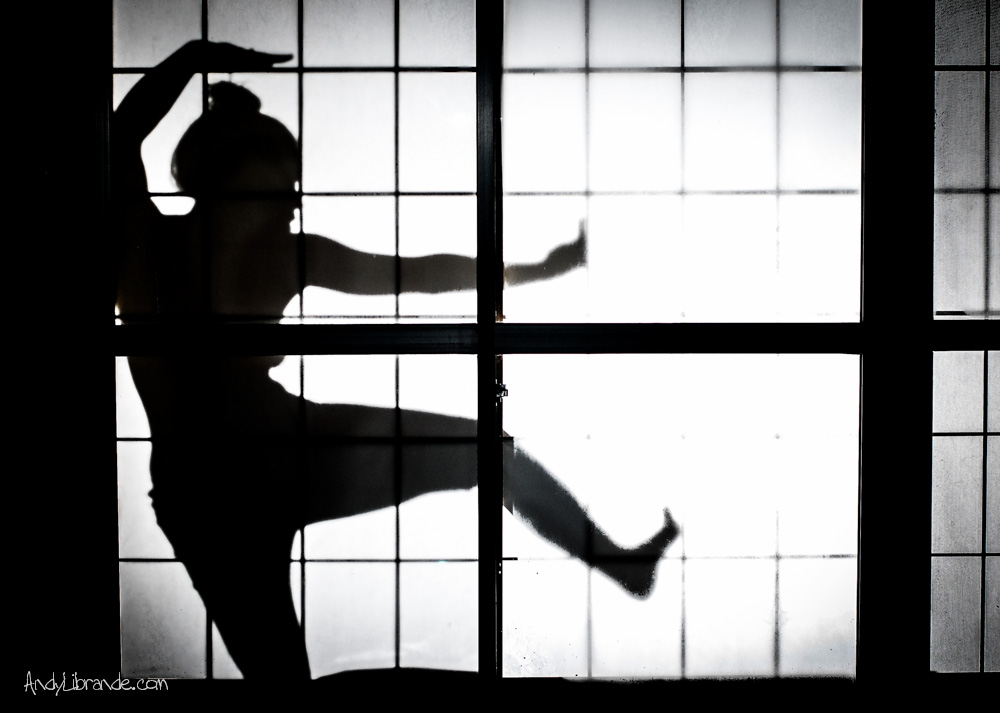 Hakone Region of Mt. Fuji and Owakudani
A series of  perfectly timed transportation connections was a fresh change compared to any travel I have ever done anywhere else. A local bus to a highway bus over a mountain pass to another highway bus to arrive at Lake Ashinako in the Hakone Region was the first leg of the journey. A 2.5 mile gondola ride over thermal valleys, followed by a cable-car, then back to a train that descends 2,000 ft along switchbacks, finally getting to the bullet train (aka "romance car") back to Tokyo, where we had to take one last subway to our hotel for the night was the last leg. A miraculous day of travel that went somehow flawlessly (have to love Japan!) and along the way was full of some worthwhile sites. Crossing over one of the mountain passes in the morning had the best views of Mt. Fuji and gave us interesting views: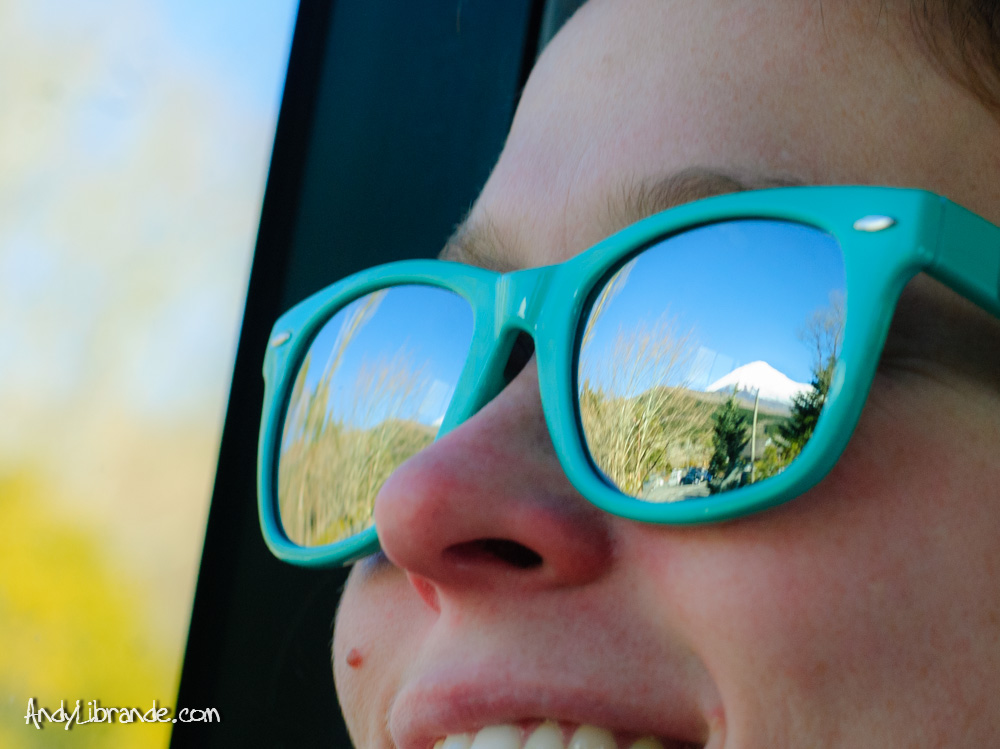 Along the way we saw pirate ships, feral cats preying on ducks, ate magical black eggs that extend your life by 18 years, saw thermal features and hot-springs, were 2,000 ft high above the ground, stashed our luggage in a snowy forest, had great views of Mt. Fuji, found a indoor tropical garden, and saw the ocean. A portion of the geyser field called Owakudani with plenty of Japanese tourists: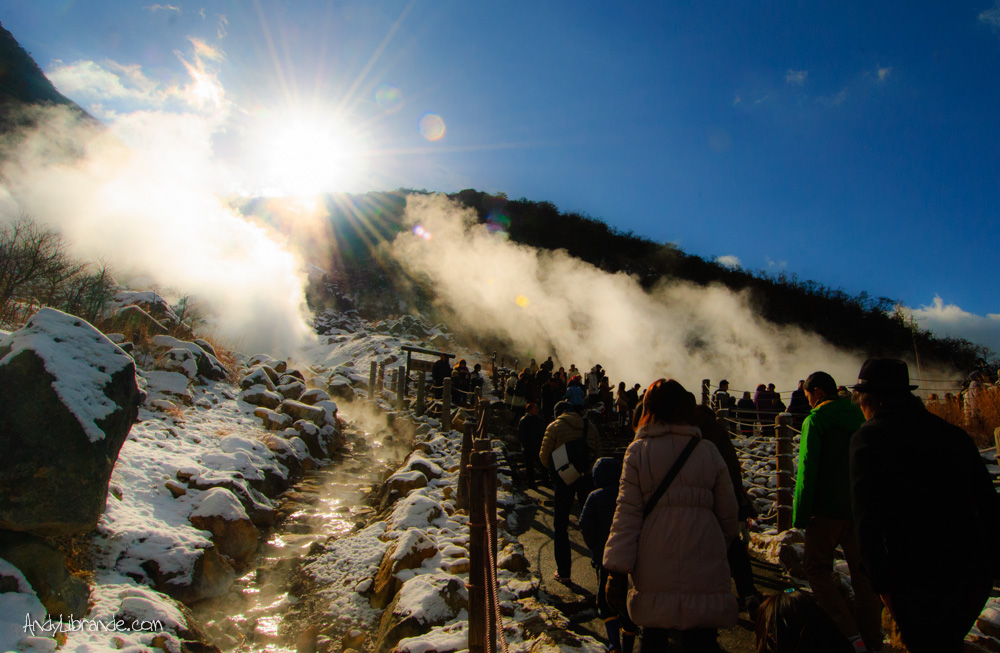 Conclusion:
For a trip of this size we were able to make it come together with just a little bit of planning. Thanks to Japan's efficient systems and ability to actually make tourist destinations easy to navigate we had a great time. This is an easy country to travel in and one that everyone should travel to as there are few barriers to having an amazing time. Every meal was high-quality food, 7-11′s are actually really nice, you can buy beer in vending machines on the street, and everyone we met was incredibly helpful and great to be around. Can't wait to continue to explore this great country! Myself and Caitlin in front of Mt Fuji: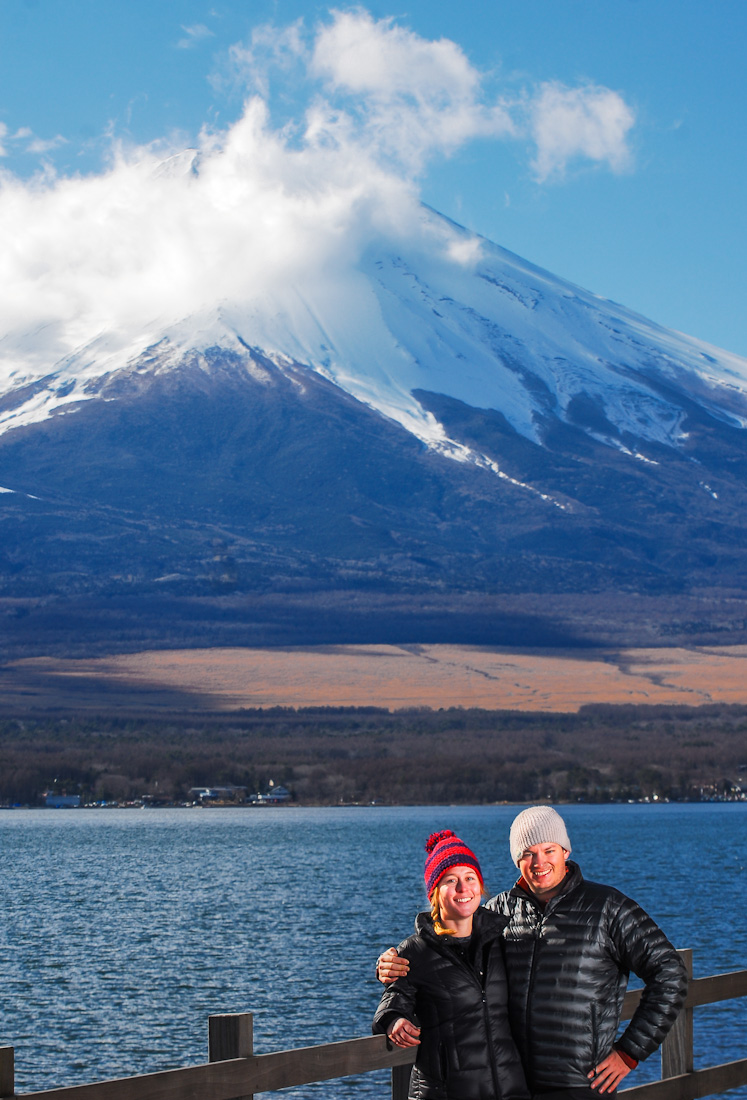 Please Expand to see the Trip Map and a Detailed Itinerary:
Read More

»
Dates: October 5th thru 8th, 2012 (Friday thru Monday)
Who: Caitlin and I
Roadtrip (Link to Map of Route): 
Stop 1: Penitente Canyon, San Luis Valley, Colorado = Climbing and Camping

Stop 2: CHACO CANYON, New Mexico = exploring ancient cultures, hiking, camping, mind-exploding

Stop 3: San Juan Mountains, Durango, Colorado = camping, Aspen leaf watching, ass-freezing
Friday October 5th, Denver saw it's first snowstorm of the 2012-2013 year as we woke-up to a solid 2 inches of fresh on our lawns and cars. While refreshing to see some of the white-stuff it was a clear sign of a quickly changing season and forced Caitlin and I to head-up to the mountains to experience the last of the Fall season.
Based on some really quick planning and weather watching we ended-up heading south towards the border (and into New Mexico) with several different stops with some unique experiences:
Stop #1: Penitente Canyon in the San Luis Valley, Colorado
Friday afternoon we rolled into a nearly deserted campground at Penitente allowing us to be able to camp in one of the best spots. The drive in was pretty weird with Denver being ~35 degrees when we left, thick fog on HWY 285, and then clear-blue beautiful skies (plus~20 degrees warmer) once we hit Bailey; classic Colorado. Four hours later we find ourselves preparing to do some sport climbing in one of the most beautiful canyon's in Colorado:
The weather was perfect (~70 degrees cooling down quickly), but we were able to get a couple routes in before the sun completely left the sky.
The next morning we had an incredible hike through the canyon along a trail I have never hiked. Starting off very cold, it warmed up nicely and the aspen's back-dropped against the canyon was incredible.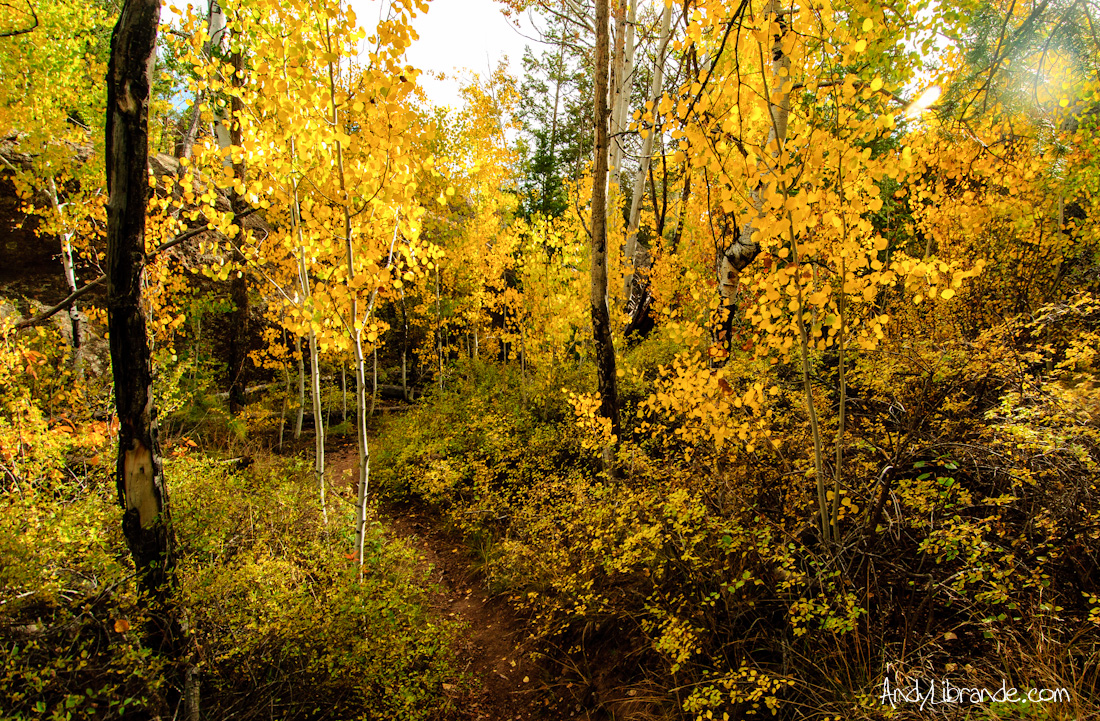 We also stumbled upon an old wagon-rut in the rock from when the early Mexican settlers would use an ox and a small wagon to haul wood out of the area to their homesteads and the size of the erosion was impressive  (click for pic here).
On-wards to the next stop we happened to cross over Wolf Creek Pass which had perfect Aspen colors and is a pass that everyone must see at least once during the fall leaf-viewing season: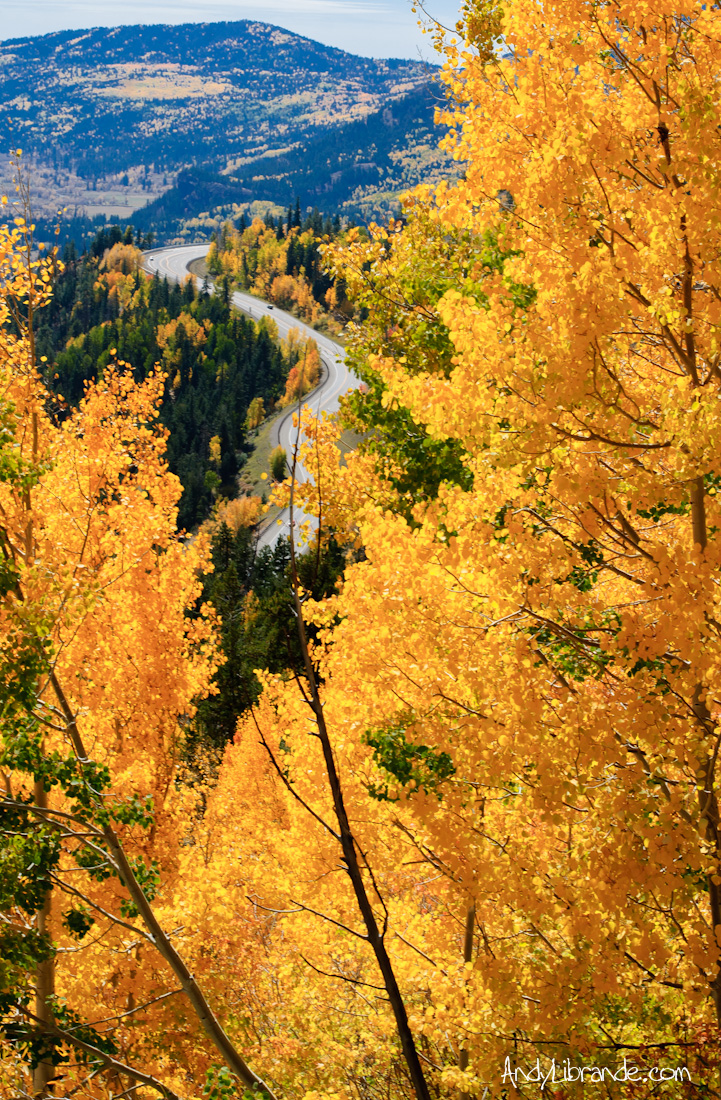 Stop #2: Chaco Culture National Historic Park, New Mexico
The ever-present shaking of the car, mixed with the dust and grit from driving down 21 miles of wash-boarded road was not helping lift our solemn spirits. At the turn-off to the canyon was an apparent "CAMPGROUND FULL" sign and we found ourselves in the middle of no-man's-land, bumping down a dirt-road, trying to figure out what to do. After driving 4 hours already that day we decided that we were just going to push-on and confirm if the campground was actually full. Pulling-up to the campground host at 4:45pm on a Saturday (yes our timing wasn't the best), our suspicions were confirmed that yes, those signs were correct, however, there was a group campsite that was open and as long as no-one reserved it in the next 15 mins we could share it with the other late-comers. The Chacoan gods presented some luck to us and we had a place to camp!!!
After claiming our tent-pad we rushed over to Pueblo Bonito to experience the sunset that was about to happen. Most people had already left the area leaving Caitlin and I to run-around and experience a powerful place under a powerful sunset. Caitlin summoning the gods over the massive 5 story building with 700+ rooms and 35 kivas, built over 1,000 years ago: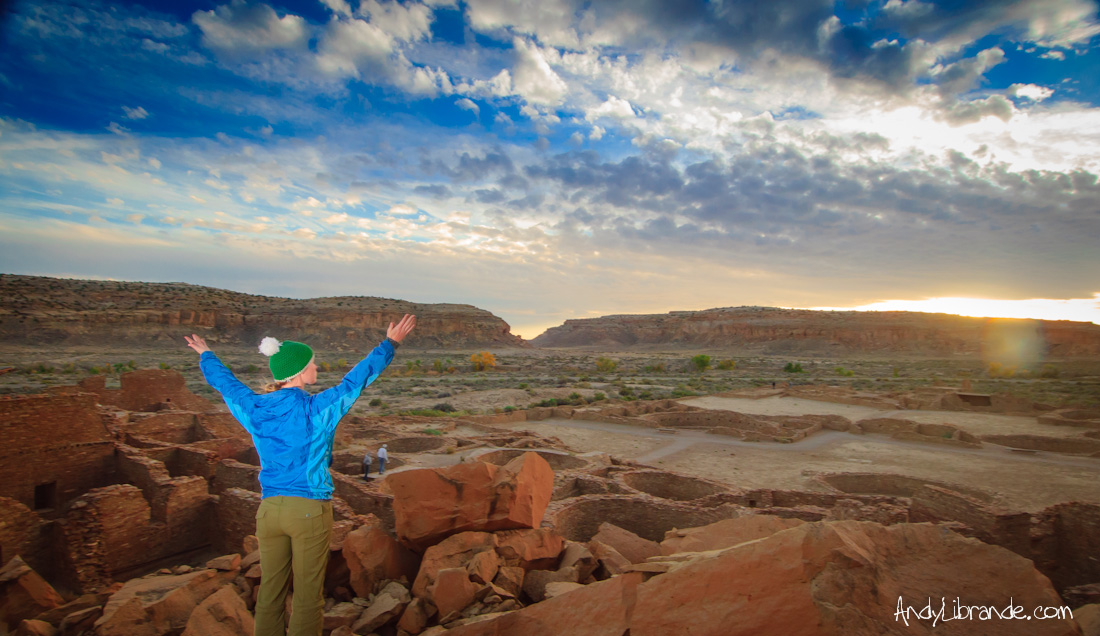 The Great Kiva at Pueblo Bonito: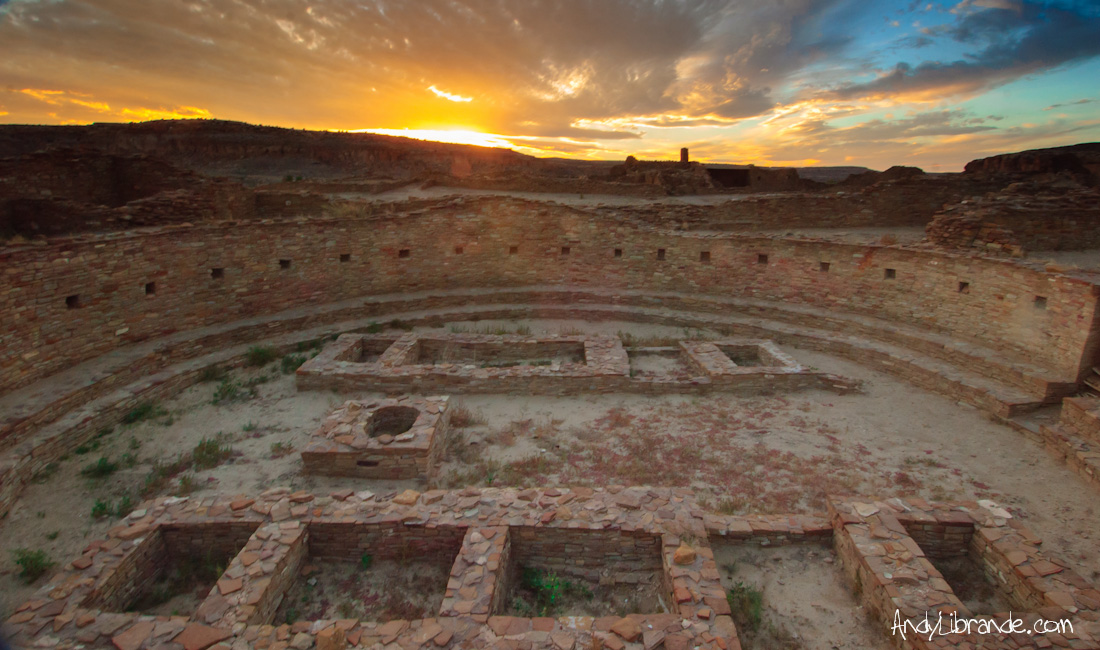 Caitlin and I: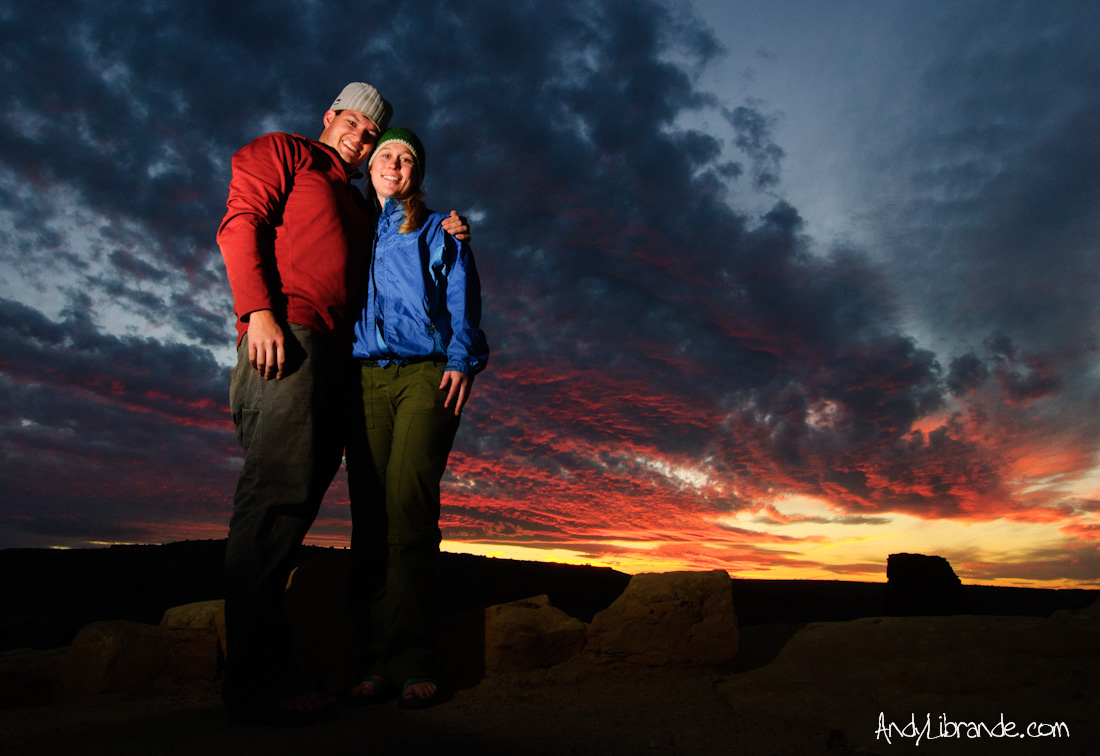 Timing was again on our side and that night we went to a incredible outdoor presentation provided by park ranger G.B. Cornucopia on the Chaco culture's obsession with the sun, tracking time, and many of the numerous questions around the park.  The complexity of this culture was beginning to be revealed to us and our jaw's were on the floor the entire time.
6:45am and the sunrise was just starting to push color into the clear skies and the entire campground was starting to rumble to life. We rushed-up to the nearest butte to experience the morning much like the Chacoan's would have done everyday in their lives. Caitlin got really excited! Fajada Butte (a major ceremonial spot) under the morning glow: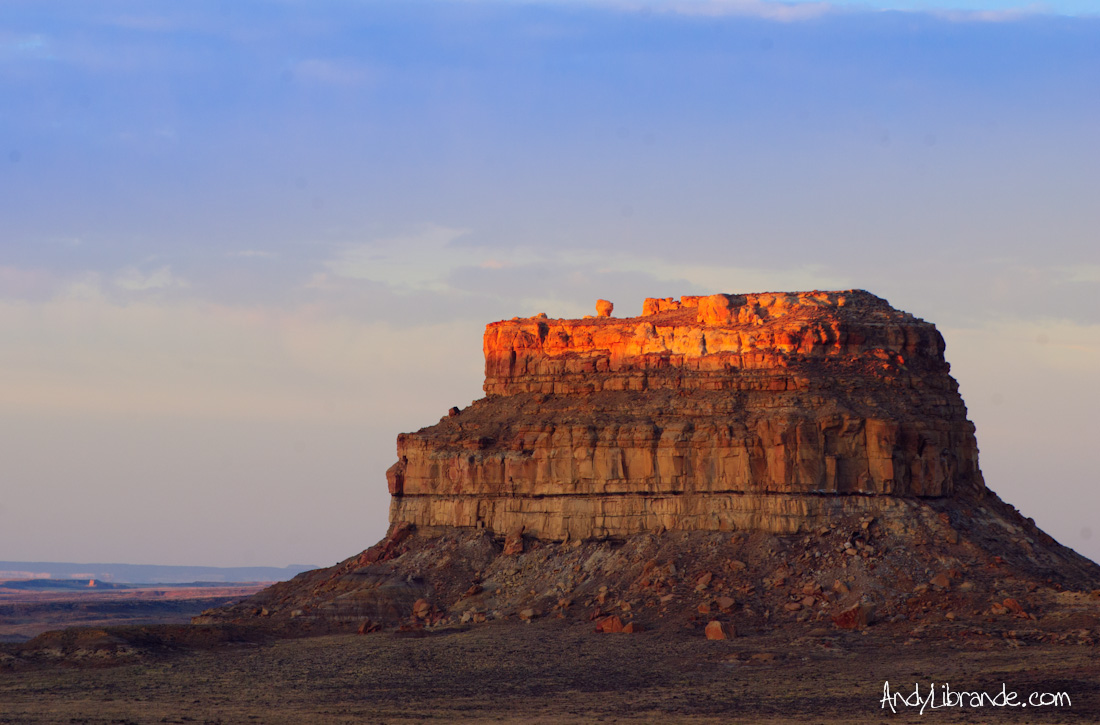 Our major adventure of the day was hiking to the overlook's of Pueblo Bonito and Chetro Ketl. Viewing the sites from above provides a much needed perspective on the layout and the differences between the different sites and was by far the best views of the sites. Caitlin over Pueblo Bonito: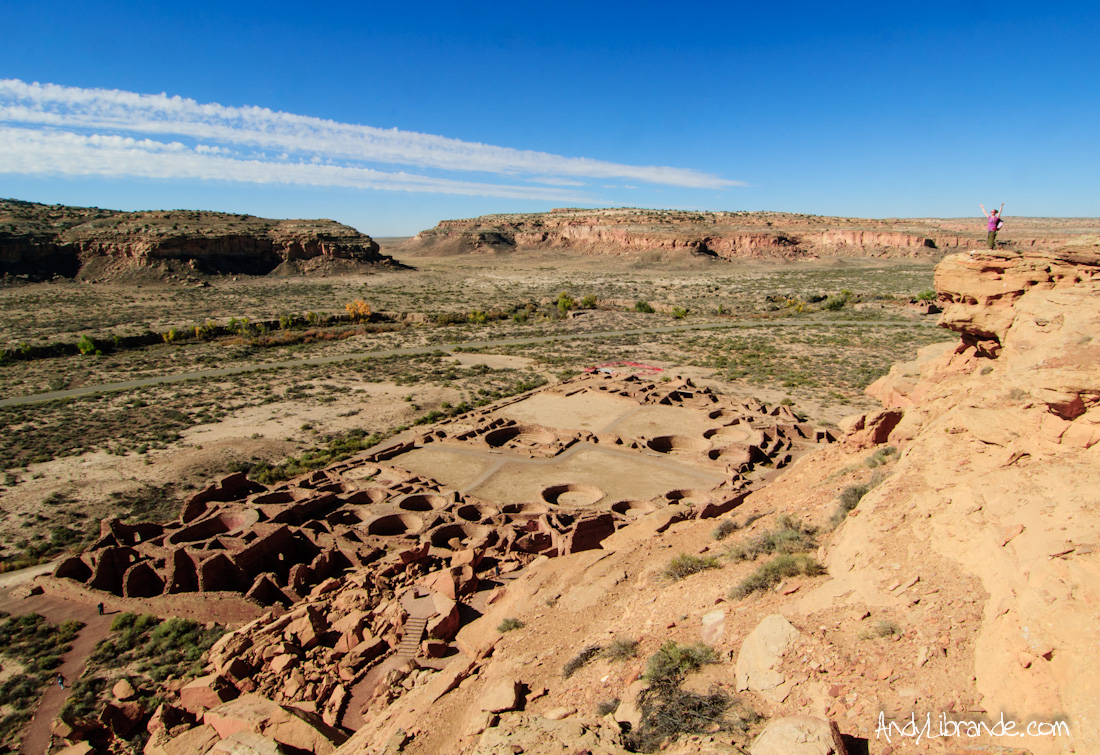 While on top we also visited the Pueblo Alto and New Alto sites: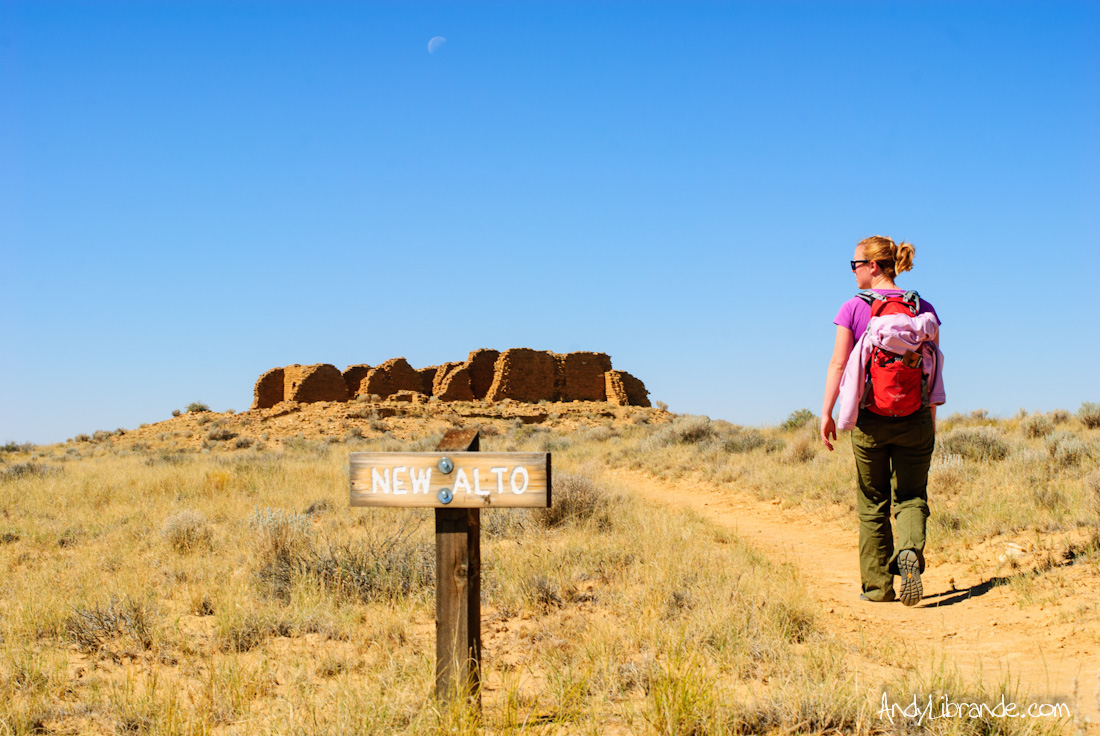 Nothing is more hip then wearing Chaco's while hiking in Chaco Canyon.
It was nearing 2pm and we rushed back over to Pueblo Bonito to have a walking tour lead by Park Ranger G.B. Cornucopia, who after 2 hours taught us more about the site and the different opinions on what it all meant then we could have ever hoped!!! Exploring the famous dark hallways of Pueblo Bonito: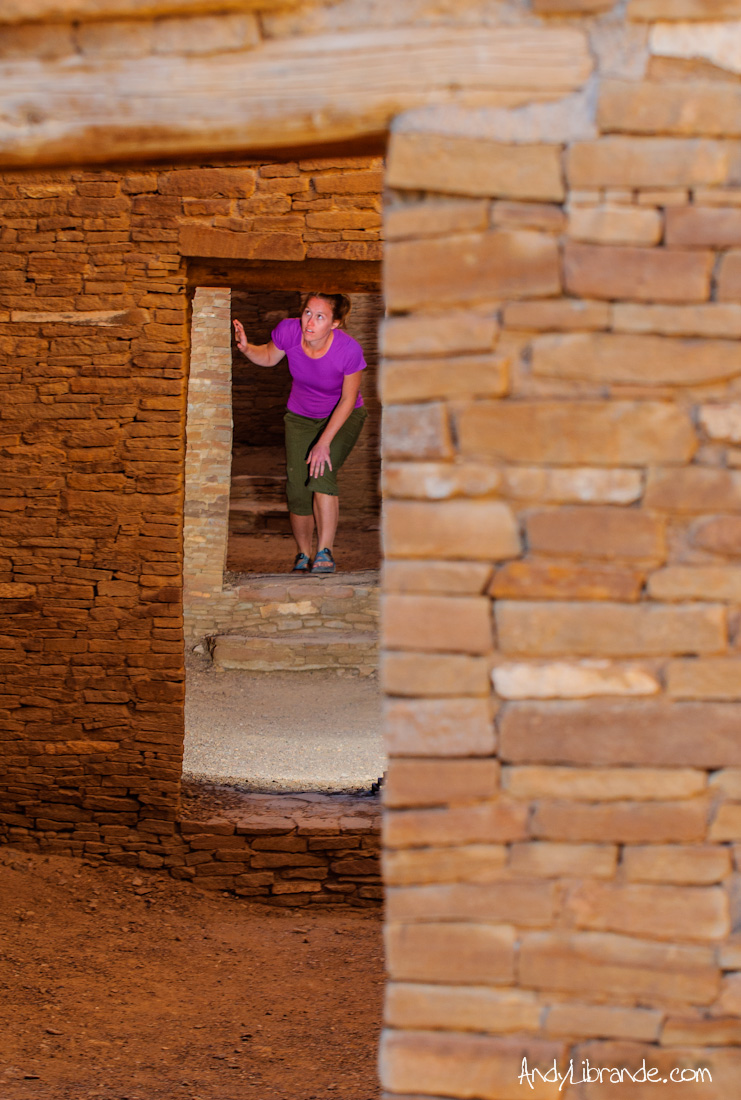 We showed-up to this park with minimal knowledge of this culture and left being inspired to understand more about this unique place.
Stop #3: Lime Creek Road, Durango Colorado
It was now 5 PM on Sunday as we pulled ourselves away from Chaco canyon. With barely more then an hour of sunlight left we headed north as fast as we could to Durango. Having minimal notes on where to car-camp, we bumped up a rocky-forest service road in the pitch-black until we came to an incredible site that had 360-degree's of star viewing right next to a pond. We quickly built a campfire, cooked dinner, and enjoyed our last night of the trip.
It got extremely cold overnight, enough to start freezing water in certain spots, but the morning sun was a nice relief as we awoke to incredible views:
Driving home over Molas Pass to Silverton, over Red Mountain Pass to Ouray (with a quick stop at Mouse's chocolates), back through Gunnison and over Monarch and Kenosha passes, we landed back in Denver satisfied with our last-minute, but incredible trip!
When: May 18th – May 21st, 2012 (4th trip to Southern Utah in 2012…)
Who: Myself and the my Old Man
Trip Details: 
Friday May 18th: Denver to Moab, Camped at Ken's Lake, Watched amazing sunset at Canyonlands
Sat: Sand Flats Recreation Area on a Polaris RZR, Drive to Lake Powell, Kayak in 6 Miles to campsite
Sun: Explore canyon on kayak, watch the Annular Eclipse, drink whiskey, smoke cigars
Mon: Kayak back to Hall's Crossing, take the Ferry, drive back to Denver
The Annular Eclipse over Lake Powell on Sunday May 20th, 2012: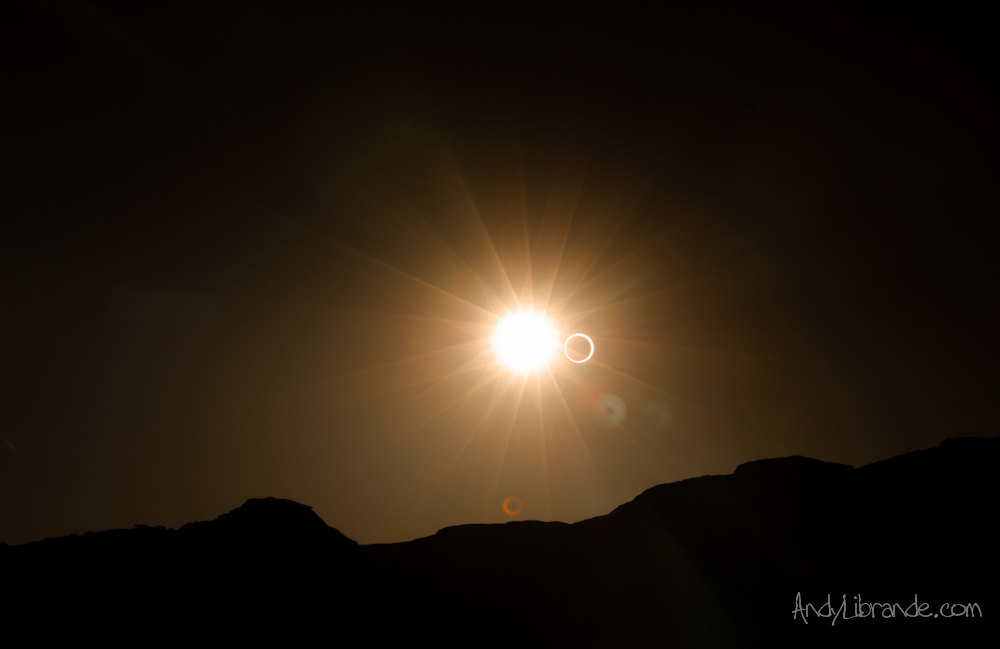 lanning a last minute adventure with my Dad worked out quite well. As usual we had a idea but not a bunch of details and worked on combining a day with my Cousin in Moab with watching the Annular Eclipse in Lake Powell. Moab was the first stop after a windy drive thru Utah. Working our way up to Canyonland's National Park we ended up at the Island in the Sky and timed a perfect 1 mile hike out on the Grand View Point Overlook right as the sun lit-up all of the dust in the air: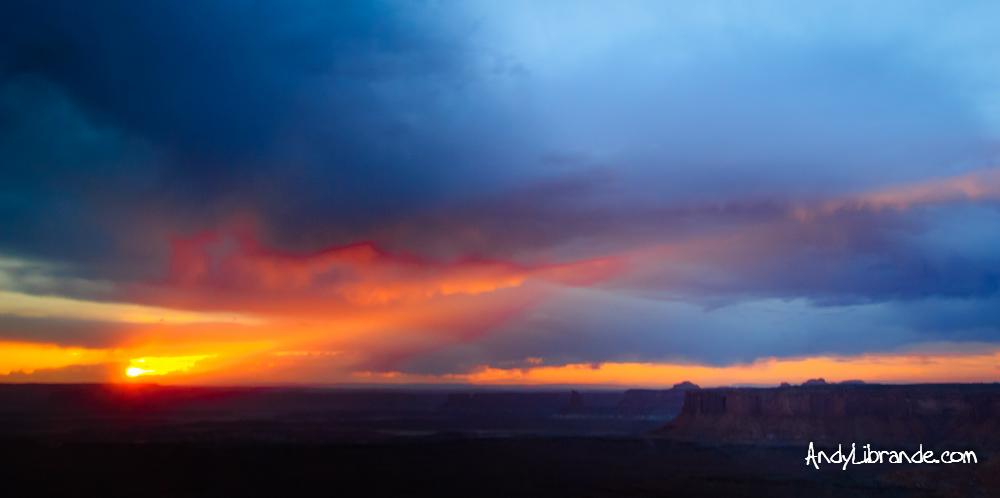 The Old Man enjoying the view from the Grand View Point trail: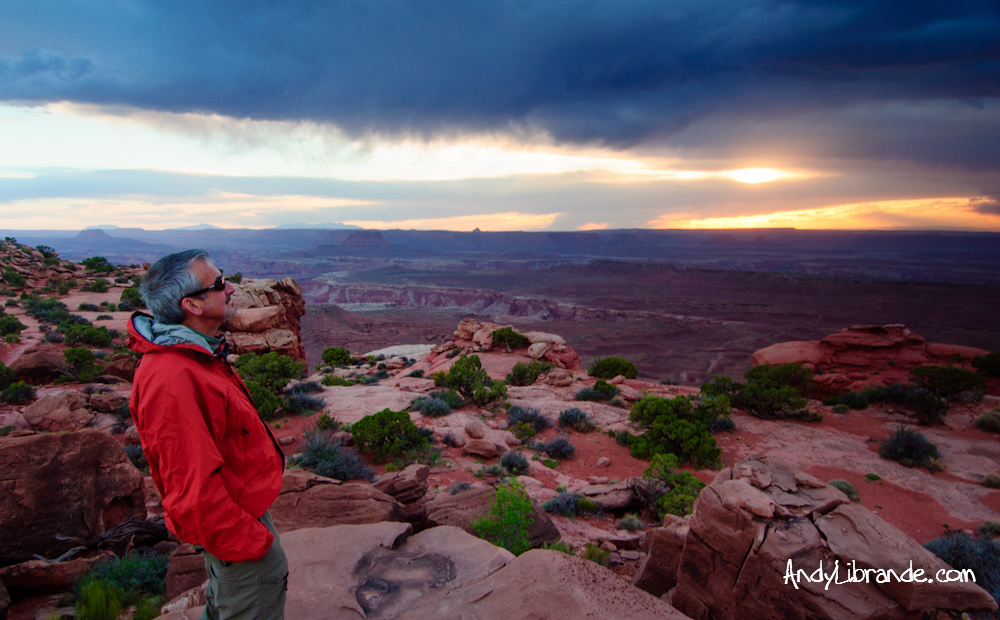 Saturday morning we headed out with my crazy Cousin Al on his Polaris RZR in the Sand Flats Recreation Area. We did all of Fin's and Things and Hell's Revenge. The RZR is an awesome machine and while I am not too big on 4×4/off-roading, this thing was a beast. Cruising down Hell's Gate: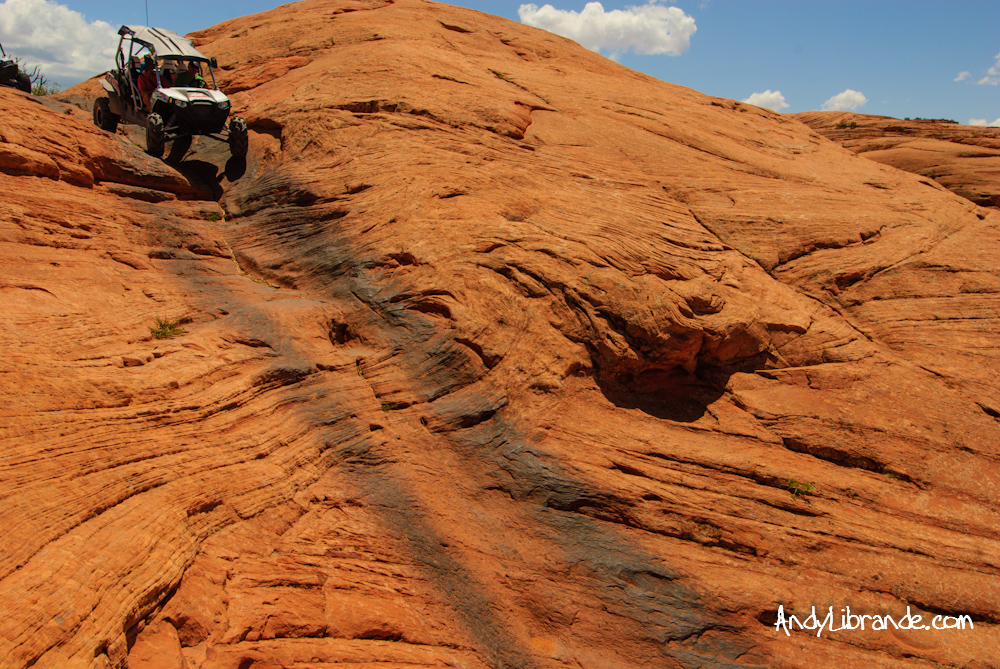 Once we had our fill of off-roading my Dad and I took off on the road to Hall's Crossing Lake Powell. We got our kayaks together and put-in right at 6pm with less then 2 hours of sunlight left. With some info from a local fisherman we headed down to Lake Canyon hoping that we would be able to find a spot to camp that night: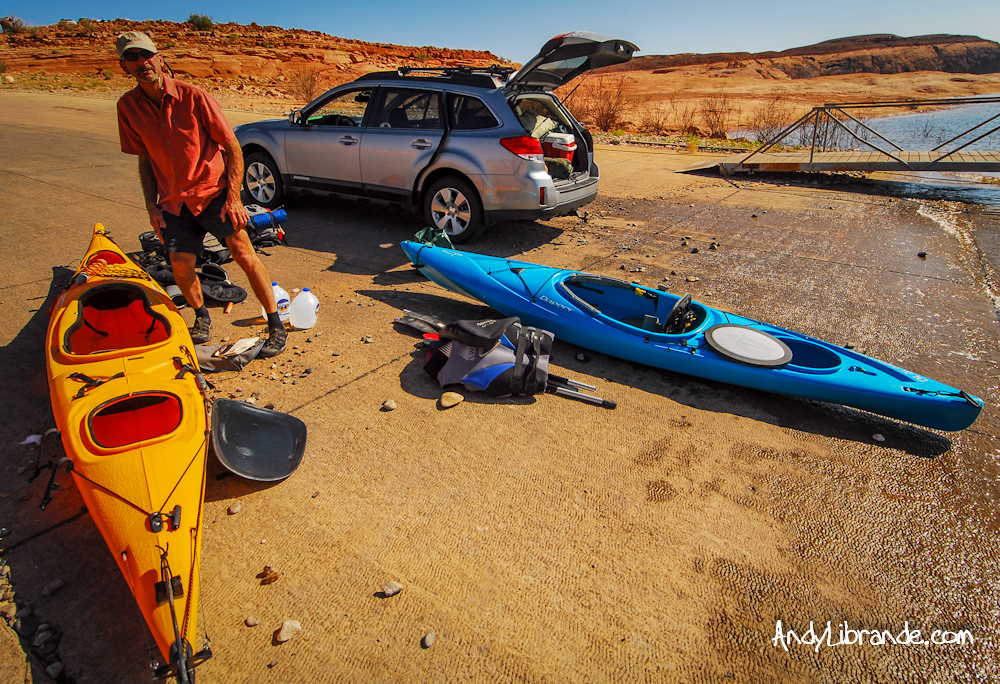 Crossing the large waters of Lake Powell in a kayak is a little unnerving especially since I have 1st hand experience on how quickly the waves can build and considering the water was still very chilly (~65 degrees). Luckily the boat traffic was minimal and instead we found ourselves racing against the sunset: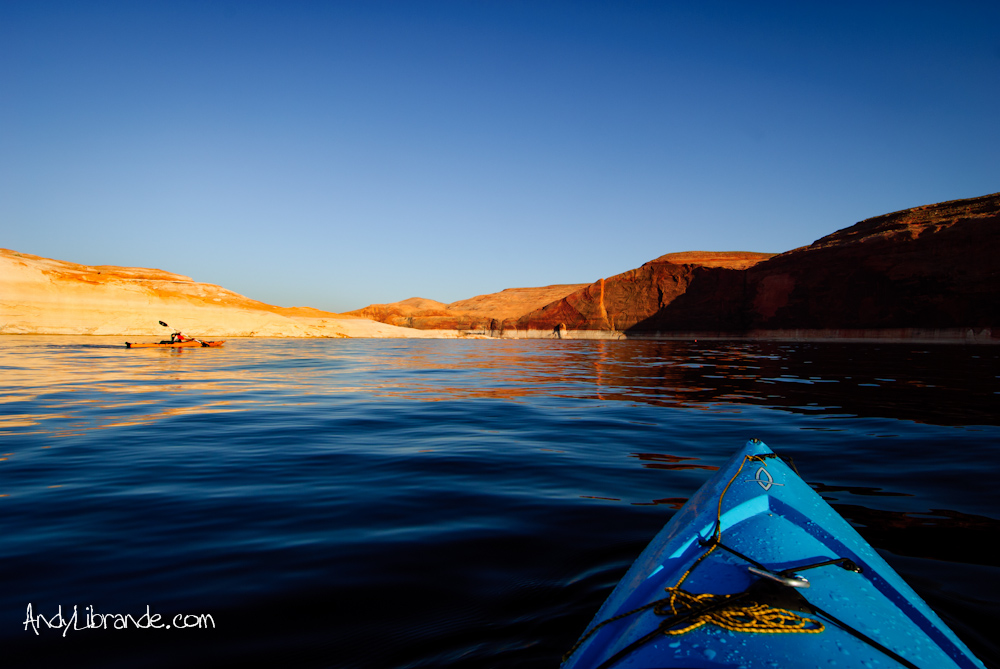 Nature provided a perfect camping spot with kayak parking, a sandy tent site, and 360 degree views of the area: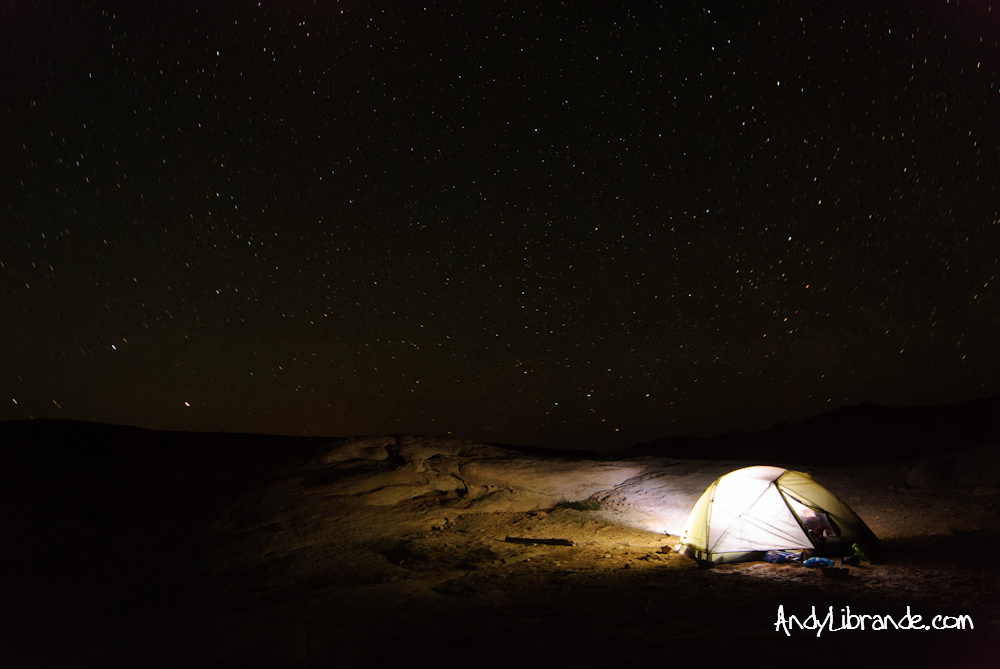 Sunday was spent exploring the large Lake Canyon: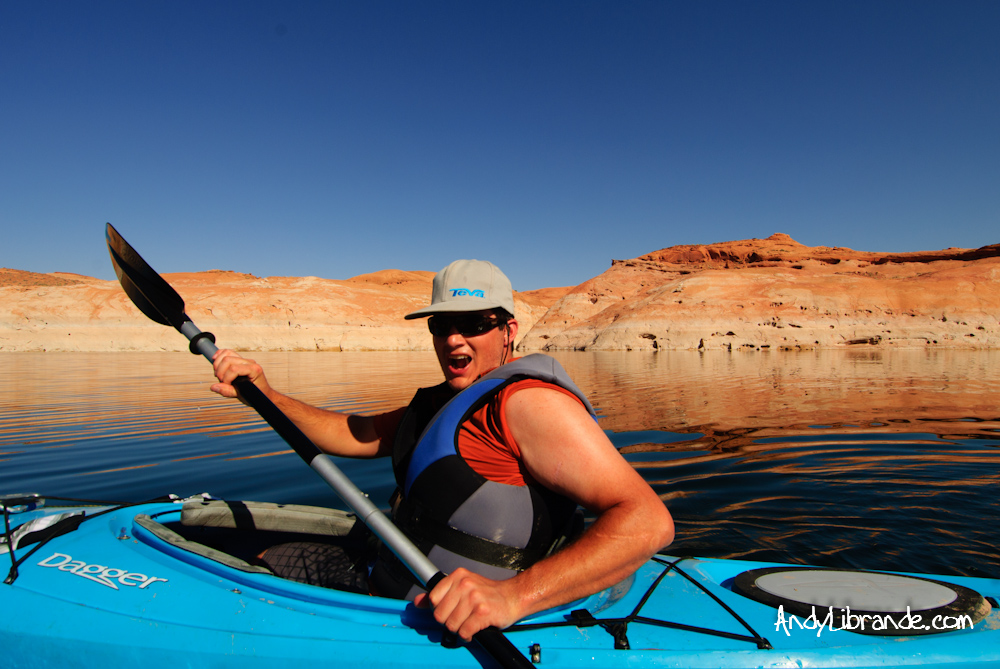 Eventually we hit the inlet and hiked-up the river (and eventually ran into some cows who were pooping everywhere):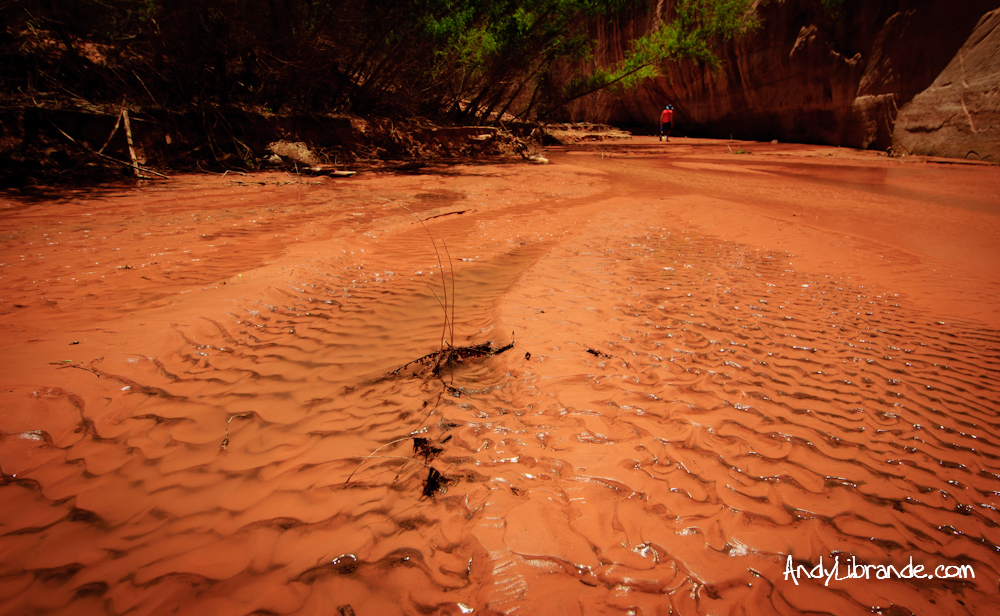 Annular Eclipse: The Main Event
We set-up just above our campsite for some great viewage of the Eclipse which happened over a much longer period of time then I was expecting. We came prepared with our solar glasses, whiskey, and cigars: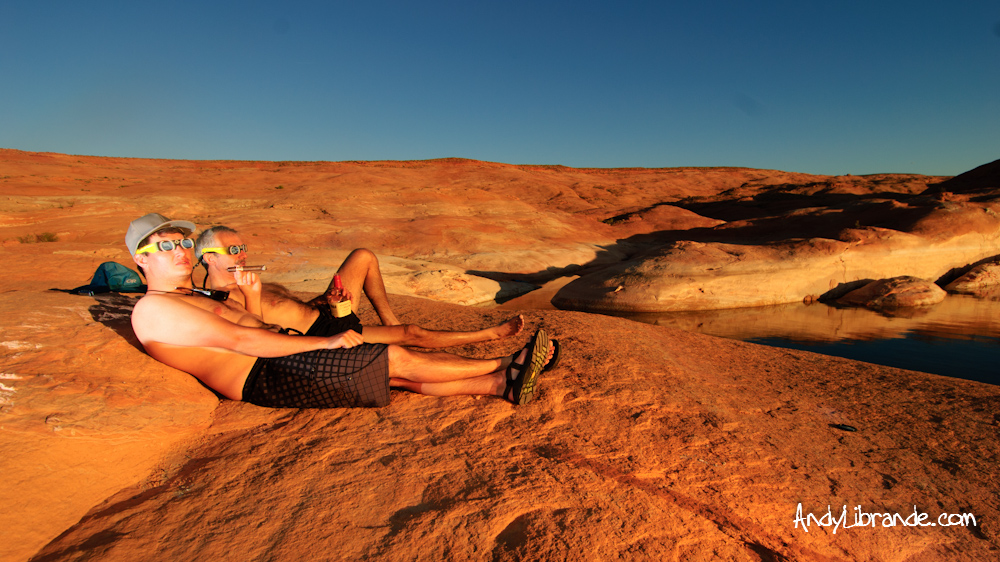 And the Eclipse was awesome: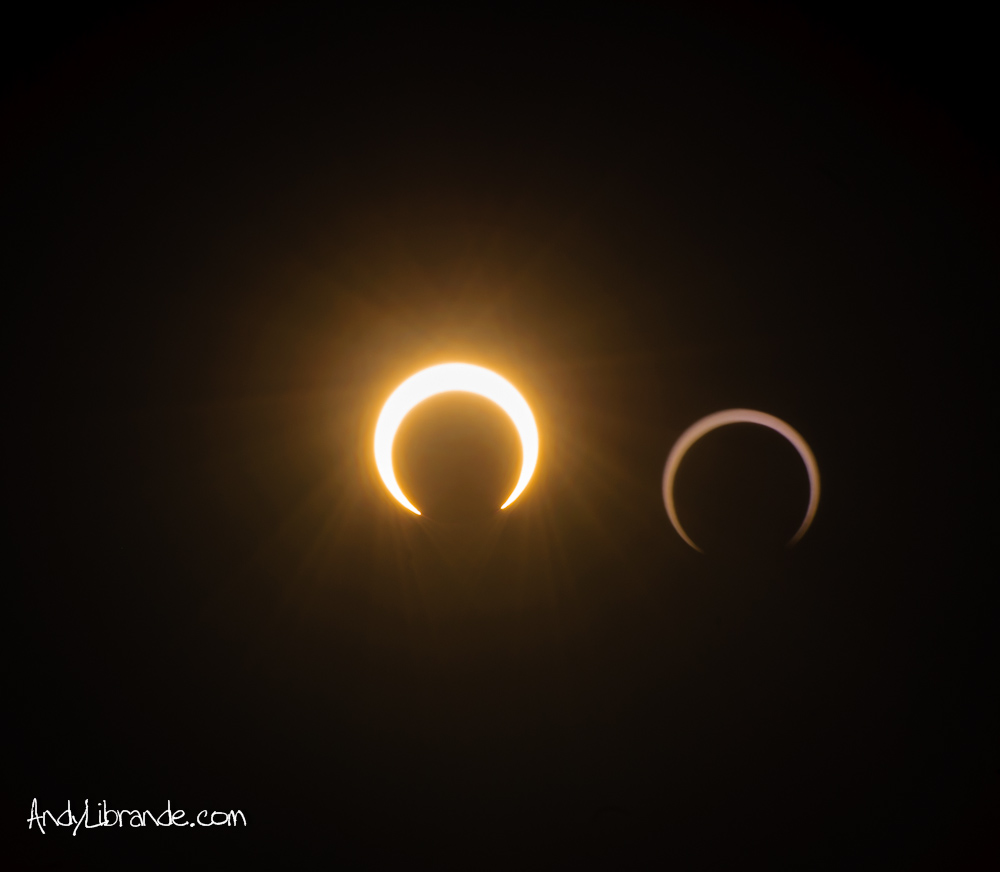 Monday we packed up and paddled out enjoying the smooth water and making good time. It is always great when such a loose plan turns into a spectacular trip and it was awesome spending some time with my Dad.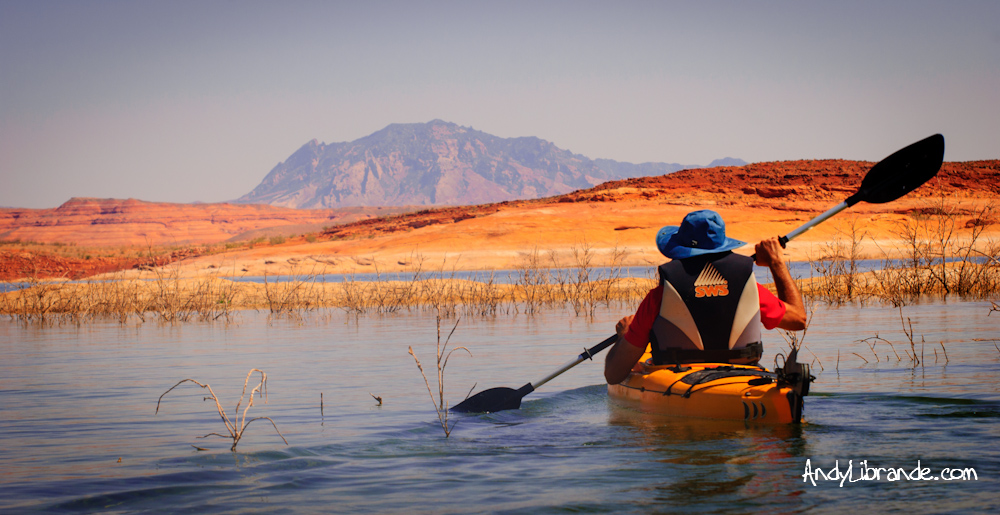 More Utah trips in 2012 to come!
Dates: Wednesday March 28th thru Sunday April 1st, 2012
Details of Travel: 1,500 driving miles!
March 28th-March 30th: Zion National Park (highlights = Angel's Landing at sunrise, Narrows hike in 44degree water, Hidden Canyon hike, our campsite outside of Zion)
Night of March 30th: Camping outside Bryce Canyon at the mouth of Casto Canyon in Red Canyon BLM
March 31st: Sunrise at Bryce Canyon National Park, drive thru highcountry of Southwest Utah
April 1st: Rock climbing in Ouray with Rambo
Interactive Map of our Quick Journey:

View Zion Trip in a larger map
Mid-afternoon we finally pulled off of I-15 which was bustling and crazy compared to the almost relaxing I-70 section of the trip. Our first stop was to stretch our legs at the North Entrance of Zion National Park known as the Kolob Terrace. It was chilly, dark and dreary due to the storm that was still holding on overhead. The quick hike did not reveal much in the way of photos, however it was great to finally be at our destination.
Insider information always helps and we were pointed to a BLM camping area by my buddy before we left. Timing was on our side and we pulled into one of the best spots in the canyon.  Darkness was settling in quickly and right before the sun disappeared it fell below the thick clouds and lit the area up in beautiful light. Here Caitlin takes in the views from our campsite at Smithsonian Butte BLM outside of Zion NP: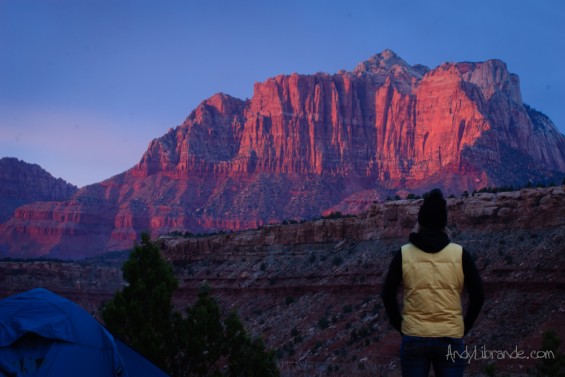 Luckily we ran into another couple around our age that had been in the park for the last few days and told us to get up early to get on Angel's Landing before the normal tourist shit-show happens. An early next-day was planned.
Angel's Landing: 1,500 vertical ft, ~5 miles RT, ~1:40 to the top
Our first foray into the main canyon was well before the first sunlight and before the park rangers had taken their posts. Quick glimpses of turkey's and deer were had as we pulled into the trailhead. We were the first to the trailhead that day as we pulled in just before 7:00am, however two other small groups pulled up right behind us and started off before we could get our packs ready. Luckily we did not see them or anyone else for quite some time.
We quickly gained Scout's Landing where we were greeted with our first sunlight of the day. At this point we passed one of the groups and started-up one of the best hikes I have ever done. The exposure was great and made the relativity simple hiking that much more exciting. Caitlin with the sun just starting to illuminate Angel's Landing in front of us, 8:30am almost to the top: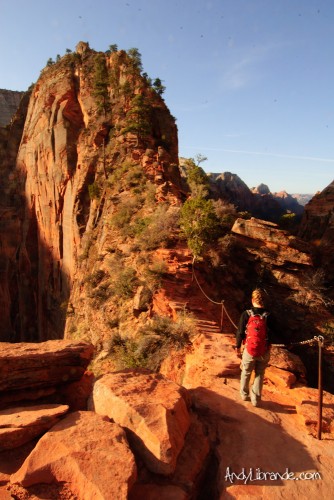 We reached the top where we ran into the only person that was in front of us. She was already on her way down and we were left in complete solitary to enjoy a true wonder. Looking back on the hike from the top of Angel's Landing (the trail runs along the illuminated ridge on the left w/ huge exposure on both sides):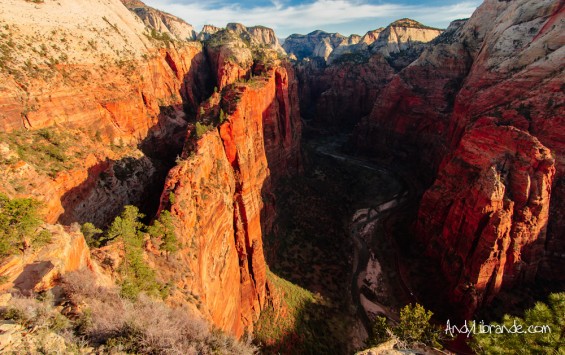 45 mins of complete solitude on top of the world! One can understand where the name Angel's Landing comes from as we sat watching the sun creep further down the enormous sandstone walls while listening to the sounds of the river and the occasional sound from the wild-turkeys below nearly 1,500 feet below. Once other people showed-up the vibe changed quickly and we headed down. Hiking down was just as exciting as going up:
Back at Scout's landing we took our time and explored around. We spotted one of the massive California Condor's that was hanging out watching the crowds on the route (when hiking Angel's landing in the morning he scared us when he buzzed us once coming around a cliff feature):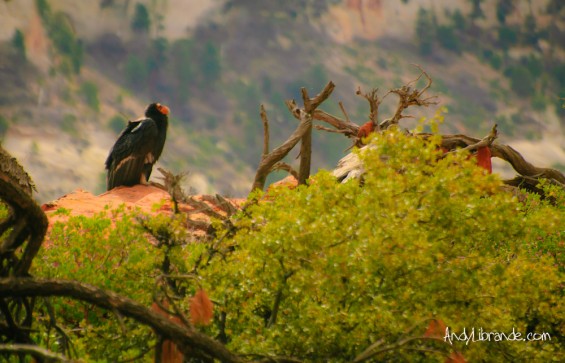 Back down to the trailhead we cooked some lunch in the park and planned our next excursion.
Hidden Canyon and Weeping Canyon
We were in the hiking mood and an additional 700 vertical foot climb to the mouth of Hidden Canyon took us into another magical place. Hiking the nice sandy trail we scrambled around this incredible canyon for a couple hours until we finally reached a logical turning point. The hike back down was much quicker since we had already figured out the route around the tough sections.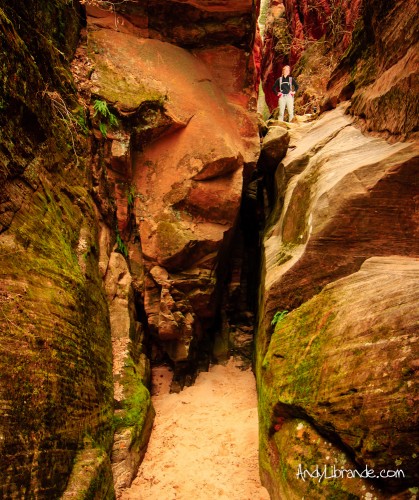 At the entrance to the canyon were some awesome overhangs. Here Caitlin is getting a feel for ~650 ft of sheer cliff (trail below is the switchbacks for the East Rim/Hidden Canyon and Weeping Rock is in the upper LH side):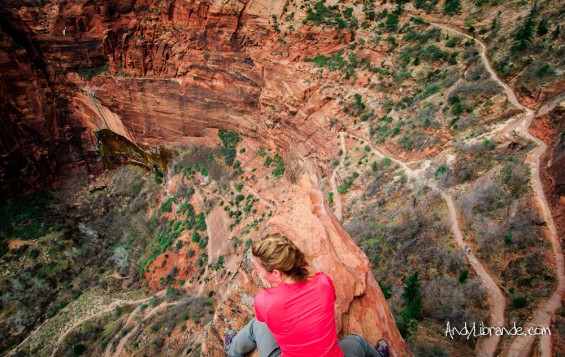 Weeping Rock was the last on our list of the day and we spent some time watching the crazy wonders of the desert before heading back to our campsite to watch the sunset (photo link!).
Narrow's Canyon Hike: 110 CFS, 44 degree water, 75 degree air temp highs, random old-friend encounters
The water was cold and we rented drysuits from the http://www.zionadventures.com/ which had a nice set-up and totally worth every penny that we spent with them. Started the hike late (somewhat intentional due to the cool morning temps). Caitlin hiking through the golden glow of the afternoon light: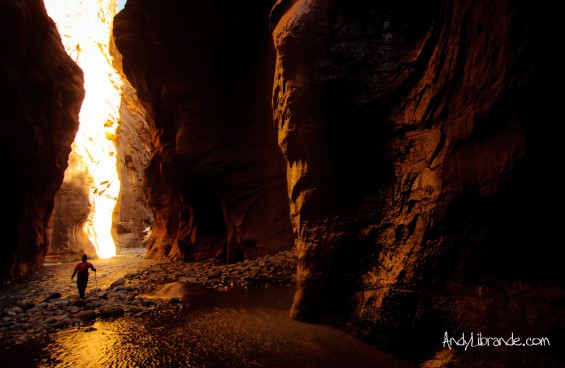 We fought our way up the river as the flow was high and strong. This turned out to be the hardest hike of the trip and the rewards were well worth it. Myself and Caitlin enjoying the river: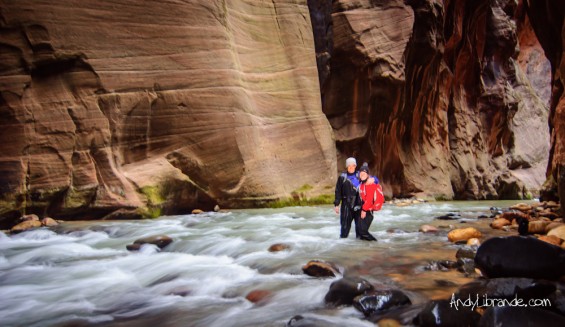 The world is truly a small place! After hiking for a short-bit another couple was gaining on us and eventually they caught-up and it turned out being my friend Drew and his wife Carrie, whom I originally met in the DU Alpine Club and had not seen in a number of years. Awesome to hike with them for a while and catch-up. Drew, Carrie, Caitlin and Andy photo deep in the canyon: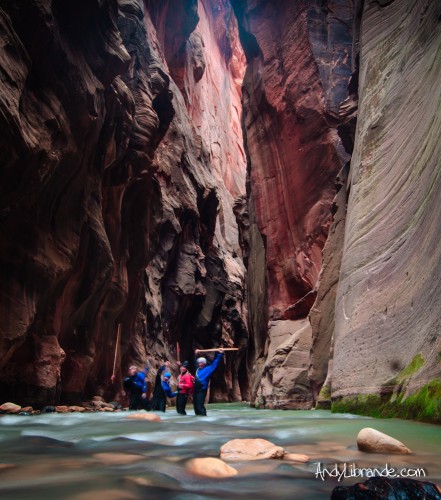 The river was flowing very heavy at 110 CFS that day and they closed down the canyon the next day as the flows got above 120 CFS. Timing was on our side and we got to experience quite the hike.
Bryce Canyon, Red Canyon BLM and Southwest Utah:
We ate Dinner with Drew and Carrie and did not hit the road to Bryce canyon until dusk. With some very loose ideas of places to camp just outside of Red Canyon we drove up some BLM road and found a place to lay our heads for the night. Night-time photos over Castro Canyon (and a ghost self-portrait):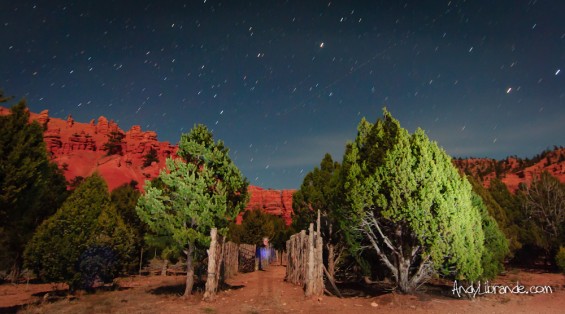 Another early morning and we arrived to Bryce Canyon where our jaws promptly dropped: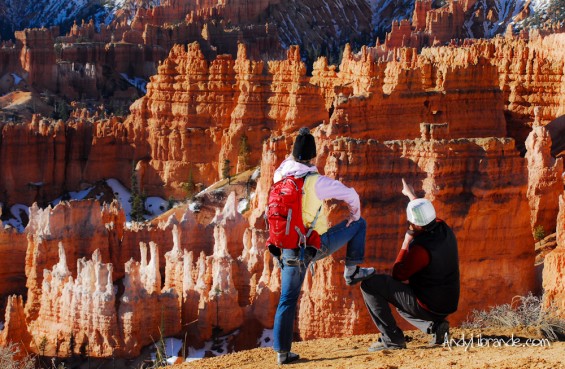 Again there was very few people around which was surprising considering it was a Saturday morning in a park famous for sunrises. Caitlin dancing with the trees of Bryce Canyon: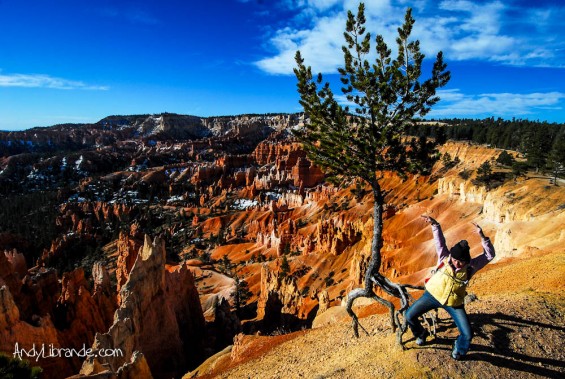 We did a short hike in chacos and wool socks which was nice to stretch out after the previous two grueling days.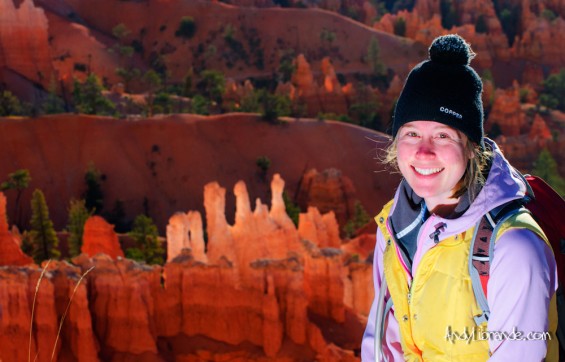 You don't need to spend much time here as it is relatively small so it was perfect for a nice morning excursion before grabbing lunch at the lodge and then taking the long journey all the way to Ouray, Colorado.
The route through the desert between Bryce Canyon and Hanksville, UT was really quite cool. Some amazing vistas in a place that I had no prior knowledge on (not to mention you drive thru MTN passes at ~10,000 ft, Escalante, Capitol Reef NP, Lake Powell, Cone Mtn, Henry Mountains, etc).
A late arrival in Ouray and we crashed at RAMBO's house. The next day we hit up some climbing just outside of town at a place called Colby's Corner which had some nice routes and expansive views of Sneffel's and Cimarron peaks. A nice dip in the hot springs plus a Mouse's Chocolate shake and we were recovered from the hikes and ready to head home!
Looking back in the rear-view mirror of the awesomeness of this part of the world: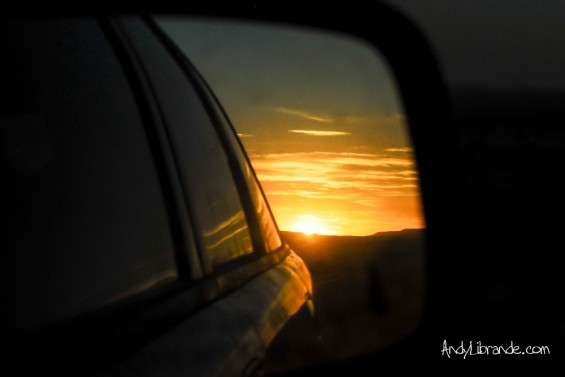 Amazing trip!
Perma-Link here: http://andylibrande.com/news/2012/07/zion-bryce-ouray-spring-break/
Just like that we went from blazing hot to the cool temps of fall. I experienced this during a little landscape project that started in late August and went up to mid-Sept (essentially going from dripping sweat to just normal sweat). That little landscape project turned into a much bigger project somehow miraculously finishing moments before the start of the Backyard Bouldering Competition.
The cool temps lead to an active fall of many short-outings experiencing the intense fall colors. Below is just a photographic taste from the short adventures that took place during the extended fall season
Kenosha Pass (and all surrounding areas) were absolutely breath-taking on Oct 1st-2nd, 2011:

Once finished with the climbing comp I was able to get out again (had no real adventures since Independence Pass in early August). Here we are at Mt Sanitas in Boulder doing some bouldering, September 17th, 2011: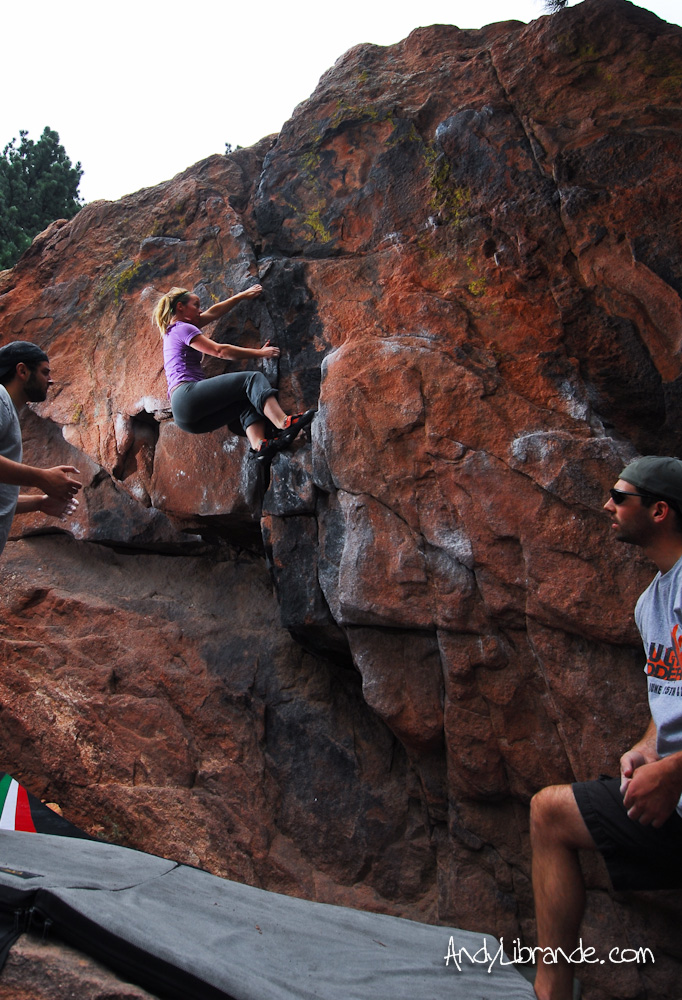 Andrew relaxing on the top-out: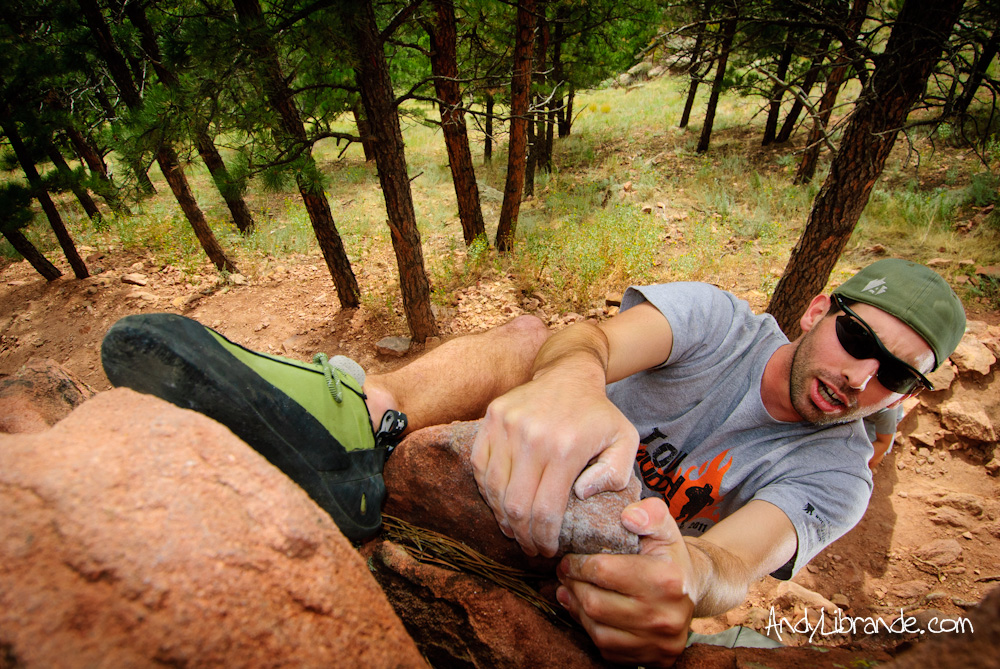 Aspen's just starting to get really colorful on Squaw Pass Road near Evergreen on September 25th, 2011: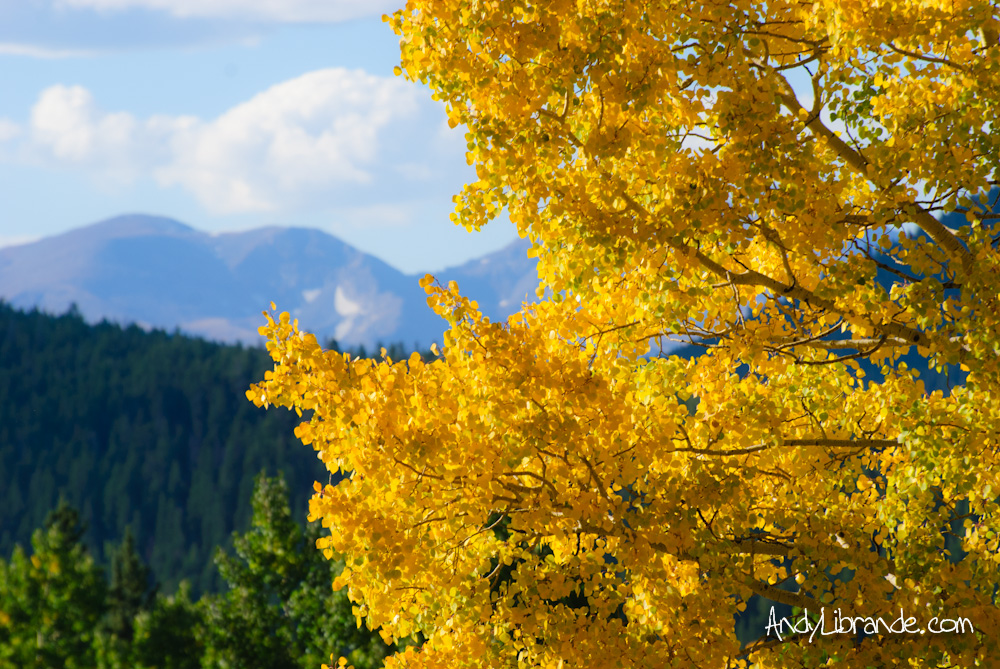 A trip to Crested Butte with RAMBO happened on Oct 1st-2nd. Potentially the most colorful weekend in my life. More will be posted on this adventure, however here is a teaser: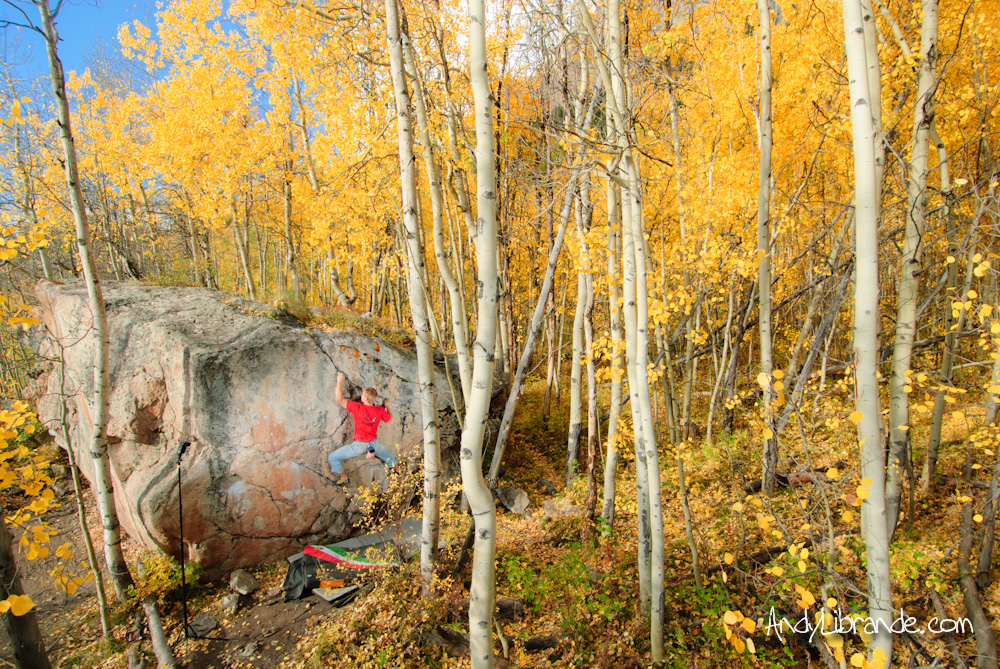 My sister flew in from Austin, TX and we checked out Rocky Mountain National Park on a snowy day in the park. October 9th, 2011: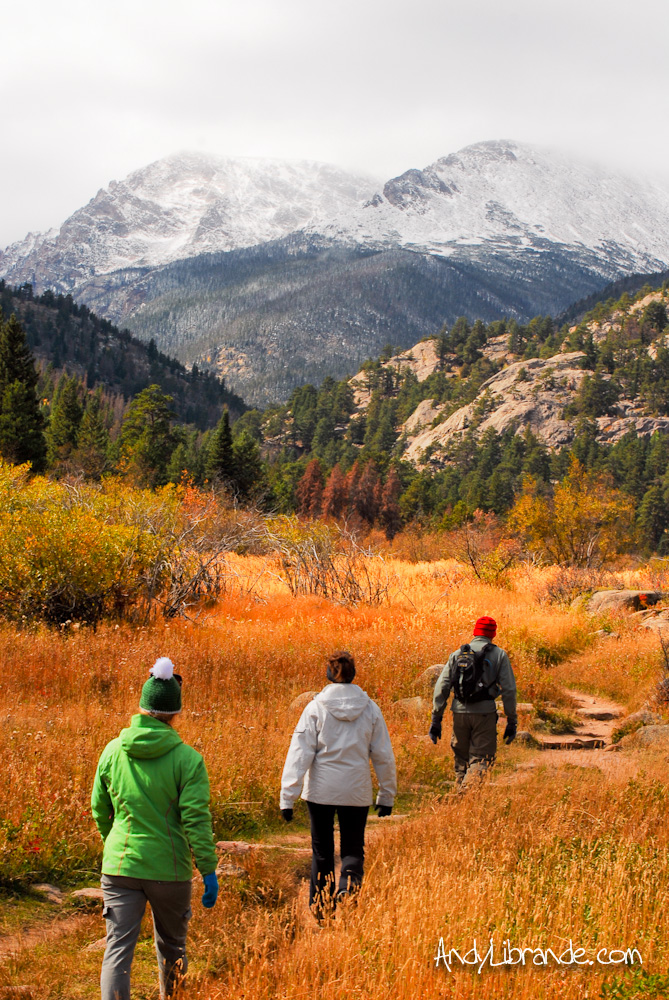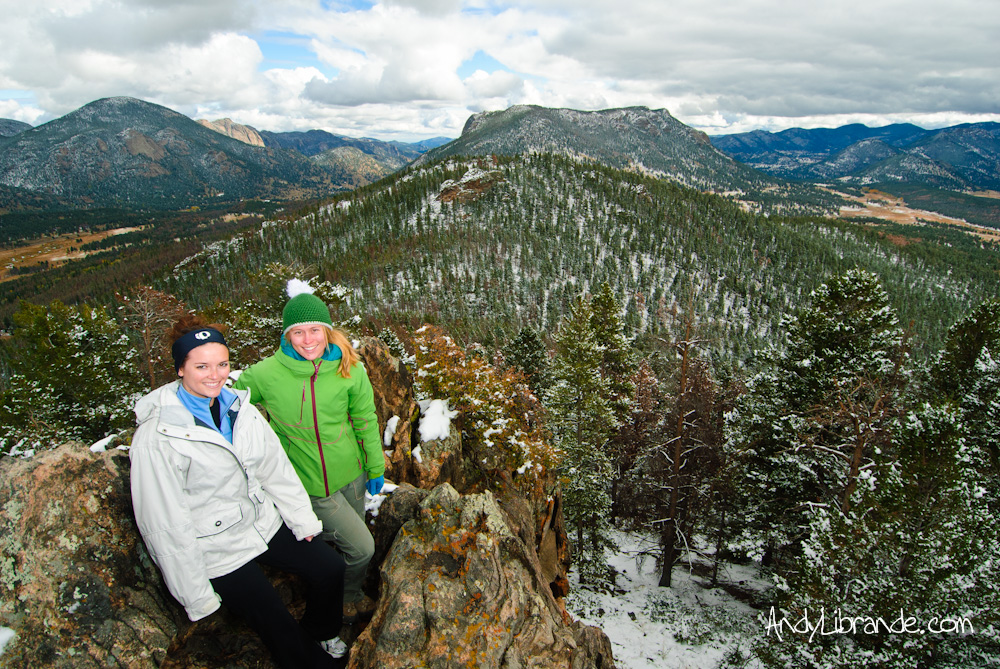 There were also a lot of elk out that day and we had fun watching them in their rut: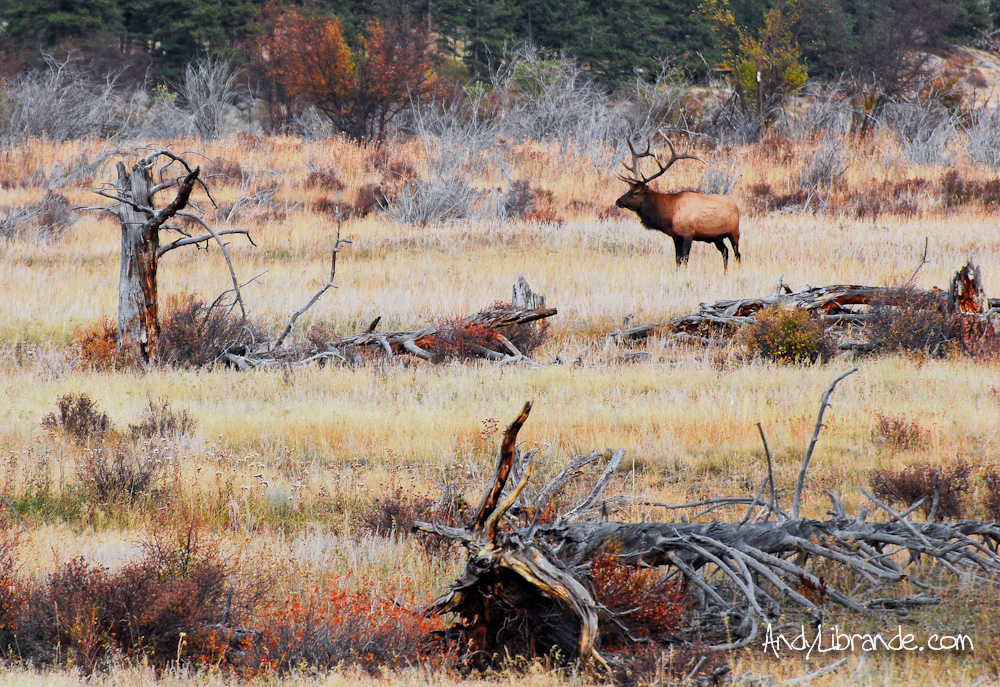 Friday afterwork session in Castlewood Canyon with Caitlin at the 9 Lives Boulder, October 14th, 2011: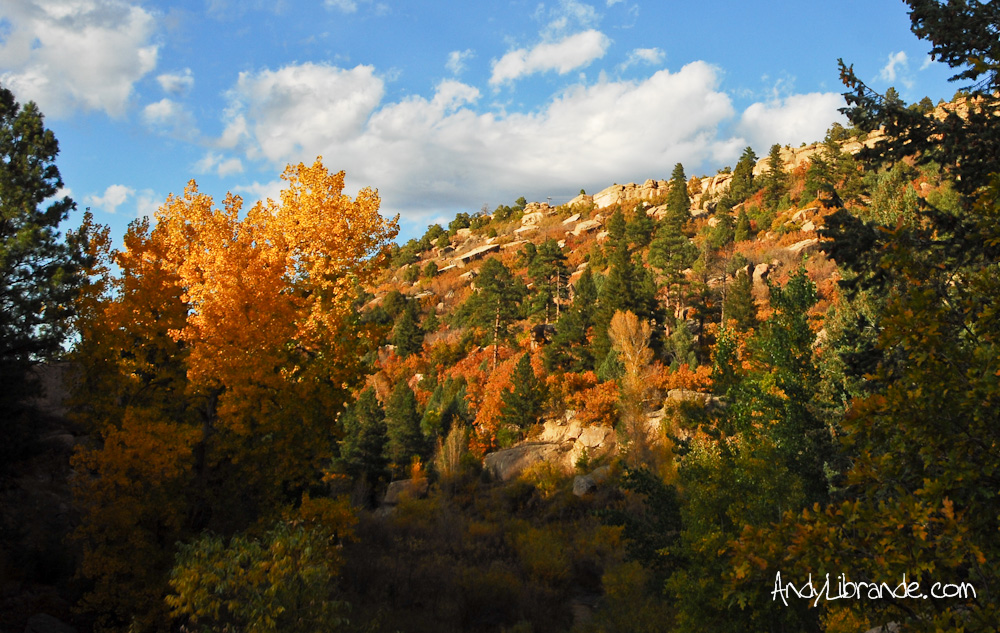 Day trip to Sheep's Nose for some boulder exploring with Caitlin and some sightseeing, October 23rd, 2011 (Pike's Peak in the background):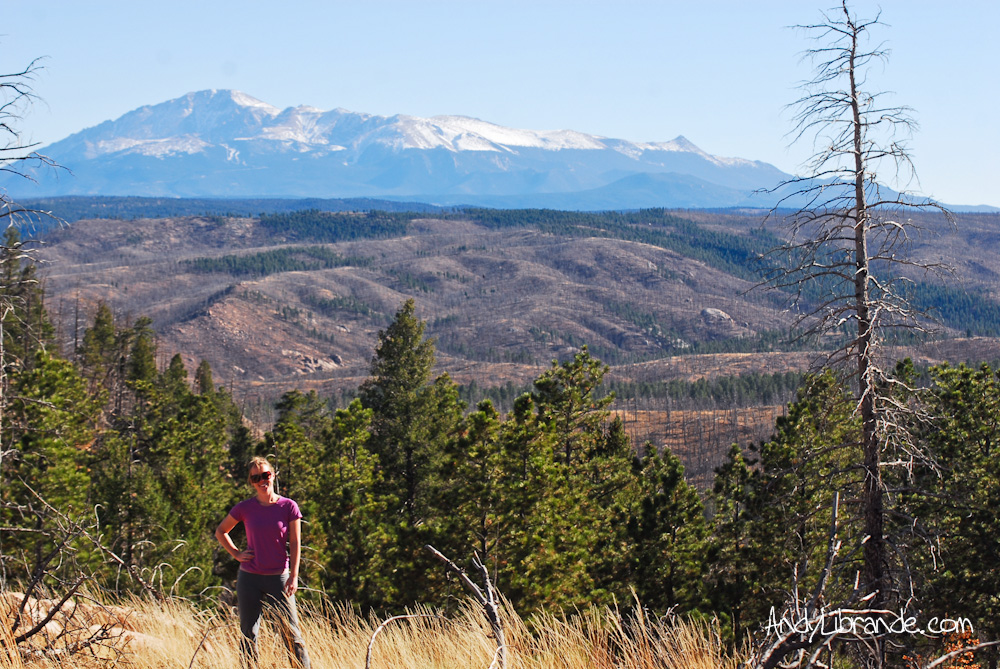 Fall more or less wrapped-up in Colorado for me on a beautiful, brisk day in Castlewood Canyon doing some bouldering with Jake and Ben. November 11th, 2012: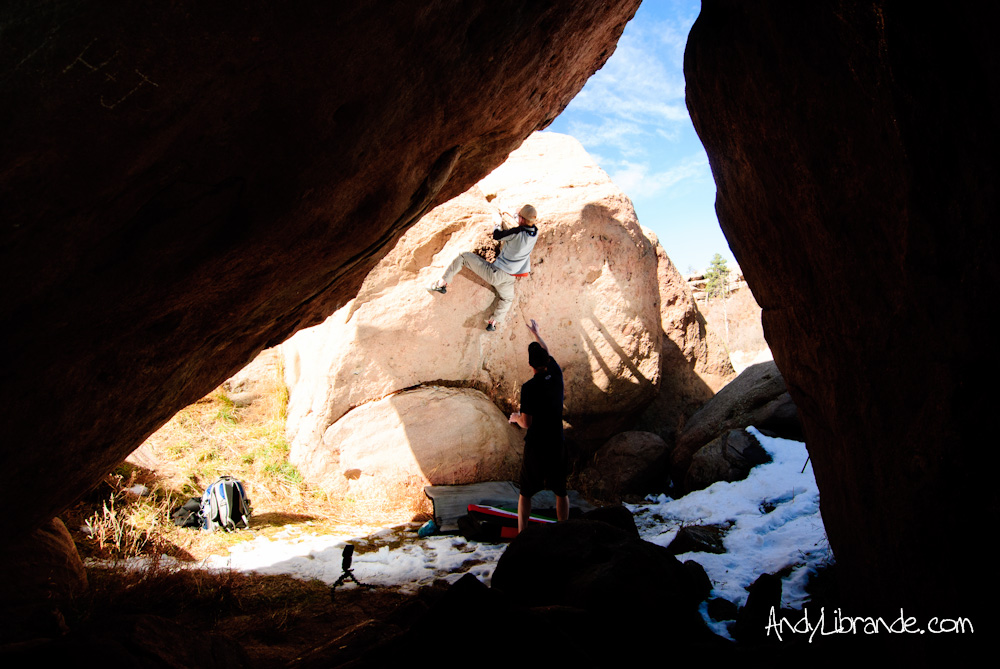 Full Post here: http://andylibrande.com/news/2012/02/quick-moments-of-fall/
Thanksgiving found us in San Diego to hang-out with Caitlin's family and explore an area that I have not been to before. This is unlike most of our adventures and kept it pretty simple with the main sites being the San Diego Zoo and Mission Beach.
After spending a few days doing Thanksgiving we headed to the amazing San Diego Zoo which was quite awesome.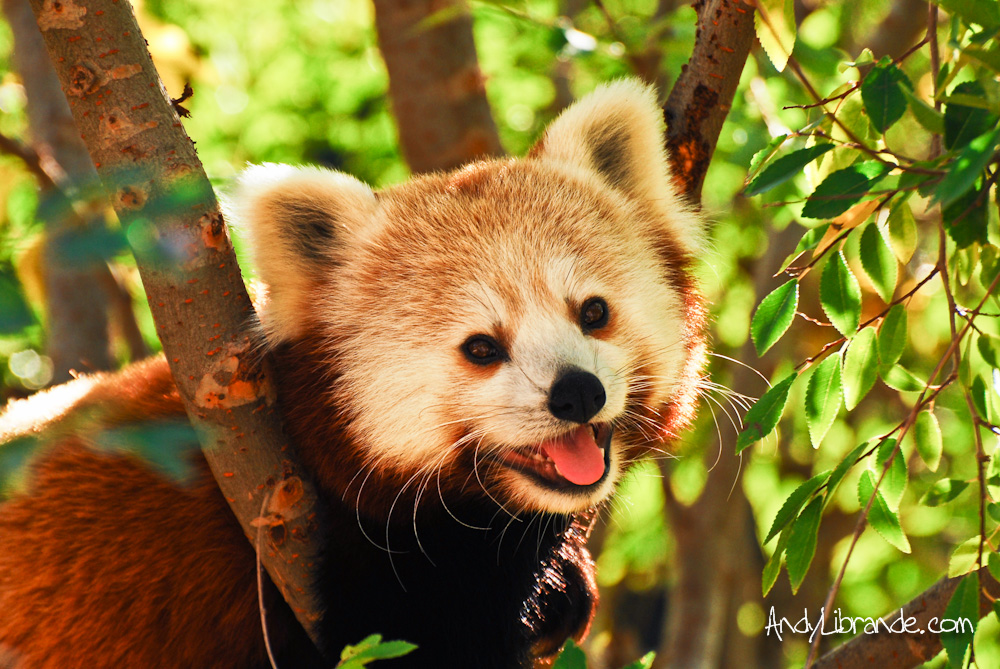 We also saw a black and white stripes, a lady walking a cheetah, meat-eaters, hippos,  caged beasts, and bamboo eaters.
Towards the very end of the day we ended-up at the Gorilla's where the male silverback was in full display and a large crowd had gathered. I thought this was a pretty sweet capture as he put his back against the glass wall.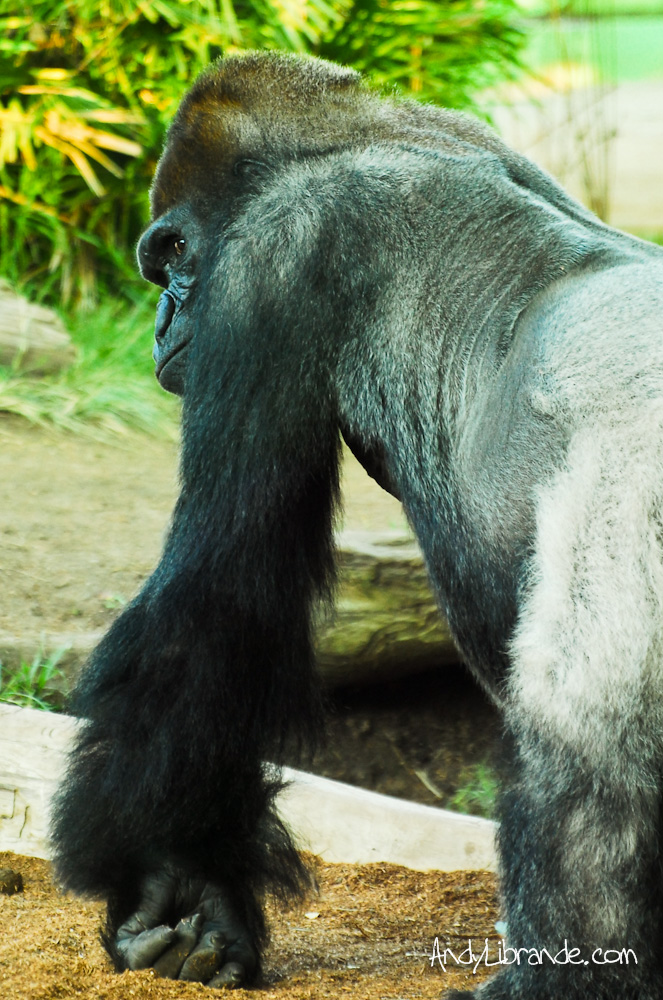 Saturday afternoon Caitlin and I made our way out to Mission Beach via public transportation (easy and cheap). While it was hot downtown the sea breeze was actually a bit chilly.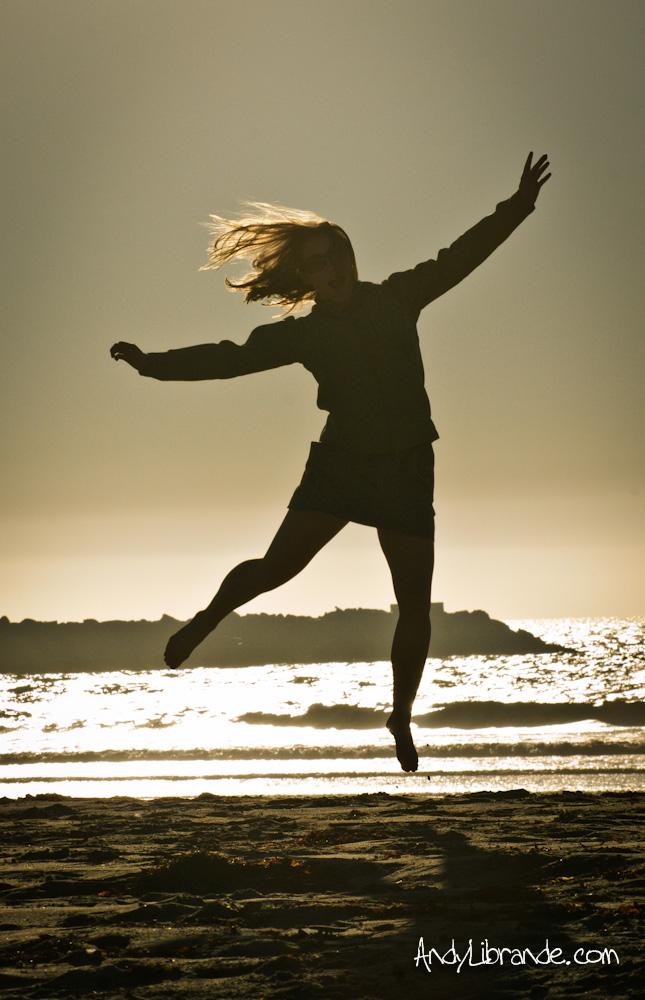 Then the sunset started to happen: From the first photo I took to the last one it lasted about an hour and fifteen minutes which made for an amazing sight as we strolled down the beach: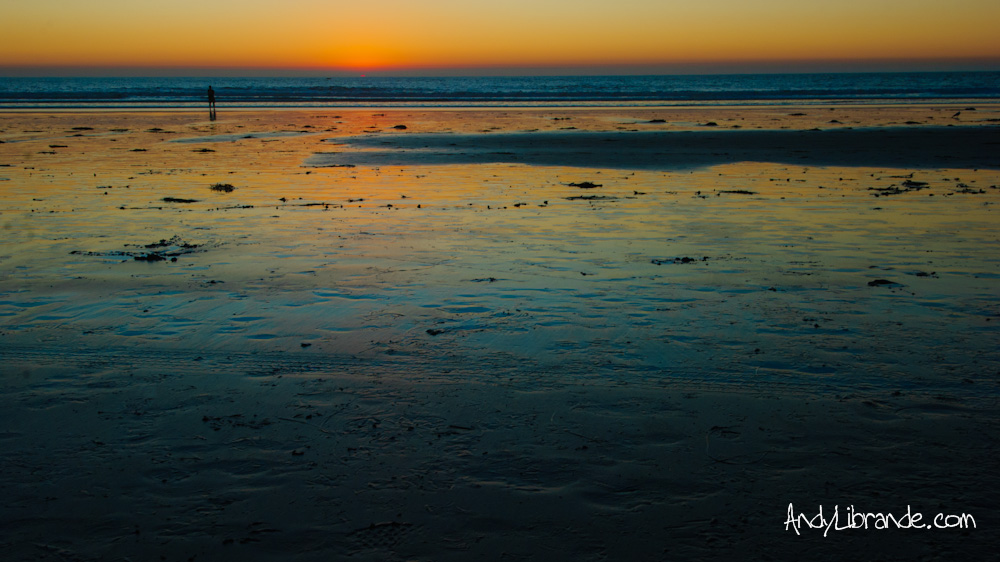 Pelican diving for dinner at Mission Beach during sunset: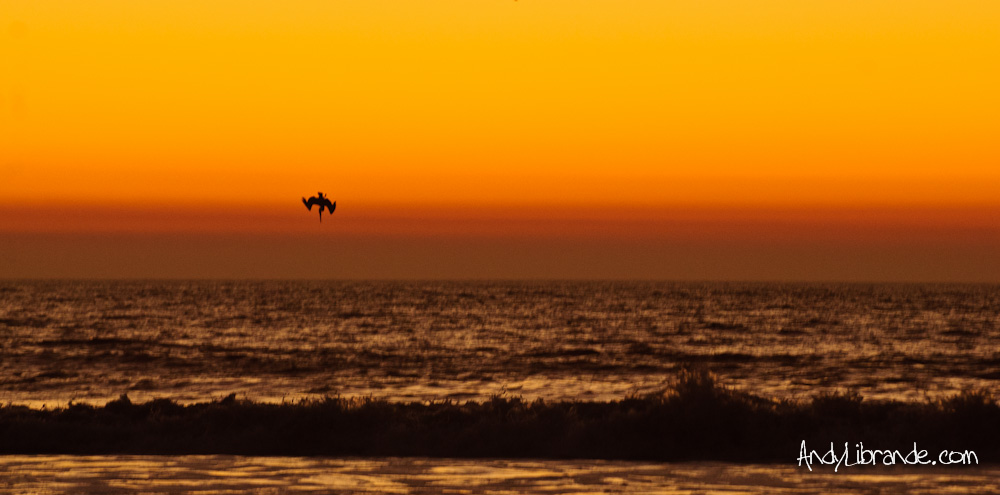 It was fun place to check out and we stayed downtown for real cheap which allowed for us to try out some delicious drinks and listen to jazz at the speakeasy Prohibition and also try out the unique decor of Vin de Syrah.
The final bits of light over Mission Beach with the moon just starting to show itself: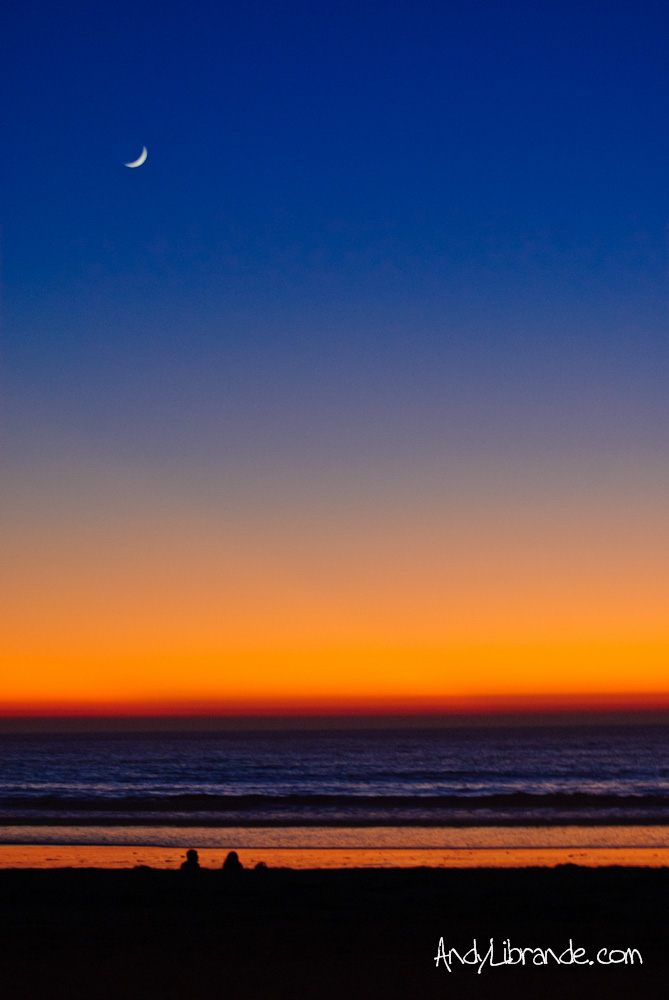 Flying over the mountains (and the Grand Canyon!) during sunset is awesome!
Full Link here: http://andylibrande.com/news/2012/01/sunsets-in-san-diego/
If you haven't already, please read the quick recap of our CABO SAN LUCAS trip here: http://andylibrande.com/news/2011/06/down-in-mexico-a-quick-trip-report/
In summary I took a couple pretty photos. Below are some more scenics from the trip.
Enjoy!
Scenics from a Week in the Baja:
Panorama of a Pink Sunrise over the eastern beaches of Cabo San Lucas on the morning of May 9th, 2011. This is a photo that I stitched together and plan on printing. The print will be ~80 inches wide when I get it done. I witnessed nearly every sunrise on the trip as they were far more spectacular then the sunsets at Cabo.  Plus it was very peaceful watching the beach slowly wake-up every morning from our awesome villa.
Click for a much larger version and enjoy:

One morning I was treated to the most colorful sunrise I have ever seen. The location of the sunrise caught me off guard as it was the first morning in this new spot and I didn't quite nail the composition. It lasted for just a couple minutes and luckily I woke Caitlin as she is the only testimonial that this actually happened. Unreal colors over San Jose Del Cabo taken from the Las Palmillas  Casita: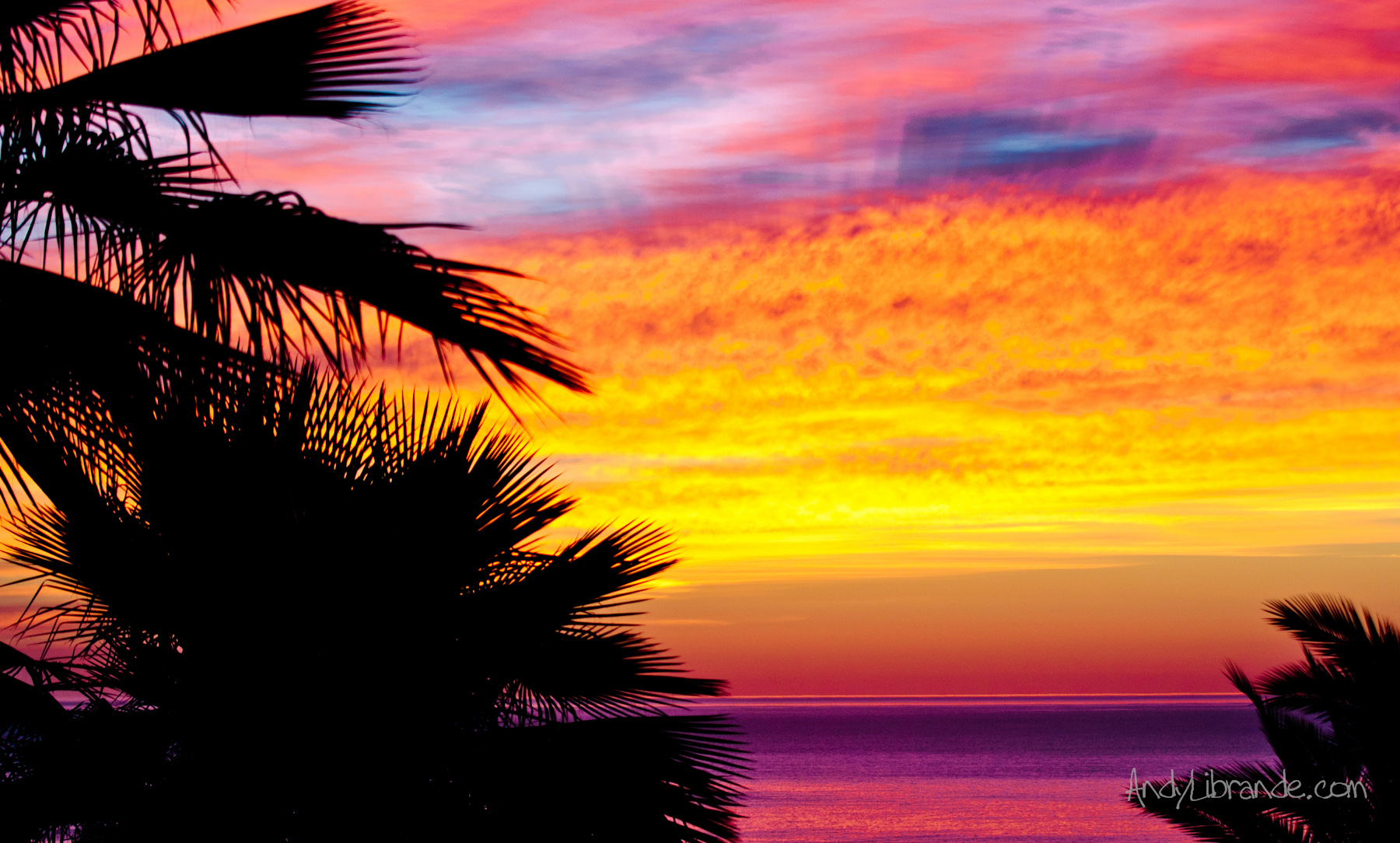 We kayaked out to Finisterra to see the Arch. Conveniently it was out of the water (extremely rare) and we were able to walk right underneath it. Here Caitlin is enjoying the view from the ocean and I am trying not to drop my camera into the water: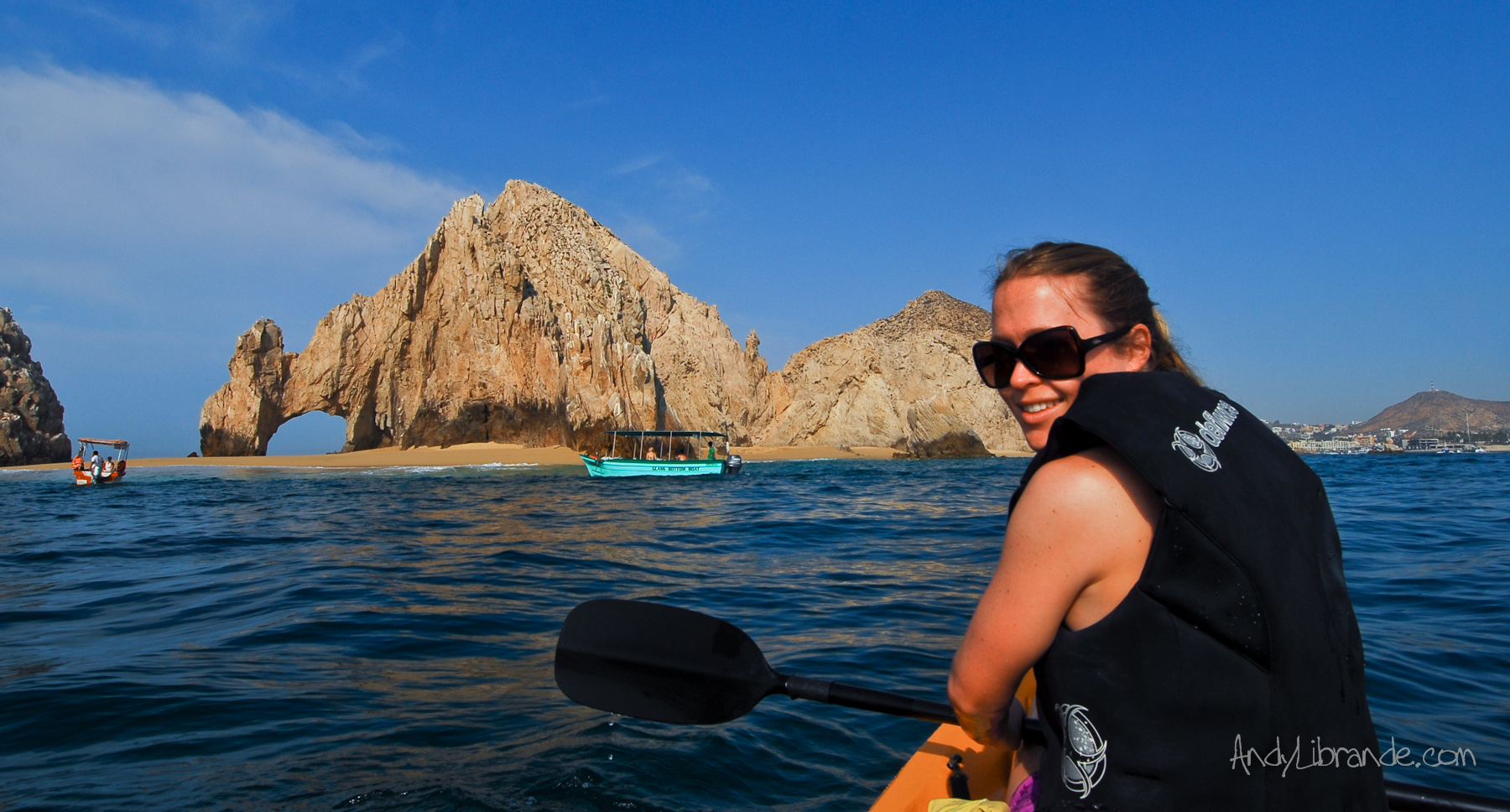 This is a small tunnel that we crawled through for fun. Andrew is standing in the other entrance while I am on my belly taking a photo from the small entrance. Located on Playa del Amor near the Arch.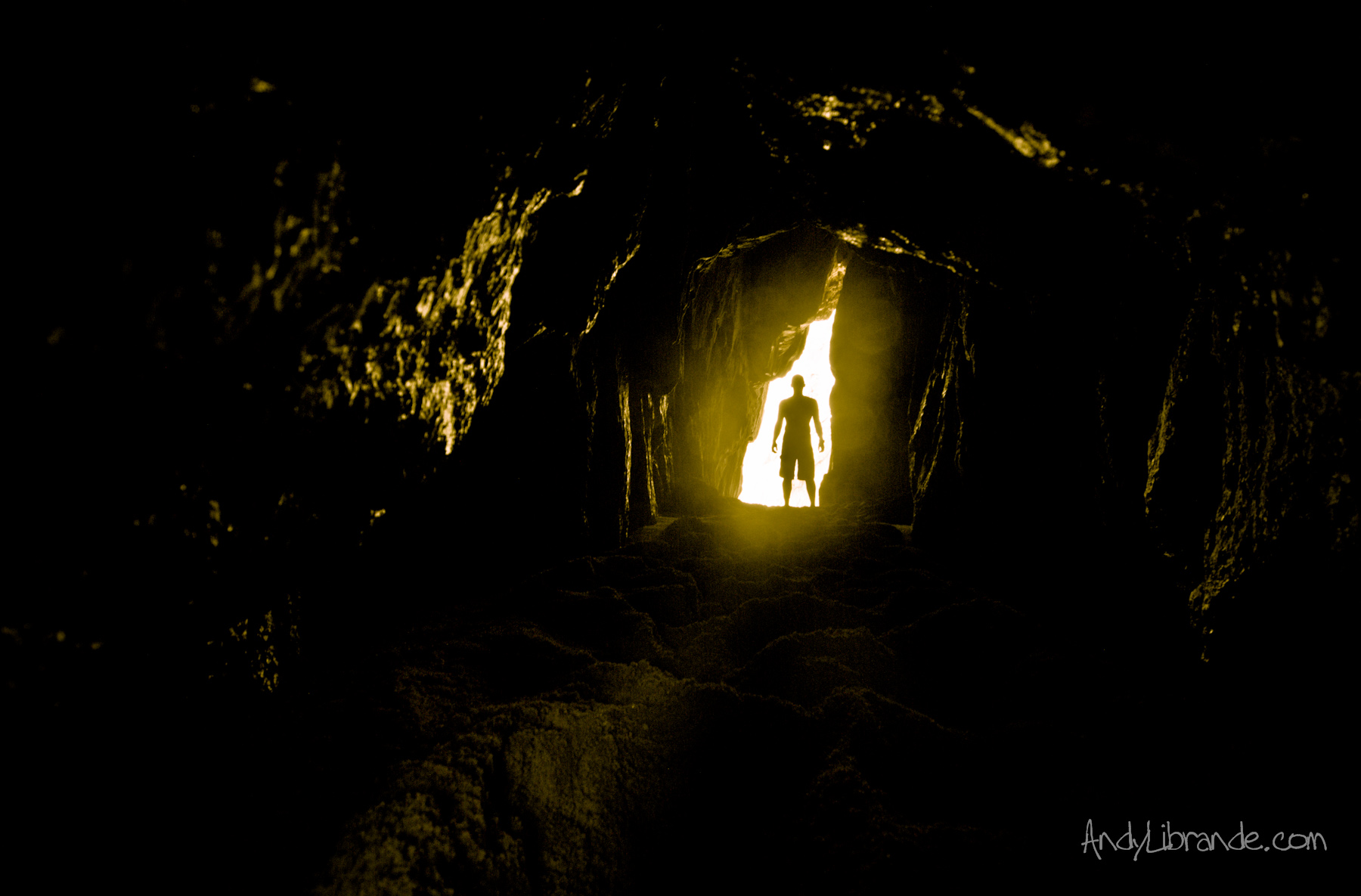 Whitney at Playa del Amor: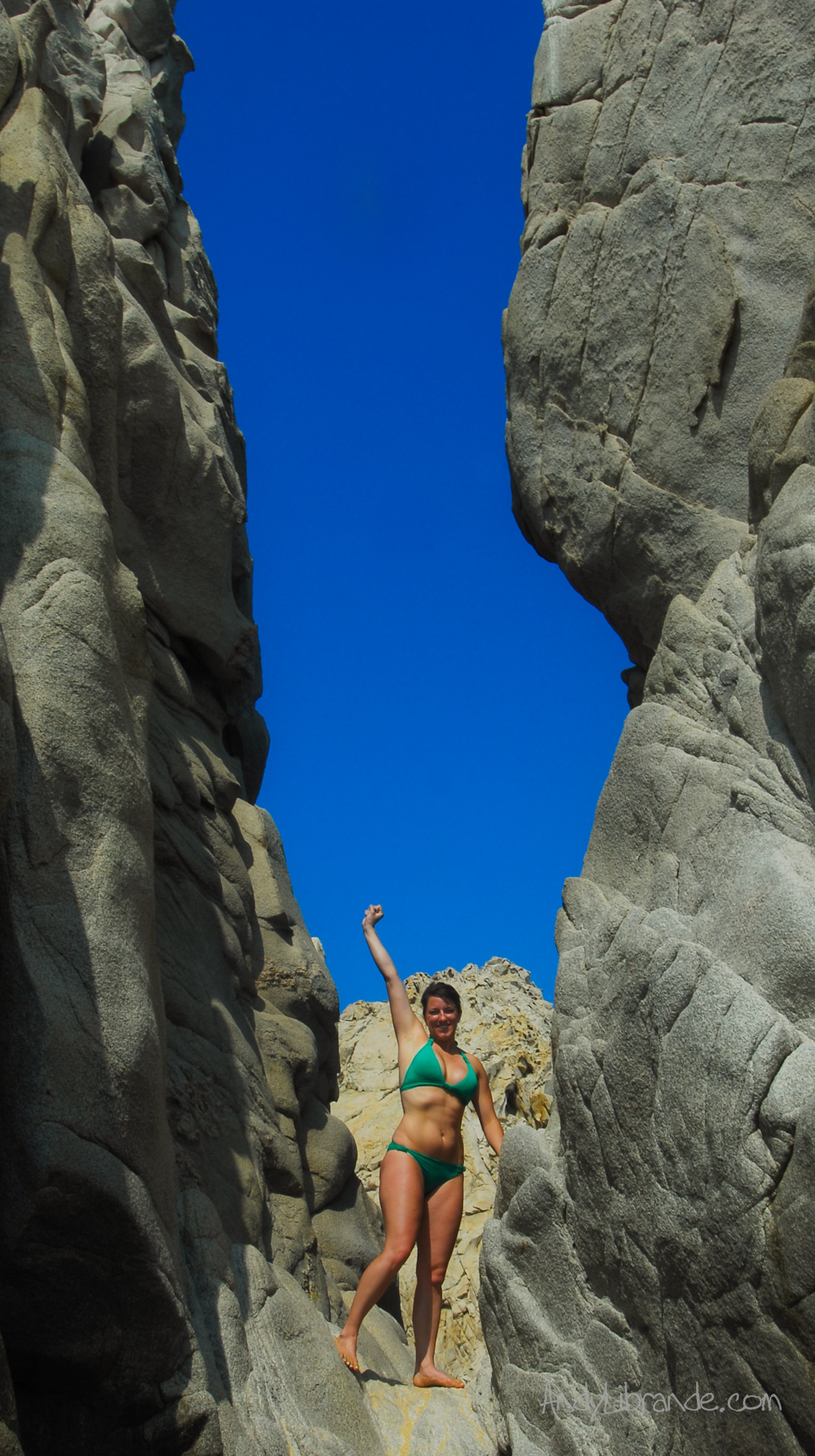 Sunbathing at the Casita: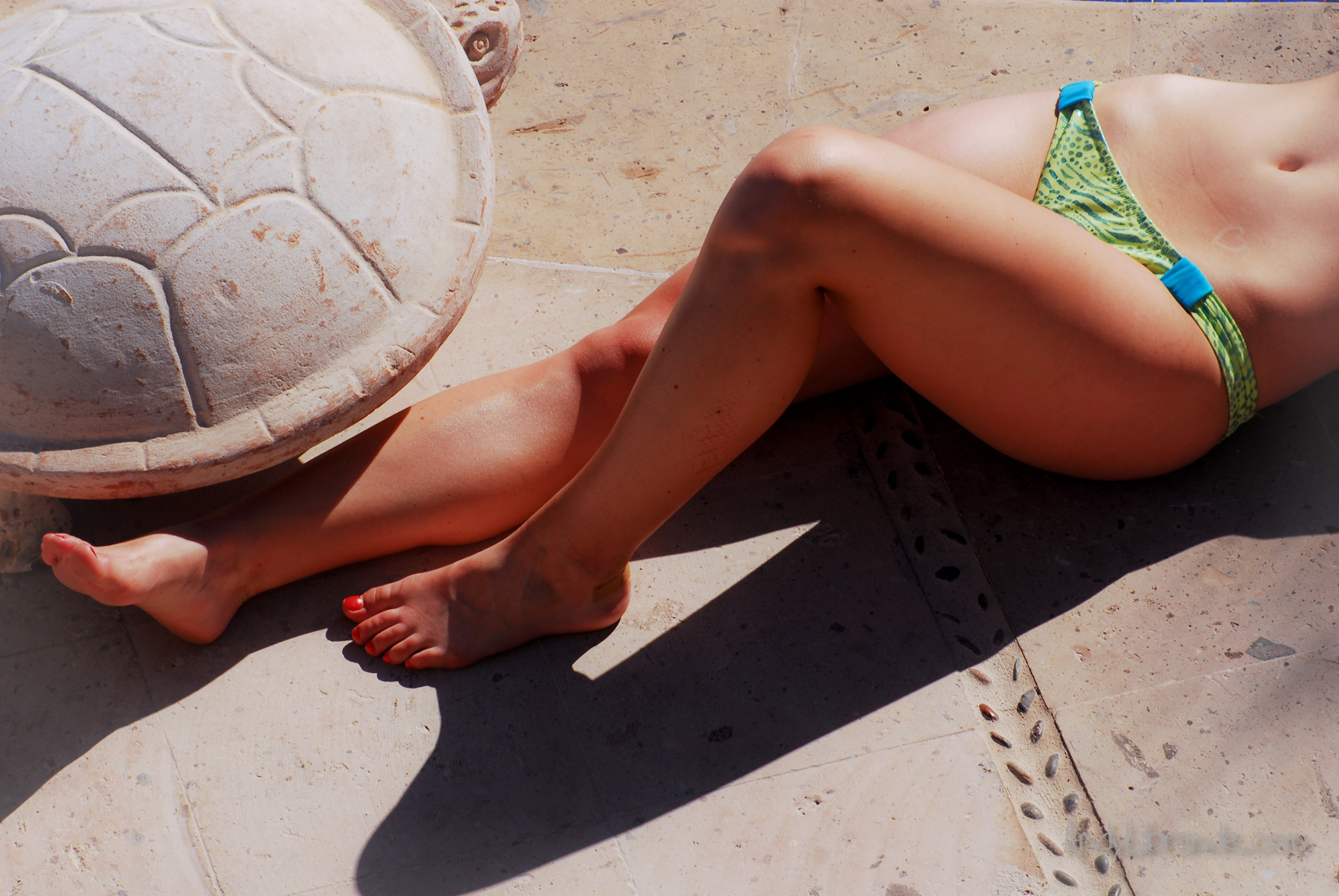 Did I mention that this whole house was just our groups for a few days!?! It was awesome with incredible views sitting above a violent ocean swell. This is a photo that I stitched together to get the full house.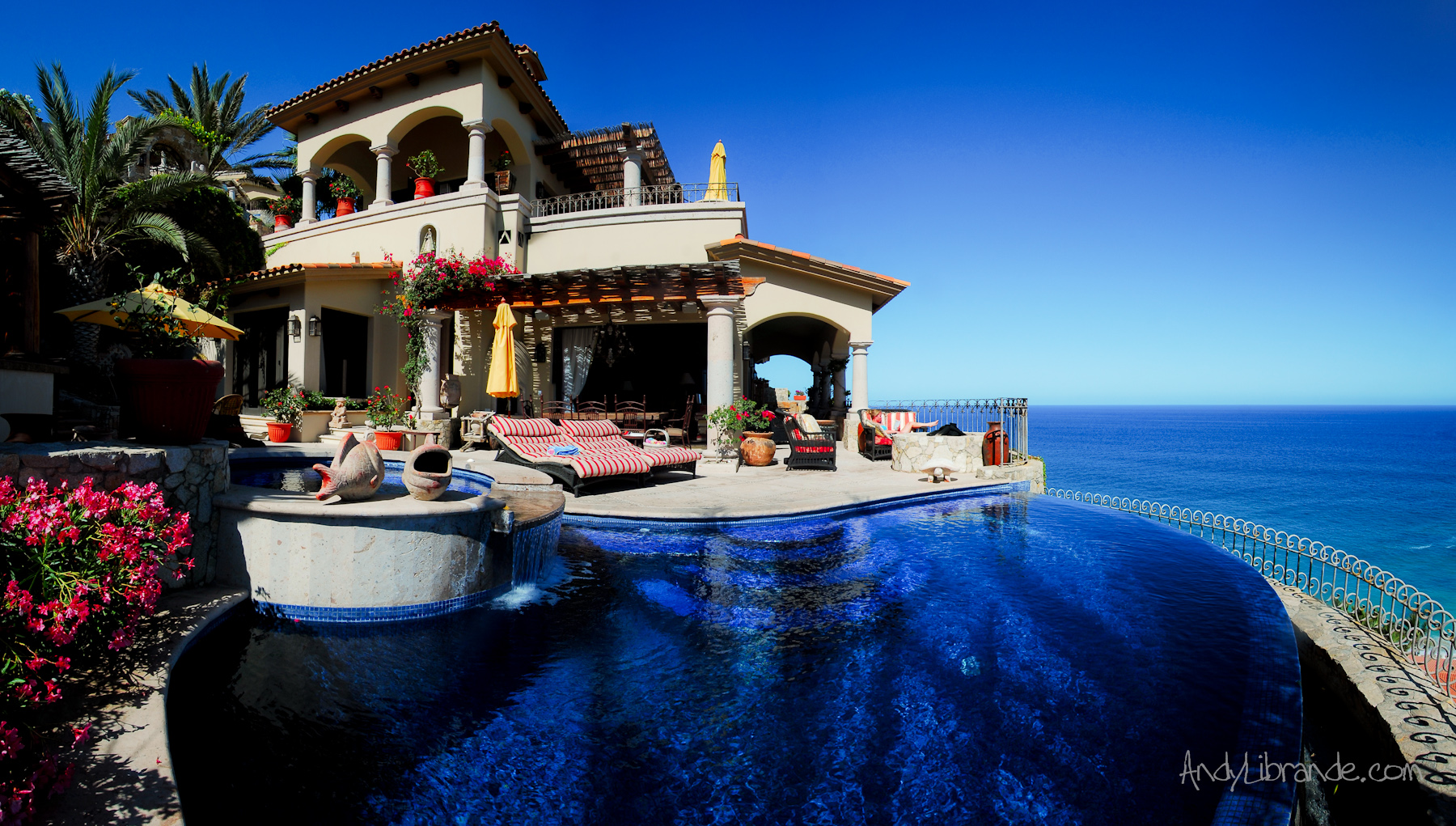 This is the back patio of the first place we stayed at called the Villa at the Hacienda resort. We had an amazing spot that overlooked Finisterra right on Medano Beach and minutes from the Marina and downtown Cabo. It was pretty incredible.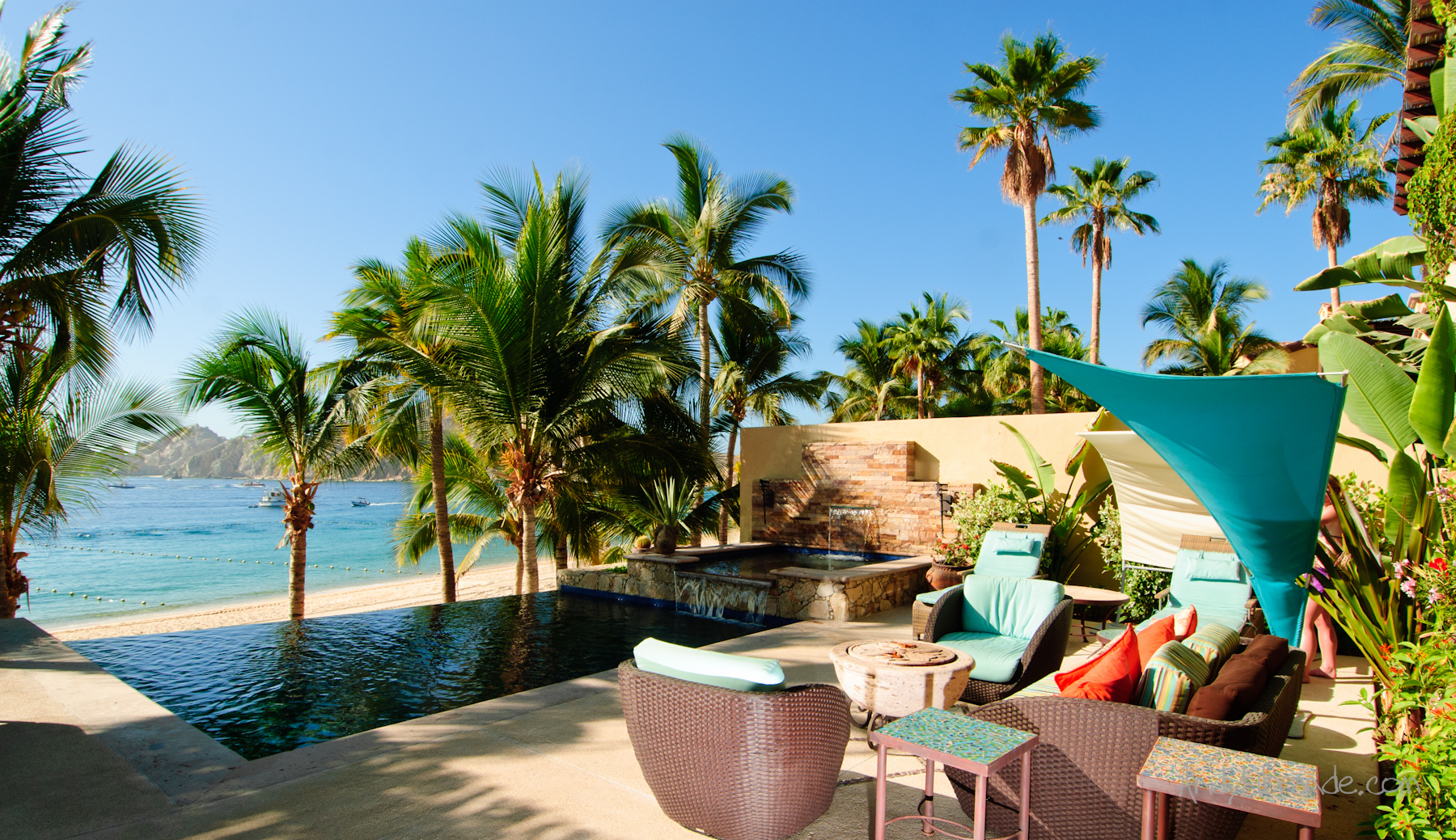 Sunset over Finisterra (Land's End):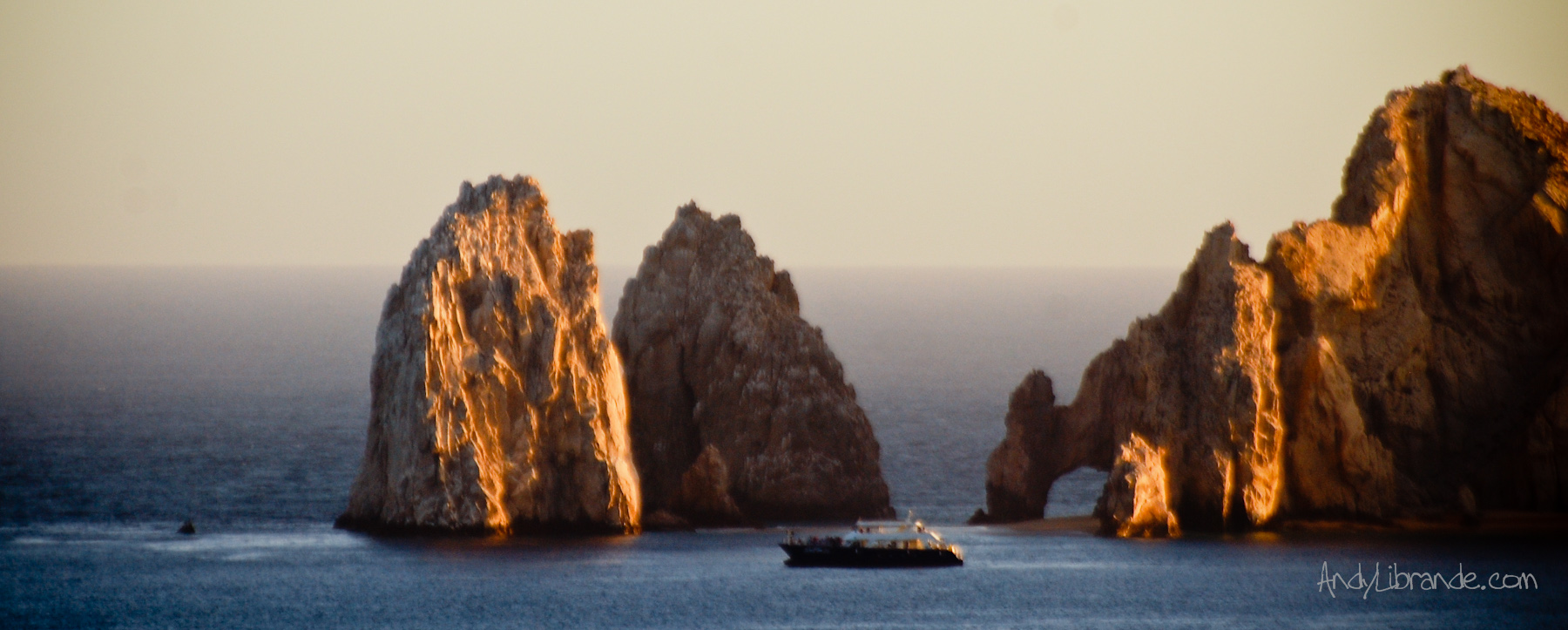 So many more photos that I have it is hard to narrow it down sometimes.
Hoped you enjoyed!
Link to full post: http://andylibrande.com/news/2011/07/scenics-from-the-baja/
What: A week-long trip to Cabo San Lucas area in Mexico
Why: Because the US State Department says it is really dangerous (OMG!!!)
Who: Andrew Giamberardino, Whitney Hoover, Caitlin Shay, Andy Librande, Billy Papa G, and Erin
Real Reason for going: We heard there is tequila down there
How: We sold our organs to help pay for our trip there and back
Overview: This is the nuts and bolts of the trip listed mainly because I tend to over-exaggerate everything and routinely mix-up events. The photos are on the light side but more will be coming. I took 3,000 photos on the trip and these ones get the point across.
El Arco de Cabo San Lucas with Sand Under the Arch which only happens every few years:

Saturday Day 1: Arrive early afternoon to Cabo; the flight between DEN and LAX was amazing as we were in a little plane and had great views of the snow-capped mountains. Get stuff at CostCo which outside of the meat and the amazing juice nectar the prices were not that great. Arrive at the best resort in Cabo San Lucas with incredible views and no-one else around. Drink.
Billy and Erin at our Villa with Finisterra in the background: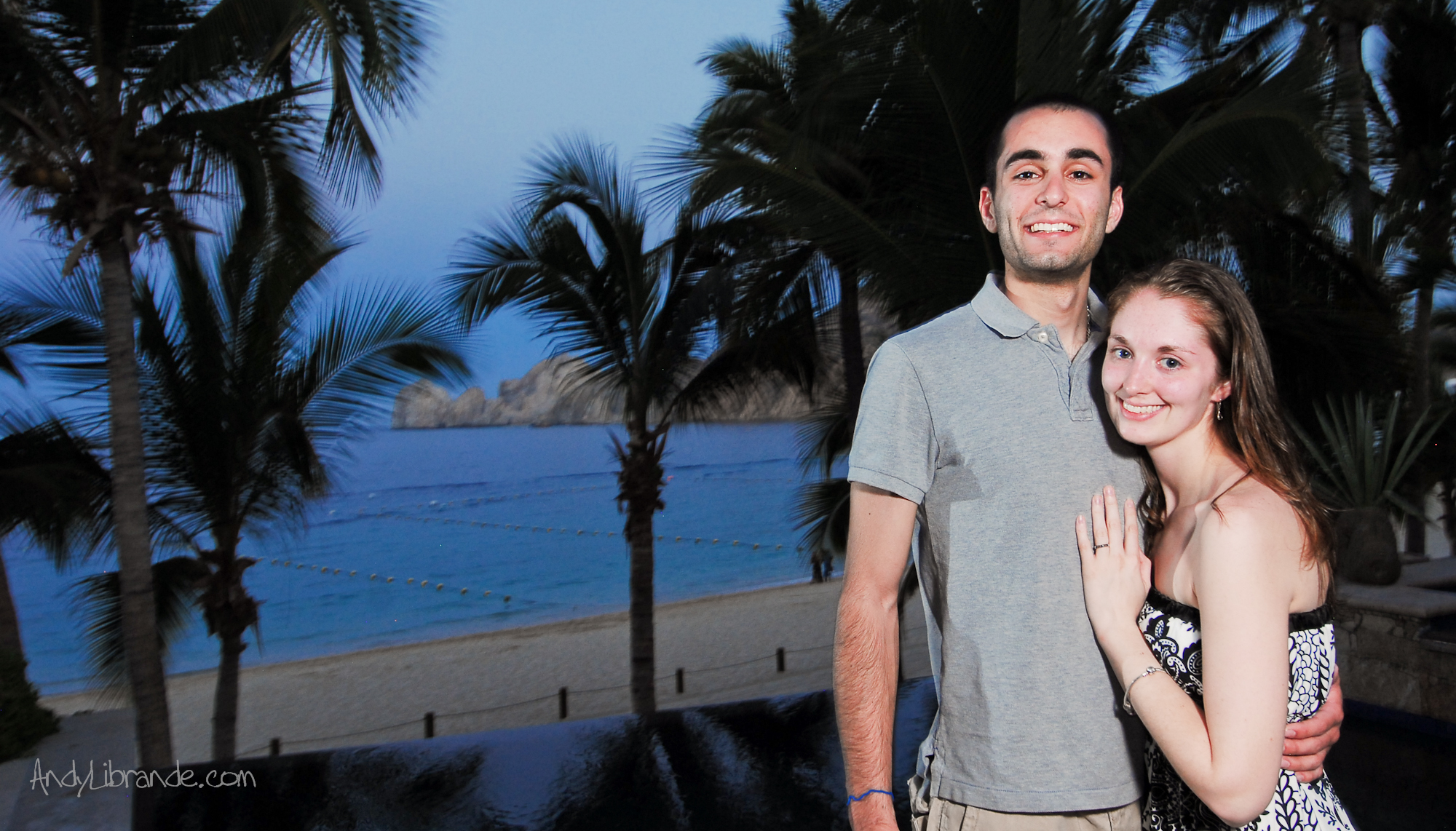 Sunday Day 2: Pick-up Caitlin. Pick-up a ton of fruit, delicious pastries, and more tequila at the grocery store. Get lunch at Taco stand where we tried Corazon Asado among other delicacies…Very hot in the city. Drink. Eat at the  Hacienda restruatrant for dinner (which is a part of the resort we stayed at). Drink some more.
Powerful waves on the Pacific side of Playa del Amor: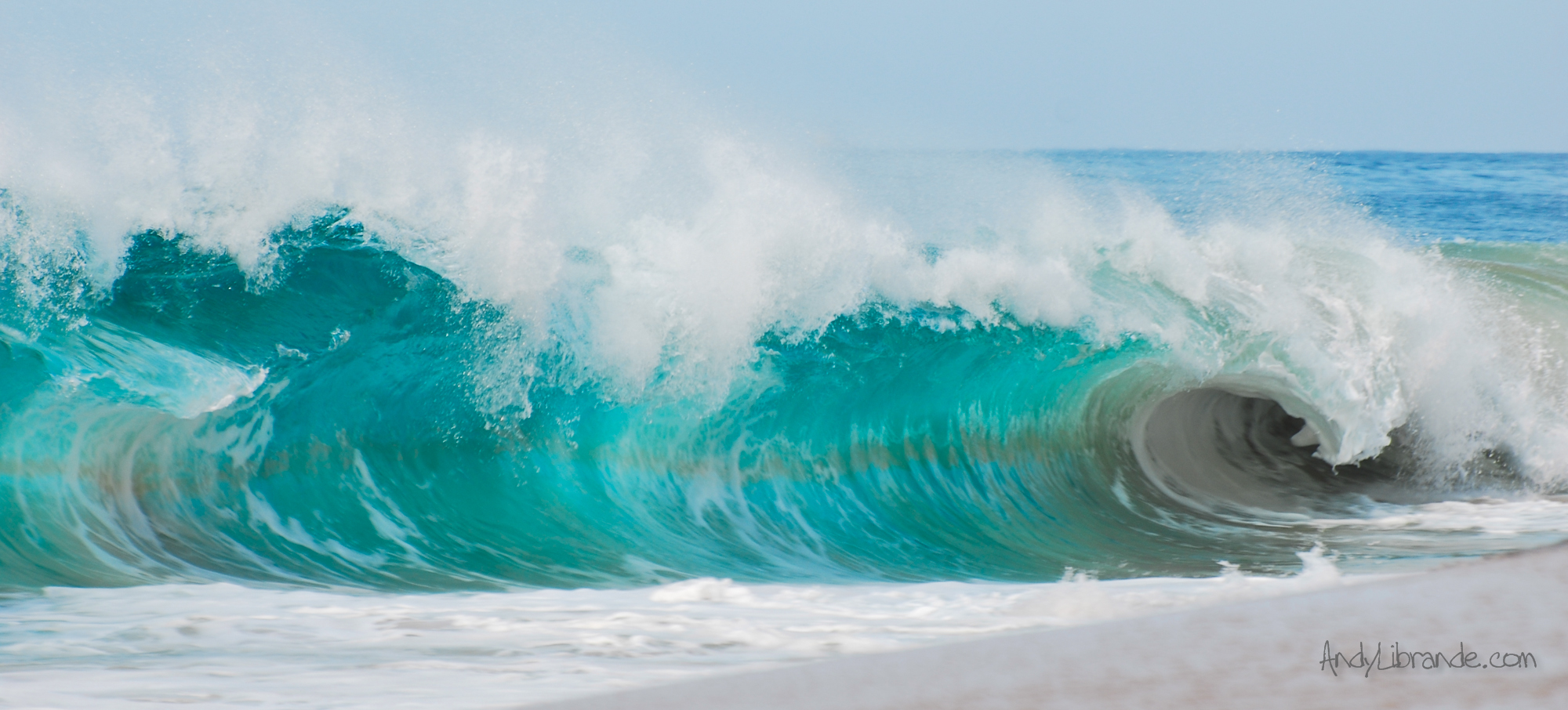 Monday Day 3: Beautiful morning Kayak to Finisterra ("Land's End") also home to Playa del Amor or Lover's Beach. Almost get destroyed by a massive wave. Walked under El Arco de Cabo San Lucas (which one can only do every couple of years when the tides are low). Snorkel. Eat late lunch at some random place with good fish tacos. Sweat balls off walking around mexican part of Cabo. Enjoy refreshing Coke. Walked into the most hilarious and out of place indoor Shopping MallI have ever seen. Drink. Late night dinner at The Office on the beach. Drink a lot. Have fun in pool when we get back.
Caitlin with El Archo as a backdrop: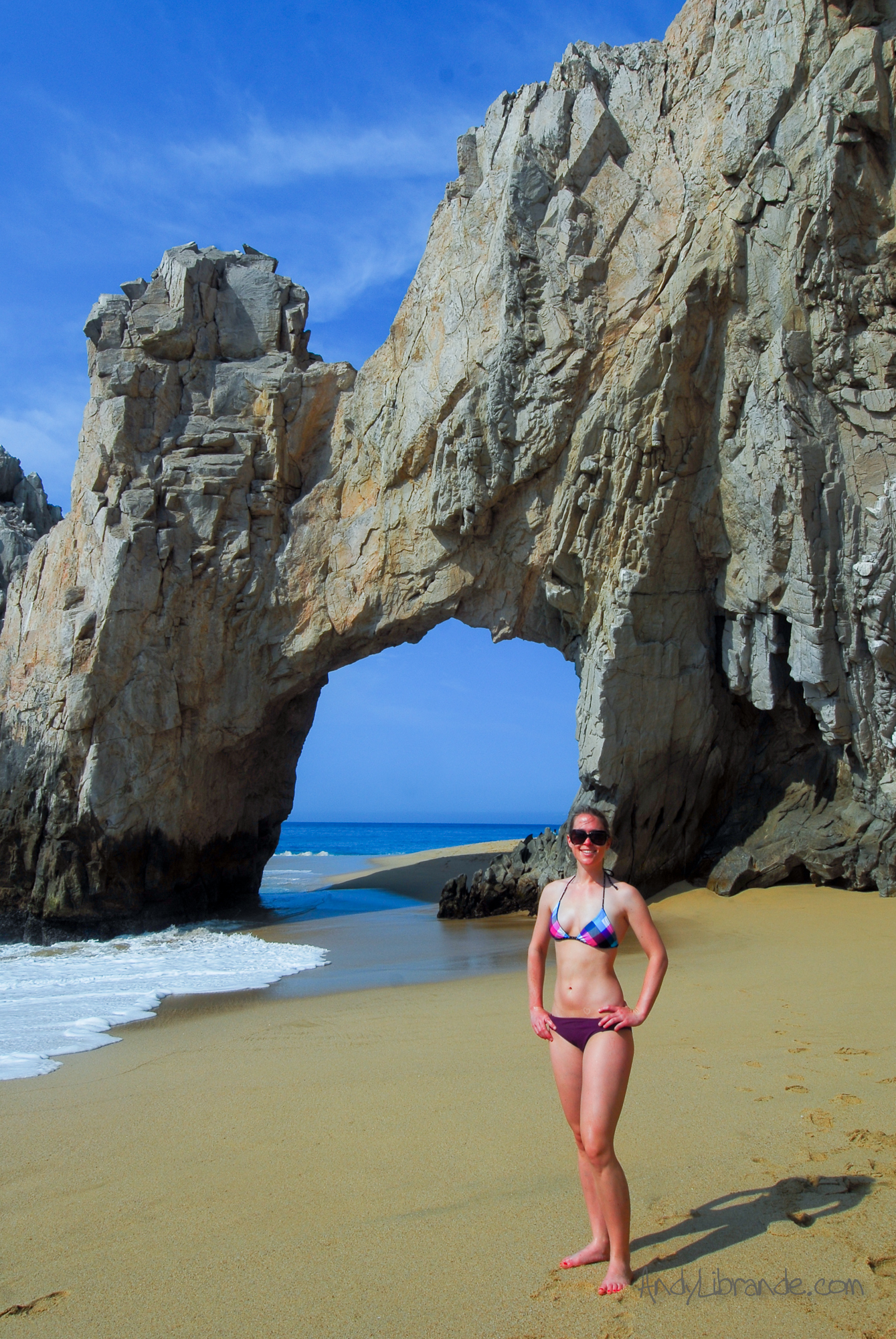 Sea Lion literally laying underneath El Archo:
Tuesday Day 4: One hour drive to the city of Todos Santos. See some awesome art, buy some unique pieces, enjoy the 15 degree cooler weather there. Eat fish/shrimp tacos in a small thatched roof restaurant. Drive home on a road that is under-construction (where we saw a construction truck fall-off the road earlier). Late Dinner at Mi Casa.
The plaza at Todos Santos bordered by the town's mission: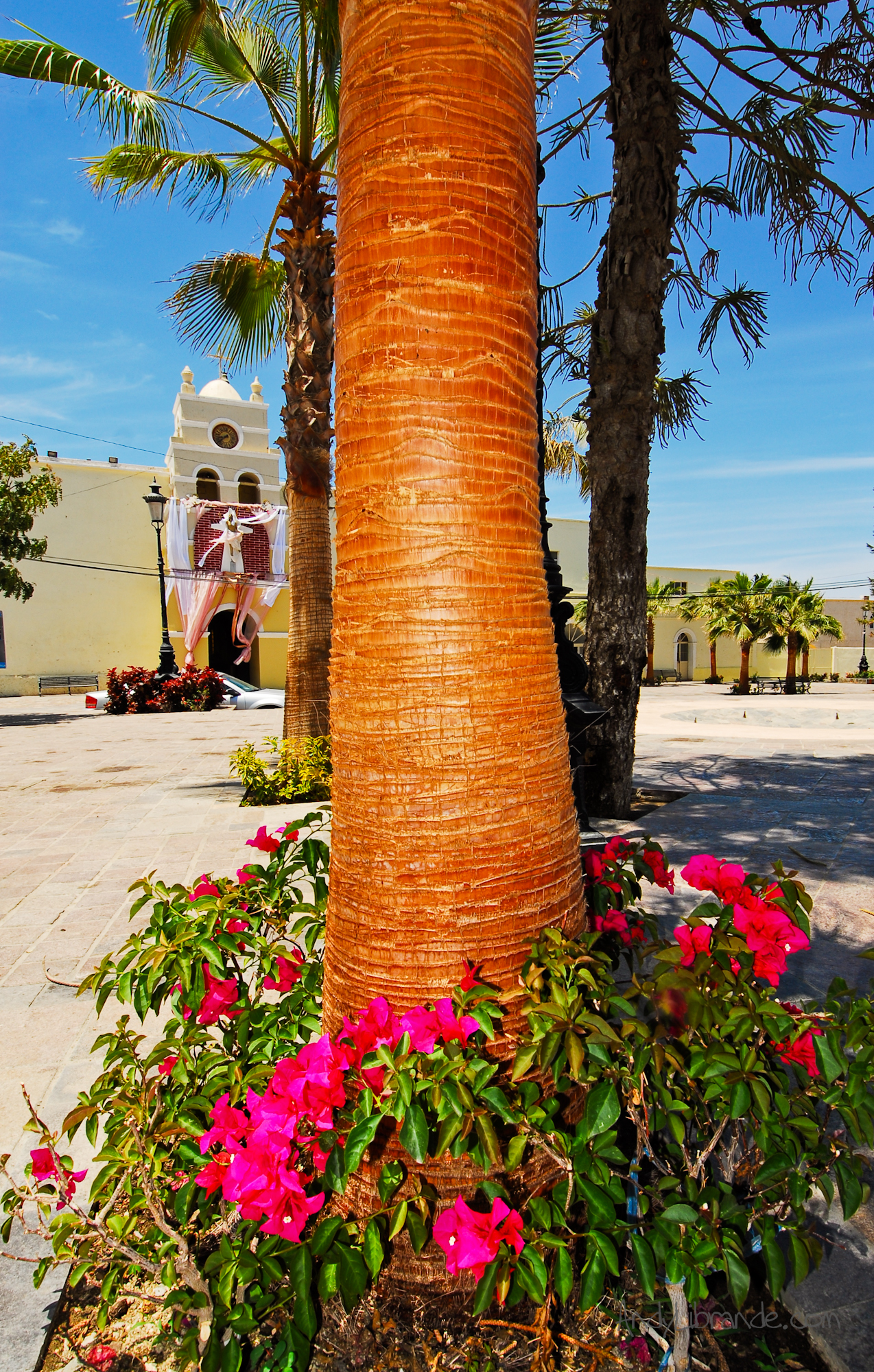 Wednesday Day 5: Early morning walk on beach with Caitlin, see a 50+ fishing boats leave at the same time for start of a fishing competition exactly at 7am, hang out at resort pool, breakfast at Hacienda Restruatrant, struggle at Paddle-boarding due to large waves,  lunch at Los Michancos where you buy the Carnitas by the Kilo (probably the best meal of the trip), hilarious negotiations when shopping, pack-up and head to La Casita at the Palmillas near San Jose del Cabo. Cook dinner there which was a massive amount of delicious ribs.
Caitlin enjoying the infinity pool at the Hacienda Resort in Cabo: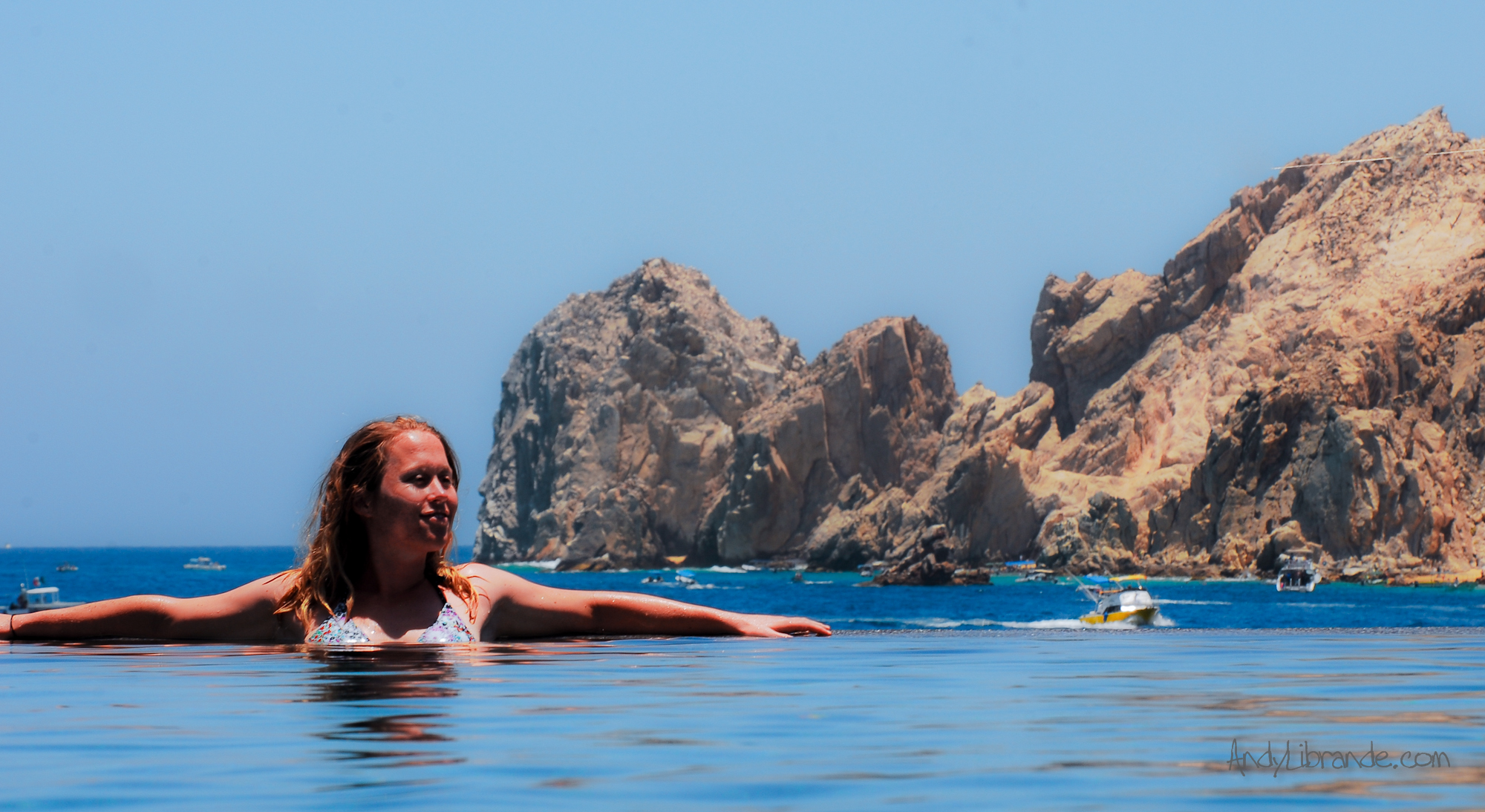 Thursday Day 6: Andy hangs around as not feeling well. Others go ATV'ing. Andrew/Whit go to the One and Only for dinner, Andy and Caitlin go downtown San Jose del Cabo for Thursday night art walk, drink free tequilas and mojitos at the numerous art galleries, ponder crazy art, and eat delicious dinner at Meson del Angel. Get lost on taxi ride home.
The group about to chow down on some home cooking: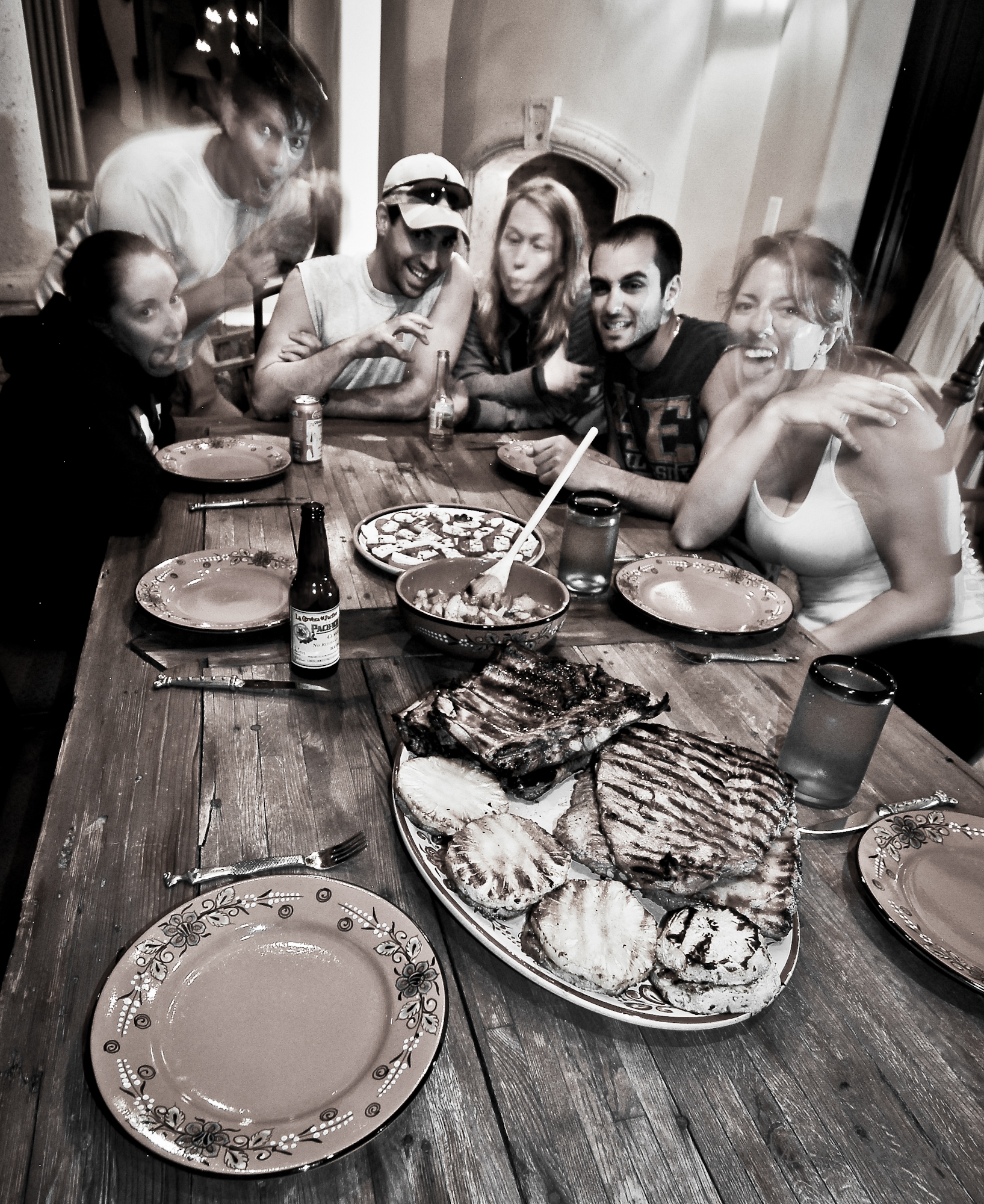 Friday Day 7: See best sunrise of the trip (and one of the best in my life). Say goodbye to Erin and Billy. Hang-out at the pool at Club 96 as Andrew provides a tour for some travel agents. Drink more mojitos. Hang-out at Casita. Andrew/Whit get tanked. Andrew makes funny dolphin noises. Go to San Jose del Cabo and eat dinner at Tropicana.
Andy, Caitlin, Whitney and Andrew set the course at the Casita in San Jose del Cabo: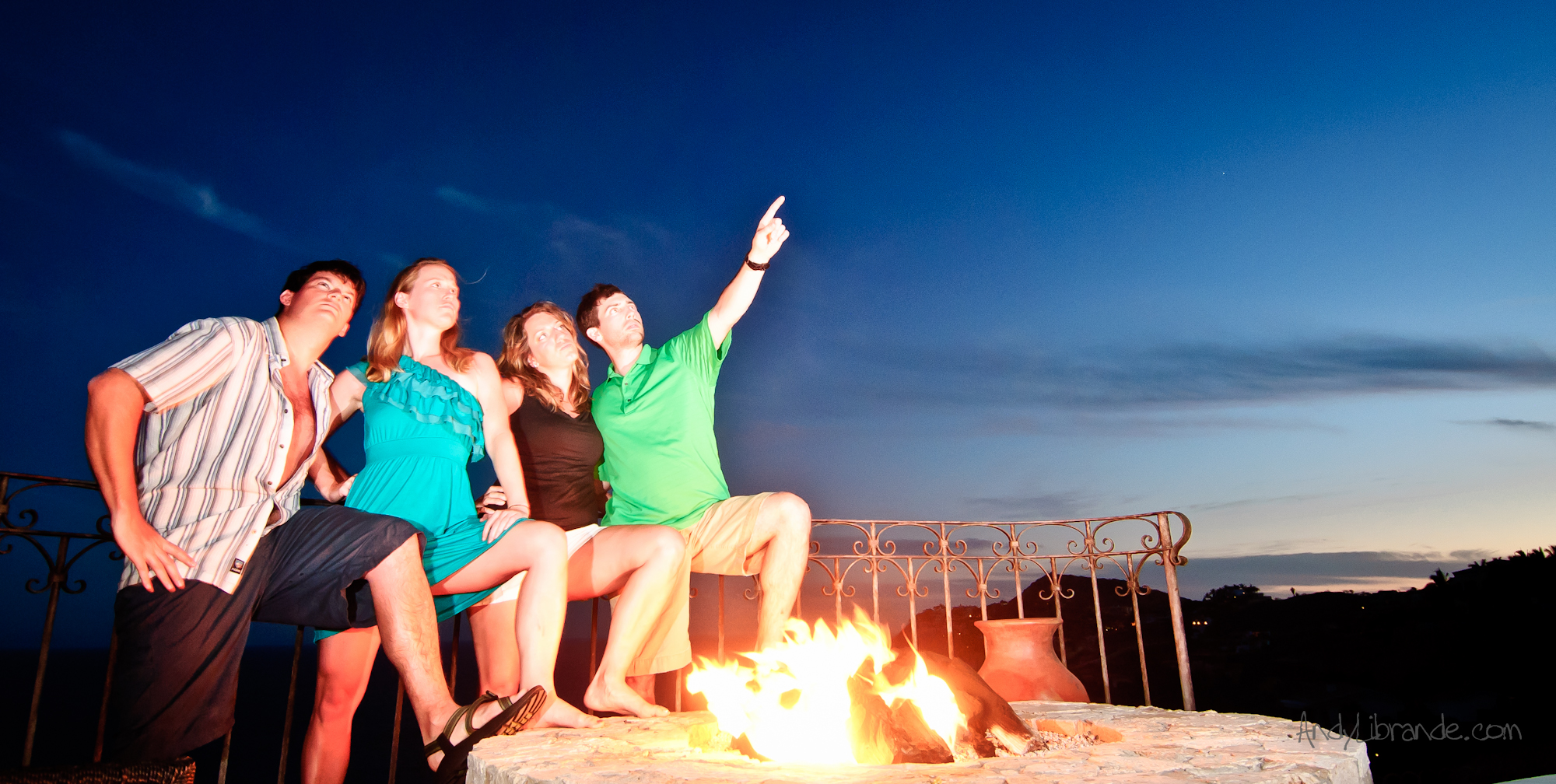 Saturday Day 8: Wake-up everyone really early for sunrise (6:15am) and get some great photos. Walk on beach one last time. Pack-up all of our stuff and start drinking. Drop Whitney at Club 96 and go into town for Tequila and final souvenirs. Hang-out at pool until 2:15, head back to casita and leave to airport at 3:00pm. See Jessica Alba on plane to LA. Awesome view flying out of cabo of the two different houses as well as Los Arcos. Arrive to LAX where  after sitting for 10 mins decide we need to off-load at the back of the plane, get on a bus which proceeds to drive around the entire airport taking 15 mins, walk through a deserted section of the airport for 10 mins, go through customs, pick-up baggage, go through customs random check which takes another 15 mins, run to baggage re-check, go through security, wait for another bus to take us to the small ass American Airlines Eagle terminal,  board plane at 8:29pm with departure time at 8:30pm. Very close. Arrive to rainy and cold Denver with some tall weeds in the front yard.
Andrew and Whitney with a intense early morning sunrise: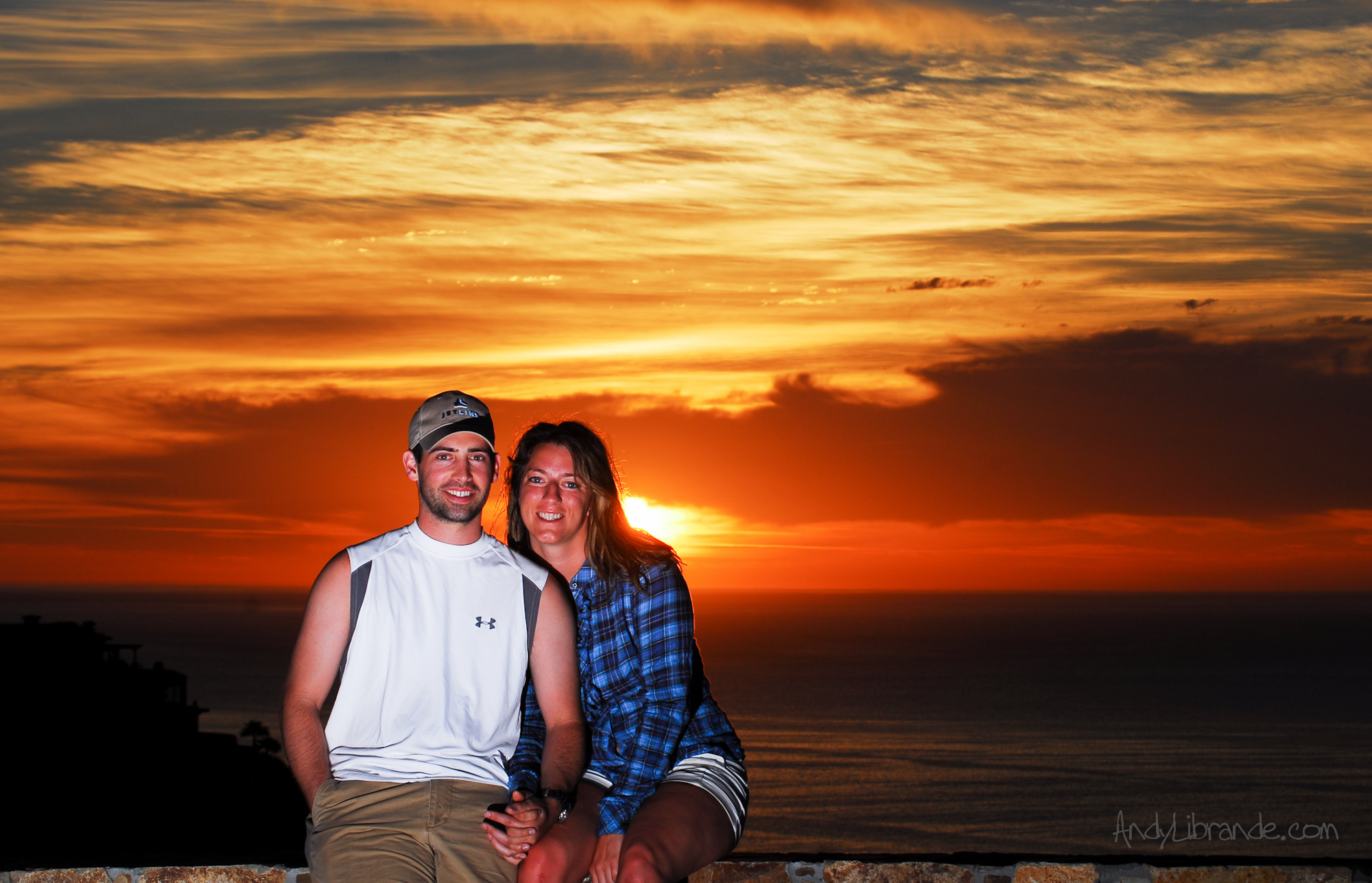 Sunday Day 1 Post Trip: Realized I took way too many photos.
Link to Part 2 of the Adventure that has photos of more pretty things (click here)
Below is a slideshow showing some of my favorite photos from 2010. 2010 was a pretty good year with a number of really cool trips to new locations and old favorites. Hope you enjoy:
If you are following from a feed please follow this link for the full post: http://andylibrande.com/news/2011/01/some-favorites-from-2010/
What: A Visit to Boston, MA and the surrounding climbing
When: Sept 25th – Oct 2nd, 2010 (Sat thru Sat)
Took a week off from work to meet up with Chris who has been living in Boston for just over  a year. The goal was to visit a number of different bouldering areas while spending some time checking out Boston. It was the first time I have been to the East Coast and was looking forward to something completely new.
Immediately we had to check out the local spot. The day after I landed we headed to the Hammond Pond area in Newton which was less then 15 mins from Chris's house. We went to a spot that Chris had not previously checked out, as the parking for the area is questionable, called the Temple Overhangs. Awesome hunk of rock hidden in the forest made out of a weird rock called puddingstone (resembling a slick castlewood rock).
Myself stretching the muscles after the flight: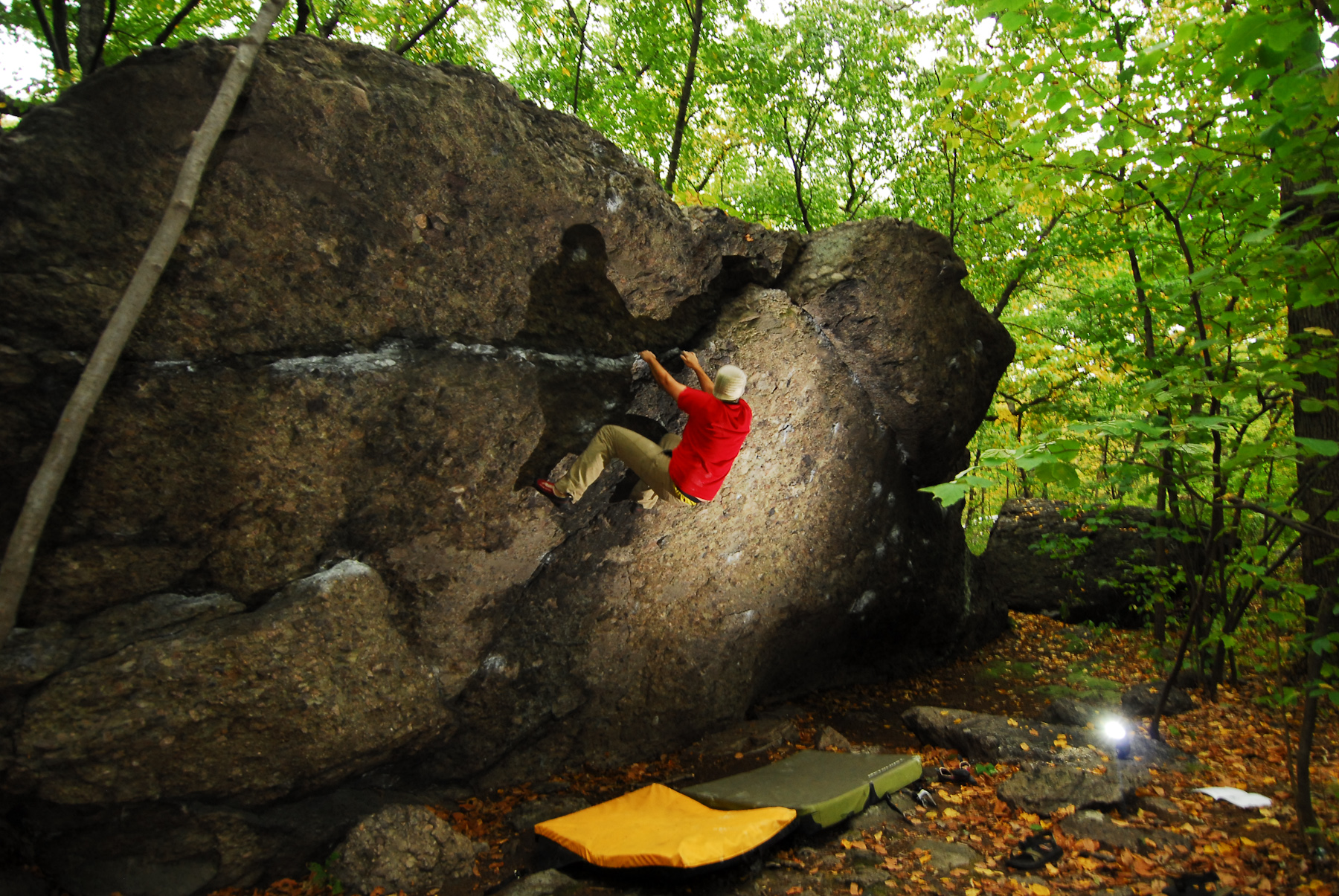 Chris sending the Classic Reefer Madness: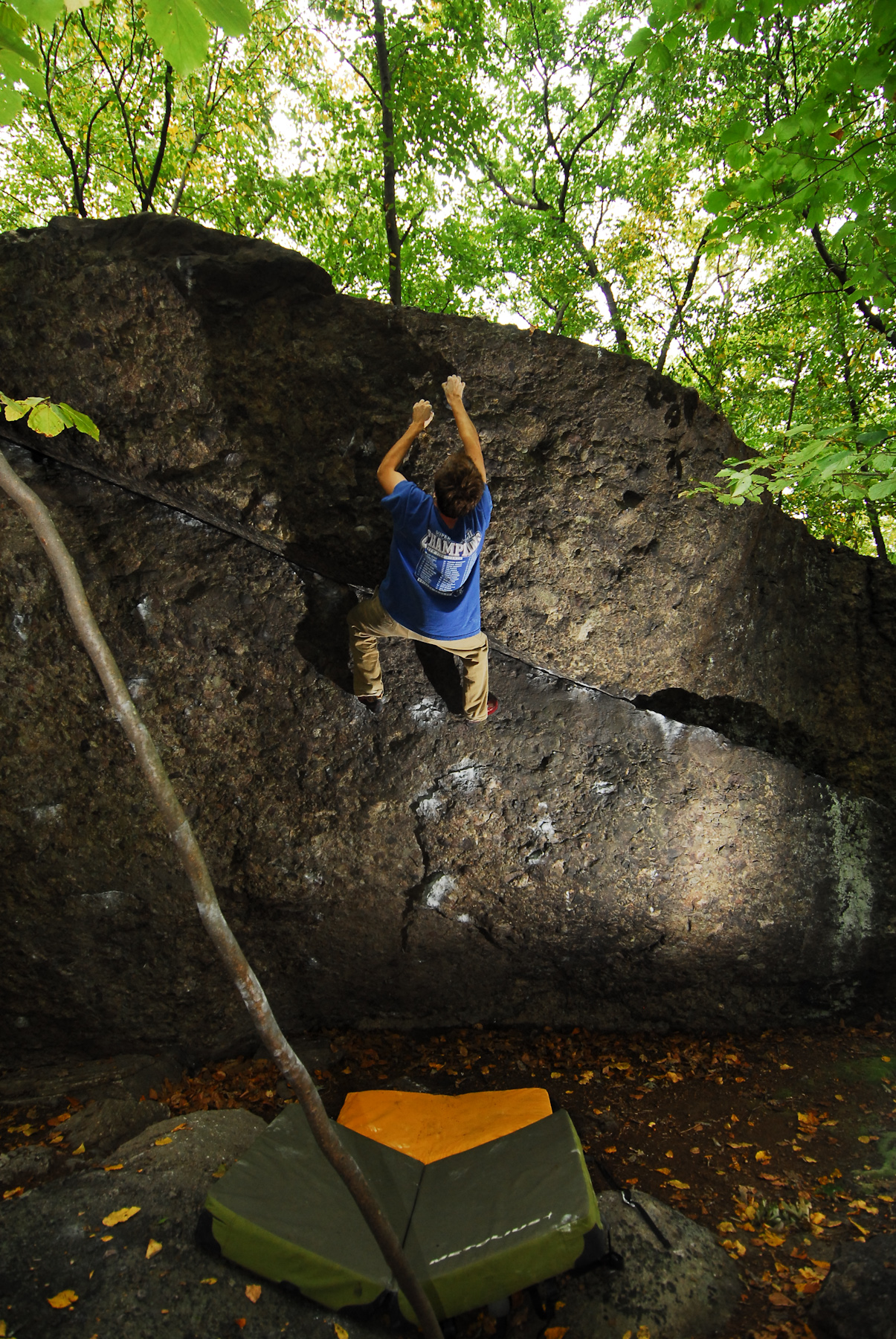 Chris on the Traverse Problem: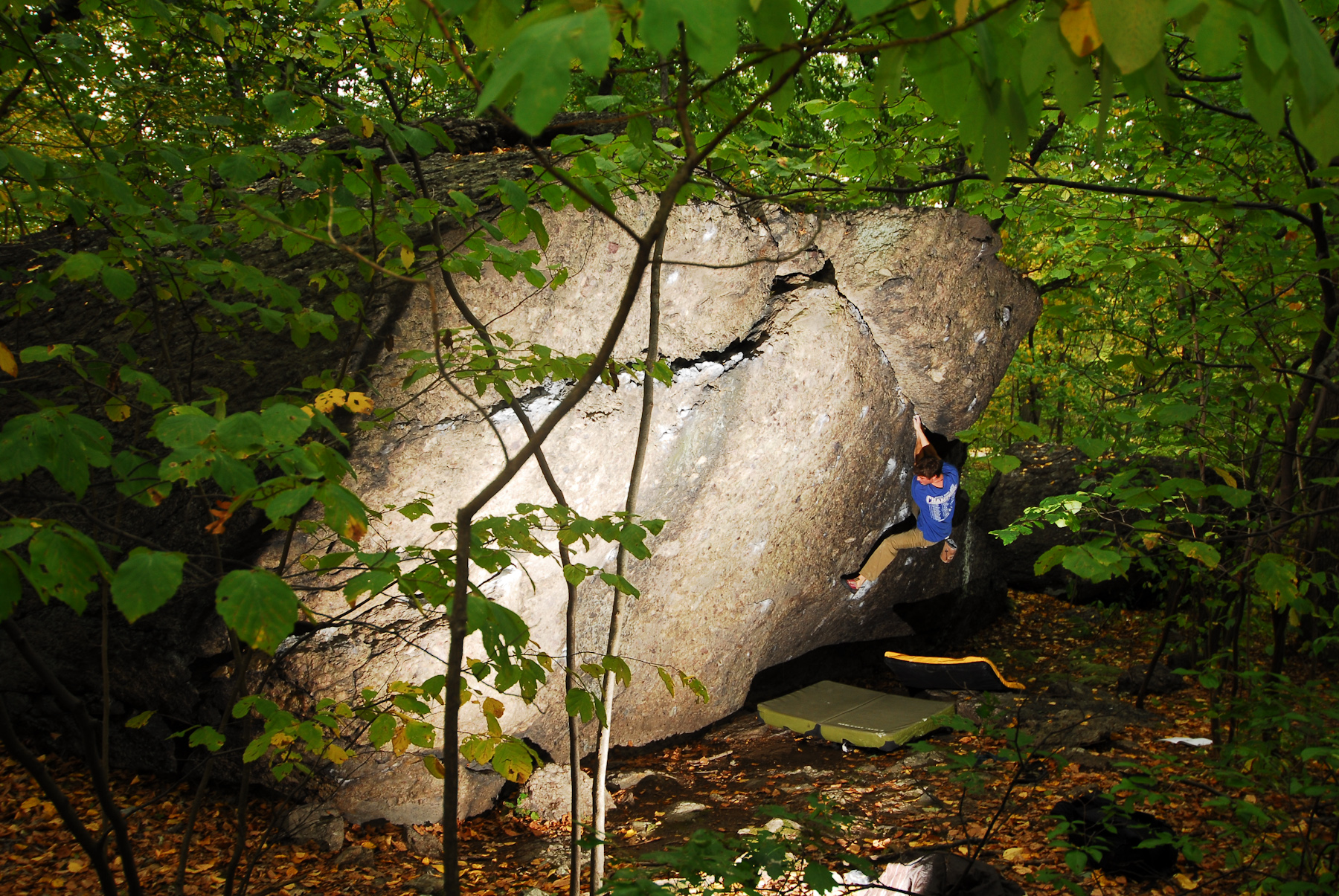 Sweet shot Chris took of me getting spanked on the Reefer Madness start: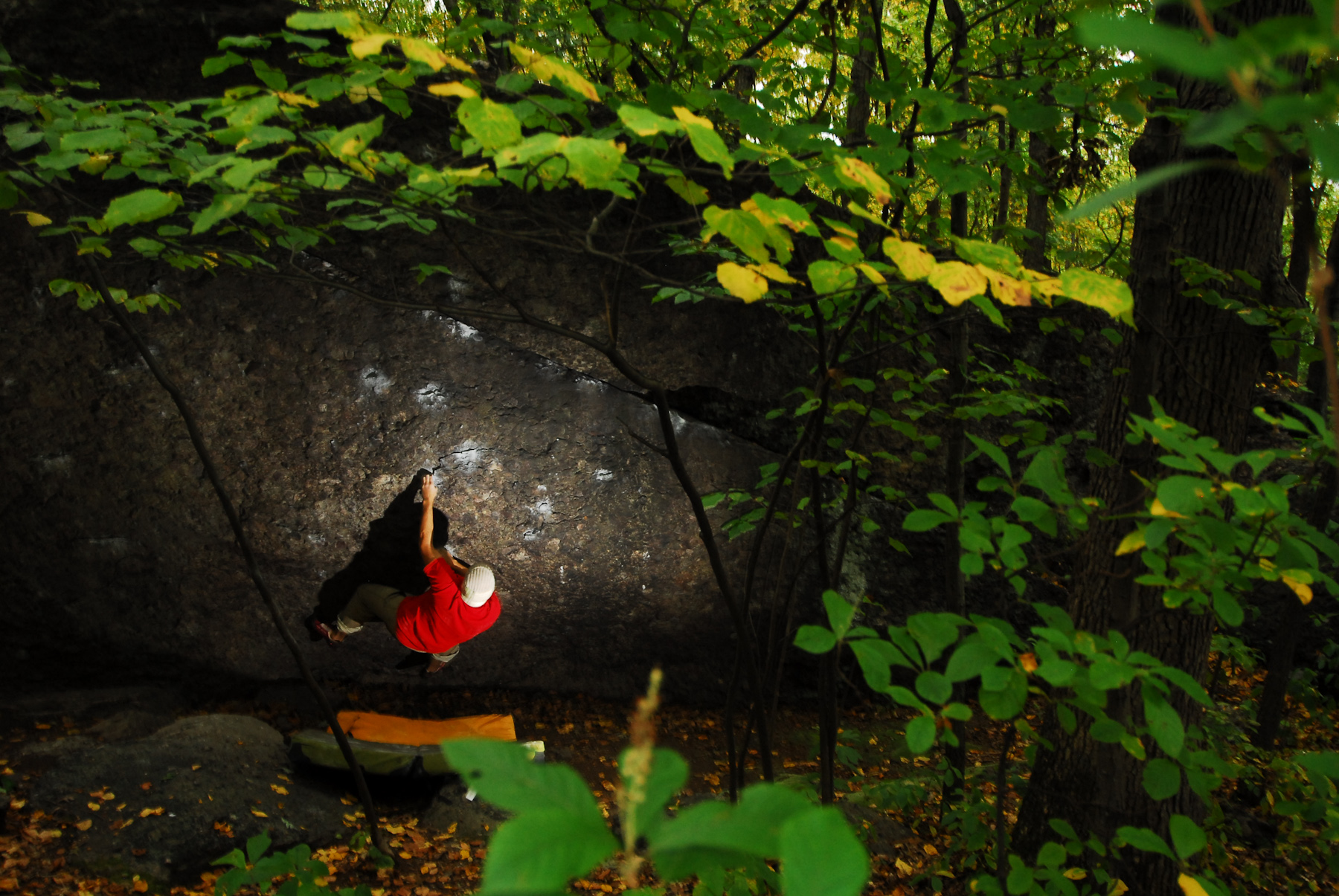 Shortly after this decent session a rainstorm moved in and spent Sunday Evening through Tuesday Evening slowly drizzling. The weather changed the plans which resulted in us spending a lot of quality time in exploring the sites and sounds of Boston.  Ate a ridiculous amount of great Italian food, ran into a number of good characters, climbed indoors at Metro Rock (really fun gym), and saw a bunch of cool sites which was an unexpected plus.
Tuesday night was looking gloomy and we could only hope that the weather the next day might be good. Much to our surprise (and contradicting of the weather reports) we woke to sunny skies, the clouds quickly burned off, and the sun was nice and warm drying the rain quickly.
The drive to the legendary Pawtuckaway State Park Bouldering area was a nice drive. The closer we got the nicer the weather was getting and we were getting very excited for our visit. We finally pulled into the area a little after 11am (we had to save a turtle from the road on the way in) we hiked into the Round Pond area due to the guidebook recommending it for lots of sun.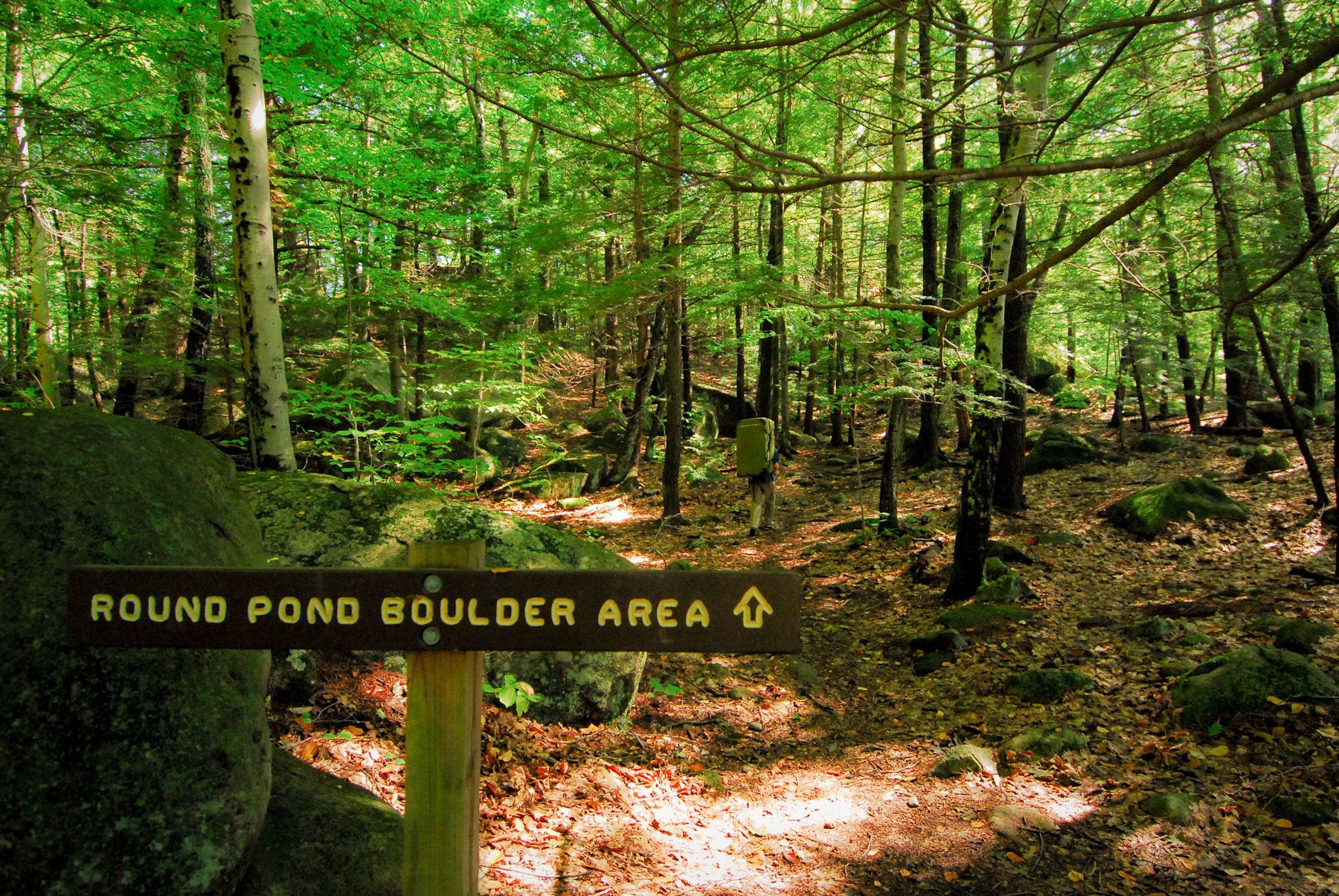 The boulders were perfect. Nicely clustered on the top of a small hill overlooking a good-sized pond (would probably qualify for lake status in Colorado), we checked out any climb that was dry.
Myself not liking the starting crimps on this dyno problem: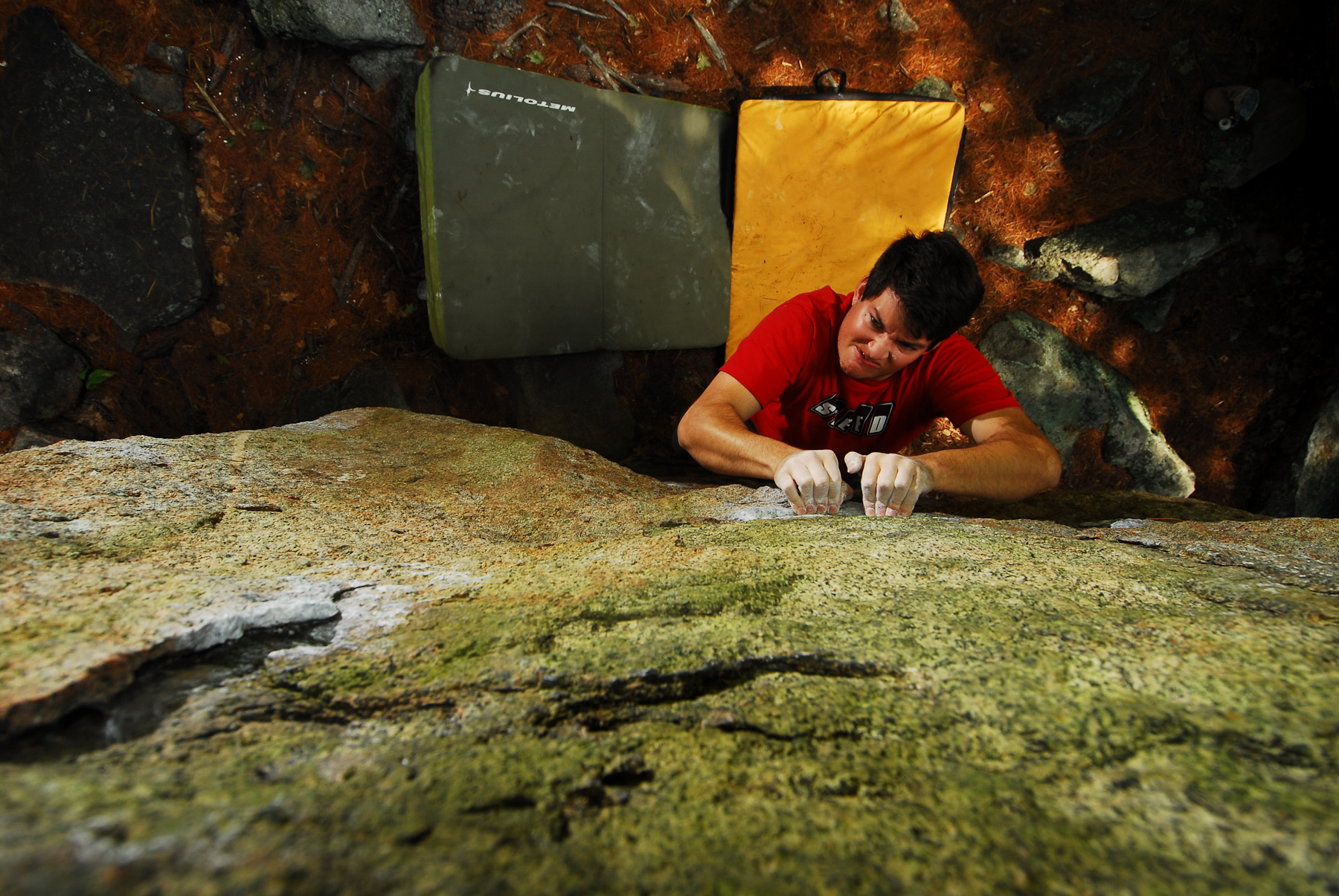 There was this unique block that is tetering on-top of another much smaller boulder. Chris crushed the problem Atlas v5/6 repeatedly for photo ops and for fun. Really awesome to watch: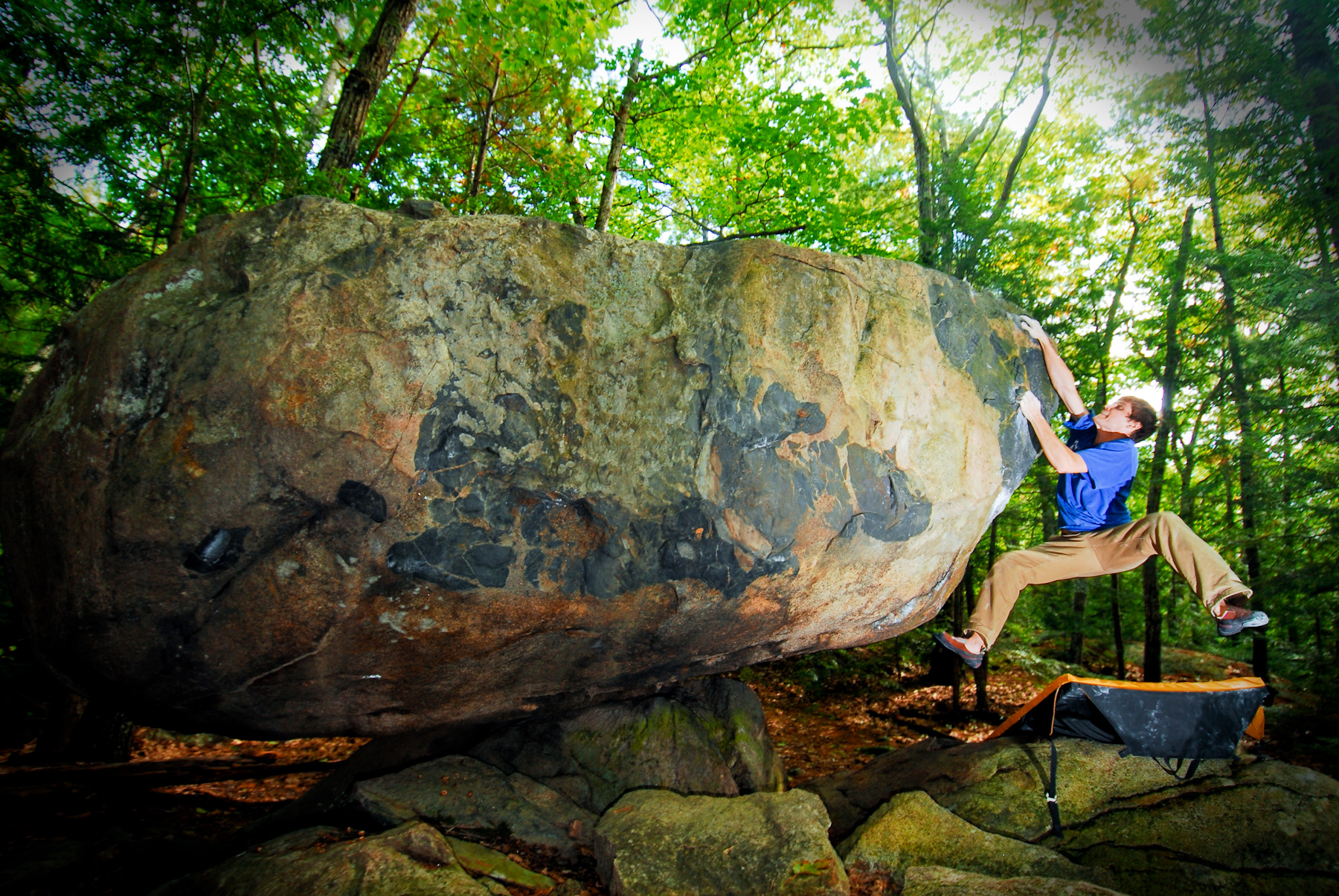 Spending enough time at Round Pond we decided to head over to the main event, the area called Boulder Natural. A insane cluster of granite blocks in every shape and size nestled deep in the forest along a small stream.
I spent a lot of time trying to spend the classic Hobbit Hole but the feet eluded me: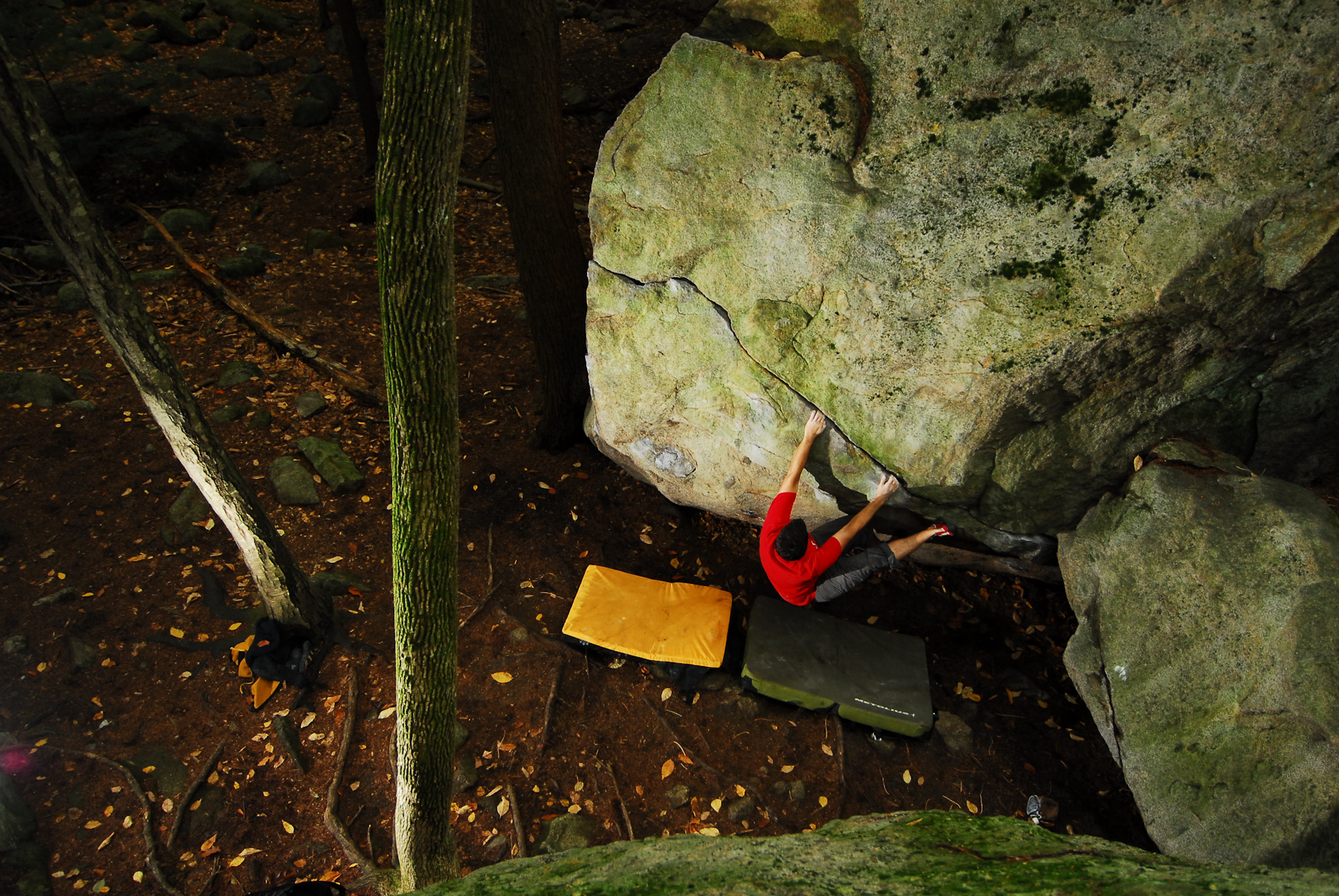 However this dyno right next door was way too much fun: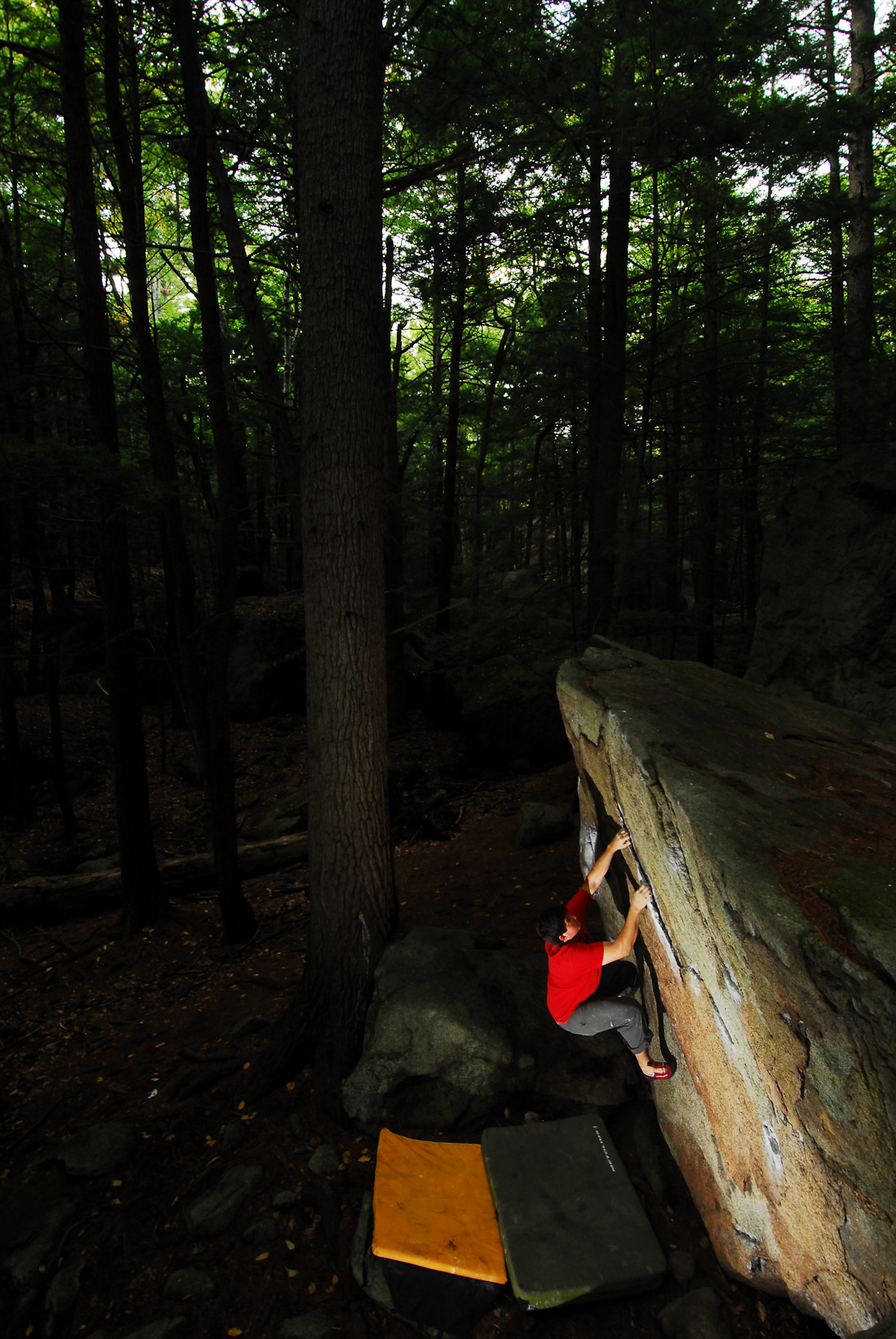 We ended the day with Chris trying to send one of the harder classic problems in the area, Terrorist. Chris was climbing extremely well this trip considering that he took a hiatus when he moved to Boston over a year ago…very impressive to watch: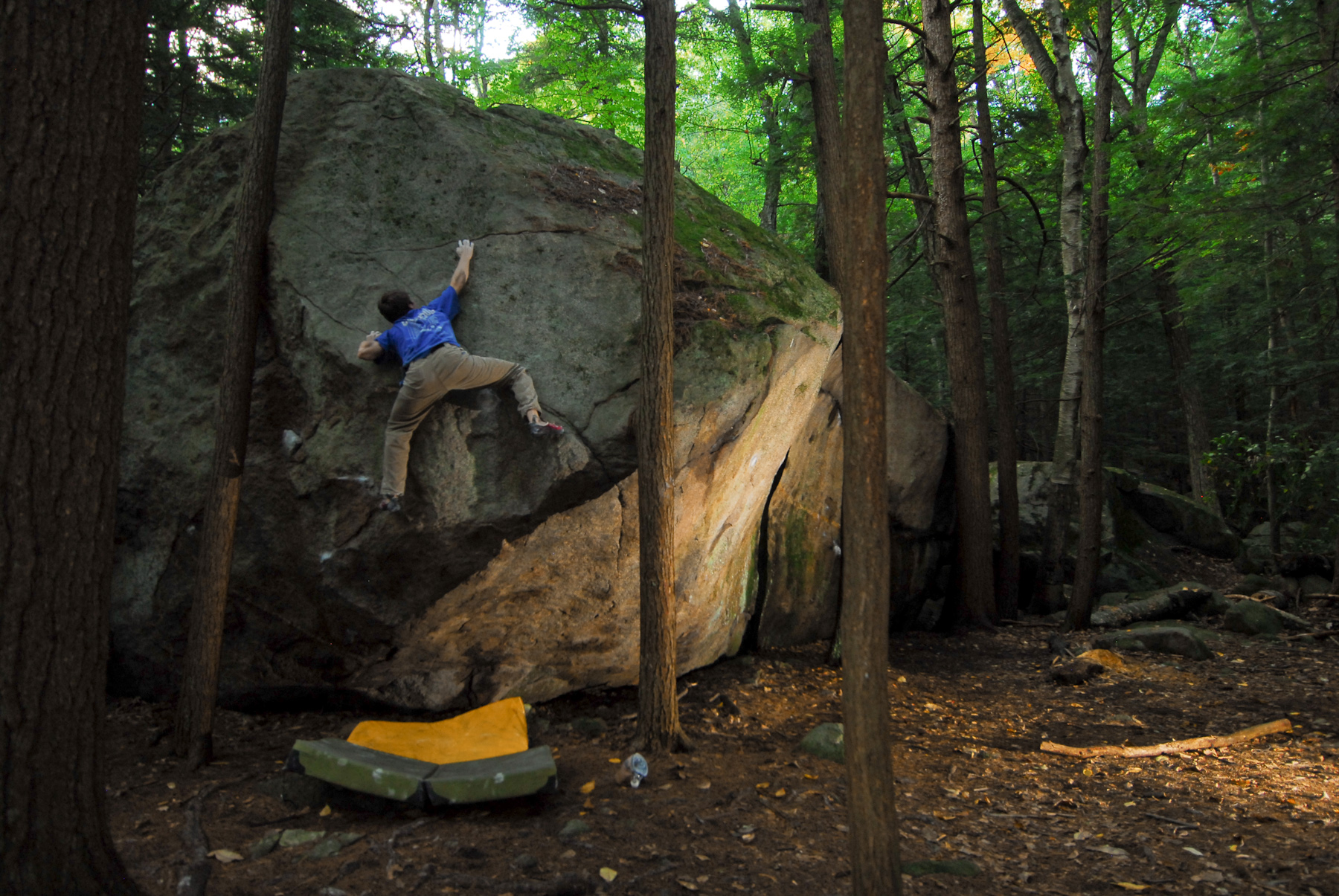 Pawtuckaway was a really cool area and I wish we had more time/energy/supplies to continue to check out this awesome location and glad that we had such a full great day out there.
More rain moved in and we were beat after our intense 6.5 hrs of climbing at Pawtuckaway.  However before the trip was up we spotted one last day to go climbing and raced a storm on a Friday morning down to Lincoln Woods in Rhode Island. After an hour drive we pulled into the park right at 10am and threw-down on as many problems as we could handle at the "Warm-up Wall" which has a number of quality problems.
Myself getting some of the more interesting moves on Cave Overhang: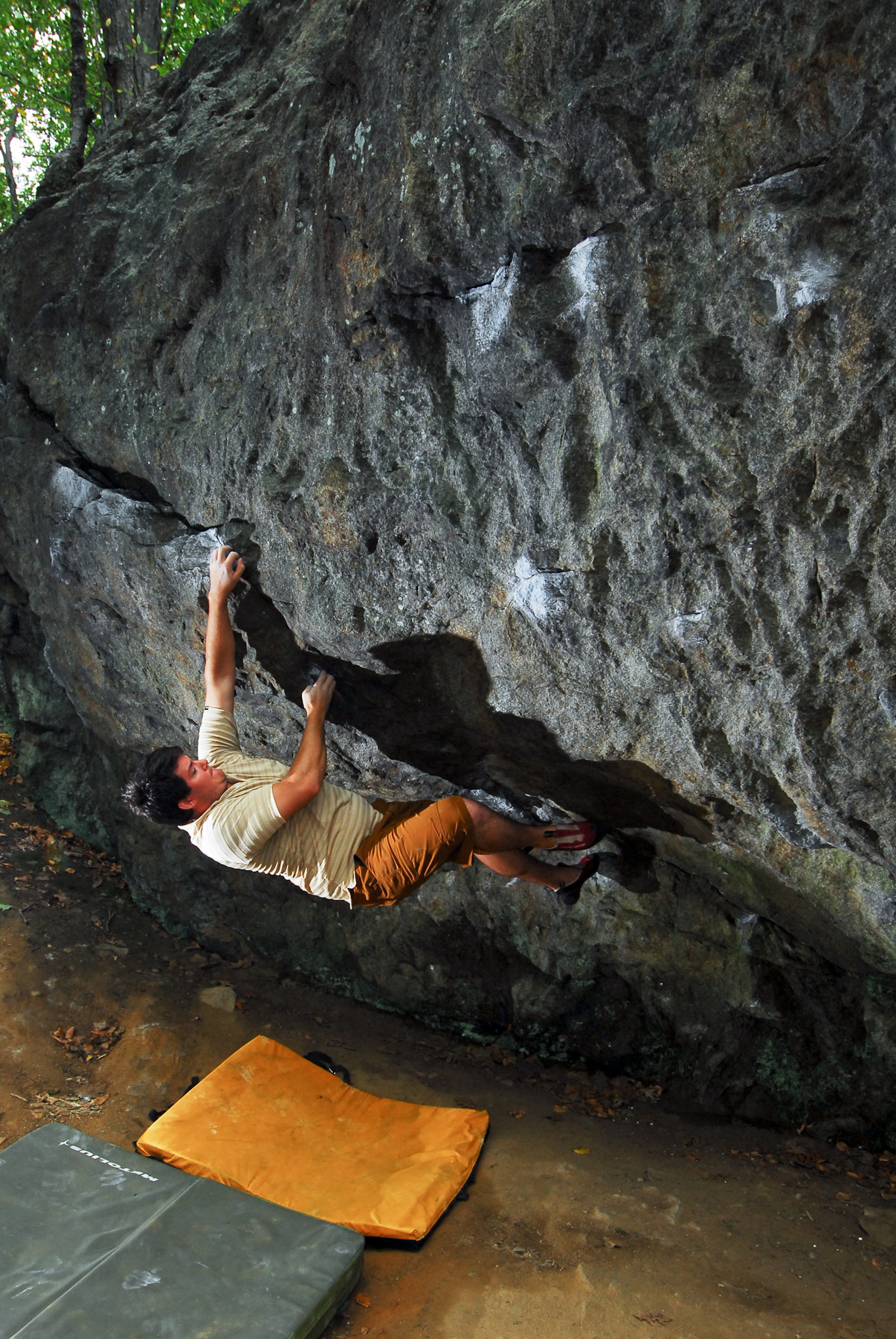 Chris flashing Iron Cross (with the Sasquatch the spotter not being very attentive):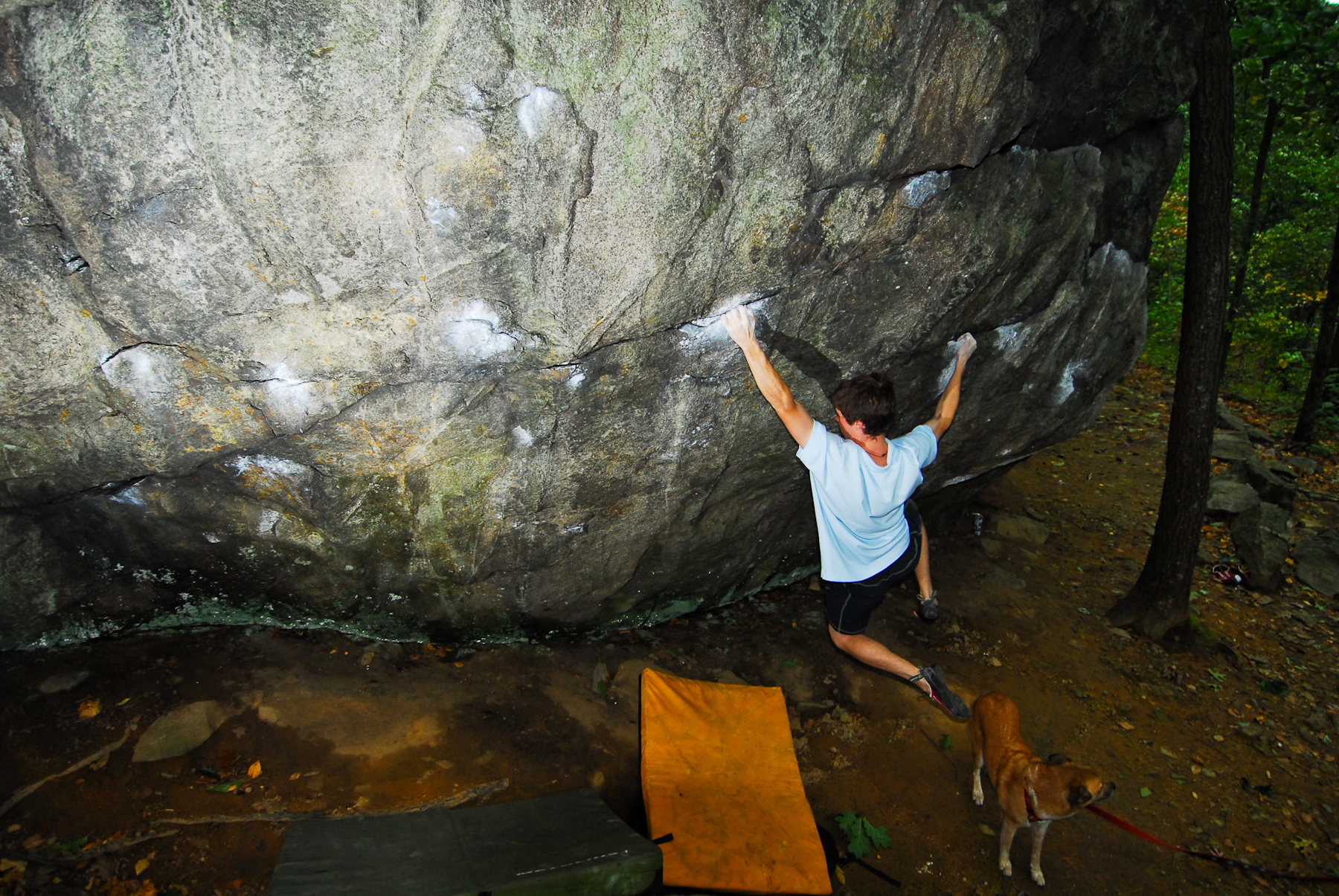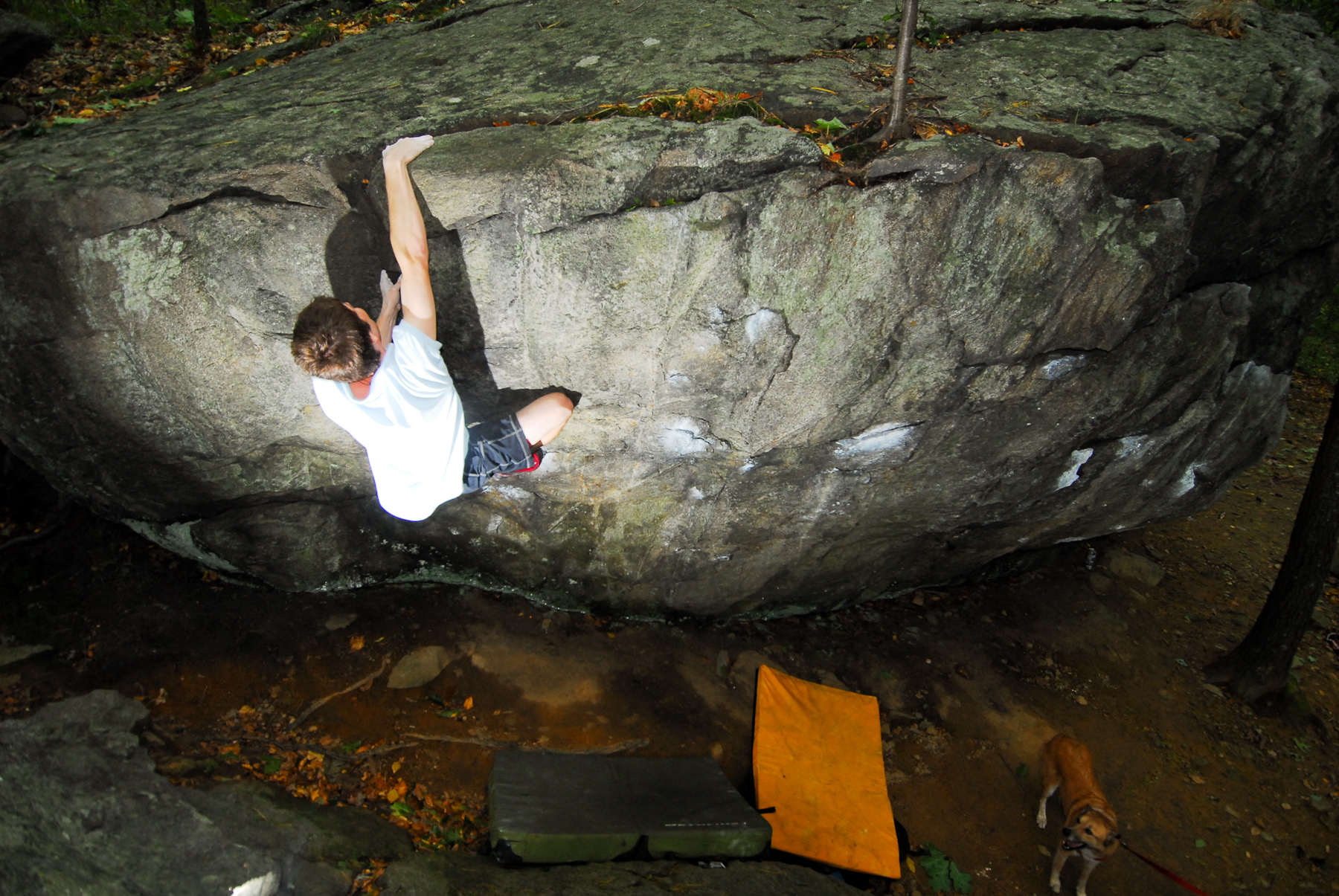 Chris trying this Dyno, right before a massive monsoon downpour hit us and we scrambled to pick up the various pieces of climbing equipment and expensive photo gear. 2.5 hrs after we got there we were rained out; turned out to be just enough time for a great last session.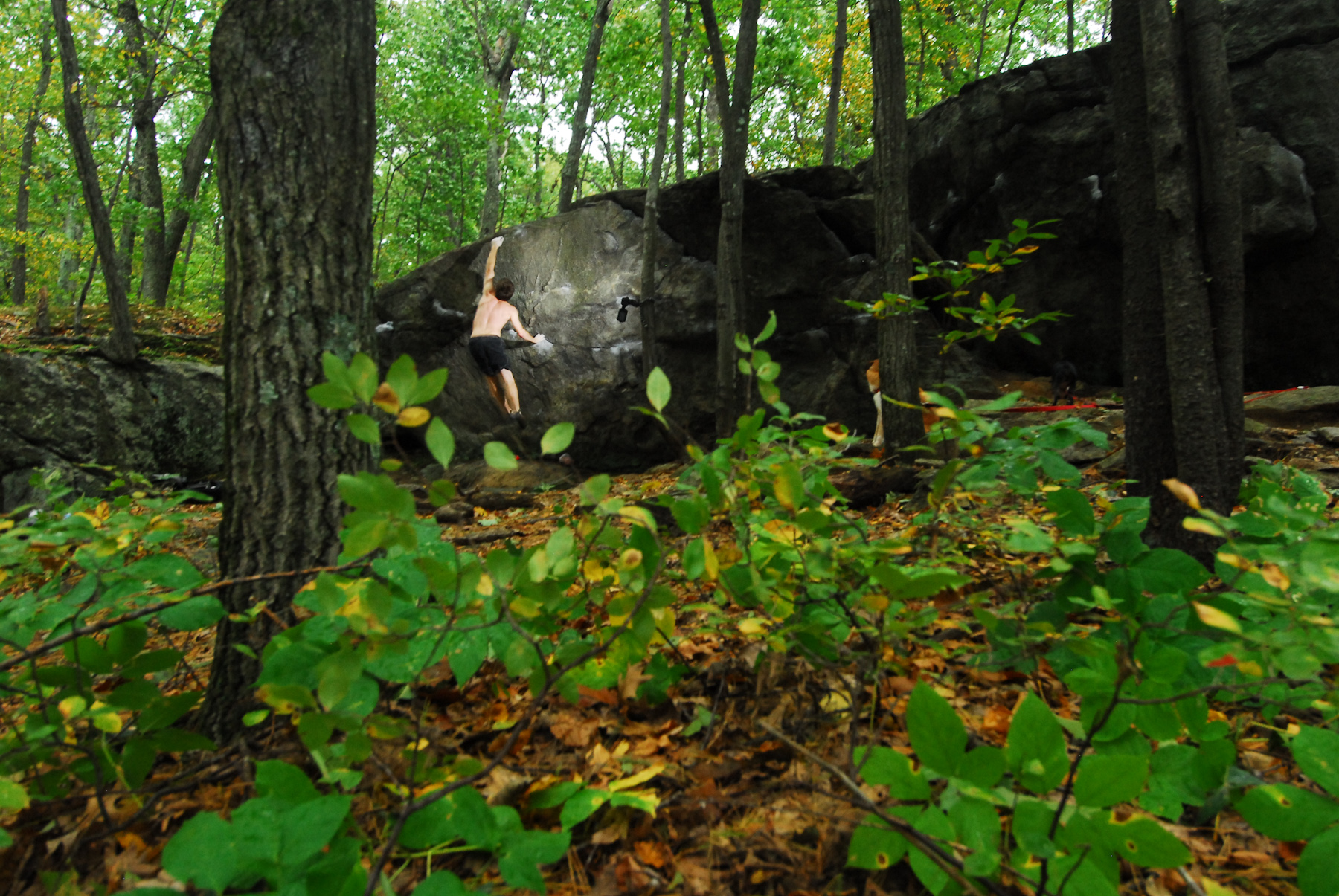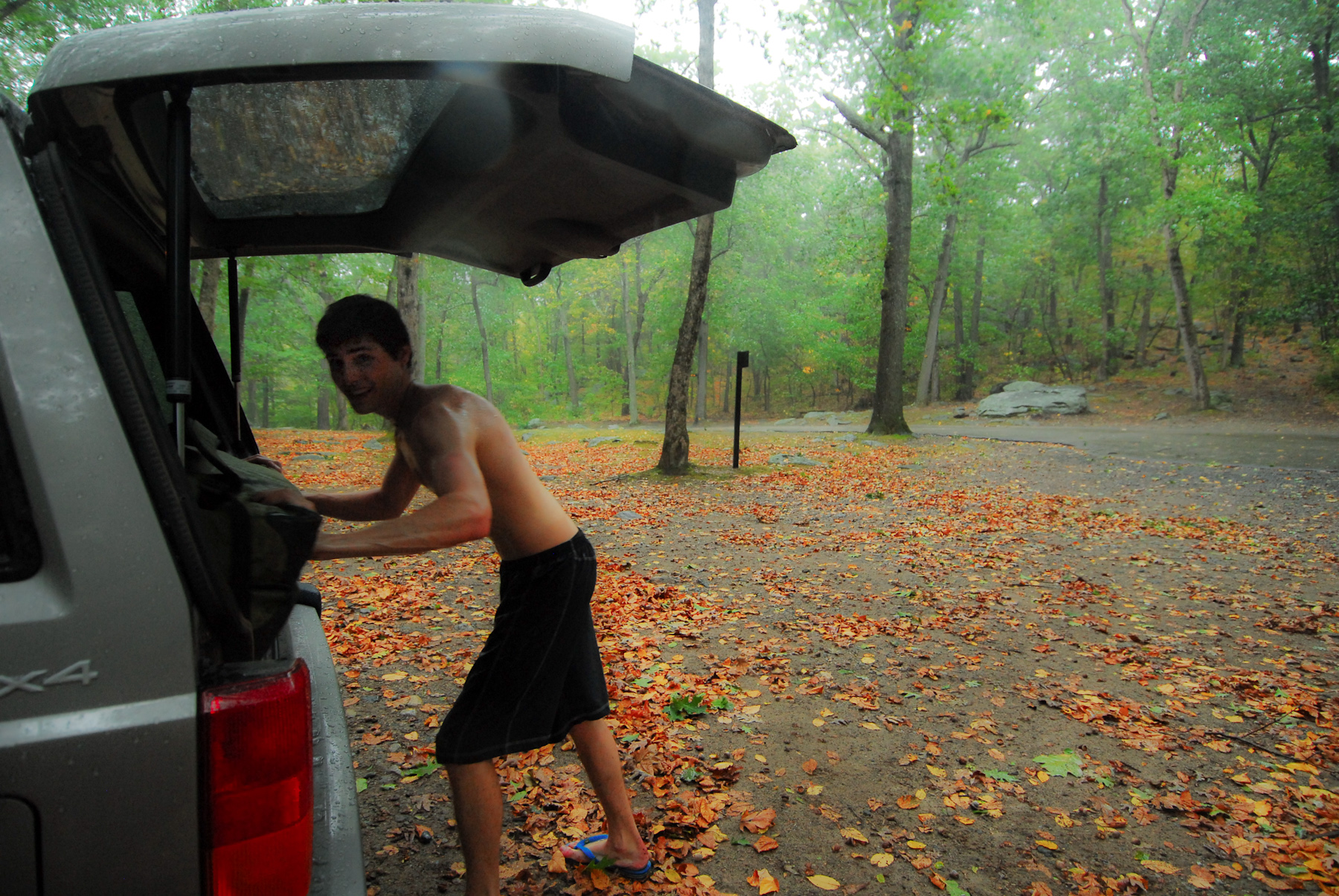 Andy perfecting his Pizza pick-up skills: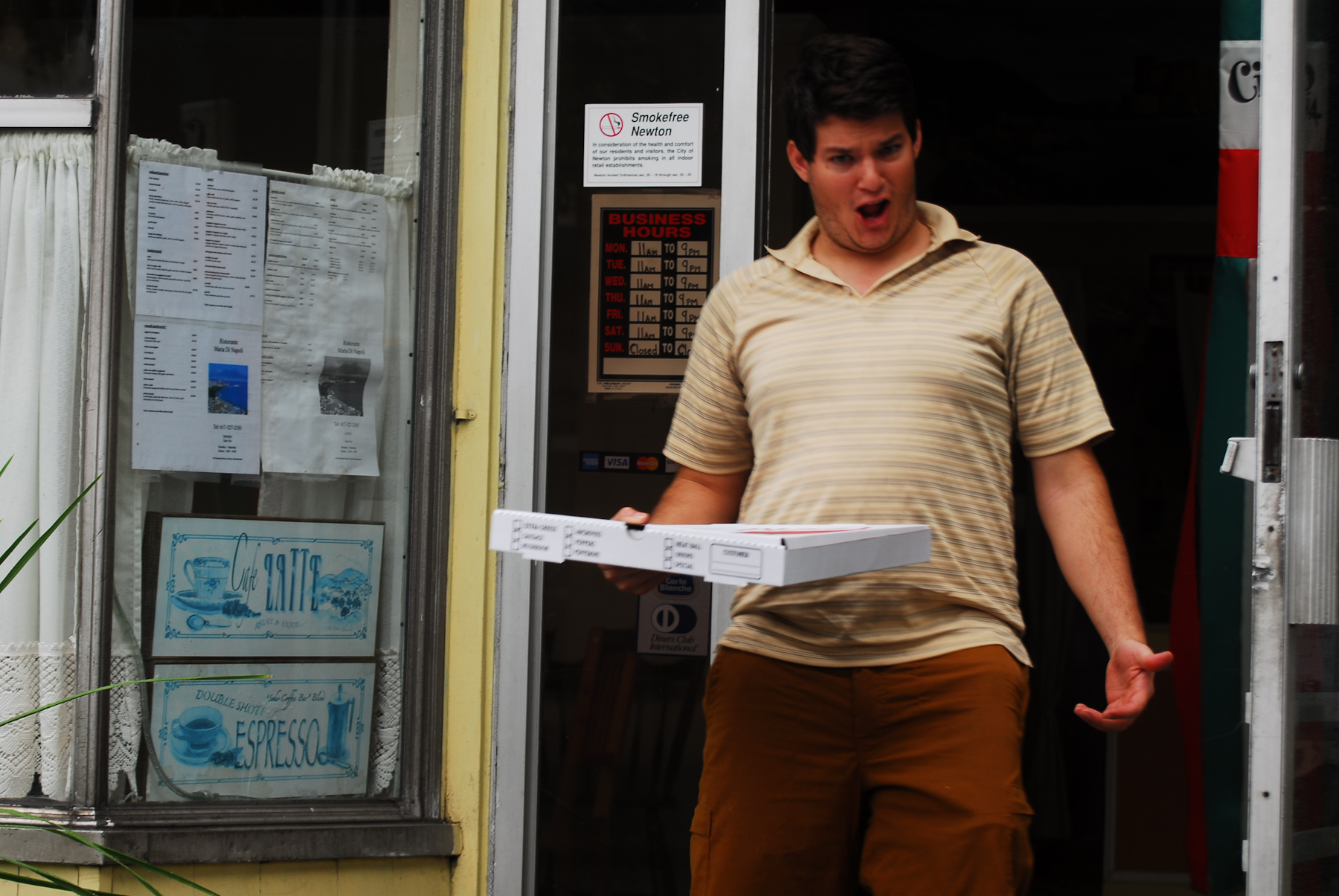 Street Art by Bansky: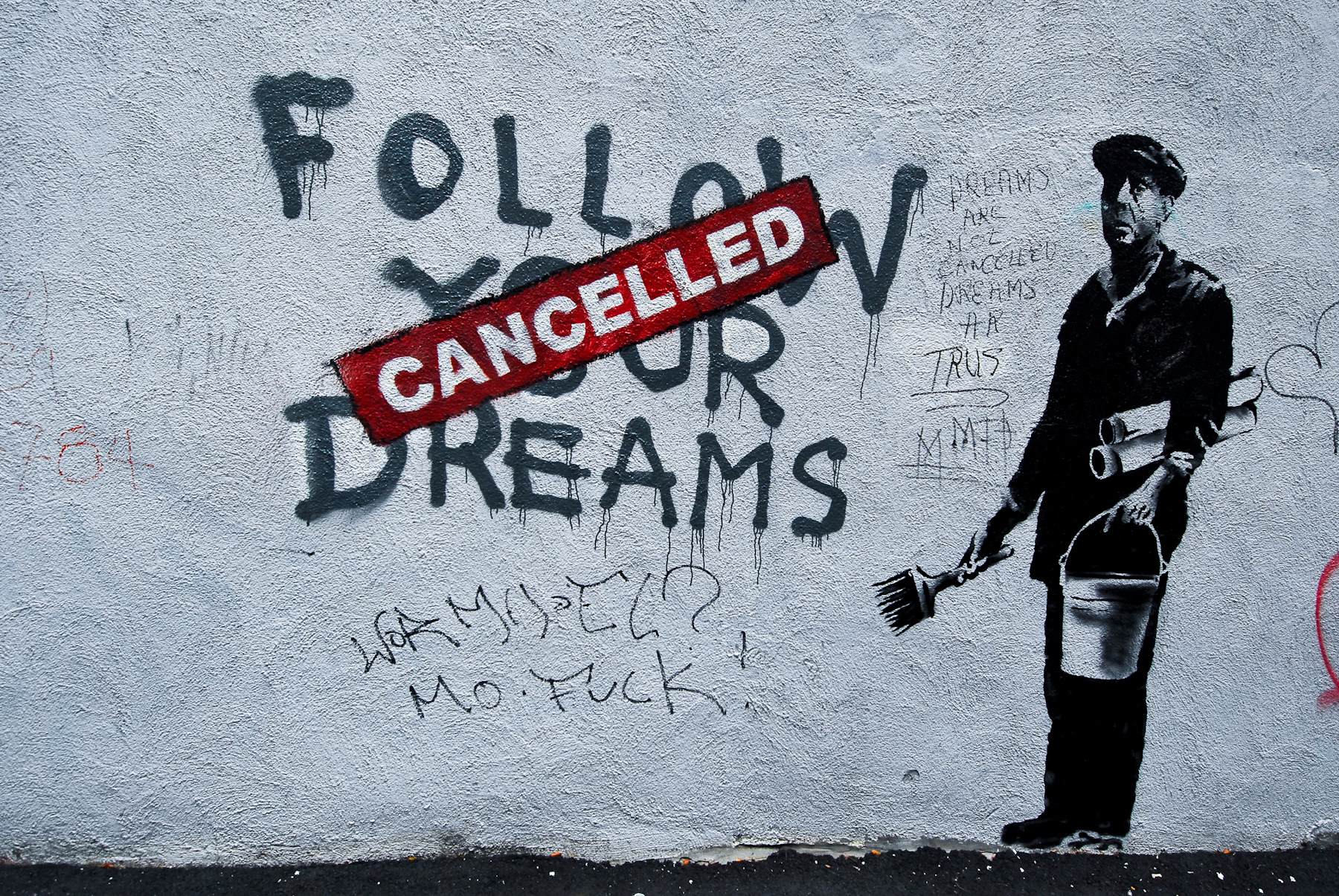 Windy in the City: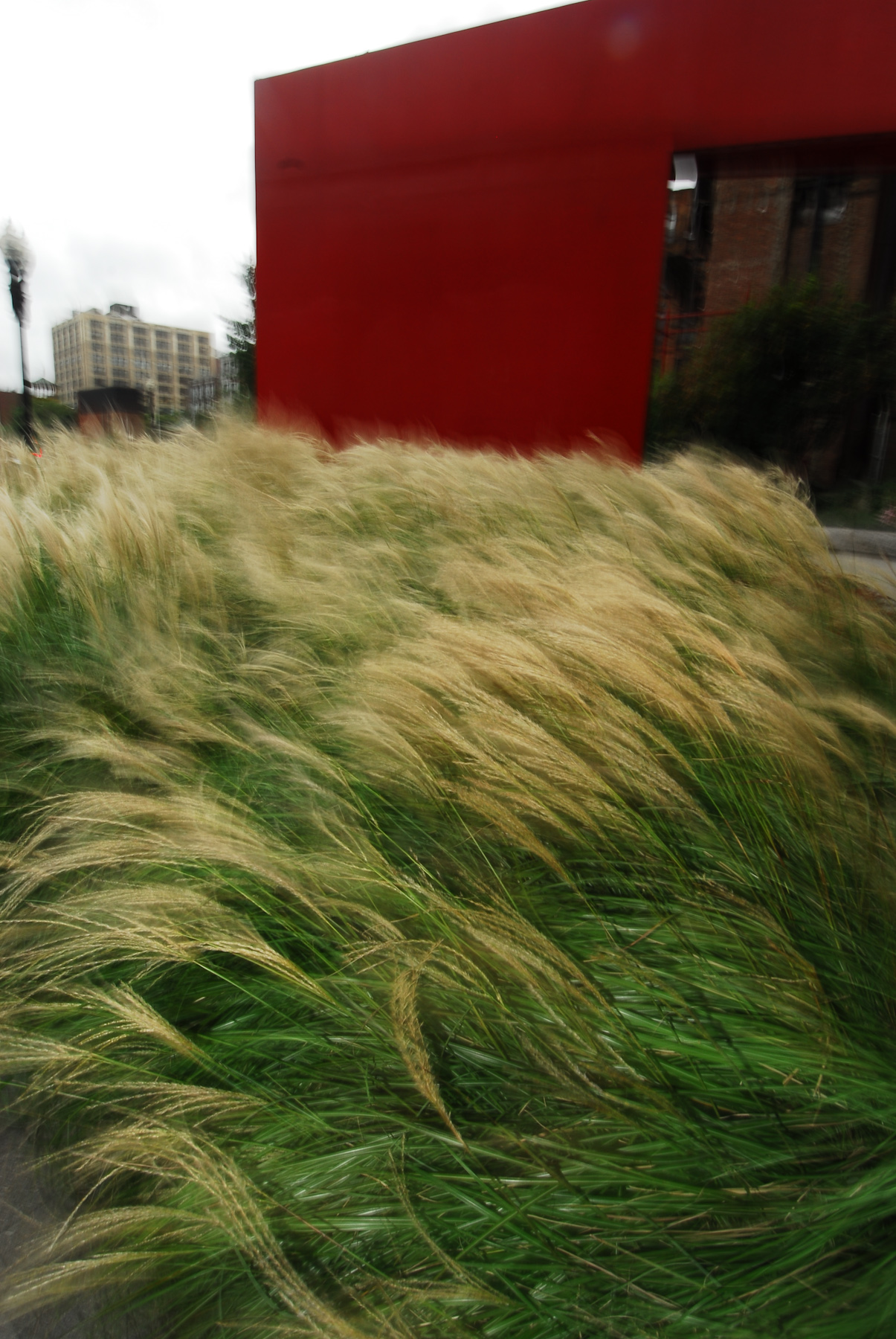 Damn good trip.
If you are following from a feed here is the original link: http://andylibrande.com/news/2010/11/new-england-trip-and-bouldering/