When: Jan 28th, 2015 thru Feb 2nd, 2015
Who: Andy+Caitlin (we celebrated Caitlin's B-day on this trip!!)
Trip Details:
Rent Car and Drive the Amazing Pacific Highway
3 Days of Skiing at Whistler/Blackcomb
Hiking to several waterfalls in the area:
Afternoon, Evening and quick morning in Vancouver
The skiing was nothing exciting as Whistler area/Pacific Northwest had been under quite the unusual snow-drought. The best snow was usually around 3pm every afternoon as at that time it had warmed-up just enough to soften, unfortunately the resort closes shortly after that. Skiing outside of groomed runs was not possible due to the hard-pack snow-ice (something I have not really experienced before!), but luckily we were greeted with beautiful skies that allowed us to soak in the landscape views of this amazing place.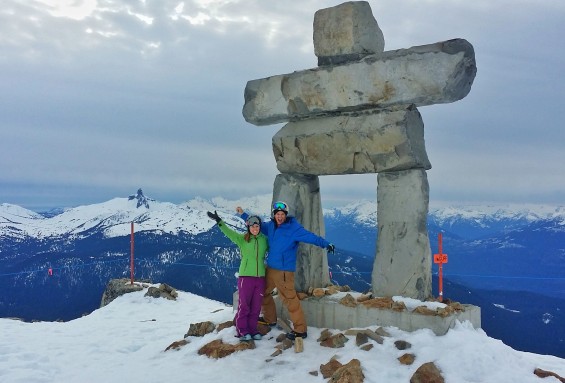 Shannon Falls at Squamish, BC was a perfect pit-stop along the Sea to Sky Highway: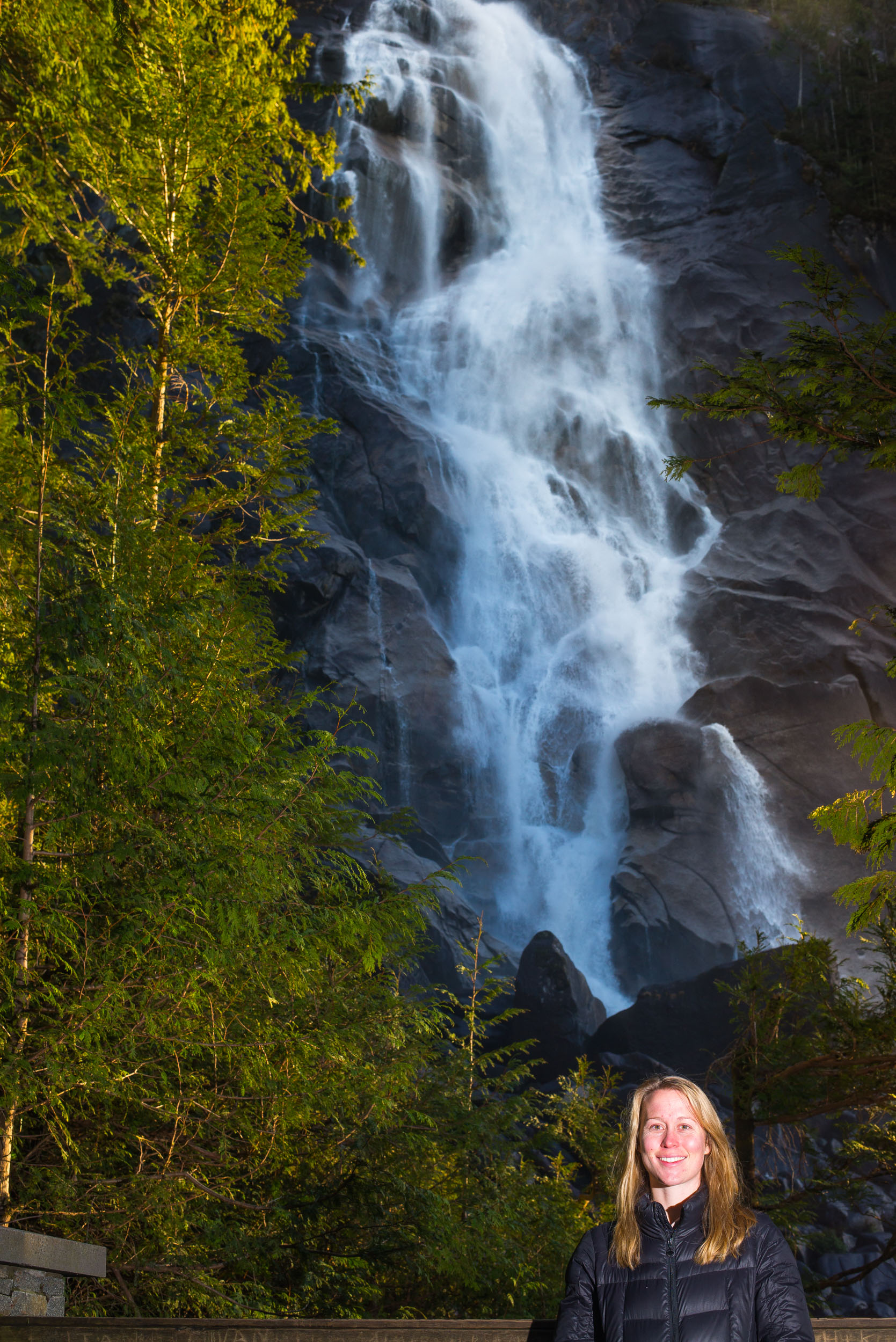 Whistler was a lot of fun and we ate a lot of great food such as Sushi, Australian Meat pies (with kangroo!), brown-sugar glazed smoked salmon bits from the grocery store, and numerous other delicacies. At the time the Canadian Dollar was about 20% less than USD and allowed us to continue to indulge in nice restaurants since everything about 20% off!!
It was the Whistler PRIDE festival while we were there and really the best part of that was meeting an very eclectic group of people every night at the hot-tub. Otherwise it was not really crowded.
Morning Hike on the Trainwreck Trail in Whistler:
After realizing we couldn't really ski before 11am due to the hard-icy conditions we started looking for other activities. We were looking online for other outdoor activities and found a unique looking trail that seemed to be low enough in the valley to be relatively snow free.  Granted these trails are supposed to be buried under snow this time of year we instead encountered mostly dry paths that you would expect in early fall or late spring.
Hiking into the Trainwreck area on dirt (eerily missing any snow):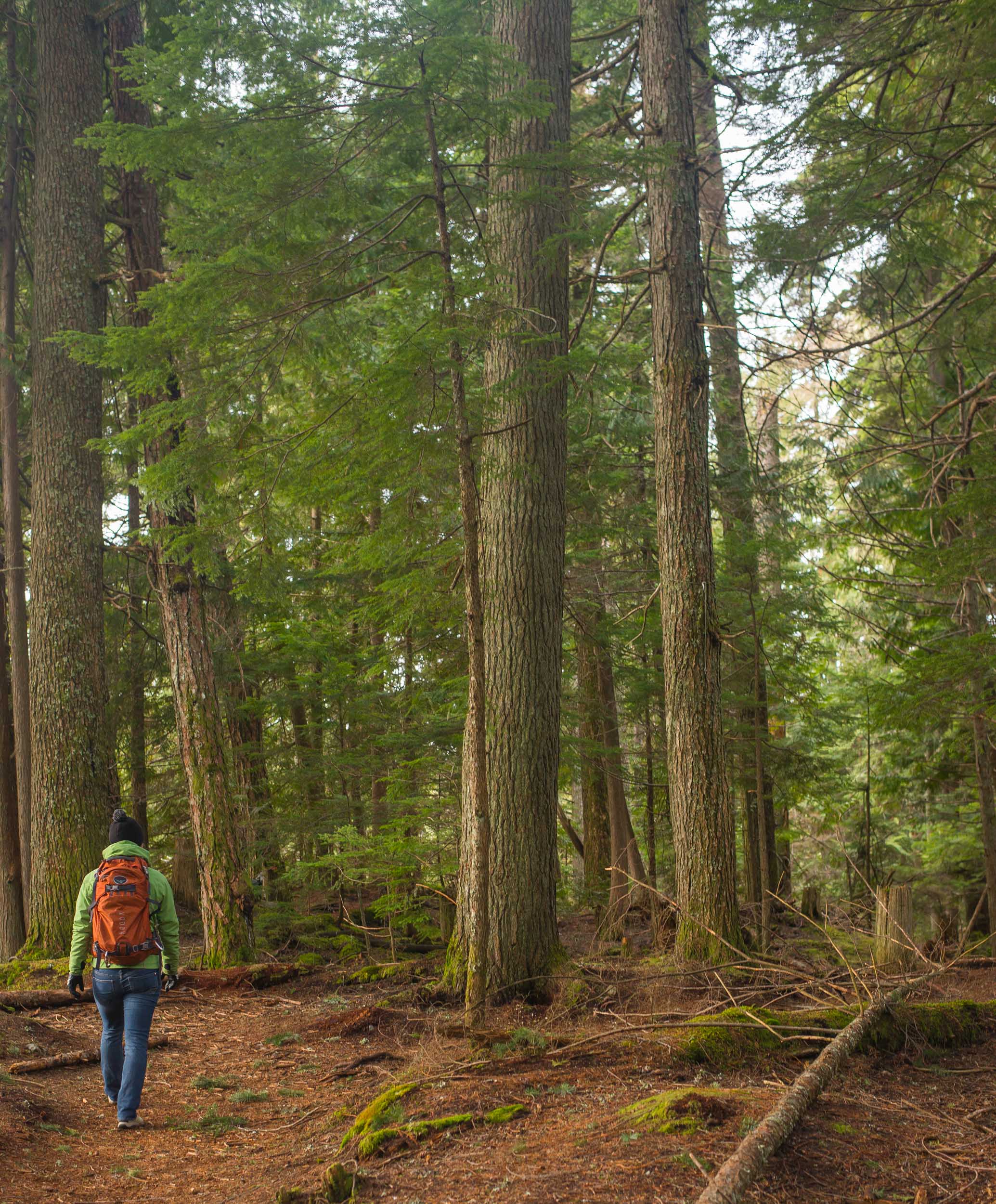 After a short hike we made it to the Train Wreck which is literally just a bunch of trains that had derailed a long time ago, fell down the hill, and now are overgrown with trees, lichen, and graffiti.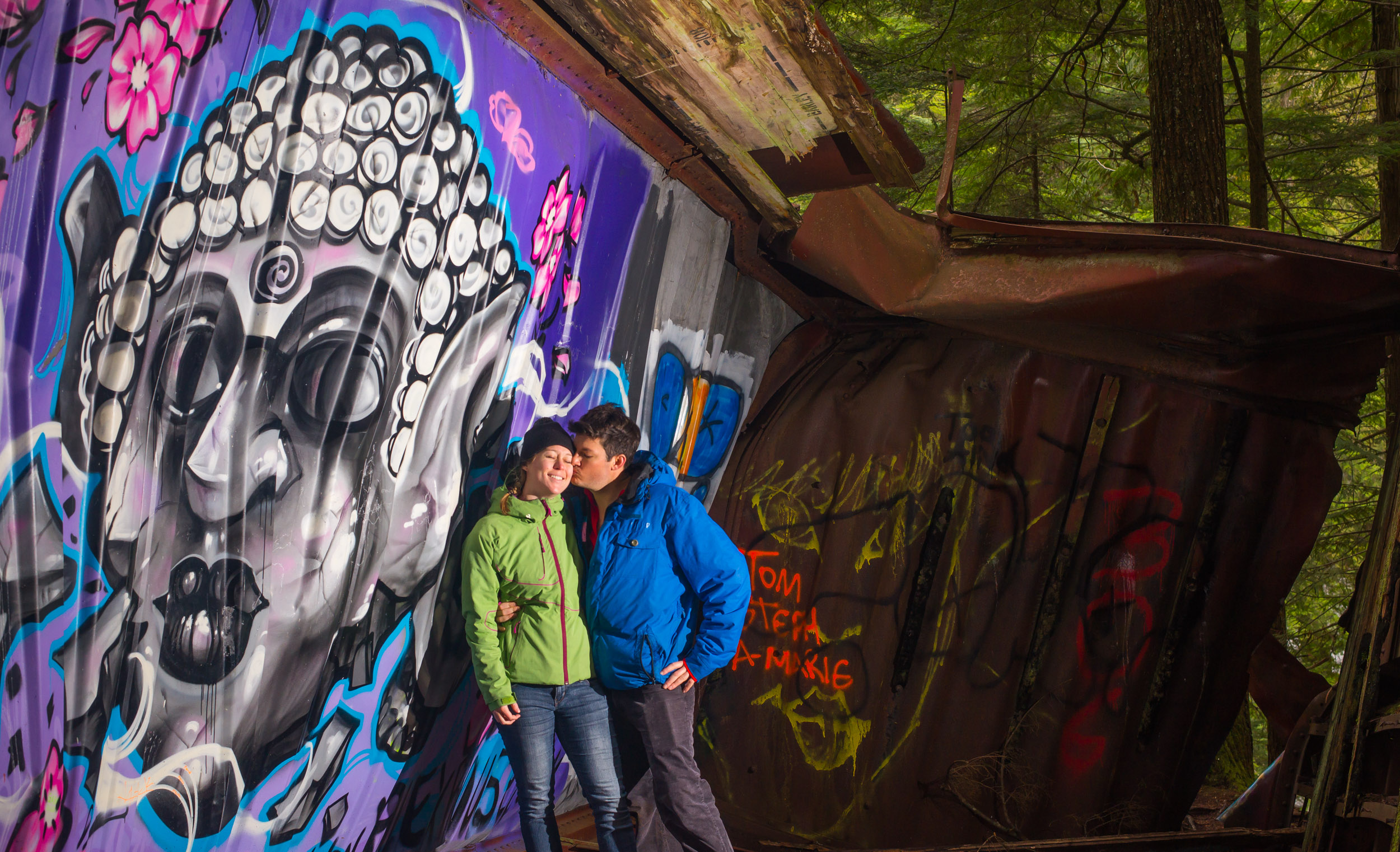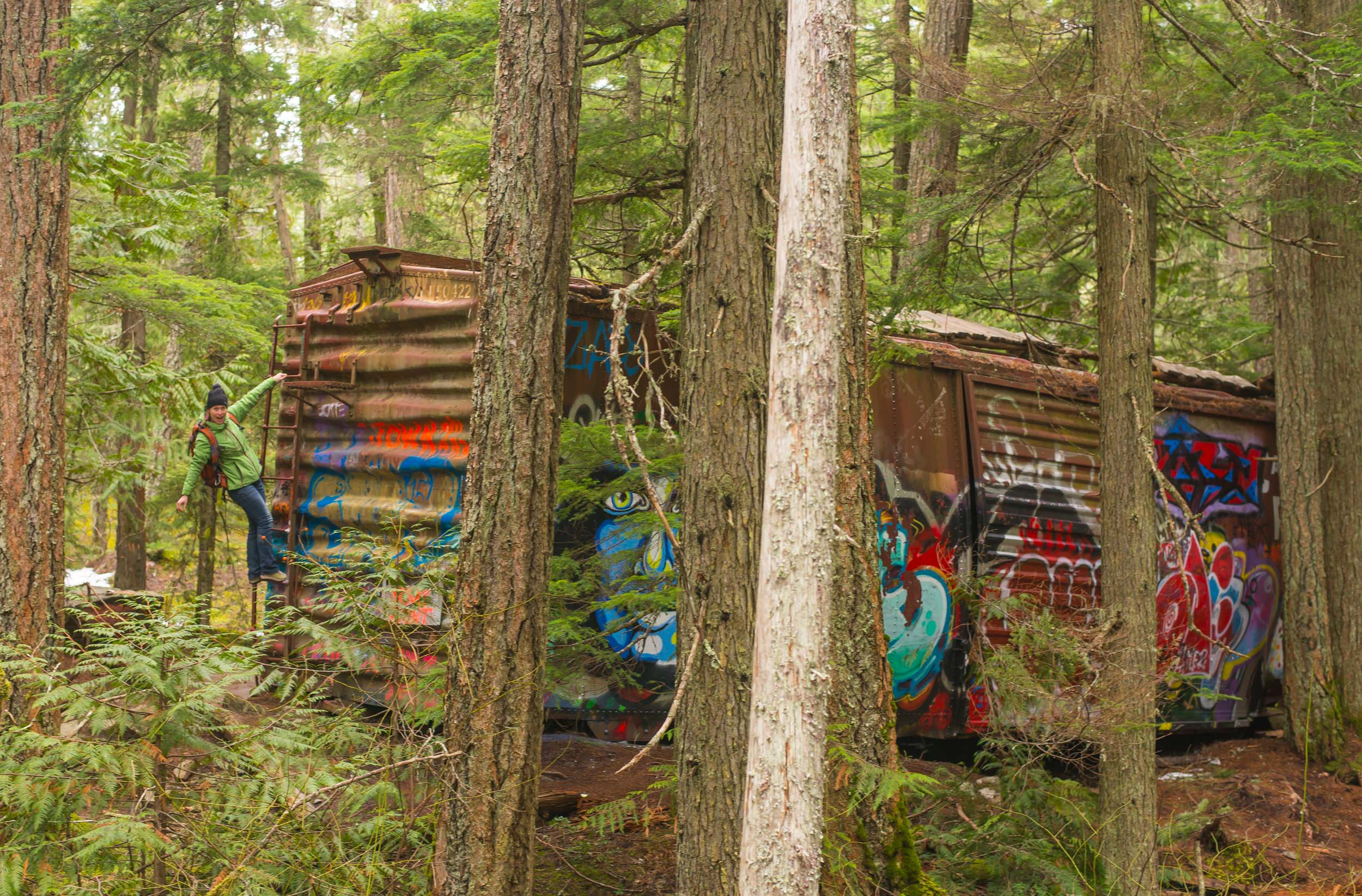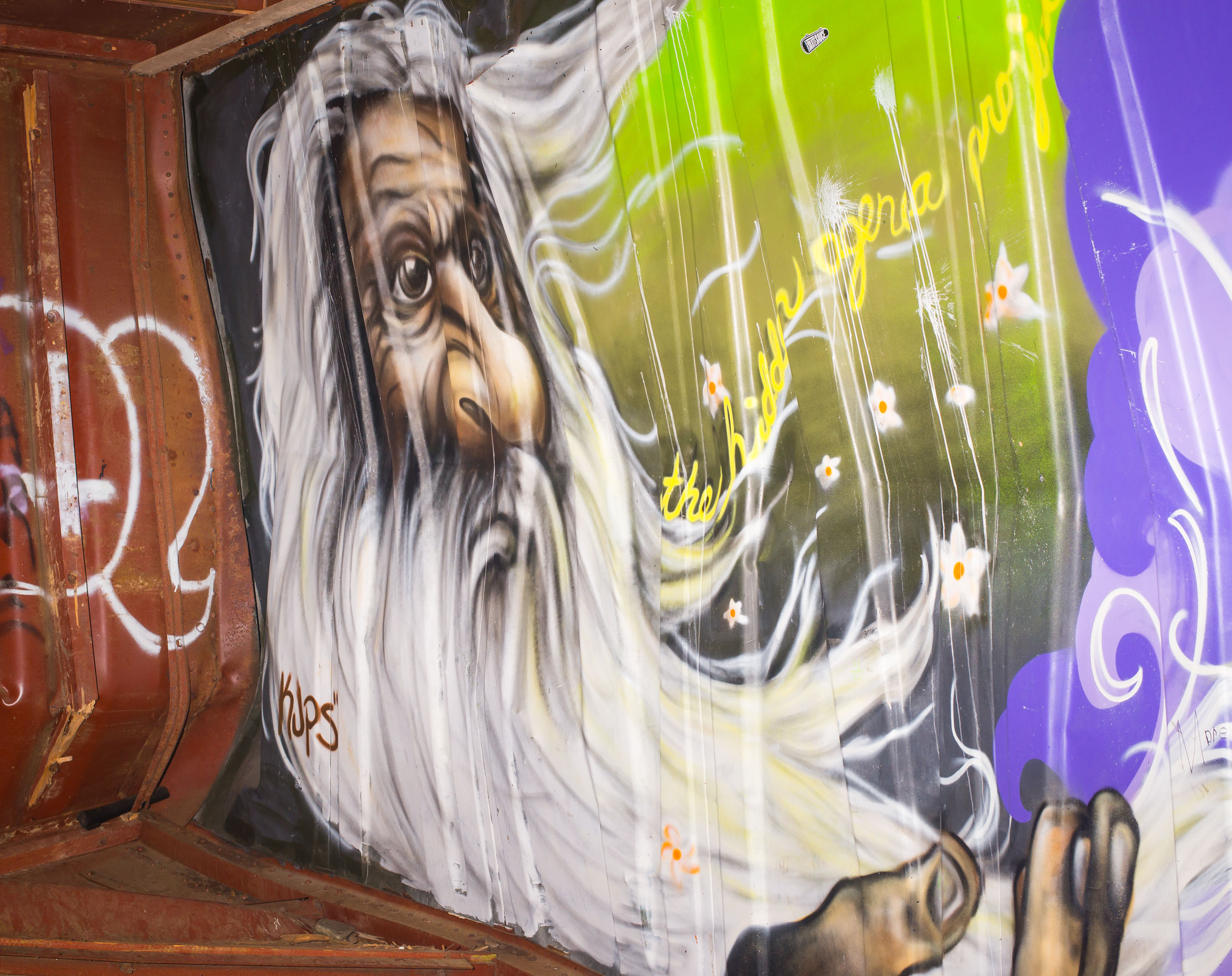 A waterfall was also along the hike making a quick pitstop on the way back. We had started early in the day and on the way back ran into a number of groups also making this hike. Luckily for us we had the place to ourselves.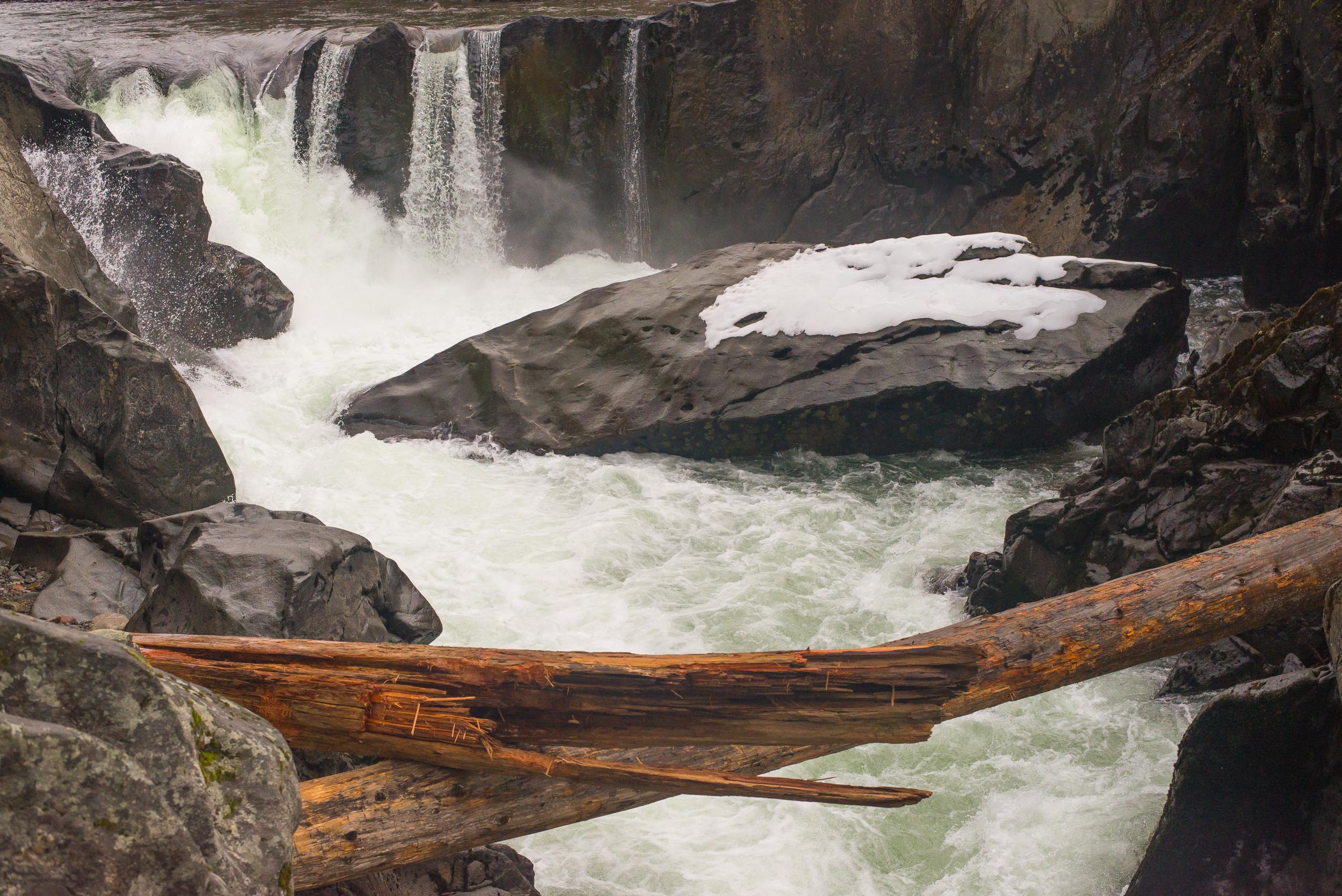 After skiing one day we noticed the sunset was looking pretty and headed-out to a better vantage point to soak in the colors: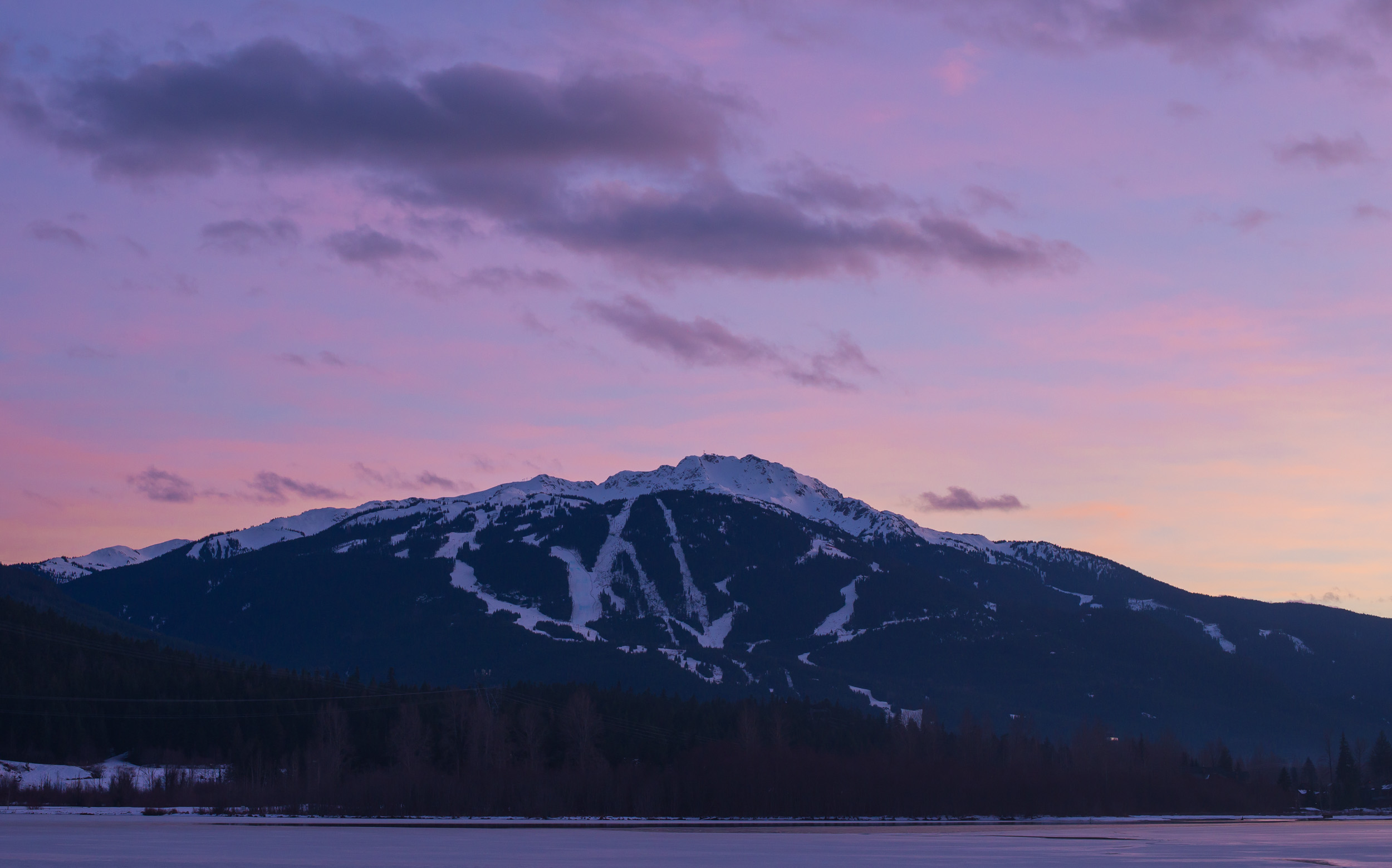 Brandywine Falls Hike in the Winter: 
We had looked at the internet to see if this was possible due to the low snow, people had pictures of years past with 15-20 ft snowdrifts covering the entrance to the park. Instead we found pavement and dirt trails. Short hike to a really cool formed waterfall which is tough to photograph.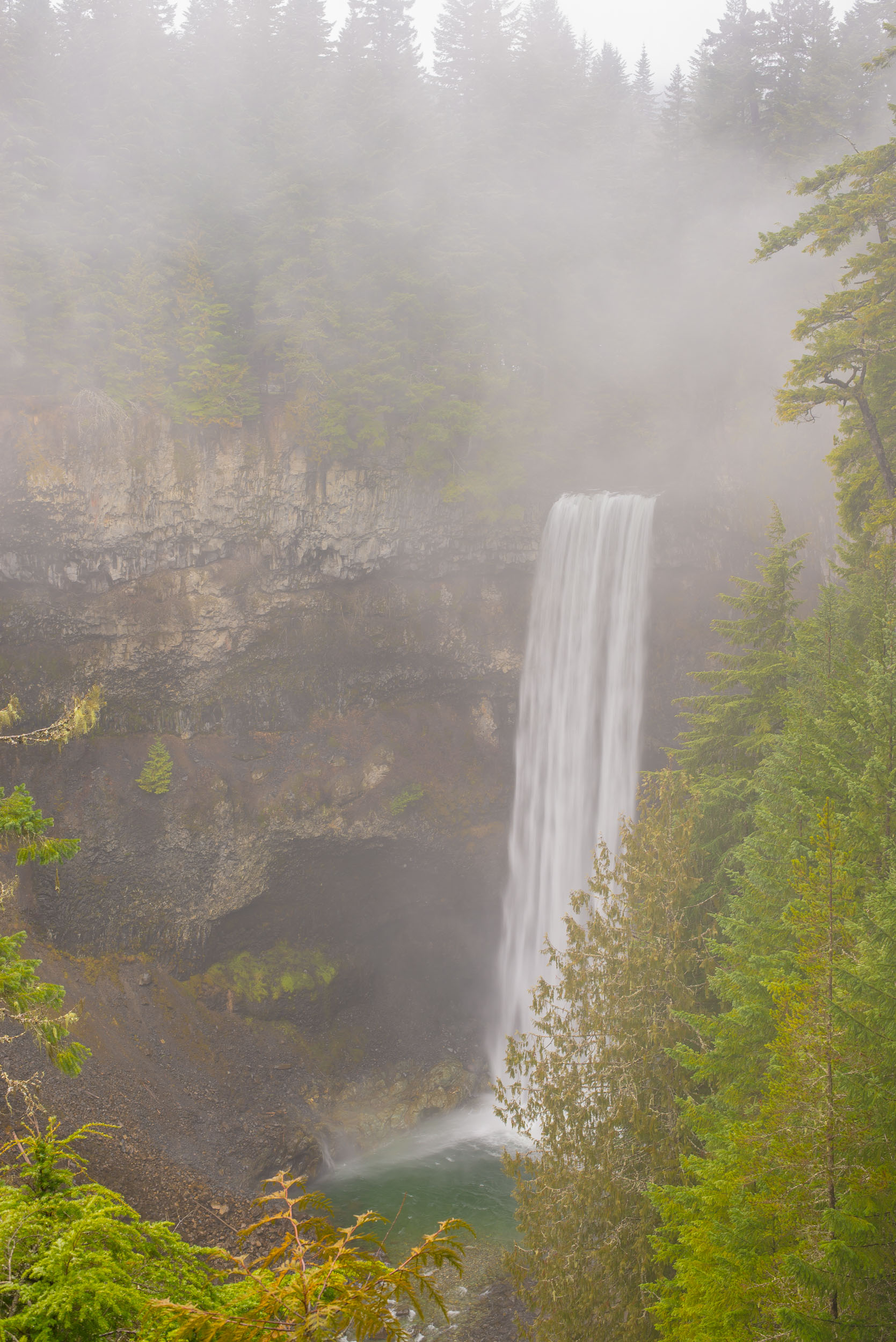 The drive back down the Sea to Sky highway reminds you of the quickly changing weather. This sign was in front of a beautiful mountain range on the way into Whistler and now you have no idea.
An Afternoon Stroll at Stanley Park, eating Sushi for Dinner, drinks in Gastown and eating breakfast in Chinatown:
In less than 24 hours we had a taste of Vancouver. Our first stop was the majestic Stanley Park with it's beautiful seaboard trail and incredible trail through the thick forest.
The Seaboard Walking Trail is peaceful and Beautiful: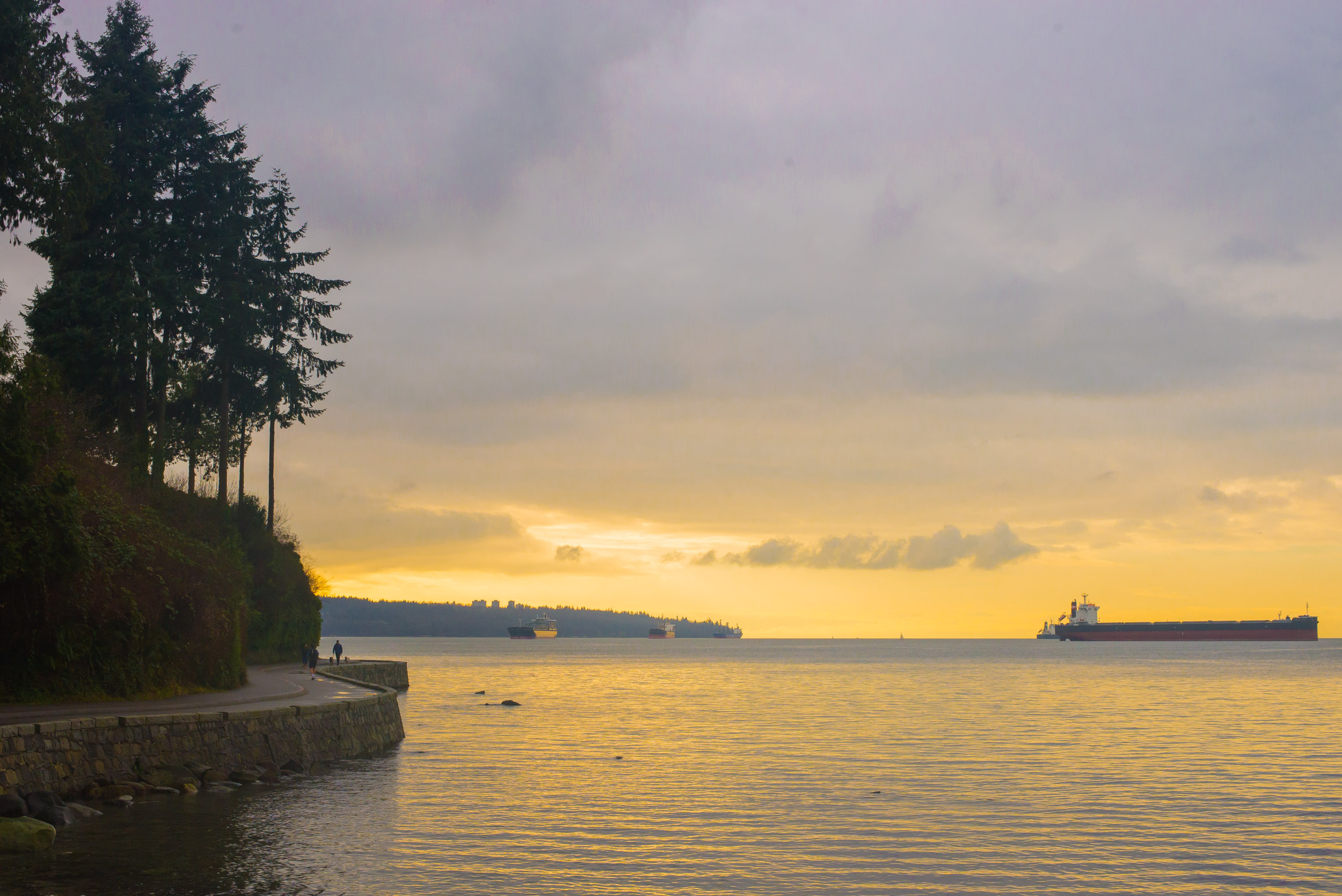 It is hard to walk by this tree's like this and not hug give it a giant hug: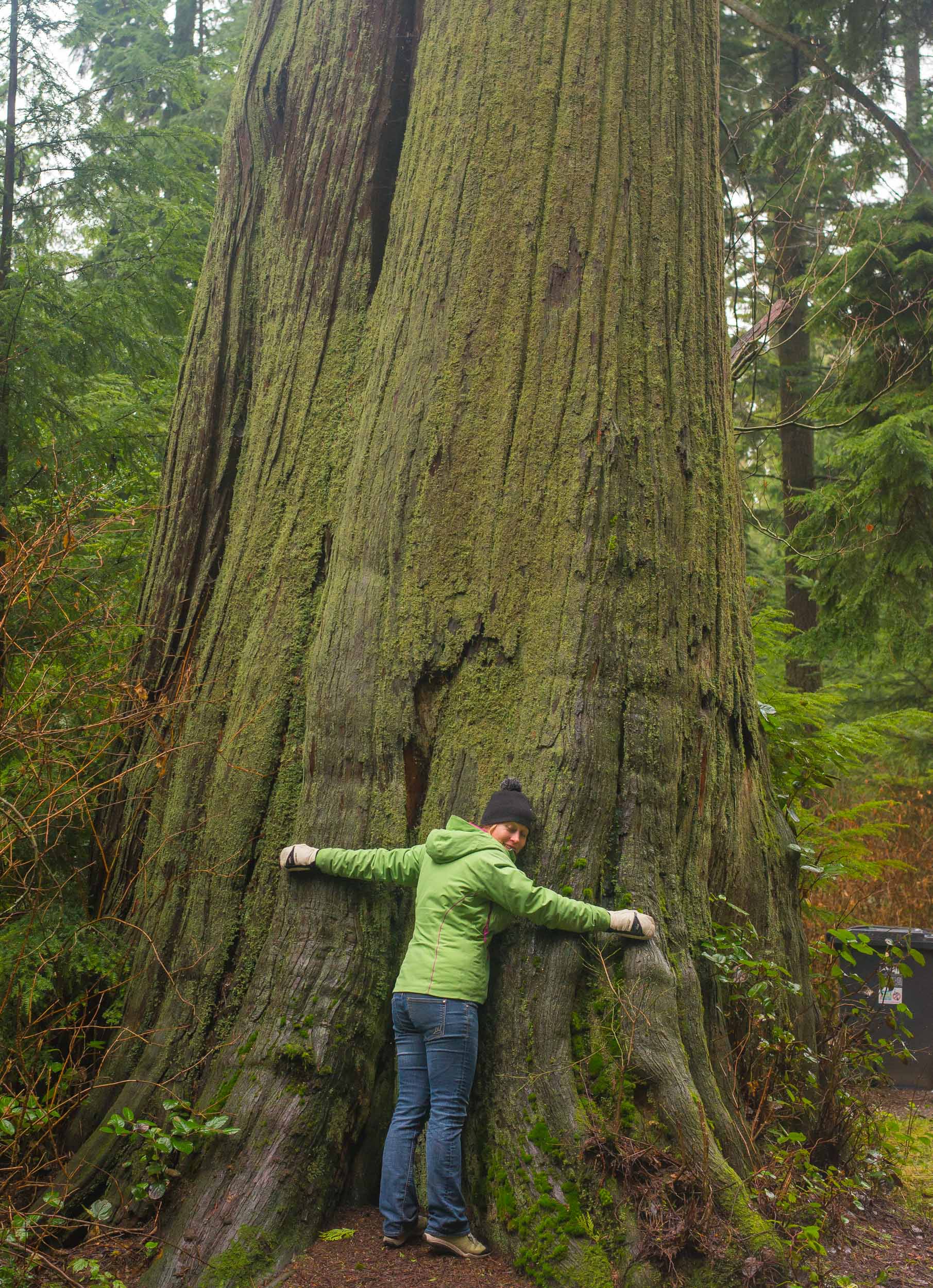 Moss Covered Trees: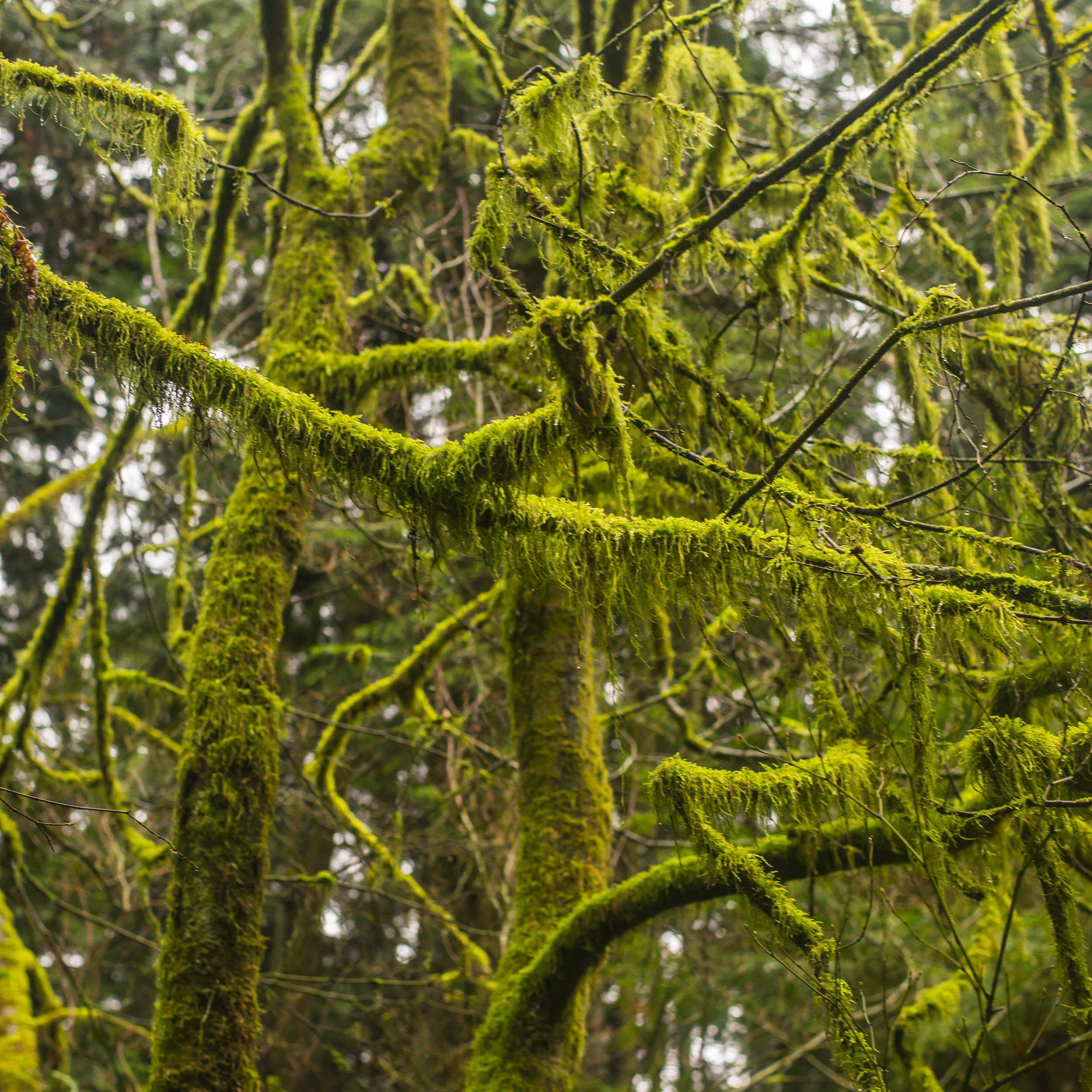 We had meet-up with a friend of Caitlin's who was living in the city and she took us to one of her favorite neighborhood sushi places. It was amazing. We followed that up by a walk to the Gas Lamp district where we cozied up for some well crafted cocktails at the Pour House. The morning was brief but allowed us a few mins to grab delicious buns from China Town and enough time to quickly walk through the area seeing several cool shops and a traditional chinese garden. Great way to end the trip!!