Linyanti Waterfront Wilderness Safari
---
Navigation to Detailed Trip Reports and Photo Galleries: 
---
LINYANTI WATERFRONT (Botswana):
Lebala Wilderness Camp with Kwando Camps: (3 Nights)
Game Drives: 
1st Evening Ride
2nd Full Day ride – 6am to 4pm (10 hrs) (only us+guides in vehicle!)
3rd Morning Ride  with Bush Survival skills walk (only us+guides in vehicle!) + 1 Evening Ride
Final Morning Ride
~30 hours game driving
Key Sightings: 
Spitting Cobra
13 Wild Dogs – 10 hr day to track them
Lion Pride killing and eating a Baby Warthog
Lion Pride of 2 males, 2 cubs, 3 females (2 sightings)
Red Lechwe death from broken shoulder
150+ elephant group
Baobab tree immersion
Fresh leopard tracks final morning right next to camp
Frog noises after rain
Spring Hare on nightdrive
Wattle Neck Cranes (largest group was 5!) – endangered with small local population 
Guides = Jacko and Diesel     
Lebala is an beautiful camp with the best lodges we stayed in; the sightings were top-notch and we had really fun guides. We chased a Wild Dog pack, we ran into multiple lion prides, saw a massive group of 150+ elephants marching through the forest. The sightings were non-stop! 
---
Kwando Concession: Lebala Wilderness Camps. Overview of Trip: 
---
We boarded the plane to Lebala airstrip from Kwara in a downpour and then proceeded to fly over a vast landscape that appeared to be much drier than the Delta. Our first surprise in this camp was as we finished loading the game vehicle to transport us to camp…A Spitting COBRA! Slithering along the shade tree for the airport a few of the workers chased it and we were able to get a glance before disappearing deep into the bush. A sight that is very rare and would just be the beginning of rare animal sightings.
Lebala is a beautiful camp located along the Kwando river with the landscape being similar to that of the Okavango Delta. We were here in green season which is not the same as flood season. The rains were beginning to make everything very green and the channels and floodplains that normally would be full of water were teeming with antelope, birds, and elephants.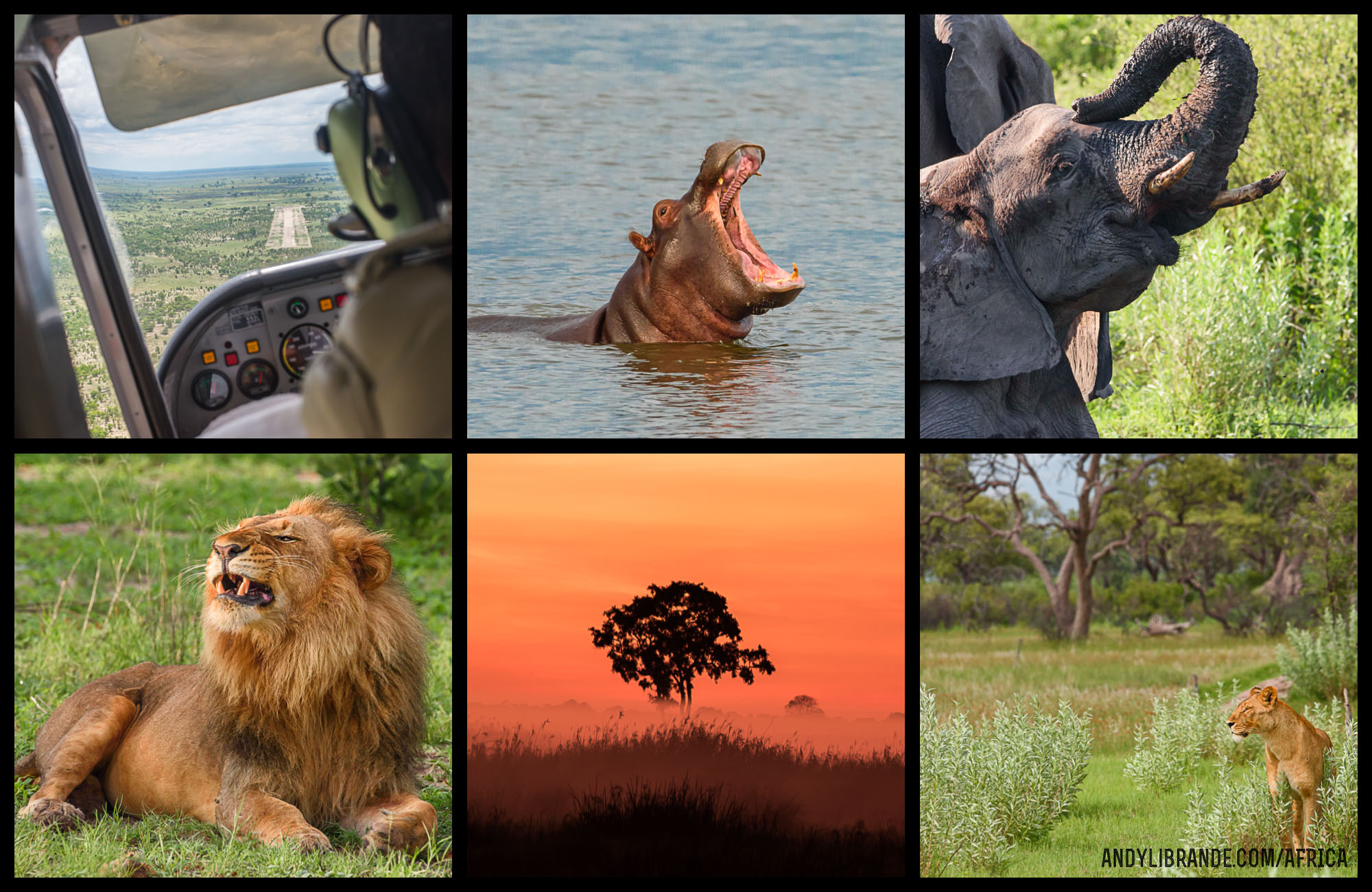 ---
African Wild Dogs: One Wild Day Journey to see these Majestic Beasts
---
"You guy's ready to FLY!?!" the guide exclaimed as we safely stashed gear on the safari vehicle for quite the journey. Our guide whose name is Jackal, was prepping us for a 2.5 hour crazy bumpy ride. African Wild Dogs had been spotted some 50 kilometers away by another different guided group. Wild Dogs are a rarely seen predator and we had to take advantage of the situation; less than 7,000 Dogs exist in all of Africa (Endangered species) with estimated 500-600 individuals in Botswana (aka RARE!!). By a stroke of luck that day we were the only people in that vehicle so we had a day of private guiding and could do a special day trip, otherwise we would never have been able to see this incredible sight. It was 8:00am in the morning and we had already encountered 2 male lions and plenty of other beautiful animals; a Wild Dogs sighting would be quite the experience!!
Flying down the dirt road, bumping past herds of Zebra, Giraffe, Impala's, it felt as if the old Land Cruiser would rattle apart at any given time. Normally when game driving you travel at 5-10 miles per hour, we were now going 30+ miles an hour on roads that were not craved by any tractor but by guides who over the years had repeatedly driven down that specific track.
Over 2 hours of wind whipping our faces on a hot, sunny African summer day we finally reached the area near the Wild Dogs. Driving across miles of wilderness on a lone road and hoping to find a pack of highly mobile animals seemed like a daunting task. Luckily as we arrived in the area the pack was howling to each other!
Extremely swift and silent this pack of 14 Wild Dogs appeared out of nowhere and were on a mission to move through the thick bush as quick as possible. Following them in the vehicle was quite the experience. One moment there was 10 dogs surrounding the car, the next moment we had completely lost them. One minute in open fields, the next in thick forest. Fortunately they allowed us to follow them and we spent close to 2 hours watching them move through the forest and then settle down for a mid-day nap!
Such beautiful creatures with incredible pack dynamics.
Our day of Safari began that day at 6am and little did we realize we would not be back to camp until 4:30pm!!!
On our way back we saw one of the best sightings of the trip as we watched Lions kill and eat a warthog, very lucky as it was 3:00pm, a time when normally you are not out on safari as the animals are usually sleeping…more on that sighting in other stories….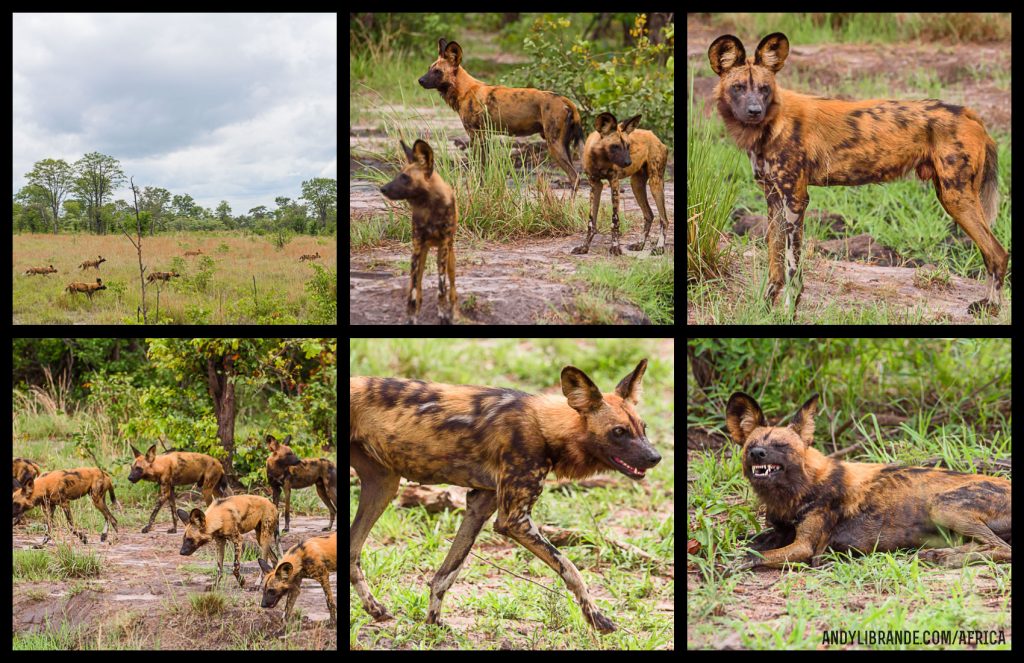 ---
LION CUBS! So. Damn. Cute. 
---
These two siblings (male and female) have an interesting story. Their father was chased off by two males nearly a year earlier and now those two lions reign supreme over the pride. Lion cubs are always victims in these bloody take-overs and cubs are always killed by the new leaders.
Our guide told us a harrowing story of the day when the new lions took over the pride. After defeating the previous king, the new males do what male lions do to ensure their gene success and killed the few young cubs in the pride. Described to us with tones of horror and amazement our guide was there that fateful day to witness this event. These two Lion Cubs were brand new babies and were hidden away from the pride at that time. Their mother is tricky and faked estrus fooling the new males into believing she was ready to mate. The guides were really surprised when just a few weeks later the cubs were introduced to the pride and the two new males quickly took over their protection.
One of the males named Sebastian is extremely fond of the cubs and rarely leaves their side. Always watching over and protecting the future of the pride, with him not knowing that these cubs are not his.
The unexpected twists and turns of the animal world is fascinating!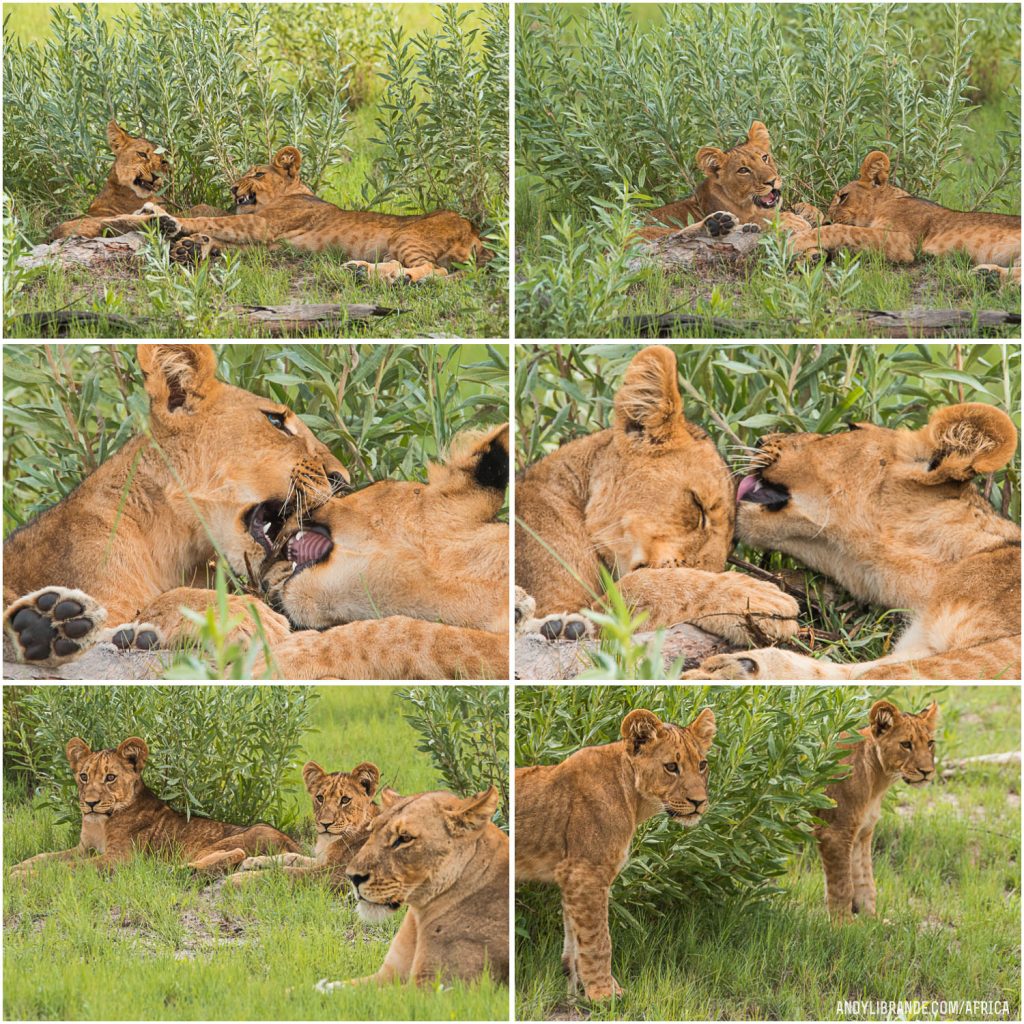 ---
MARCH OF THE ELEPHANTS:
---
One of the most amazing surprises was the number of Elephants that we encountered. Over the course of 6 days in the Okavango Delta and Linyanti Waterfront we saw ~1,000 individuals. Numerous lone Bull's were spotted chomping away on the trees and grasses; family groups of 5-20 were frequent; and the big surprise was when we stumbled upon a herd of 150+ elephants marching aggressively through the Mopane forest! Non-stop jaw-dropping moments with these incredible beings.
Each location we went to in Botswana and Victoria Falls we encountered elephants. Even when we were camping in the Central Kalahari Game Reserve which is a desert and far from the preferred habitat of Elephants. The extreme heat and lack of water/mud-wallowing keeps them away. However we visited during "green season" which is caused by the strong seasonal rains (which drenched us). Even there, nearly 200 miles from their home habitat we encountered groups migrating on ancient paths. Incredible.
---
Lion Kill: Lucky Encounter with A Pride Hunting
---
3pm is not a time when you are out on safari. It is the middle of the African Summer in the middle of the afternoon…no living being wants to be outside of a shady tree or in our case an private outdoor shower. Luck however was on our side this fateful day.
The previous 8 hours had been spent chasing African Wild Dogs across a massive section of wilderness. Lots of bumpy sand roads, lots of sun, lots of incredible wildlife sights. After spending time with the Wild Dogs we ate lunch at a different sister camp (Lagoon Camp) in the same concession (each camp is 2-3 hrs drive apart). Nearly all the way back to our home base when we entered a large basin and fast commotion in the distance caught our eye. A loud SQUEAL sounded followed by muffled lion roars!!!
Before our eyes could believe it we see a female lion running full speed with a baby warthog in it's mouth; chasing the lioness was a hungry and angry looking Male Lion. Sebastian is his name and he was not letting anyone have a meal before him. Forcefully stealing her prize, he takes the delicious baby warthog and greedily eats it all himself. Surreal listening to him crunch the bones, watching him carefully squeeze the debris in the intestines out before eating, and then consuming everything until no traces of blood were even left.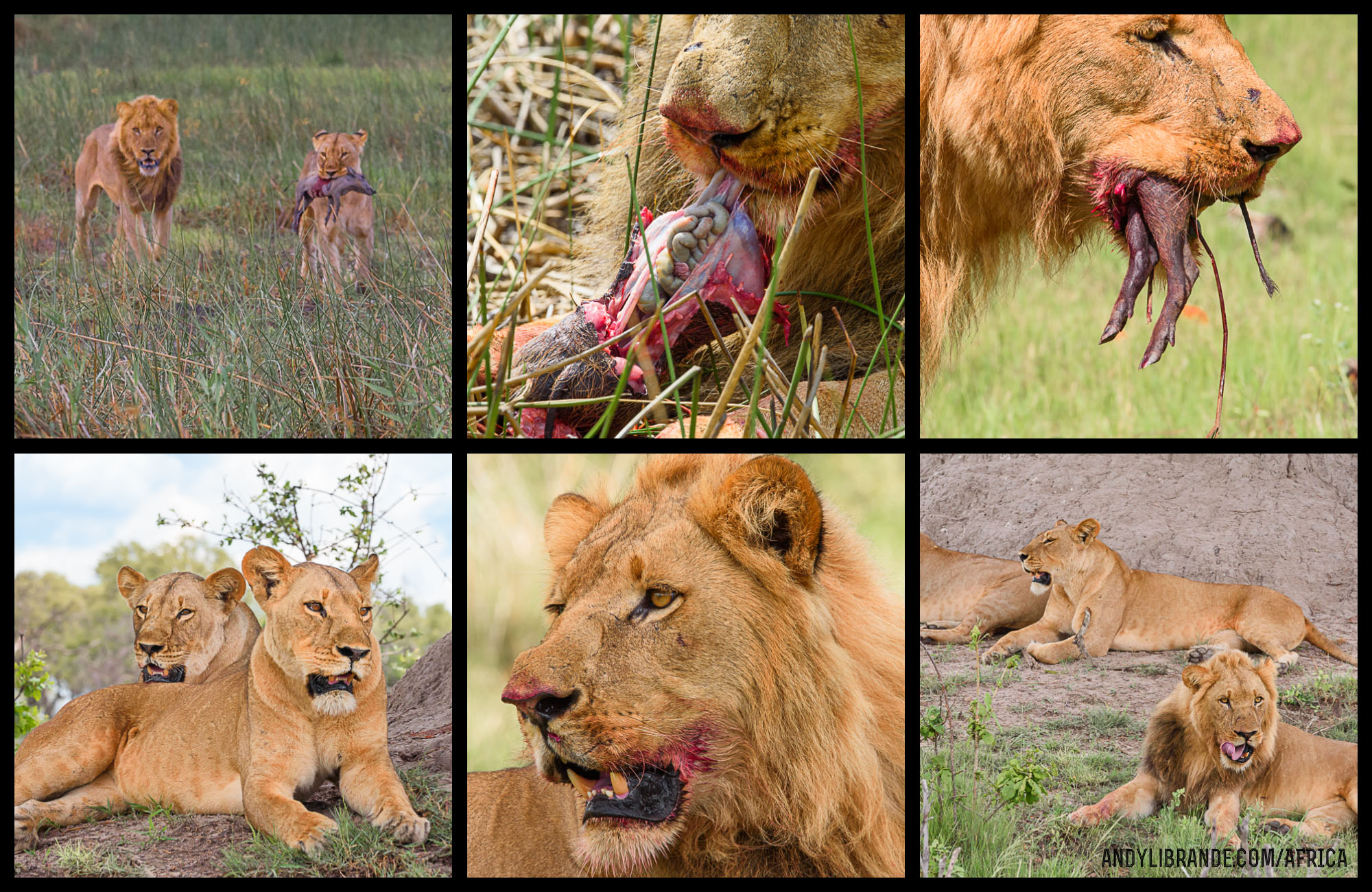 Here are a few more photos of this pride when we encountered them the next day. This male is named Old Gun and is one of the surrogate fathers to the lion cub photos I posted earlier. He is not growling but is tasting the air for scents with a specialized gland in his nose; this is called the Flehmen response.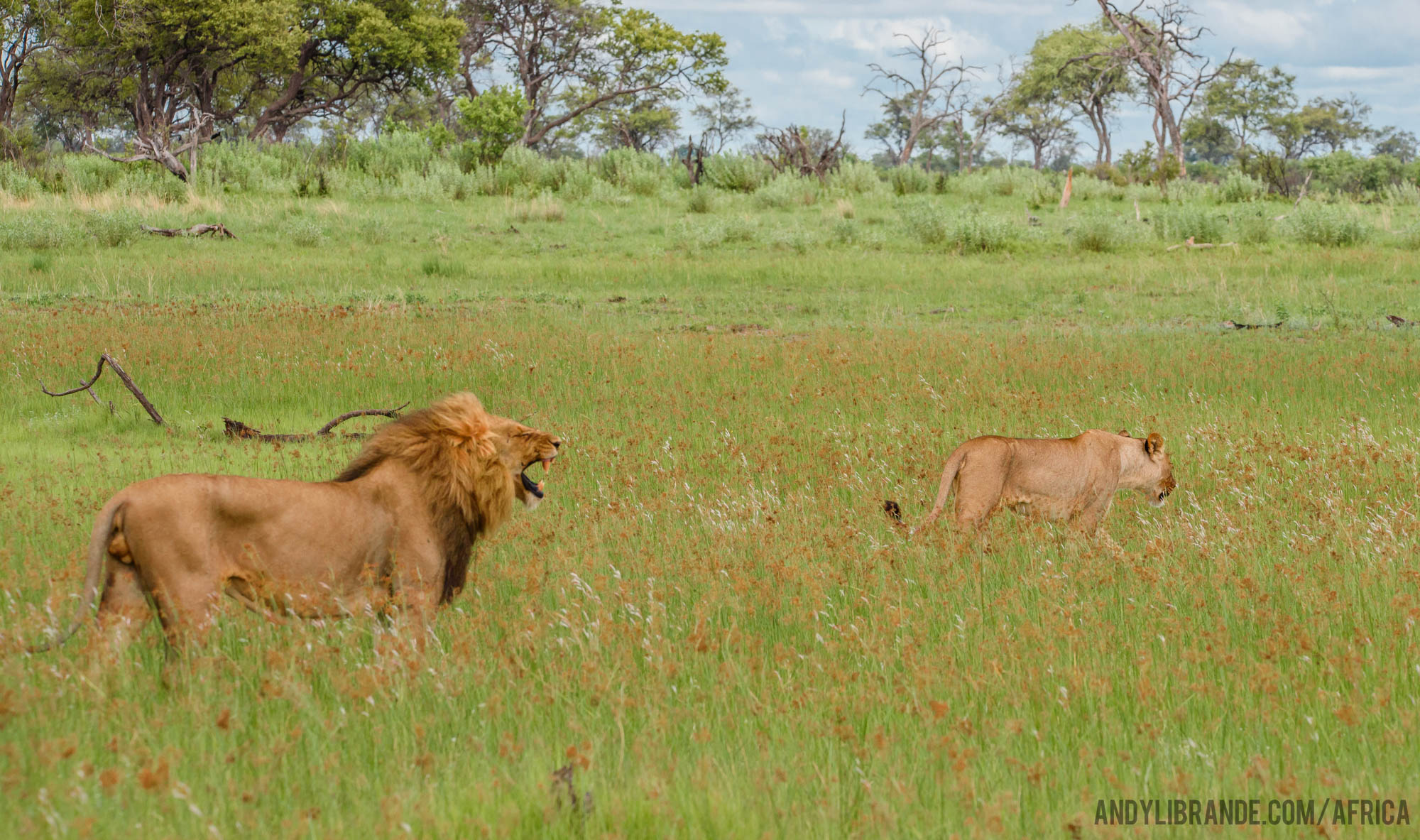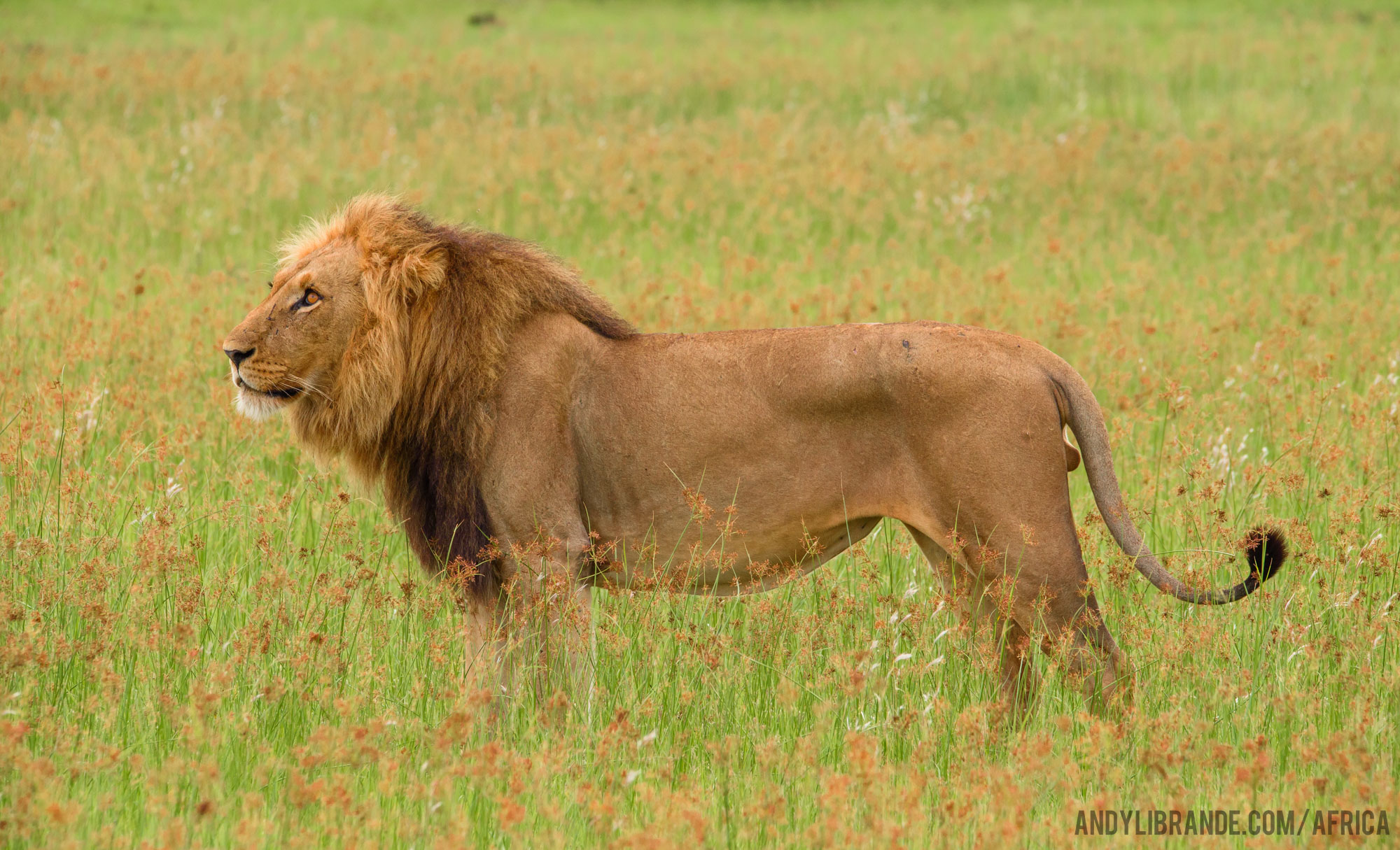 ---
AERIAL sights over AFRICA:
---
We were in remote areas and did not hear the news, see an email, or have any idea what was happening in the world for 16 days. Botswana is an amazing country being about the size of Texas, a population of only 2 million people, and with most of those people living in the capital city. Thus making it very low populated place and allowing for Nature to thrive.
To get to any of the camps requires a bush plane which with the pilot only has 6 seats 1 which is the pilot's seat. Flying just above the landscape and you have dramatic views all around you. It is low water season (before the annual floods), otherwise much of this landscape could be under water in just a few months. 
FLAT is one word to describe this massive landscape as the elevation changes by less then 6 ft over the entire delta (200 miles long). Our plane flew low enough that you could see elephants marching, hippos in waterholes, and the countless tracks of animal paths.
In total we flew in 4 different bush planes each flight being 30 mins to 1 hour long. We found out that the pilots come from all over the world to fly here as it is a great way to get the hours needed to move onto larger planes. One of the pilots from Sweden we had dinner with and spent a the evening swapping stories.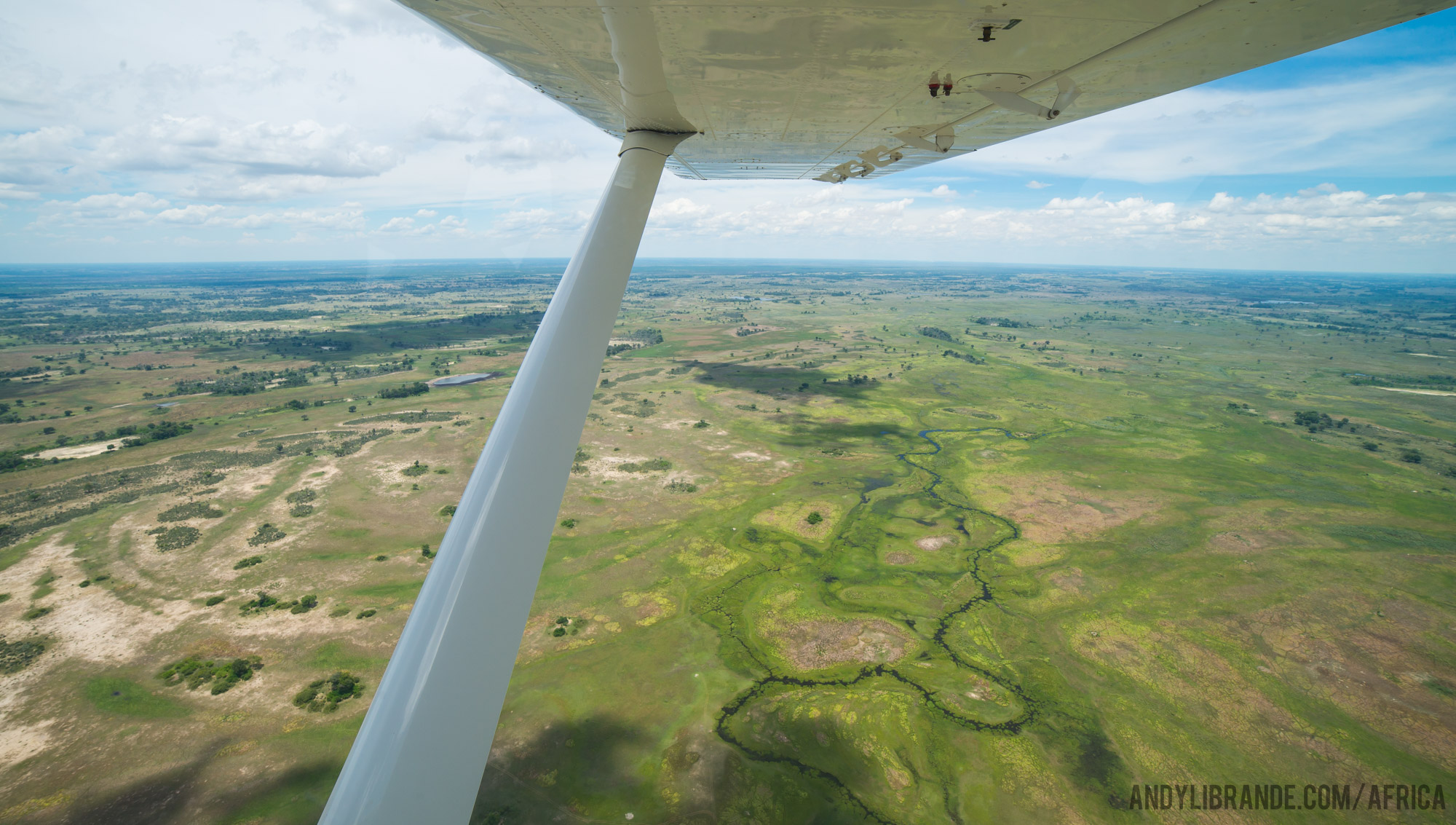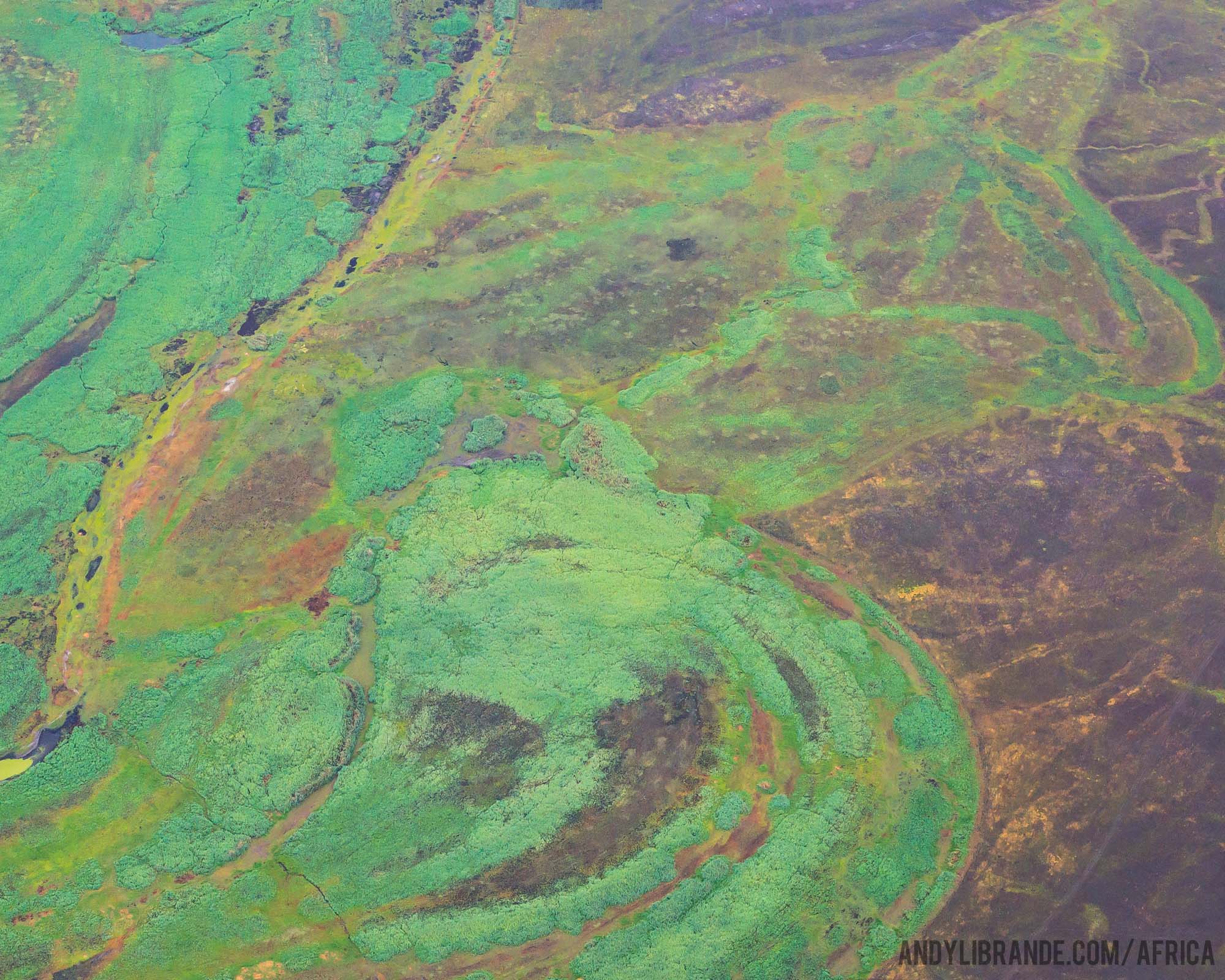 Just outside of Kasane when we first flew from that airport to the Kwara airstrip (zoom in to see the huge herd of elephants and a lucky boat witnessing it all):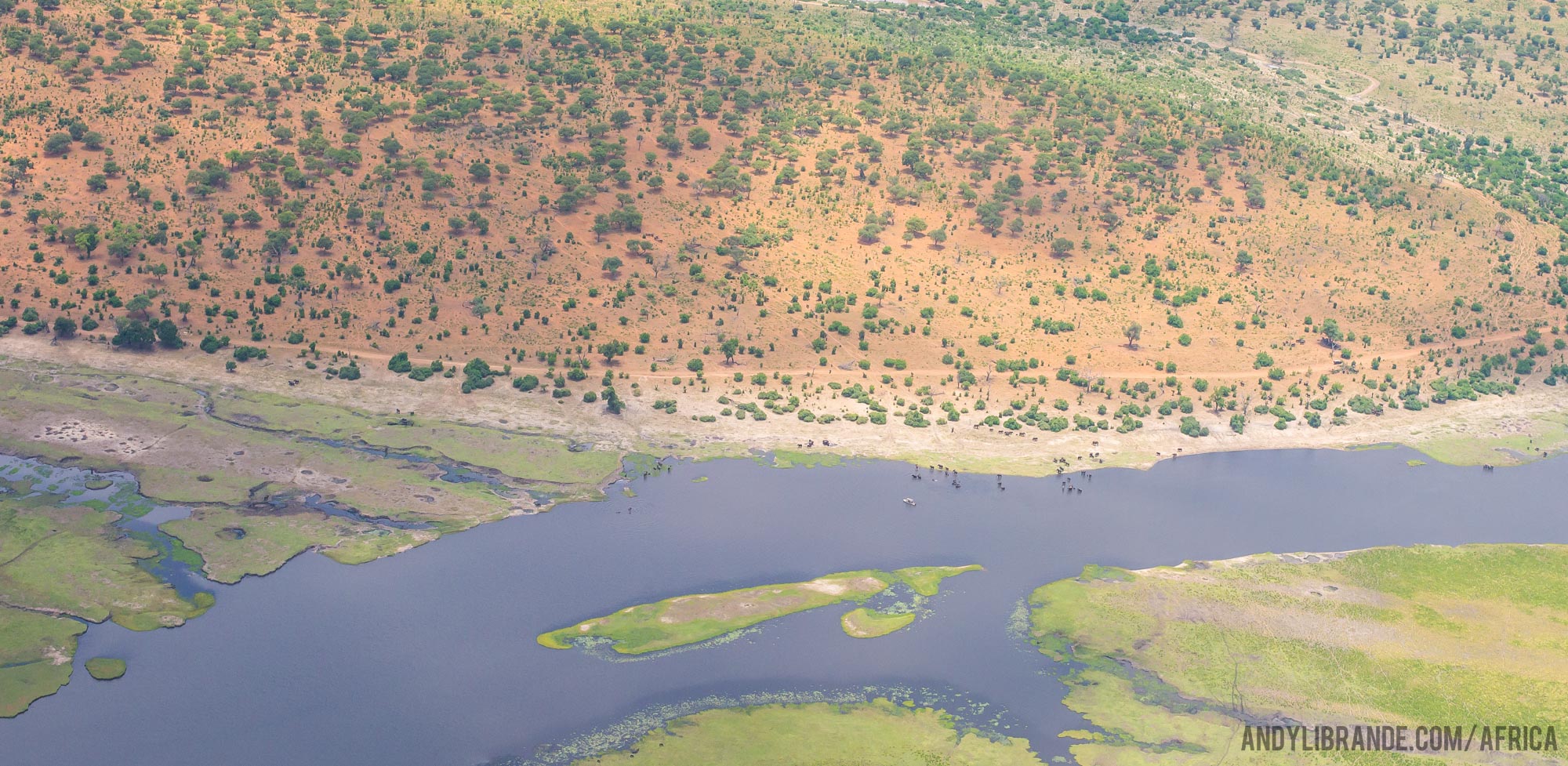 ---
Baobab Tree Immersion and Learning from the Guides:
---
One morning we took a break from driving around (it was just Caitlin and I in the truck that day) to learn a little more about the environment. One of the local baobab trees that has stood the test of time was recently destroyed by elephants. We learned this was a frequent occurrence as it happened at both Kwando camps we stayed at. Apparently the elephants enjoy the juicy, water filled fiber that is inside the trees. Baobabs are not normal trees as they don't really grow rings so they are impossible to tell how old they are and similar to cactus they can store massive amounts of water to last long drought seasons.
Here is Jacko showing us the damage done by the elephants, as you can see the extensive damage an elephant can cause pushing over this giant tree and then over time consuming it: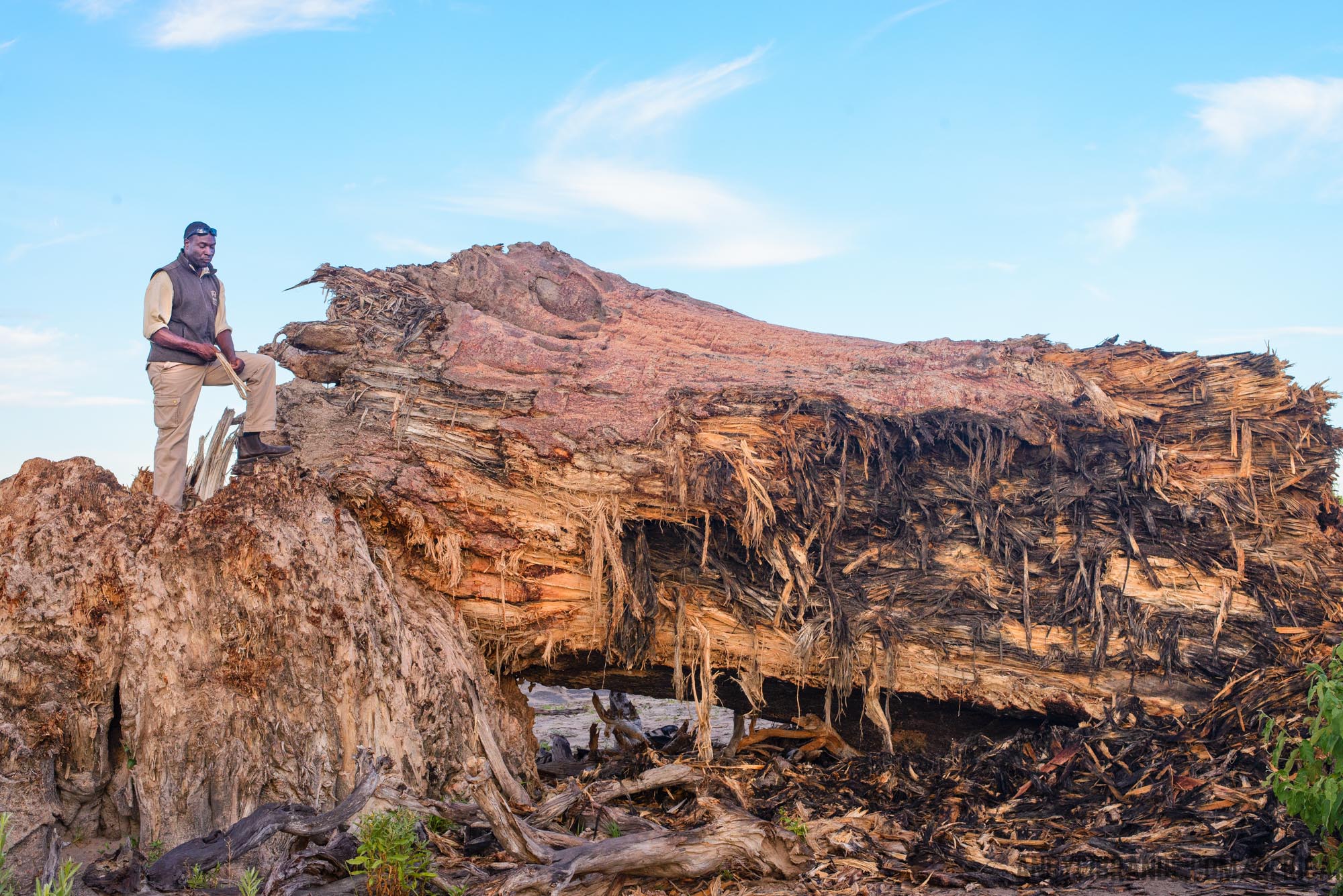 Baobab trees have a bunch of uses and the fiber insides are an excellent source to make ropes. Here our guide Diesel shows us how to make rope out of the fibers by using a unique rolling technique. We then constructed a small snare with the rope to show how the bushman have been using these readily available resources for centuries to capture small game. Of course we took down the snare before leaving as hunting and snaring wild animals is illegal in Botswana.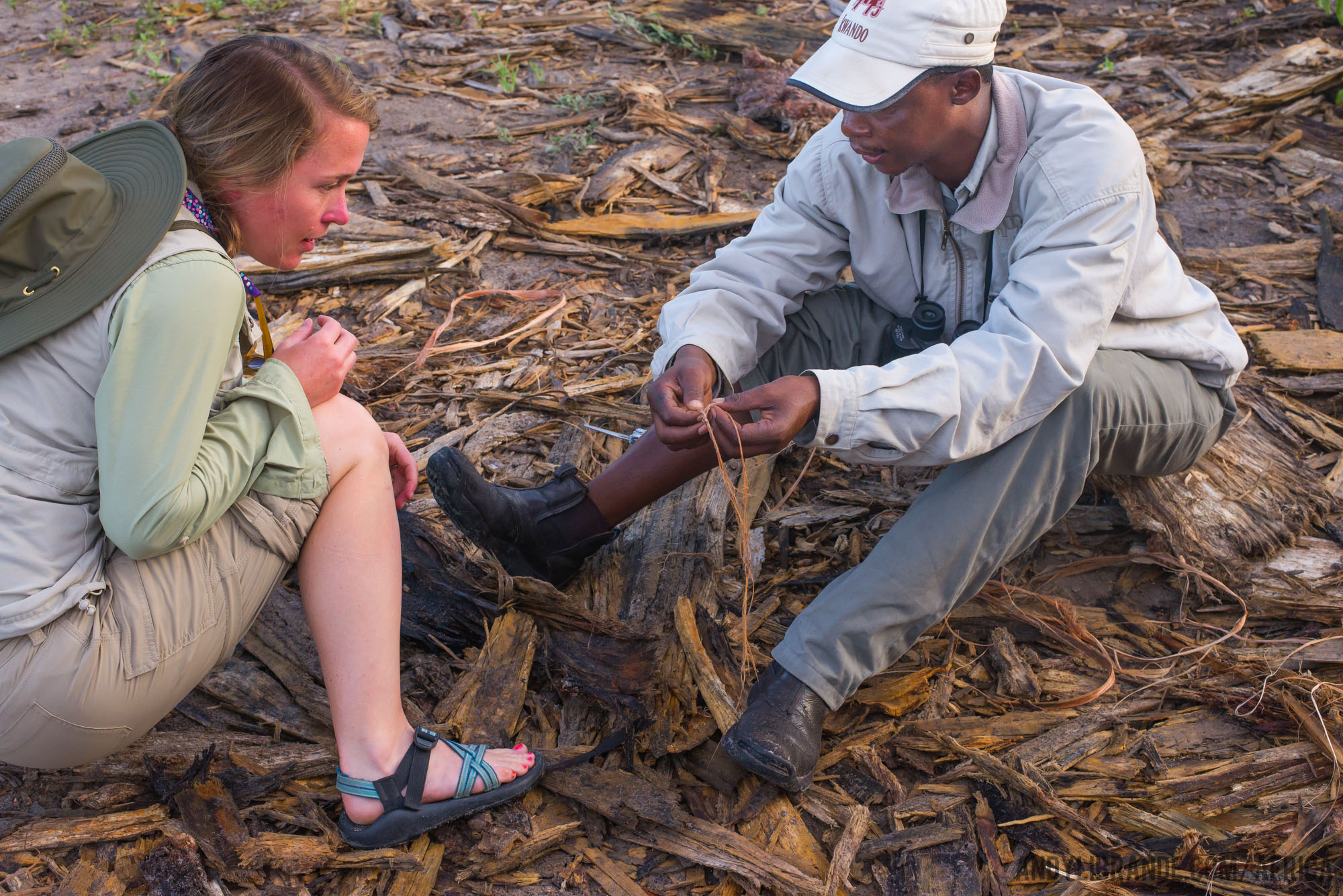 ---
Sunrise in Camps is the Reward to Waking Early: 
---
Sunrise at Camp Lebala was amazing every morning. A beautiful view over the river landscape with hippos making noise and crazy colors: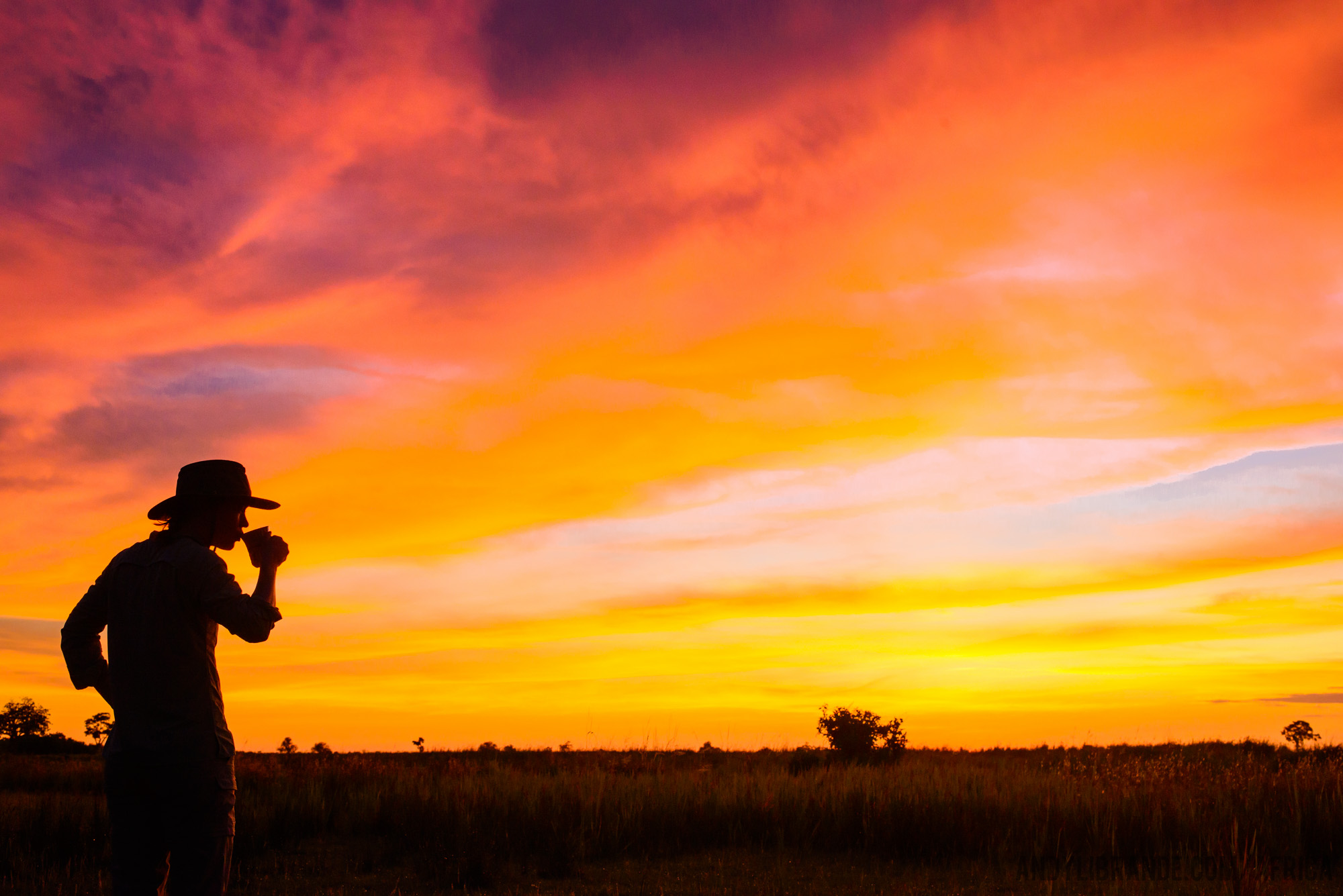 ---
Navigation to Detailed Trip Reports and Photo Galleries: 
Copyright © Dandelion by Pexeto