Where: Chetek, Wisconsin at the Enchanted Barn
When: Oct 4th, 2014
Andrew and Whitney had an awesome wedding in a perfect country barn made more even more rustic as it was in the middle of nowhere Wisconsin. The location was beautiful, the weather cleared for their wedding day, and luckily they brought the party with them! In preparation for this day I took the engagement photos earlier in the year and then we also held a waterski bachelor party at Lake Granby.
Larger Album of Photos can be Found Here!
Keeping it short and simple but below are a few of my favorite pictures that I took from the evening. The Enchanted Barn looking pretty under the late-fall cold, clear sky: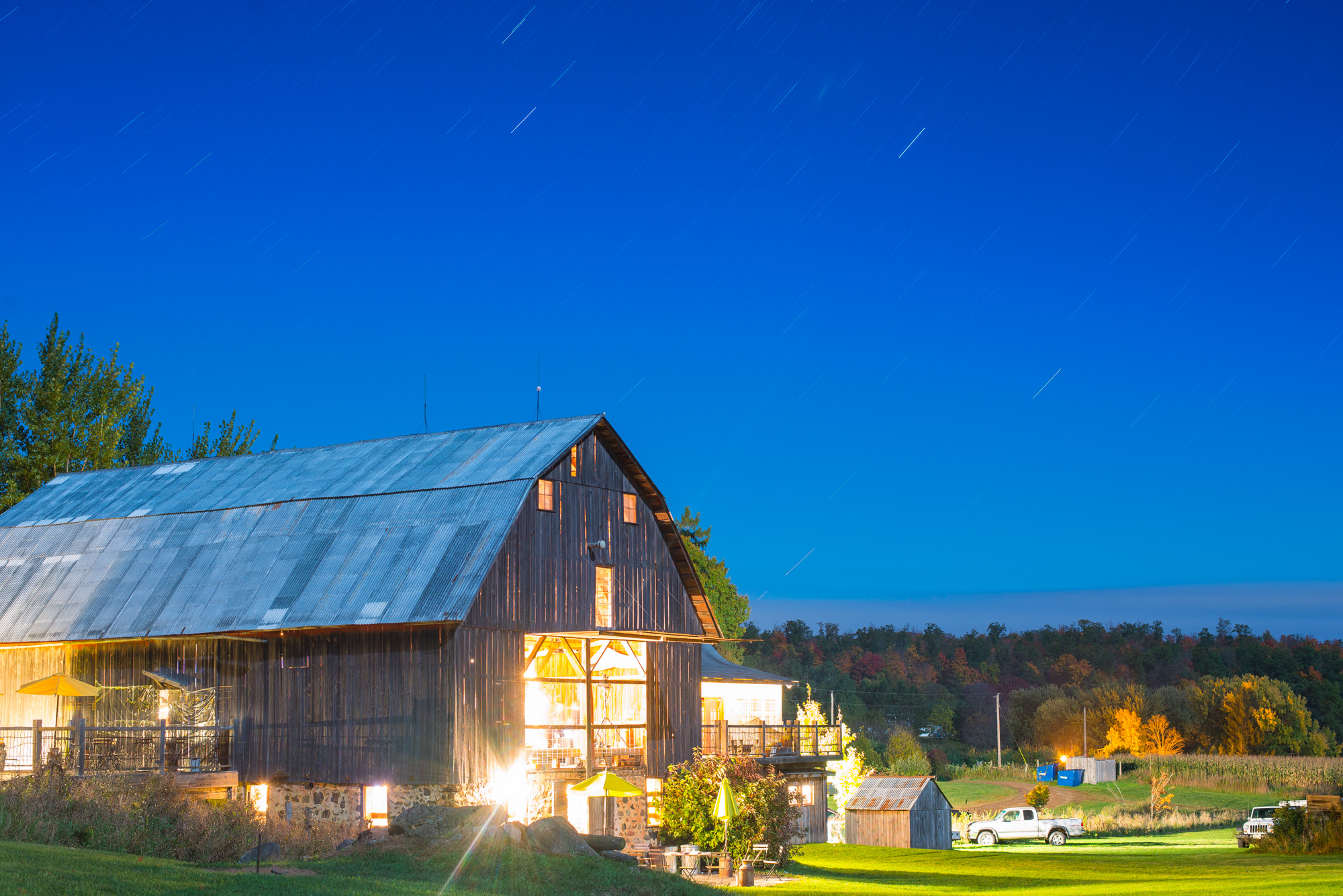 The Bus Ride from our cabins in Chetek, WI to the Enchanted Barn was a good distance, luckily we all came prepared: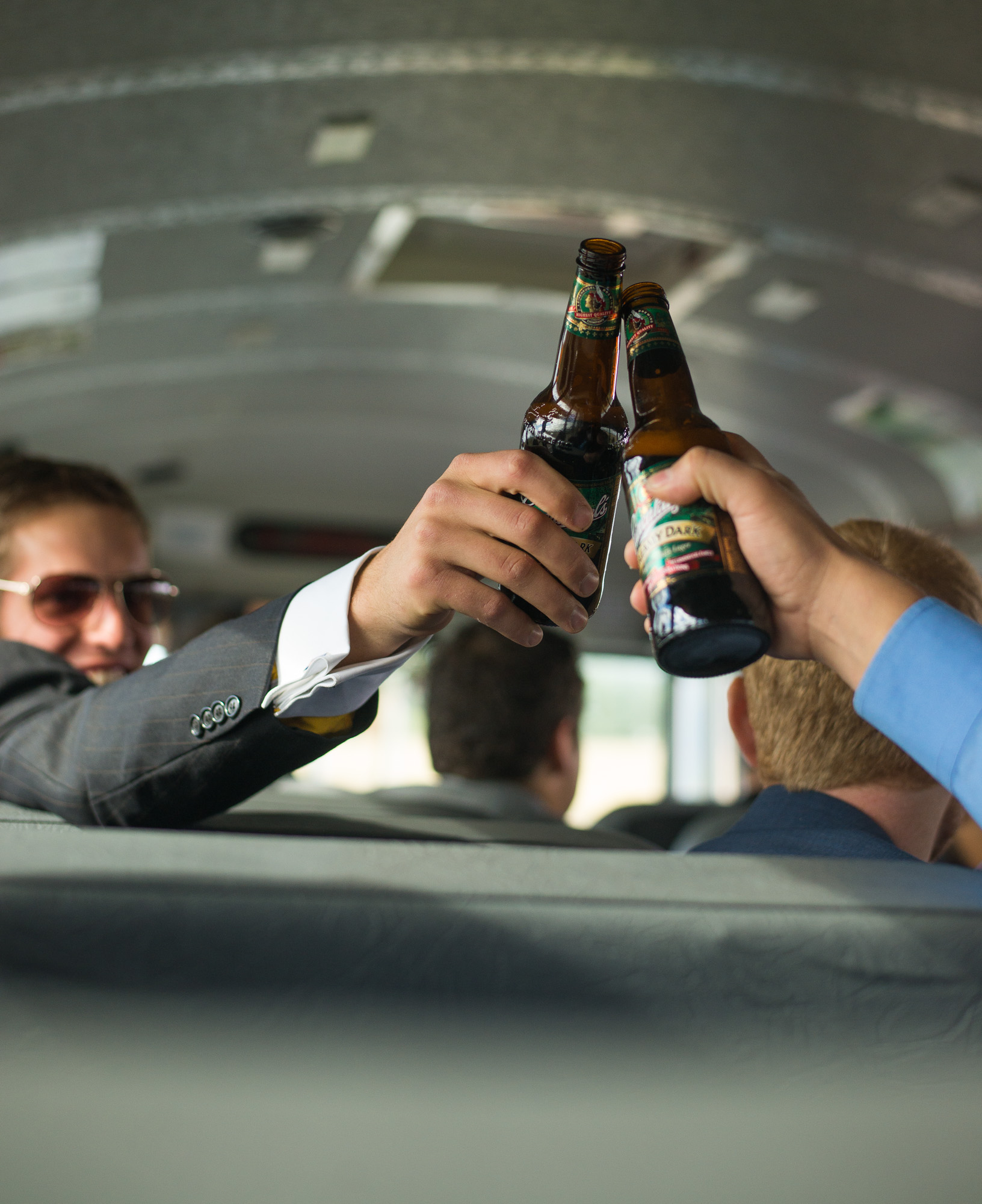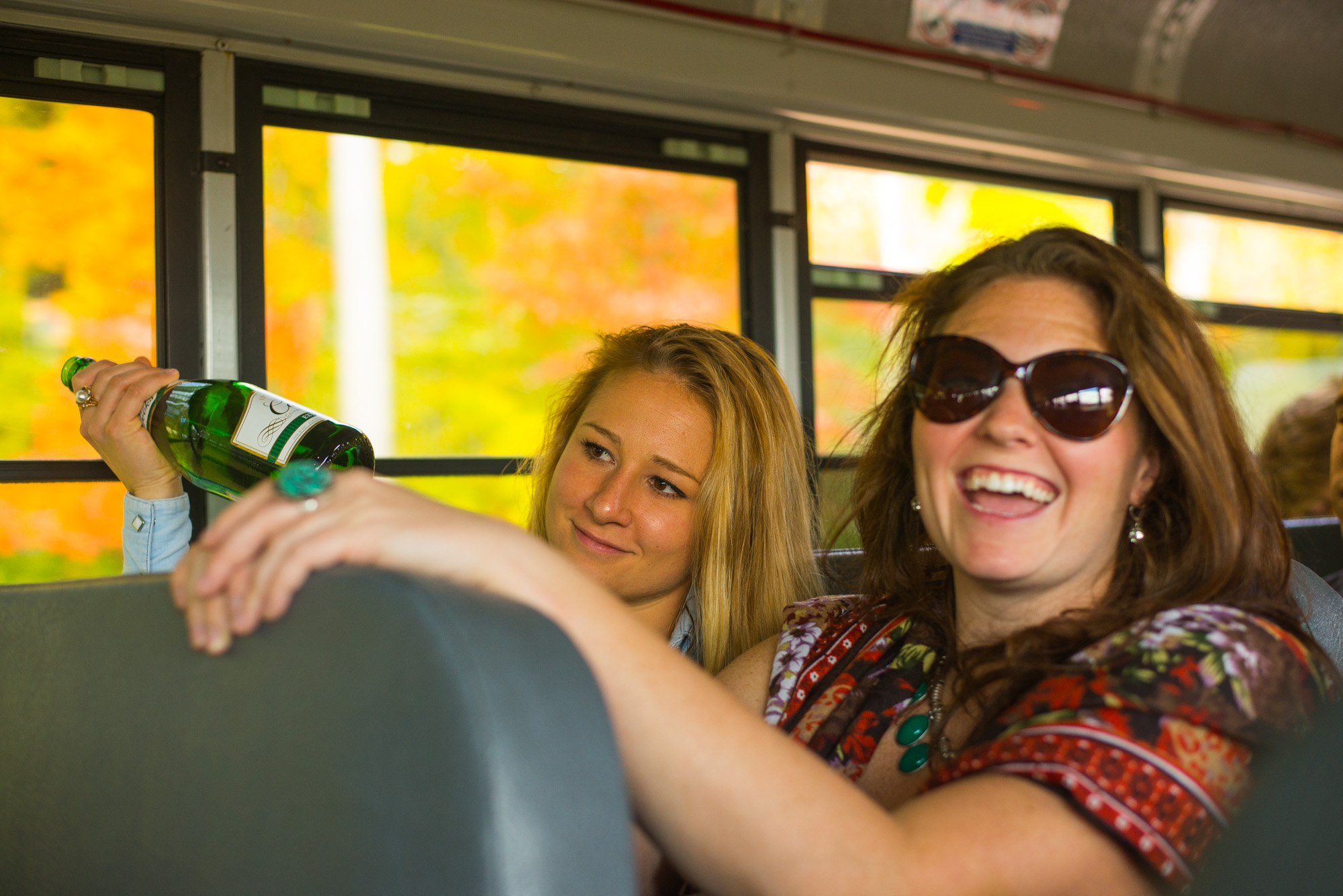 Andrew and Whitney getting married in the barn!!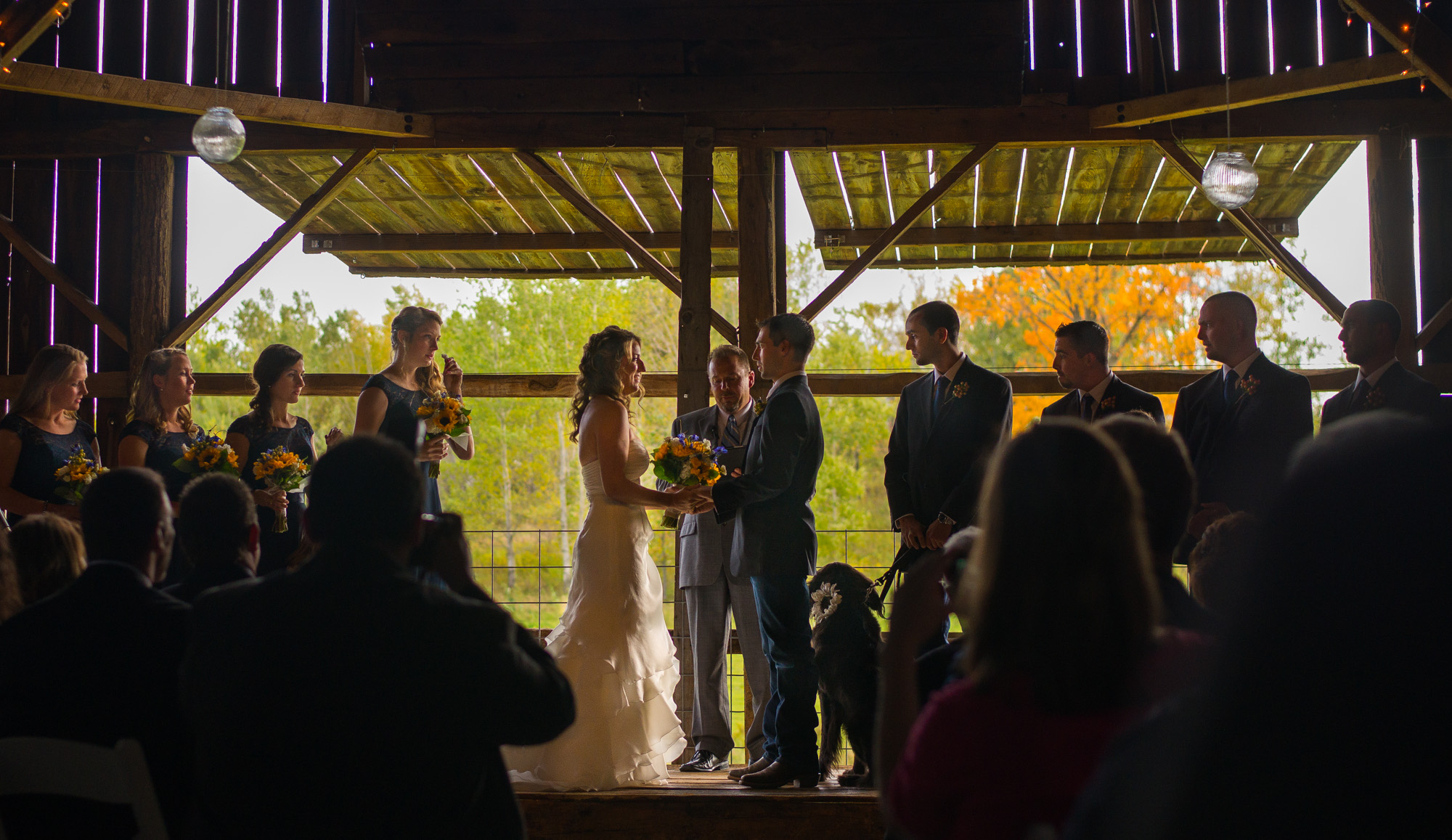 A beautiful country-farm backdrop provided some perfect photos of friends.
Paige and Bobby: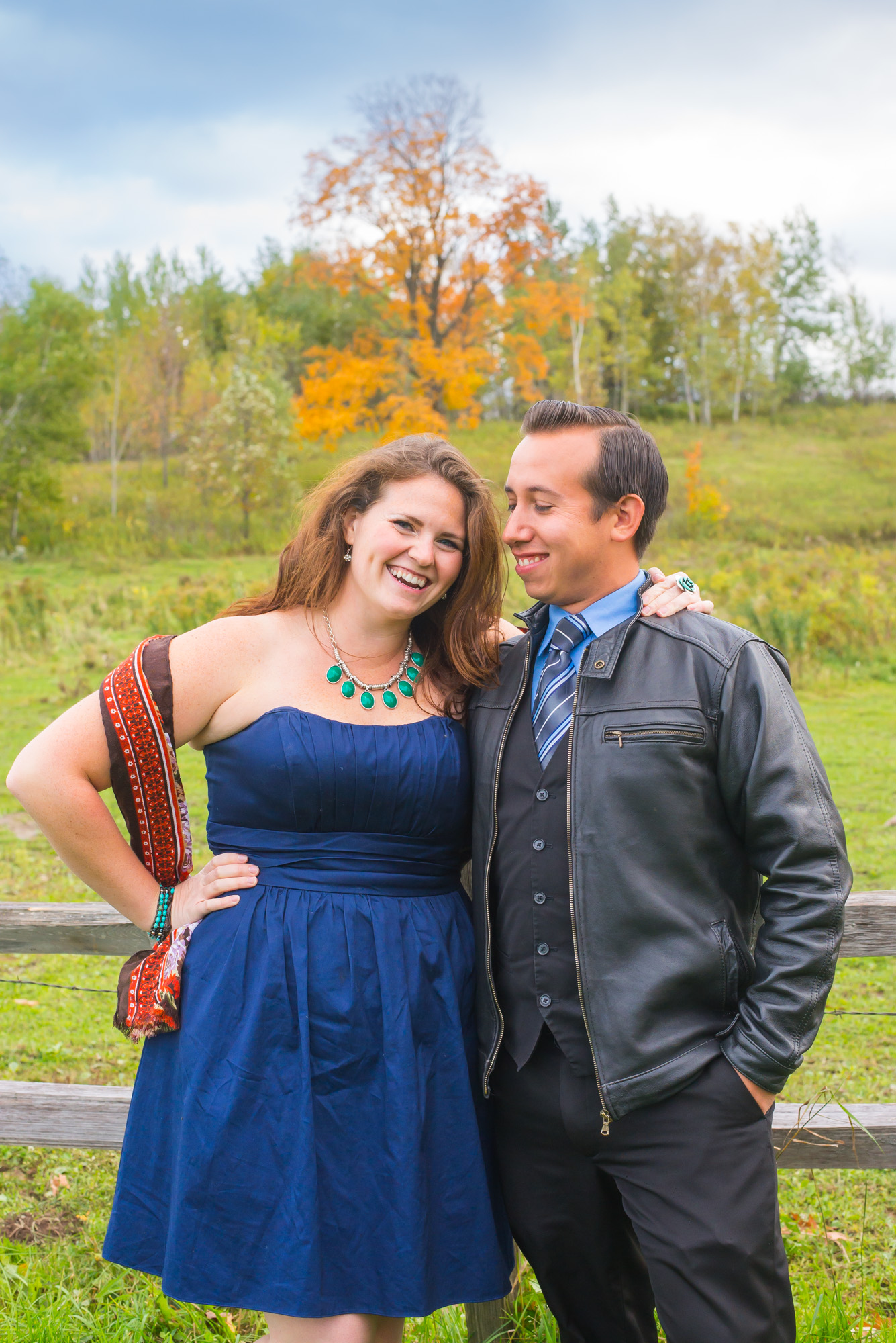 Tyler and Alisha: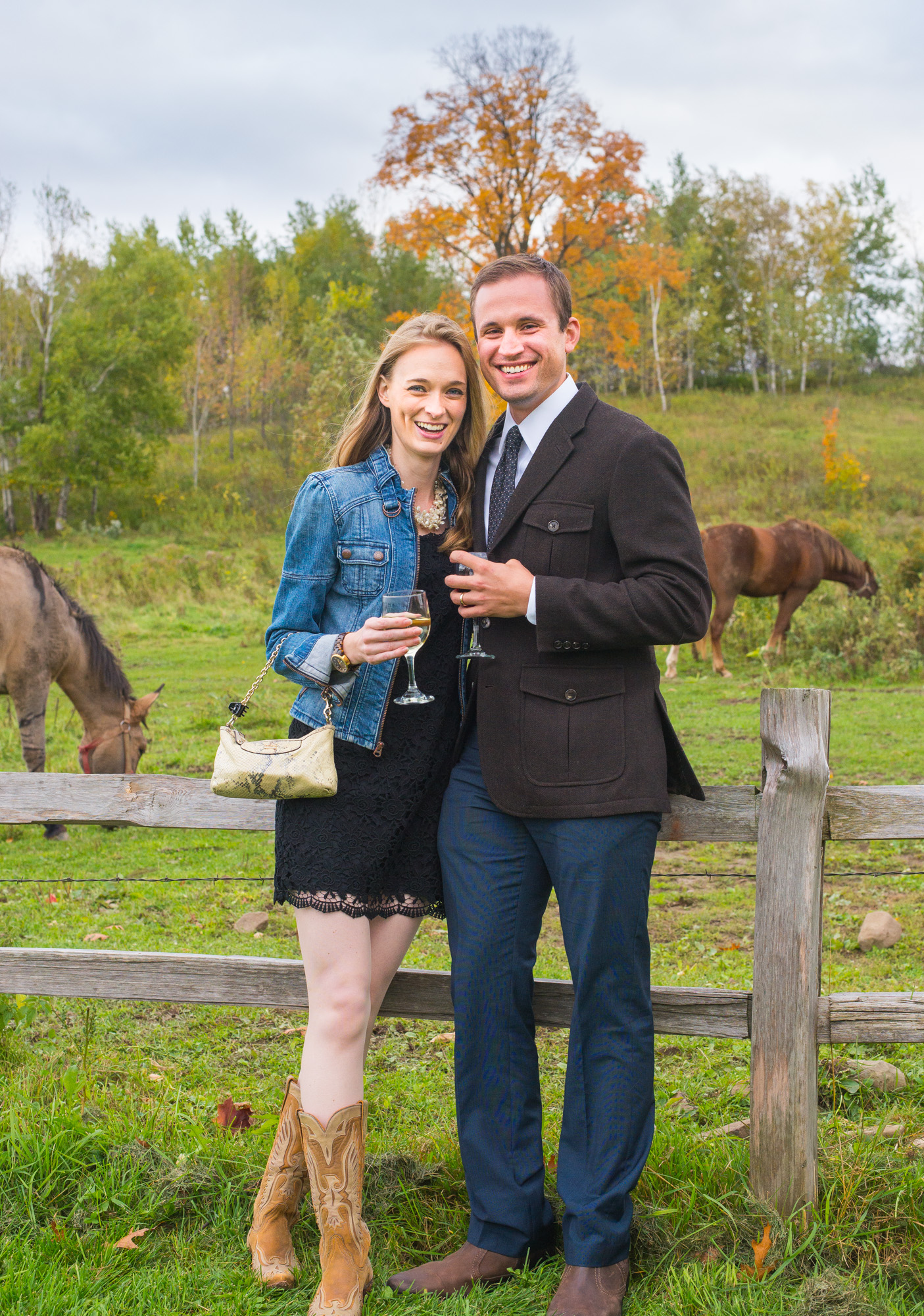 The Maid of Honor (Whitney's sister), delivering a perfect speech: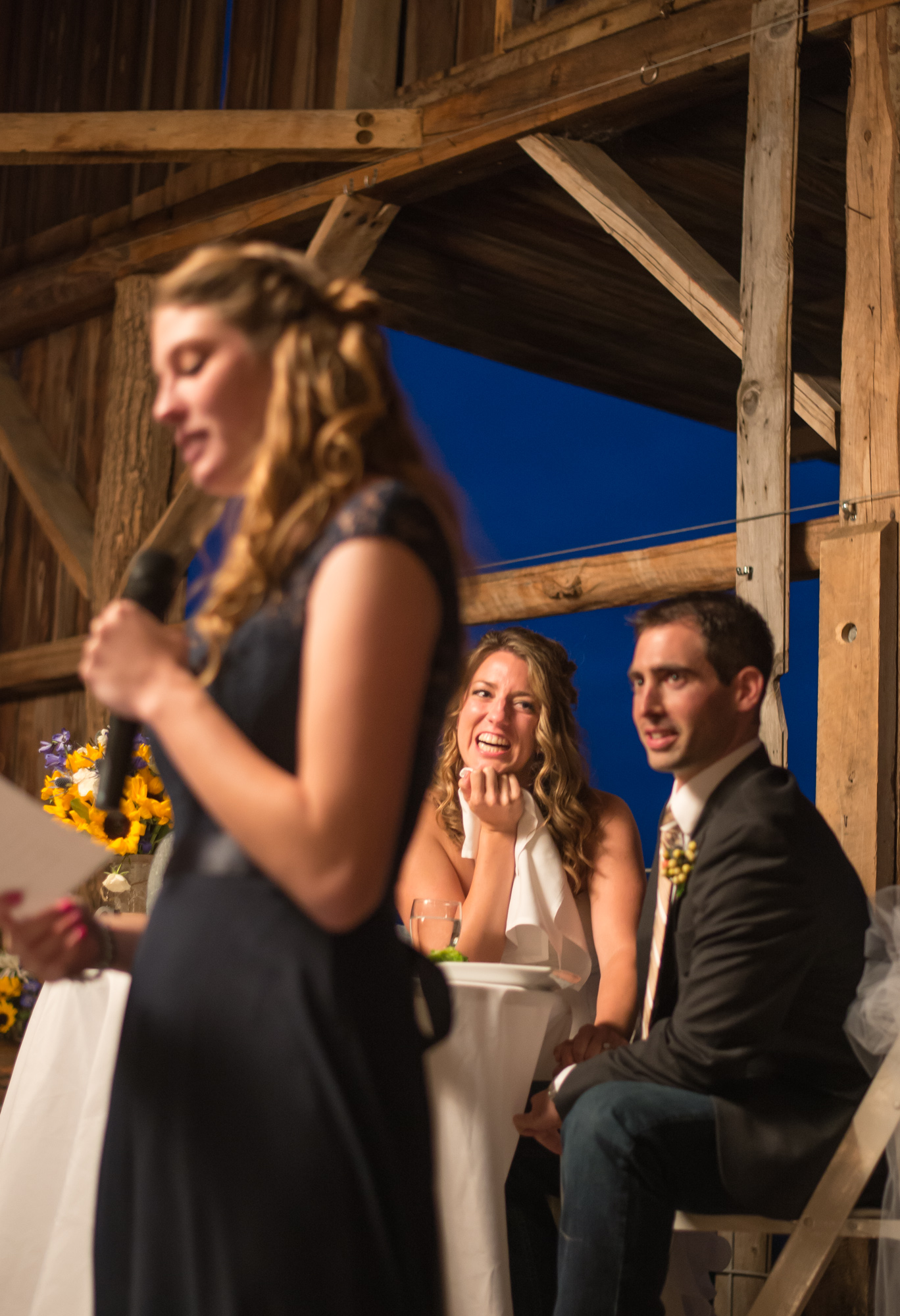 Andrew digging for something down there: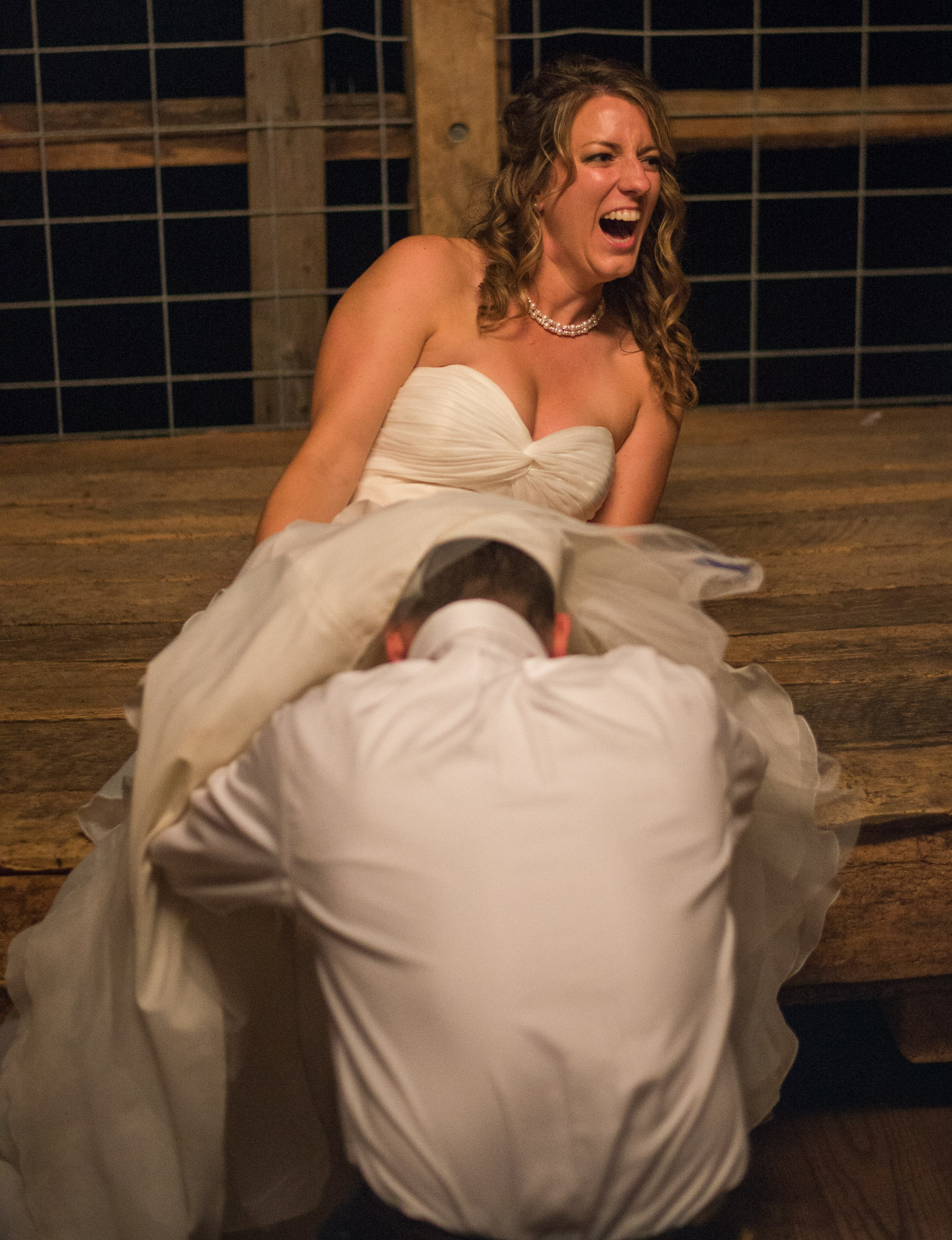 Kid-friendly fireworks: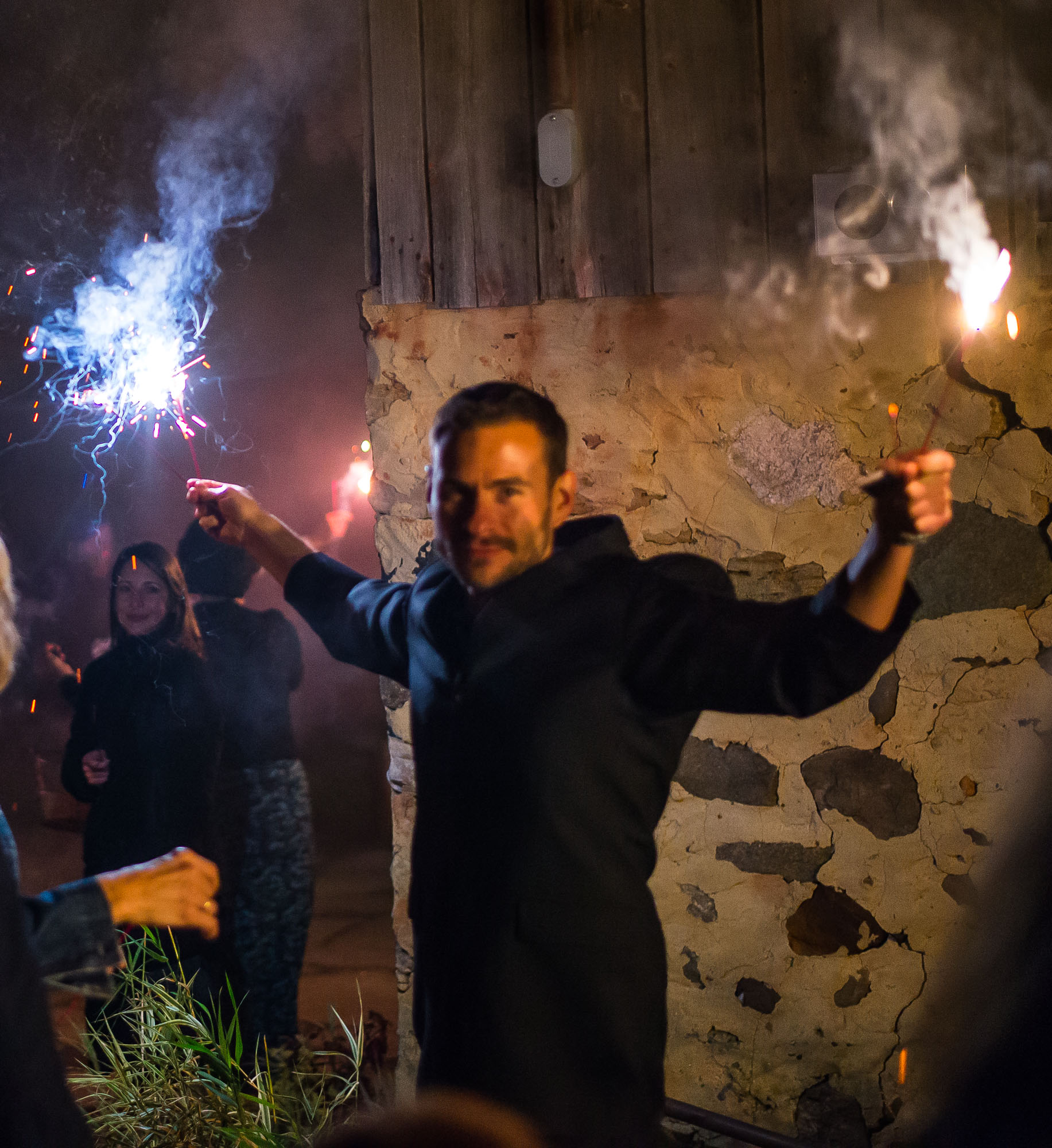 Awesome wedding in a perfect barn setting. Check out the full-album for more photos!
Congrats Andrew and Whitney!!!!!
When: October 1st-2nd, 2014
Who: Andy and Caitlin
Highbridge Hills is home to one of the great disc golf destinations in the United States. Situated on over 500 acres this isolated complex houses 6 full courses and several additional alternate courses that use various teepads of the main courses (something like 120+ holes!). The area of Disc Golf is huge and the location is in one of the most beautiful spots in Wisconsin.
Caitlin and I were lucky to play two of the main courses there, Blueberry Hill and Granite Ridge, and get just a taste of this mecca of disc golf. We were in the area due to a wedding some of our best friends and since we were going to make the trek to Wisconsin anyways, we knew we had to visit. We spent one afternoon playing one course and one morning playing another course while camping out overnight at the complex.
Here are a few pictures from an awesome adventure. I have also included some more details to help any other people that may be planning a trek here as the details on this place are surprisingly lacking (considering it is a destination place).
We were greeted with an amazing full-rainbow on Hole #11 of Blueberry Hill on our first night (click image for full-size, basket is in bottom RH corner):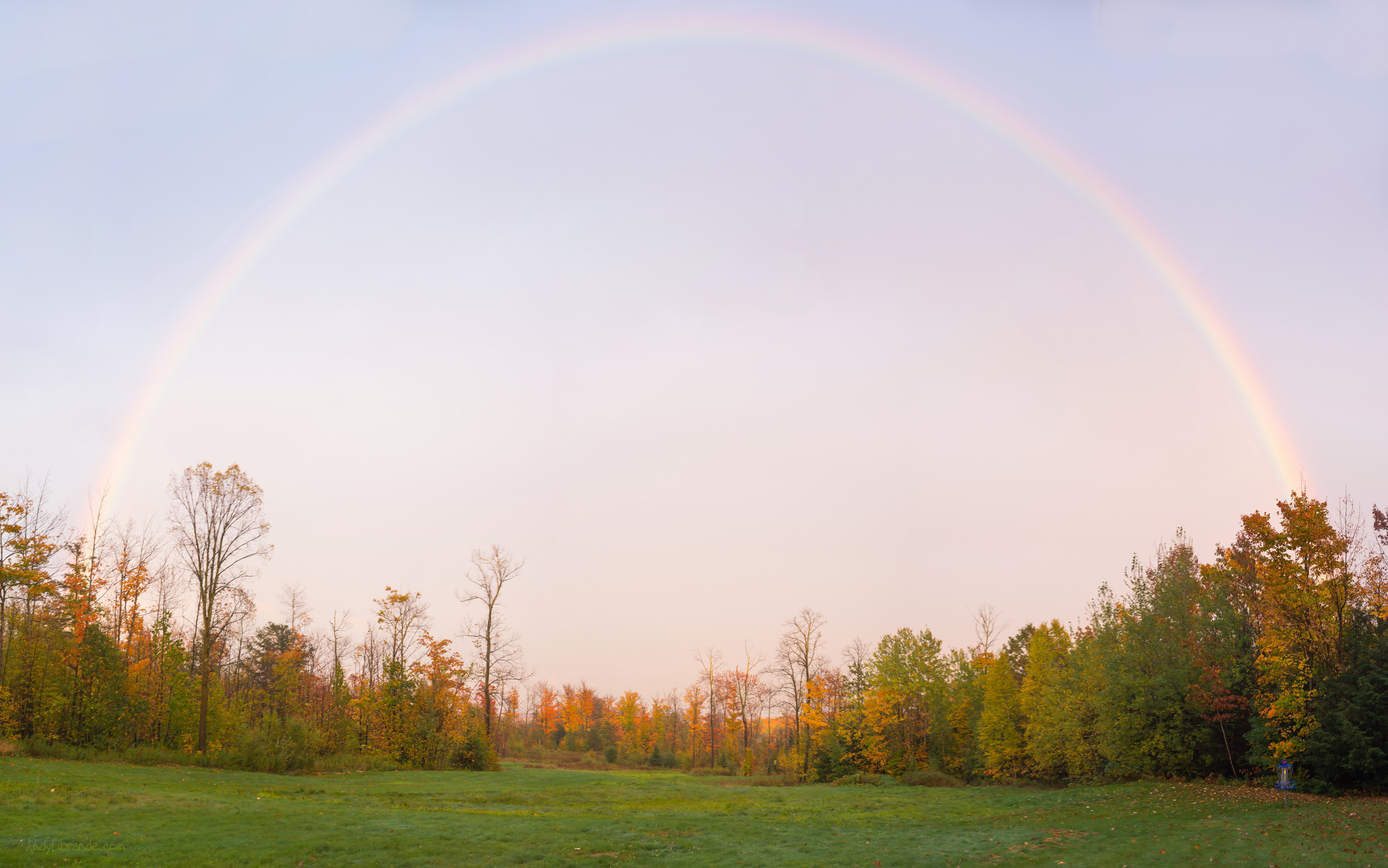 Blueberry Hills Disc Course: 
We arrived to the complex after 4 hours of driving mostly country roads. We left Minneapolis after picking up Caitlin's sister's car in downpouring rain and we drove almost the whole time in that same rain. Miraculously it was only lightly raining when we pulled up to the seemingly abandoned course.
It was the middle of the week and it was raining so the lack of people around was not surprising. After reading every map on the wall in their unique clubhouse and realizing that the camping was in a different place, and still being unsure of what to do since we were told people would be there, we just decided that light was fading quickly and we were going to get at least a few holes completed.
We started on Blueberry Hill and after a few holes the rain lightened-up and eventually came to a halt. The views were limited but everything we did see was incredibly beautiful.
Hole # 8 played through some really cool forest into an open field and then back into the forest. Lots of variety!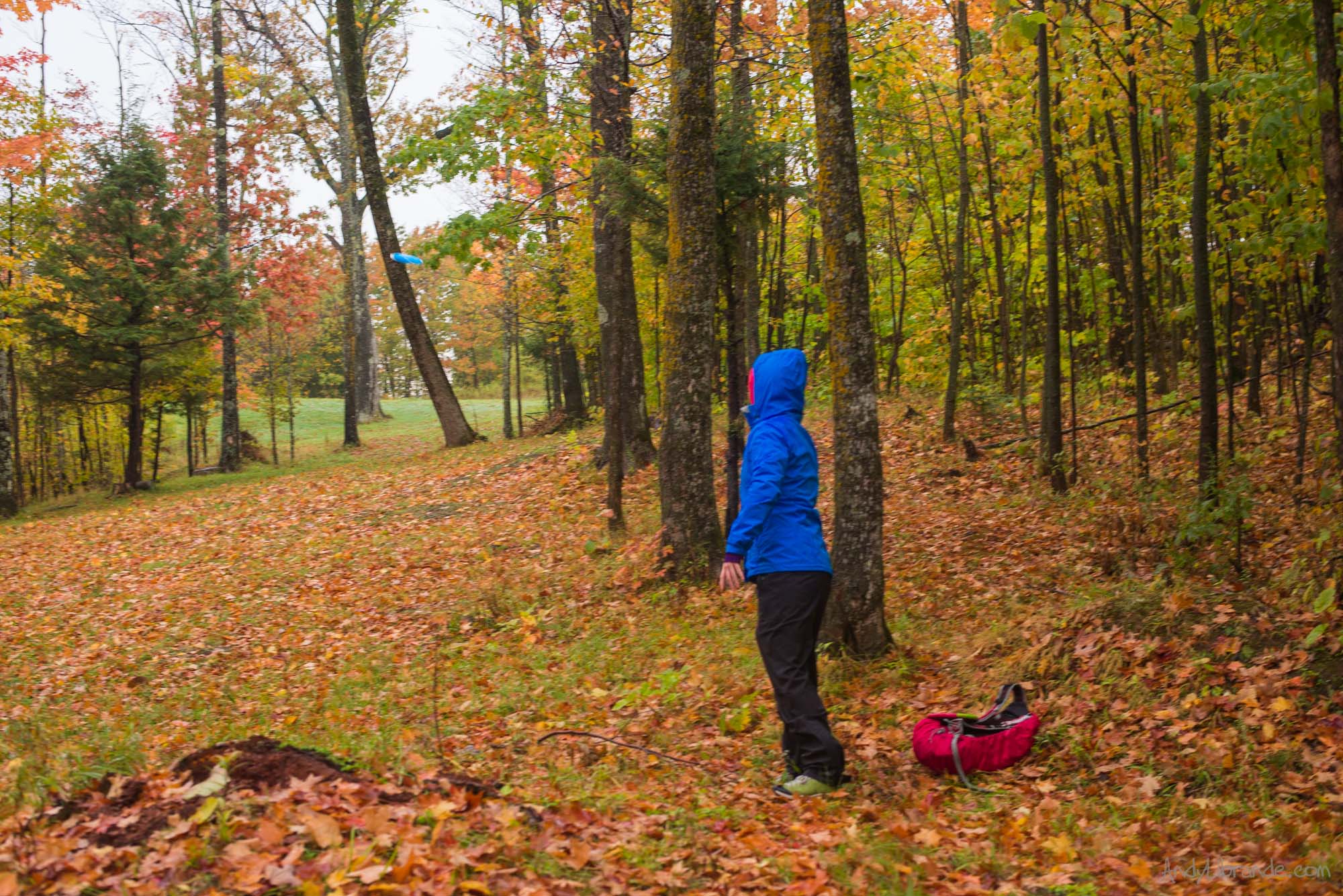 After losing a disc in some really thick grass, soaking ourselves while looking for it and generally wasting a lot of precious time, we were greeted with an amazing full-rainbow on Hole #11: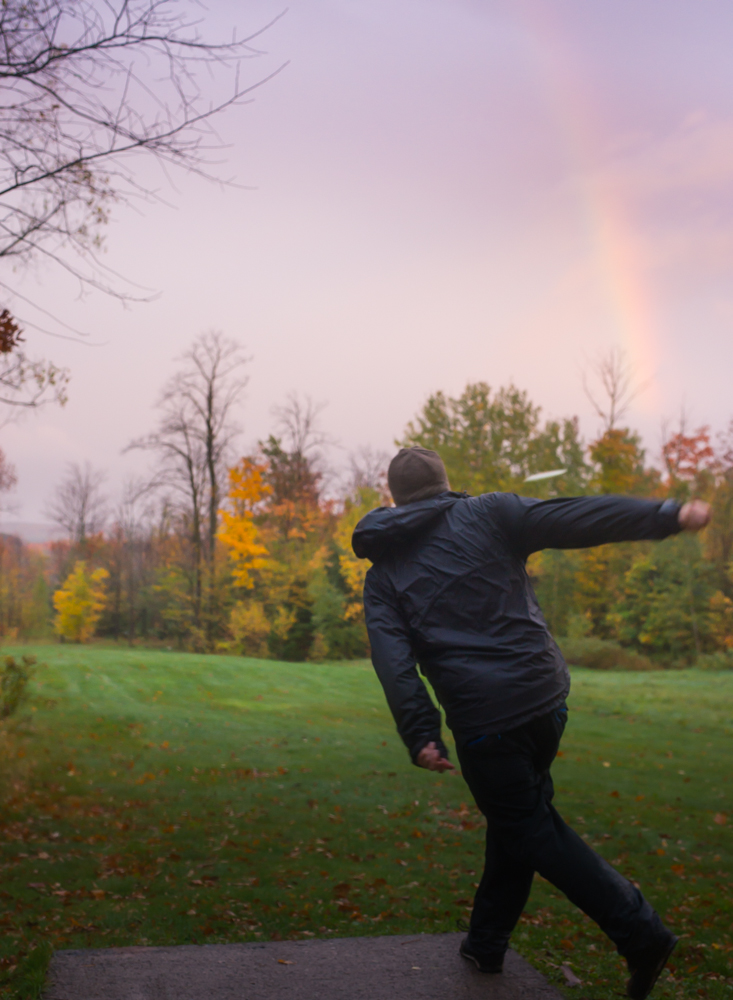 The sunset continued: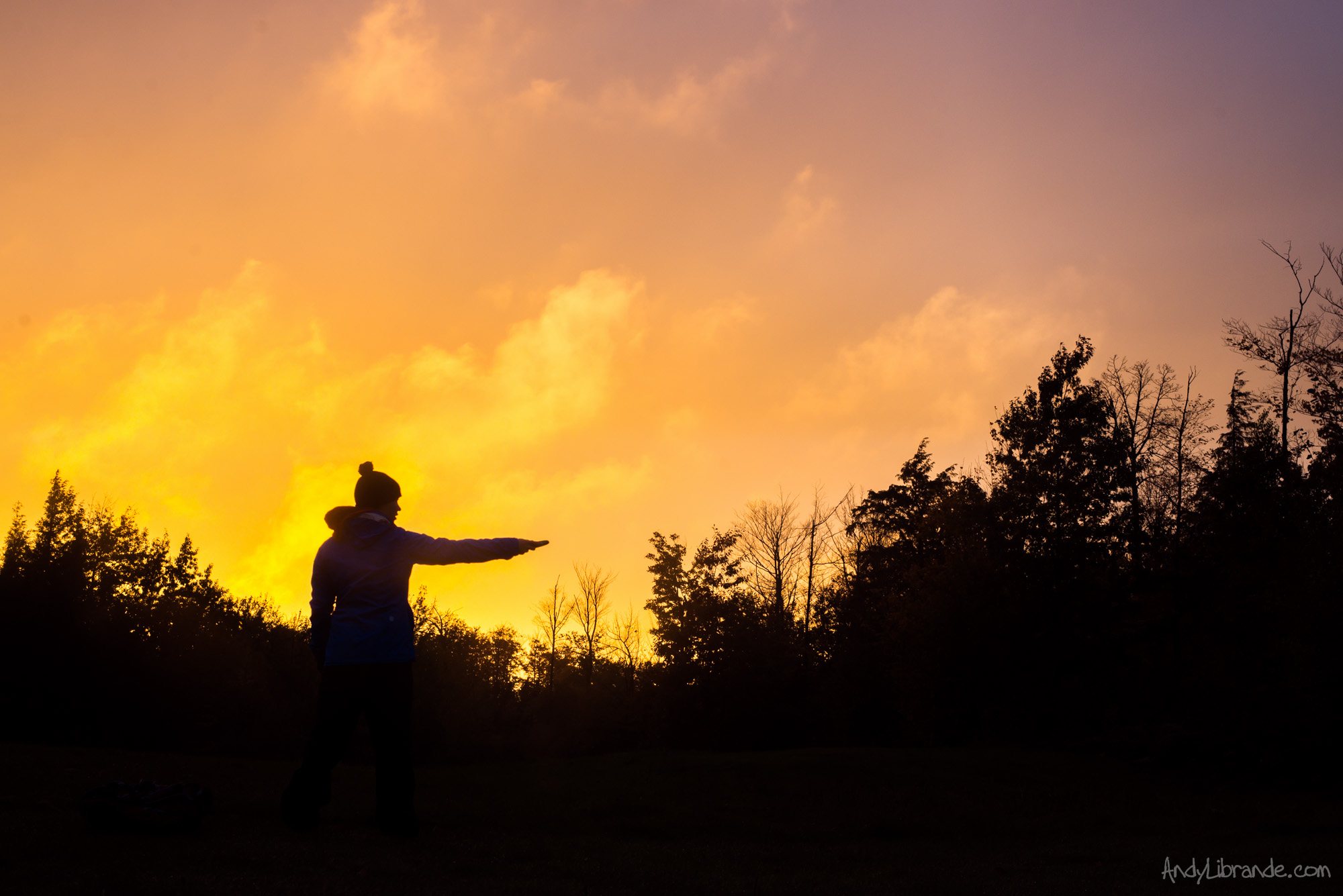 We finished the round in the dark after getting confused on the course and playing a few holes of one of the other courses there. Afterwards we headed to the campground area for the night.
Granite Ridge Disc Golf Course: 
We awoke Thursday morning to clouds but no rain. After a early breakfast we were on the course at 9am. Granite Ridge was my favorite of the two courses as it had quite the variety of terrain (everything from tight trees, to open fields, to doglegs, water hazards, and swamps).
Hole #7 Granite Ridge is a tricky bastard. It calls for water on the lefthand side and you can't see this large pond hidden behind a small amount of brush. Aim right. Her disc is visible and looked like it landed right on the edge of the green; however it was <5 ft from hitting the lake.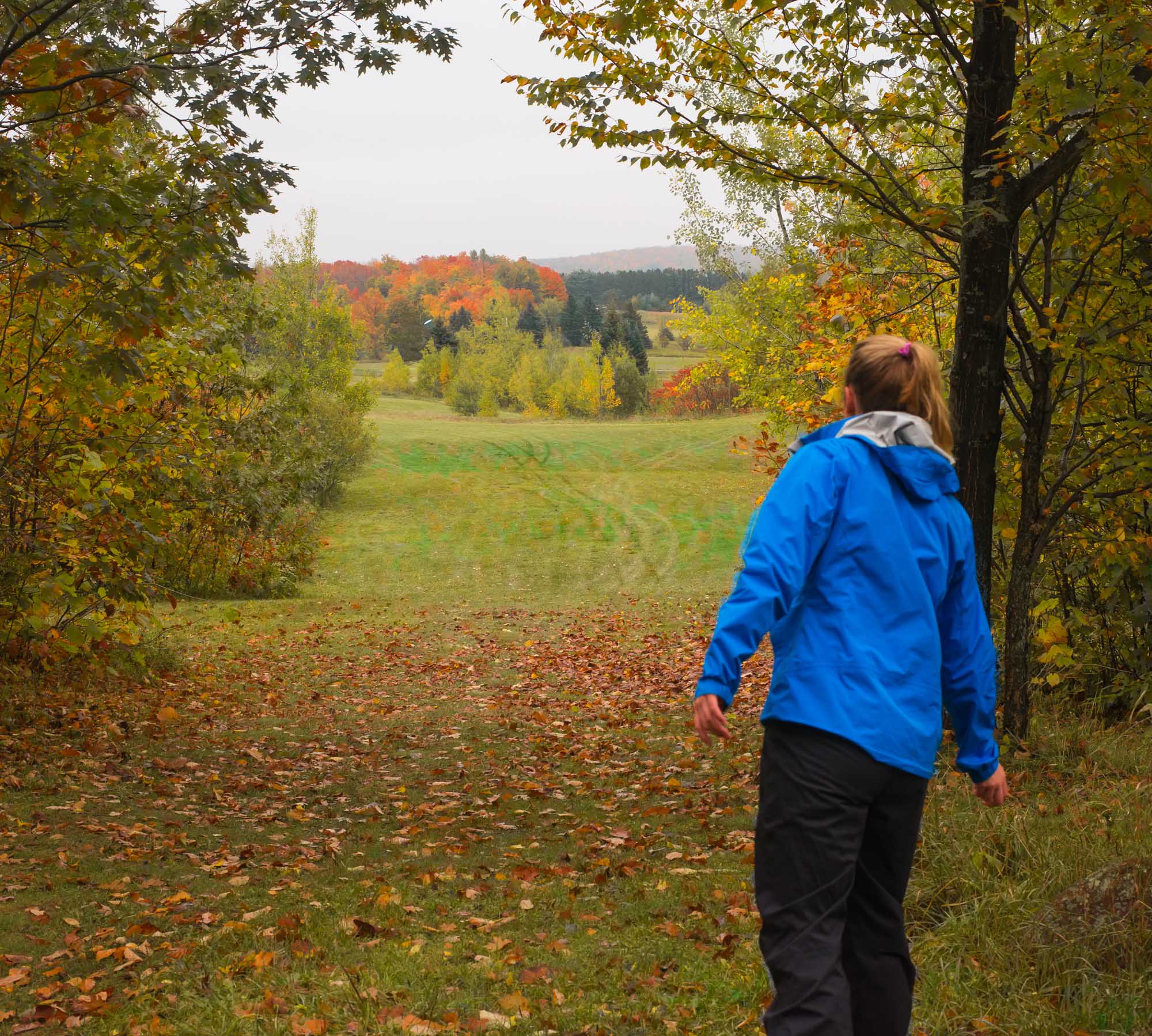 Myself teeing off and smacking a tree on Hole #6. To provide a little context on the height of some of these amazing trees on the course: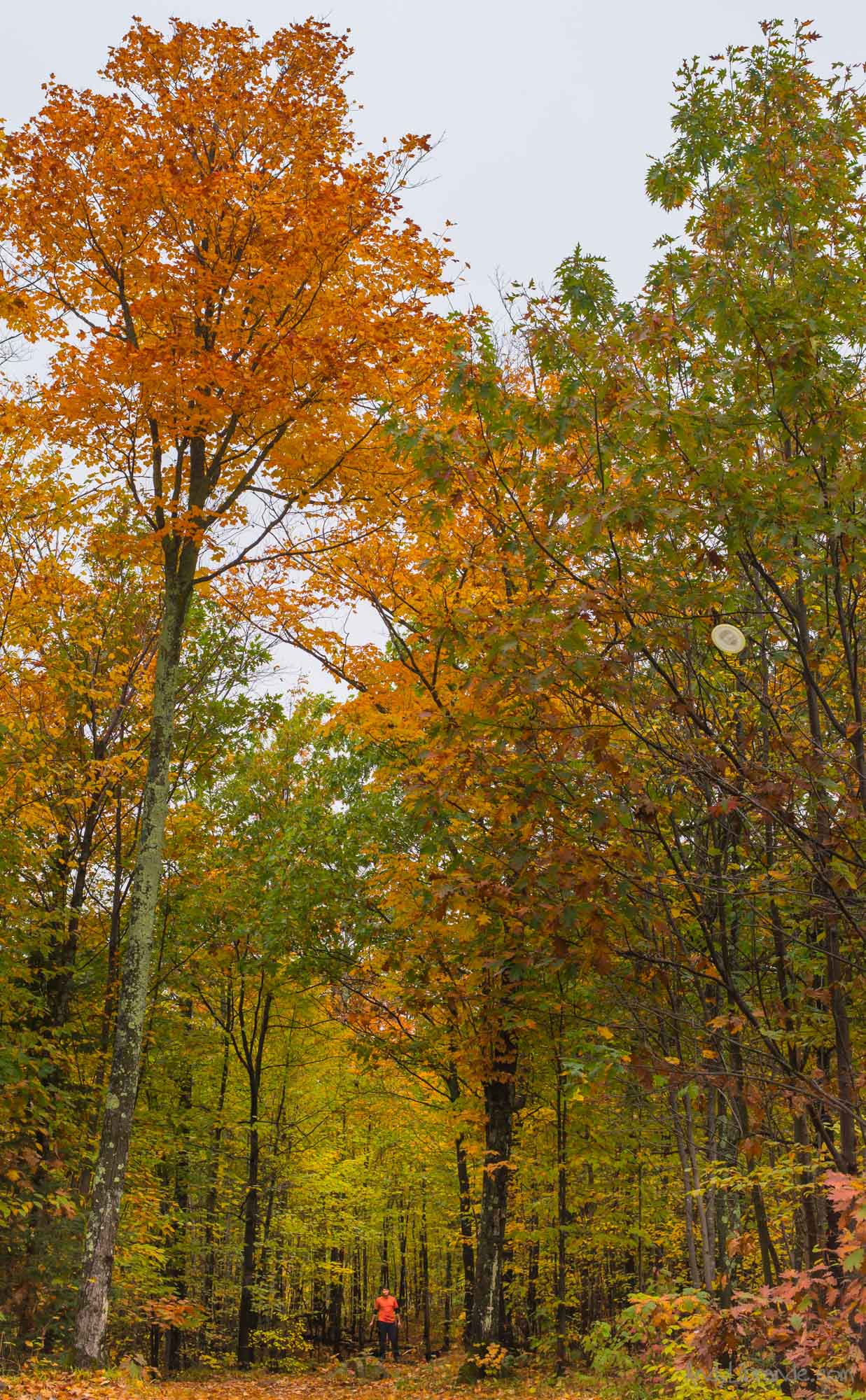 We had pretty bad weather and luckily it cleared up enough for beautiful views of the surrounding Chequamegon National Forest. Hole #11 on Granite Ridge: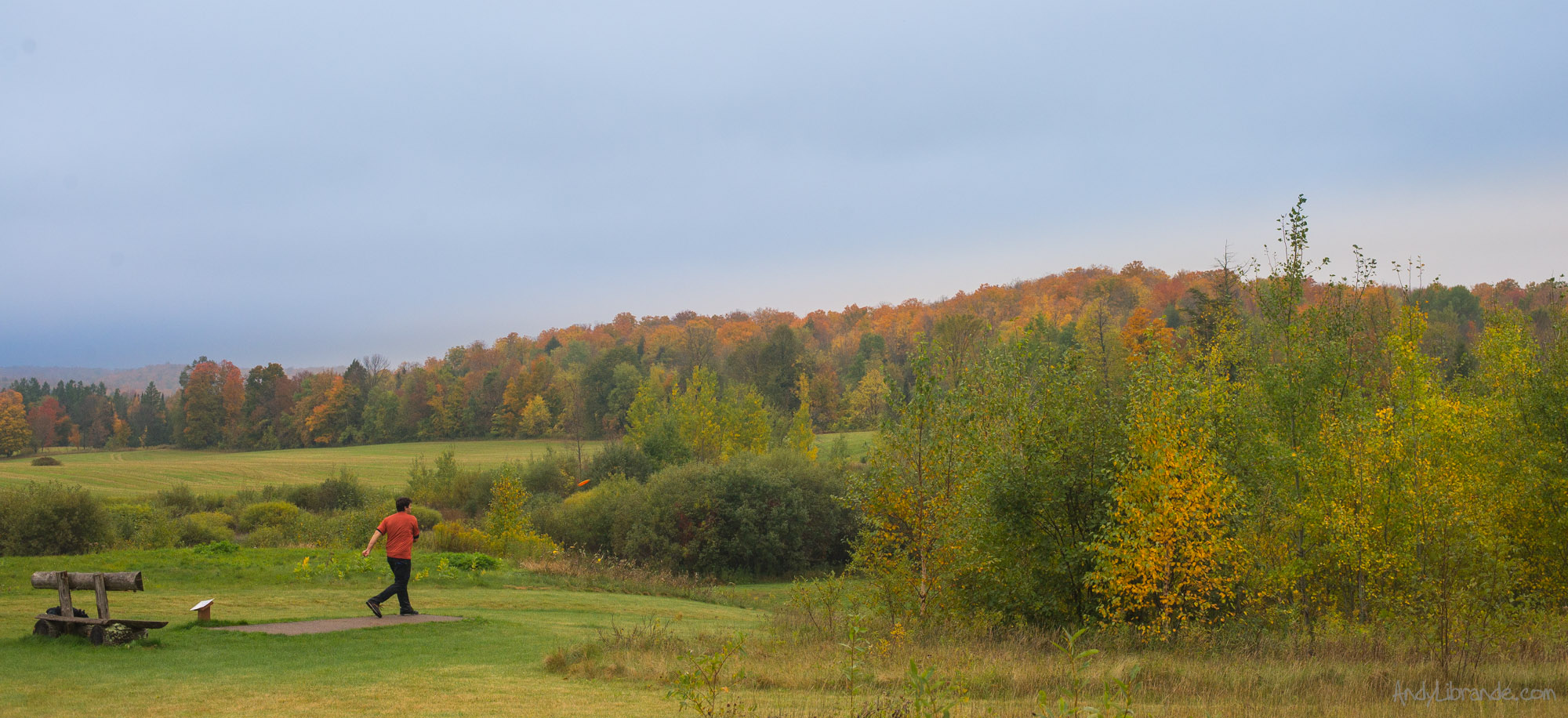 After about 3 hours of somewhat slow playing (at least 4 times looking for discs but found all of them!) we ended our round, ran into Mike and Jonathan at the clubhouse and headed on the rest of our adventure to the Lake Superior area.
We just had a taste of the courses on the property and while unlikley we will be in the area anytime soon I hope that I can come back and experience the rest of the course.
Read more on camping at Highbridge Hills, other logistics and a few more photos: 
Read More

»