Victoria Falls Adventure Capital of Africa
---
Navigation to Detailed Trip Reports and Photo Galleries: 
VICTORIA FALLS (Zimbabawe):
JANUARY 11th 2016 thru JANUARY 14th 2016
Elephant Camp, Victoria Falls Wildlife Trust (3 Nights) 
Elephant Back Safari  (early morning of full Day 1)
Victoria Falls National Park (mid-day of Day 1)
Devil's Pool / Livingstone Island (Crossing into Zambia) (afternoon of Day 1)
White Water Rafting (19+ rapids up to class 5+) (all day on Day 2)
Safari walk with Sylvester the Cheetah (morning walk on final Day 3) (after this drive to botswana and fly into the delta)
Victoria Falls is Africa's adventure capital and we had way too much fun here! White-water rafting is the best we have done in our lives. Intimate wildlife encounters with Elephants and Sylvester the Cheetah. Let's not forget the incredible Victoria Falls National Park, or swimming at the edge of the falls in the ridiculous DEVIL's POOL!  This area is a must visit.
Don't come to Victoria Falls looking for rest and relaxation. There is just too much to do here!!
---
Arrival to Victoria Falls: DEN -> ATL  (16hr flight) –> JNB (overnight) -> Victoria Falls, Zimbabwe. Picked up by the Elephant Camp.
---
TRIP REPORT to VICTORIA FALLS: Visiting the National Park,  Swimming in Devil's Pool, Wilderness Elephant Back Safari, and Walking with Cheetahs!
I wake up. My ears are filled with a million different sounds, none of them familiar. I focus and I hear chrimps, squawks, and hundreds of beautiful little songs. Birds are everywhere and are providing the best wake-up call one could hope for. As I roll over my eyes focus on the glowing sky…the sun slowly rising on our first morning in Africa.
We had an adventure in front of us but had no idea of what we were about to experience for the next 18 sunrises. We had just arrived to Victoria Falls on our first stop of the trip. After this we would fly into Botswana and spend 3 nights in the Okavango Delta, 3 Nights along the Linyanti river, 5 nights camping in the remote Central Kalahari Game Reserve, and finishing at the Makgadikgadi Salt Pans.
The sounds of the morning draw me outside to our deck that overlooks the landscape. In the distance the obvious "Smoke that thunders" rises from the jungle. Our objective for the day is to visit one of the world's largest waterfalls, the famous Victoria Falls. We are at the Elephant Camp which is a very luxurious camp (thanks friends+family!) with incredible landscape views and individual tents suites (aka hotel suite style) with a personal pool, outdoor shower, and lots of privacy; key items for the start of your honeymoon. Baboons and cape buffalo were watched from our tent with a electric fence being an attempt to keep these wild animals out. The food, beverage was also top-notch serving up delicious fish from the Zambezi, antelope, and other local dishes.
This is the season where the water levels are rising. Higher water means Devil's Pool was about to close any day, the white-water rafting companies can't run the main rapids cause they are too large,  and the falls are covered with a thick mist. Our timing was perfect; the waterfall was quite dramatic, Devil's Pool blew our minds, and white-water rafting was fast and high flow!
---
Victoria Fall's National Park in Zimbabwe: 
---
First revealed to the Western world when David Livingstone 1855 was brought here by the local tribes. It is called the "Smoke that Thunders" due to the large plume of water vapor that is sent high into the sky and towers above the landscape.
The mighty Zambezi roars as we stand overlooking the country of Zambia. All we can see is a mile-wide sheet of  thundering water falling 400ft!: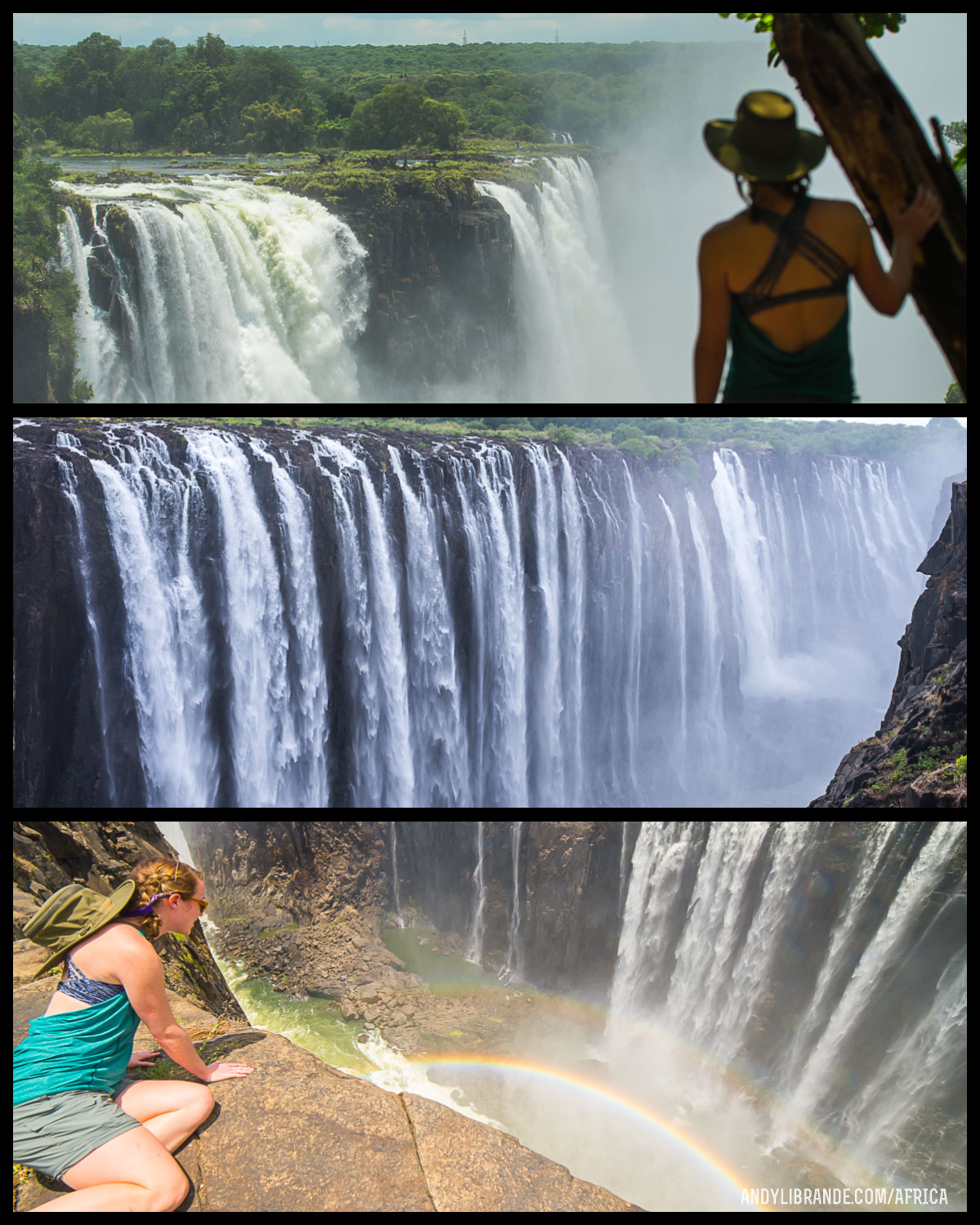 Beautiful park full of butterflies, literal rainforests, sketchy overlooks, and unique views at every overlook.
Height Comparison: Denver World Trade Center
---
Devil's Pool: Swimming on the Edge of a 400 ft waterfall
---
Crossing the narrow bridge into Zambia was part of the numerous steps needed to get to this crazy place. You have to take a boat to Devil's pool which means everything is organized through small group Guided Trips (ours had 7 guests). After launching from the boat dock we startled some hippos (our first wild hippo sighting!), weaved jagged rock outcrops, and landed on one side of Livingstone Island. Of course this is not the final destination and the group has to swim across the Zambezi to get to another smaller island. Remember any mistake and you are just feet from the top of this waterfall. Next thing you know you are being held over the edge of the falls looking into a white abyss!!!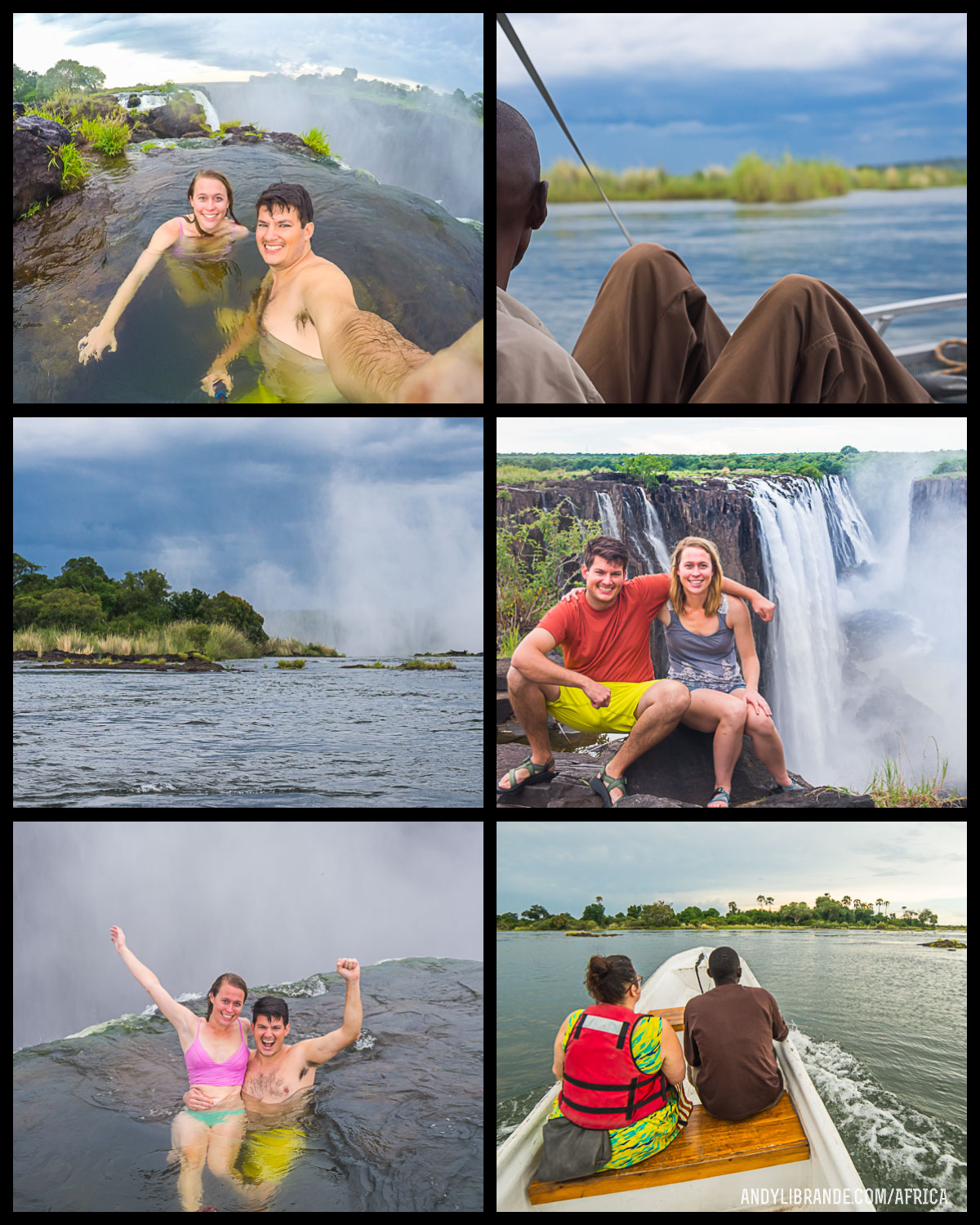 ---
Sylvester the Cheetah was raised by the Wildlife Trust and used for Educational Encounters
---
Our last morning we fit in a final activity when many people would have slept in and it was really worth it. A morning walk with Sylvester the Cheetah was puurfect.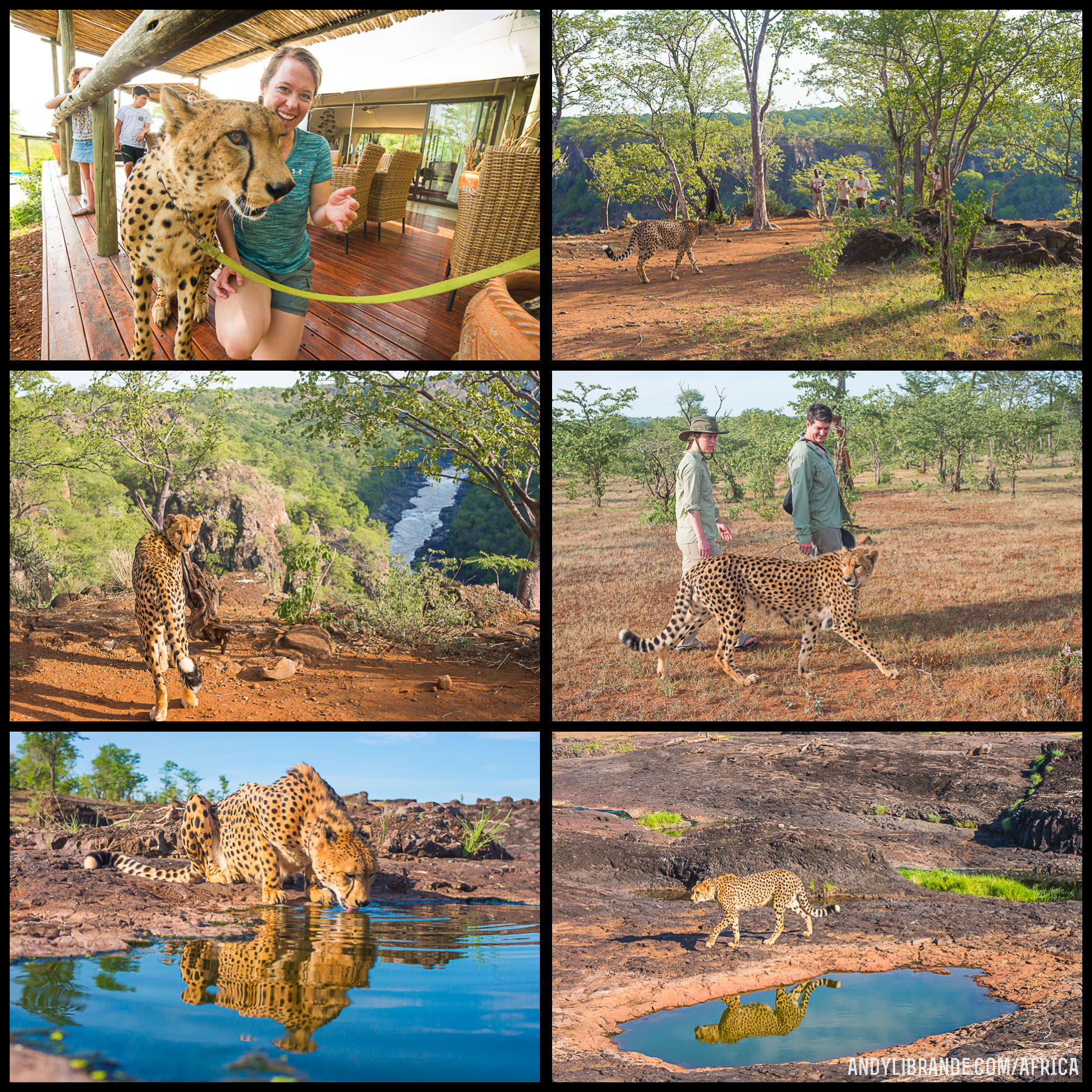 Sylvester was rescued when he was found just a few weeks old; his family apparently killed by other predators. He was adopted by the Wildlife Trust and it is a round the clock job to keep him engaged. Used to raise awareness and build support for Cheetah conversation in Zimbabwe. Since he was raised by humans he does not know how to hunt and is entirely dependent on human feedings. We took a morning walk in the wild and was accompanied with an armed guide as we were on foot. Encountered several lone cape buffalo and kept our distance!
---
White-water Rafting the Zambezi River in January
---
19 rapids. Our guides name was Ilium and had been a river guide on the Zambezi since the early 1990's and is one of the pioneers on the river. Awesome experience being with someone that has spent nearly everyday of his life navigating this mighty and chaotic river.
GoPro pic from the bottom of the falls just before we set off and after an exciting walk down a steep staircase made of steel and rock. Only had some old gopro video footage of this epic trip.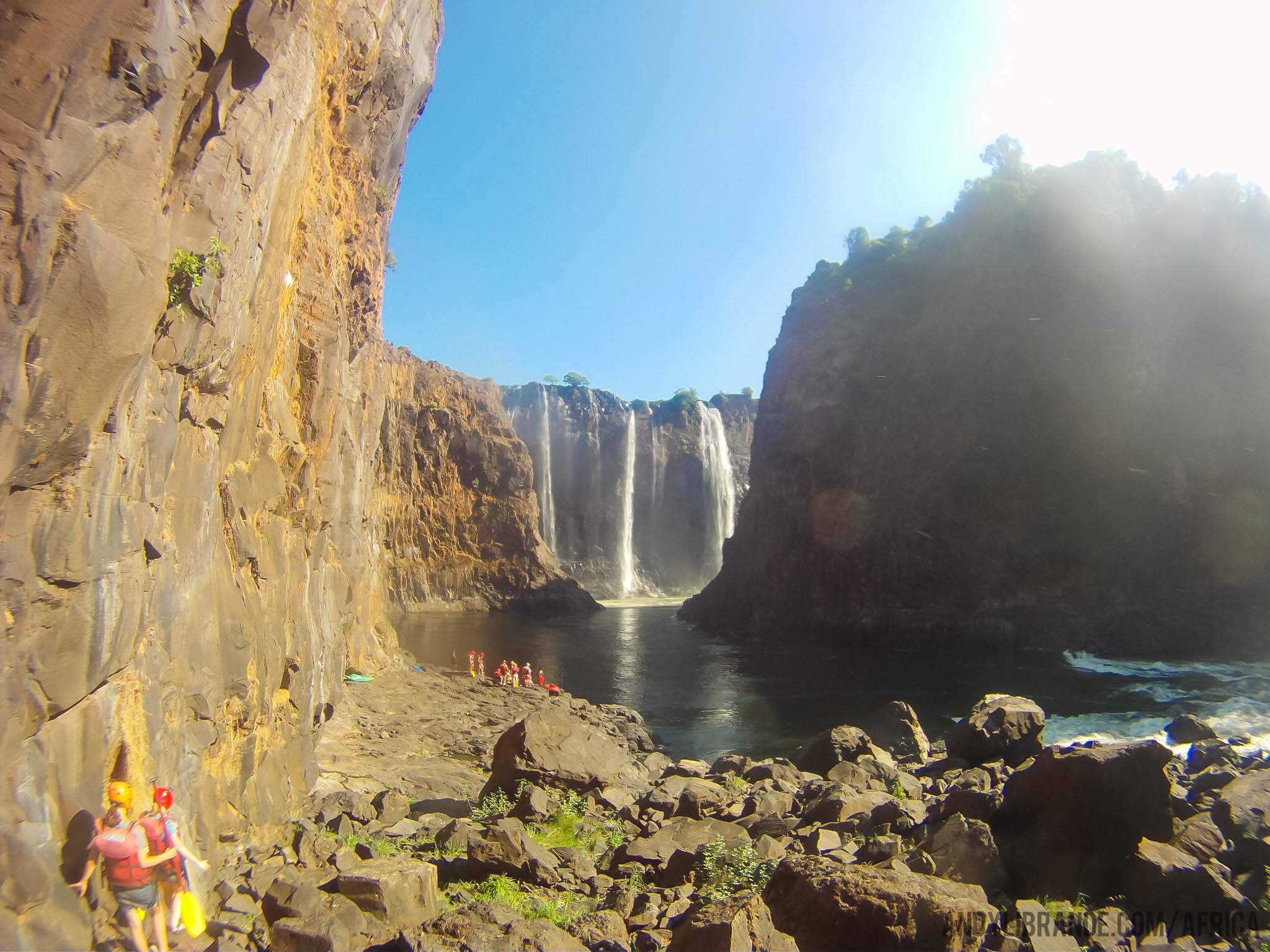 ---
Riding the Giants of the Earth: Elephant Back Safari with the Victoria Falls Wildlife Trust
---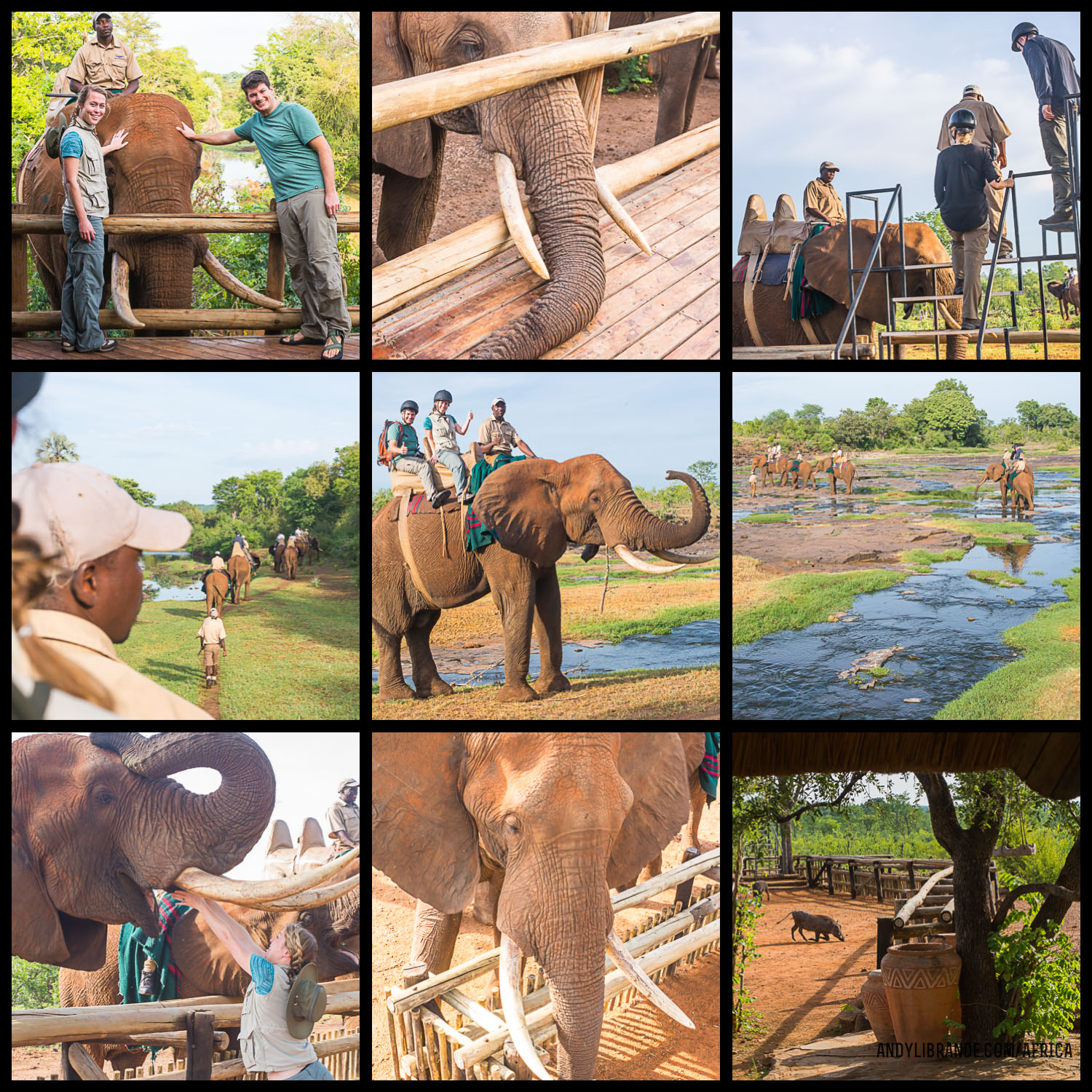 Operated by Wild Horizons (TripAdvisor Reviews)
Situated on the Victoria Falls Wildlife Game Reserve is this amazing elephant operation. The reserve is a huge chunk of land overlooking the Zambezi however full of its own forests, rivers, and gorges. Many of the elephants arrive due to culling (where the mom leaves/loses the baby) and our guide told us how he would sleep with the babies and help raise them. The cute little elephant babies need someone there 24/7. We rode a ~35 year old African elephant named Jock and he is an incredible beast.  He took us on a great journey as he chomped on trees and marched by cape buffalo.  Each elephant is regularly rotated and the total time you are out on their backs is around 45 mins to ensure their health.
Ooh yea you also sit pretty high up on them as they are at least 12ft tall + the seat making it easily 14-15ft off the ground. A bit exciting when this giant decides it wants to eat a tree against the desire of the elephant guide. We woke up early on our first day (does 6am wake-up calls cure jetleg? try it and judge for yourself) for this and worth the lack of sleep as it was a great experience!
---
Navigation to Detailed Trip Reports and Photo Galleries:
Copyright © Dandelion by Pexeto