When: November 11th, 2014 thru November 17th (barely enough time)
Who: Drove to meet-up with a crew: Mr Chris Storms + Sasquatch driving in from Oregon, Dirtbag AL: new friend roadtripping all over US and friend of Chris, Teresa: dirtbagging it with AL, and of course Caitlin + Andy driving in from Colorado!
Bouldering Areas Visited:
Camping Locations:
Side of I-70 at 2am just past Moab turnoff (Where caitlin and I slept due to late departure from Denver)
Catacombs Bouldering Area = amazing free camping location with beautiful views. Large area to camp in with numerous options.
Hotsprings Parking Lot
Forest Service Land just past the Owen River Gorge Sport Climbing Area. Drive as going to 3rd parking lot but continue on dirt roads until you find a suitable dispersed camping spot.
On way home stopped at Bryce Canyon for a night of camping and a surprise sunrise engagement PROPOSAL!
Our three vehicle crew all had vehicles we could sleep-in making it easy to set-up camp anywhere, protect us from the constant wind, and be mobile as we explored the numerous unique stops in the area.
View of Mt. Whitney and the Eastside of the Sierra Mountain Range (from Catacomb Boulders):

Bouldering at the Catacombs in Bishop California:
Bishop's least known climbing area was easily one of our favorites for our crew. Hiding in the shadows of the heavily publicized Buttermilks and Happy/Sad Boulders,  this bouldering area would be the crème de la crème in other locations. A short walk from the parking lot (and camping zone) and you encounter dozen of heavily pocketed walls, 15 ft tall, with perfect flat landings. Beautiful lichen covers the walls with an incredible backdrop. This was a great place to get into the mindset of the highball bouldering that was coming and stretch out after 20+ hours of travel.
Caitlin all smiles after hitting the top jug: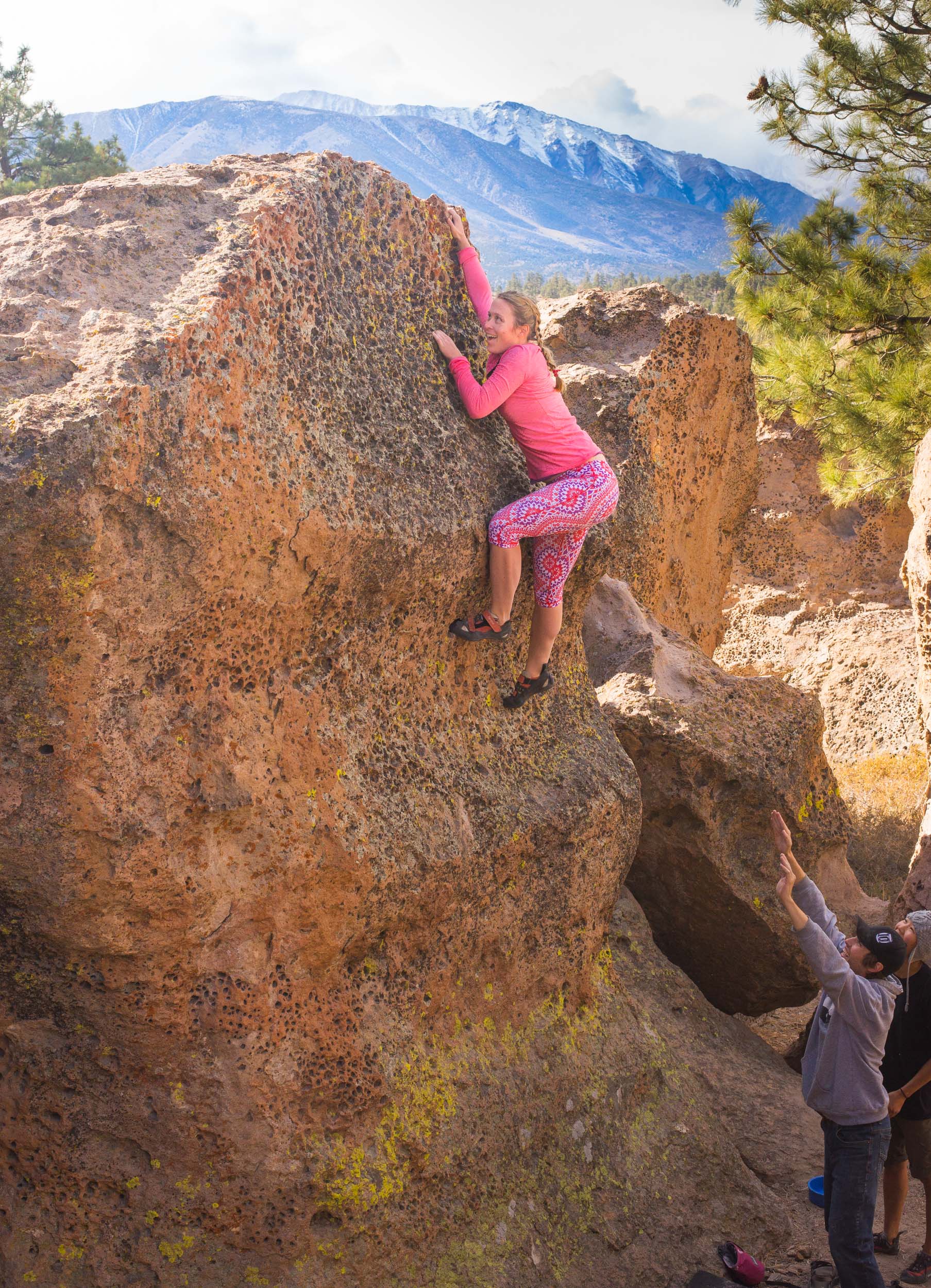 Chris working on the moves "I am a Beautiful Man":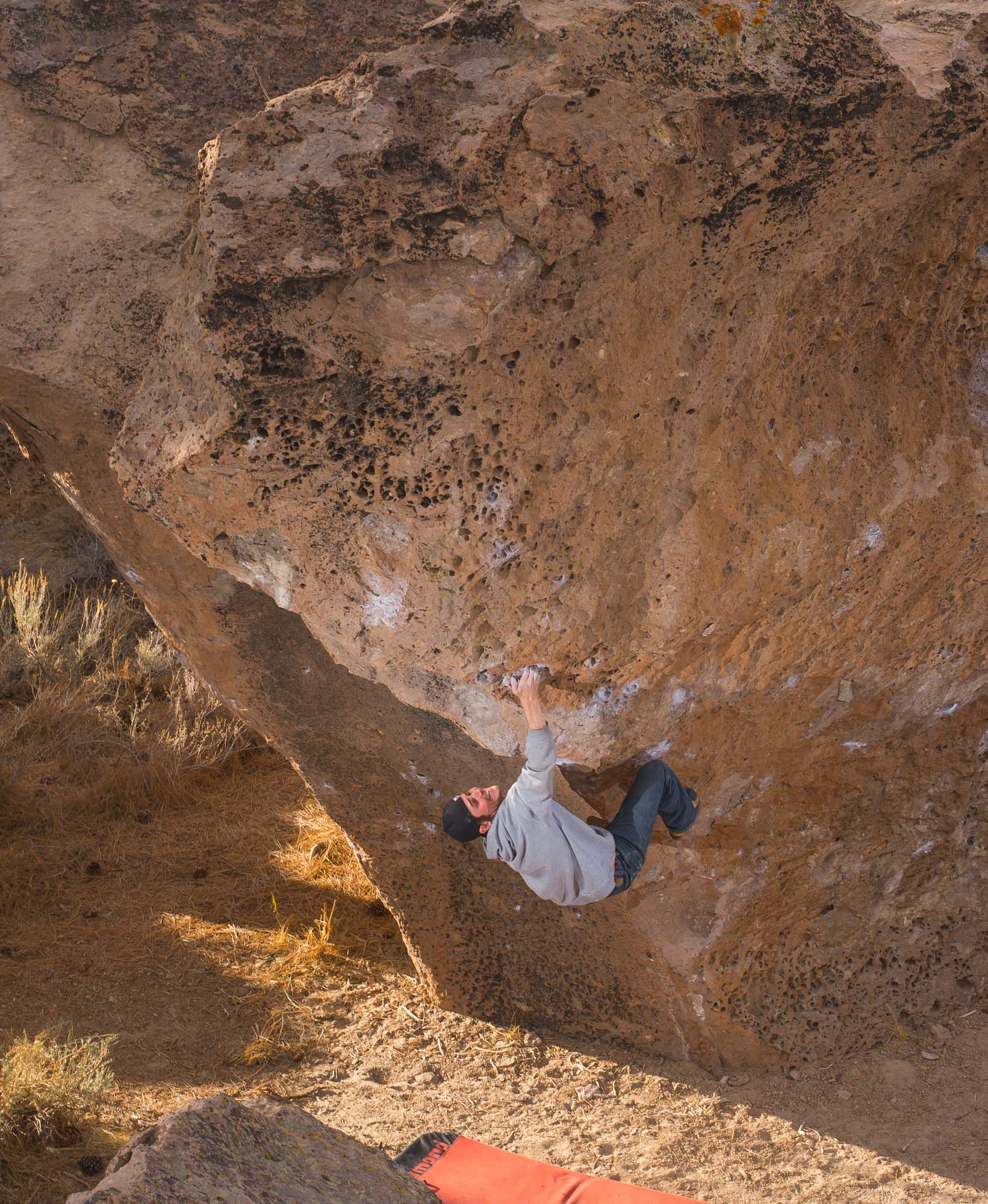 Located a short-drive outside of the town of Bishop, CA it sits high above the Owen River gorge with impressive views of the Sierra Eastside. There was no one else out there but us!! Below is the view from where we were camping: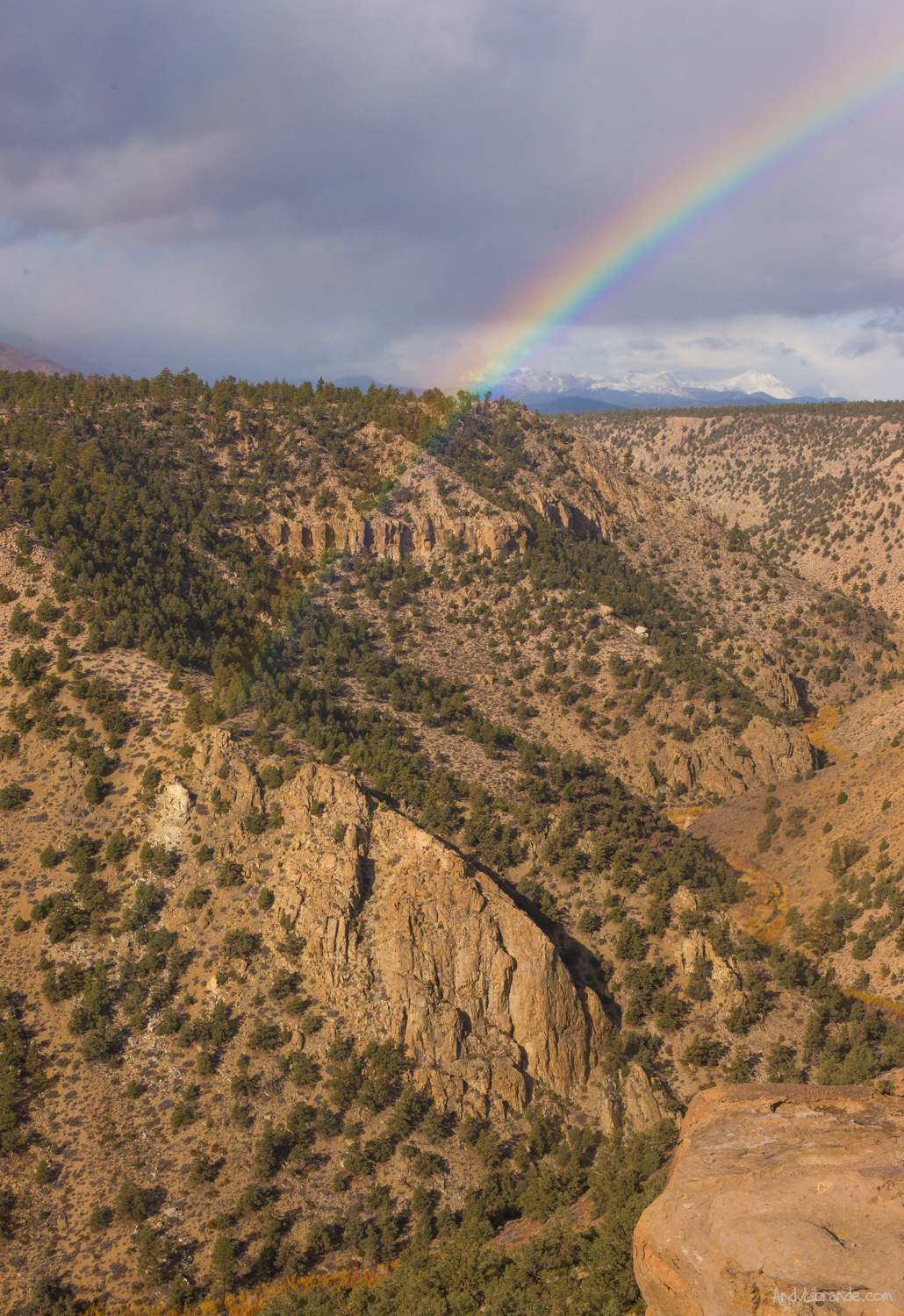 A few more shots from this great full day of bouldering. We spent 6-hours on the rocks (it helps when the cars/campsite/lunch are no more than a 5 min walk away):
A Day Exploring the Happy Boulders:
After breakfast at the Catacombs and 2nd breakfast at the world famous Schat's Bakery, we made it to the trailhead of the Happy Boulders. A quick but stout hike in the already warm temps landed-us in a paradise full of mammoth boulders. Walking down the trail and passing hundreds of climbs that are recognized from countless videos, magazines, and website posts, I was very excited to be in the Mecca.
Dirtbag Al and Theresa quickly took off and were ticking every highball moderate they could find.
Caitlin stepping outside of her comfort zone with the highball Duck Soup on the Savannah boulder: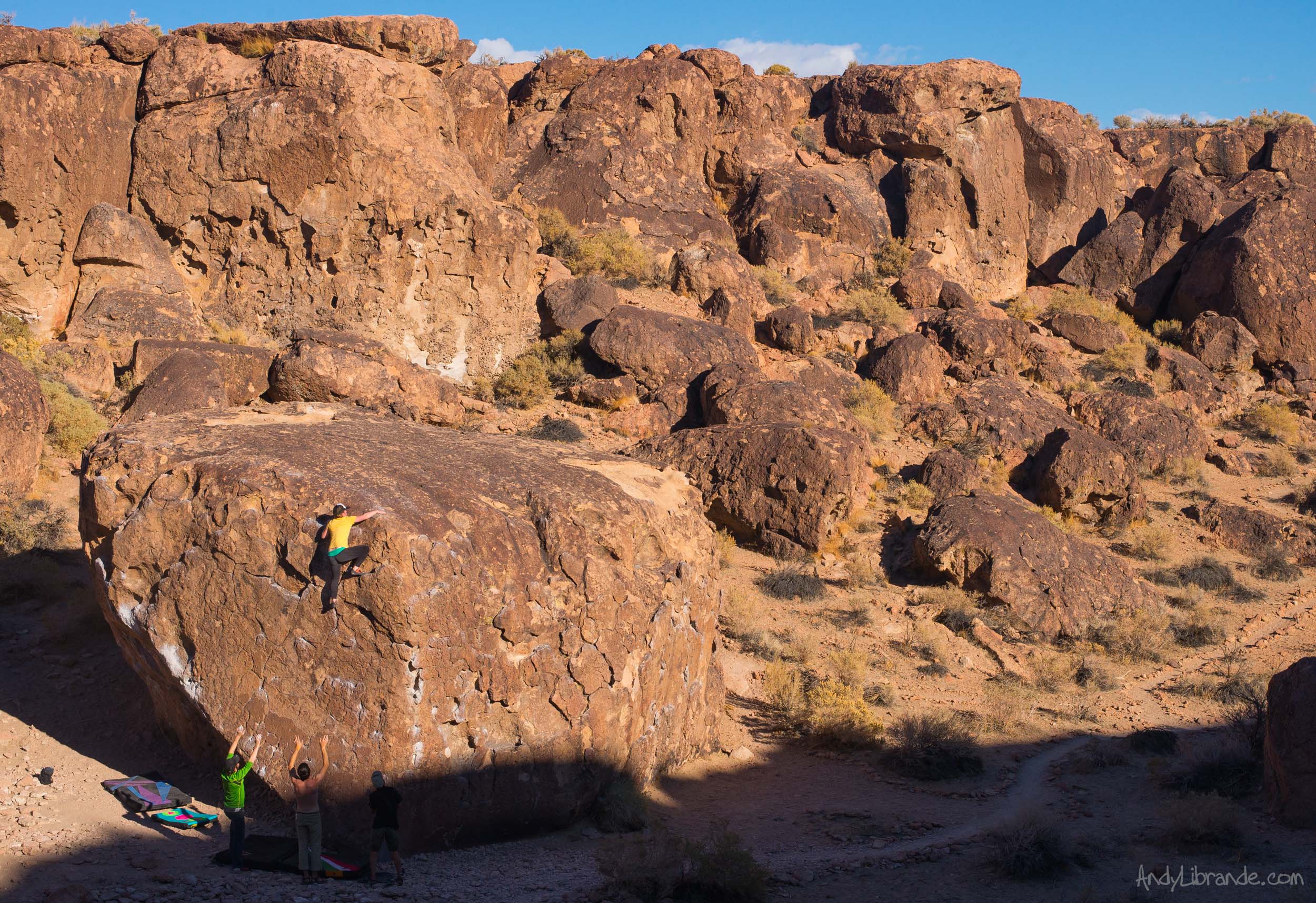 Dirtbag Al with a long reach to stick the crux on Ketron Classic v4: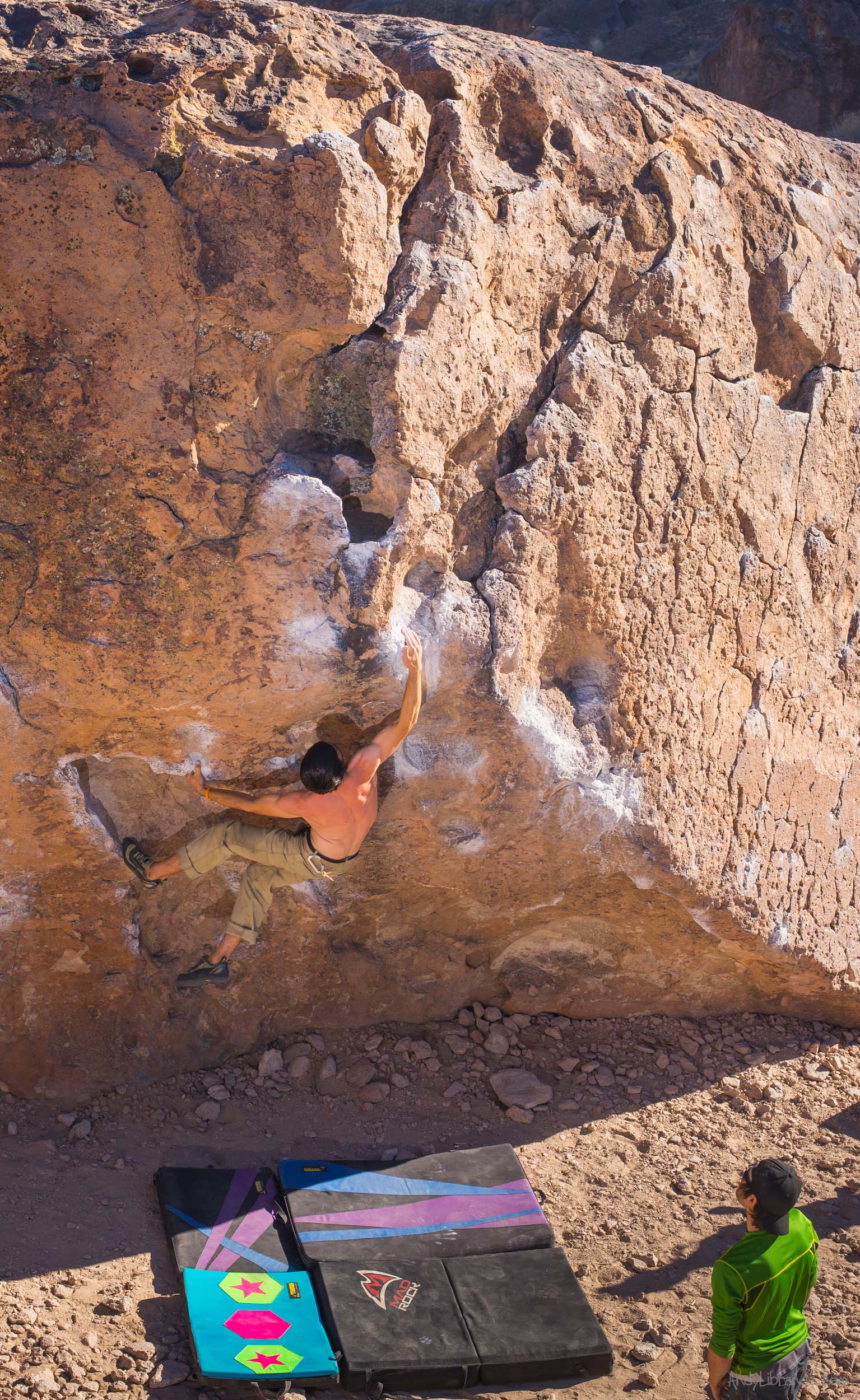 The last light fades over the Sierra's as we watch from the rim of the Happy Boulder's: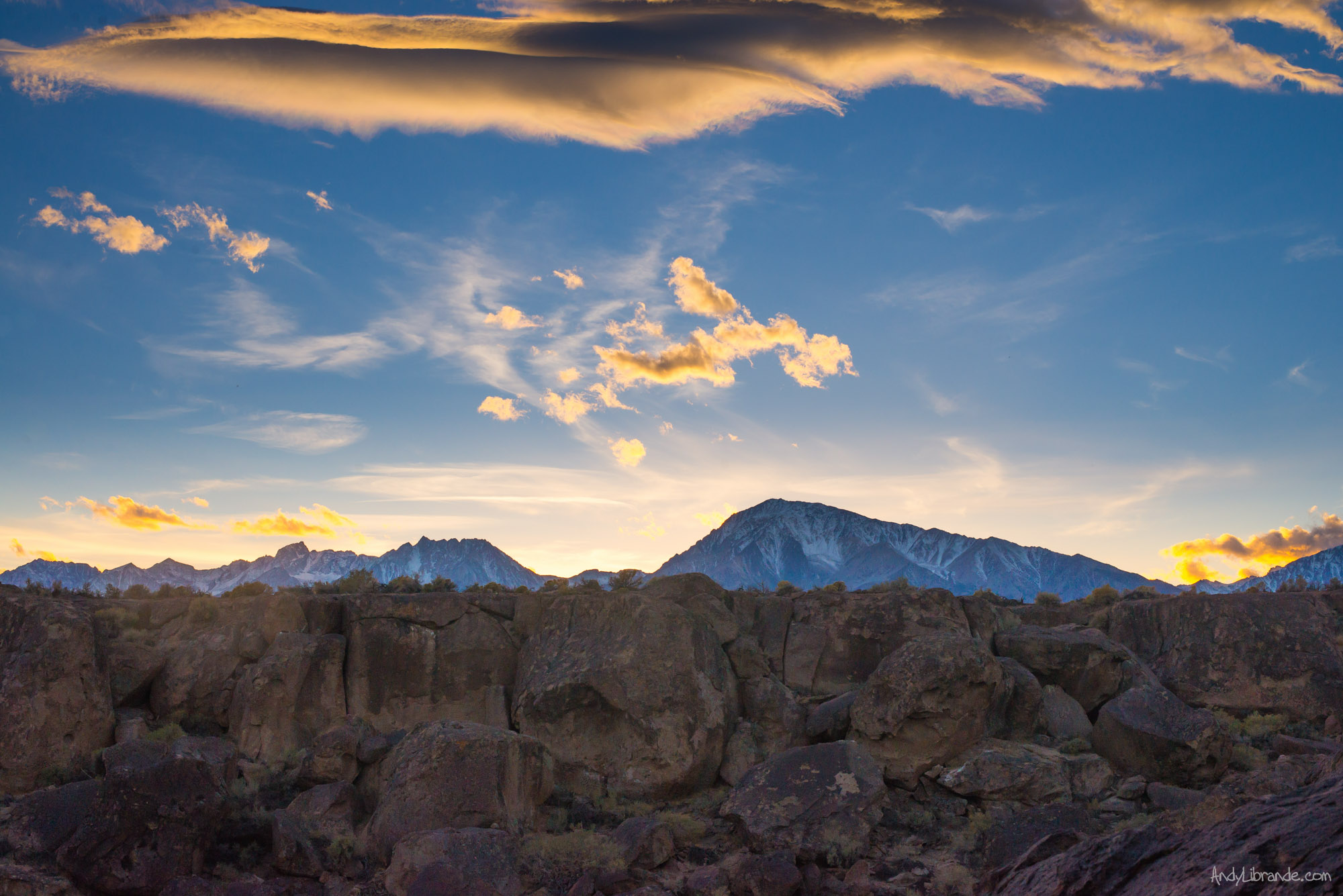 A few more photos from the day (hover over for descriptions):
Teresa on the crazy pockets of Sixty Foot Woman: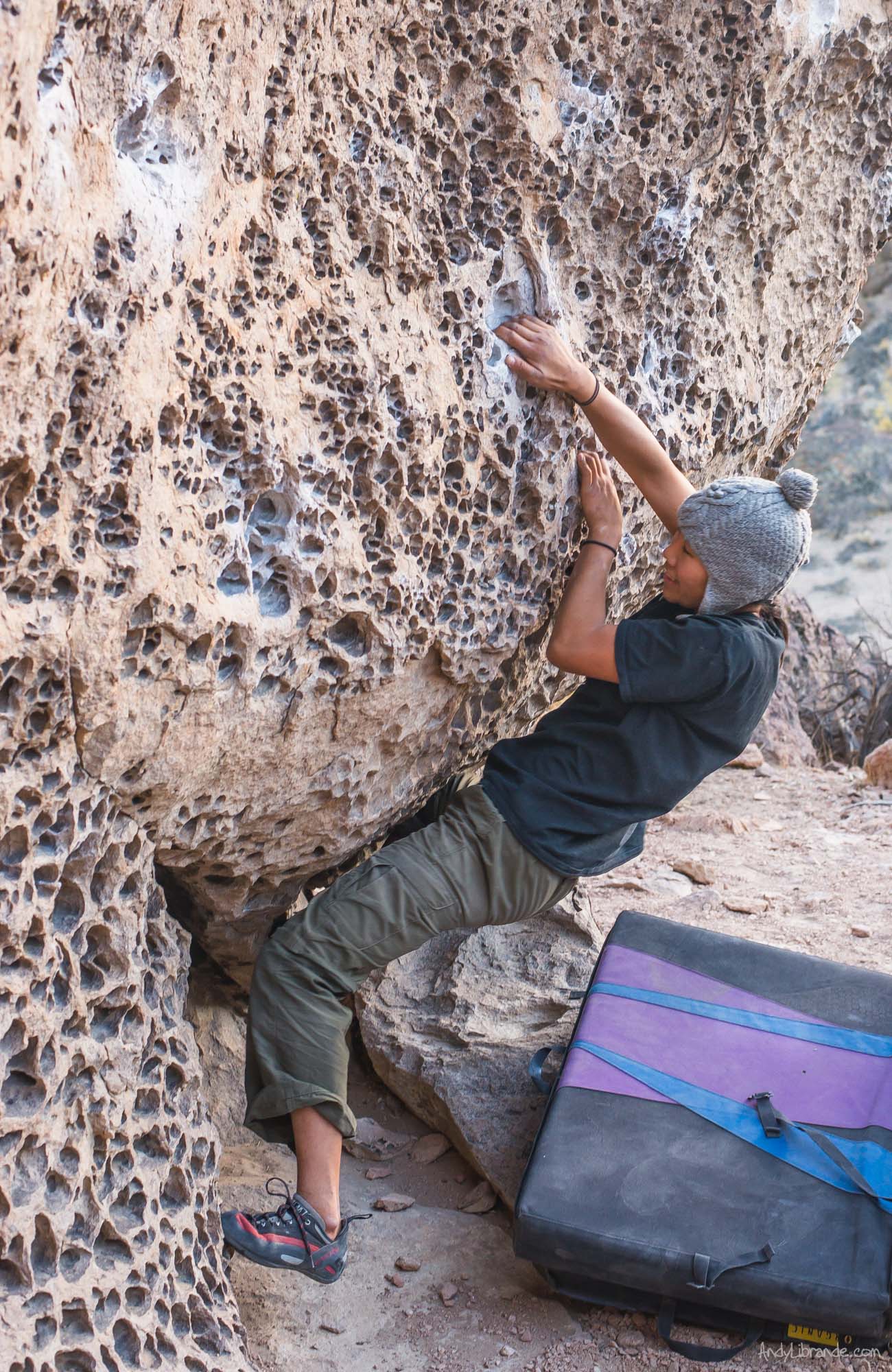 Hiking out and Dirtbag Al spots one more highball he couldn't resist and sent it in the dark: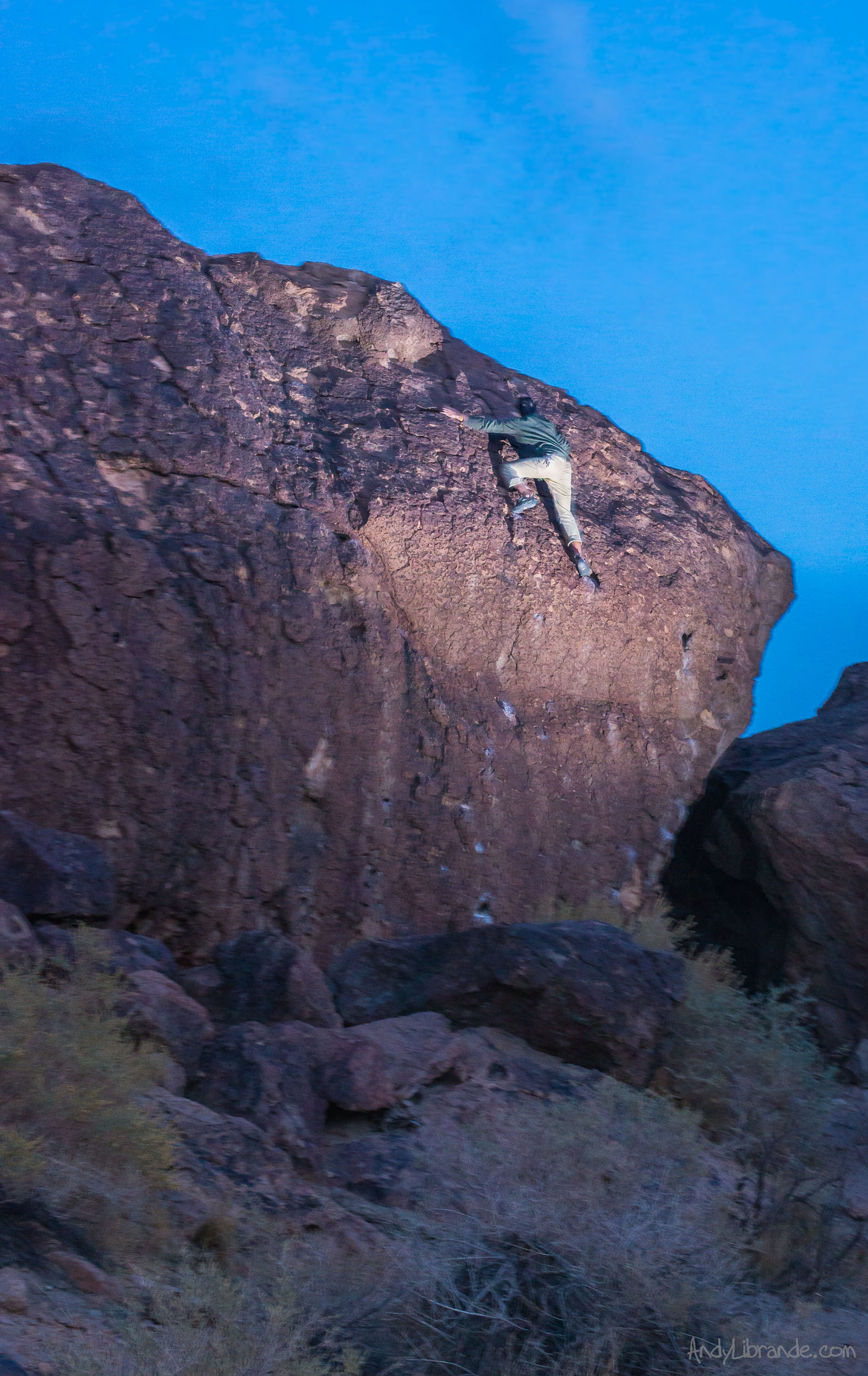 Wild Willy's Hot Springs:
Dirtbag Al was given some directions to these hot springs and after a hard day of climbing in the Happy Boulder's, we followed his seemingly random turns in the middle of the valley until we arrived at a sizable parking lot with numerous cars in it. A quick hike down the boardwalk and our crew found ourselves bathing in our own hidden pool while all of the other visitors were in the main, larger pool. The stars were unbelievable that night as we sat for as long as our bodies could stand it, basking in the moonless night.
6:30am Sunrise at Wild Willy's Hot Springs: while not well publicized the BLM does an great job with the boardwalks and conservation. Also it was getting pretty cold overnight.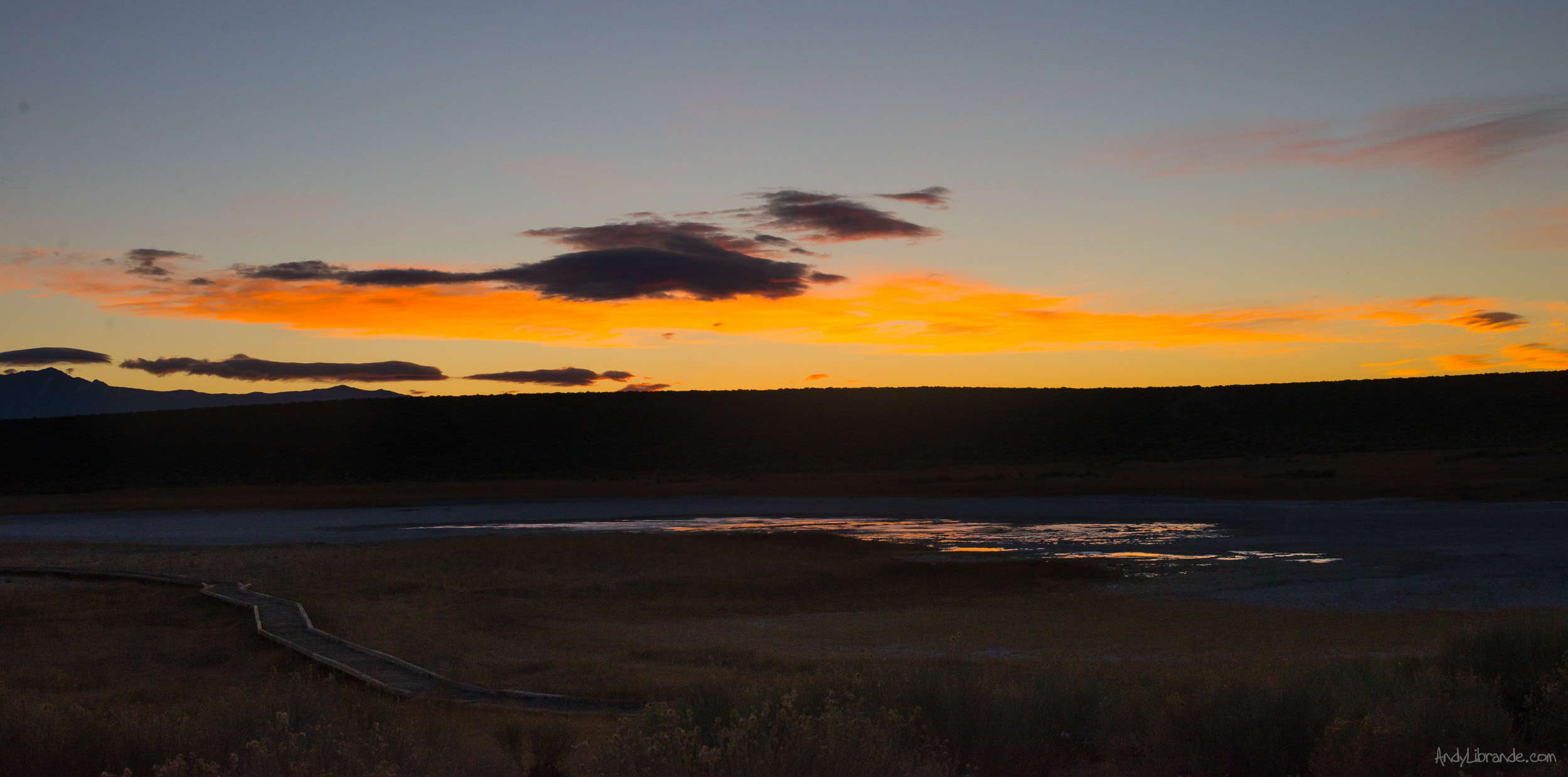 Dirtbag Al and Tersea enjoying the 8AM morning dip before heading out for the day: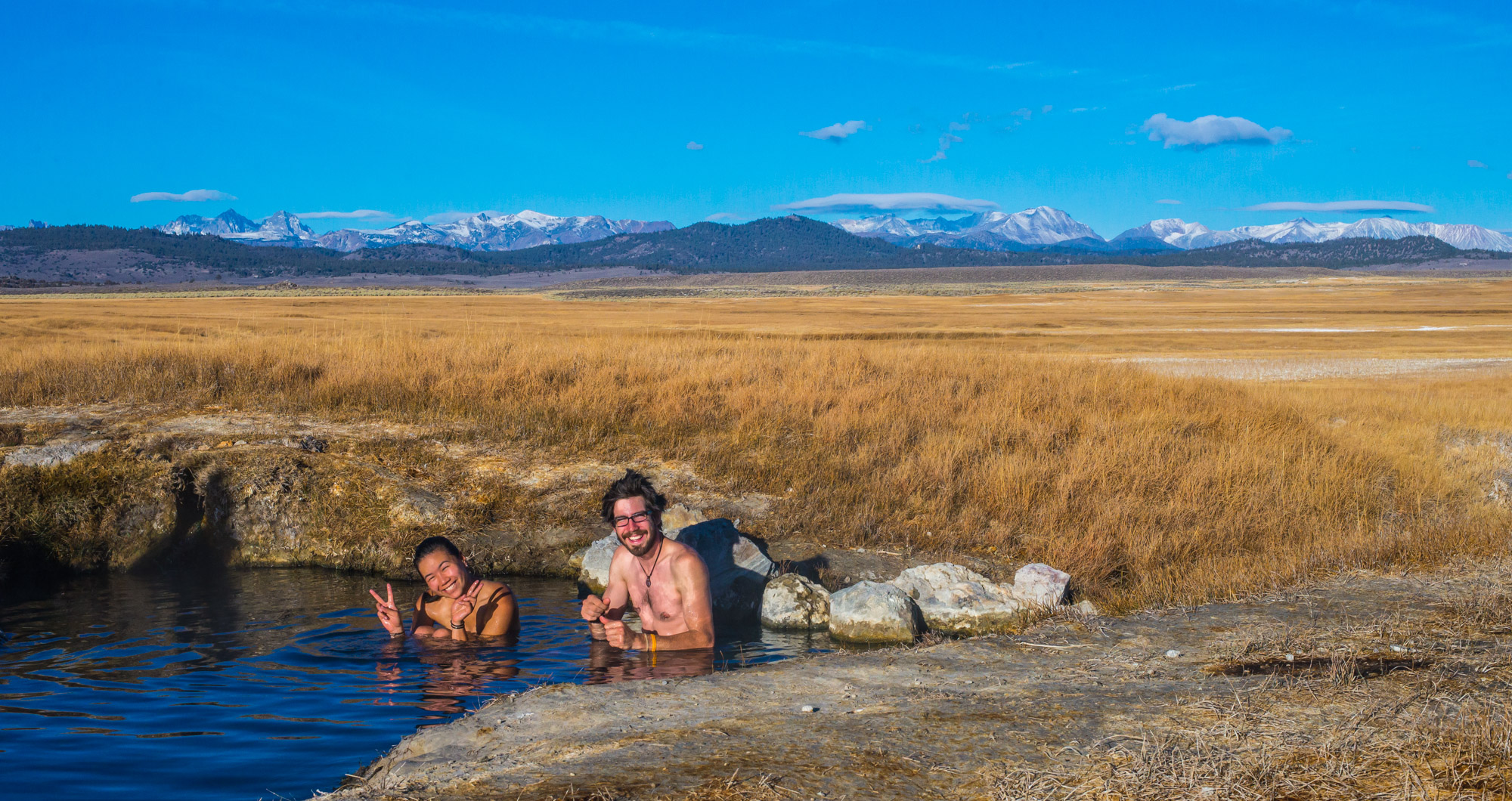 Of course the local custom is to bath au naturale…which is a great reason to get naked in the wild!! We were pretty beat from the last two crazy days of climbing and the long drives to get there, so we headed-up to the city of Mammoth Falls, relaxed, saw a lot of ducks, found a boulder, and did a little outdoor hiking. That evening we drove down to just outside the Owen River Gorge sport climbing area and camped for the night.
Buttermilk Country:
Our last day in the area and we headed to the world-renown Buttermilks for some serious ass-kicking. The sendage was extremely low that day on these stout boulders, however the stoke was high being in the presence of monster boulders.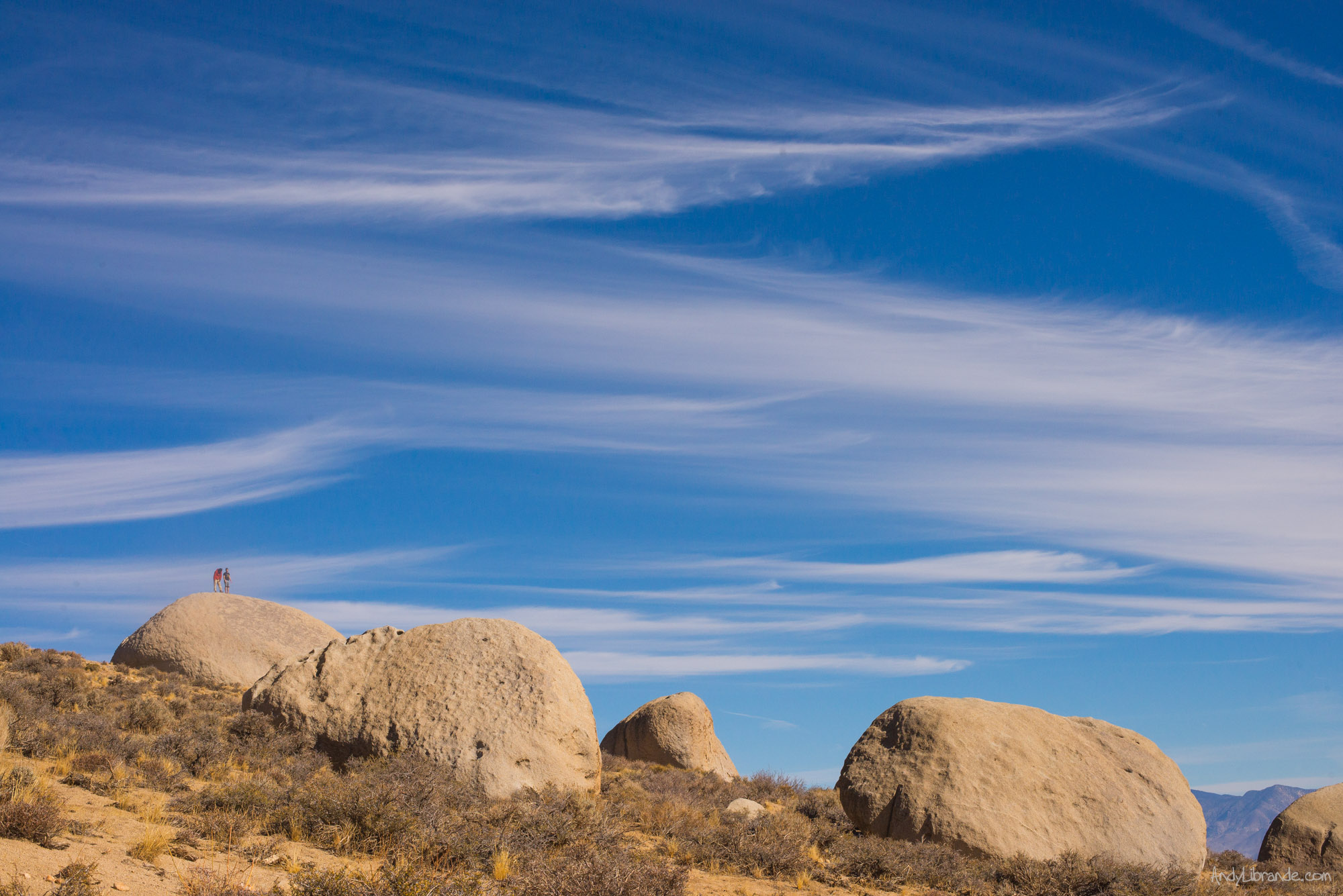 This problem called the Buttermilk Stem being sent by Chris below (and Al Photo #1, #2, #3, #4) is an example of the crazy types of climbing in Bishop. What feels like a impossible start and moves can quickly be sent with the right technique and beta and shows that something rated only a V1 can be a classic for anyone: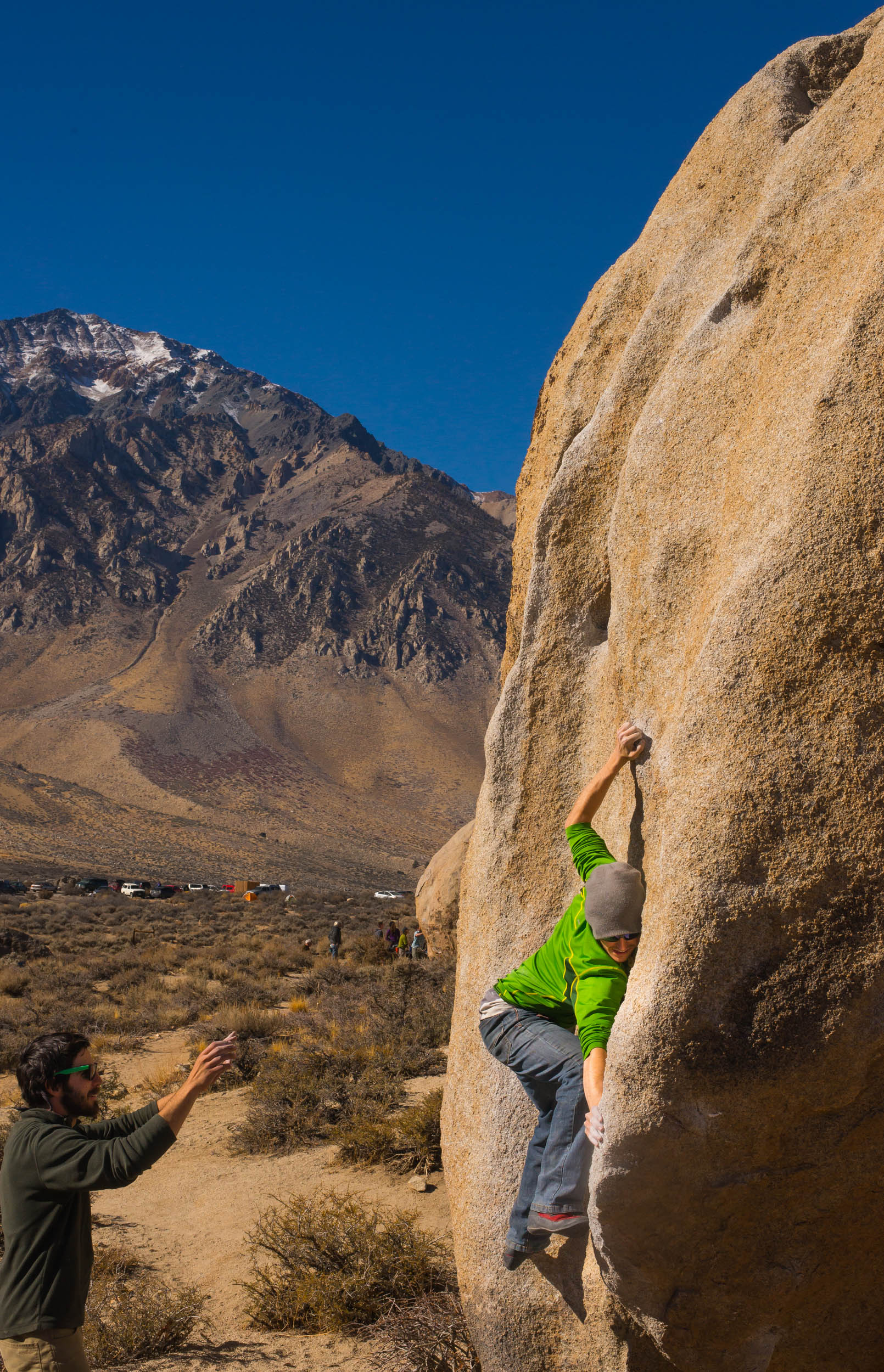 The Buttermilks were crowded as it was a beautiful fall Sunday and attracts climbing tourists from around the world. Once early afternoon happened it quickly cleared-out as it seemed most people were driving back to LA.  As it calmed down and after we had our fill of attempted sendage,  we had an enjoyable stroll through all of the boulder field sightseeing the famous lines (that literally had 20+ people standing around earlier) and watching the hardmen/hardwomen work these massive, beautiful boulders strewn across the hillside. Also standing underneath the famous PeaBody boulders made your sphincter tighten-up with just the thought of climbing something that big.
Sunset happens quick this time of the year when you are this close to the mountain range. By 4:30 the sun had already been gone for nearly an hour as we took one last look at this amazing place: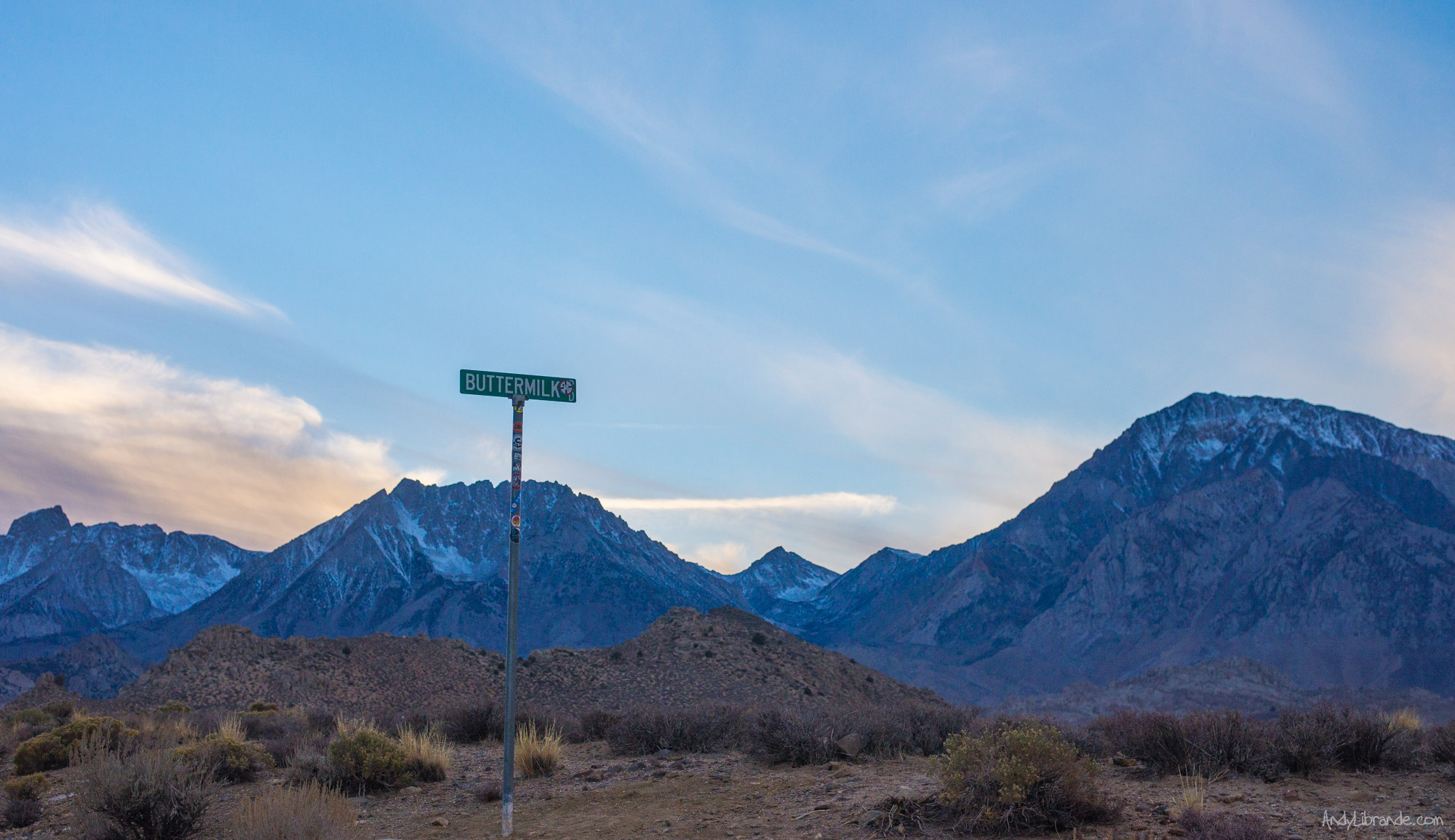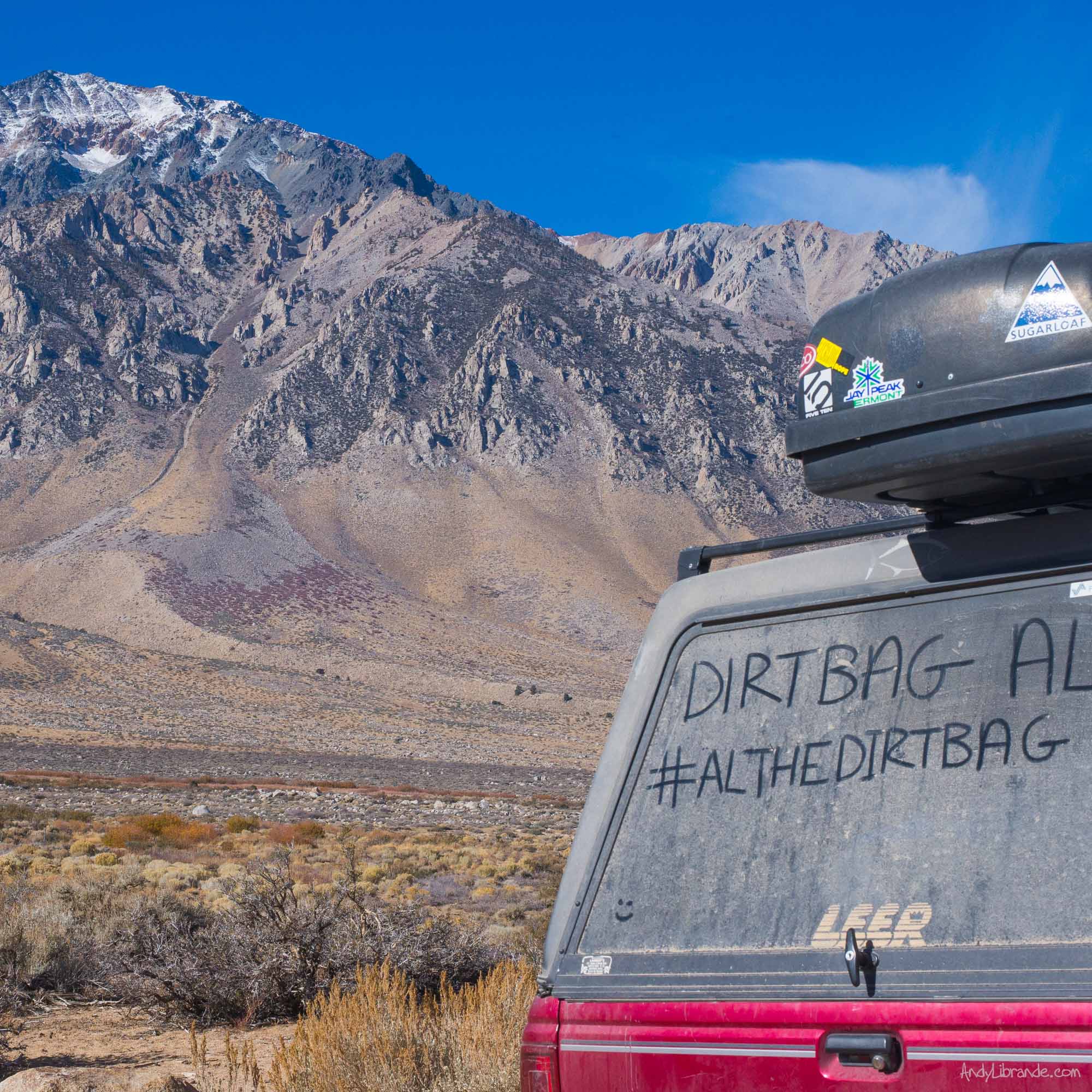 At the end of the day we all said our goodbyes with Chris heading north towards Oregon with Al and Teresa following and Caitlin and I made a long journey to Bryce Canyon to spend the night. Hint: arriving at 1am in the morning on a freezing cold Sunday night means free entry and front-row parking for the morning spectacle.
Bryce Canyon Surprise on the way home:
Read More Here: http://andylibrande.com/wedding/about/engagement/
Sights on the Drive from Denver to California: Pictures from: 7am, 8am, 10:30am, 11:30am, 3pm, 6pm, Star Trails that night.
Group Photo at the Catacombs: