If you haven't already, please read the quick recap of our CABO SAN LUCAS trip here: http://andylibrande.com/news/2011/06/down-in-mexico-a-quick-trip-report/
In summary I took a couple pretty photos. Below are some more scenics from the trip.
Enjoy!
Scenics from a Week in the Baja:
Panorama of a Pink Sunrise over the eastern beaches of Cabo San Lucas on the morning of May 9th, 2011. This is a photo that I stitched together and plan on printing. The print will be ~80 inches wide when I get it done. I witnessed nearly every sunrise on the trip as they were far more spectacular then the sunsets at Cabo.  Plus it was very peaceful watching the beach slowly wake-up every morning from our awesome villa.
Click for a much larger version and enjoy:

One morning I was treated to the most colorful sunrise I have ever seen. The location of the sunrise caught me off guard as it was the first morning in this new spot and I didn't quite nail the composition. It lasted for just a couple minutes and luckily I woke Caitlin as she is the only testimonial that this actually happened. Unreal colors over San Jose Del Cabo taken from the Las Palmillas  Casita: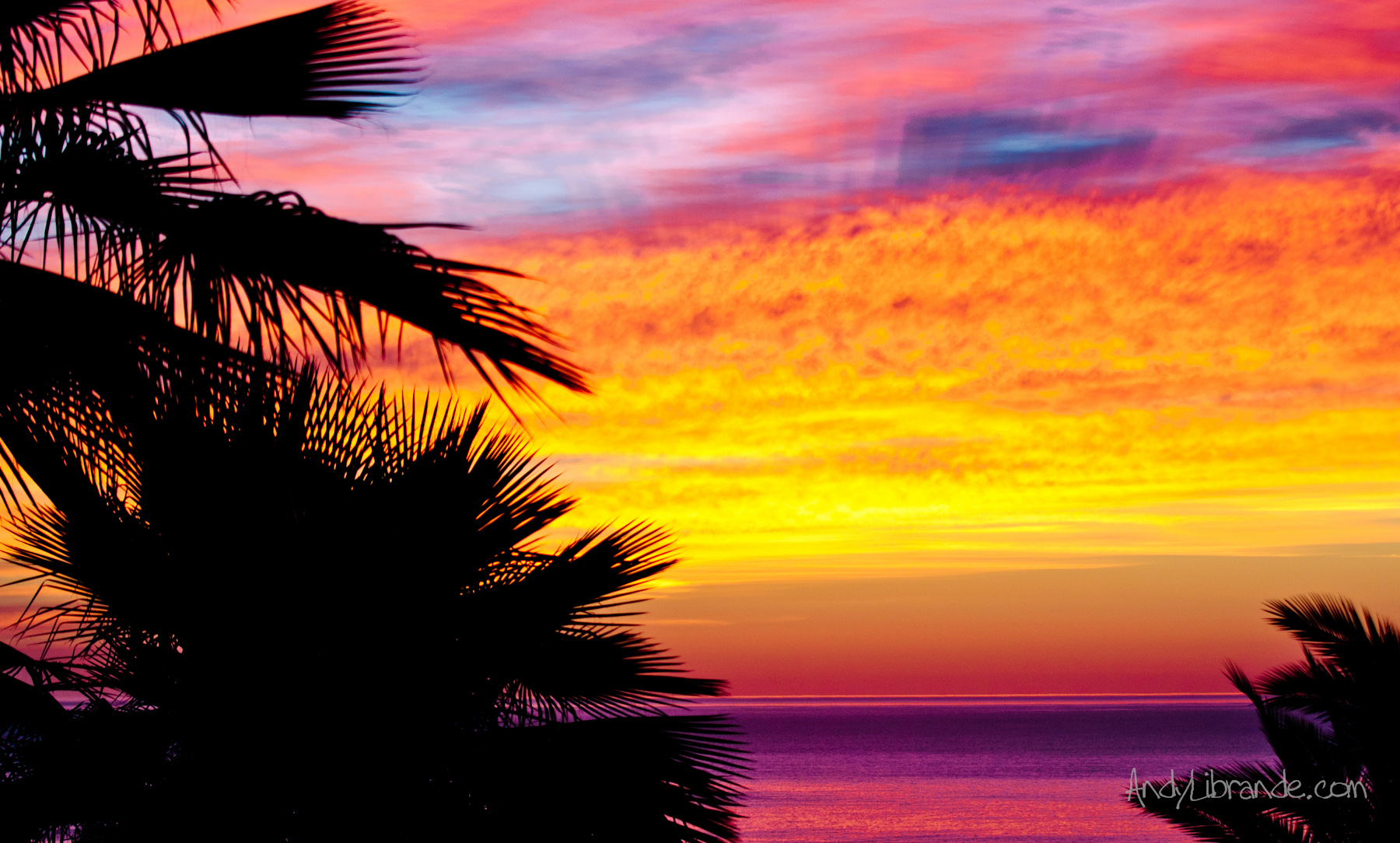 We kayaked out to Finisterra to see the Arch. Conveniently it was out of the water (extremely rare) and we were able to walk right underneath it. Here Caitlin is enjoying the view from the ocean and I am trying not to drop my camera into the water: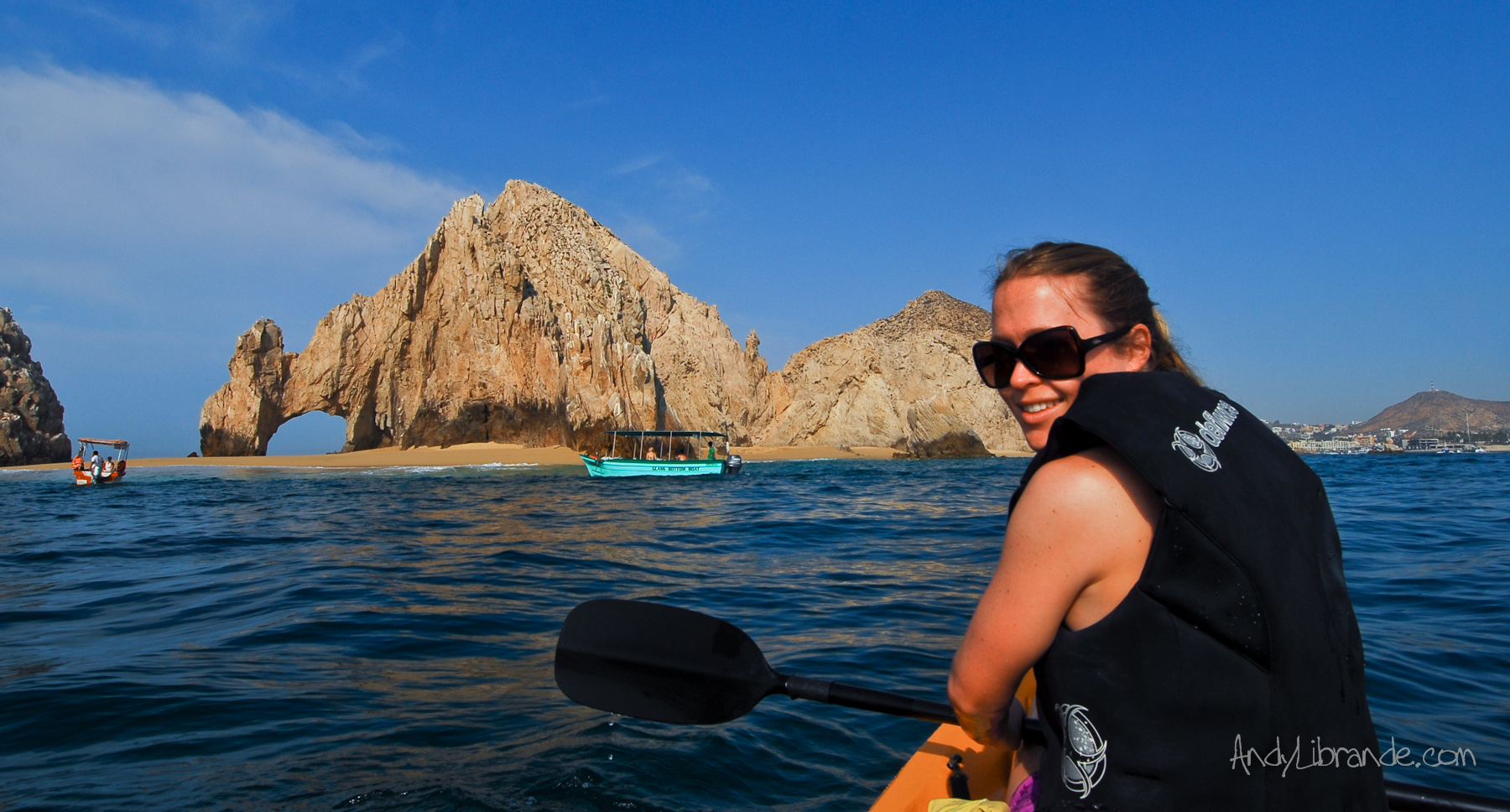 This is a small tunnel that we crawled through for fun. Andrew is standing in the other entrance while I am on my belly taking a photo from the small entrance. Located on Playa del Amor near the Arch.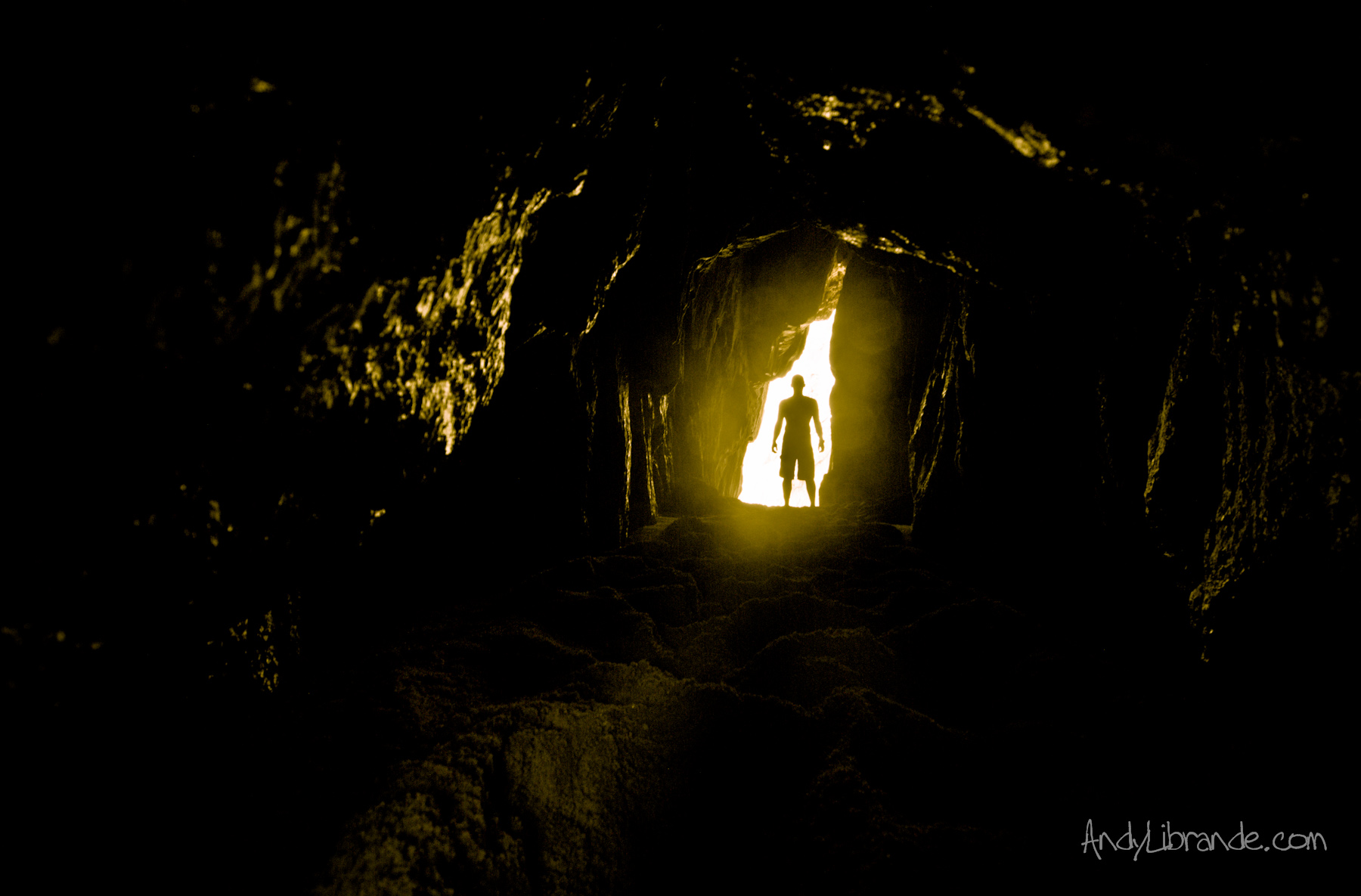 Whitney at Playa del Amor: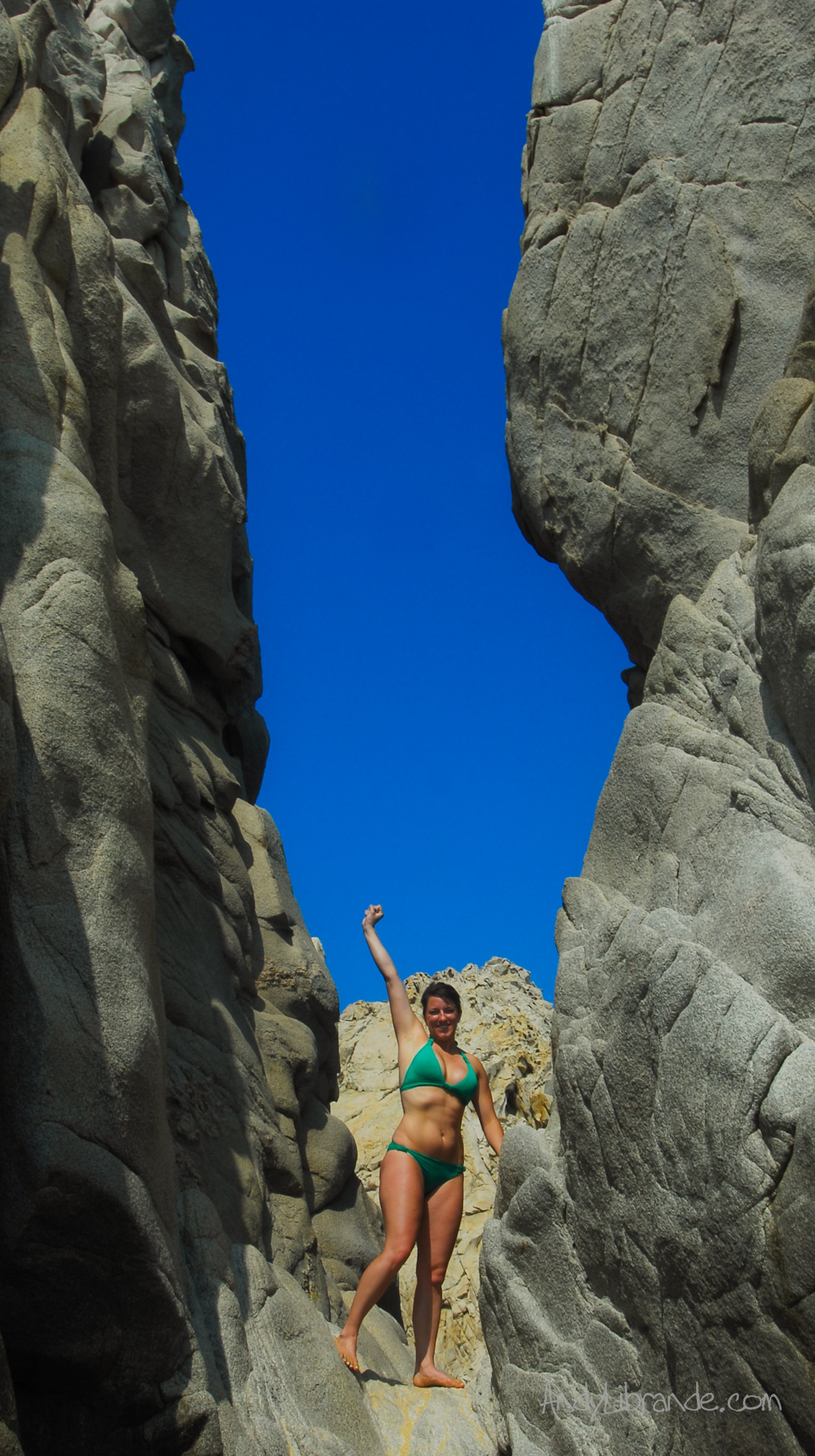 Sunbathing at the Casita: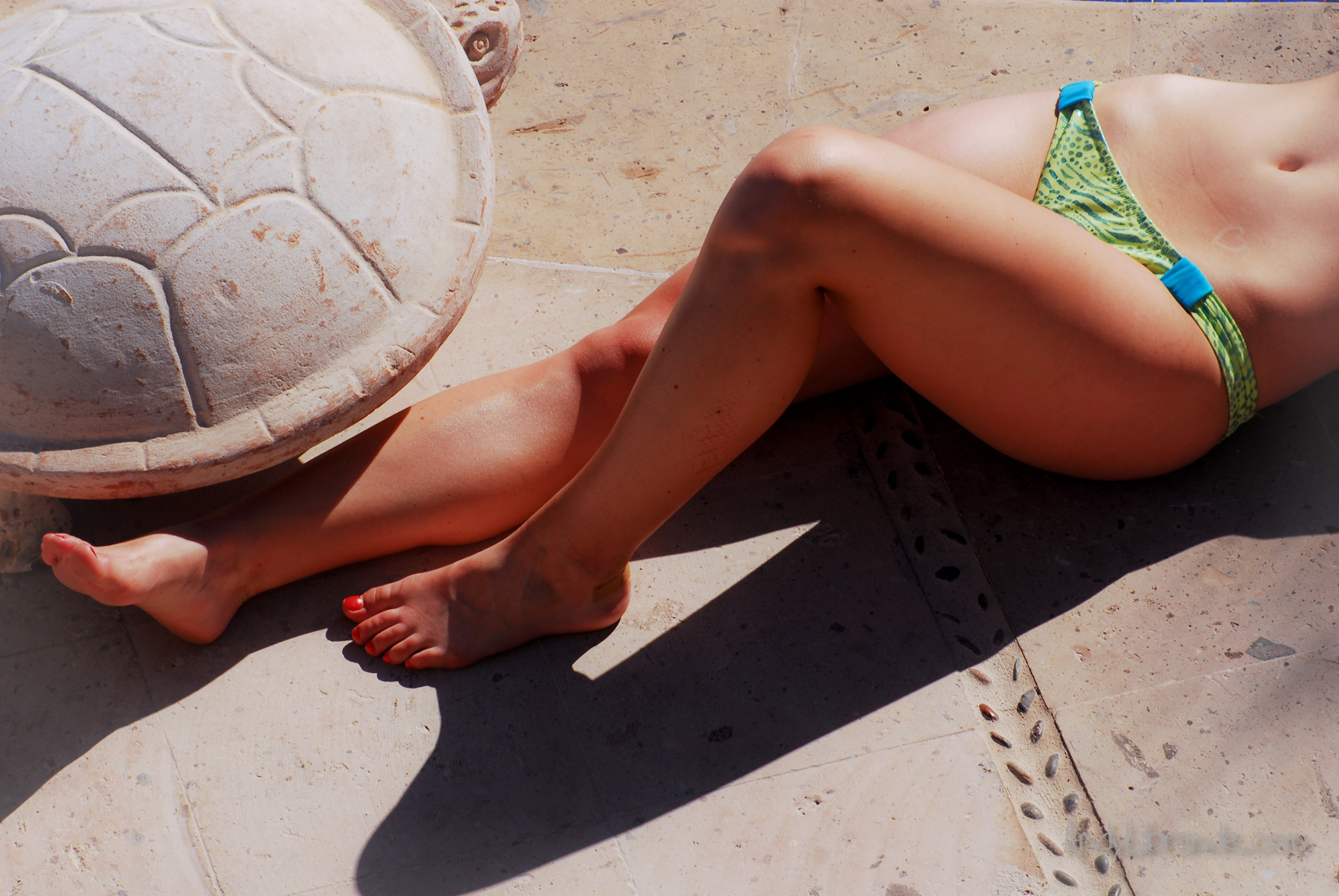 Did I mention that this whole house was just our groups for a few days!?! It was awesome with incredible views sitting above a violent ocean swell. This is a photo that I stitched together to get the full house.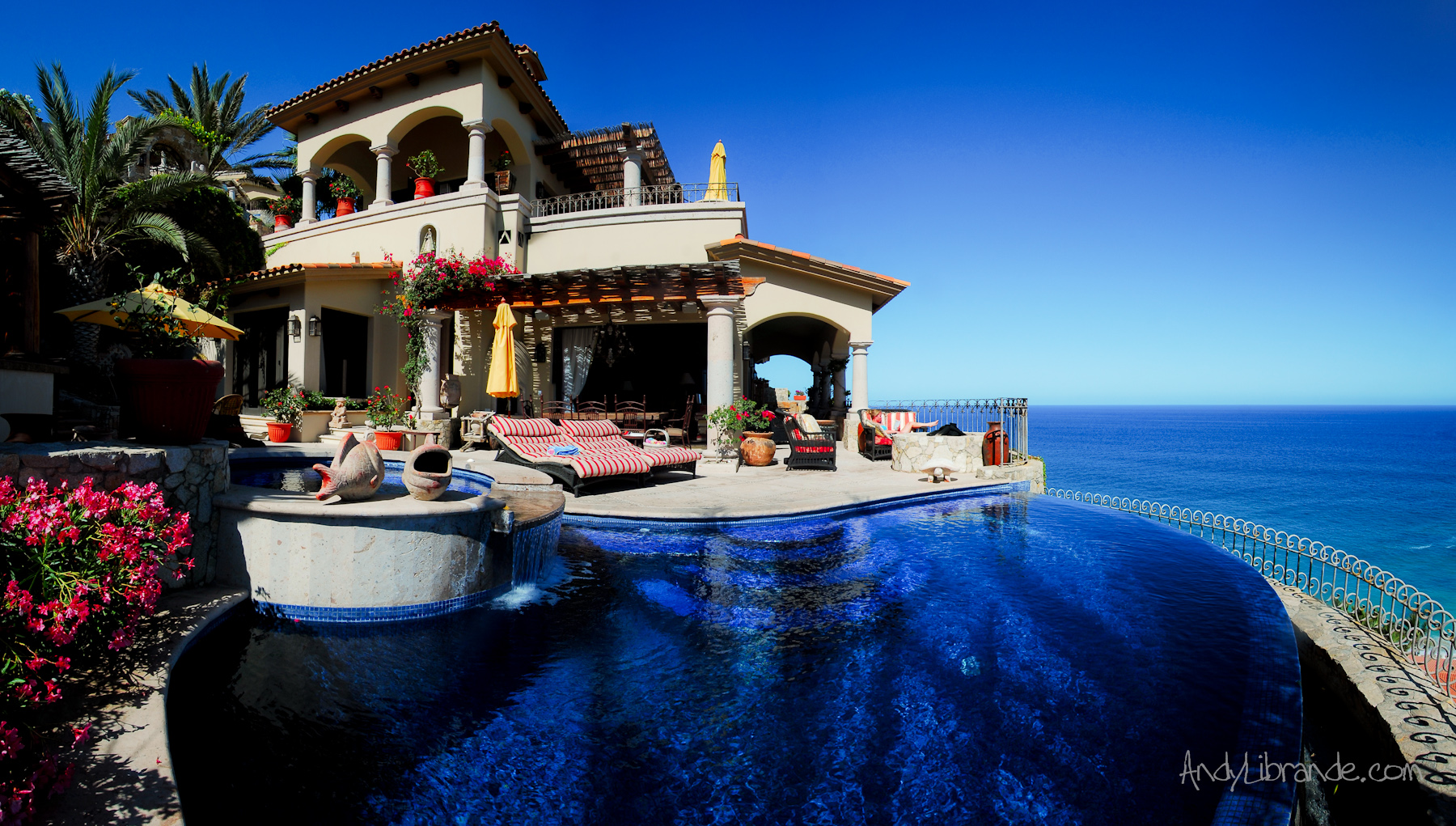 This is the back patio of the first place we stayed at called the Villa at the Hacienda resort. We had an amazing spot that overlooked Finisterra right on Medano Beach and minutes from the Marina and downtown Cabo. It was pretty incredible.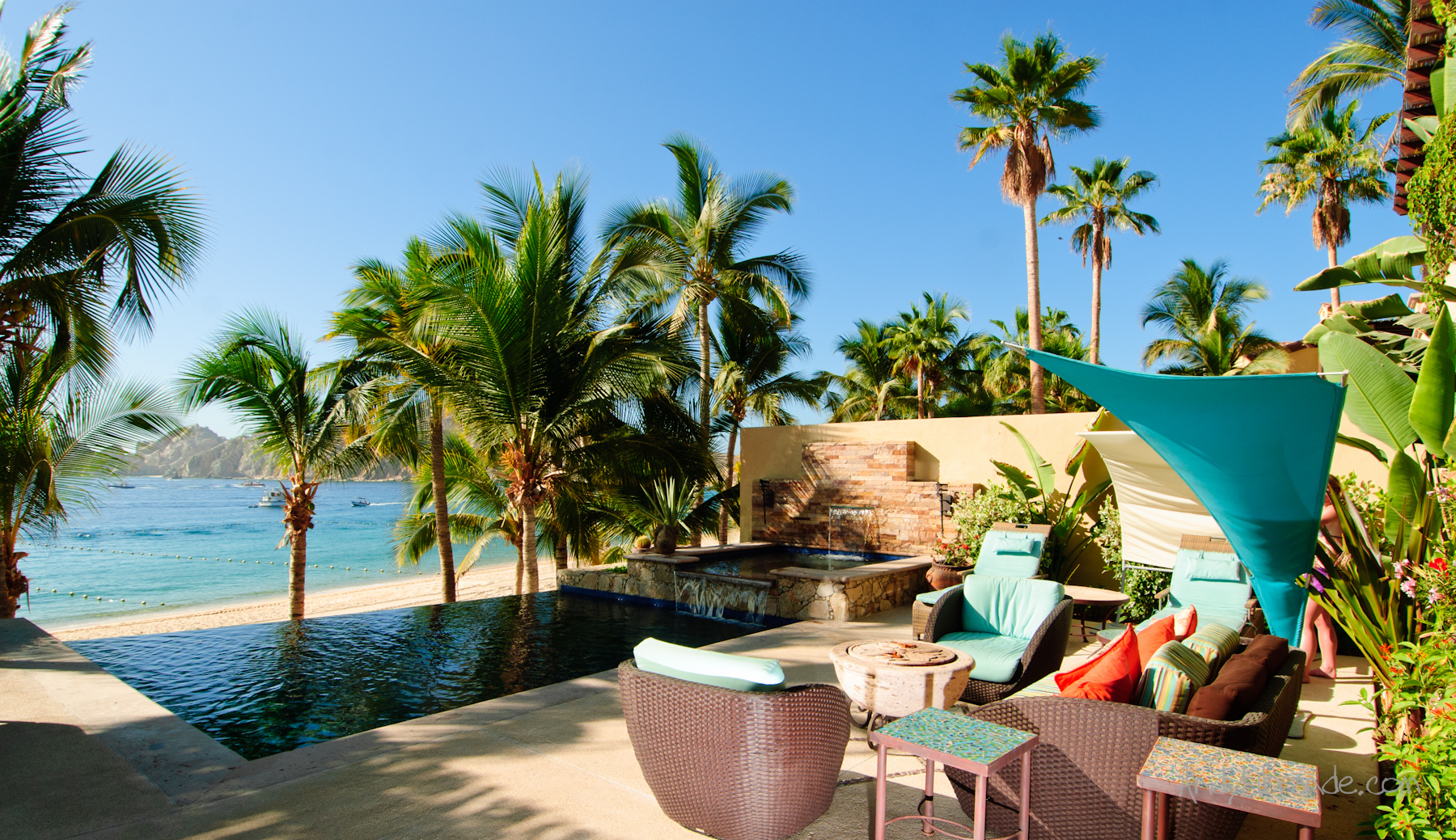 Sunset over Finisterra (Land's End):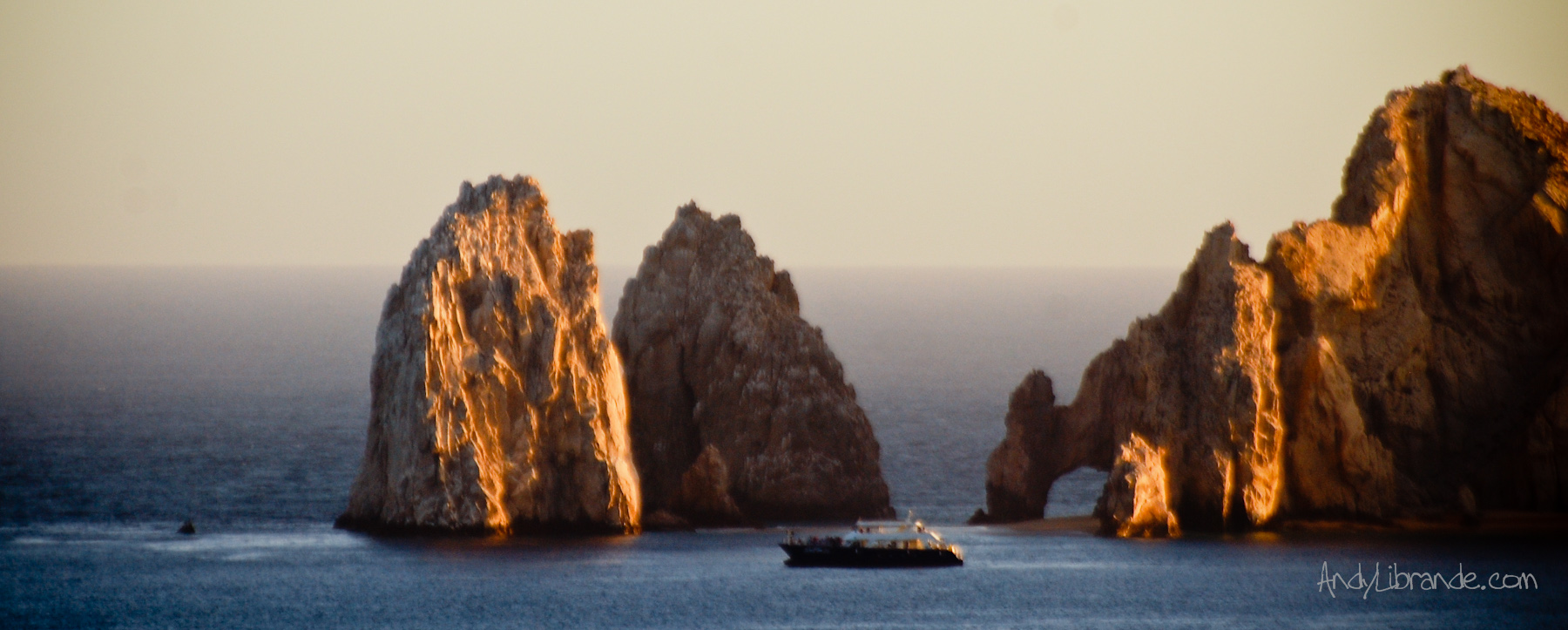 So many more photos that I have it is hard to narrow it down sometimes.
Hoped you enjoyed!
Link to full post: http://andylibrande.com/news/2011/07/scenics-from-the-baja/
What: A week-long trip to Cabo San Lucas area in Mexico
Why: Because the US State Department says it is really dangerous (OMG!!!)
Who: Andrew Giamberardino, Whitney Hoover, Caitlin Shay, Andy Librande, Billy Papa G, and Erin
Real Reason for going: We heard there is tequila down there
How: We sold our organs to help pay for our trip there and back
Overview: This is the nuts and bolts of the trip listed mainly because I tend to over-exaggerate everything and routinely mix-up events. The photos are on the light side but more will be coming. I took 3,000 photos on the trip and these ones get the point across.
El Arco de Cabo San Lucas with Sand Under the Arch which only happens every few years:

Saturday Day 1: Arrive early afternoon to Cabo; the flight between DEN and LAX was amazing as we were in a little plane and had great views of the snow-capped mountains. Get stuff at CostCo which outside of the meat and the amazing juice nectar the prices were not that great. Arrive at the best resort in Cabo San Lucas with incredible views and no-one else around. Drink.
Billy and Erin at our Villa with Finisterra in the background: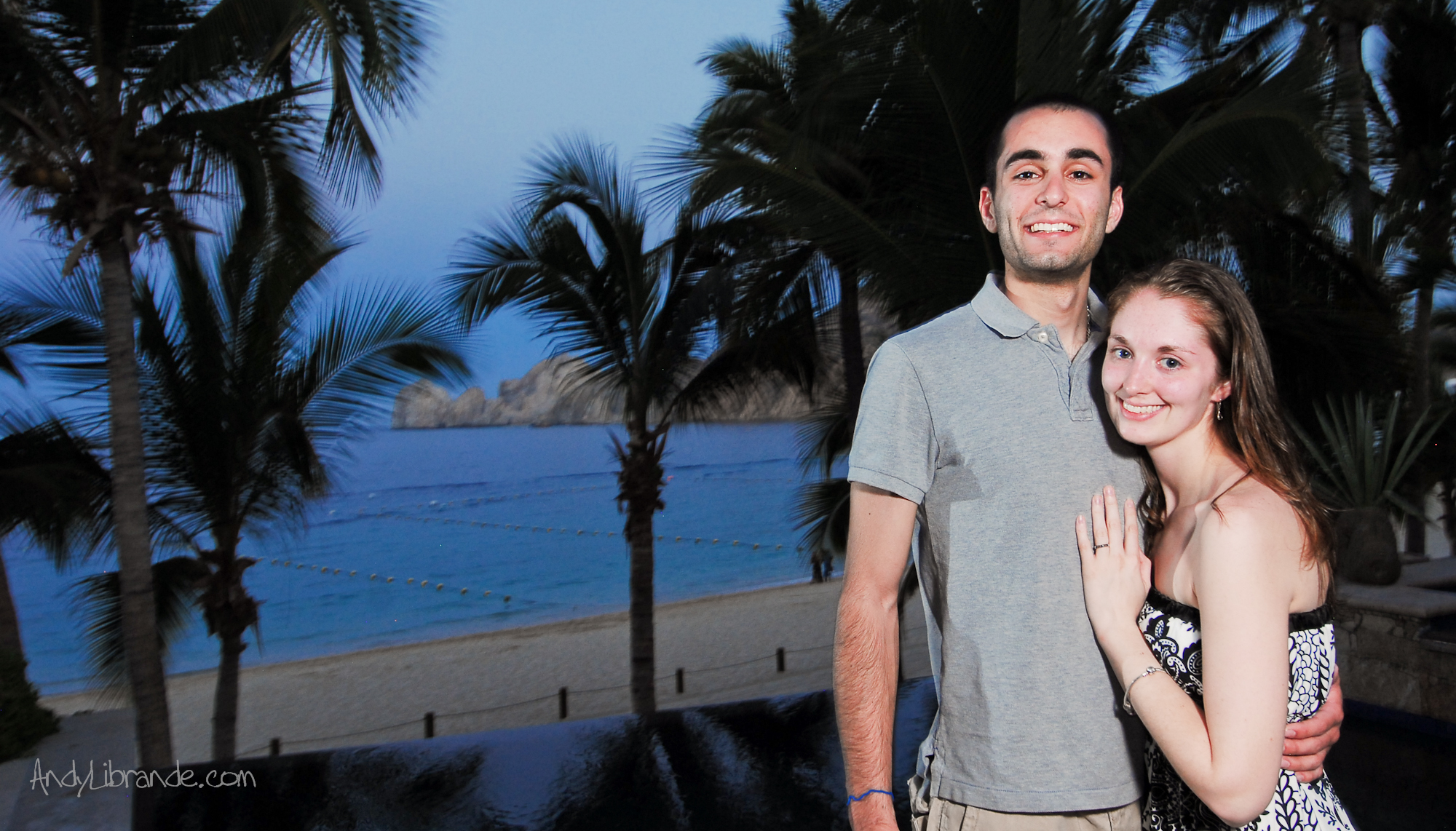 Sunday Day 2: Pick-up Caitlin. Pick-up a ton of fruit, delicious pastries, and more tequila at the grocery store. Get lunch at Taco stand where we tried Corazon Asado among other delicacies…Very hot in the city. Drink. Eat at the  Hacienda restruatrant for dinner (which is a part of the resort we stayed at). Drink some more.
Powerful waves on the Pacific side of Playa del Amor: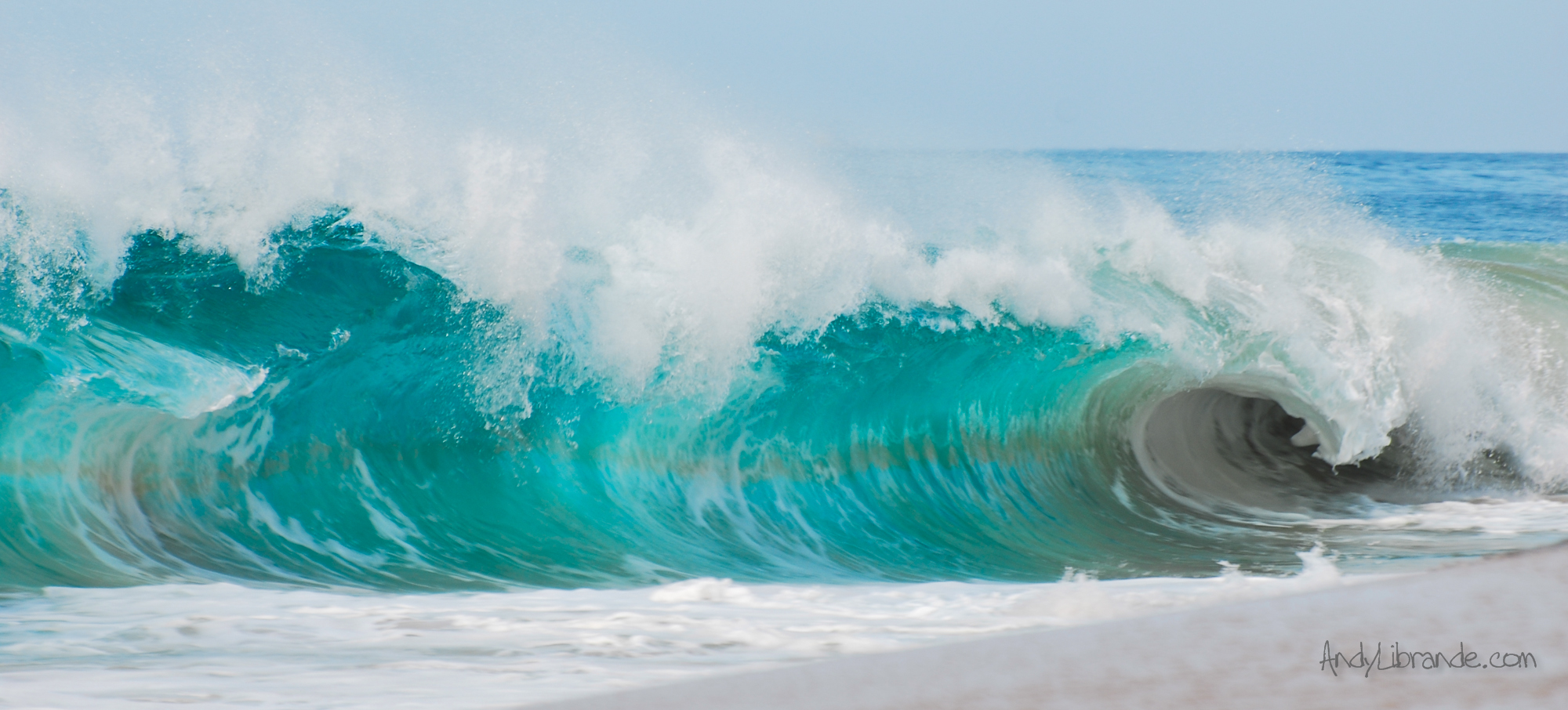 Monday Day 3: Beautiful morning Kayak to Finisterra ("Land's End") also home to Playa del Amor or Lover's Beach. Almost get destroyed by a massive wave. Walked under El Arco de Cabo San Lucas (which one can only do every couple of years when the tides are low). Snorkel. Eat late lunch at some random place with good fish tacos. Sweat balls off walking around mexican part of Cabo. Enjoy refreshing Coke. Walked into the most hilarious and out of place indoor Shopping MallI have ever seen. Drink. Late night dinner at The Office on the beach. Drink a lot. Have fun in pool when we get back.
Caitlin with El Archo as a backdrop: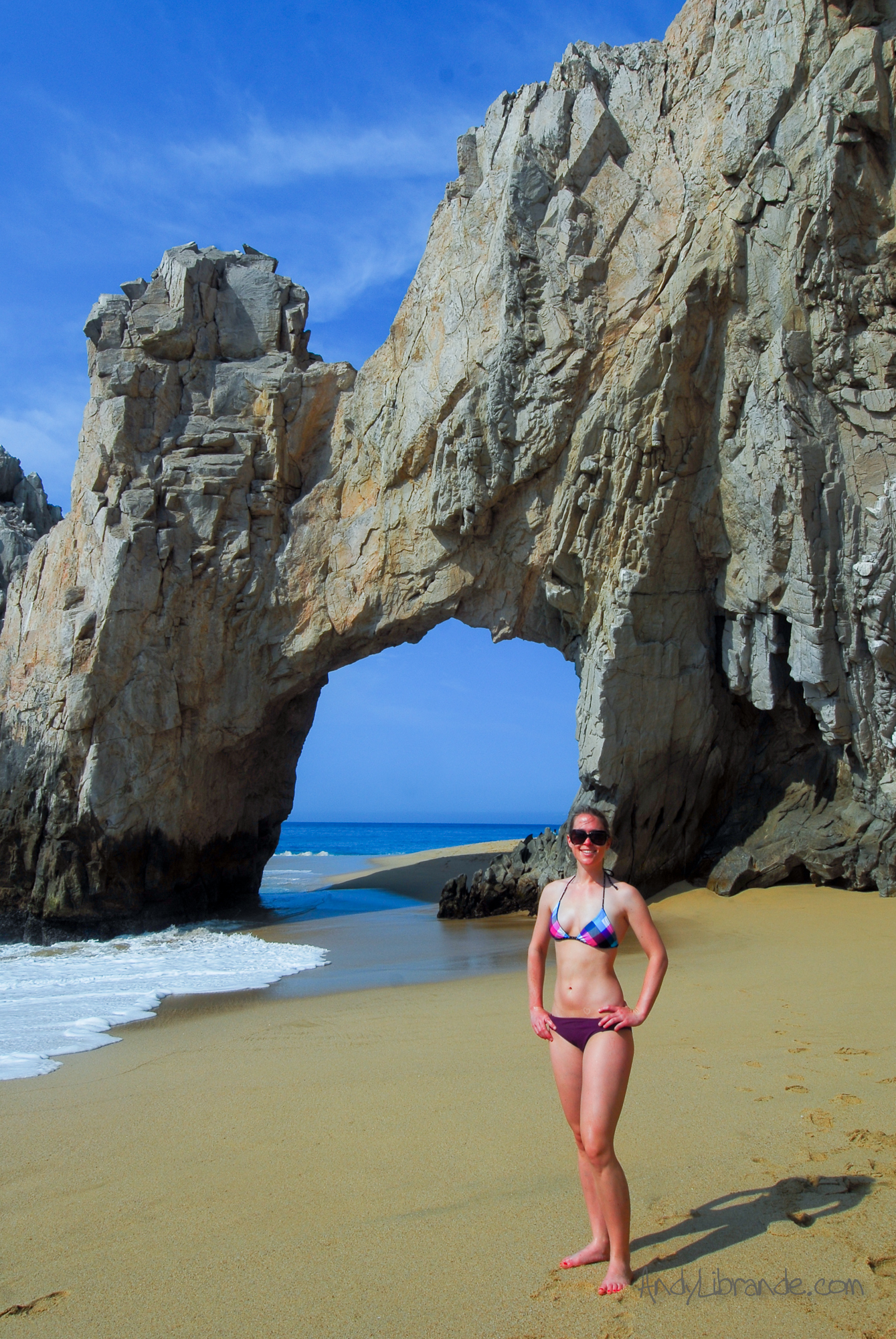 Sea Lion literally laying underneath El Archo:
Tuesday Day 4: One hour drive to the city of Todos Santos. See some awesome art, buy some unique pieces, enjoy the 15 degree cooler weather there. Eat fish/shrimp tacos in a small thatched roof restaurant. Drive home on a road that is under-construction (where we saw a construction truck fall-off the road earlier). Late Dinner at Mi Casa.
The plaza at Todos Santos bordered by the town's mission: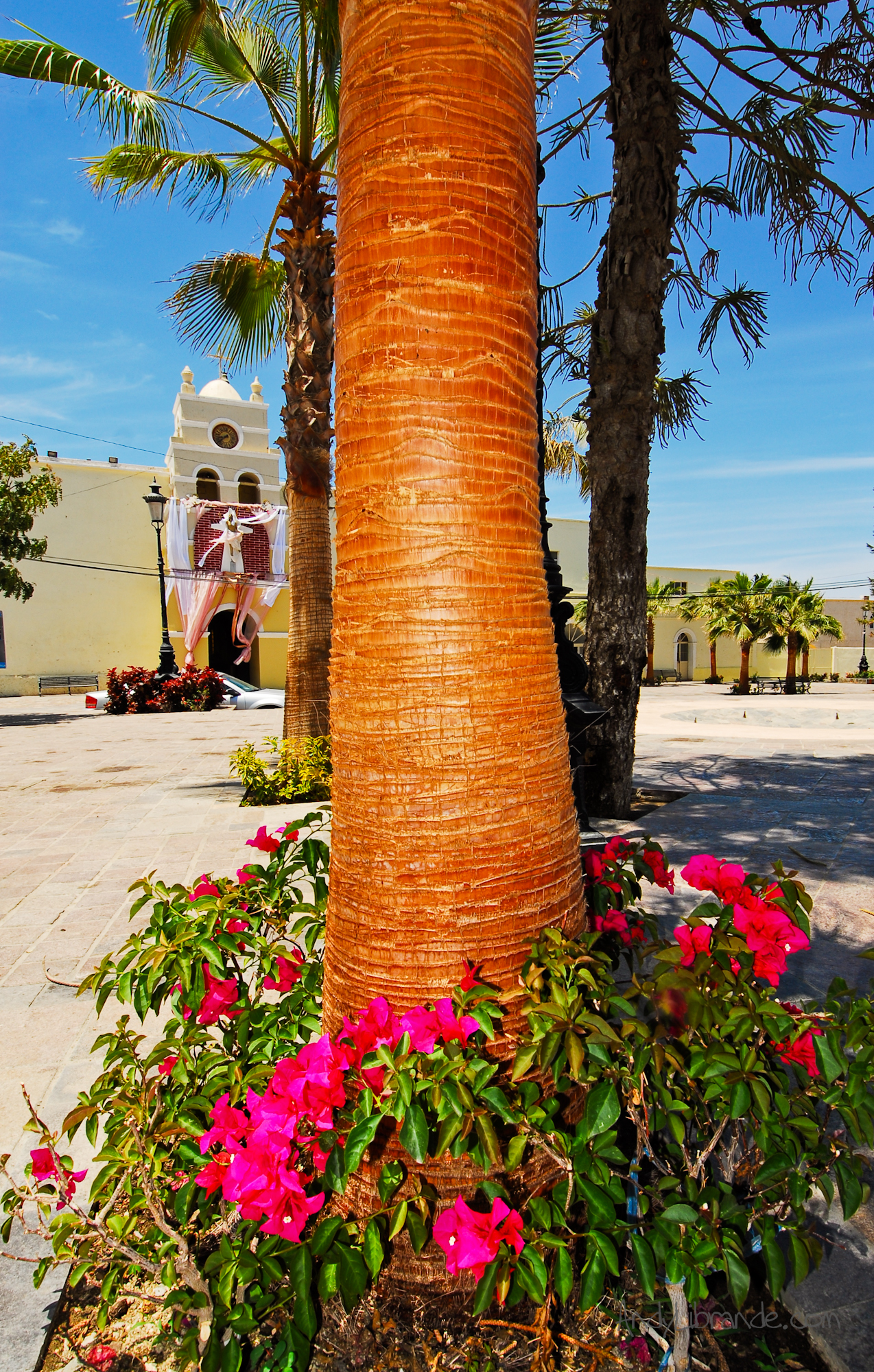 Wednesday Day 5: Early morning walk on beach with Caitlin, see a 50+ fishing boats leave at the same time for start of a fishing competition exactly at 7am, hang out at resort pool, breakfast at Hacienda Restruatrant, struggle at Paddle-boarding due to large waves,  lunch at Los Michancos where you buy the Carnitas by the Kilo (probably the best meal of the trip), hilarious negotiations when shopping, pack-up and head to La Casita at the Palmillas near San Jose del Cabo. Cook dinner there which was a massive amount of delicious ribs.
Caitlin enjoying the infinity pool at the Hacienda Resort in Cabo: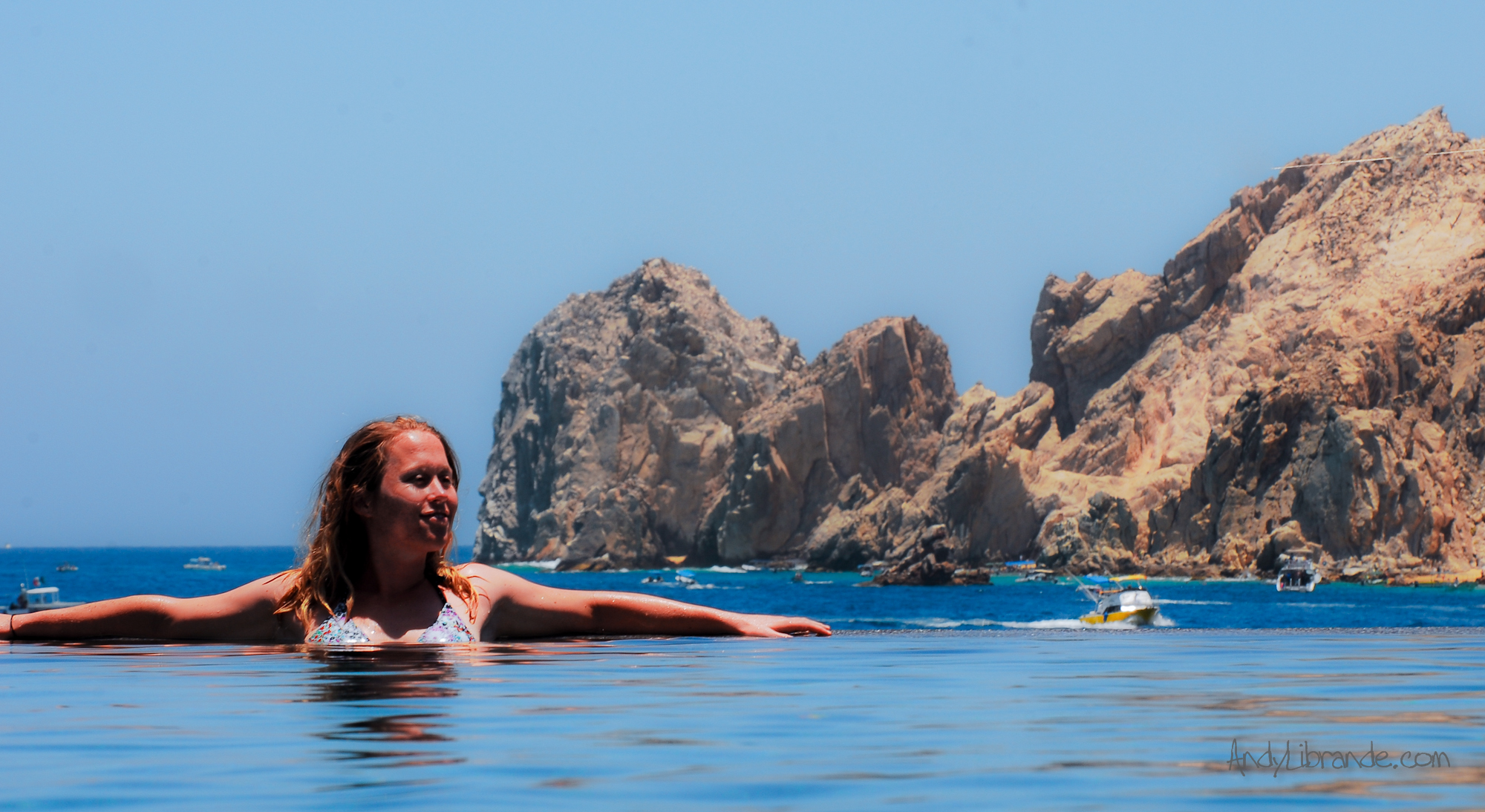 Thursday Day 6: Andy hangs around as not feeling well. Others go ATV'ing. Andrew/Whit go to the One and Only for dinner, Andy and Caitlin go downtown San Jose del Cabo for Thursday night art walk, drink free tequilas and mojitos at the numerous art galleries, ponder crazy art, and eat delicious dinner at Meson del Angel. Get lost on taxi ride home.
The group about to chow down on some home cooking: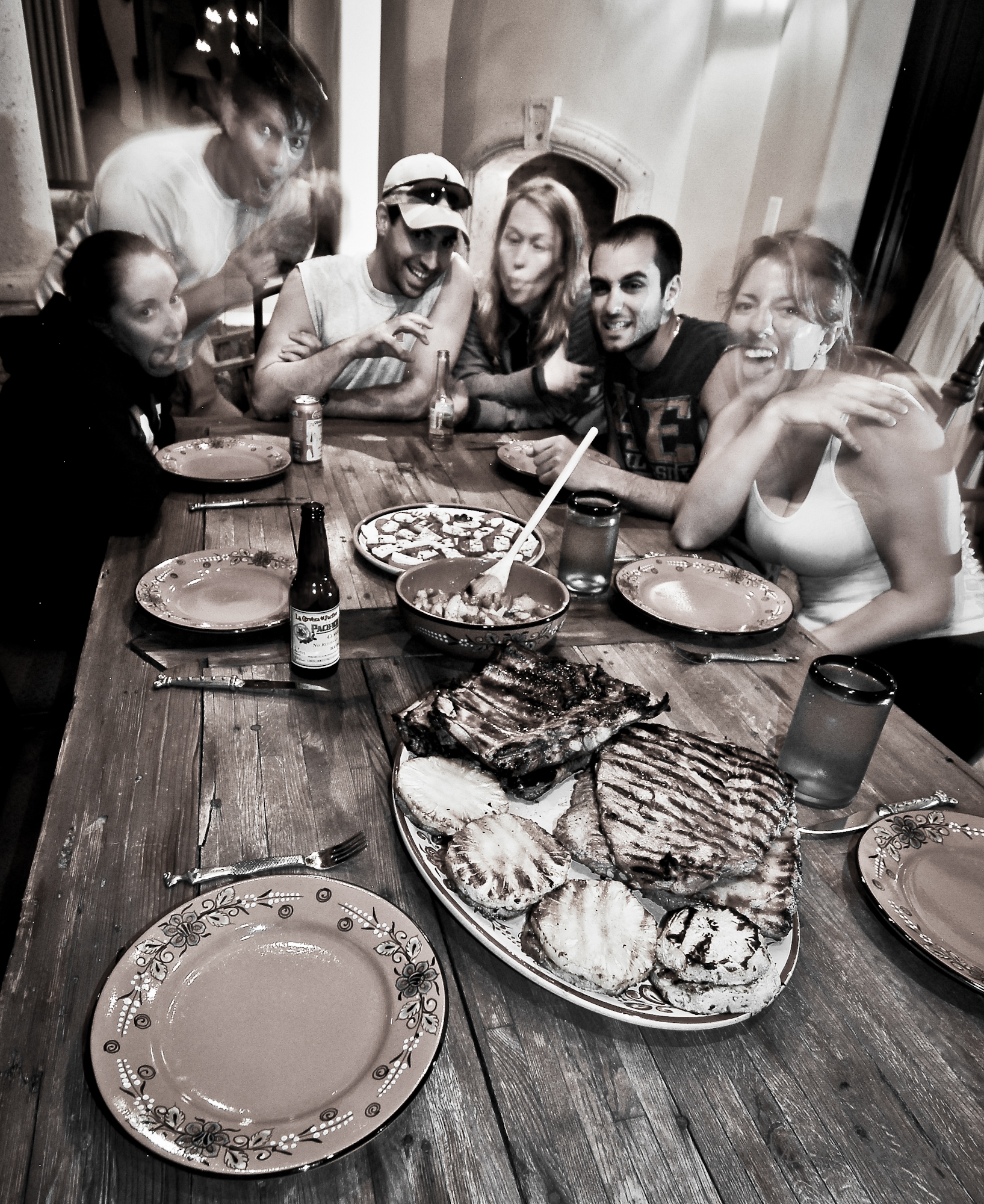 Friday Day 7: See best sunrise of the trip (and one of the best in my life). Say goodbye to Erin and Billy. Hang-out at the pool at Club 96 as Andrew provides a tour for some travel agents. Drink more mojitos. Hang-out at Casita. Andrew/Whit get tanked. Andrew makes funny dolphin noises. Go to San Jose del Cabo and eat dinner at Tropicana.
Andy, Caitlin, Whitney and Andrew set the course at the Casita in San Jose del Cabo: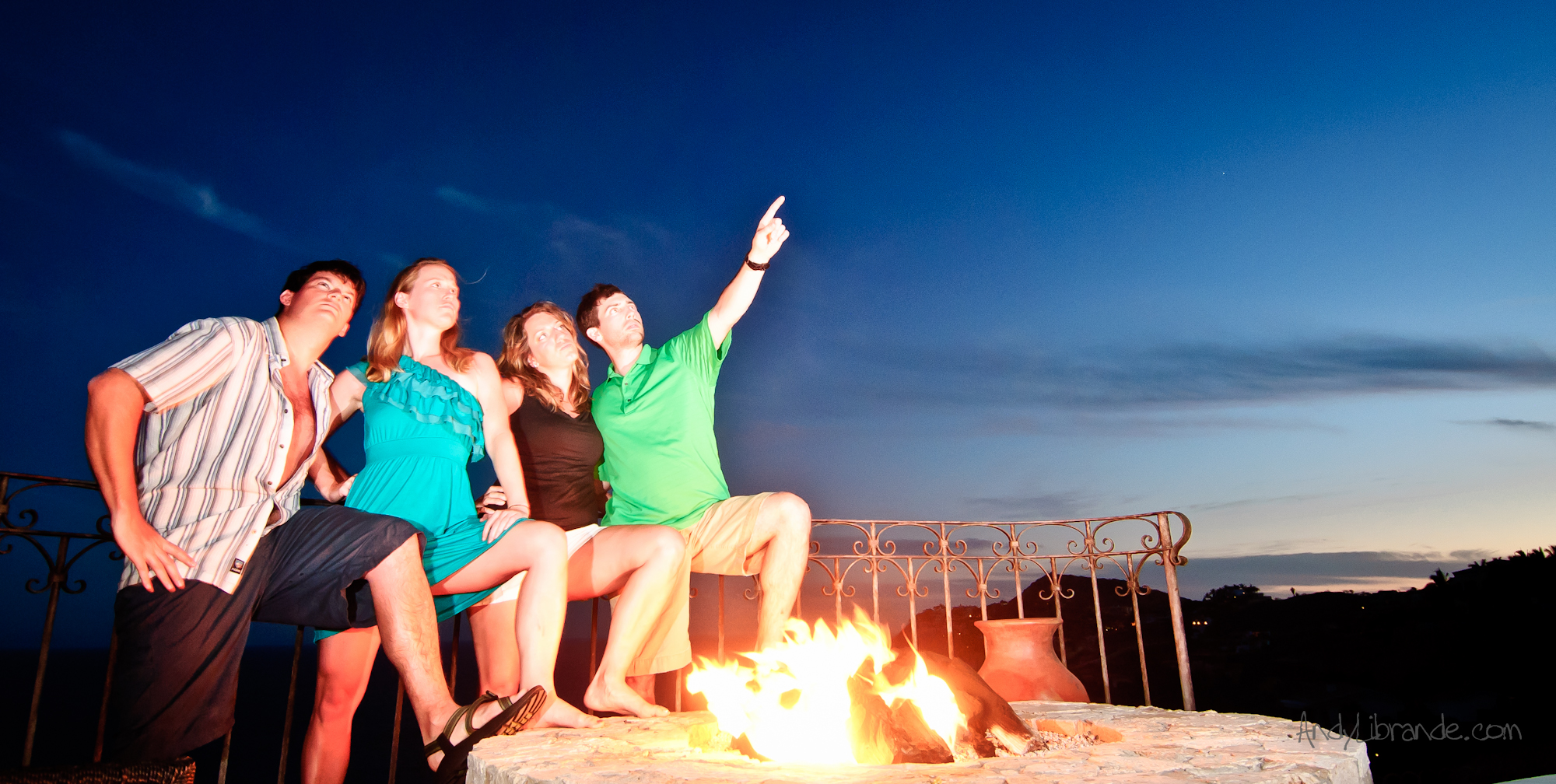 Saturday Day 8: Wake-up everyone really early for sunrise (6:15am) and get some great photos. Walk on beach one last time. Pack-up all of our stuff and start drinking. Drop Whitney at Club 96 and go into town for Tequila and final souvenirs. Hang-out at pool until 2:15, head back to casita and leave to airport at 3:00pm. See Jessica Alba on plane to LA. Awesome view flying out of cabo of the two different houses as well as Los Arcos. Arrive to LAX where  after sitting for 10 mins decide we need to off-load at the back of the plane, get on a bus which proceeds to drive around the entire airport taking 15 mins, walk through a deserted section of the airport for 10 mins, go through customs, pick-up baggage, go through customs random check which takes another 15 mins, run to baggage re-check, go through security, wait for another bus to take us to the small ass American Airlines Eagle terminal,  board plane at 8:29pm with departure time at 8:30pm. Very close. Arrive to rainy and cold Denver with some tall weeds in the front yard.
Andrew and Whitney with a intense early morning sunrise: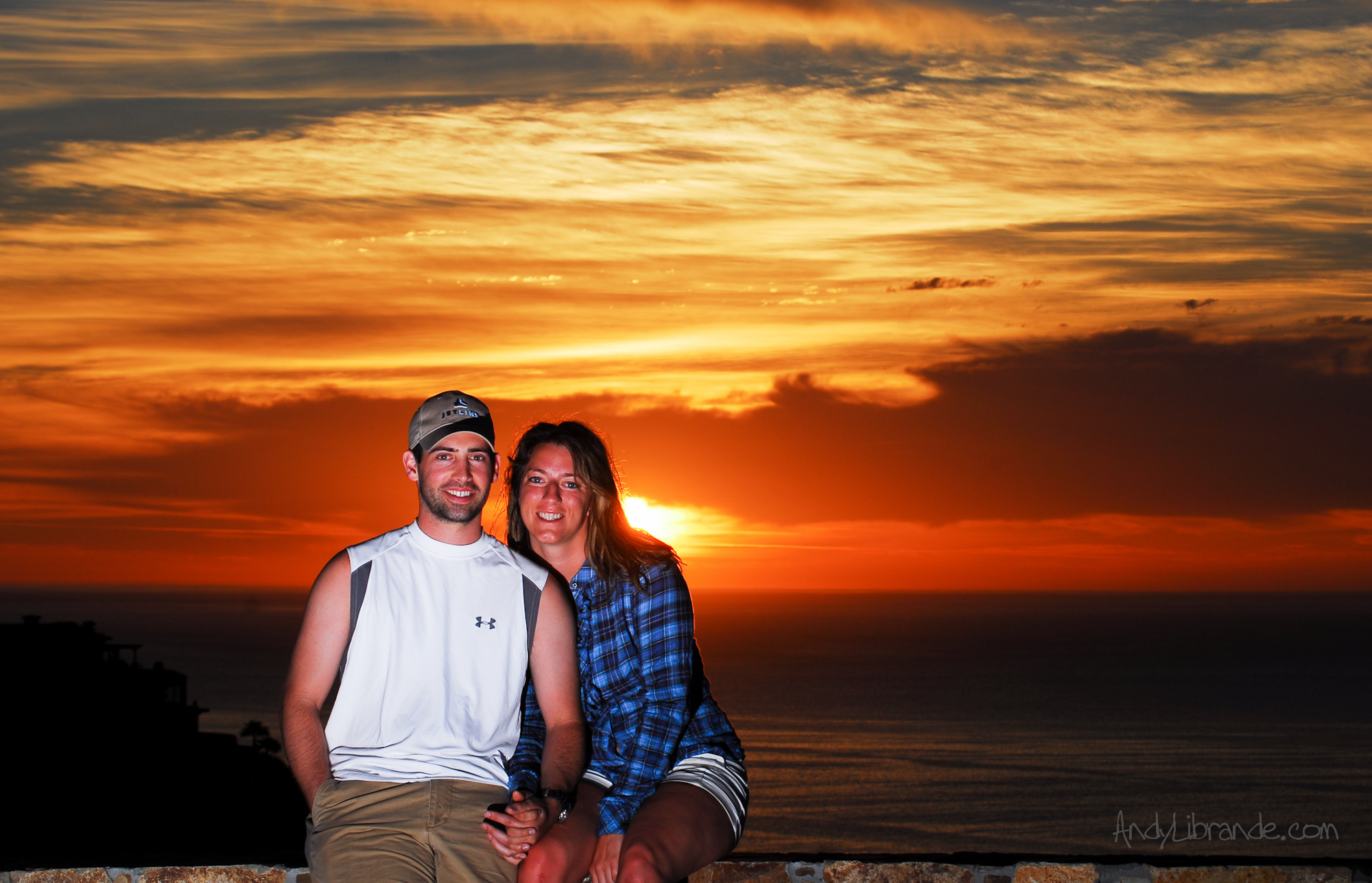 Sunday Day 1 Post Trip: Realized I took way too many photos.
Link to Part 2 of the Adventure that has photos of more pretty things (click here)