Caitlin and I just want to THANK everyone for making the 2012 Backyard Bouldering Competition the biggest and best one yet!!! Lot's of great climbing, good beer, awesome friends, and crazy costumes made this quite the night. Can't wait until the next one! We started back in 2010 with ~15-20 ppl climbing and this year had ~35 ppl climbing!!!
Previous Years of Backyard Bouldering Comp: Inaugural Year 2010 and 2nd Annual 2011 
The awesome crew that was left at the end of the night:

The Competition Poster: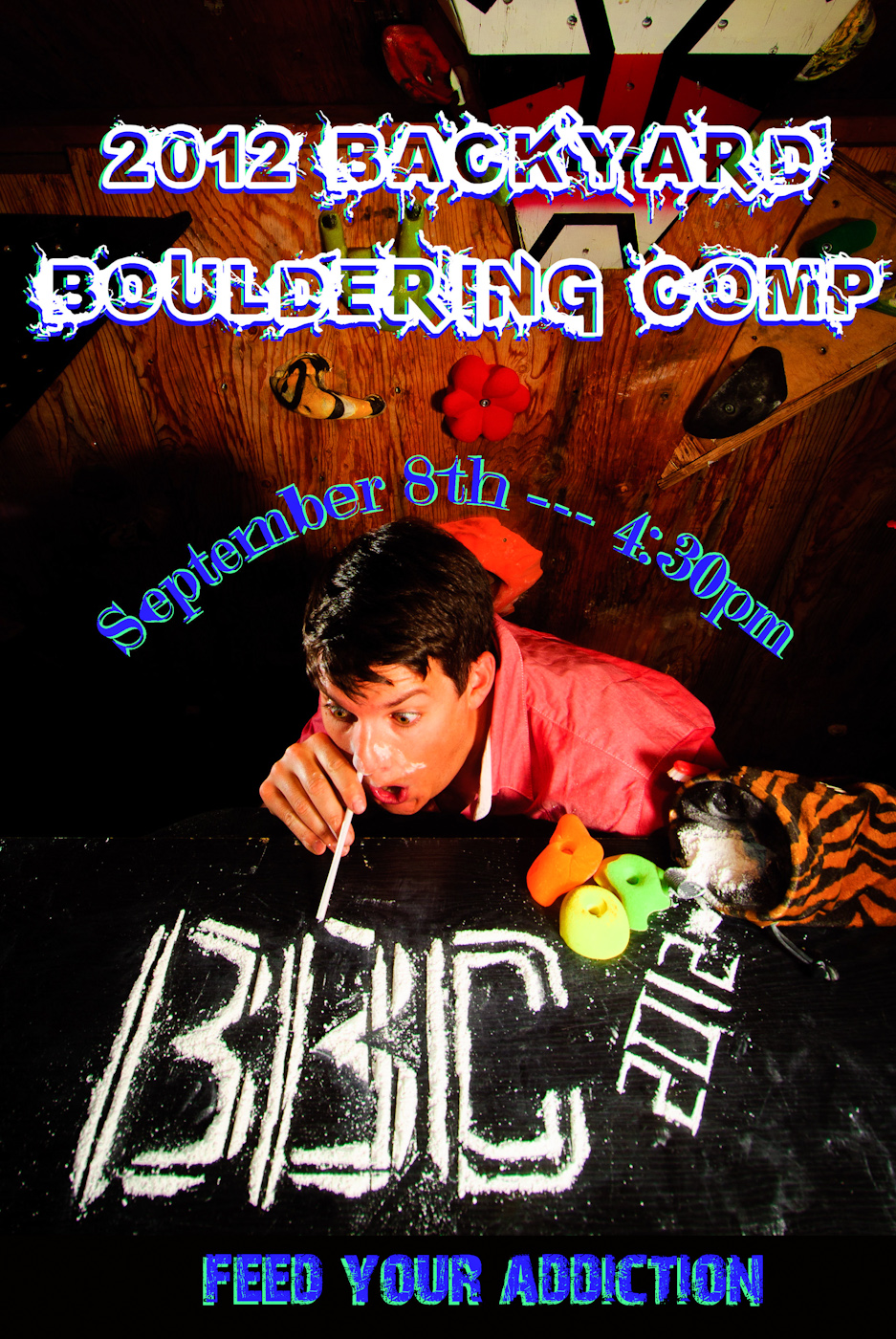 THE RESULTS:
The Dude's: 
The Ladies:
Caitlin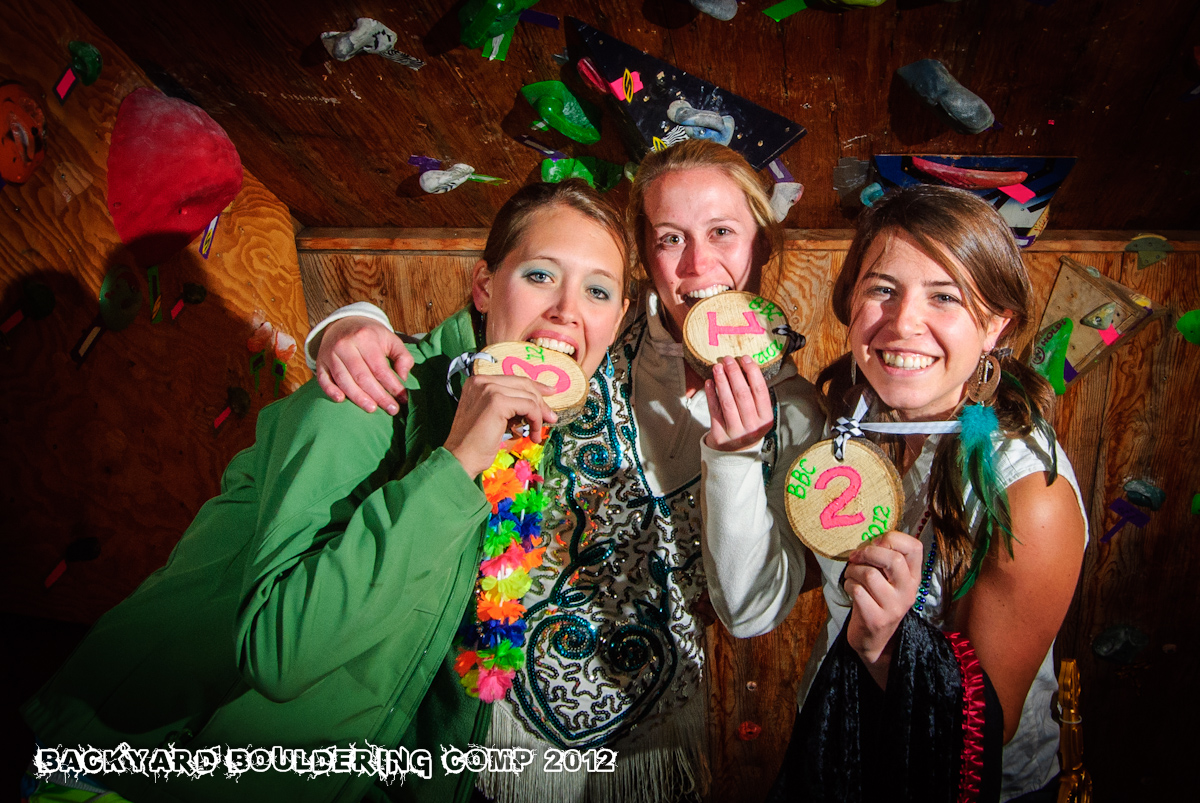 The Awesome Stuff:
Best Costume: Bobby the Penguin. A tough pick this year as nearly everyone was in costume and in character all night. The penguin prevailed with his dance moves, squawks on the climbing wall, and never-ending desire for fish…
Drunken Monkey: This was a fierce battle after competition climbing closed. Each competitor had to chug a beer then flash the pre-determined problem. ~10 ppl started the first problem and on the 5th problem (which meant 5 beers chugged per competitor) there was three people left with MIKE finally winning it all!!!
Best Determination: Charles
Midget's Unite: Anna
Best Beer: Terra
Best Grunts: Andrew G.
Most Bonus Holds (and most beautiful hair): Andrew G.
TAG Winner: RAMBO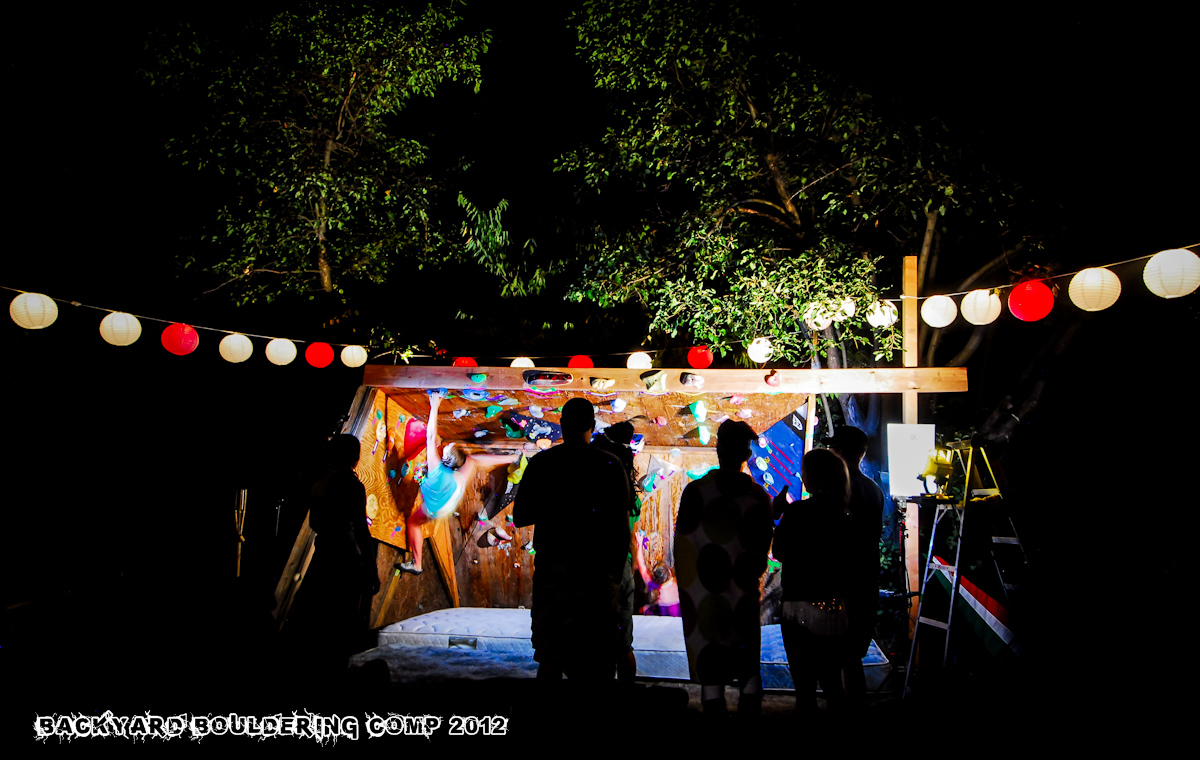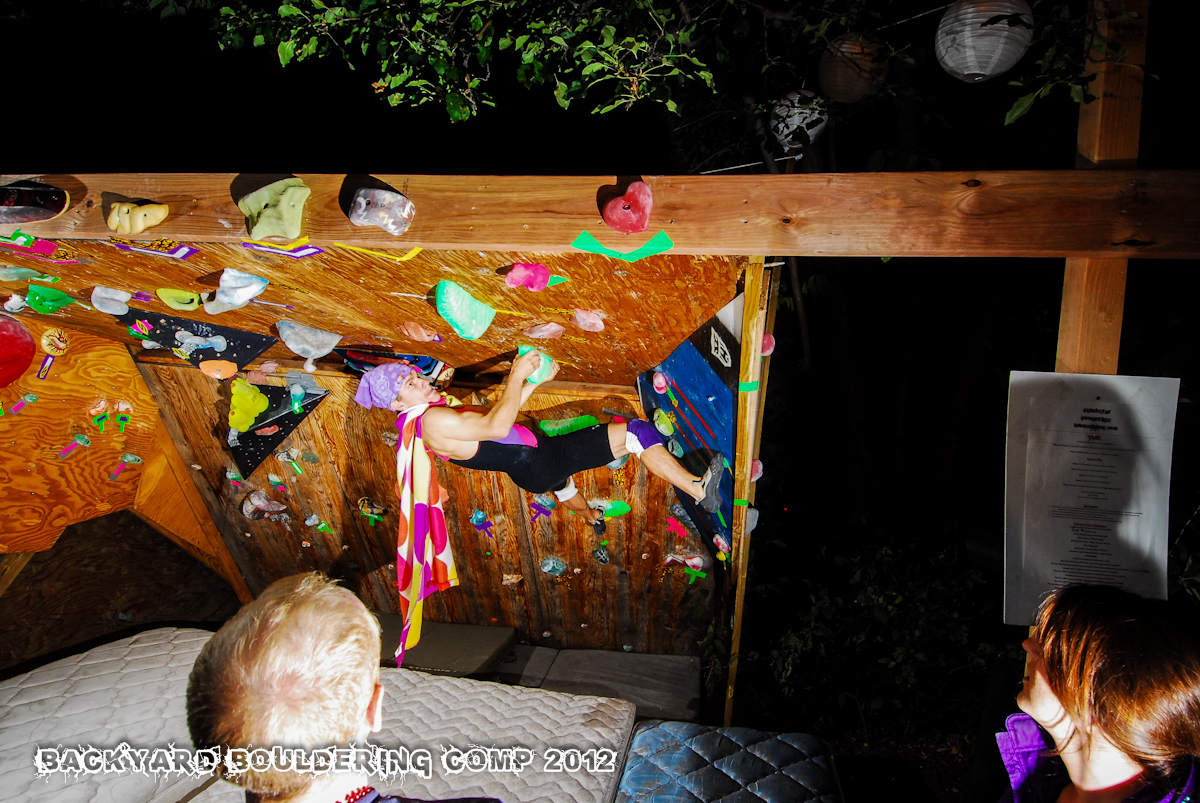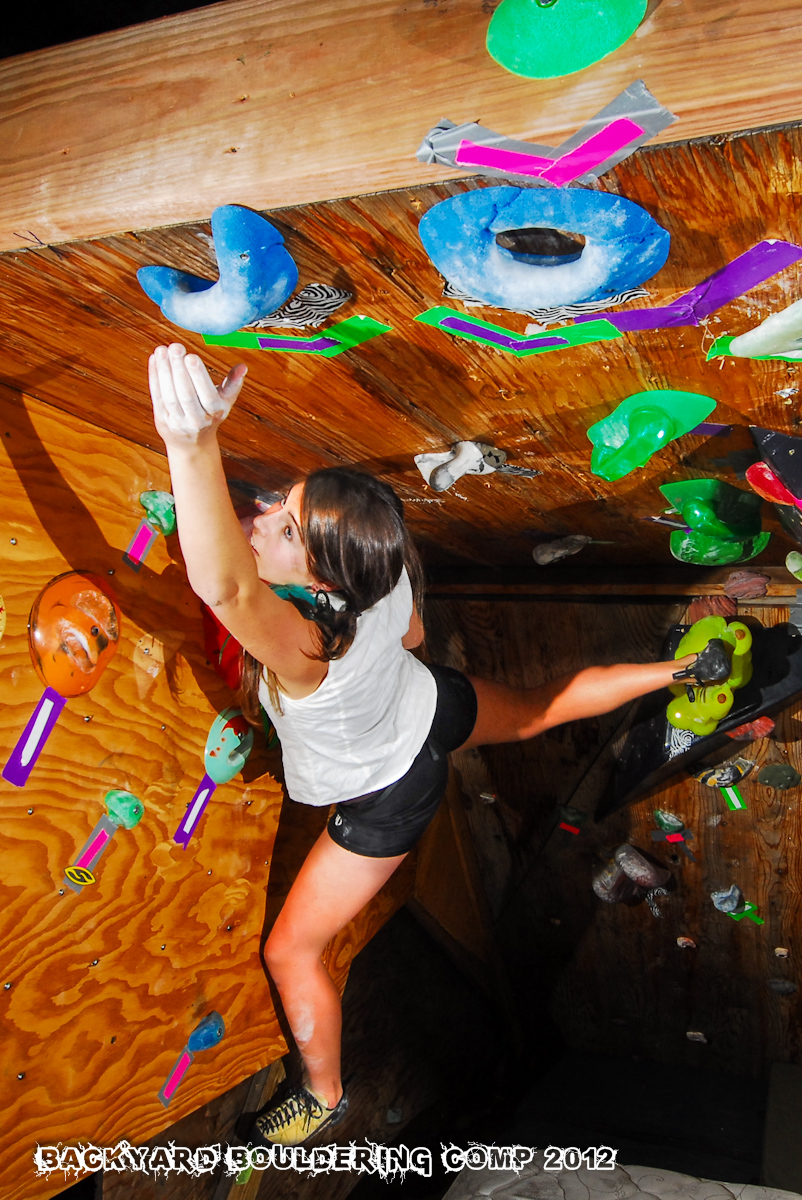 PHOTO GALLERY AFTER THE JUMP:
Read More

»
Thank you everyone for attending the 2nd Annual Backyard Bouldering Comp!!!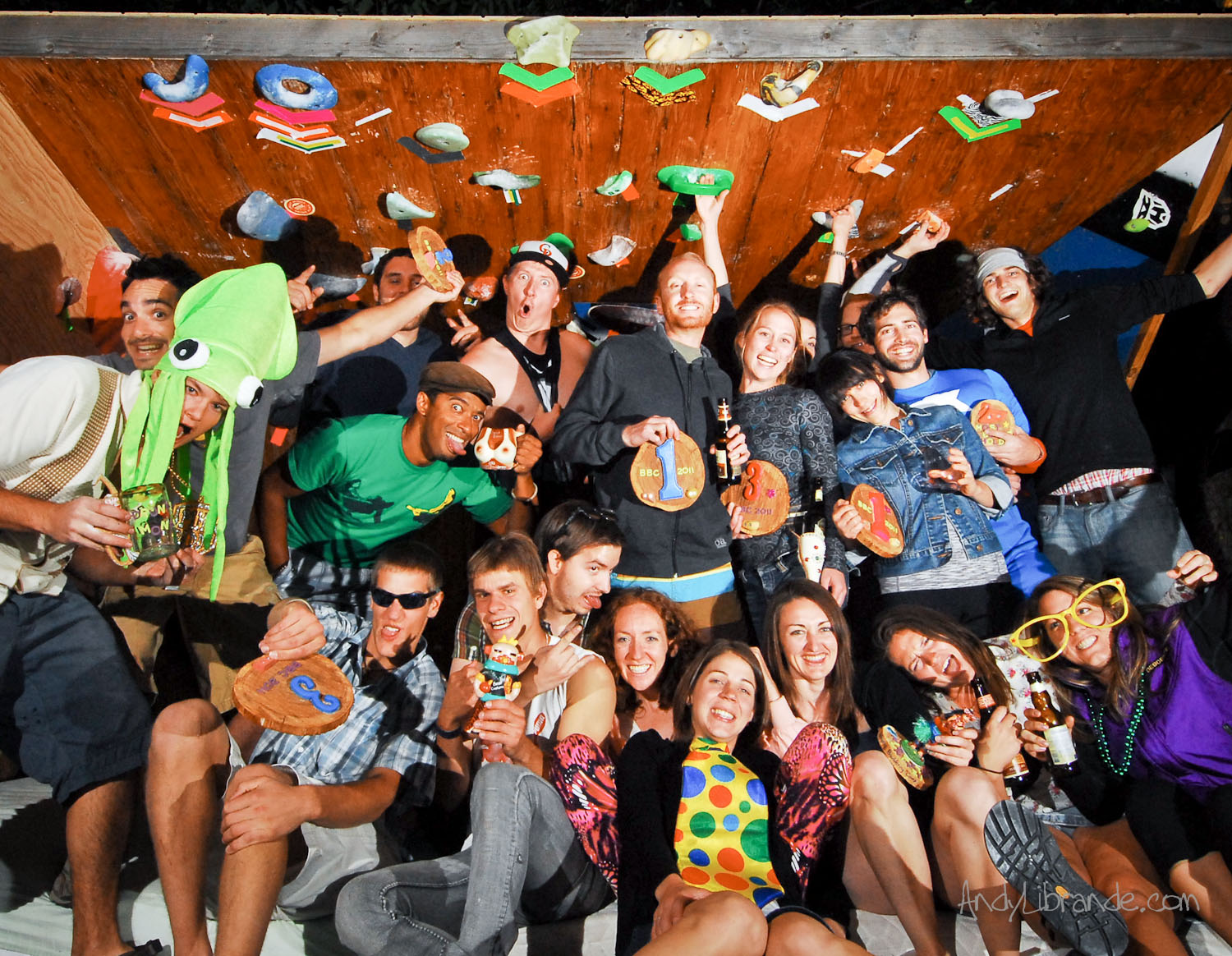 It was a huge success and I am really glad we had such an awesome group of people out ready to climb hard and have a lot of fun. The event was at least twice as big as last year and it was one of the most fun gatherings that we have ever had!!!
Below is a quick recap of the results and the event. There was 10 problems featured this year and a brand-new feature on the wall (literally finished the day of the comp!!!). Of the 10 problems 9 were completed which means I need to make it a little harder next year. Also glad to see such a diverse group of climbers out there and really glad to see all of the costumes.
Results:
Awards: 
Men's 1st: Jake Fell (2nd year in a row!!!)
Men's 2nd: Gabe Craveiro (after just barely missing it in the climb-off for 1st place!)
Men's 3rd: Vinny English (a late entry that come-in strong)
Women's 1st: Annie Bacci (Huge improvement over the past year!!!)
Women's 2nd: Brea Galvin (the Chilean Hooker outfit really helped the climbing)
Women's 3rd: Caitlin Shay (On the podium both years)
Prizes (these are the fun awards and glad everyone put a lot of effort into it): 
Best Costume: RAMBO (making a guest appearance as some sort of sexy chilean prostitute and climbing in extremely tight jeans)
Best Determination: Bubbha (the hipster tried hard all not but realized it just wasn't that cool to win)
Midget's Unite: Katie for not ever really rock climbing before and coming out and doing amazing
Best Beer: Gabe/Marcio (for bringing a delicious belgian beer)(lots of hard competition)
Most Bonus Holds: Andrew Giamberardino (somehow winning this prize both years for hitting the most amount of bonus holds but not completing the problems)
Drunken Monkey:  Andy Librande (flashing two separate problems after chugging a beer each time)
Thanks again for the awesome comp/party/BBQ!!!
More Info including the Competition Poster: http://andylibrande.com/news/2011/09/backyard-bouldering-comp-2011/
Details on the Scoring Format here: http://andylibrande.com/news/2010/08/backyard-bouldering-competition-sept-4th-2010/
Enjoy some pics from the night:
2nd Annual Backyard Bouldering Competition:
Party – BBQ – Climbing Competition
Saturday September 10th, 2011
Starting at 4:30pm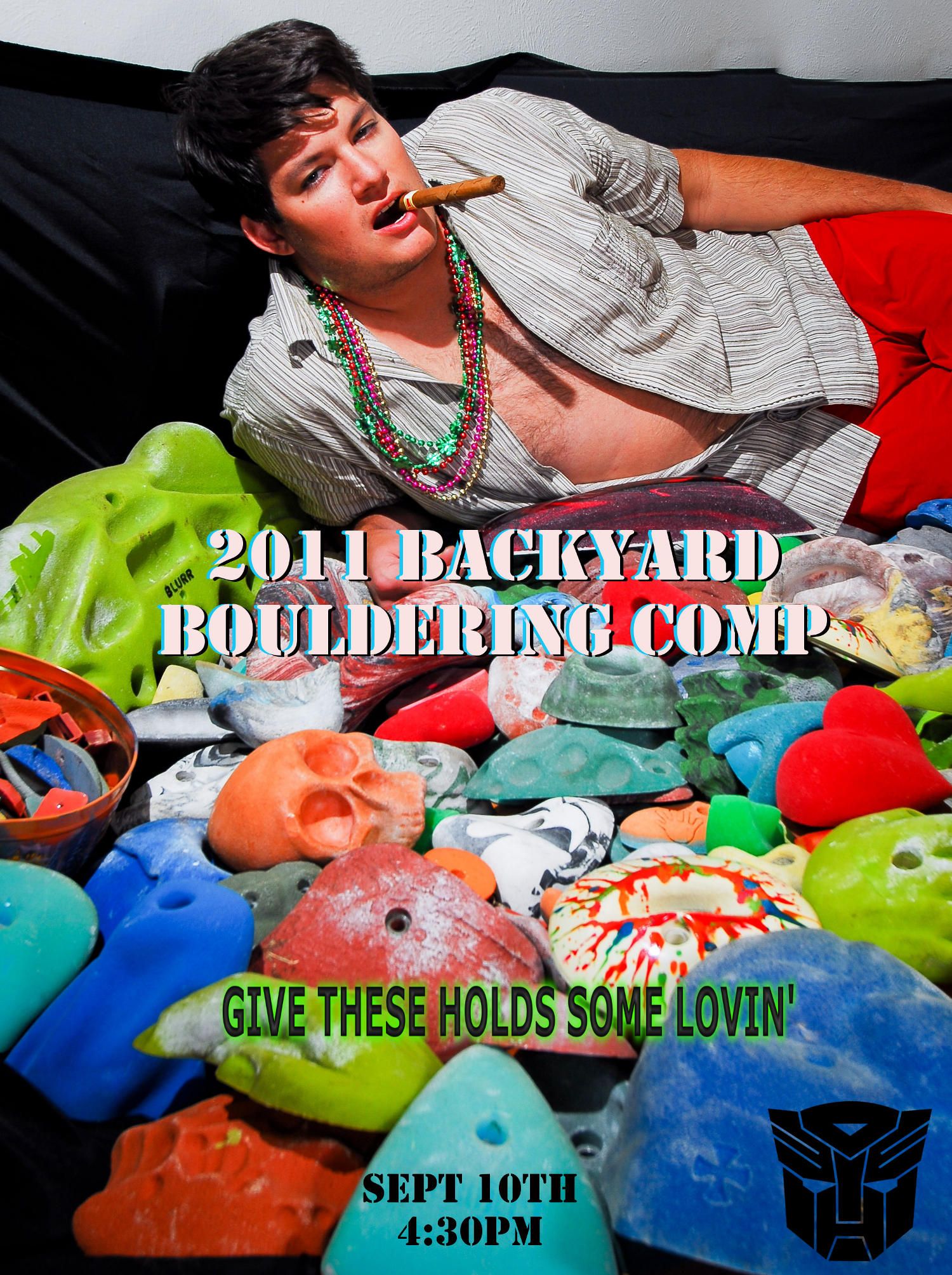 The time has come for the 2nd Annual Backyard Bouldering competition. Following the success of last year I invite anyone ready to climb hard and have a good time. The scoring format and flow will follow very similar to last years with awards for Men's/Women's plus prizes for Best Costume, Most Determination, and other new ones.
All ability levels are welcome and there will be a number of easy to very hard problems. Plus there will be new features and special holds added just for the comp!
Entry Fee:
 6-pack of good beer per person (poor beer selection may lead to disqualification.
Food: A full dinner (slow-roasted carnitas tacos w/lots of sides) and plenty of snacks before dinner will be provided. Also sports drinks will be served in between gulps of beer.
Party
: There will be an after-party so feel free to come to that even if you are not climbing! Starting as the competition winds down.
1st thru 3rd Men's and 1st-3rd Women's
An Open division may be created if enough advanced climbers RSVP
Prizes for all the fun stuff:

Best Costume
Best Beer (via popular vote)
Midgets Unite (Person on 5'5″ that performs the hardest)
Best Determination
Most Bonus Holds
Drunken Monkey (climber must chug a full beer then flash a 3+ star problem. If there is a tie it is a head-to-head chug/climb until there is a clear winner)

All Awards/Prizes will receive something cool/memorable. (Last years prizes)
Scoring Format: Will be nearly identical to last year's scoring format and flow. Essentially each problem is worth a set number of points and the more times you try before completing the problem the lower your points. The details from last read can be read here:
http://andylibrande.com/news/2010/08/backyard-bouldering-competition-sept-4th-2010/
See you there!
Below is a slideshow showing some of my favorite photos from 2010. 2010 was a pretty good year with a number of really cool trips to new locations and old favorites. Hope you enjoy:
If you are following from a feed please follow this link for the full post: http://andylibrande.com/news/2011/01/some-favorites-from-2010/
The first ever Backyard Bouldering Competition was awesome. Thanks to all that came and made it such a success; for all those that could not make it I hope you have the opportunity to join us in future events (and yes after the success of this event there will have to be more!).
Here is a video of the event made as a stop-motion film from the ~600 photos that I took over the course of the evening. Sit back and enjoy:
Backyard Bouldering Comp 2010 from AndyLibrande on Vimeo.
Results:
Awards:
Men's 1st: Jake F. (and overall winner!)
Men's 2nd: Ben S.
Men's 3rd: Andy L.
Women's 1st: Caitlin S.
Women's 2nd: Whitney H.
Women's 3rd: Beth S.
Prizes:
Best Costume: Jon J.
Most Bonus Holds: Andrew G.
Best Determination: Brian G.
Best Moves: Jake F.
Kegmeister: Andrew G.
Midgets Unite!: Annie B.
Comp Recap:
Congrats to the above winners! This was the first time I had ever done anything like this and I believe the results were pretty sick. In the end we had 9 different routes all deploying a variety of moves from powerful traverses, to slopers, to balance/slab type problems. I learned quite a bit from the results and gained a ton of skill in terms of route-setting for a significant range of climbing abilities.
Thanks again for everyone that came and to all of those that helped with the party!
Comp Details:
For all of the specifics on the comp, prizes, and rules check out this page: http://andylibrande.com/news/2010/08/backyard-bouldering-competition-sept-4th-2010/
Select Photos from the Event (Please watch the video for a lot more action):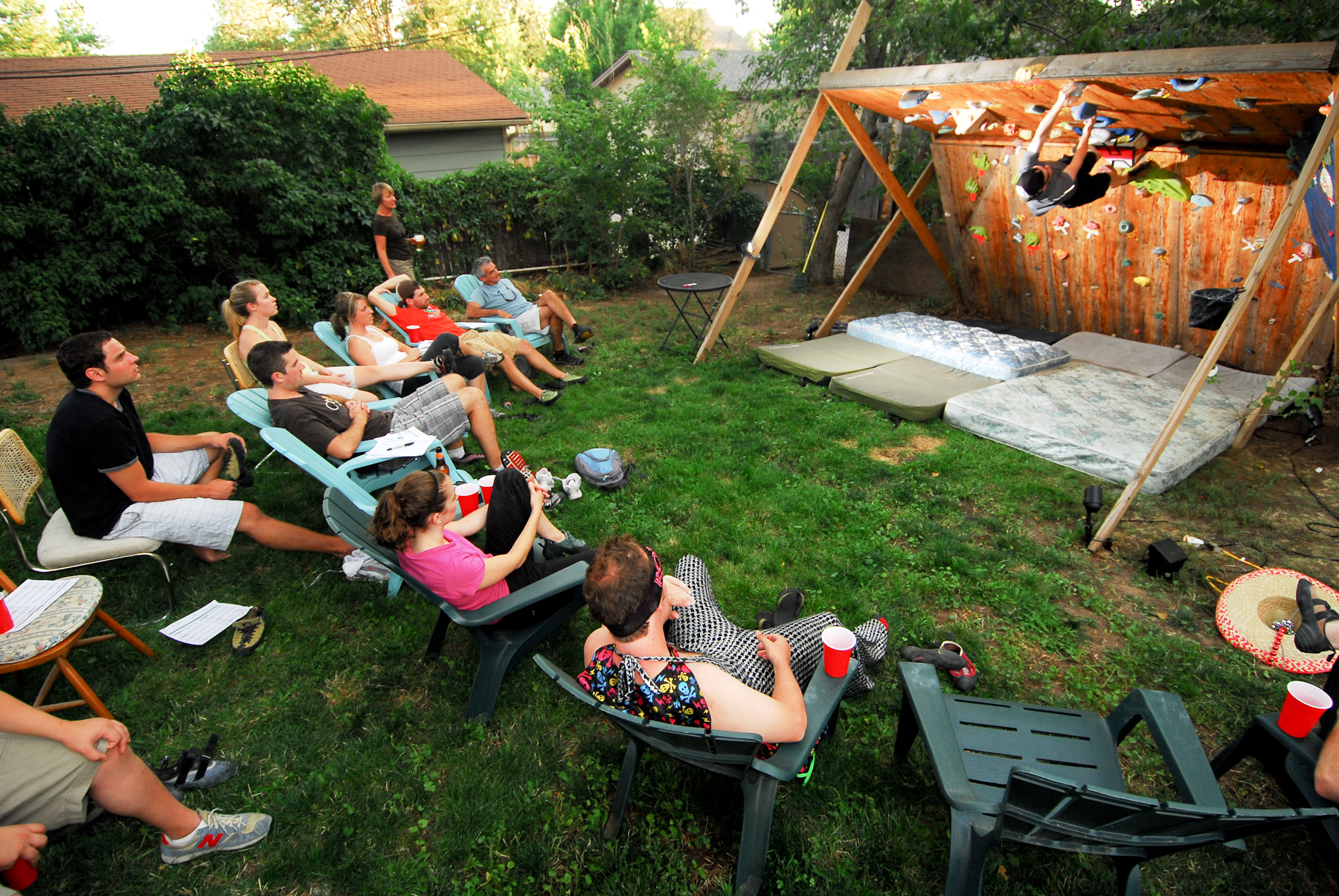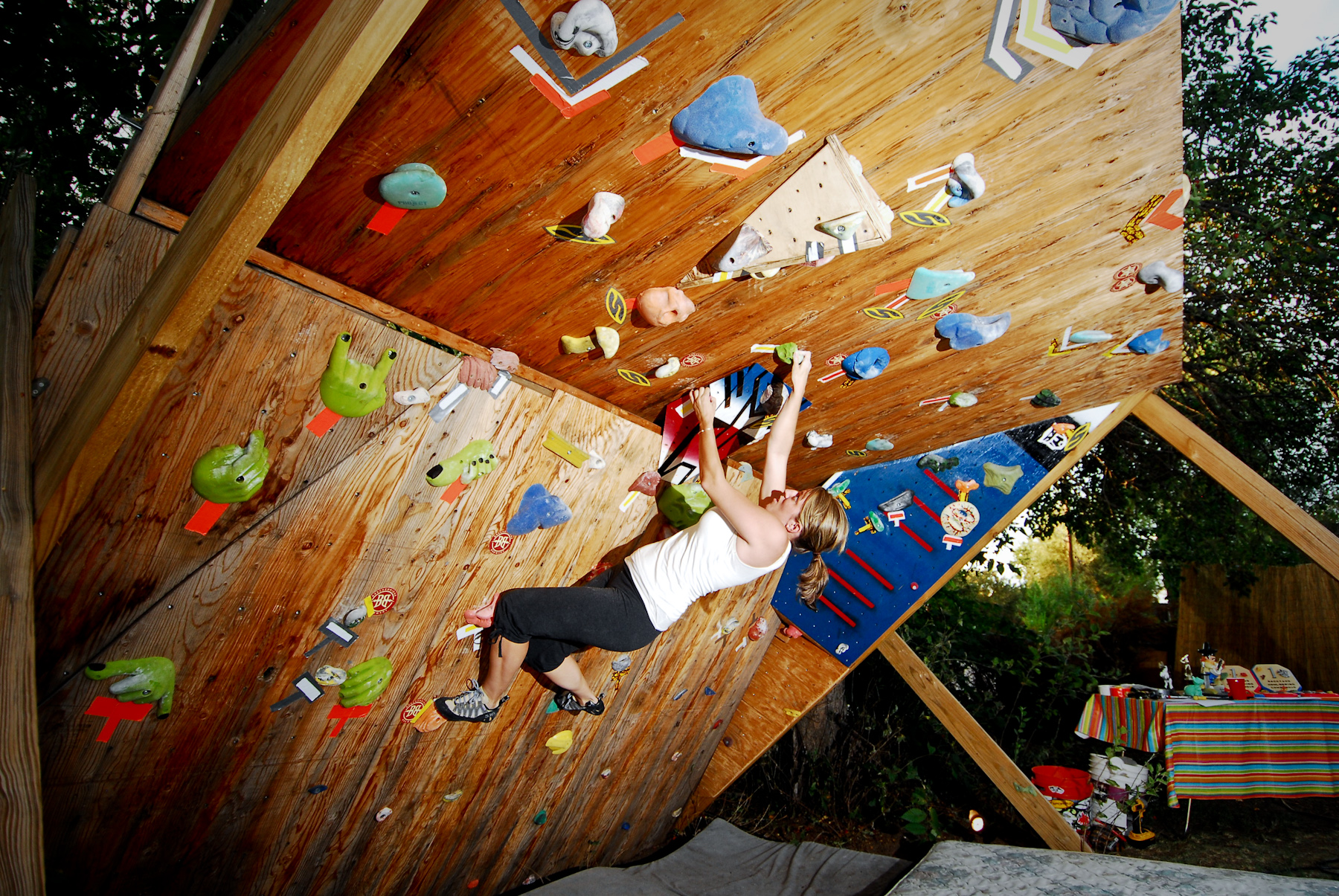 Who can forget about the 17lbs of pork that we smoked for 8 hrs and turned into the best carnitas tacos ever: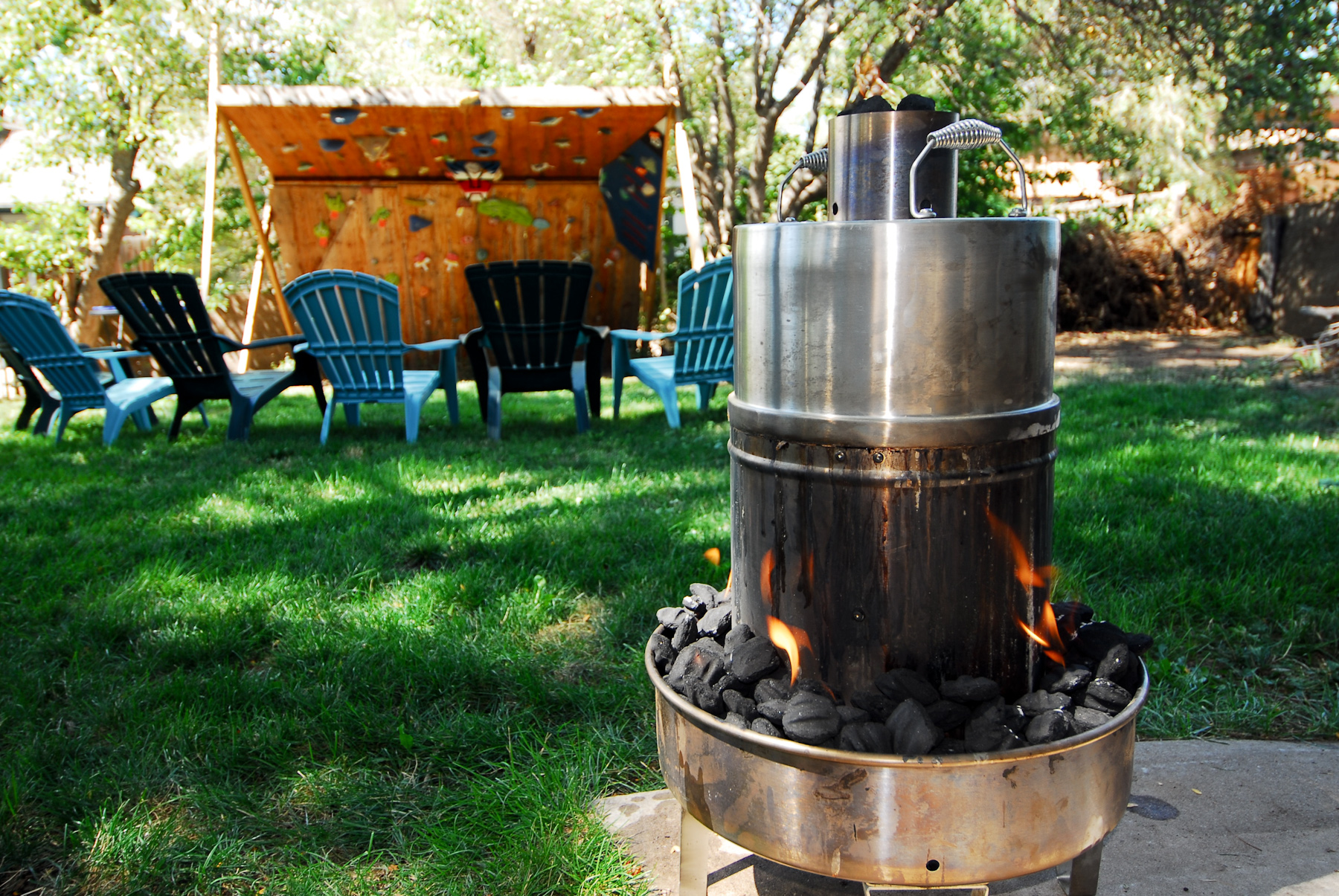 Prize winners: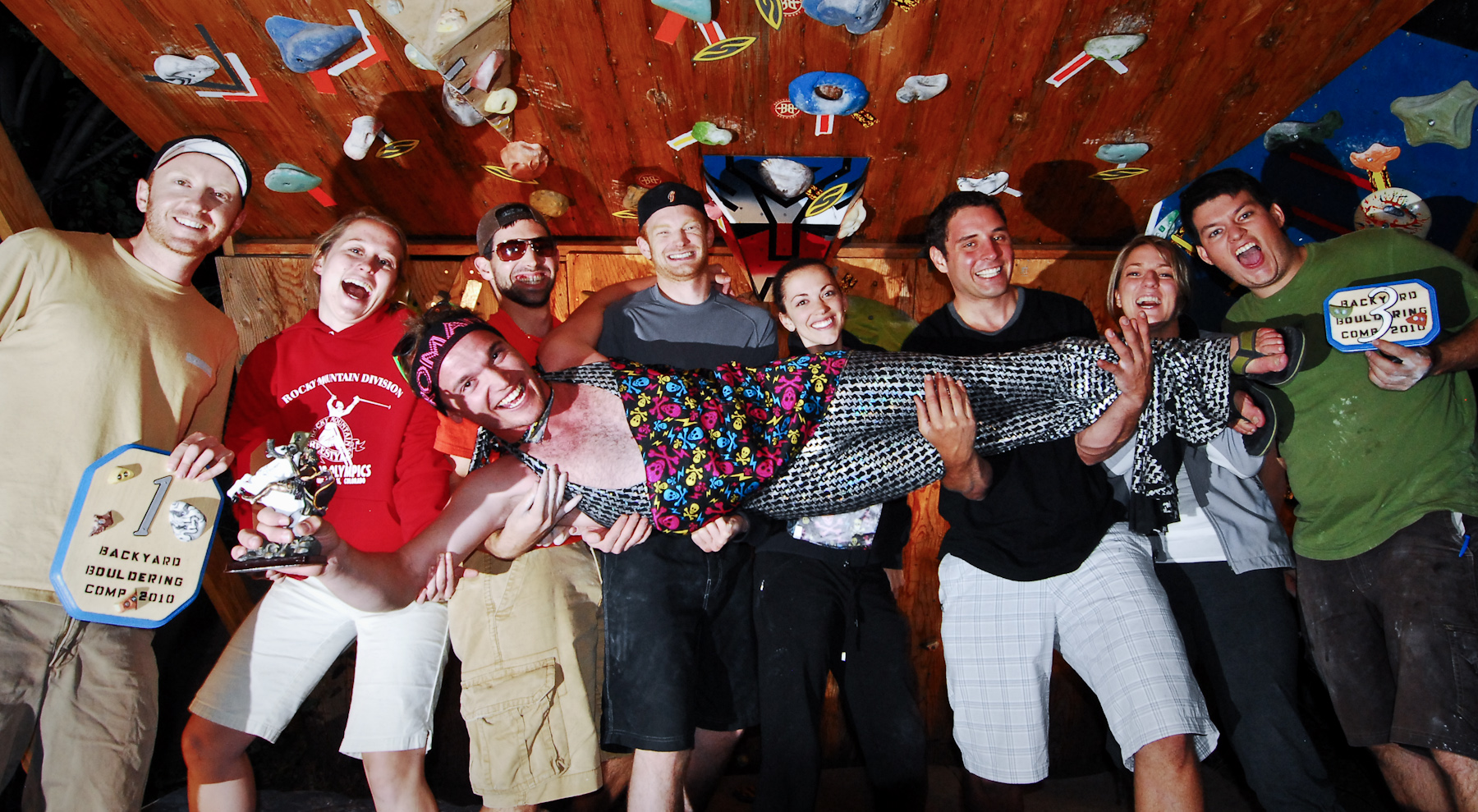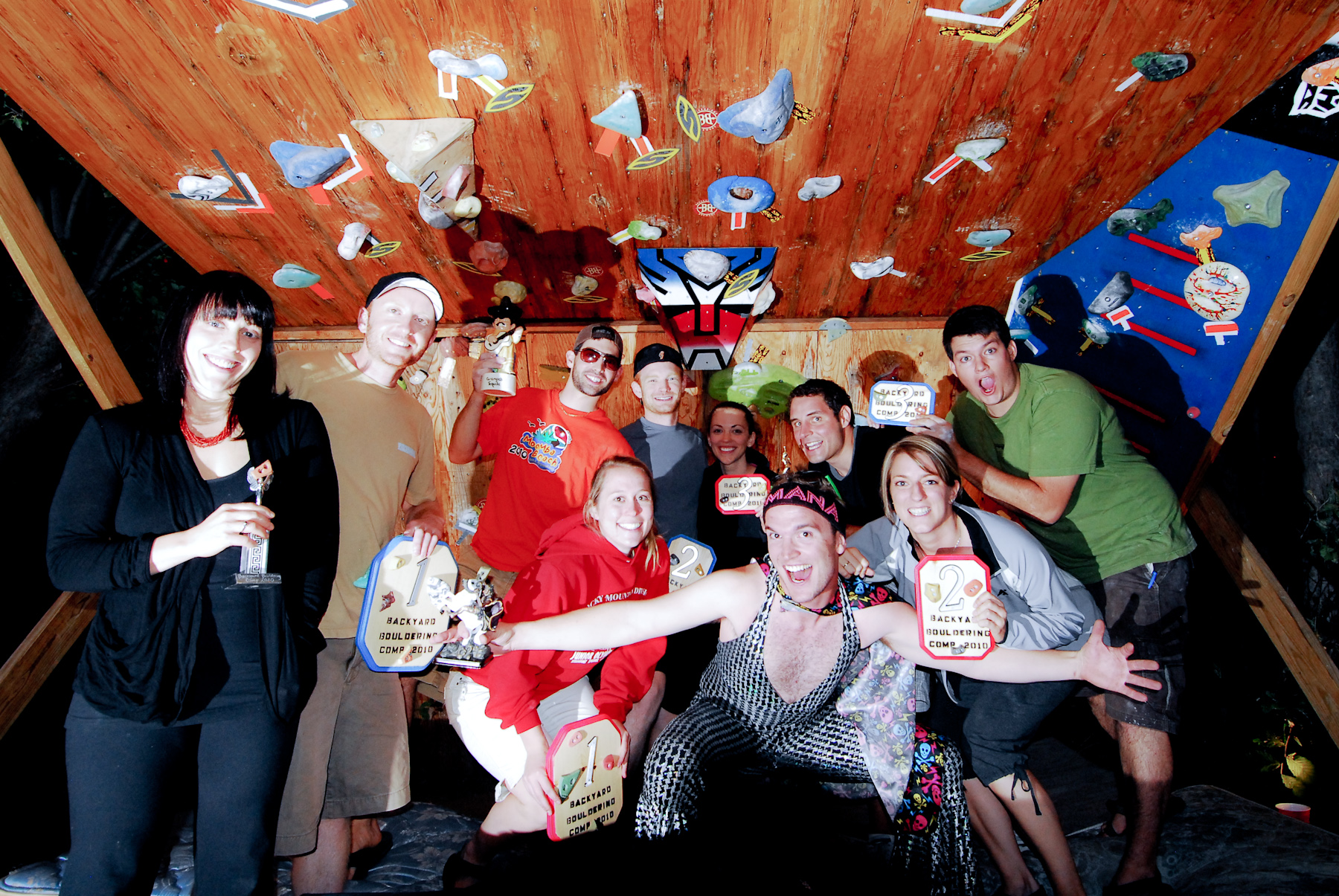 Thanks for Coming!!!
Introducing the Backyard Bouldering Competition:
Party – BBQ – Climbing Competition
Saturday September 4th, 2010
Starting at 5:00pm
By Andy Librande Productions
A simple open competition taking place on the backyard wall at Andy Librande's house. A keg of beer and a dinner buffet will be provided. Everyone and all ability types are welcomed and encouraged to attend. Please indicate that you are attending by leaving a comment below with your email address.
Format:
At least 10 climbing problems will be featured on the climbing wall and will range in difficulty from Easy to Hard
Each problem will be given a set of Stars to rate its point value (and potential difficulty)
Each competitor has at least two hours to attempt as many problems as they can with no limit on the number of tries
Each competitor will share the wall with everyone else and take turns as necessary, time will go until everyone has climbed every problem or as attempted as many tries as seen fit by the overall judge
Each competitor will keep track of their own scores throughout the competition
Cost:
Entry Fee: $5 to cover beer, food and prizes
Scoring:
Each problem will be given a set of Stars to rate its point value ranging from One Star to Four Stars
Star rankings may hint at difficulty but are warranted more on quality of the climb. Therefore an easier but aesthetic problem may be worth more points than a harder contrived problem.
Each attempt on a problem is worth a certain amount of points. Flash (sending problem 1st try) is worth the most. There will be no points awarded for problems that are not completed. However on select few climbs there may be "Bonus" awards that a competitor may earn if they reach a certain hold but do not complete the problem.
A completion of the problem is considered when a competitor has complete control on the final hold. Grabbing a final hold and swinging out and not holding on will not count as a completed problem. Bonus holds count when the competitor at least has minimal grip on the hold with their hand; there are no bonus foot holds.
Completion of a problem means that the competitor has climbed the problem clean. This means only using the appropriate hand and foot holds as dictated by the competition scorecard. Dragging your feet on the pads, accidently placing hands/feet on off-route problems/features, or hitting other competitors with any part of your body will be considered a "dab" and competitor will need to restart the climb.
Score Details:
Star Ranking Grid and Scoring Points
Flash
2-3 Attempts
4+ Attempts
Bonus Hold*
1 Star
25 pts
15 pts
10 pts
10 pts
2 Star
35 pts
25 pts
20 pts
10 pts
3 Star
45 pts
35 pts
30 pts
10 pts
4 Star
60 pts
50 pts
40 pts
10 pts
*Bonus Hold only Counts when the problem is not sent by competitor
Awards and Prizes:
Awards will be given to the top climbers with the highest scores.
In an event of a tie the winner will be determined by a game of CLIMB (aka Horse in basketball). Where each climber will alternate in climbing a problem and then the other climber has to climb that problem or earn a letter.

Awards will be for:

1st-3rd place for Men
1st-3rd place for Women

Prizes will be abundant and attended to be light-hearted and will be decided by the Comp organizer (Andy Librande) or by popular vote:

Best Costume: Competitor with the best outfit/costume/etc and earns at least 50 points. Popular Vote decision.
Best Determination: Competitor that puts forth the best effort throughout the competition (does not mean climbs hardest). Comp Organizer decision.
Most Bonus Holds: Competitor that attempts the most problems and gets the most bonus holds but does not fully complete the problem. Comp Organizer decision.
Keg Stand Meister: Competitor that does at least a 15 second keg-stand and then flashes a Three or Four star problem.
Midgets Unite: Competitor under 5'5" with the highest score.

Awards and Prizes will range from Plaques to Gear to Cash Money
Preparation:
The climbing wall is open 24 hours a day 7 days a week in my backyard. Let me know if you are coming by to climb at anytime. Pads are in the house and if you need them and I am not there I can let you know the keycode.
Climbing wall will close several days before the comp to reset all of the problems for the competition.
The Wall:
Thank you and Please let me know if you have any questions!!!
- Andy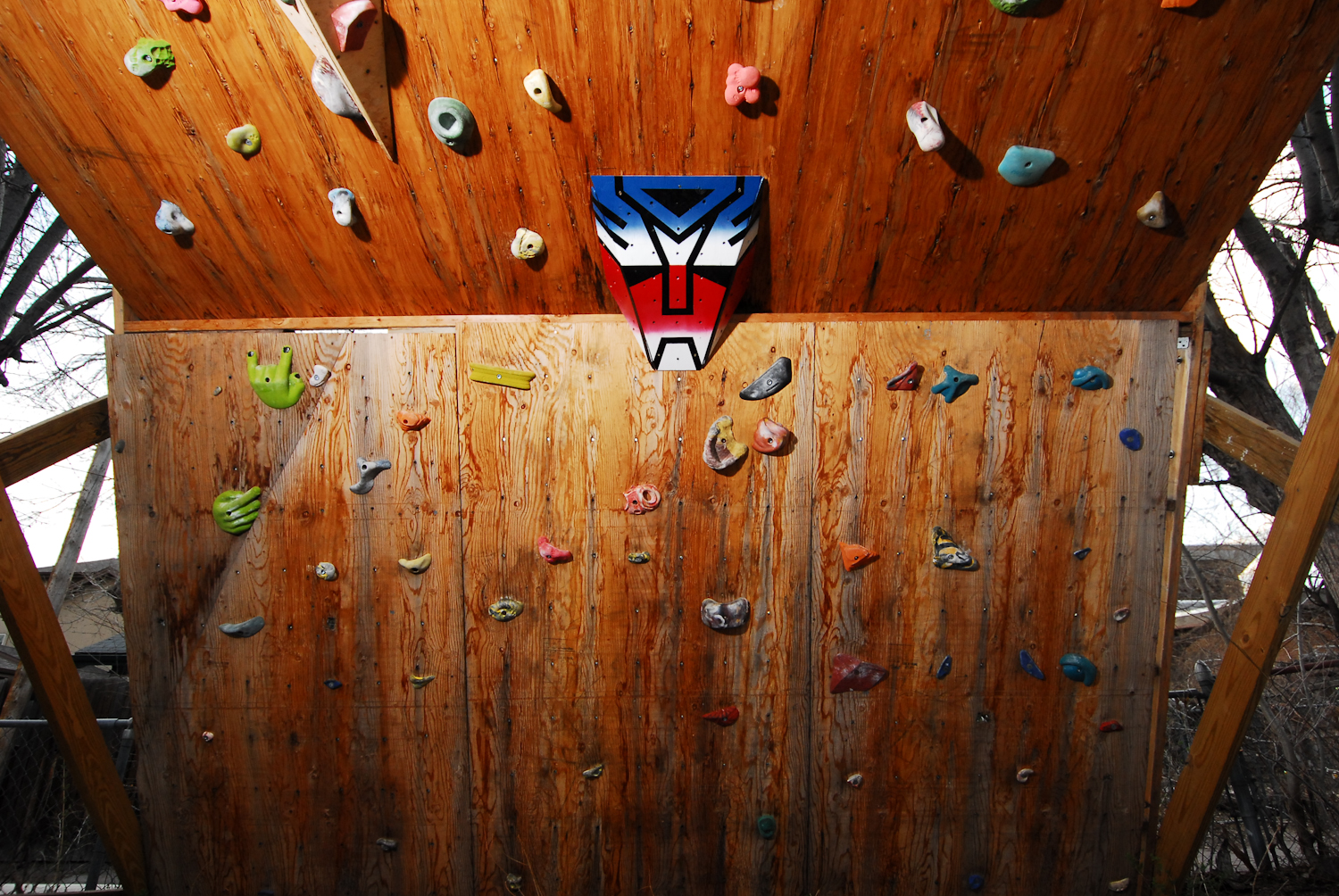 Optimus Prime is the awe-inspiring leader of the Autobot forces.  On the battlefield, there are few who rival Optimus Prime's prowess. He is easily the strongest of any Autobot his size, and what he lacks in raw firepower he easily compensates with guts. He would sacrifice his life to protect his fellow Autobots or those under their care.

In the eyes of Transformer fans, this is God.
Could not resist the above description of Optimus Prime when I was looking for good photos to base my newest addition to the climbing wall.
A couple weeks ago Caitlin and I set-out to add a new feature to the climbing wall and messed around with a couple of designs. Caitlin suggested the Triangle type shape in the corner of the wall and then we started building.
Once we had all of the pieces cut-out we somehow came to the conclusion that the shape kind of looked like an Optimus Prime face and thus the rest of the project we were focused on making the best volume that I have ever seen.
Materials and Construction for the Optimus Prime Climbing Volume:
1 4×8′ of plywood (the stuff that is ~$25-30 sheet not the $40-50 stuff) (Plenty left-over as well)
4 Metal Angles
Wood-screws
T-nuts
Black/White/Red/Blue Spray Paint
Tools: Circular Saw, Jig-saw, Screw-gun, straight-edge, triangle, big-ass hammer
Started by cutting the shape based upon the angle to the wall. Due to the complexities of the angle we did a couple sample cuts in some shitty wood I had laying around until it was pretty close. Once we started the front panel was the first piece and we tacked it to the wall to measure the side-pieces. Measuring the side pieces was all about precision with the lengths and the angle to the wall. Once we had the main angles all we had to do was cut the edges at an angle where they would fit together. Then I bent the metal angles until they were at the correct angle and screwed them onto the main board after we had put T-nuts into each piece.The last step was painting with multiple black layers first, taping out the design, then white, red, and blue. Hang-up and enjoy.
Here are a few pictures of the design process and the final product:
Caitlin holding the Optimus to give you an understanding of its size:
Optimus during construction. The wood 2×4 pieces never got used.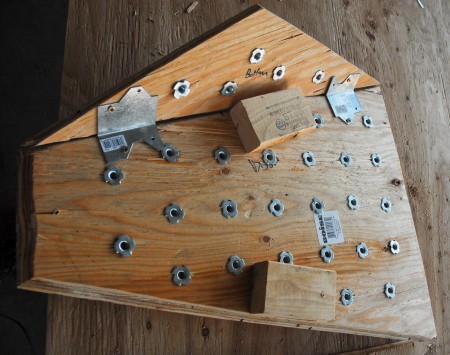 Optimus after receiving numerous Black Paint coats, then being taped-off for the face features, and with a little white: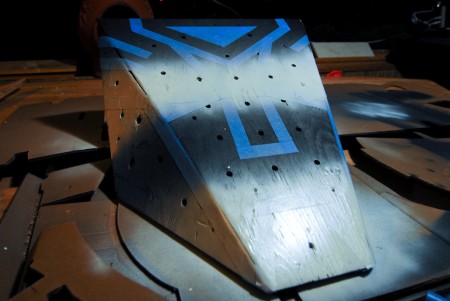 Taking Optimus for a Test spin: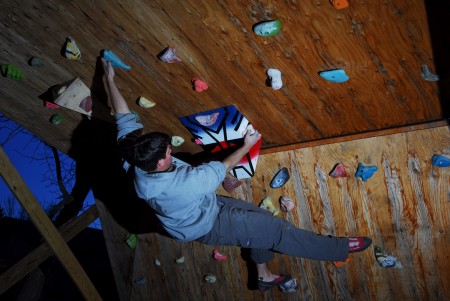 It's so beautiful I have a hard time putting holds onto it right now: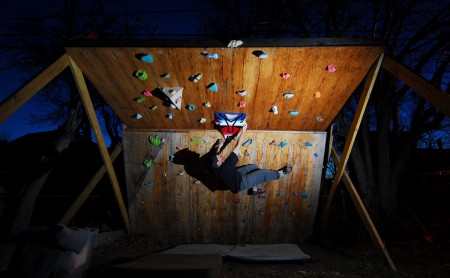 If you are following via a feed, here is the permalink: http://andylibrande.com/news/2010/04/optimus-prime-owns-my-climbing-wall/
Happy Holidays and here is to the hope that this snow becomes strong for another awesome season. Thanks to everyone for the adventures over the past year and look forward to the crazy stuff that we will come-up with in 2010!
Just enjoying the snow as much as possible: