AFRICA 2016
---
2016 Green Season (January): Three Weeks Exploring Zimbabwe and Botswana
Victoria Falls // Okavango Delta // Linyanti Waterfront // Central Kalahari Game Reserve (CKGR) //Makgadikgadi Salt Pans //
---
Introduction: 
---
Andy + Caitlin (that's us!) embarked on their honeymoon to Africa a few months after being married in the La Sal mountains above Moab, Utah.
After our DIY wedding we planned a trip looking for vast and untamed wilderness in Africa, a lifelong dream destination for both of us. Botswana became a fixation and green season was the best of all worlds (low tourists #'s, less expensive, high # of animals!!)! This trip took us to remote wilderness camps where we explored amazing wildlands abundant with wildlife, experienced a variety of unique  landscapes, and had a few encounters that seem unbelievable in retrospect.
Due to this being our honeymoon we received generous contributions from our friends+family through a Honeyfund and cash gifts!! This allowed us to spend nearly 3 weeks traveling and visit some elaborate places on our first african wilderness safari.
Andy has built this dedicated website to share the best stories from hundreds that occurred over just a short three weeks. Any feedback, questions, or comments are always welcomed!! 
Please note all pages are still under construction with a lot more content to be added. 
---
Navigation to Detailed Trip Reports and Photo Galleries: 
---
Trip Synopsis: 
---
---
VICTORIA FALLS (Zimbabawe):
Read More about our visit to Victoria Falls here!!
Elephant Camp with the Victoria Falls Wildlife Trust (3 Nights) 
Elephant Back Safari
Victoria Falls National Park
Devil's Pool / Livingstone Island (Crossing into Zambia)
White Water Rafting on the mighty ZAMBEZI (19+ rapids up to class 5+)
Safari walk with Sylvester the Cheetah
Victoria Falls is Africa's adventure capital and we had way too much fun here! White-water rafting is the best we have done in our lives. Intimate wildlife encounters with Elephants and Sylvester the Cheetah. Let's not forget the incredible Victoria Falls National Park, or swimming at the edge of the falls in the ridiculous DEVIL's POOL!  This area is a must visit.
---
OKAVANGO DELTA (Botswana):
Read More about our visit to the Okavango here!!
Little Kwara Wilderness Camp with Kwando Camps: (3 Nights)
Game Drives: 
1st Evening Game Drive Safari (only us+guides in vehicle!) 5pm-8pm (sunset at 7pm)
2nd Morning Game Drive Safari (only us+guides in vehicle!) 6am-11am (sunrise at 6am)
2nd Evening – Okavango Boat Safari
3rd Morning Game Drive+ 1 Evening Game Drive
Final Morning Game Drive
~25 hours game driving + 5 hours boat cruise
Key Sightings: 
Male Cheetah on the Hunt
Female Cheetah and 2 yearling cubs
1st Lion (2 males)- spotted by Andy
Spotted Hyena
Male Giraffe headbutting
Elephant charging the vehicle
Elephants+Hippos+Ostrich+Giraffe+Antelope+Tortoise
So many BIRDS!
Guides = Obzer + KP     Camp Manager = Charles
Flying into Little Kwara camp in the middle of nowhere shakes your perception of planet earth. In all directions it appears that mankind is not present with only elephant highways below you. This camp was our first true African wilderness experience and it was a perfect introduction. Green season meant the delta was low but the savanna was lush with antelopes and predators. Some incredible encounters with a Cheetah hunt, lions, elephants. The guides were wonderful at educating and were good jokesters with us too.
---
LINYANTI WATERFRONT (Botswana):
Read More about our visit to the Linyanti River here!!
Lebala Wilderness Camp with Kwando Camps: (3 Nights)
Game Drives: 
1st Evening Ride
2nd Full Day ride – 6am to 4pm (10 hrs) (only us+guides in vehicle!) – we took a evening siesta after a long day chasing wild dogs
3rd Morning Ride  with Bush Survival skills walk (only us+guides in vehicle!) + 1 Evening Ride
Final Morning Ride
~30 hours game driving
Key Sightings: 
Spitting Cobra
2 Male lions
13 Wild Dogs – 10 hr day to track them
Lion Pride killing and eating a Baby Warthog
Pride of 2 males, 2 cubs, 3 females (2 sightings)
Red Lechwe death from broken back
150+ elephant group
Baobab tree immersion
Poaching Leftovers
Fresh leopard tracks final morning right next to camp
Frog noises after rain
Spring Hare
Guides = Jackal and Diesel      Camp Manager = 
Lebala is an beautiful camp with the best lodges we stayed in; the sightings were top-notch and we had really fun guides. We chased a Wild Dog pack, we ran into multiple lion prides, saw a massive group of more than 150 elephants marching through the forest. The sightings were non-stop!
---
CENTRAL KALAHARI GAME RESERVE (CKGR) (Botswana):
Read More about our visit to the Central Kalahari here!!
5 Nights with Unlimited Safaris in Tented Camp in Deception Valley
Guide = Master Baisteng (Camp staff = Moses+Alec)
Game Drives:
Arrival and Travel 1st half-day: Maun to Deception Valley in CKGR – Leopard sighting on rim of Deception valley just before sunset on way in
21st: Morning drive to Deception Pan, Evening south Deception Valley
22nd: Sunrise to After Sunset drive (14 hours ~150 mile loop), big Nighttime rain
23rd: Morning drive to Letihau waterhole, cheetah sighting, Evening headed north to Leopard pan, huge rains in truck turned south, dung beetles, night downpour at campsite
24th: Leopard Pan and Sunday Pan morning, Evening drive to Letihau waterhole.
25th: Pack-up, quick loop around area, drive to Camp Kalahari (2.5 hrs to the park entrance, 2 hrs to paved road, 2.5 hrs to Camp Kalahari)
Key Sightings: 
Leopard at top of Deception Valley
Giraffe with herds up to 25
Oryx
Springbok
Honeybadger
Tau Pau Lion Pride (Kalahari lions = 1 male, 2 females)
2 Male Kalahari Lions
2 Cheetah Brothers
25 Ostrich Group
Mating Bullfrogs
Dung Beetles
Bat Eared Fox
50 Steenbok in a day
Wild Cat during daytime
HOT WEATHER
INSANE RAINSTORMS and LIGHTNING – just like the batshit crazy ones we have in and around the rocky mountains
After reading many reviews on the camping in National Parks and using reputable guide companies such as Unlimited Safaris, Caitlin and I decided to camp in the remote desert and learn tips and tricks for future African adventures. Our guide MASTER was awesome and since it was pretty much just him and us we learned a lot about each other. The remote Kalahari desert had some surprises up her sleeve that even our seasoned guide flipped out over. Giant Leopard patrolling the rim of Deception Valley. Huge herds of Giraffes, Ostriches, Oryk, Sprinkbok. The time of year was prime and it was inspiring to see such abundant life in one of the most inhospitable places on planet earth.
---
MAKGADIKGADI SALT PANS (Botswana):
Read More about our visit to the Makgadikgadi here!!
Camp Kalahari with Uncharted Africa (4 Nights) 
Arrived to camp on 1st evening after drive from Central Kalahari Game Reserve
1st Morning: Morning Drive into nearby Makgadikgadi Sans National Park where we found the Zebra migration and found flint-knapped arrowheads
1st Evening: Bushman walk
2nd Morning Meerkat Encounter + game drive
2nd Evening Game Drive (brown hyena)
3rd Morning: game drive (flamingos)
3rd Evening: Chapman's Baobab tree – several hours hanging around the tree
4th Morning: FINAL game drive – 4 hrs
Due to off-season luck we were the only ones in the Camp for 2 nights and the only ones in the Safari vehicle for all days!!
Guides = Dabe      Camp Manager = Obert 
Key Sightings: 
Chapman's Baobab – ~1,500+ year old tree that recently and unexpectedly broke apart and died
Zebra Migrations – migration arrived while we were at the camp
Brown Hyena
Flamingos
Meerkats
Porcupine
Bushman Walk = built a spindle fire, played with a scorpion, found and drank water in the middle of the desert
The Salt Pans surrounding Camp Kalahari and Jack's Camp are incredible oasis's settled on ancient migratory lands. The green season is really off season for this area which meant a lot of quiet time at the camp which was perfect end to our trip. The zebra migrations are beautiful and during our time there went from scarce sightings to covering the landscape. The rains hatch the brine shrimp which attracts Flamingos from thousands of miles away. Dabe our guide was the most scientific of our guides and we learned in depth about the this unique ecosystem.
The bushman and the Meerkats make this place completely unique. Our evening walk with Jackal and the large group of bushman was really quite special. Learning the ancient San Bushman ways and interacting with them was quite fun especially since we are hands-on and try anything once to see if it kills us. Lastly A close encounter with the meerkats is a once in a lifetime experience.  YOU MUST DO IT!!!!
---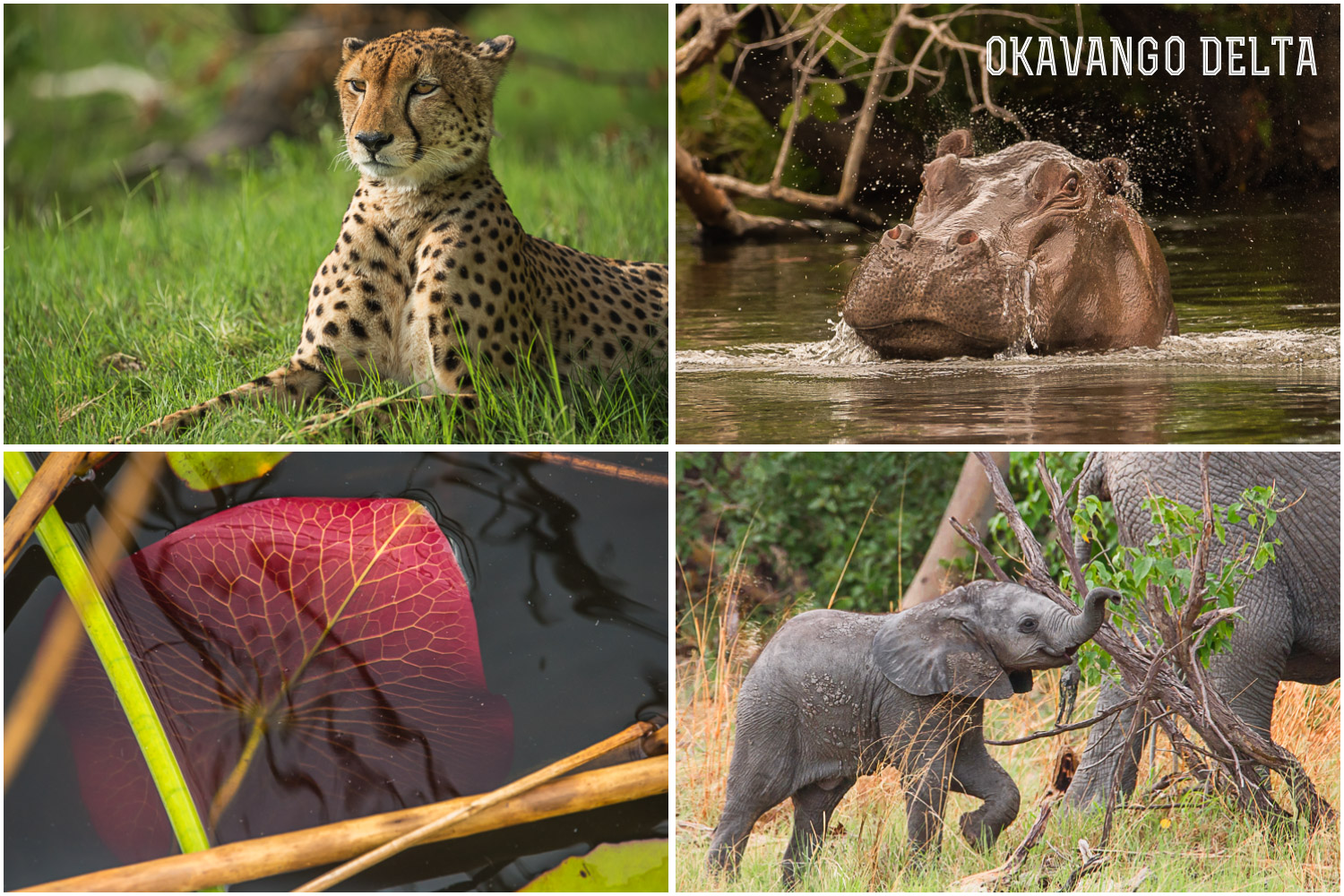 Copyright © Dandelion by Pexeto