Okavango Delta Wilderness Safari
---
Navigation to Detailed Trip Reports and Photo Galleries: 
---
Little Kwara Wilderness Camp with Kwando Camps: (3 Nights)
Game Drives: ~25 hours game driving + 5 hours boat cruise
Guides = Obzer + JP     Camp Manager = Charles
Flying into Little Kwara camp in the middle of nowhere shakes your perception of planet earth. In all directions it appears that mankind is not present with only elephant highways below you. This camp was our first true African wilderness experience and it was a perfect introduction. Green season meant the delta was low but the savanna was lush with antelopes and predators. Some incredible encounters with a Cheetah hunt, lions, elephants. The guides were wonderful at educating and were good jokesters with us too.
---
Arrival: Picked up by private transfer in Zimbabwe, drove through national park to Botswana border, transfer to another private vehicle and drive to Kasane airport. Take small plane into Kwando Concession (~1.5 hrs of flight time).
---
Stories:
Cheetah Hunt
Lion Tracking
Hippos
Boat Cruise on the Okavango Delta
---
Cheetah Hunt: A lucky encounter on our first game drive ever!
---
Below is a transcript from a speech I gave at my work's Toastmaster Club using a projector for visual aid.  
An afternoon breeze touches our cheeks providing the faintest of relief from the unrelenting African sun. Songs from a dozen birds fill the air as they begin to stir from their afternoon nap. An elephant chomps loudly in the distant. The peaceful grasslands and serene landscape almost put us at ease.
We sit in perfect silence. We sit holding our breath. We sit holding back the nervous sweat. The KING of the grasslands is in our presence!!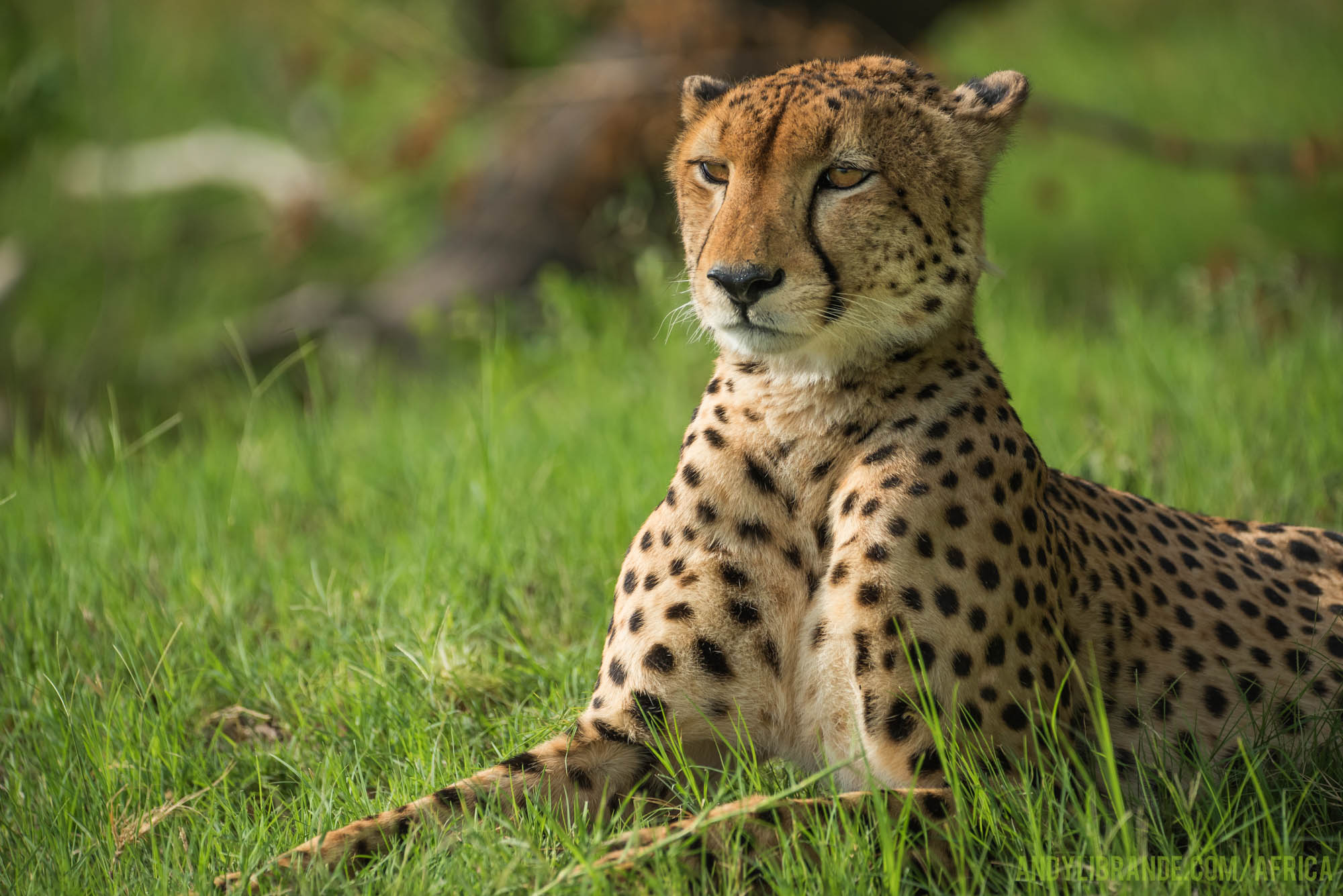 Less than 50 feet away from, this magnificent Cheetah sits confidently in our presence. Situated atop a grassy knoll he is slowly awakening from the heat of the day using his incredible eyesight to scan the vast wilderness looking for his next meal. His piercing eyes barely even acknowledging our presence.
We continue to sit in silence. Nervous as to what his next meal may be.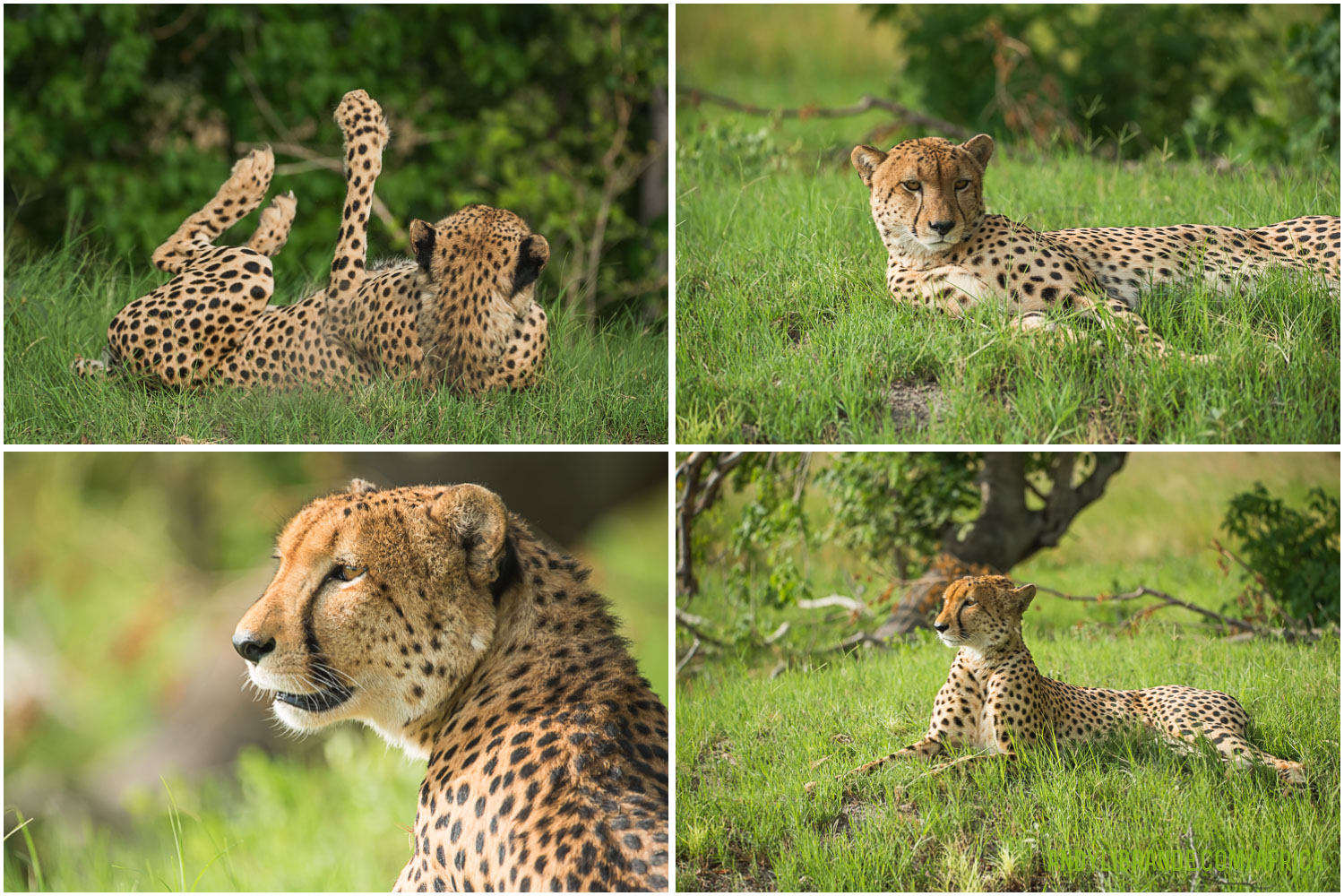 It is 5pm and it is our first day on an African Safari. Barely 3 hours earlier we had  flown in from Victoria Falls and landed in this remote section of Botswana situated along the floodplains of the Okavango Delta. We are there in low season when the seasonal floodplains are dry.
Minutes after departure on our first game drive we had quickly spotted some Warthogs, elephants, and giraffe. The ear-to-ear grins on our faces kept getting bigger.
"CHEETAH!", Our guide suddenly shouts out over the roar of the engine and points frantically towards some distance dot.
Logically I stand-up to get a better look and immediately told "SIT-DOWN!".  Quickly learning the first rule of Safari "Don't break the shape of the vehicle".
Pulling up to this wild animal the grins on our face kept getting larger.
Researching this trip it was clear how hard it is to find predators, and yet here we are on the first 20 mins of our first safari, on our first time in Africa, sitting in an open-air Land Rover just feet from the fastest land mammal alive today.
The feeling is incredible.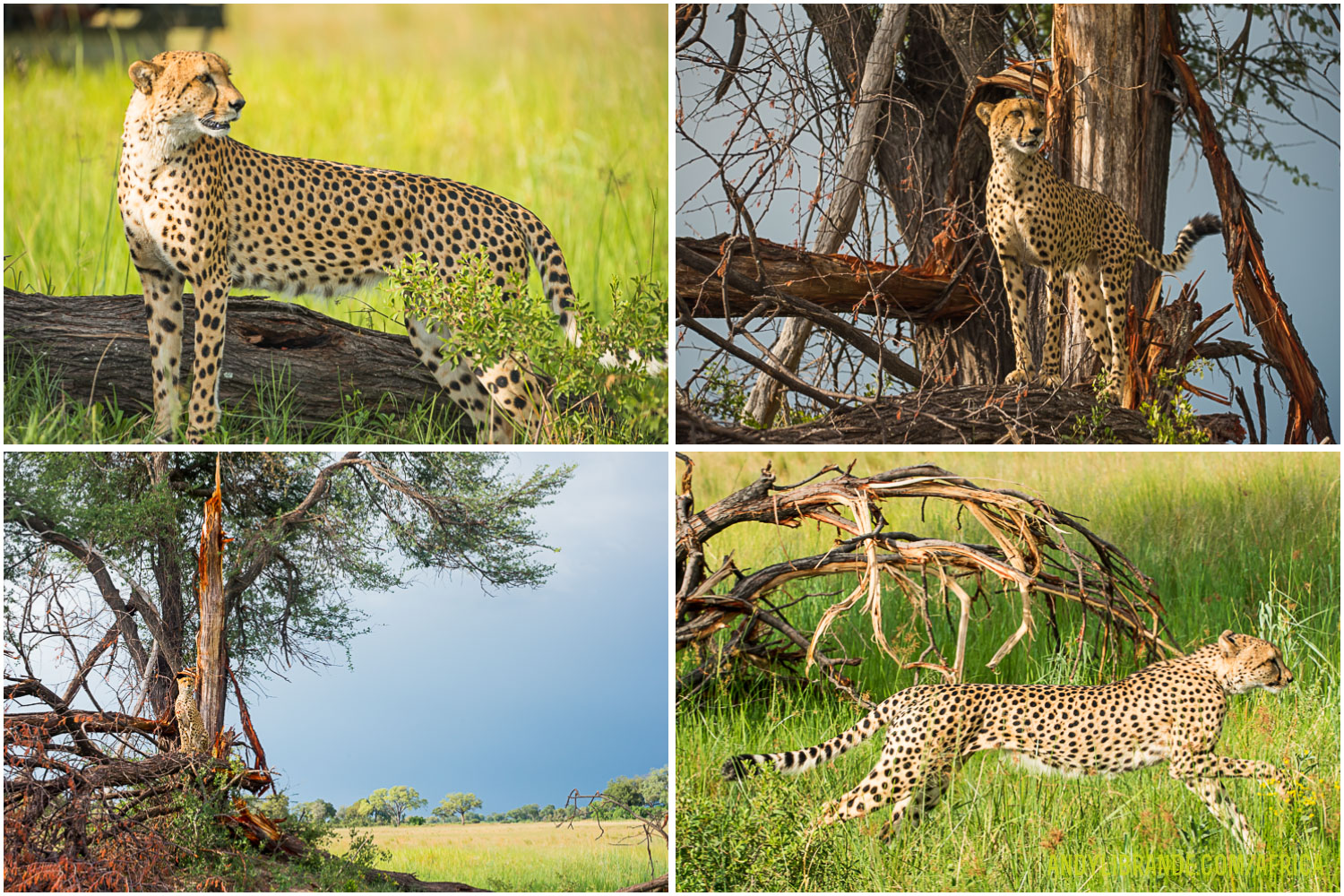 The grassy knoll was not enough for the Cheetah, however this perfectly situated nearby tree offered expansive views.
To our untrained eyes there was no dinner anywhere. Just a storm developing in the distant.
Cheetahs can have a tough life. While the fastest predator on the African plains, it is significantly smaller than other predators that share the same lands. Hyena's are known for stealing their kills overpowering them with their large packs. Lions routinely hunt and kill cheetah cubs sometimes killing up to 75% of all cubs. Leopards being larger and stronger can easily chase a lone-cheetah from its kill. That's why this Cheetah is hunting during the day when the other predators are still sleeping.
Then suddenly, Mr Cheetah takes off through the tall grasses. The silent speed of this animal was incredible. It took both guides dedication to follow the Cheetah as he quickly moved towards a distant objective.
Silence again. Our Cheetah friend is closing in on his prey. A lonely tree shields him from prying eyes.
We watch intently across this open plain. A Reedbuck is now the obvious target of dinner. Our excitement is hard to contain in this silence.
Step. Step. Pause. The Cheetah is in position.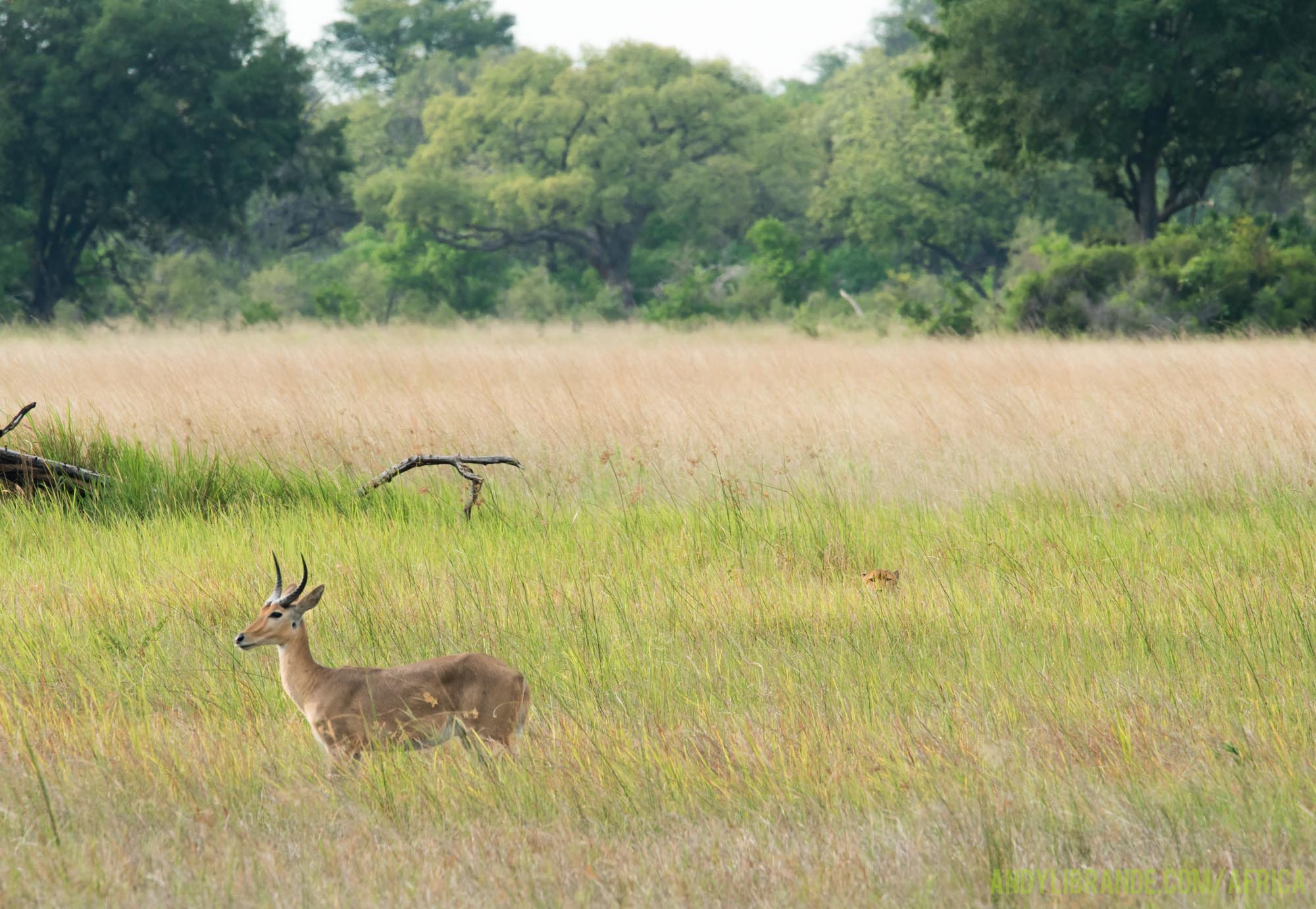 Step. Step. Pause. Each inch gained with the utmost of precision.
Step. Step. Pause. A few Seconds turn into a single minute. Each new minute feels like an eternity. Front-row seats for nature's wildest spectacle.   I take a deep breath. Preparing for the battle. Like we are one with the Cheetah. 5 mins pass. 7 mins pass.Step. Step. Pause. 10 mins pass. Anticipation is killing us.
Step. Step BAM!
In milliseconds the Male Cheetah exploded out of the savannah with the Reedbuck responding just as quickly. What the Cheetah didn't see was another hidden Reedbuck and in the brief chase two animals caused just enough confusion to save their lives.
"It's failure that gives you the proper perspective on success."
With barely a 50% hunting success rate for Cheetahs, we know that the next meal for this Male is going to taste extra sweet.
---
Lion Tracking:
---
Day #2 of Wilderness Safari: First Full Day of SAFARI
5:00am Wake-up Call— 5:30am Light Breakfast — 5:50am Sunrise — 6:00am our 2nd Game Drive and first morning drive begins — immediately see hippos/elephants/antelope/birds/giraffe!

7:20am spot fresh Lion prints leading to a location where an elephant had just given birth, the lion tracks follow the path of the Mother and the Calf.
8:00am after an intense 40 min tracking session, losing the trail several times, Andy spots a Male Lion by chance through the thick bushes. This being the first wild lion Caitlin and Andy had laid eyes on. Both the guides were super stoked that I spotted it first and we drove over to investigate. That is when we spotted the 2nd lion. Then we spotted the Elephant and New Born Calf. It appeared the lion brothers were thinking about a tasty newborn baby elephant for breakfast.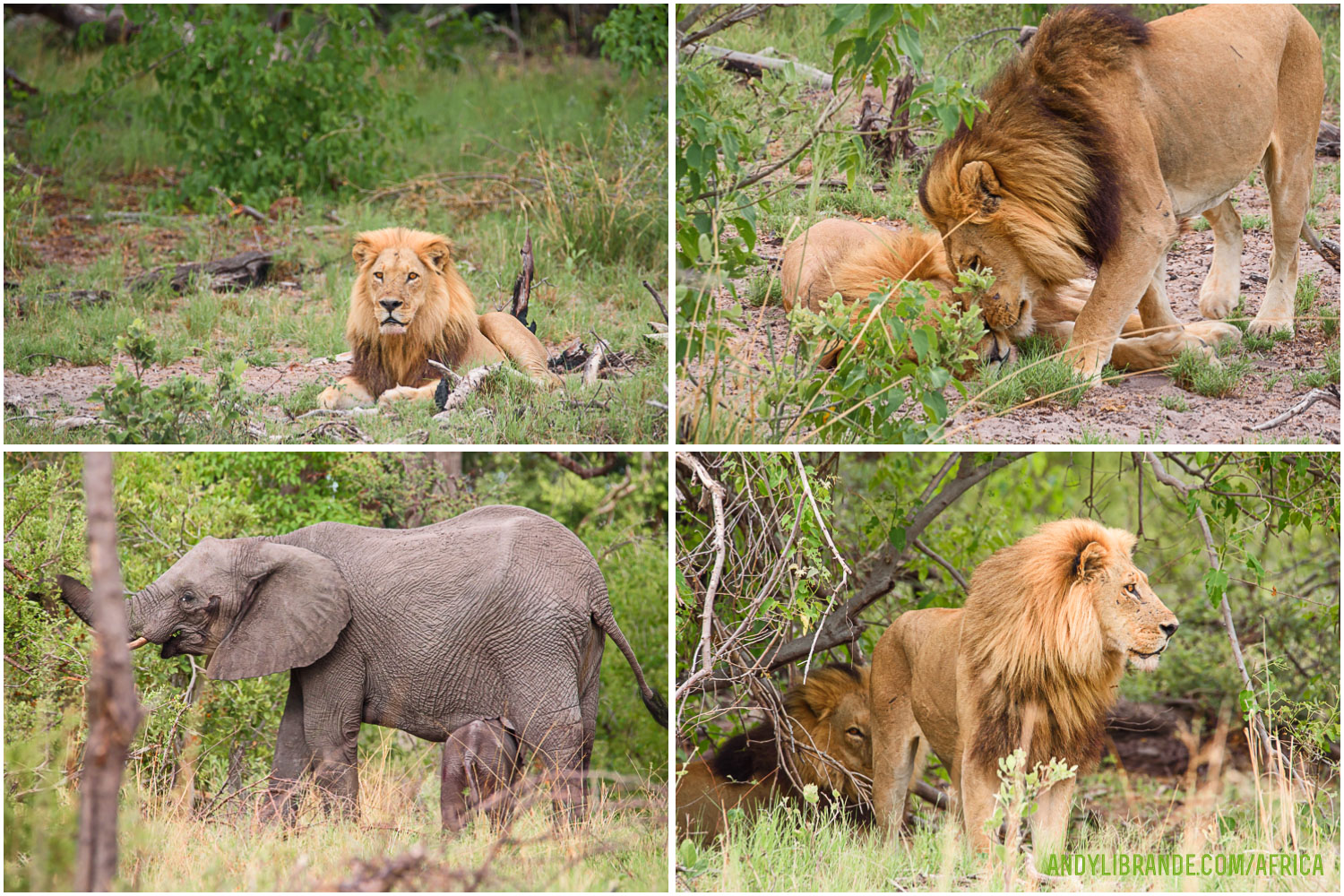 9:00am After some intense evaluation the Lion brothers decided that messing with that mother elephant was not worth it and instead found a nice shade tree to rest their hungry bellies under and prepare for a future hunt.
The amazing thing about this pair of lions was that they had not been in the area for well over a year. Another group that we did not encounter dominates most of that area, however territories are always overlapping. Our main guide that day had transferred into that camp 8 months ago and this was his first sighting of this group, and his excitement only added to our amazement.
Great start to the morning on our first full day of wilderness safari.
9:30am: Morning Tea+Coffee+Snack break next to a hippo pond! Then onto many more incredible sights.
---
Okavango Delta Afternoon Boat Cruise: 5 Hours exploring the waterways of this diverse Delta
---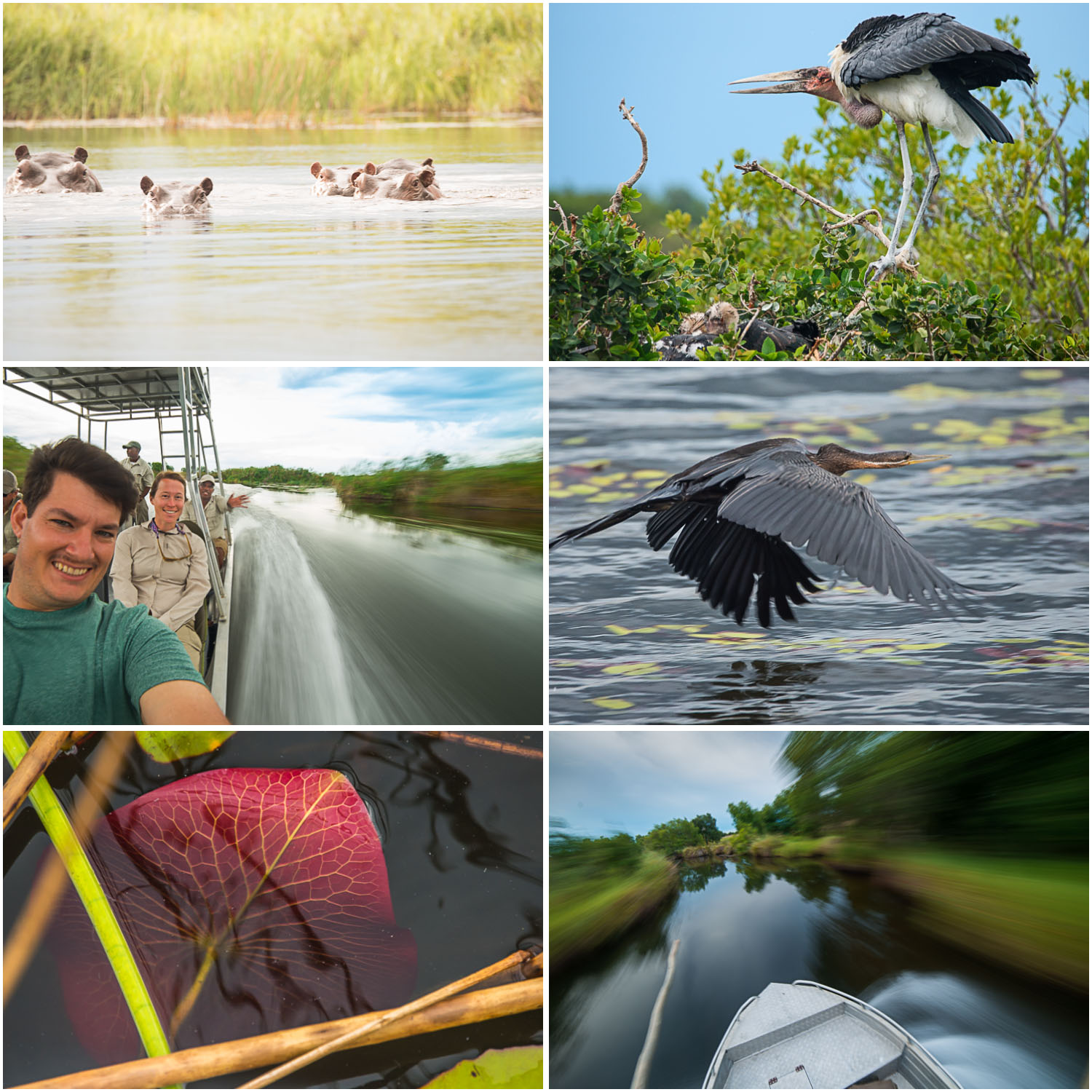 ---
Cheetah Yearlings
---
These two Cheetah siblings were lucky. Their obvious plump bellies have just been stuffed with the leftovers from an Impala kill that occurred the day before. Luckily no other predators found their kill before they could feast again.
These siblings are about a year old and will likely be with their mother for another 6 months to a year. They will most likely stay near their mother's range  for a period of time depending on the availability of game (which seemed plentiful) and the availability of clashing with other predators (which also seemed plentiful).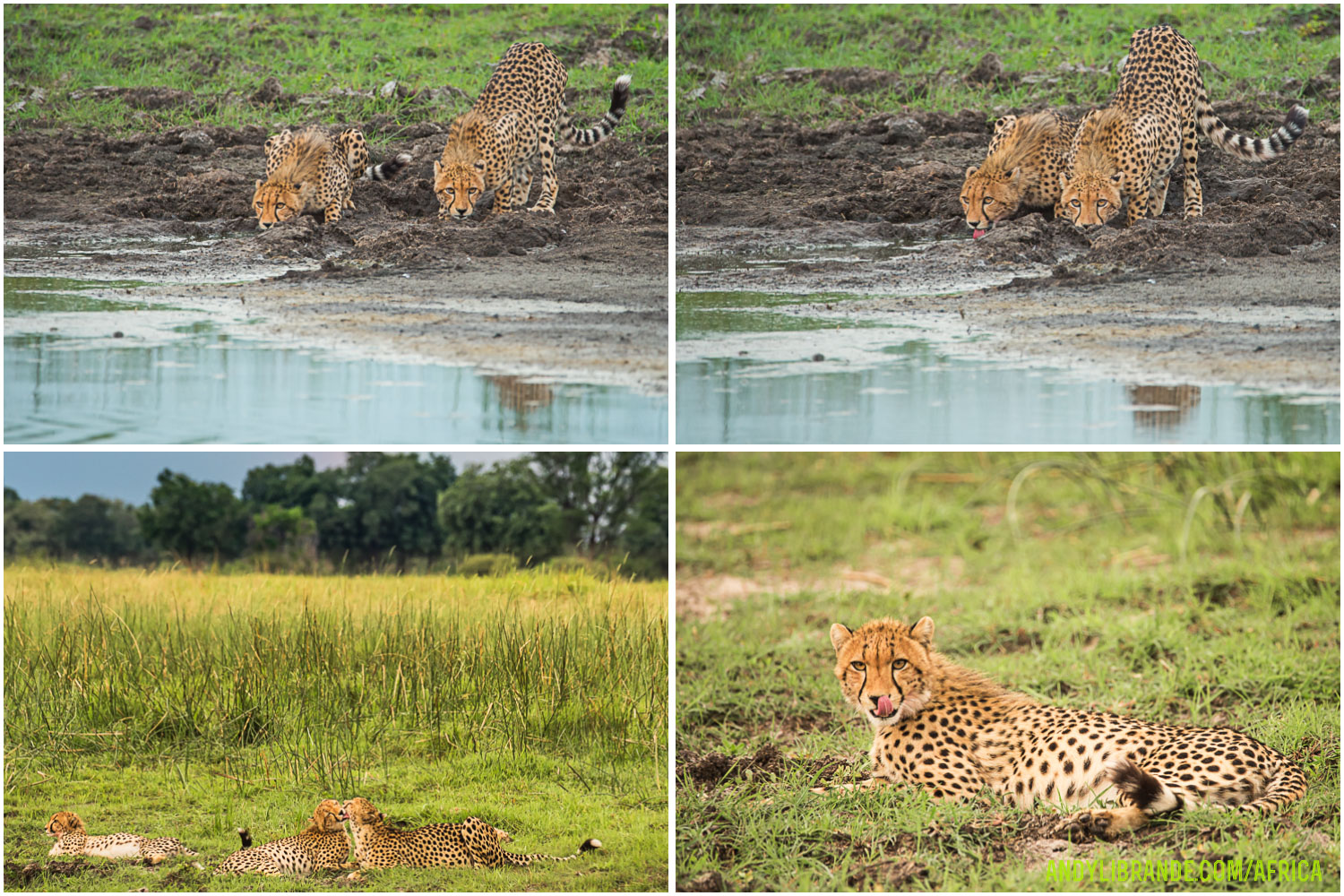 We had no expectations around seeing Cheetah, however we were lucky and saw 1 Male at Kwara, 1 Female with 2 cubs at Kwara, and 2 cheetah brothers in the Central Kalahari Desert!!
---
Hyenas: 
---
"Whoooooppp! Whoooooppp!" The call of the Spotted Hyena hits our ears as we head to bed our first night in the Okavango. A distinct, loud, and frightening call it was the next morning that we found out that two Hyena's had wandered right through the dining hall not long after we departed for bed.
Spotted Hyena's are one of Africa's most common predators due to their size (they can chase nearly every other predator from a kill) and adaptability. We encountered a group of 4-5 munching on an old giraffe carcass while in the Okavango and had several other encounters with these large, smelly beasts.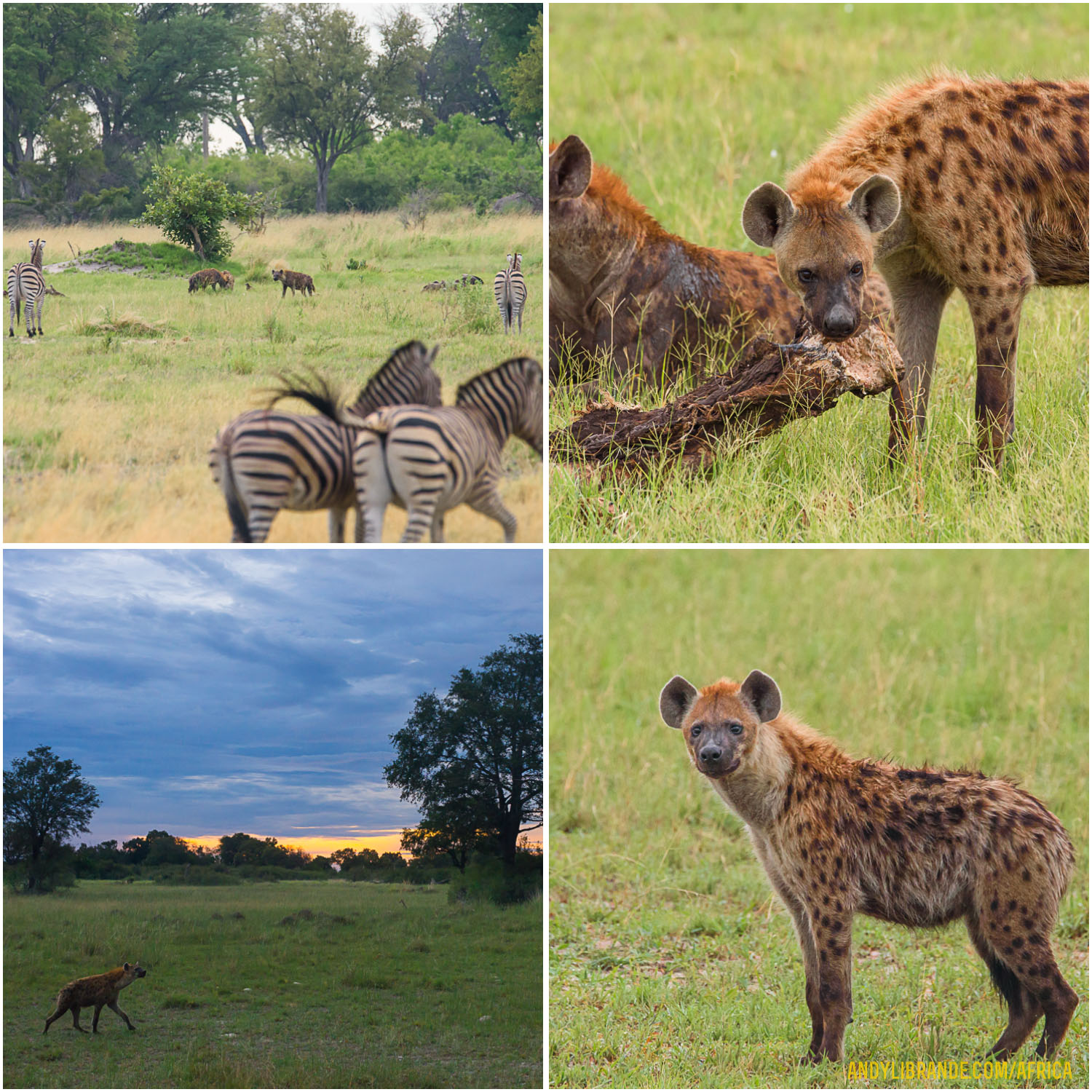 ---
Giraffe's Headbutting each other. 
---
These guys are younger and mostly practicing, although the bigger one was sure laying some serious hits: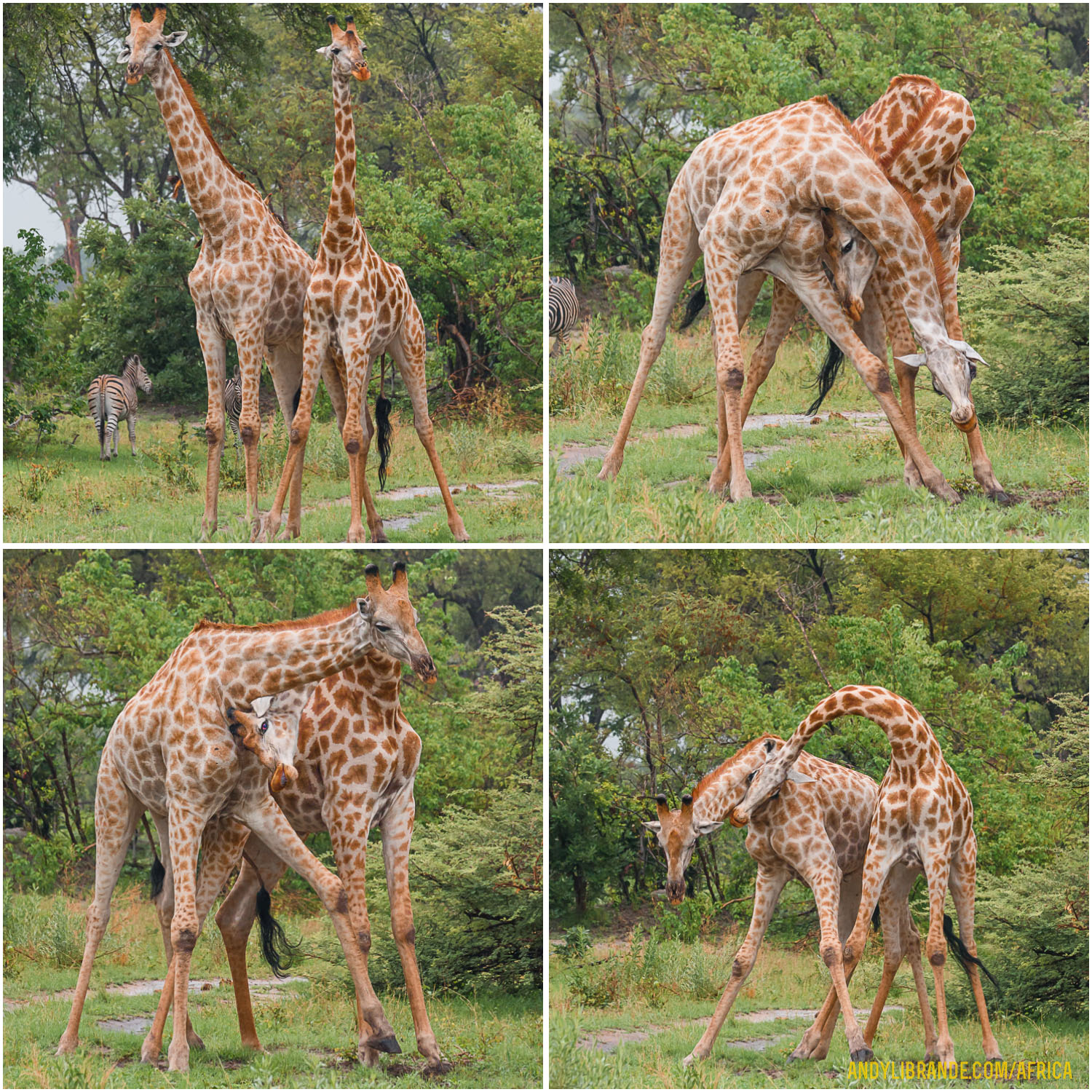 ---
HIPPOS:
---
As far as I can tell Hippo's are always looking for a fight! Most animals ignore you after a while, however it seemed the Hippos just get angrier the longer you are watching them.
In the Okavango Delta we were seeing these guys everywhere; walking around in the early morning munching grass, lone hippos in shrinking waterholes, groups hanging out in the last of the deep pools, big groups in the main water channels.
One night a 3,000 pound hippo decided to walk right next to the tent we were staying in (luckily we were 8 ft off the ground up on stilts) and woke us up with his heavy grunting and loud chewing. Luckily we were exhausted that night and managed to quickly fall back asleep with one eye open…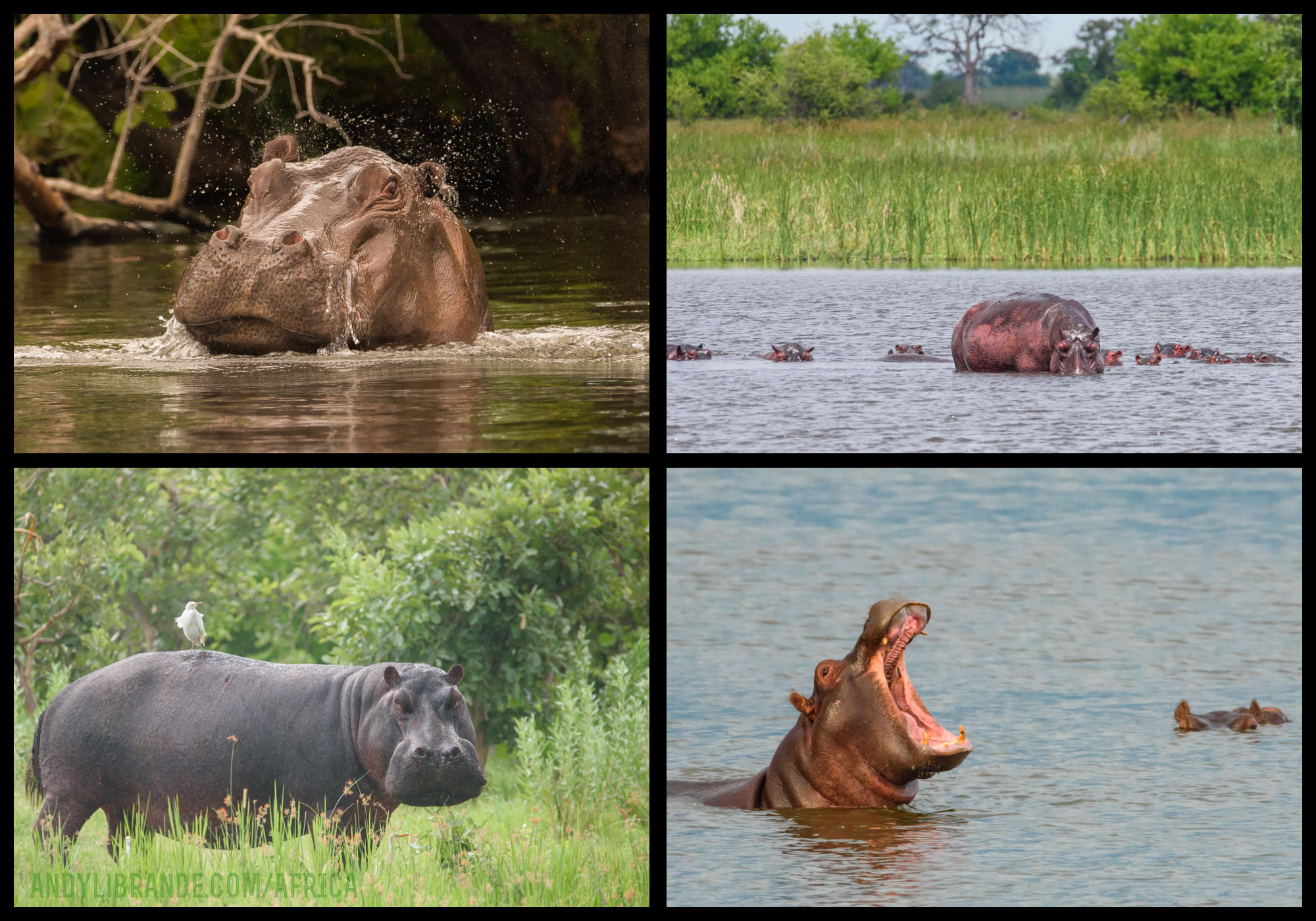 ---
Sundowner in Botswana: 
---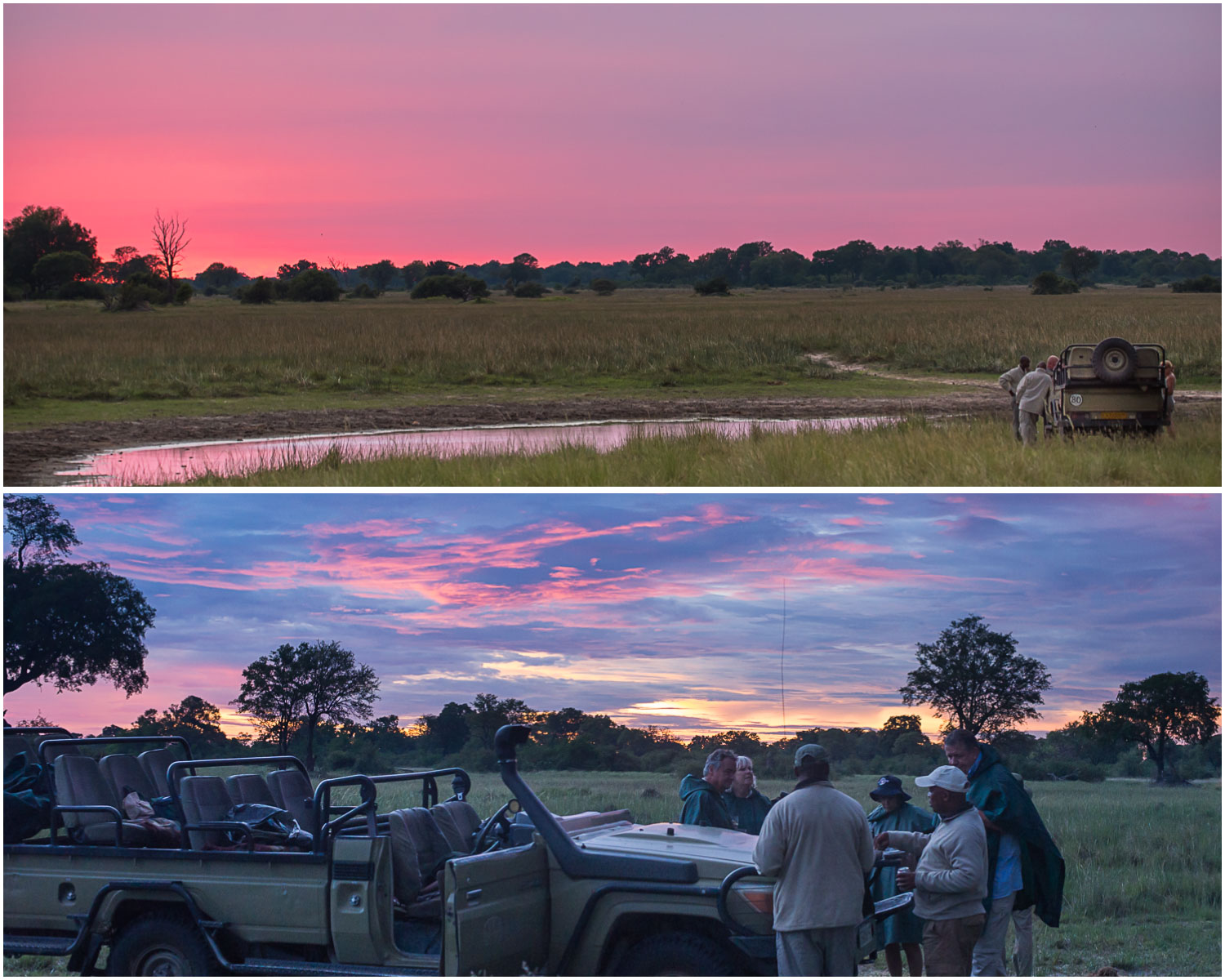 ---
Navigation to Detailed Trip Reports and Photo Galleries:
---
Copyright © Dandelion by Pexeto