What: A Visit to Boston, MA and the surrounding climbing
When: Sept 25th – Oct 2nd, 2010 (Sat thru Sat)
Took a week off from work to meet up with Chris who has been living in Boston for just over  a year. The goal was to visit a number of different bouldering areas while spending some time checking out Boston. It was the first time I have been to the East Coast and was looking forward to something completely new.
Immediately we had to check out the local spot. The day after I landed we headed to the Hammond Pond area in Newton which was less then 15 mins from Chris's house. We went to a spot that Chris had not previously checked out, as the parking for the area is questionable, called the Temple Overhangs. Awesome hunk of rock hidden in the forest made out of a weird rock called puddingstone (resembling a slick castlewood rock).
Myself stretching the muscles after the flight: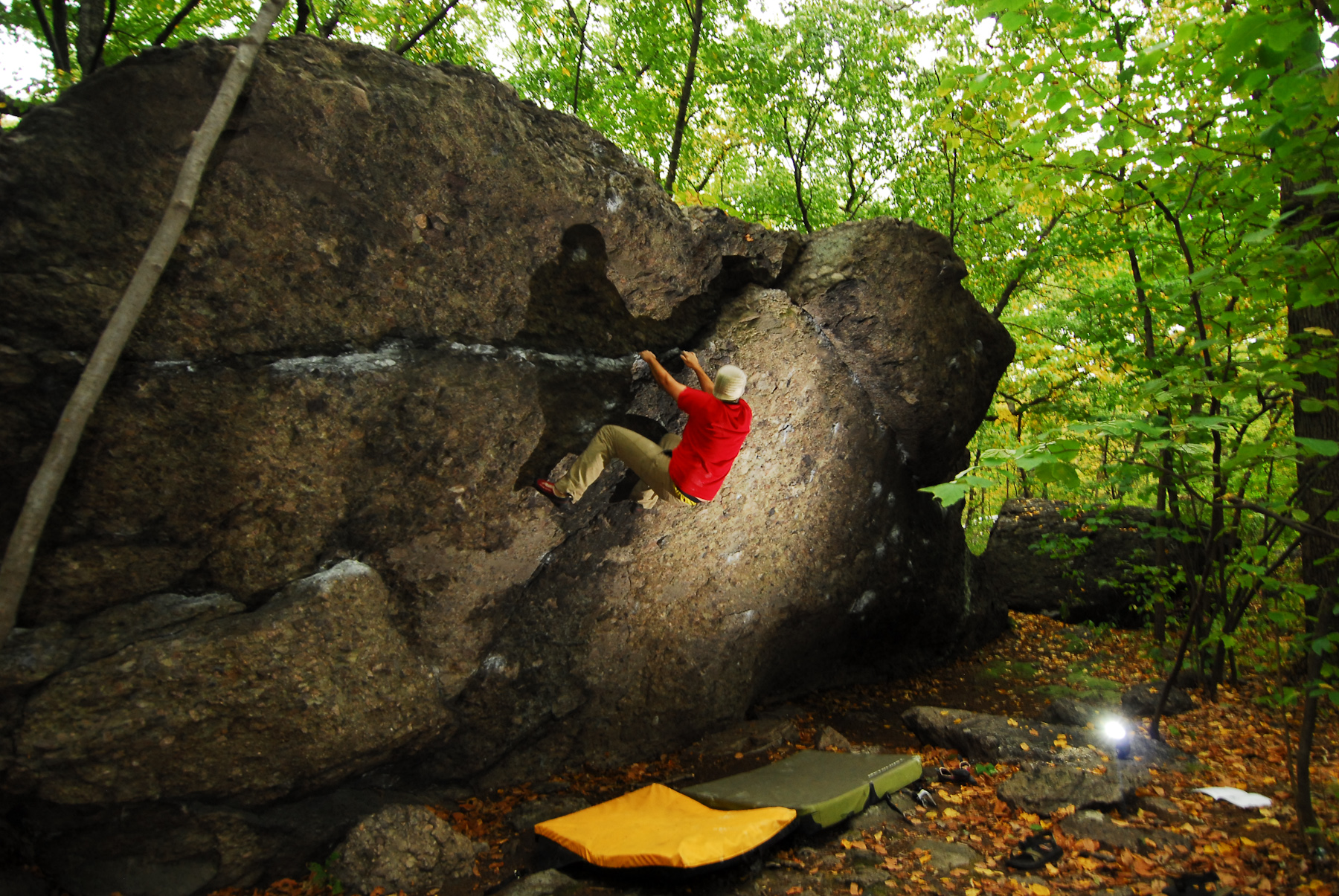 Chris sending the Classic Reefer Madness: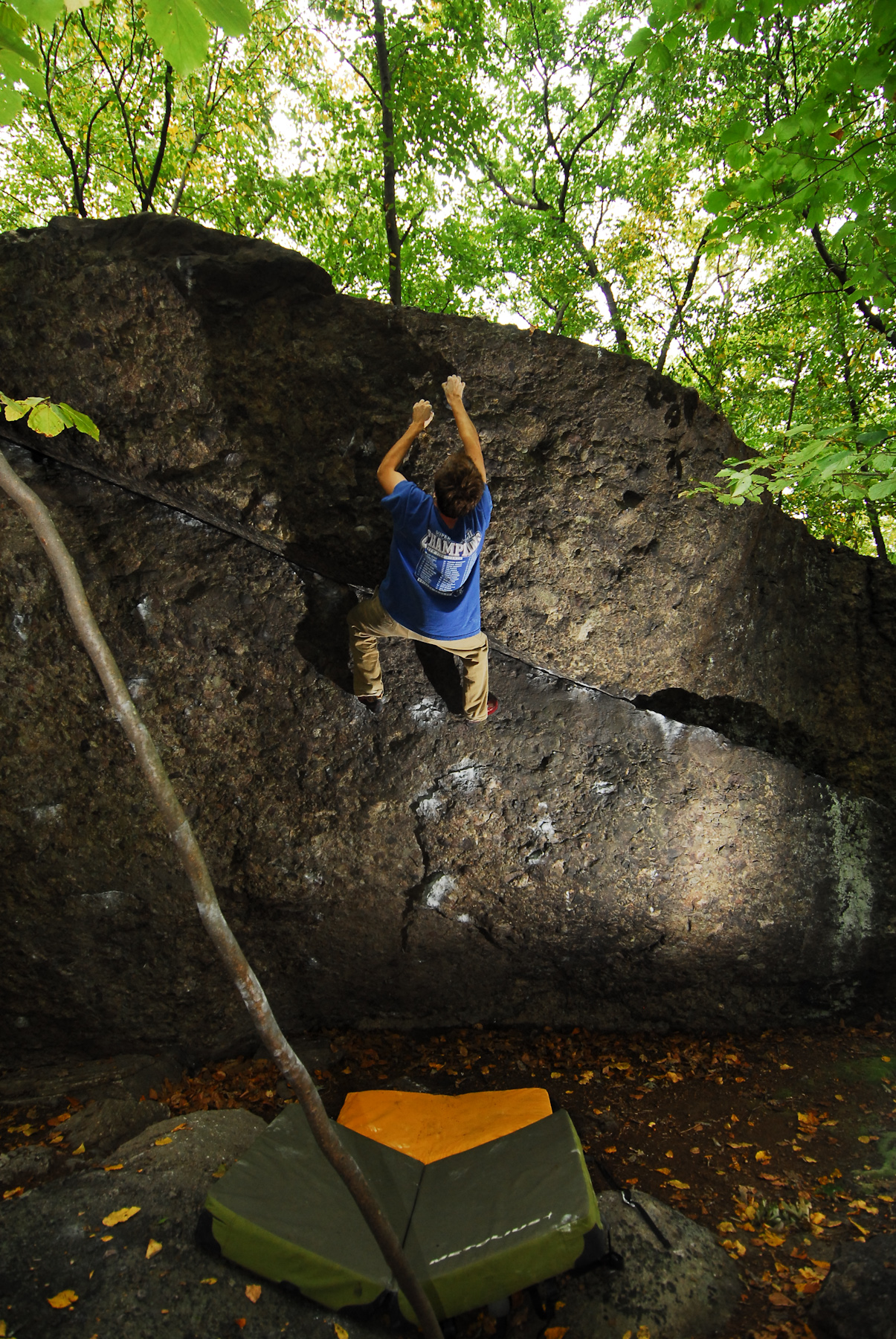 Chris on the Traverse Problem: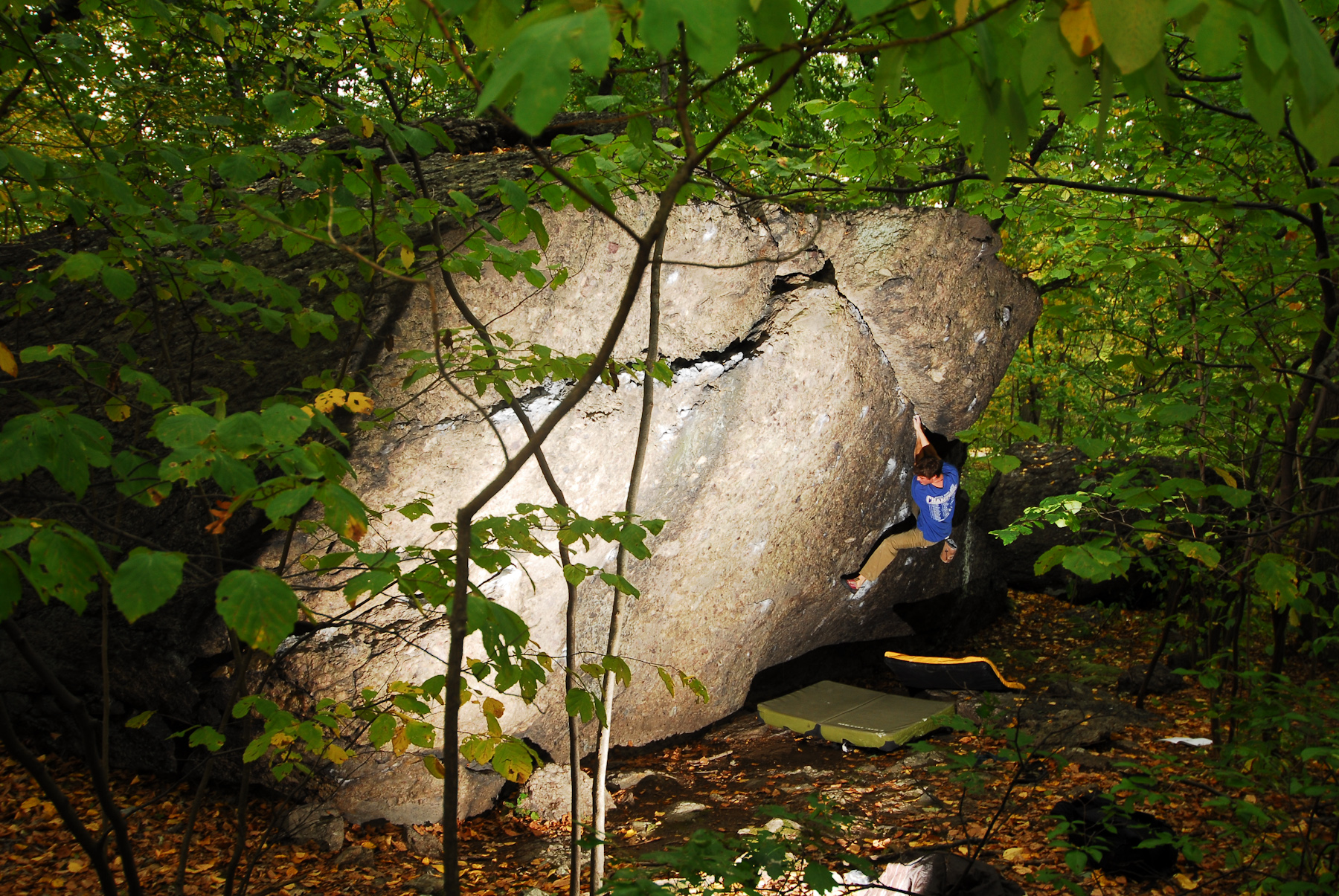 Sweet shot Chris took of me getting spanked on the Reefer Madness start: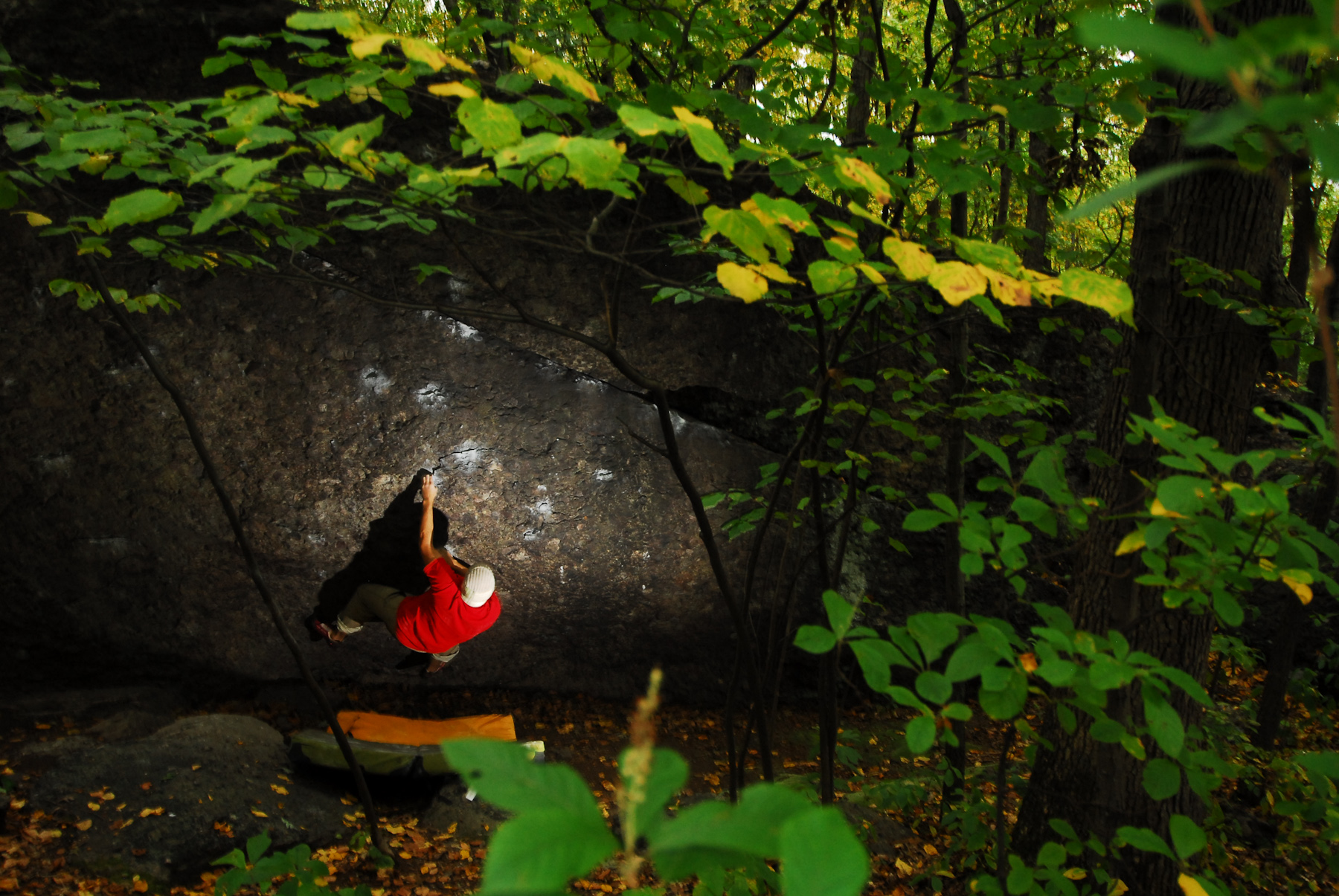 Shortly after this decent session a rainstorm moved in and spent Sunday Evening through Tuesday Evening slowly drizzling. The weather changed the plans which resulted in us spending a lot of quality time in exploring the sites and sounds of Boston.  Ate a ridiculous amount of great Italian food, ran into a number of good characters, climbed indoors at Metro Rock (really fun gym), and saw a bunch of cool sites which was an unexpected plus.
Tuesday night was looking gloomy and we could only hope that the weather the next day might be good. Much to our surprise (and contradicting of the weather reports) we woke to sunny skies, the clouds quickly burned off, and the sun was nice and warm drying the rain quickly.
The drive to the legendary Pawtuckaway State Park Bouldering area was a nice drive. The closer we got the nicer the weather was getting and we were getting very excited for our visit. We finally pulled into the area a little after 11am (we had to save a turtle from the road on the way in) we hiked into the Round Pond area due to the guidebook recommending it for lots of sun.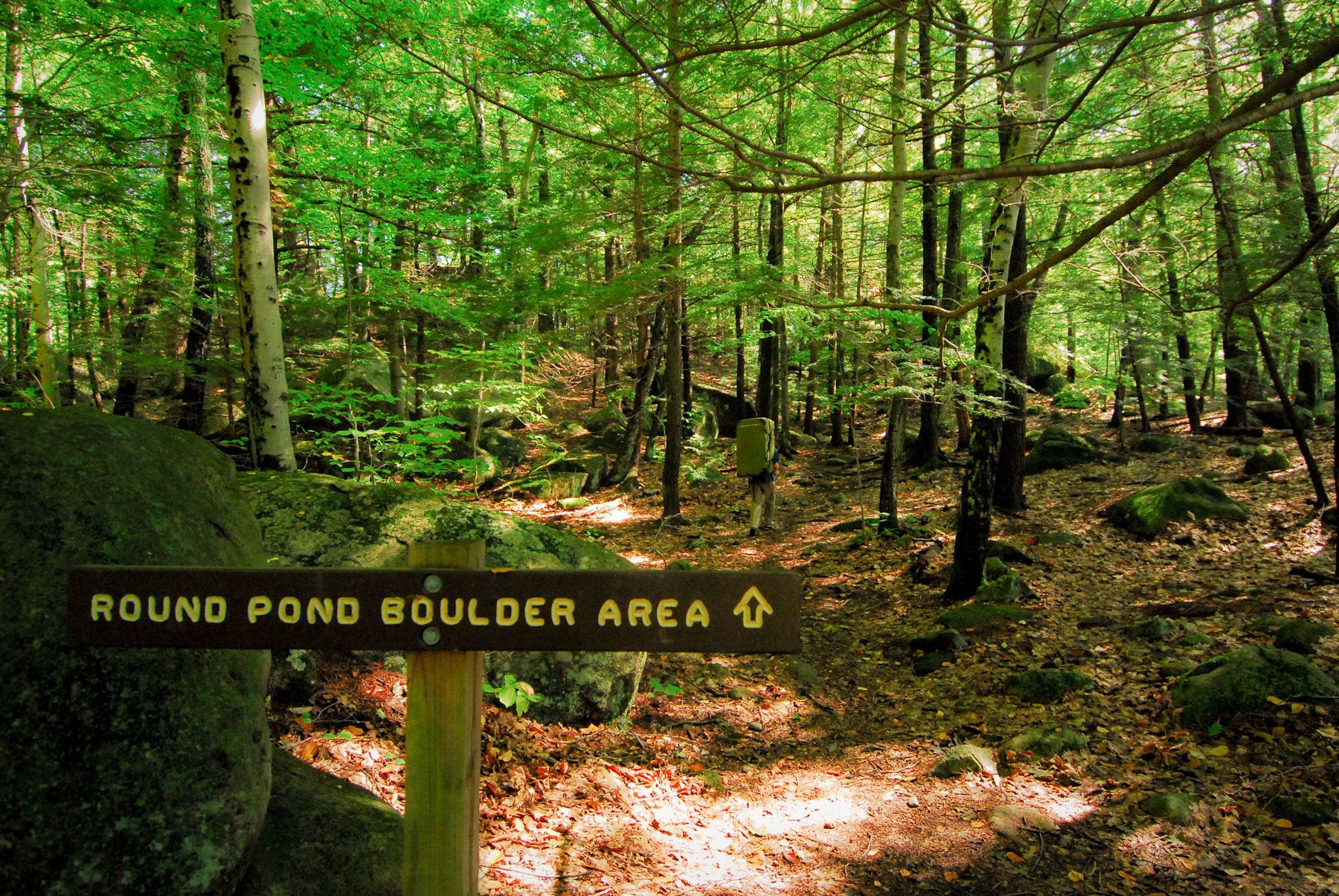 The boulders were perfect. Nicely clustered on the top of a small hill overlooking a good-sized pond (would probably qualify for lake status in Colorado), we checked out any climb that was dry.
Myself not liking the starting crimps on this dyno problem: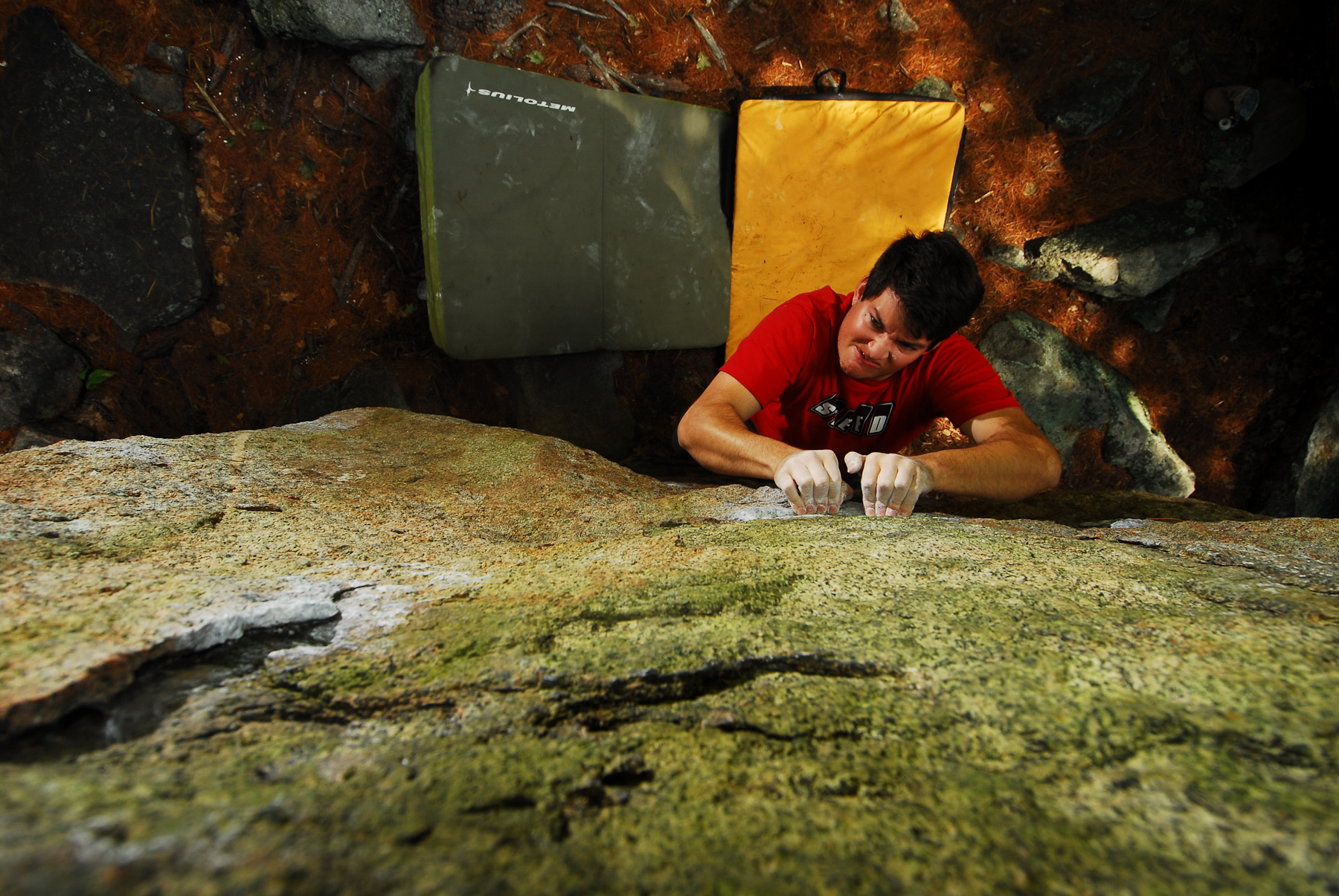 There was this unique block that is tetering on-top of another much smaller boulder. Chris crushed the problem Atlas v5/6 repeatedly for photo ops and for fun. Really awesome to watch: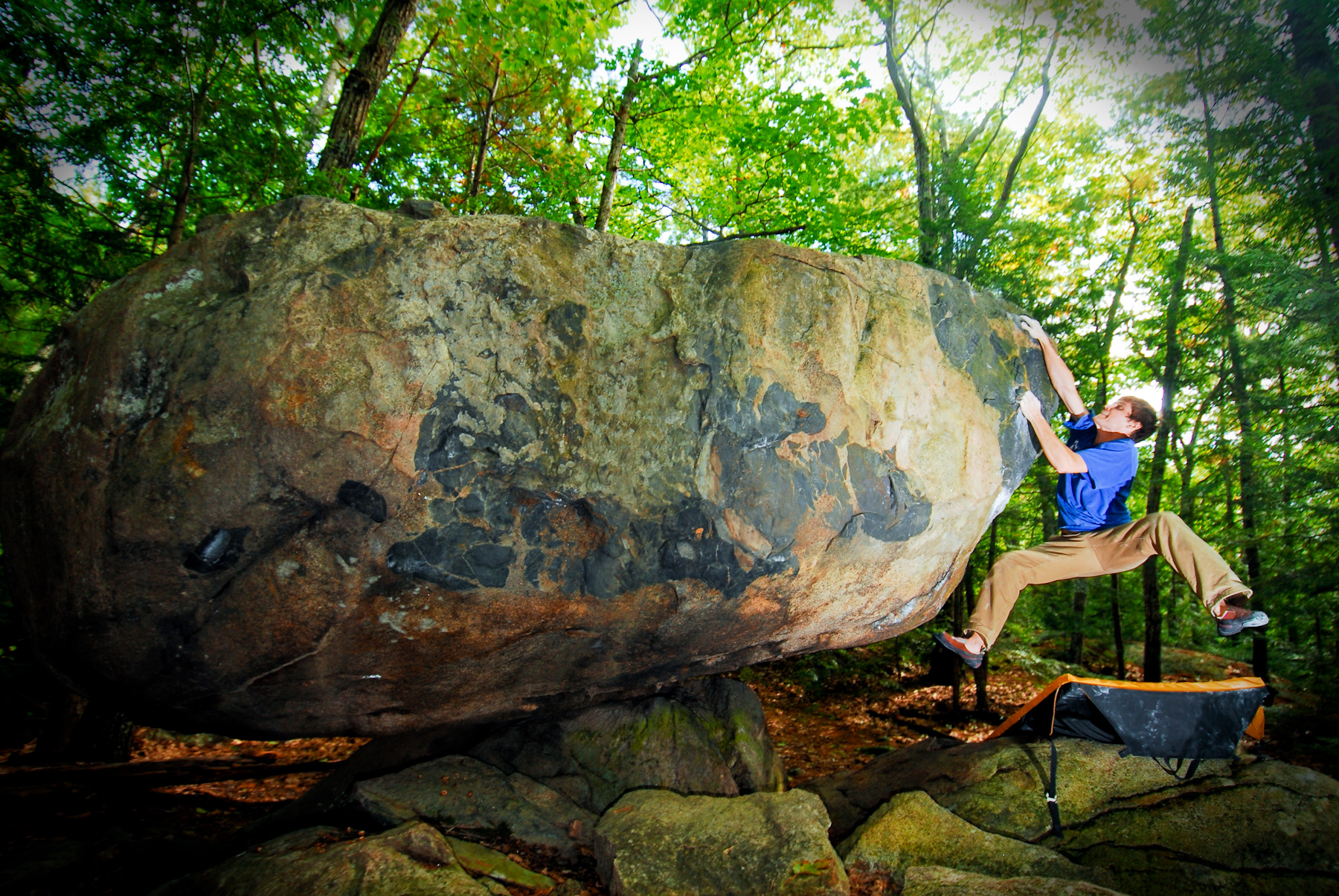 Spending enough time at Round Pond we decided to head over to the main event, the area called Boulder Natural. A insane cluster of granite blocks in every shape and size nestled deep in the forest along a small stream.
I spent a lot of time trying to spend the classic Hobbit Hole but the feet eluded me: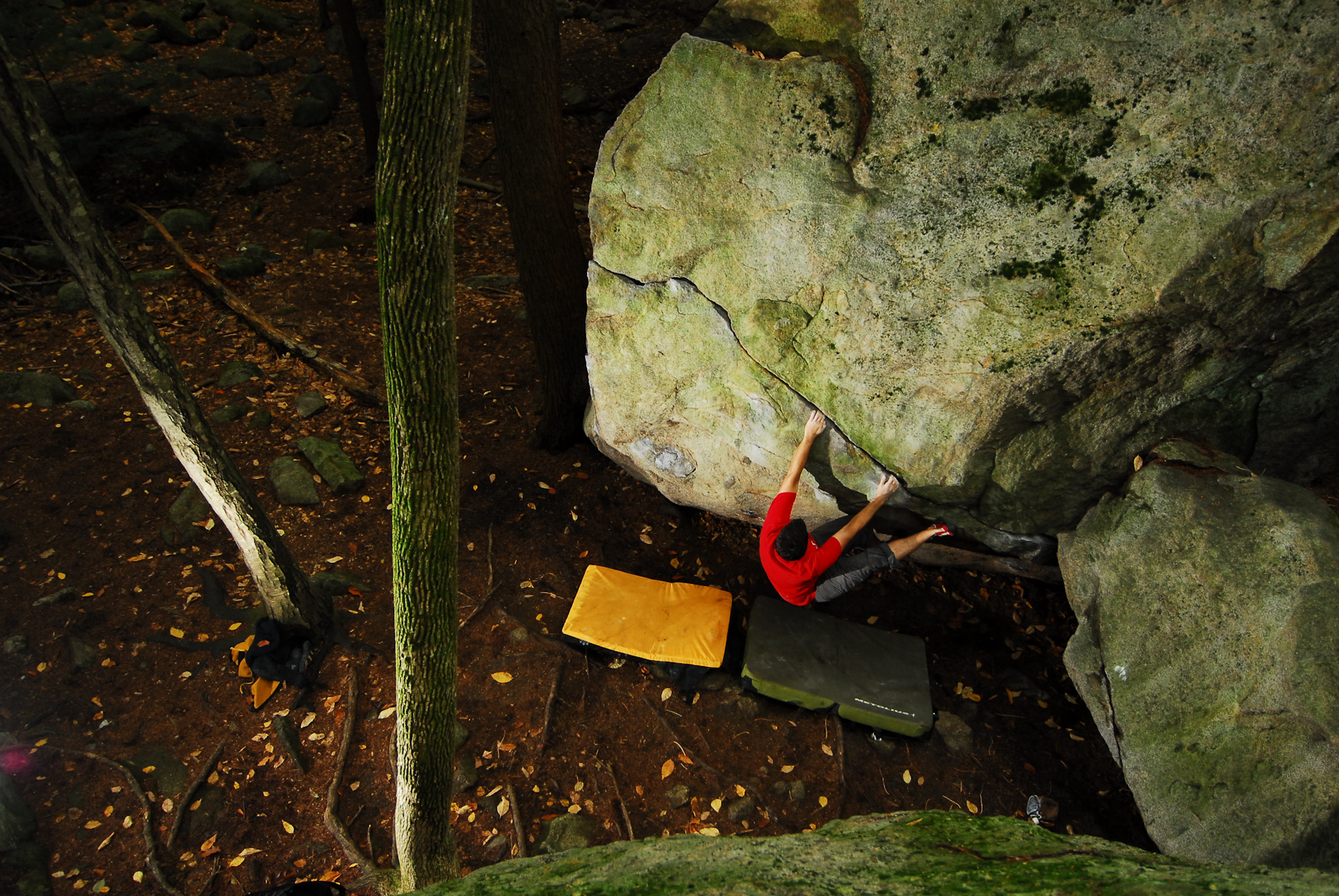 However this dyno right next door was way too much fun: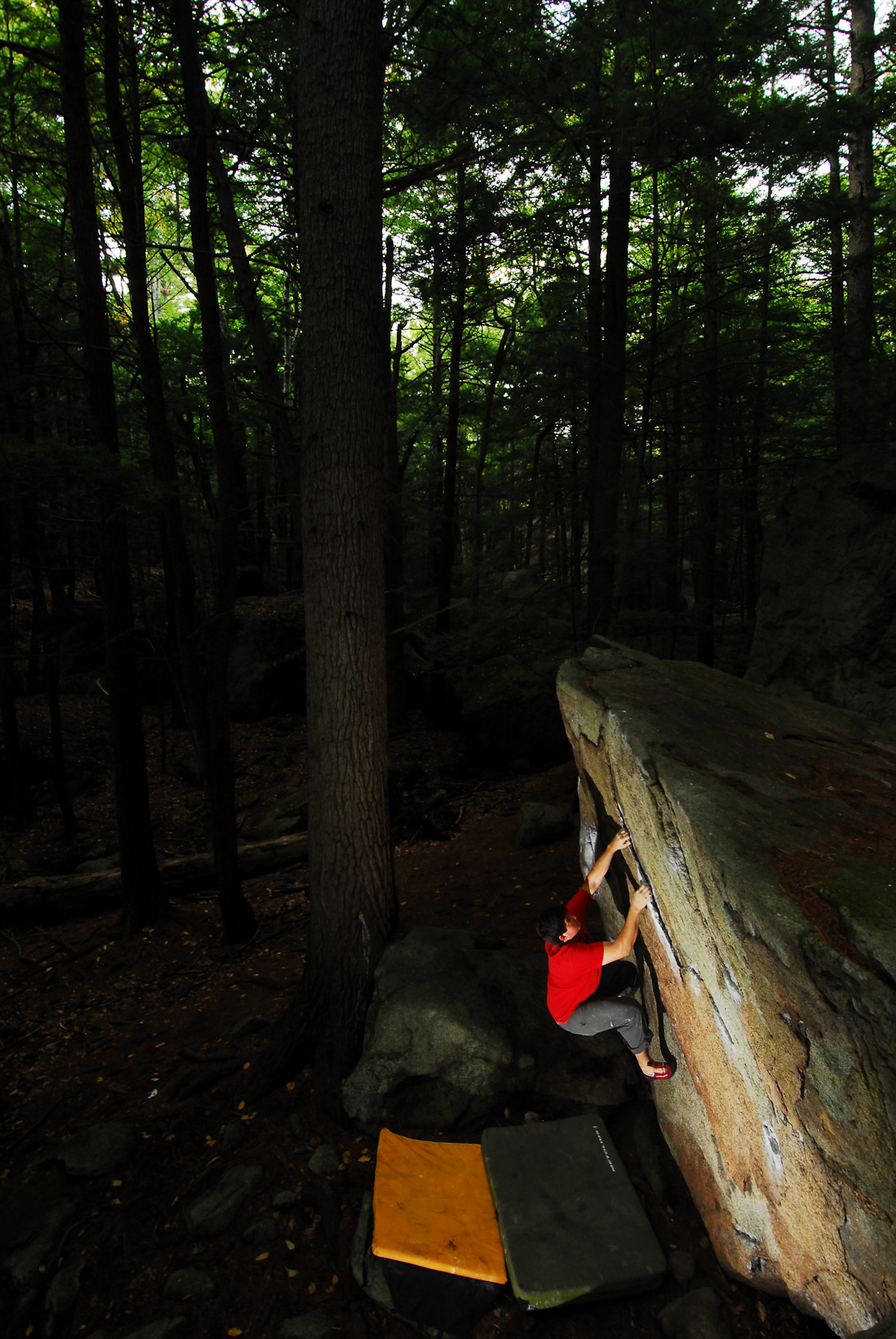 We ended the day with Chris trying to send one of the harder classic problems in the area, Terrorist. Chris was climbing extremely well this trip considering that he took a hiatus when he moved to Boston over a year ago…very impressive to watch: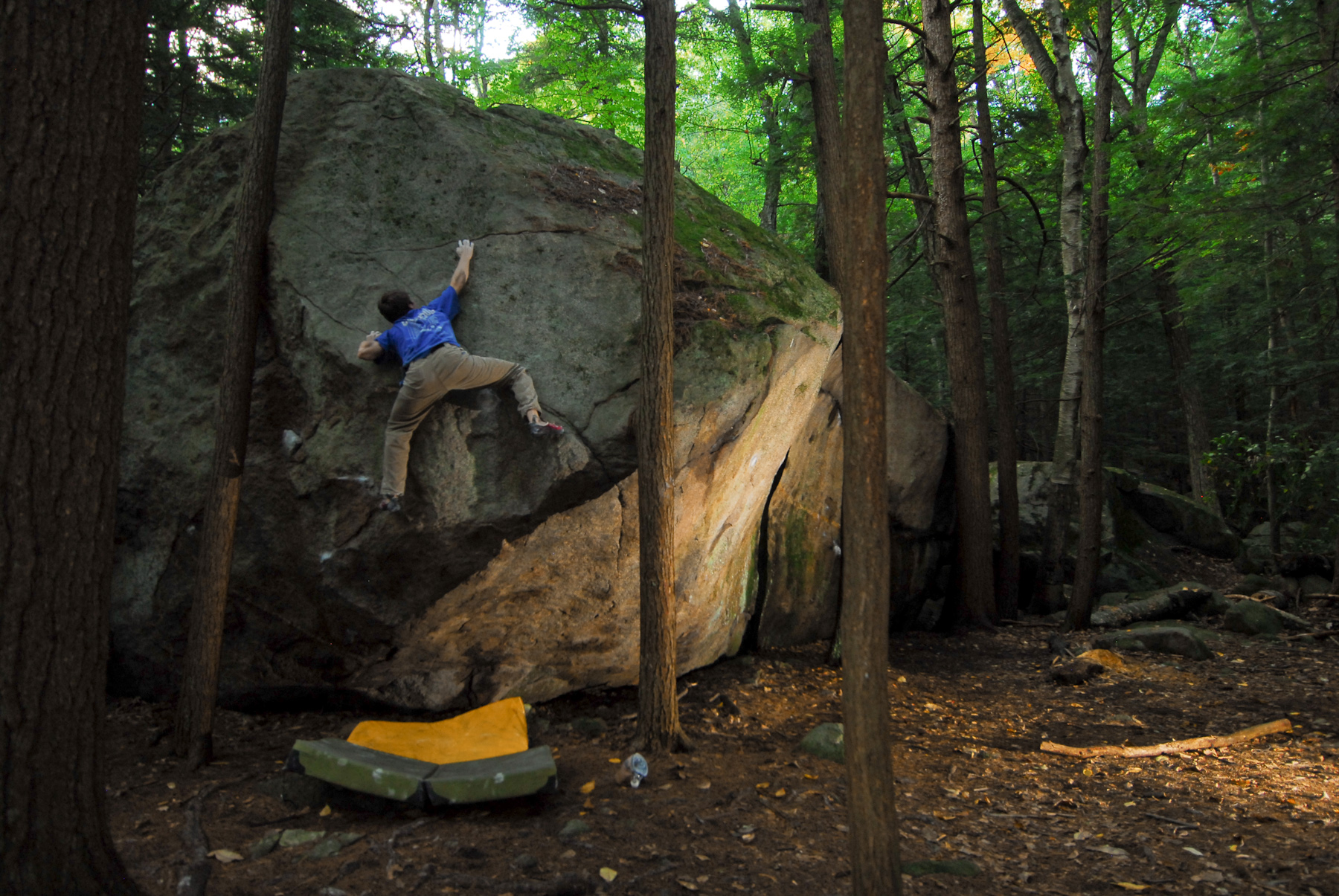 Pawtuckaway was a really cool area and I wish we had more time/energy/supplies to continue to check out this awesome location and glad that we had such a full great day out there.
More rain moved in and we were beat after our intense 6.5 hrs of climbing at Pawtuckaway.  However before the trip was up we spotted one last day to go climbing and raced a storm on a Friday morning down to Lincoln Woods in Rhode Island. After an hour drive we pulled into the park right at 10am and threw-down on as many problems as we could handle at the "Warm-up Wall" which has a number of quality problems.
Myself getting some of the more interesting moves on Cave Overhang: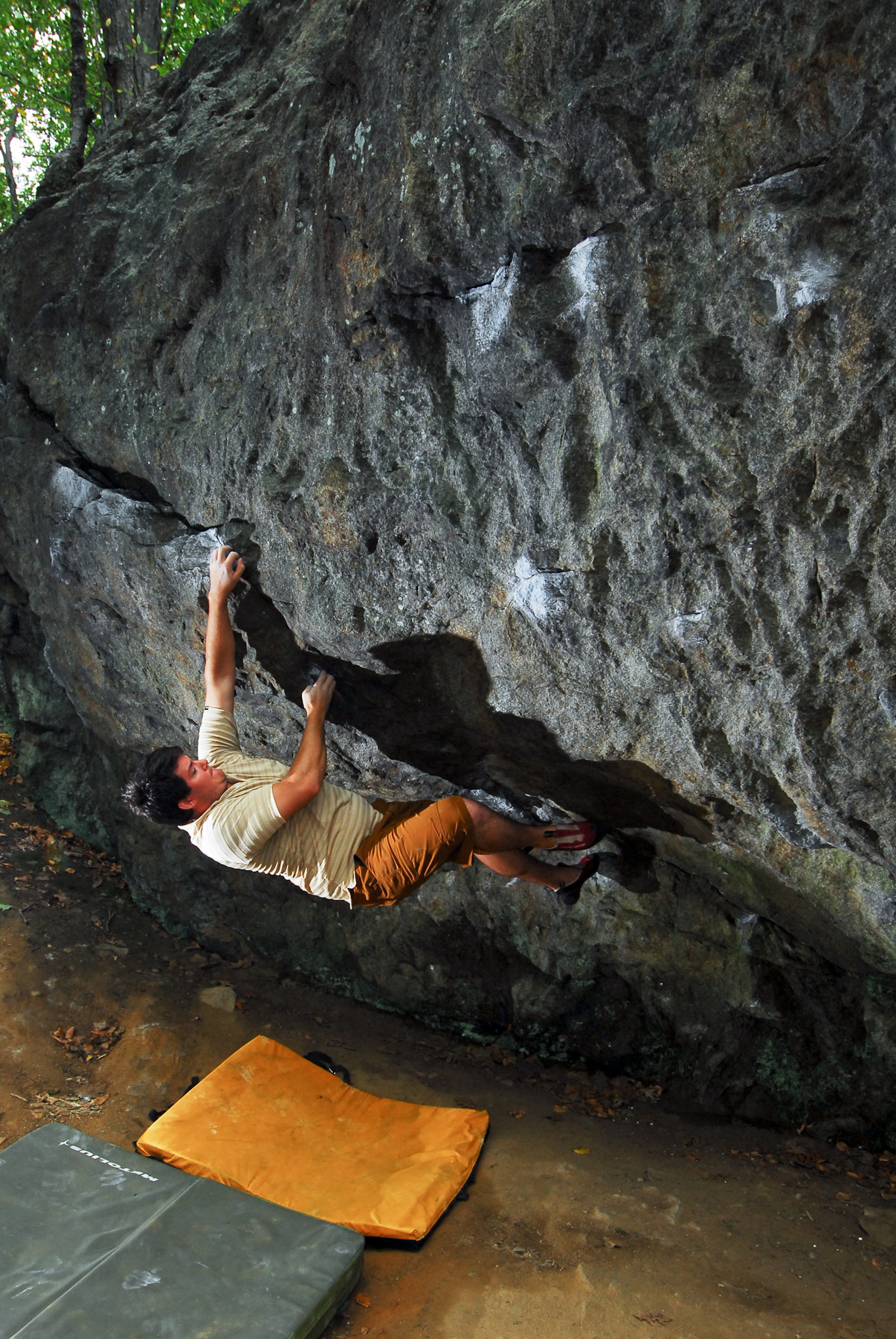 Chris flashing Iron Cross (with the Sasquatch the spotter not being very attentive):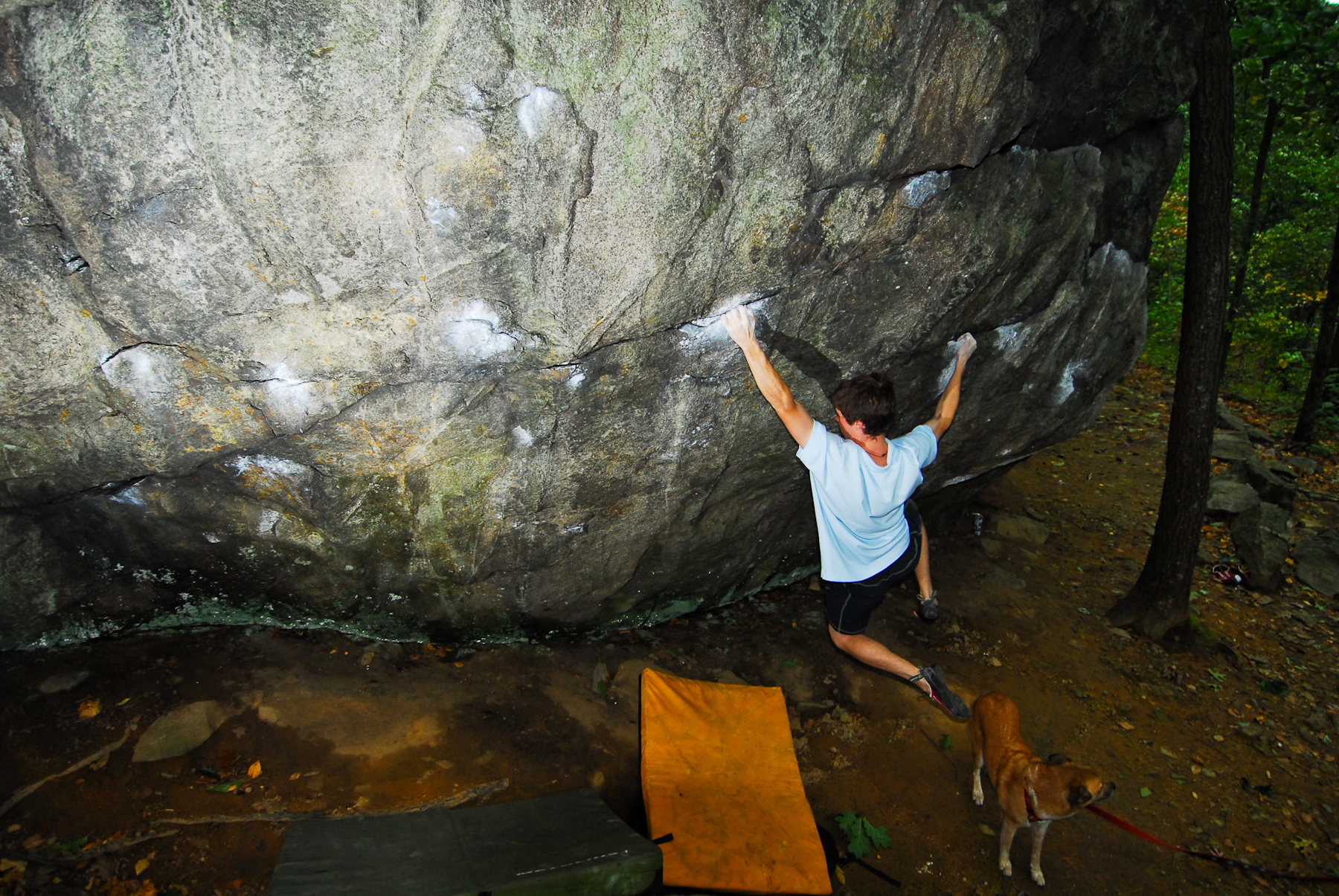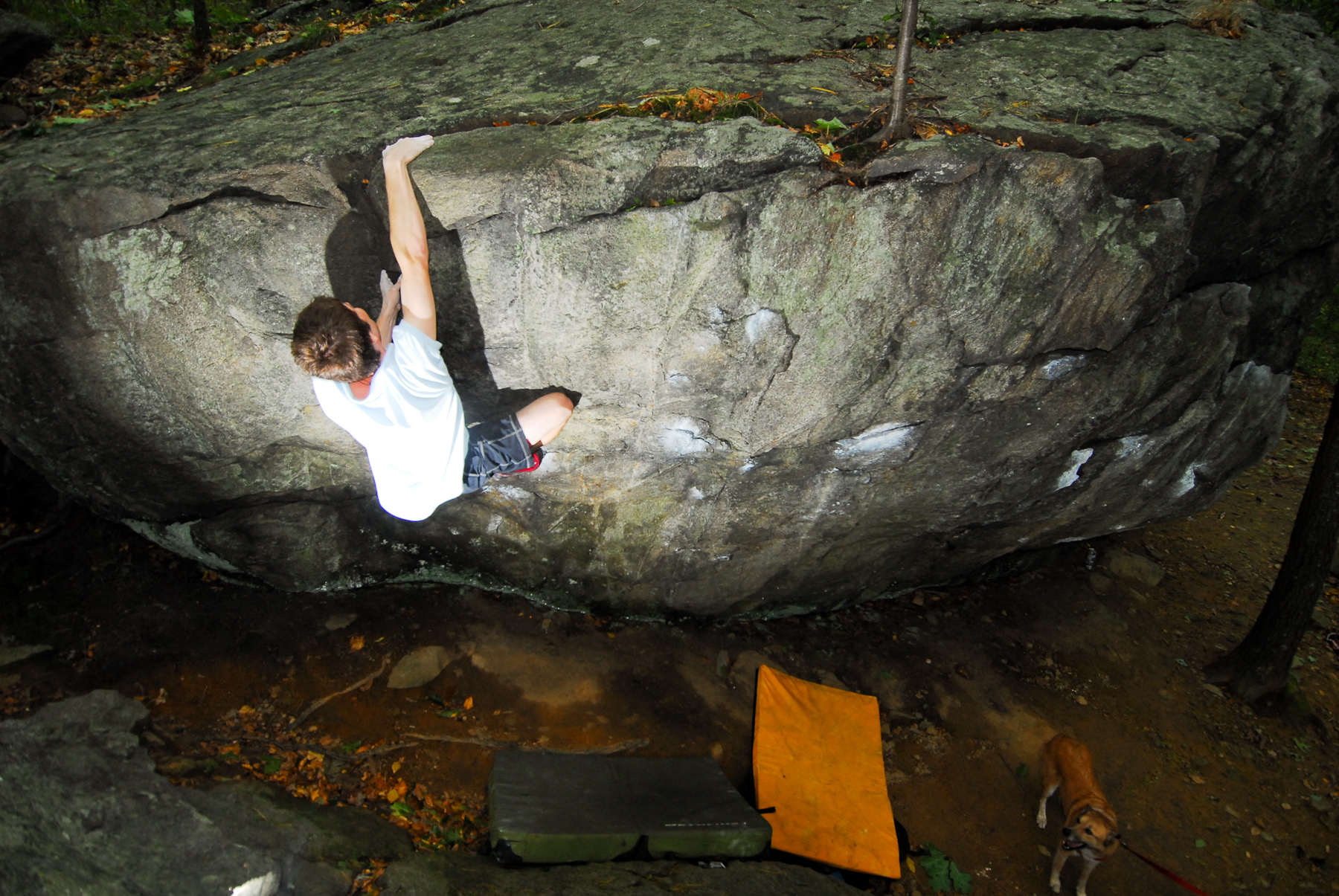 Chris trying this Dyno, right before a massive monsoon downpour hit us and we scrambled to pick up the various pieces of climbing equipment and expensive photo gear. 2.5 hrs after we got there we were rained out; turned out to be just enough time for a great last session.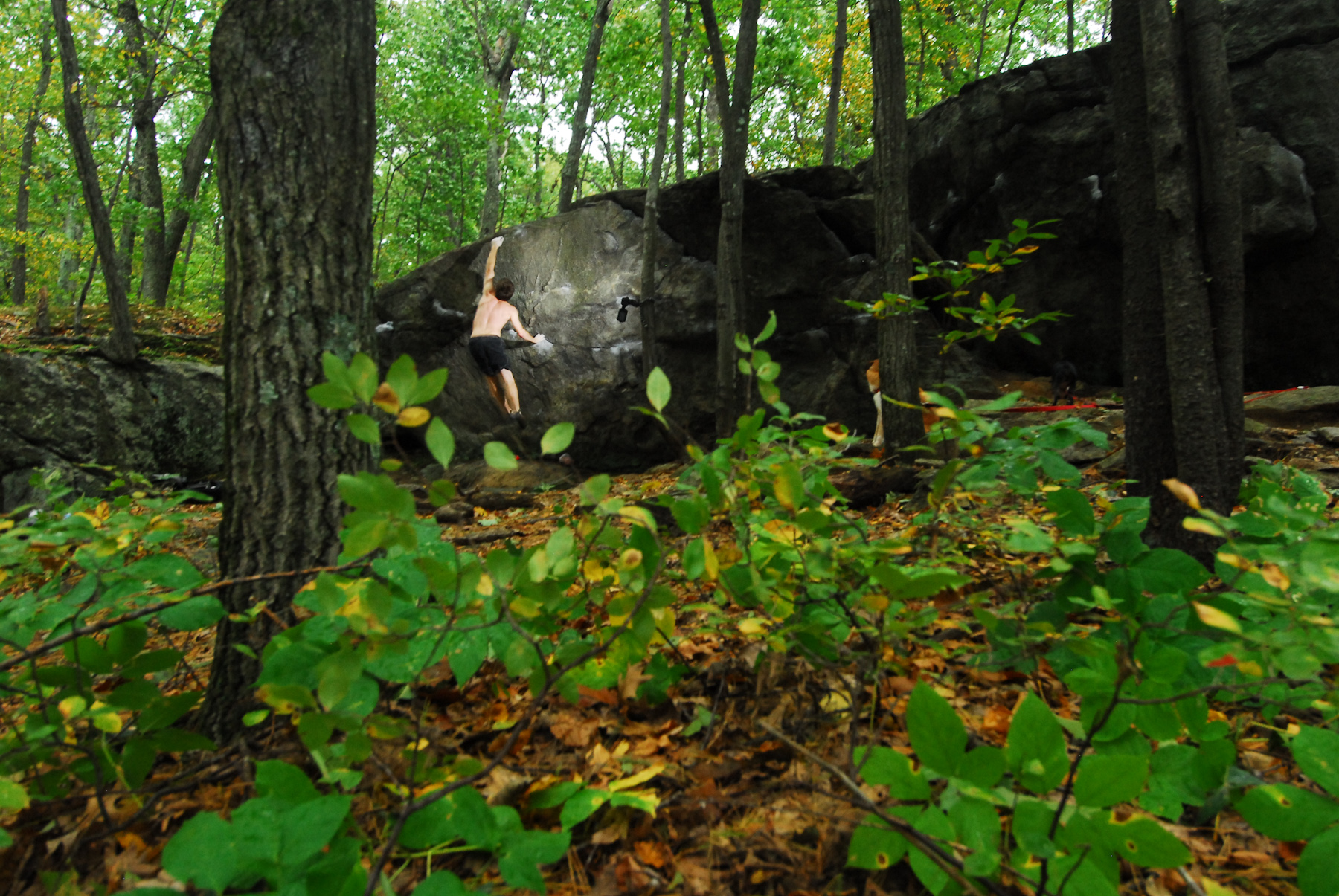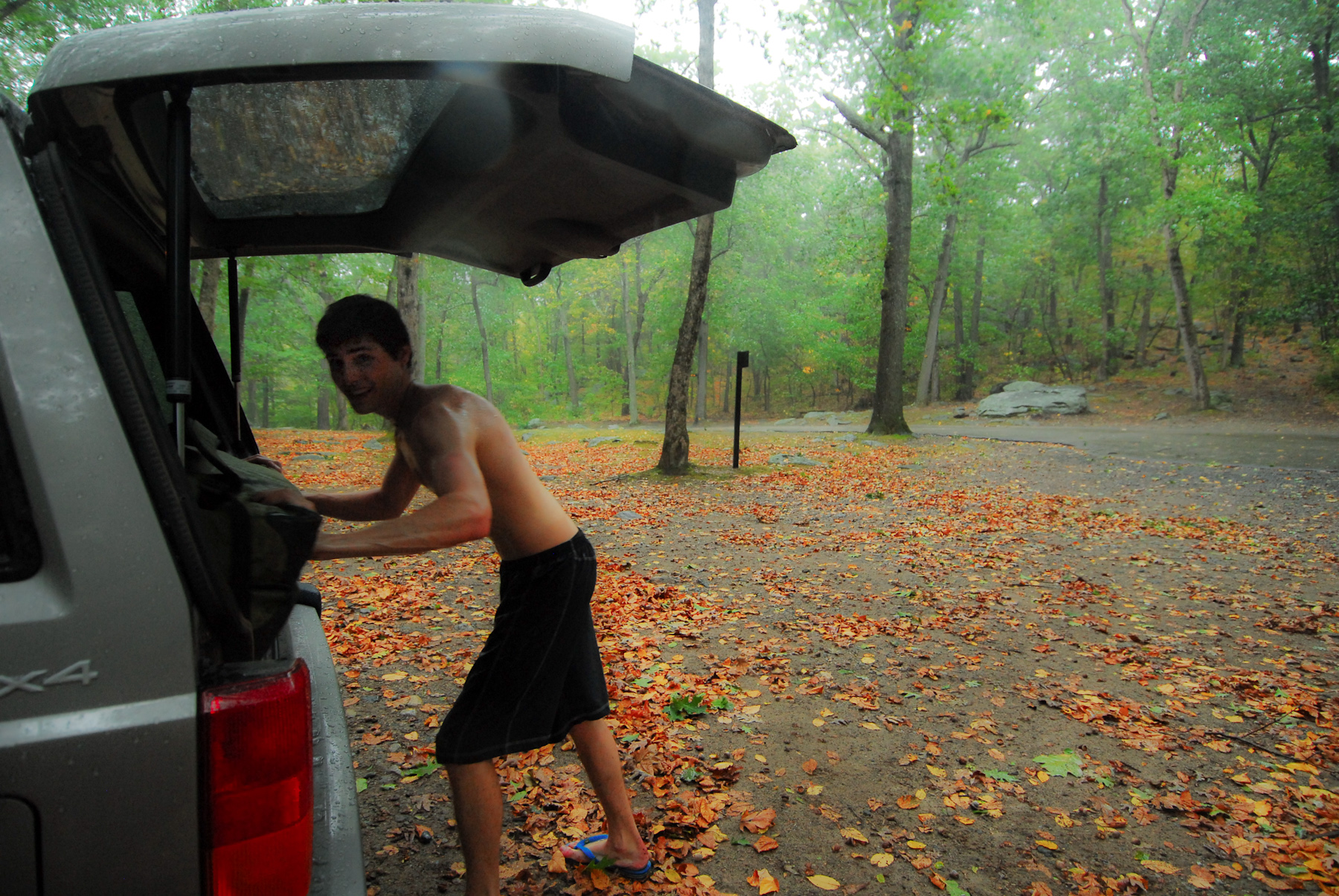 Andy perfecting his Pizza pick-up skills: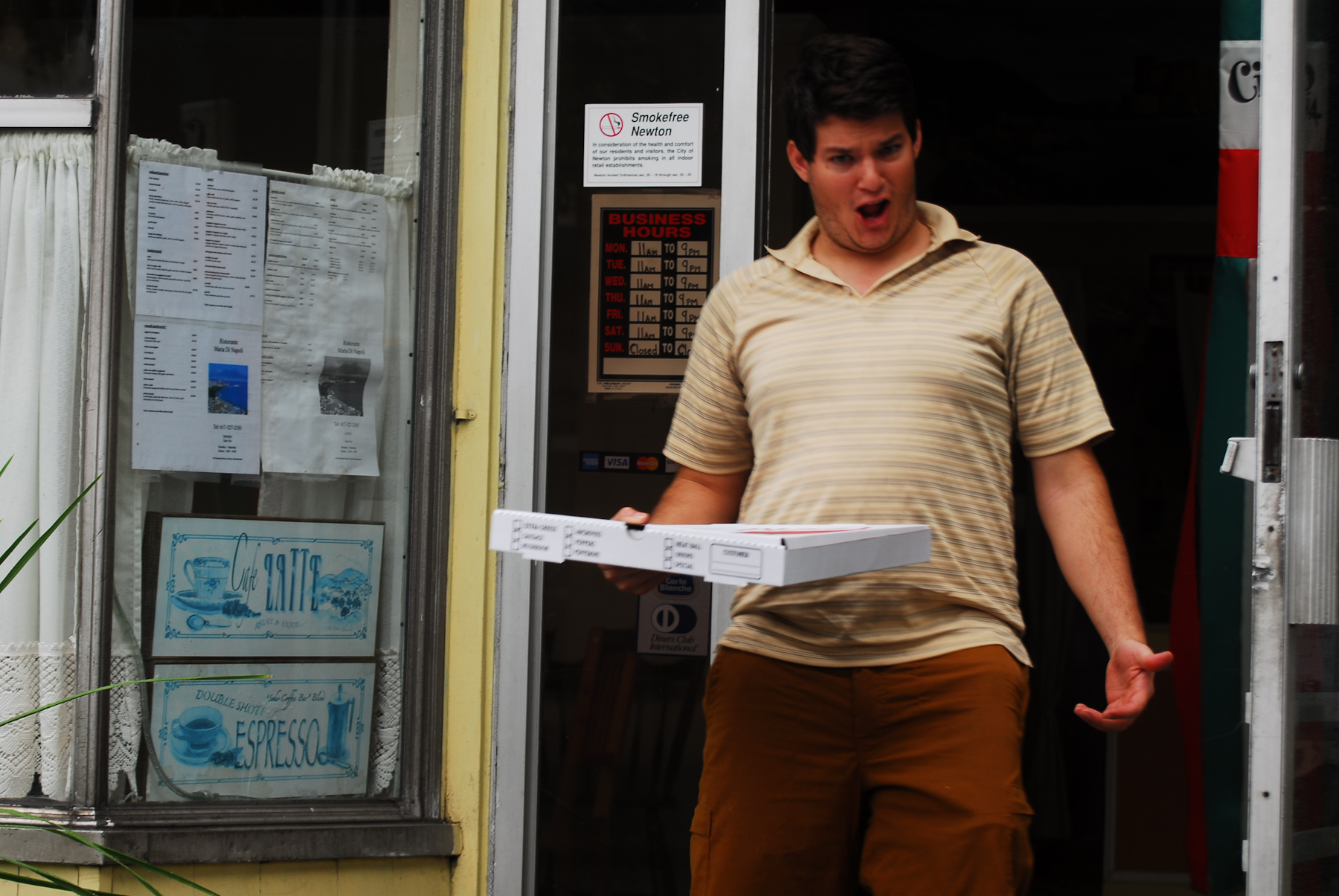 Street Art by Bansky: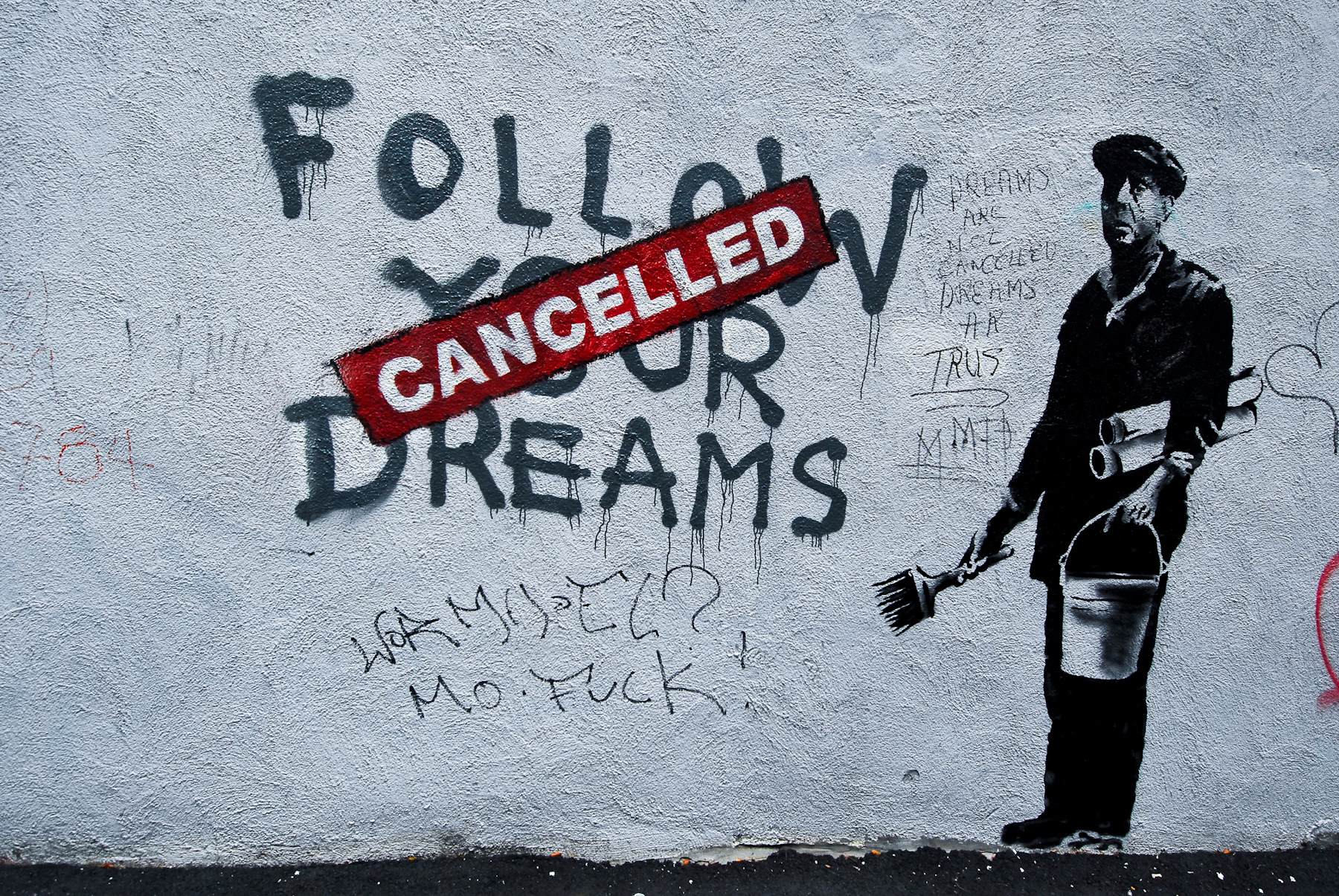 Windy in the City: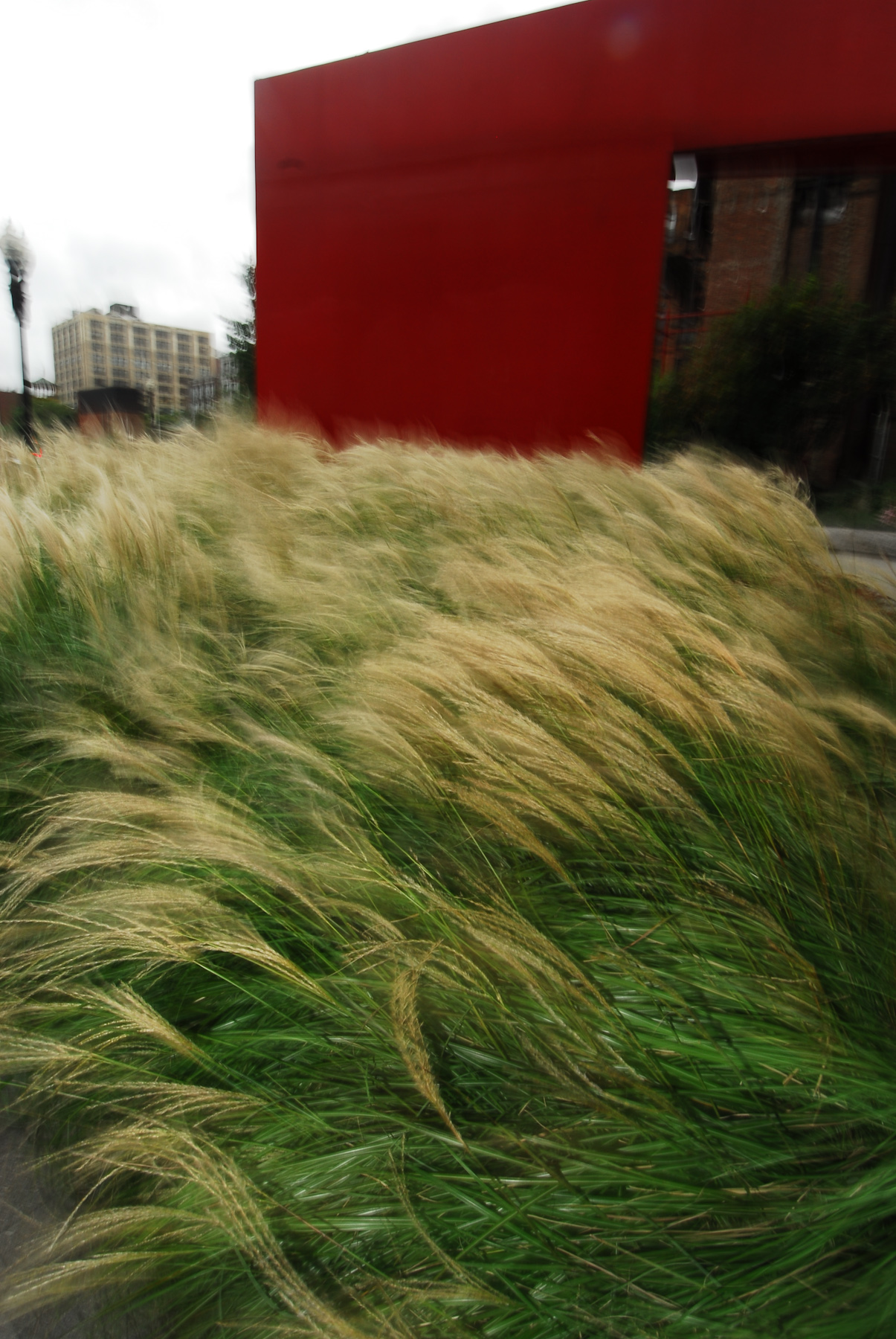 Damn good trip.
If you are following from a feed here is the original link: http://andylibrande.com/news/2010/11/new-england-trip-and-bouldering/