2011 Backyard Bouldering Comp Recap
Thank you everyone for attending the 2nd Annual Backyard Bouldering Comp!!!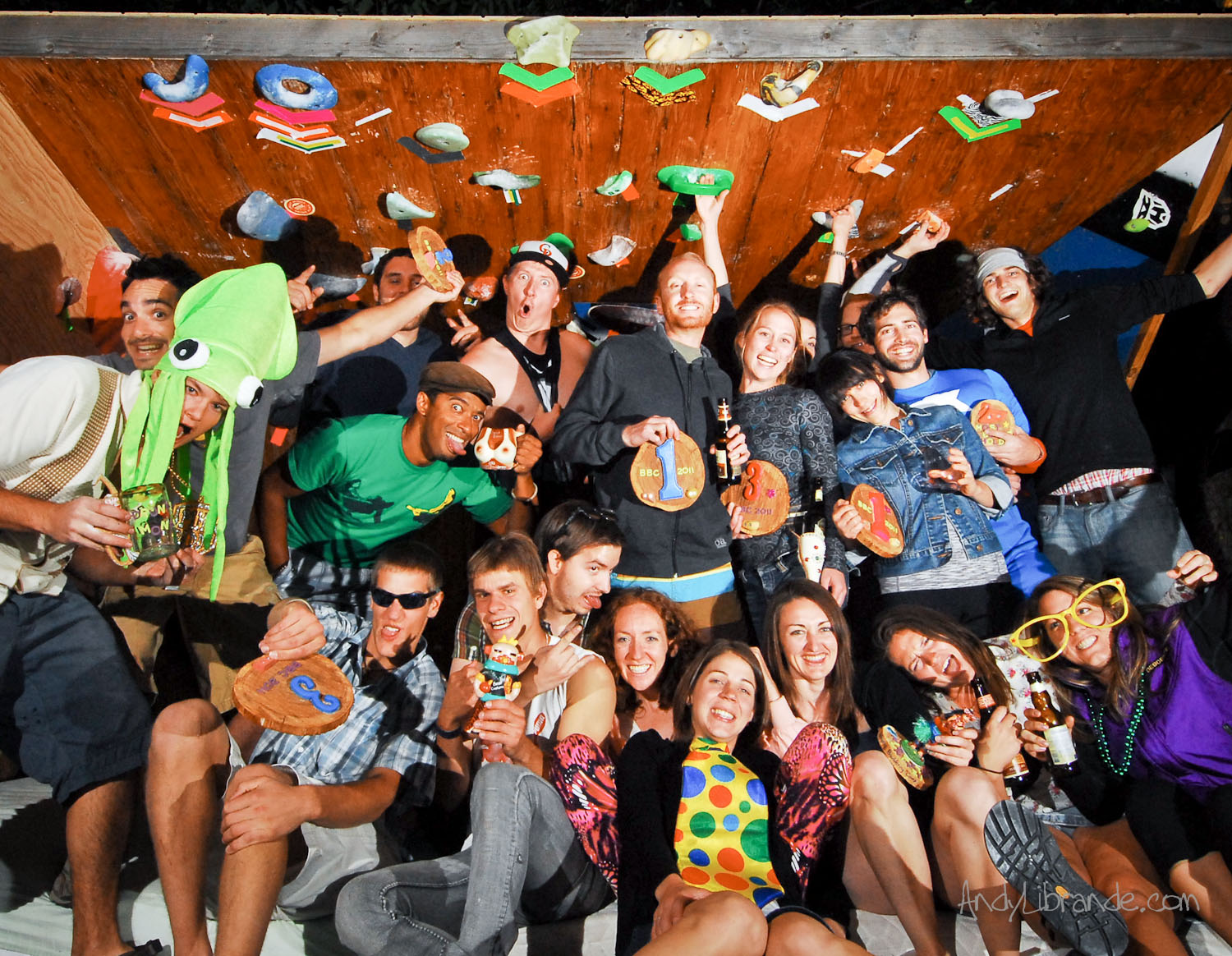 It was a huge success and I am really glad we had such an awesome group of people out ready to climb hard and have a lot of fun. The event was at least twice as big as last year and it was one of the most fun gatherings that we have ever had!!!
Below is a quick recap of the results and the event. There was 10 problems featured this year and a brand-new feature on the wall (literally finished the day of the comp!!!). Of the 10 problems 9 were completed which means I need to make it a little harder next year. Also glad to see such a diverse group of climbers out there and really glad to see all of the costumes.
Results:
Awards: 
Men's 1st: Jake Fell (2nd year in a row!!!)
Men's 2nd: Gabe Craveiro (after just barely missing it in the climb-off for 1st place!)
Men's 3rd: Vinny English (a late entry that come-in strong)
Women's 1st: Annie Bacci (Huge improvement over the past year!!!)
Women's 2nd: Brea Galvin (the Chilean Hooker outfit really helped the climbing)
Women's 3rd: Caitlin Shay (On the podium both years)
Prizes (these are the fun awards and glad everyone put a lot of effort into it): 
Best Costume: RAMBO (making a guest appearance as some sort of sexy chilean prostitute and climbing in extremely tight jeans)
Best Determination: Bubbha (the hipster tried hard all not but realized it just wasn't that cool to win)
Midget's Unite: Katie for not ever really rock climbing before and coming out and doing amazing
Best Beer: Gabe/Marcio (for bringing a delicious belgian beer)(lots of hard competition)
Most Bonus Holds: Andrew Giamberardino (somehow winning this prize both years for hitting the most amount of bonus holds but not completing the problems)
Drunken Monkey:  Andy Librande (flashing two separate problems after chugging a beer each time)
Thanks again for the awesome comp/party/BBQ!!!
More Info including the Competition Poster: http://andylibrande.com/news/2011/09/backyard-bouldering-comp-2011/
Details on the Scoring Format here: http://andylibrande.com/news/2010/08/backyard-bouldering-competition-sept-4th-2010/
Enjoy some pics from the night: