Trout Creek Fire – 6/24/2012
Photos of the Trout Creek Fire:
We were climbing on the cliffs around the base of the formation of Devil's Head below the Fire Tower overlook in the Pike National Forest off of the South Rampart Range Road (approx location). Photos were taken south/southwest.
We first noticed smoke plumes just after 2:30 (it was officially reported at 2:23). By 2:40-2:45 you could tell it was a fire.
2:40pm: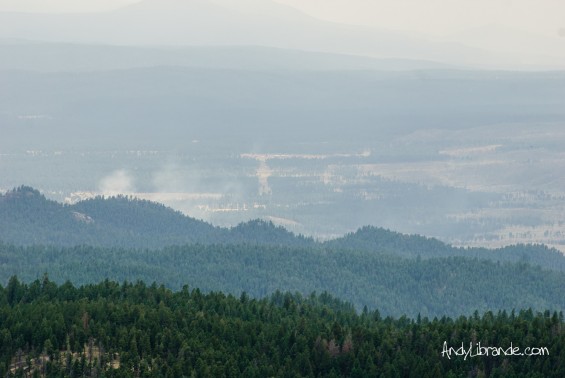 2:55pm: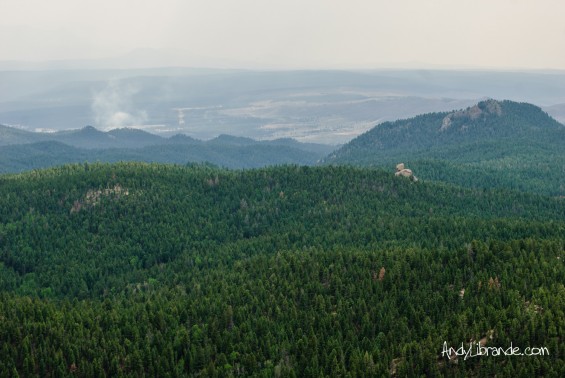 2:57: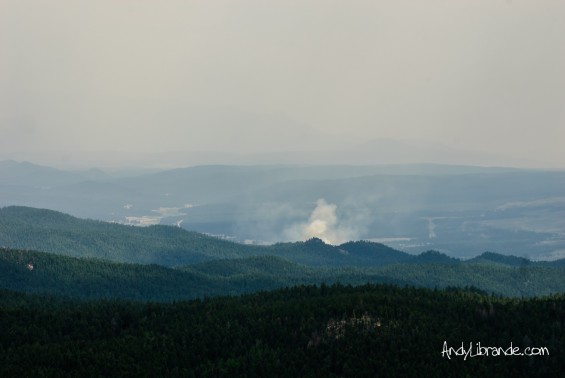 at 3:00pm it was the biggest and worst phase: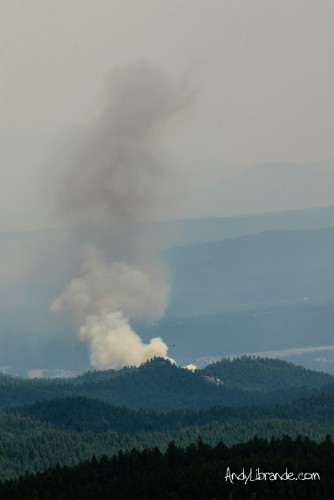 Please click below to read about the rest of the Fire:

 
Right at 3:00pm it looked like the fire was exploding into something much larger and uncontrolled, but instead it just continued to smolder for a while and kept getting smaller and smaller.
Just after the above photos I took out my camera phone and tweeted this: http://twitter.com/andylibrande/status/217012124541665280
9News picked it up for their 9pm news story (we were still driving home at that point) and they added an extra "m" to my last name: http://www.9news.com/news/article/274083/188/Trout-Creek-Fire-burning-in-Pike-National-Forest
At 4:25pm Pike's Peak finally came into view as it was blocked by smoke from all of the other fires in the area. The Trout Creek fire is smoldering at the right. We did not see any air support all day, even though we were facing the fire for most of the time.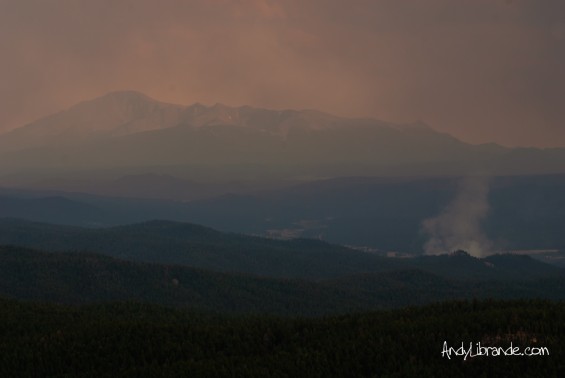 By 7:00pm when we left the area we could not see the fire smoke anymore. The temps had dropped considerably (down to ~70 degrees) and a brief, very light rainstorm blew through the area around 6:00pm.
Glad to here that the fire was 100% contained as of Sunday night.
USAGE: You can use these photos for news media with credit to Andy Librande. For larger photos please Contact me.
Permalink: http://andylibrande.com/news/2012/06/trout-creek-fire-6242012/
Thanks!